Visors: The '90s-Inspired Hat Trend Leaving Sport Arenas This Summer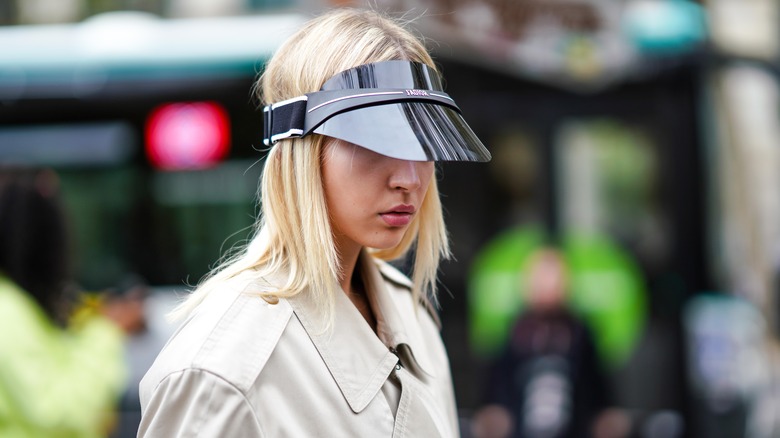 Edward Berthelot/Getty Images
The '90s have struck again, and this time they are here to take over your favorite hat and headpieces. While items like bucket hats or baseball caps have long been summer staples, the visor is the newest vintage item to make its comeback this season. Although you'll likely remember visors in relation to poker rooms, they are more than just a relic of the past. These hats are the newest way of injecting some '90s fashion into all of your summer 'fits.
Visors are not only a fashionable piece, but they can also be a practical item to wear this summer. Keeping the sun away from your face, a visor can be a comfortable and stylish way of avoiding UV rays without wearing an accessory that affects your overall look.
Because visors are typically seen in sports, you might think that they're only meant to be worn with sportier looks or athleisure. Thankfully, the visor can be styled in various ways to fit in with any vibe you're going for as the weather warms up.
Straw visors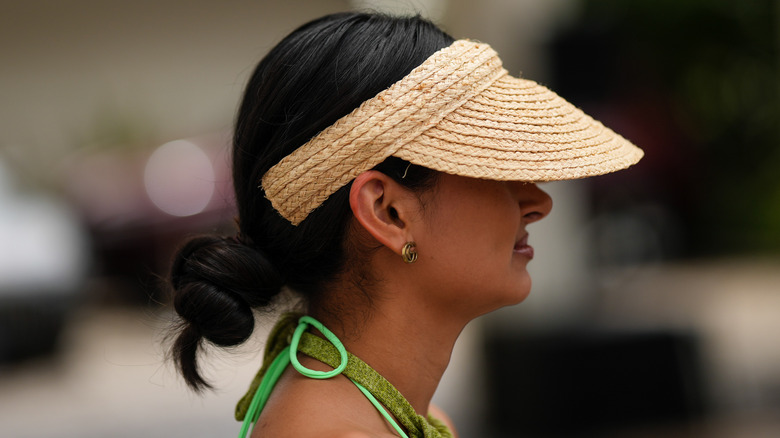 Edward Berthelot/Getty Images
There's no visor more classic for the summer season than one made of straw. This type of visor is quintessential for warmer weather because of the natural and organic material it's made of. Unlike other visors you might find, straw visors won't have sun peeking through any clear plastic, meaning you'll get enough sun protection from it as well. 
Flat visors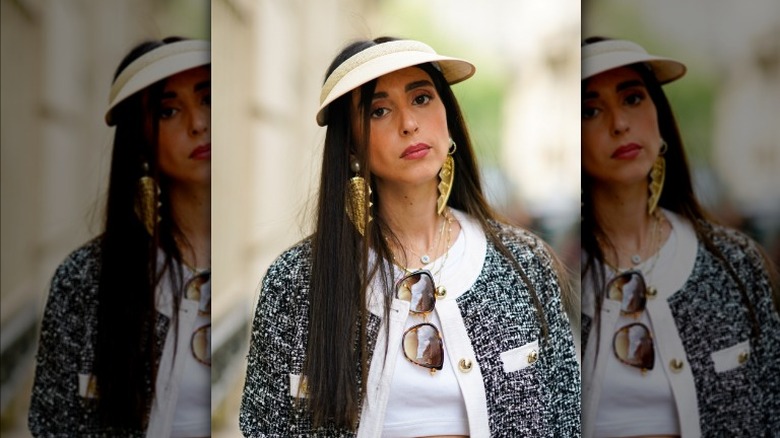 Edward Berthelot/Getty Images
Most of the visors on the market today are made in the same general model, with a curve near the front. However, various shapes of visors can help create an interesting and different look. A flat visor might not block out the sun as well as others, but it will create a strong contrast with your overall face shape. Since you don't often see flat visors, you can rest assured that they'll create a unique look for the summer season.
Printed visors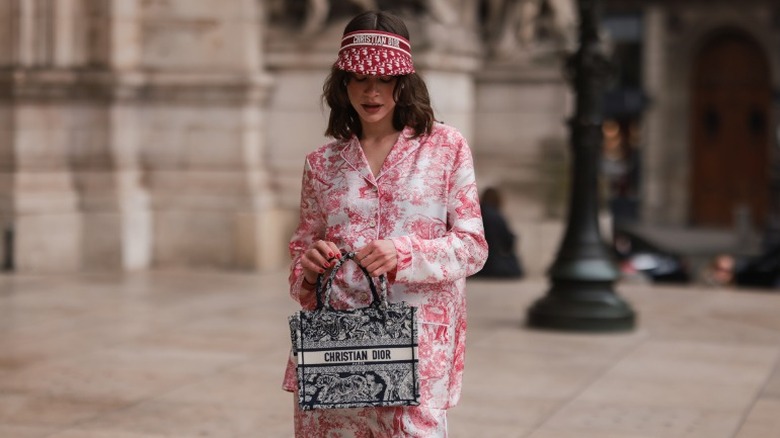 Jeremy Moeller/Getty Images
Prints and colors are an easy way of getting a distinct look out of your visor. Instead of going with your dad's old golfing visor, opt for something closer to your style. Add a unique print to help break up your monochrome or minimalist looks, or simply add a punch of color and design to your summer 'fits.
Leather visors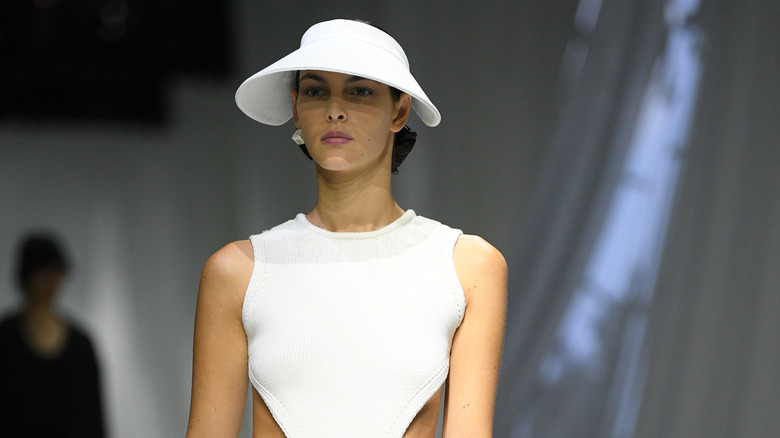 Daniele Venturelli/Getty Images
Leather isn't only for your leggings; it's also a fun fabric for all of your headpieces. Leather visors can help give the same chic vibe as any leather bucket hat. Keeping you cool and stylish, this kind of visor adds more of that quiet luxury aesthetic that is currently taking over the trends. It's sleek and modern enough to give you something unique but classic at the same time.
Transparent visors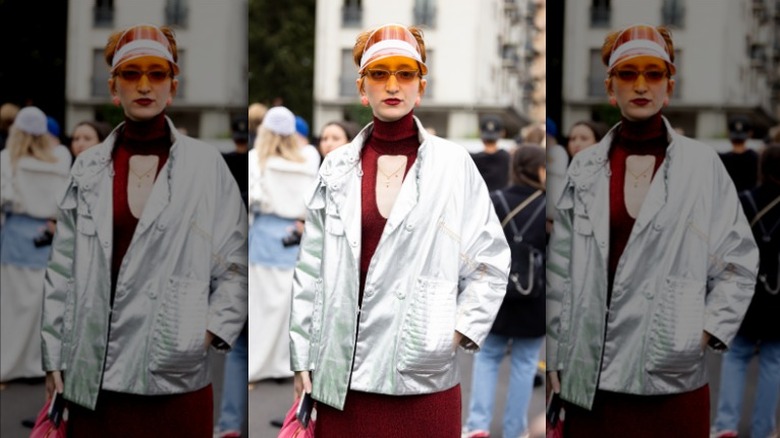 Valentina Frugiuele/Getty Images
The transparent visor is what most typically imagine when they think of visors. Whether it's green or another color, transparent visors are common in poker games, golf, or gardening. However, these specific visors are now also used for high-fashion street-style 'fits that'll you love this summer season. They're the ultimate retro accessory that can perfectly match any look (and create a sporty chic vibe while you're at it).
Glam visors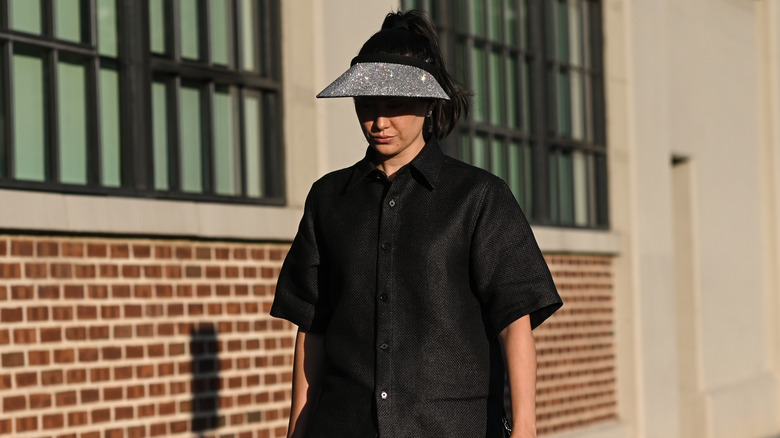 Daniel Zuchnik/Getty Images
Just because visors are staples in sports arenas, it doesn't mean you can't add a little bit of glam to it. Instead of a solid-colored visor in one plain design, add a bit of embellishment and some accents to your visor for something more shiny and glamorous. These glam visors are a definite sign of the modernization of the piece, serving as the perfect example to showcase that just about anything can have a little bit of sparkle and still look chic.
Black visors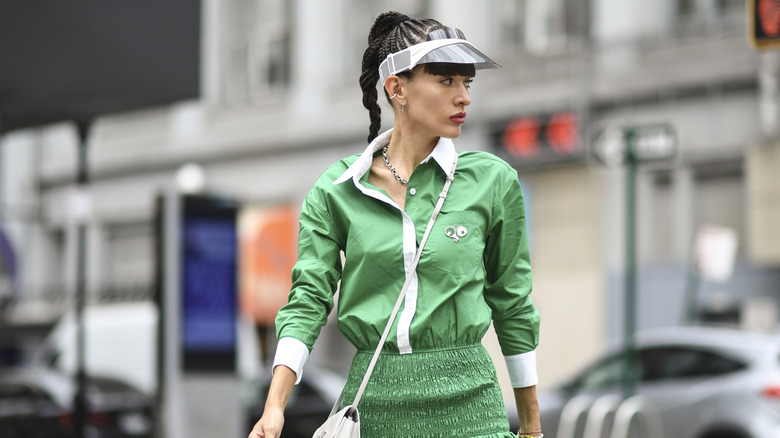 Daniel Zuchnik/Getty Images
Black is a classic color, and as time goes on, it's also becoming a must-have summer color. Washed black, in particular, is the newest summer color to take over our wardrobes after a long reign of summer whites. Add some black tones to your 'fit with a visor in this classic shade. Black visors also have a unique factor in that they truly can match any of your summer outfits, no matter the print or design.