Purple Is The Bold Makeup Color Of The Moment (Move Over, Neutrals)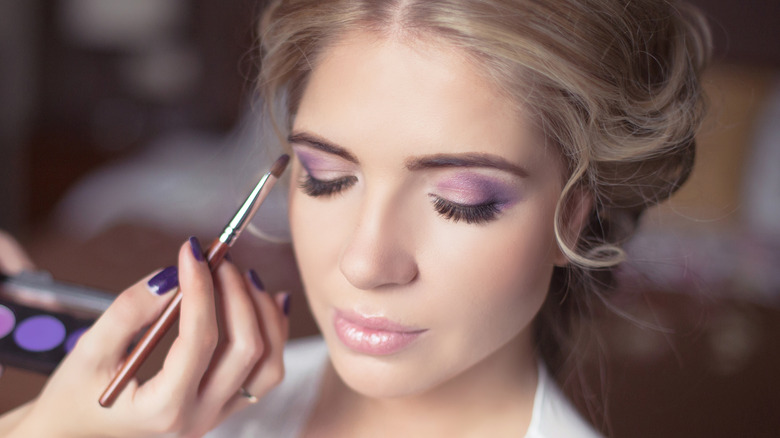 Victoriaandreas/Getty Images
Purple is such a beautiful, regal-looking color for fashion, so why not wear purple makeup, too? The hue is attractive and fun to experiment with for various looks. "Purples can enhance so many elements of someone's appearance, depending on which shade or tint of purple you choose will allow varying effects," MAC National Artist Carly Utting told Elle. Thus, there is no excuse not to give purple makeup a chance!
You have so many options regarding purple variations, as the color does not have limited or no variation unlike black or white. From cool blue-violet and pinkish magenta to dark eggplant and vivid neon purple, the choices are endless and so are the makeup looks you can create.
Not only should you give purple blush a try, but there are also many other ways to incorporate purple into your makeup routine. Here's a little inspiration to help get you started.
Bold purple eyeshadow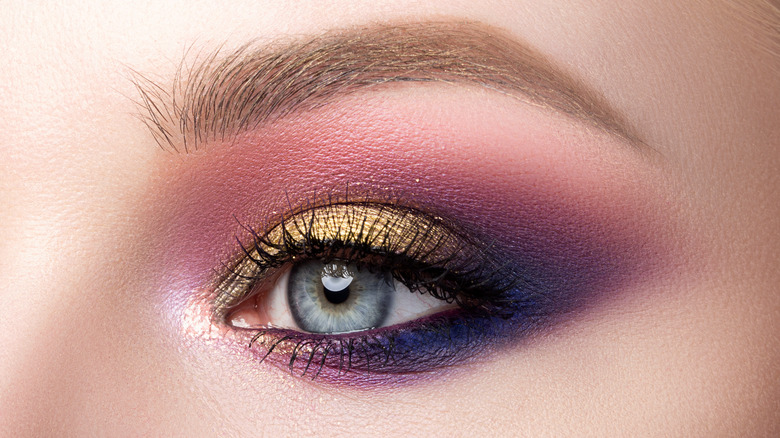 ldutko/Shutterstock
One of the most exciting ways to add a daring statement effect to your look is to wear loud purple eyeshadow. Wear a dark purple shade such as plum or eggplant for a dauntless look. Or, go sparkly with a glittery or super shiny purple shadow — or even add some other shadow colors for an artistic, colorful effect.
Or lighter purple eyeshadow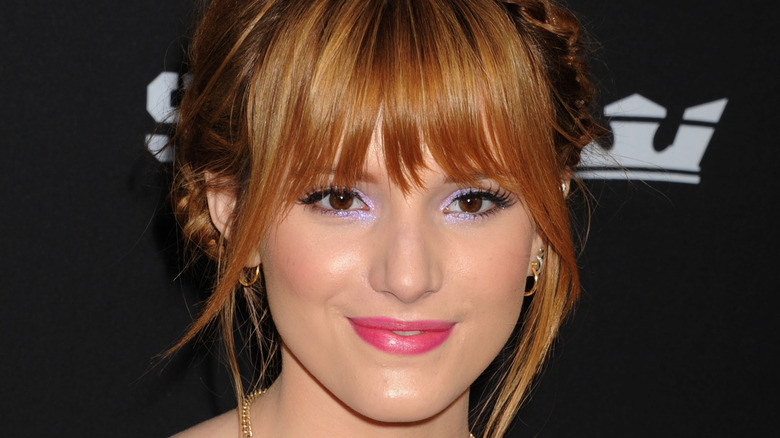 Jeffrey Mayer/Getty Images
Do you want a daintier, more subtle purple eyeshadow look? Try a lighter shade for a more subdued option. A delicate-looking soft lilac or lavender will add a fun pop of purple without appearing overpowering or over the top. Such a light shade of purple will look girly and cute in various settings for lovely looks.
Alluring purple mascara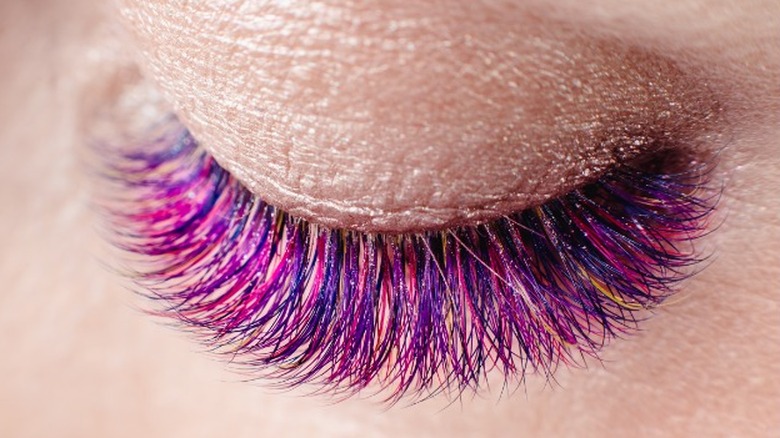 Parilov/Shutterstock
Some people want to add purple details to their makeup without using eyeshadow or blush. If you're one of those people, purple mascara is about to be your best friend. Purple mascara will add unique pops of purple to your eyelashes while making them look longer and thicker, so it's a win-win.
Fun purple eyeliner
Everyone already knows eyeliner is one of the most versatile makeup products, allowing you to do anything from adding a subtle line for enhancement at your waterline to drawing a dramatic wing. Try creating an eyeliner look you like in a sexy purple shade, whether you choose a dramatic dark purple or a delicate lighter look.
Lovely purple highlight
At first, it might sound daunting to opt for purple highlight on your cheekbones, nose, and any other areas you typically apply highlight. But if styled correctly, a lilac highlighter is a living dream. A purple highlight is a fun and exciting alternative to more traditional highlight options, especially when you want to make a statement.
Lively purple lipstick
Are you looking for a convenient way to add a bold focal point to your makeup in a matter of seconds? The answer is purple lipstick. All you need to do is swipe a purple lip color on your lips, and you'll add a trendy, lively detail to your makeup. Decide whether dark, light, bright, or soft purple shades best complement your skin tone and outfits when choosing a purple lipstick.
Sexy purple lip gloss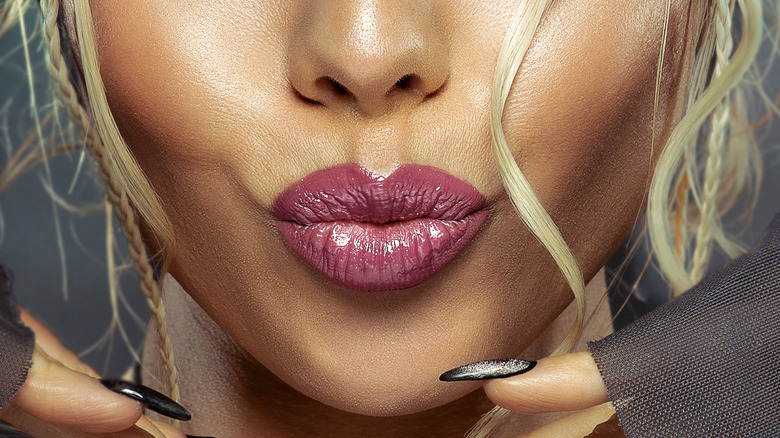 Inarik/Getty Images
No makeup appears quite as flirty and kissable as lip gloss. So, the next time you go out, add a purple lip gloss to your lips. To your surprise, you'll likely attract more people than you can count. Who can resist the charm of glossy, purple-tinted lips?
Purple face and eye makeup gems
Bejeweled makeup is here to shine in 2023! So, why not be daring and invest in some sexy, exciting face gems? These sparkly details exude instant party vibes, making them perfect for concerts, parties, vacations, and other glamorous settings. If you can't decide what color face gem you want, opt for trendy purple.