Straps Are The Perfect Grungy Touch For Any Garment - Here's How To Style Them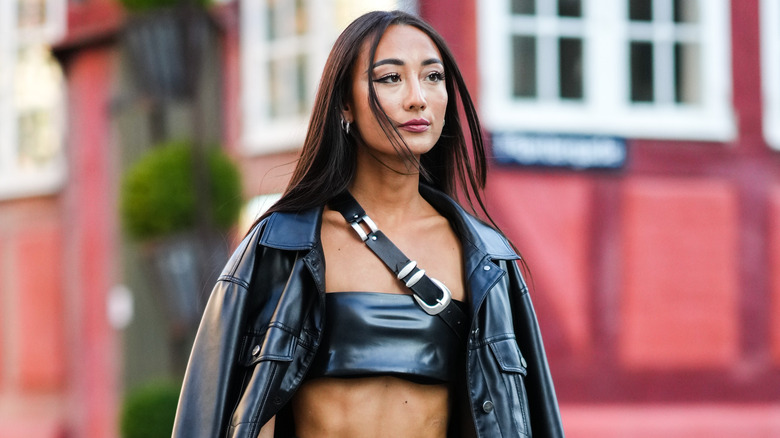 Edward Berthelot/Getty Images
Most of our wardrobes contain at least one piece of clothing with straps. They're functional (offering our clothes a little extra support) and decorative — even the plainest exposed straps can make a statement. But when these minor clothing details become the main attraction, it definitely captures our attention. According to a 2022 article in Sustainability: Science, Practice and Policy, design elements work together to create fashion styles that evoke varied meanings. For instance, wearing straps that are more aesthetic than functional creates a specific style that may mean something different to us depending on our culture, the way we've seen it marketed, our individual differences, and more.
So what do strappy details mean to you? Some consider them to be edgy or a symbol of counterculture, and they may conjure up images of '90s grunge if they are haphazard, unpolished, and very cool. But of course, not all trends are adopted by everyone in the same manner. If you prefer a more polished look, there are ways to embrace the trend that feel understated, yet fresh. No matter what strappy silhouette appeals to you, you can find a way to incorporate them into your wardrobe.
Layer strappy tops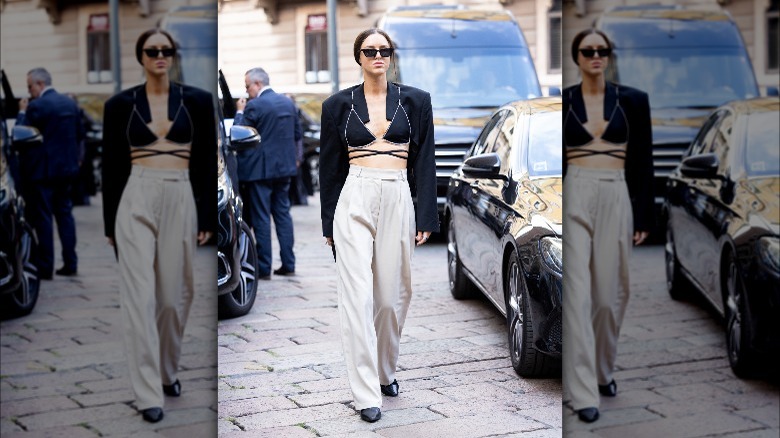 Valentina Frugiuele/Getty Images
If you have a strappy bikini top that's too pretty to only see the light of day at the beach, or a strappy top you'd like to wear more often, then consider layering it for more creative options. If you are inclined to think outside the box, you might opt to layer your strappy top over a crop top. Otherwise, you can always layer it over a longer-sleeved fitted top or a simple tank top.
Opt for elongated straps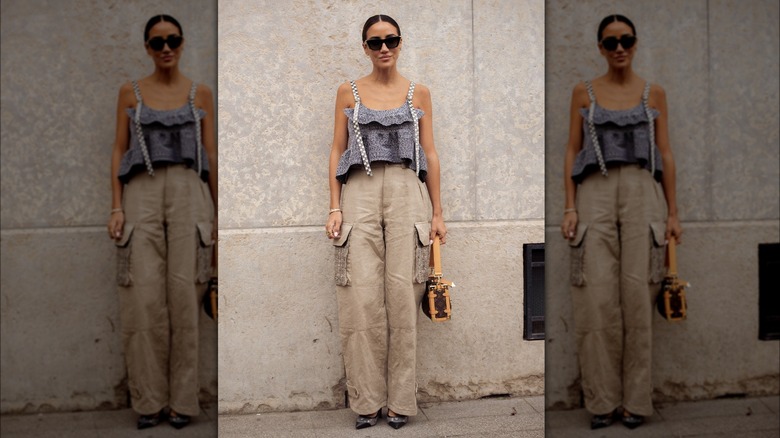 Raimonda Kulikauskiene/Getty Images
Basic shoulder straps may seem, well, basic, but they can be worn in unexpected ways. Wearing this piece with elongated straps is an understated way to wear the strap trend. Although it may serve no other function than to look pretty, the elongated strap offers just a hint of drama. And if your top does not have long straps, you can always add some, either by sewing or tying it to the ends of the original straps. The extra straps need not be the same pattern or color as the original.
Consider detachable straps (or bra straps)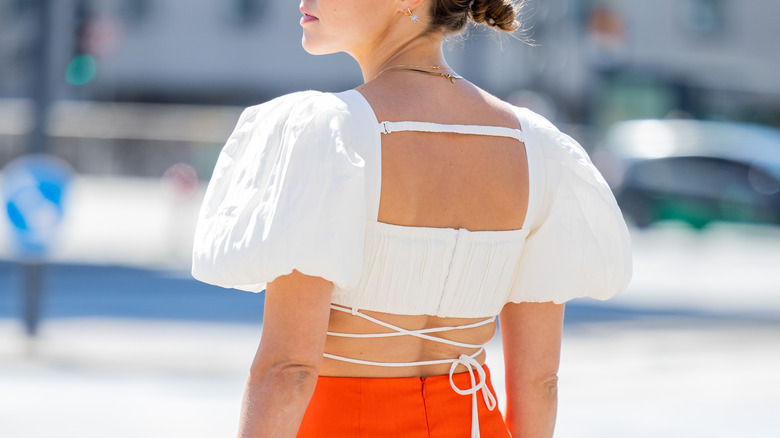 Christian Vierig/Getty Images
Tops with detachable straps (which can look like bra straps) give you the option to take this accessory off should you choose to. So if you don't have a top with detachable straps, but it's so low that your bra is exposed, you can always make the bra straps a deliberate part of the outfit. Bra straps in various colors and patterns can add a fun, unexpected pop to your look.
Don't overlook ties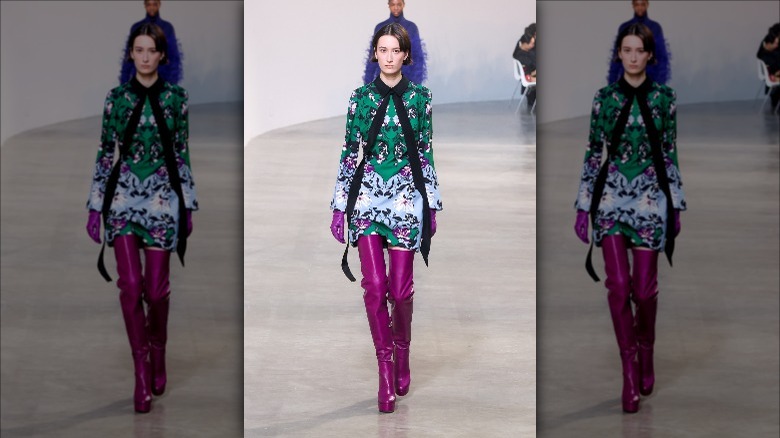 Victor Boyko/Getty Images
While ties and straps are arguably different, they are close cousins and serve the same function. Try wearing oversized ties hanging down over your torso for a preppy alternative to the grungy trend. Untied, this will feel slightly deconstructed and add movement to your outfit. You may have a top or dress that comes with a tie or you can add one onto your clothes for the same effect. 
Elevate your belt straps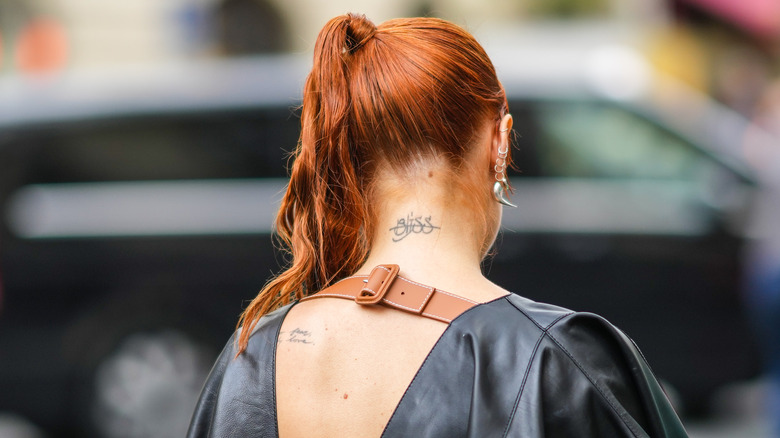 Edward Berthelot/Getty Images
Belt straps are in demand, and not just because they can secure your pants. Now, you're likely to see them positioned over the chest, worn as a tube top (if you enjoy being a little risqué), or worn on the waist with no shirt underneath. Another fun, unexpected place to see a belt is on a low-back dress. If you have a low-cut dress with no belt, you could always DIY it. Instead of getting rid of a belt you rarely use, cut it and attach it to the top of your low-back dress. 
Harness your style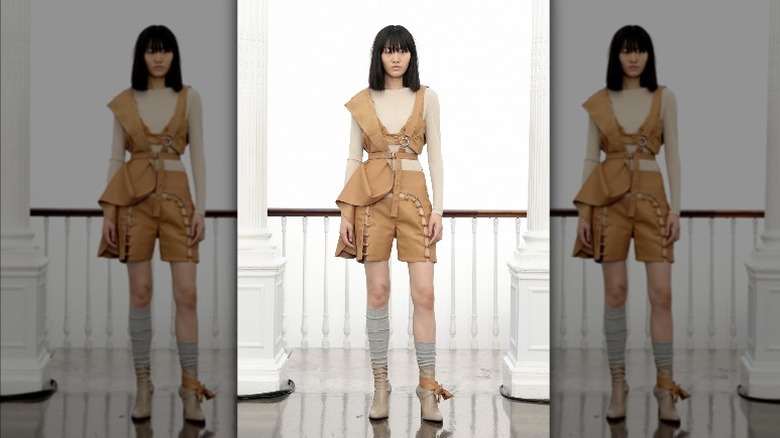 Shane Anthony Sinclair/bfc
Harnesses, often associated with function, are having a fashion moment. They can be worn simply with a belt and attached straps, or with other pieces like a peplum or a bra top. And you if you choose not to show any skin, you can wear a fitted top underneath. With so many options, harnesses are quite a useful piece to have in your wardrobe and look great with shorts or pants. 
Try strappy cutouts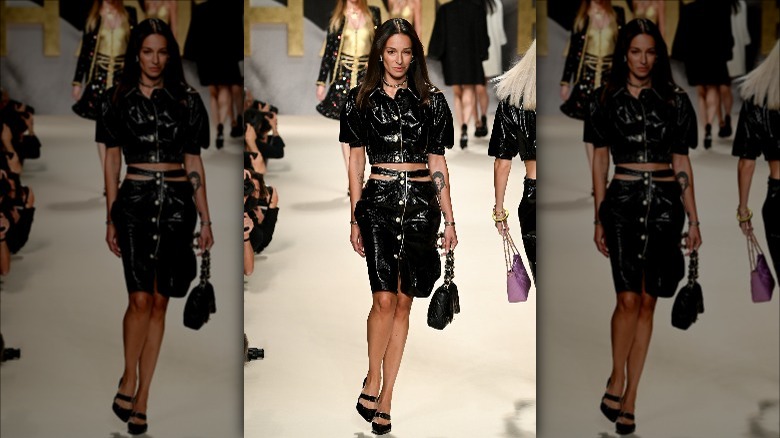 Pascal Le Segretain/Getty Images
Strappy cutouts add a little extra va-va-voom to your outfit. You may find a skirt with a cutout that creates a belt-like detail with exposed skin. However, if you do not, you can always add a belt with a low-waisted skirt as mentioned above, to create the same energy as a cutout.