How To Wear Sweaters In The Summer Without Overheating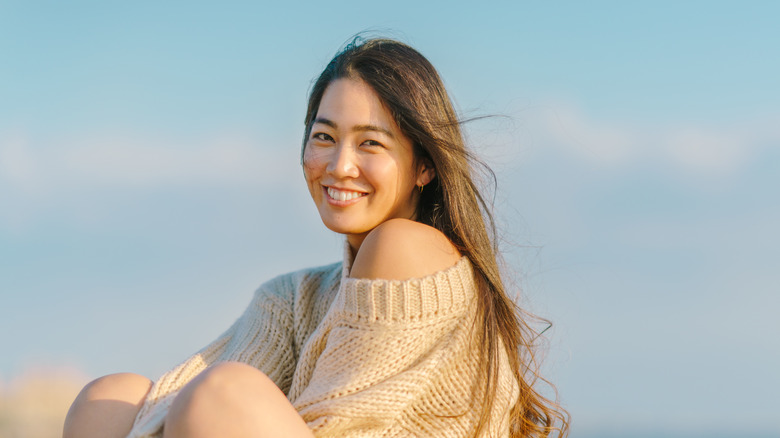 Recep-bg/Getty Images
Summer is in the air, but you can still beat the heat — especially if you plan to spend a lot of time at the beach or on the water. Given the prevailing temperatures, you might wonder why anyone would want to wear a sweater during this particular season, and we have an answer for you — because we love them! Not only does the right sweater offer you protection against chilly lake breezes, but it can also keep you feeling cool when you're marooned on land. On top of that, they're stylish and fun and they convey a classy style. Sweaters are like the comfort food of our closets, so why allow them in our lives only part of the time when they can keep us feeling that same happiness all year long?
From your favorite striped pullover to your much-loved cardigan, we have some tips on how to take your sweater straight from winter into summer. Of course, not all of your sweaters will make the cut, so you should still pack up that winter wardrobe until the colder months come back. Let's talk about the sweaters you're going to want to keep in rotation or add to your next shopping list if you don't have any on hand that won't make you feel like you're in a sauna when it's over 70 degrees outside.
Look for lightweight sweaters
You definitely don't want to grab a thick and heavy sweater on a 75-degree day, so be sure to look for lightweight options when it comes to the summertime. Even better, these garments are essential pieces for any capsule wardrobe. While there are cooling fabrics you can choose from, it's also worth examining the knit. A sweater like the one pictured above gives you lots of room to breathe with its open-knit style, though, depending on how risqué you want to be, you may need to invest in a tank top to wear underneath it. Of course, if it's 90 degrees or higher outside, you might consider skipping the sweater altogether unless you're spending a lot of time indoors with air conditioning,
When it comes to the knit for a summer sweater, some are definitely more ideal than others. To pick one that is right for when the heat soars, we suggest giving them a heft test first. If a sweater feels heavier than your favorite summer hoodie, it's going to be too thick to wear outside when the temps start to rise. If it seems like something you'd love snuggling up in on an extra cold night, opt for a different sweater that feels more like it would let some of that chill in.
Pick the right fabrics
evrymmnt/Shutterstock
Aside from the knit of a sweater, the fabric it is made out of can be either cooling or warming. While a lighter more open knit with a less breathable fabric can still be an okay choice for a chillier summer day, some fabrics actually have the power to make the heat more bearable. So, the next time you're packing your sweater for the summer or shopping for some new ones, take a look at the tag and see if they contain the following fabrics — this will let you know that there's a chance of taking them from winter right into the hotter months.
When it comes to your favorite cozy wool sweaters, don't pack up any containing Merino wool. This variety isn't scratchy and it wicks away moisture, which makes it a blessing when the temperature goes up. You can often find this wool in the summer aisles at your favorite clothing stores. You may not typically think of cotton when looking at sweater fabrics, but this is frequently used as a lightweight material perfect for wearing when it's warm outside. Cotton is comfortable and breathable, but instead of wicking away moisture, it absorbs it, so you definitely want cotton sweaters with as little fabric as possible or for layering, like sleeveless shirts or cardigans. For synthetics, pick polyester, another moisture-wicking fabric.
Aim for lighter colors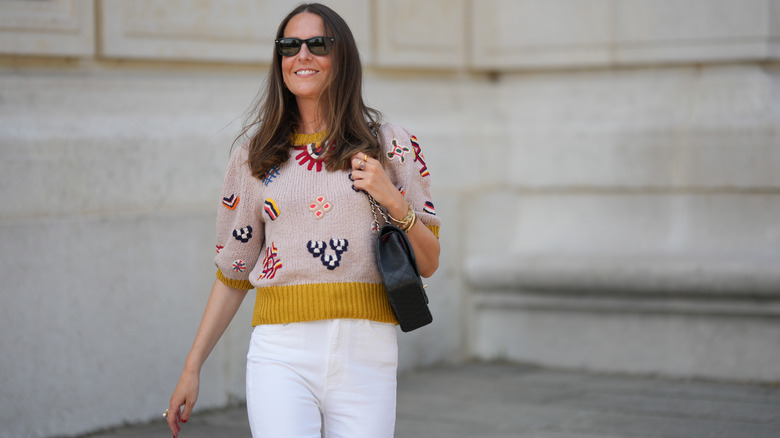 Edward Berthelot/Getty Images
When selecting the perfect summer sweater, color can make a big difference. As a general rule, lighter shades will serve you better as the temperature climbs because they absorb less heat from the sun. This will no doubt be good news for those who dive right into the tones that look like blossoming flowers or the sunlight itself. Even if you're a fan of darker colors, you may not have to pack them up or opt for paler options that don't fit your aesthetic. If it's made from a material that wicks away moisture, your favorite black sweater could still help keep you cool. 
There are many varieties to choose from when it comes to light colors, and you can even look toward fun patterns if you don't want to go with basic shades — from stripes and polka dots to something like the sweater pictured above. If you have favorite colors but they lean on the darker side of things, pick lighter versions of those same tones to make it through the heat waves. Even a pale gray can give you an edge like black but may allow you stay a bit more comfortable on sunny days.
Try a sleeveless sweater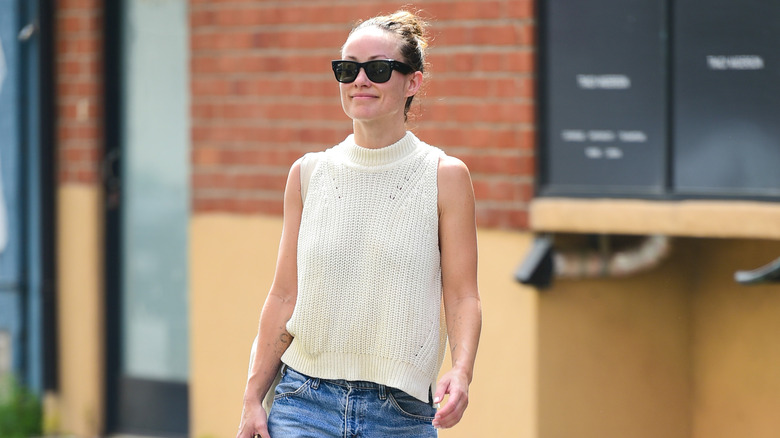 Bg029/bauer-griffin/Getty Images
If you like to show off your arms in the summer and you love to wear sweaters, grab a sleeveless variety. This is a great way to highlight all of that work you've been doing at the gym or those greenery tattoos you've slowly been collecting on your sleeve. Whether you go with a style like the one above or you select another sleeveless option, bare arms are sure to help you stay cooler while looking fashionable. We adore sweater tank tops, and they work just as great for layering as a basic tank does.
With a sleeveless sweater you can choose from a larger selection of fabrics since you'll be leaving more skin exposed to fend off the heat — just don't forget to put sunblock on your arms. Consider a fun sleeveless cropped sweater to show even more skin — perfect if you enjoy putting your midriff on display. Without sleeves adding to the warmth of the garment, you can also consider shirts with a cowl neck, which add a stylish enhancement while leaving breathing room that a tighter turtleneck wouldn't. Also, this is an ideal opportunity to enjoy your darker colors without feeling too hot in them — less fabric means a lower chance of the sun making you feel like you're hanging out in an oven.
Or at least one with short sleeves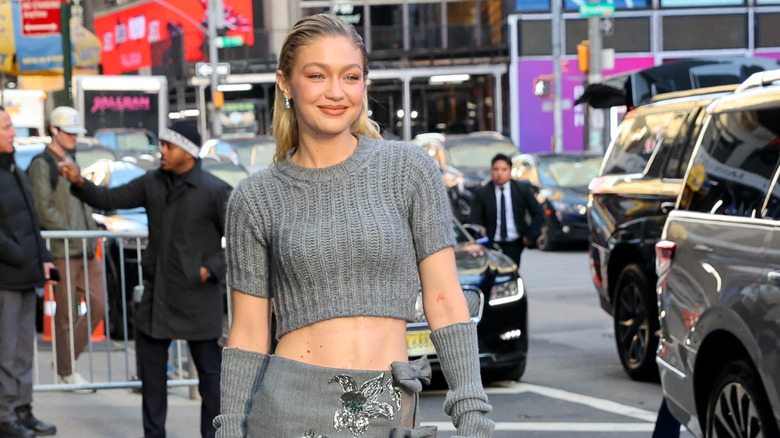 Jose Perez/bauer-griffin/Getty Images
While Gigi Hadid sported her short-sleeved sweater look when it was chilly (as you can see by the coats and hats on people in the background), this is most definitely a look you can take right into the summer and not feel like you're hanging out in a sauna. She has all the key ingredients for staying cool (just ditch the arm warmers): a light gray color, a nice crop, and a perfectly paired skirt (the length doesn't matter, as long as the skirt allows plenty of airflow to prevent you from overheating). Even matching arm warmers could come in handy if the nights get a little colder in your area. And, of course, the cropped cut is optional.
When it comes to sleeve lengths, the shorter the better for summer months. However, any option that stops above the elbow will help keep you looking and feeling cooler. A cute sweater with cap sleeves or poof sleeves can even add whimsy to your ensemble. By baring more of your arms, you can also get away with a tighter fit — with a long-sleeved sweater, a narrower construction may leave you feeling constricted and sweaty in the summer.
Grab your cardigan
Summer is a time for layers, even if you think that's more suited to spring and autumn. When you're spending long days out enjoying life, it may be a little chilly in the morning, leading to a very warm afternoon, and into a potentially breezy evening. What can get you through all of these weather changes and still keep you looking as stylish as ever? A cardigan, that's what.
While most of us carry a hoodie around for this purpose, a cardigan gives you a little more class while helping you feel less like a teenager. You can opt for an open cardigan or a button-up version, but either way, you'll have something to layer with easy-to-roll sleeves. And, when you don't need it, you can wrap it around your waist or wear your sweater slung over your shoulders for a preppy vibe.
Since your cardigan typically isn't the centerpiece of your look and can be removed as desired, you can opt for any color your heart desires. Pair a darker cardigan with a lighter shirt, or vice versa. In fact, a paler cardigan made with a breathable fabric can assist in keeping you cool when you want to wear a black blouse. 
Or a sweater that ties shut
Connect to your inner Hugh Hefner and enjoy the comfort of a robe or kimono-style sweater with a tie front. You can leave it open when you want to, and paired with a nice cami underneath, you'll feel like you're in your pajamas all day while still appearing as though you could grace the cover of your favorite fashion magazine. This option is all about comfort and feeling like you don't have a care in the world — all while looking stylish and put together. If you have a kimono-like sweater without a tie, you can still achieve this vibe by adding a belt from your collection — a fun way to mix and match colors. Even a nice scarf can double as a sash for this approach.
Like the one pictured, aim for a tie-front sweater with loose knitting that allows air to pass through to help keep you comfortable. The loose sleeves on this particular top also contribute to this outcome, as does the pale gray color. For something covering so much skin, you definitely want to lean into lighter shades, but you can go a bit wilder with your inner layer (go dark, go light, or select bold patterns if you want).
Pair it perfectly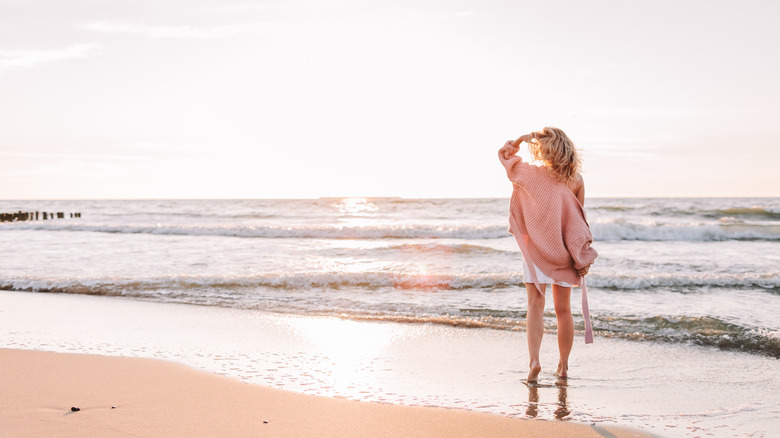 Olga Rolenko/Shutterstock
What you wear your sweater with also matters, and while we've covered a few pairings, we want to dive a little deeper here. If you're sporting a short-sleeved sweater with some thick denim jeans, socks, and booties, you're likely to get overheated as the temps rise. Coordinate your sweater with other items that are summer appropriate and you'll be better able to stay cool while enjoying a fashionable look that brings part of your winter wardrobe into a whole new season.
Any of the sweater options mentioned previously would pair well with your favorite shorts, whether they're cut-off jeans or something fancier. You can also wear them with skirts — minis and other short skirts make ideal warm-weather attire. A sheer, flowy, long skirt or something with slits can also have its place in the summer. As far as cardigans and kimono sweaters go, combine them with tanks and the bottoms we just highlighted, or toss one over your favorite sundress. You can also pull off a fun grunge look by wearing your cardigan with a vintage band tee, ala Kurt Cobain. Your summer sweaters would look nice with some light capris as well.
Wear your sweater as a dress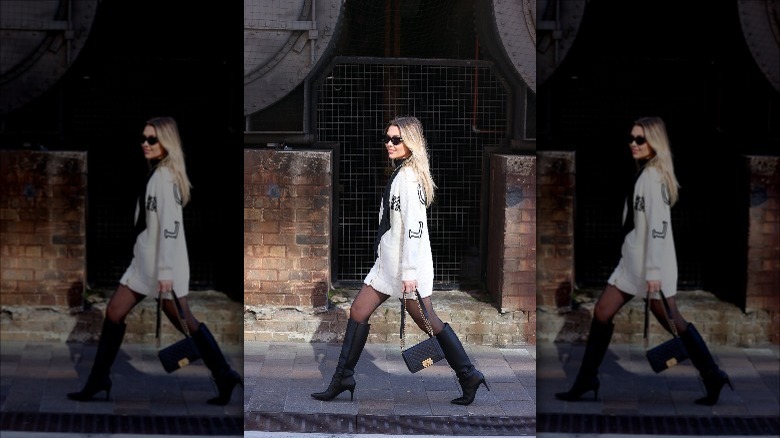 Lisa Maree Williams/Getty Images
Whether you pick up a sweater dress that was actually made to be worn that way or you have some oversized pieces in your closet just waiting for a new life, turning your sweaters into dresses is a fun and functional summer style. An oversized, pull-over sweater doesn't have to look like a sack when you wear it as a dress either — just snag a fashionable belt to give it more of a form-fitting silhouette. When it's hot outside, think about pairing your sweater dress with sandals or other open-toed shoes. However, if you're heading for a night on the town, that might get chilly. Boots will do too and they work well if you're sporting a sleeveless or short-sleeved sweater dress.
Plus, don't discount the duster kimono sweaters or longer cardigans. These too can be great to wear as a dress and offer something fun to play around with. Leave the top half of your cardigan unbuttoned and pair it with a tank top — cropped or not. Does your kimono or cardigan lack buttons or ties? Again, enlist the aid of one of your favorite belts to make it work. This is also a fabulous idea for a bathing suit cover-up when you want to go right from the beach to an evening out.
Stay comfy and cool in a baggy sweater
Look Studio/Shutterstock
Even if your sweater isn't long enough to double as a dress, if it's loose-fitting, give it a place in your summer wardrobe. Baggy clothing is all the rage still and popular on the runway, but you don't have to go voluminous from head to toe. While you may want to avoid baggy clothes when you're working out, we're here for wearing flowy sweaters in the summer. It's all about picking the right shades and letting the air have some space to move between you and the fabric. You're covering even more skin, so you definitely should opt for a lighter-colored sweater.
Again, you want to watch what you pair your baggy sweater with. If you prefer to go oversized all over, some lightweight, loose-fitting jeans make a great choice, as do any thinner pants, from capris to ankle length. Baggy sweaters look great with skirts, snug or loose, and long or short. You can also have fun pairing your oversized sweater with any of your favorite shorts. The right sweater will look great with some ripped cut-offs, while a different option may be the perfect match for your baggier varieties.
Look at the neckline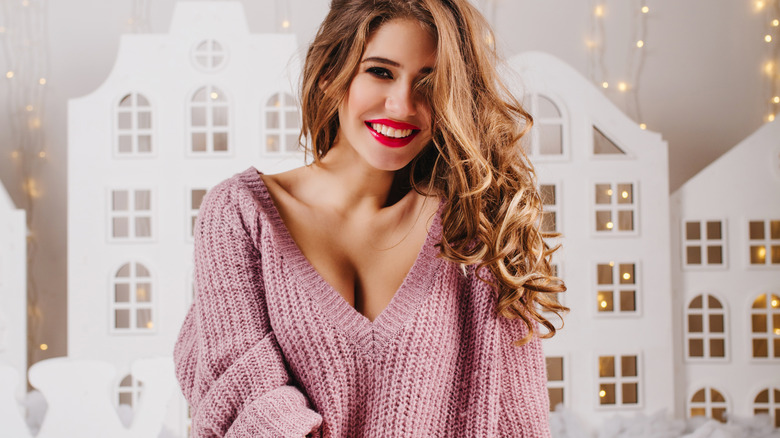 Look Studio/Shutterstock
There are endless types of necklines out there, but we're going to talk about a few that are perfect for summer. Look for sweaters that have a more open neckline, as this will allow additional air to get to your skin, keeping you cooler. You really don't want to grab a turtleneck to wear on an 80-degree day, but a v-neck with short sleeves would still be a viable choice and stop you from sweating to death. Tighter necklines like mock necks and yokes may leave you feeling hot and in a chokehold, while a Grecian neck will keep your shoulders and arms bare even though it's a little tighter at the neckline like a crew. 
Aside from v-necks, some other excellent options include plunging necklines, cowls, square and u-shaped, and asymmetrical styles. A crew neck would work great paired with shorts but may feel a little stuffy with jeans or a longer skirt. Off-the-shoulder sweaters are not only fun and flirty, but they will give you plenty of bare skin to help you enjoy the breeze. Surplice tops are another fantastic way to go, as they give you the v-neck look but with a little more style.