Gold Bags: The Accessory Helping Us Master The Metallic Y2K Trend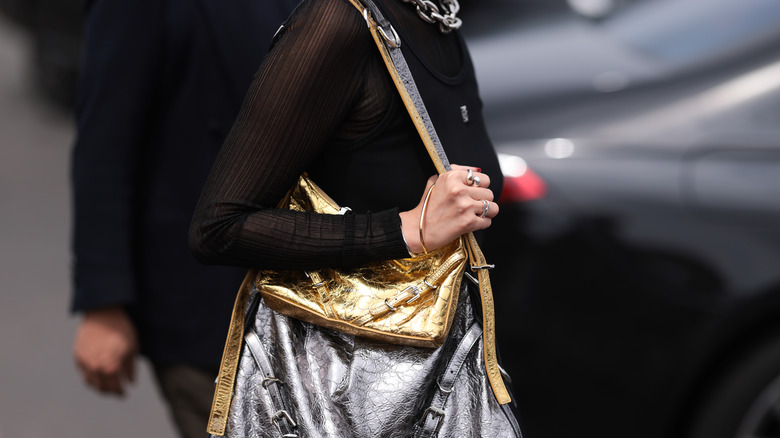 Jeremy Moeller/Getty Images
Metallics in general have had quite the resurgence in the fashion industry over the last couple of seasons. From metallic shoes to metallic pants, there are plenty of pops of this shiny fabric that have infiltrated our closets. The latest trend to help round out our love for metallics is the glitzy gold bag.
A gilded clutch or top-handle bag is the latest vintage craze to take over fashion trends because of its unique hue and retro vibe. A staple of the '90s and early '00s, metallic bags have made a comeback to complete our throwback looks. Like any handbag trend, there are many ways of interpreting this style to make it your own. Whether you're looking for an authentic Y2K feel or want to upgrade the gold bag for the modern era, there's always a style that's perfect for you.
Not only are metallics trendy, but they work perfectly year round, making them flexible pieces that stand out in any season. Gold, in particular, adds a funky touch to any look and can be altered to add a bit of elegance as well. No matter how this piece fits in your wardrobe, it's an accessory you'll need to pick up sooner rather than later.
Gold top-handle bags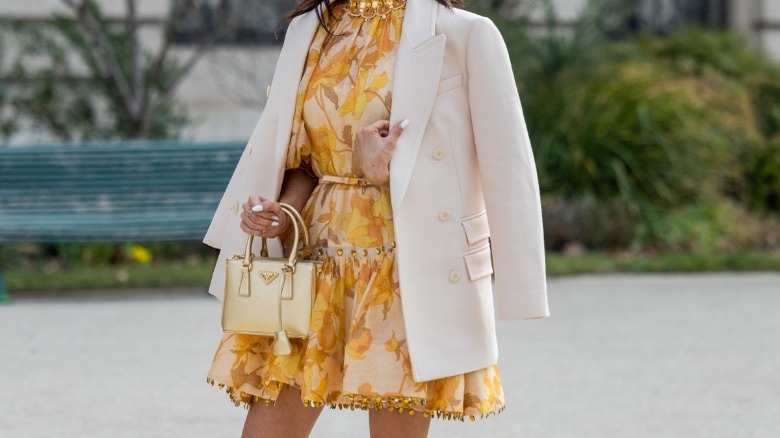 Christian Vierig/Getty Images
Top-handle bags are meant to be held and always add a dainty touch to your overall 'fit. Mix in the classic handbag with Y2K gold for hints of glam, retro, and timelessness, all in the same piece. A gold handbag will seem elegant yet fun, making it the perfect final touch for your outfit, no matter the season or style.
Gilded shoulder bags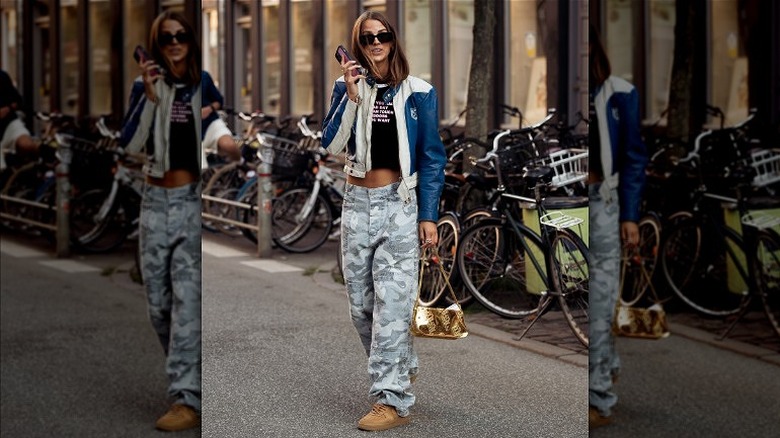 Raimonda Kulikauskiene/Getty Images
You can't get more Y2K than with a shoulder bag — that is, unless you add a little bit of vintage metallic to it. A gold shoulder bag was a quintessential staple of the '90s and '00s, particularly for those who were drawn to street style. Add it to your contemporary outfits to replicate the funky vibe. 
Metallic micro-bags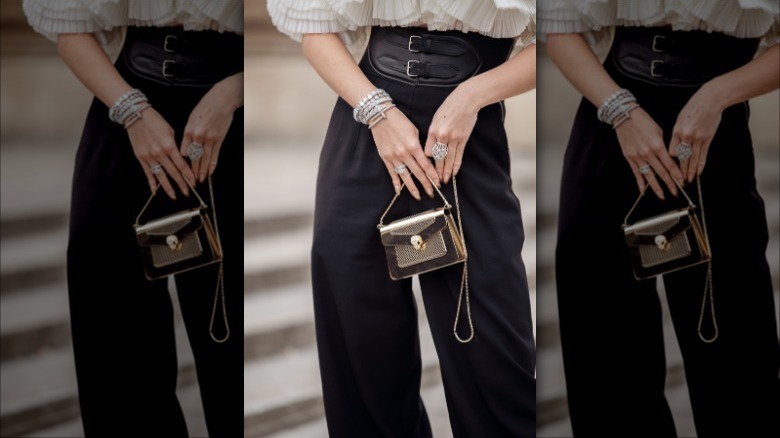 Raimonda Kulikauskiene/Getty Images
While micro-purses had their moment in the past, gold is bringing them back in a new and glizty way. These bags are meant to be statement pieces that add a little extra flair to your look without forcing you to lug a giant bag with you at all times. In gold, they're even more fun! Particularly when you're traveling light, a gold micro-bag will give you that extra sparkle.
Glitzy fanny packs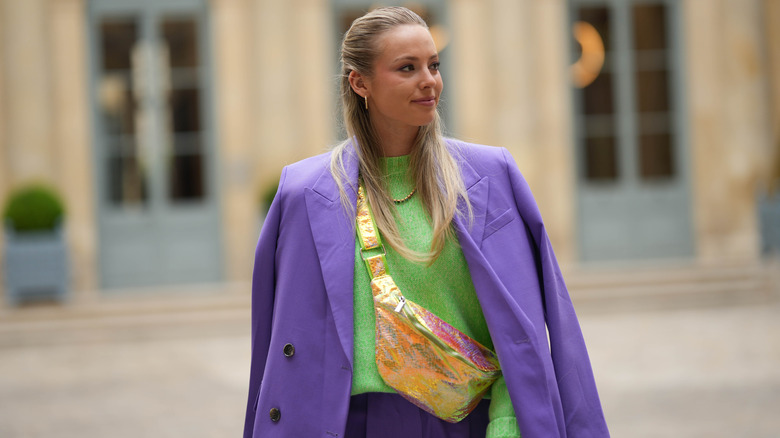 Edward Berthelot/Getty Images
Fanny packs aren't just festival season essentials; they're also the best way of keeping your belongings safe and near you at all times. Although most fanny packs come in the same nylon fabric, there's no reason why you can't add a touch of shine to yours. Gold fanny packs have always worked for Coachella fashion, but the metallics trend means you can also rock this piece in your everyday life. Whether you're going to a concert or the grocery store, this gilded accessory will help you to shine.
Gleaming clutches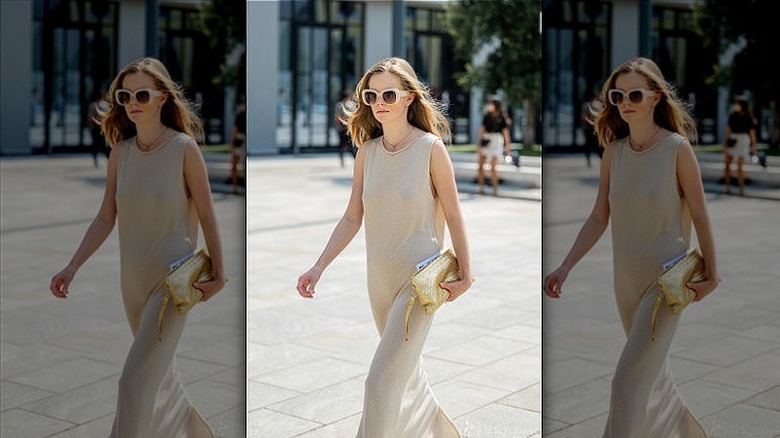 Christian Vierig/Getty Images
Gold clutches are a classic evening staple. However, we are now embracing daytime gold clutches, too. No matter the event or situation, a gold clutch adds some elegance and sophistication. A gold clutch comes in handy to carry all of your belongings, even if you are only holding a few items, so this is a great accessory to add to the long-term collection.
Gold buckle bags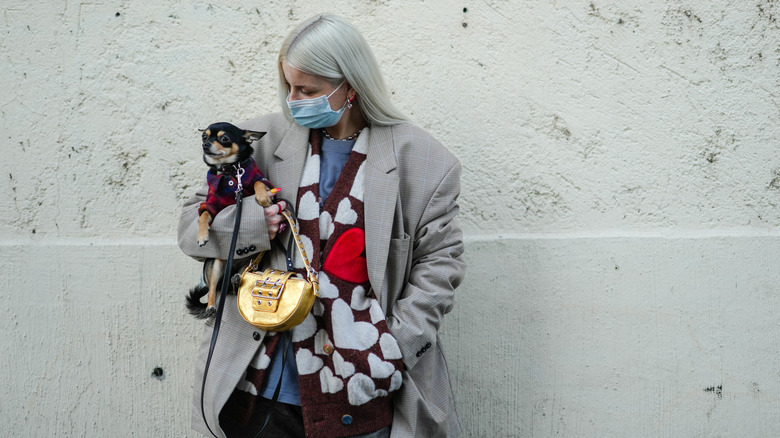 Edward Berthelot/Getty Images
One of the best accents to add to a gold bag is a bit of metalwork. Buckles are another Y2K throwback that brings some grunge to a glam piece. If total shine and sparkle aren't for you, adding metal in the form of buckle detailing can give you some extra edge. Step away from the spotless gold and opt for something a little more street-style for the ultimate versatility. 
Metal metallic bags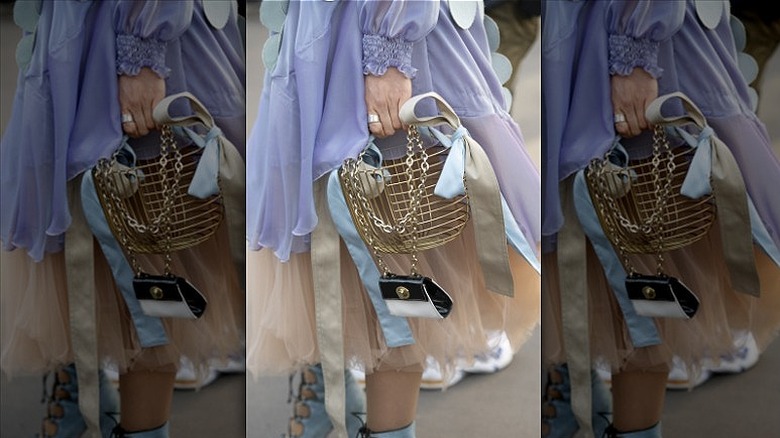 Kirstin Sinclair/Getty Images
With more out-of-the-box bag designs becoming part of our day-to-day wardrobes, it's time to invest in a complete gold metal bag. These metal bags may not be the most practical of the bunch, but they bring something unique and trendy to your outfit. If you're looking to make a total statement with your piece, going full metallic will do just the trick.