White Trousers Are The European Summer Staple You Need In Your Closet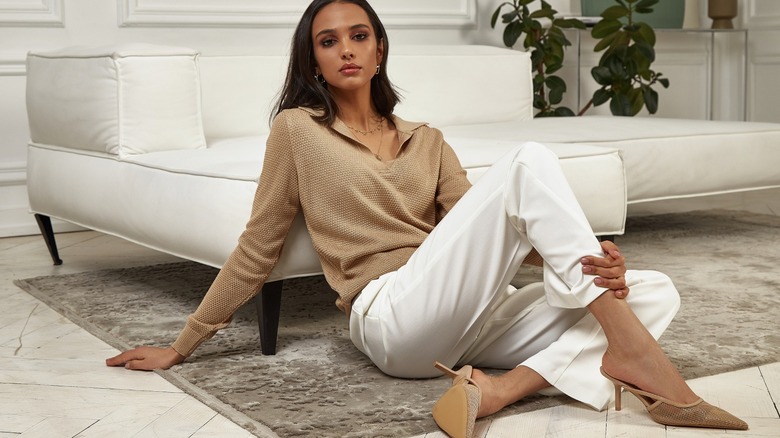 indira/Shutterstock
If you're looking for a special item to add to your wardrobe this summer, a pair of white trousers is an excellent candidate. White trousers can be styled for occasions that demand fancy formal attire or dressed down to look more casual. Naturally, you can pair them with just about anything, and they'll effortlessly make you look timeless. Furthermore, if you already have shirts and tops that don't seem to match anything, pairing them with white trousers usually solves that problem, so they're a pretty perfect investment if you ask us.
Lately, European fashionistas have shown us endless ways to style them; after all, they're a pillar of French and Italian style. They're even being used in all-white outfits that incorporate the pants with other interesting statement pieces. What's more, it's also stylish to pair white trousers with brights, neutrals, or prints for a variety of fresh looks. Are you ready?
Style your white trousers with a belt and roomy shirtdress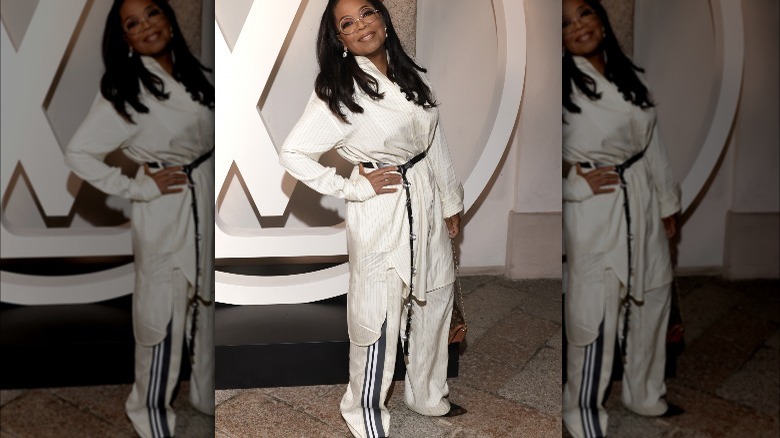 Lorenzo Palizzolo/Getty Images
Oprah Winfrey impressed onlookers with her stunning black-and-white ensemble at the Louis Vuitton Cruise Show 2024 Photocall in Stresa, Italy. To style a similar outfit for yourself, choose a subtly pinstriped shirtdress and layer it over long, white trousers with eye-catching striped accents. Fasten a long, elegant belt at your waist to add definition. Finally, step into a pair of black, pointed-toe pumps. 
Wear white-on-white with brown and gold accessories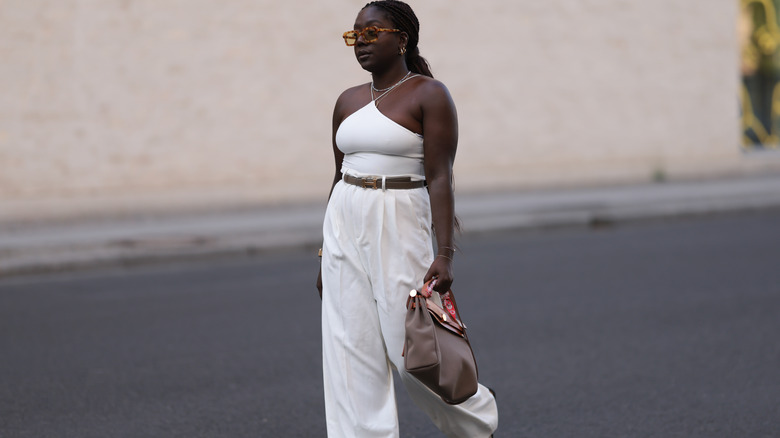 Jeremy Moeller/Getty Images
This trendsetting example of white trouser styling comes to you from the streets of Berlin, Germany. To capture this distinctively European look, start with a white bodysuit or halter top and layer a pair of flowing white trousers overtop. Cinch the pants with a brown, leather belt and carry a roomy, brown canvas handbag. Your other accessories, like shades and sandals, can also be sourced from the same color family. Gold jewelry is the perfect complement to a white-on-white look; pile on gold necklaces, hoop earrings, and a watch as finishing touches.
Keep your look light and summery with a strapless white top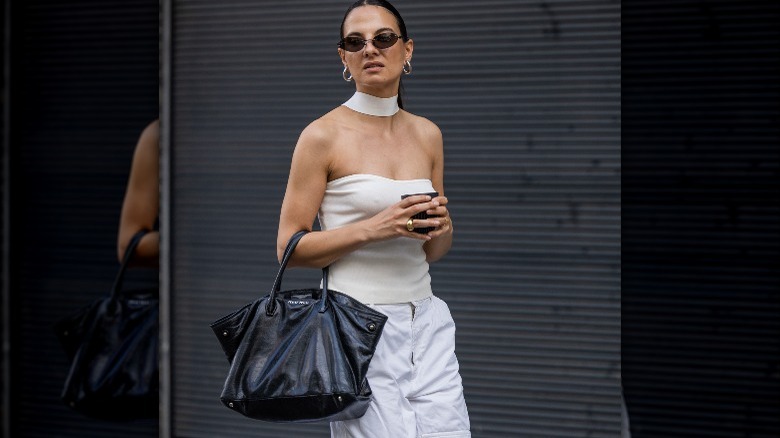 Christian Vierig/Getty Images
Here's a more casual ensemble from Berlin demonstrating that white cargo pants can also be the basis for a light, summery look. If this outfit inspires you, pair a strapless white tube top with your own pair of white cargo pants. Accessorize with a large, black tote bag, black platform thong sandals, and black sunglasses.
Rock head-to-toe white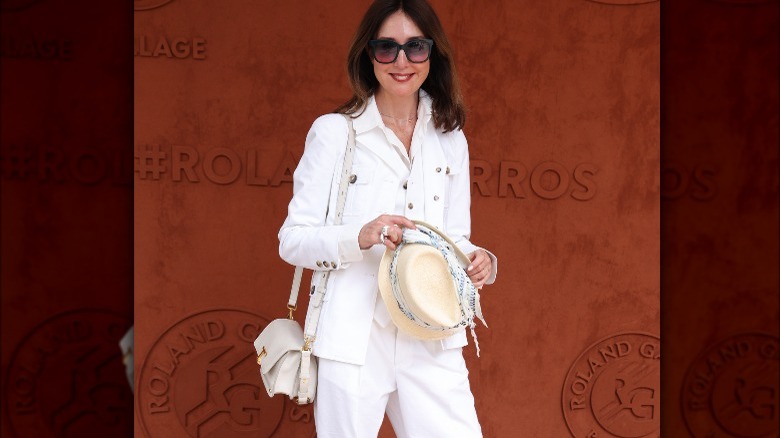 Pierre Suu/Getty Images
The French Open is one of Europe's best events for laid-back summer-style spotting. In fact, French entertainer Elsa Zylbertsei's pleated white trousers provide a fresh backdrop for a stylish white vest and matching jacket. To style a similar ensemble, choose similar pieces to wear together in a layered fashion, and pay particular attention to your accessories. The accents are the key to making this look work so well. Top your look with a narrow-brimmed Panama hat featuring a mostly white, patterned band, and choose footwear that echoes the color scheme. 
Accessorize with brown leather for a sporty style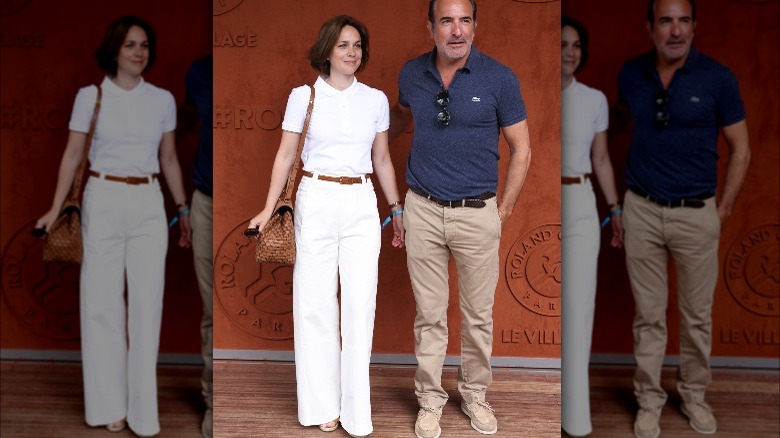 Pierre Suu/Getty Images
Retired French ice dancer Nathalie Péchalat provides another example of the French Open style to emulate. Péchalat sported a simple, unfussy all-white look featuring easygoing trousers and a short-sleeved polo shirt. To get this look, style your white ensemble with brown, leather accessories, including a sumptuously touchable brown leather bag and a complimentary belt.
Put on your white trousers with a sleeveless summer top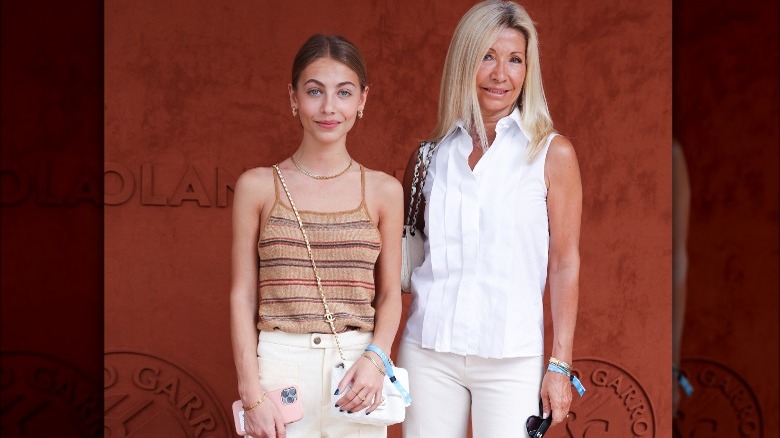 Pierre Suu/Getty Images
Stock your summer wardrobe with white pants and sleeveless summer tops so you'll always have an outfit handy when you want to head outdoors. This simple combination works in many situations, whether you're planning to check out the French Open or a less prominent match at your local park. Outfits like these give you the perfect chance to try out a new pair of espadrilles and don your favorite shades. 
Revisit classic black and white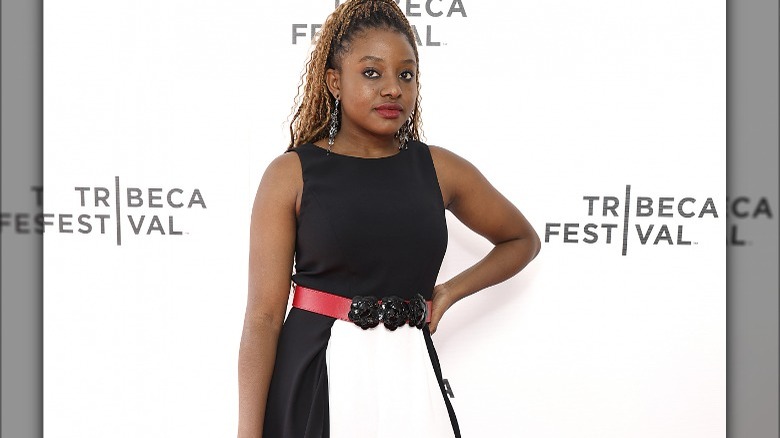 John Lamparski/Getty Images
Here's an Americanized take on the European "Lagenlook" trend. This trend involves creatively combining interesting wardrobe pieces to create unique, layered style statements. If this idea intrigues you, try using a pair of white pants for your foundational layering piece. Nagela Lukas' Tribeca Festival ensemble provides inspiration for one direction this look can go in; Lukas' black top and skirt dress up the pants beautifully, and a red and black belt is the perfect piece for bringing the look together.
Pair your white, tweed trousers with the palest hints of pink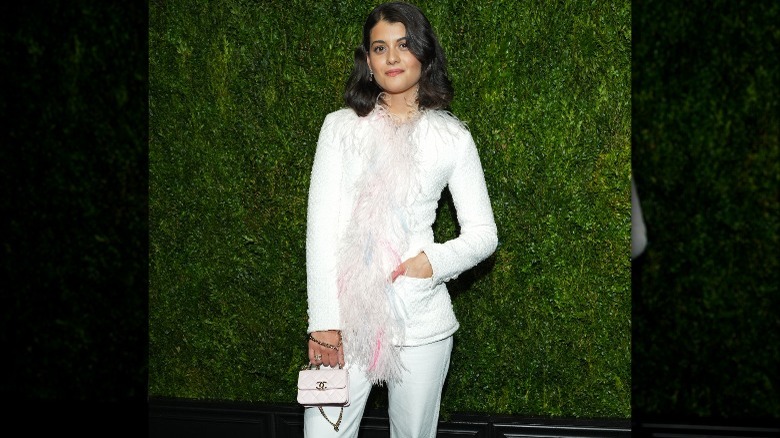 Sean Zanni/Getty Images
Actor Sofia Black-D'Elia demonstrates how lovely white, tweed trousers can be when paired with pale pink and textured accents. Do you own any fun, feathery accessories such as a feather boa, hair clip, or feather-accented? If so, perhaps this photo will influence you to try styling them with sophisticated pants and a quilted mini handbag. If feathers aren't your thing, you can substitute any interesting embellishments you like better — perhaps beaded fringe, suede fringe, lace, or ruffles would be more to your liking. 
Experiment with interesting textured fabrics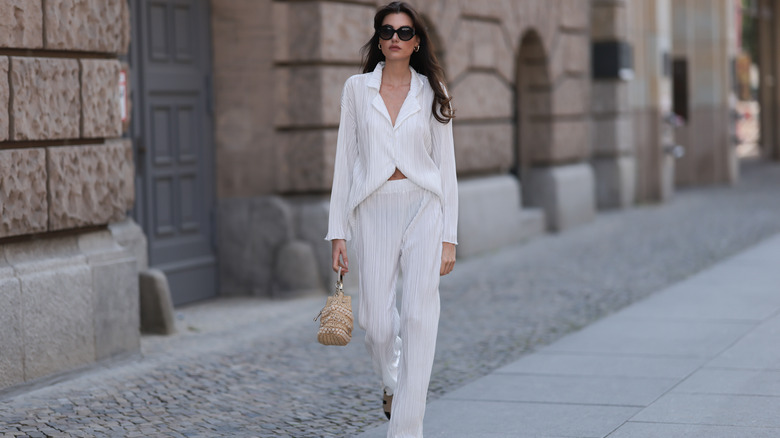 Jeremy Moeller/Getty Images
You can ensure that your all-white attire will be interesting to look at if you choose a fabric that incorporates fascinating textures. German fashion model Celine Bethmann presents a sublime example with the matching two-piece pants set. The fabric's vertical texture gives the illusion of extra height and length even when paired with flat brown leather sandals. Grab a richly textured raffia bast handbag to make the look even more intriguing. 
White-on-white again (because it's one of the hottest color stories right now)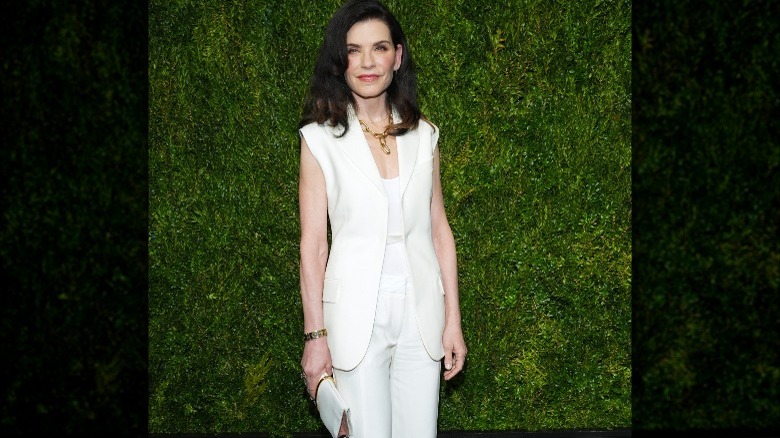 Sean Zanni/Getty Images
When you hope to nail the chic, elegant look, let Julianna Margulies be your influence on how to put a perfect look together. Start with a flowing pair of long white trousers and a simple white top, and then add a long, sleeveless vest. Accessorize with a clutch purse, heavy chain necklace, and sophisticated watch.  
Make white pants part of your rockin' festival look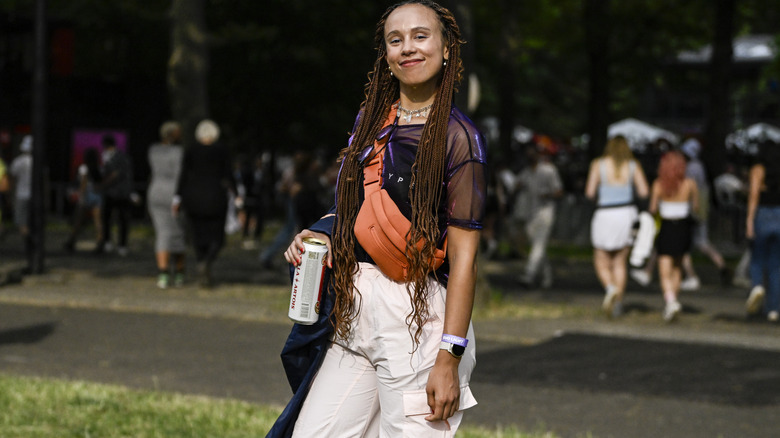 Daniel Zuchnik/Getty Images
White pants can be dressed down for a comfortable, casual look that's suitable to wear out to a concert, festival, or any other outing. Try pairing a pair of white cargo pants with a sheer, purple top, black combat boots, and an orange, crossbody bag for a standout festival style. 
Dress up your trousers with a chic belt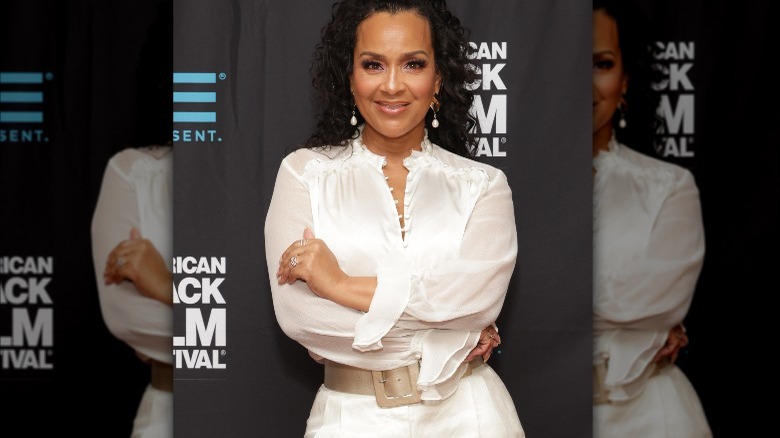 Mireya Acierto/Getty Images
White, wide-legged trousers are just about the most versatile summertime garment you could ask for. You can wear them to work, and they're also ideal for wearing to a variety of social occasions. Pictured above, LisaRaye McCoy offers an idea for styling them as formalwear. Mccoy paired wide-legged trousers with a silky, button-up blouse and a sophisticated belt. This outfit's charm is in its details; to maximize this look, be sure to look for soft, silky-smooth fabrics that feel delicious on your skin. 
Add texture with crochet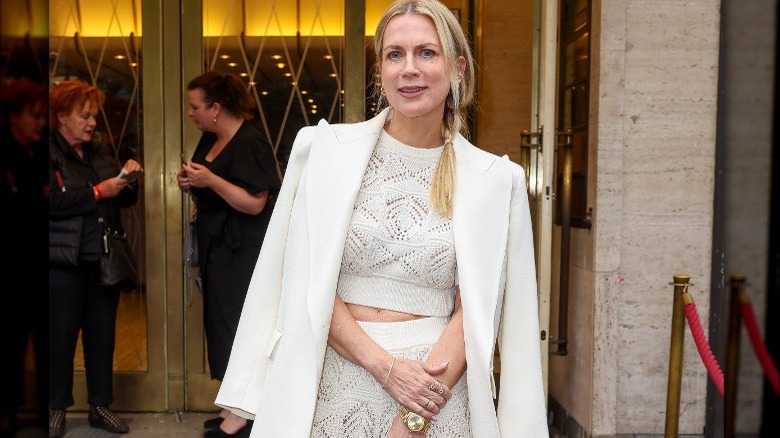 Gerald Matzka/Getty Images
Although white trousers are typically cut and sewn from woven fabric, they don't always have to be constructed this way; they can also be made from crocheted or knitted fabric. There is no machine that can do this type of crocheted handiwork, so ready-to-wear crocheted sets like this are uncommon. You're likelier to find a similar, machine-knitted set available as a ready-to-wear fashion. Another option is to make your own similar pants. Many Scandinavian patterns and tutorials are available online — we love ones from Nordic Hook — making this option perfect for hands-on folks.
Energize an all-white ensemble with splashes of color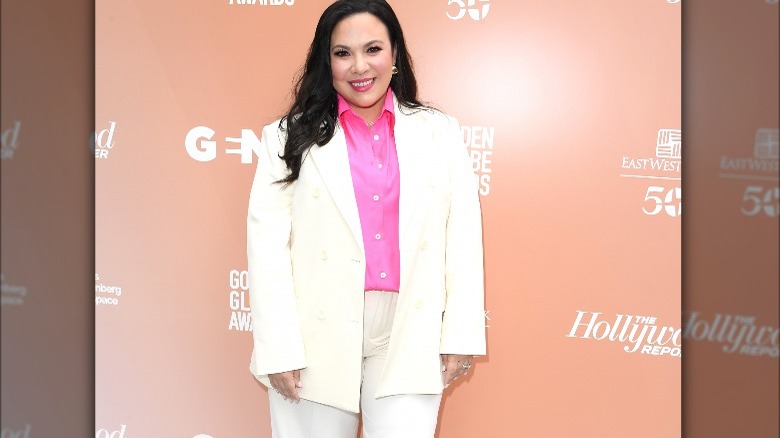 Steve Granitz/Getty Images
Wondering whether the Barbiecore color trend is still going strong? Writer and producer Gloria Calderón Kellett proves that it is and provides a workable formula for white trouser styling: Pair your white trousers with a matching blazer, and layer the blazer over a button-up shirt in a vibrant "pop" color. Reiterate the pop color in your choice of footwear for extra coordination. The bright color can be pink if that's your style, or it could be another brilliant color you enjoy wearing. 
Team up classic white trousers with a preppy button-up shirt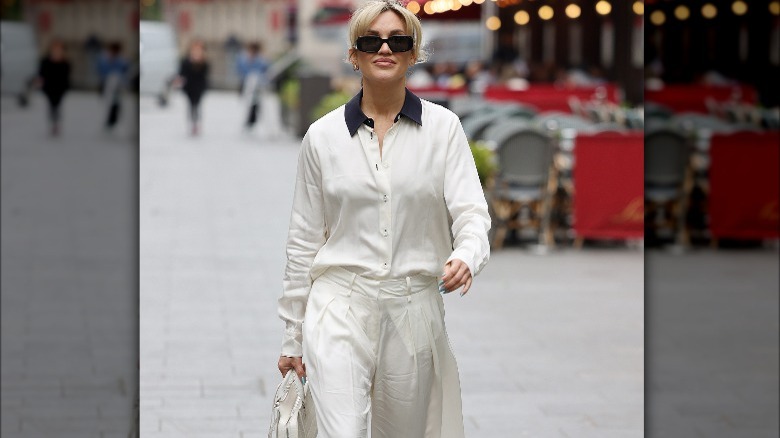 Neil Mockford/Getty Images
There really isn't a wrong way to style long, flowing white trousers like these. Singer Ashley Roberts gives us an idea for how to maximize their appeal: Pair them with a similarly flowy button-up shirt, plus pointed-toe heels and a designer bag. But if this look doesn't appeal to you, simply look through your closet for other ideas; you're likely to find multiple tops you could wear with this style of white trousers.