Nameplate Necklaces Are The Customizable Trend On The Rise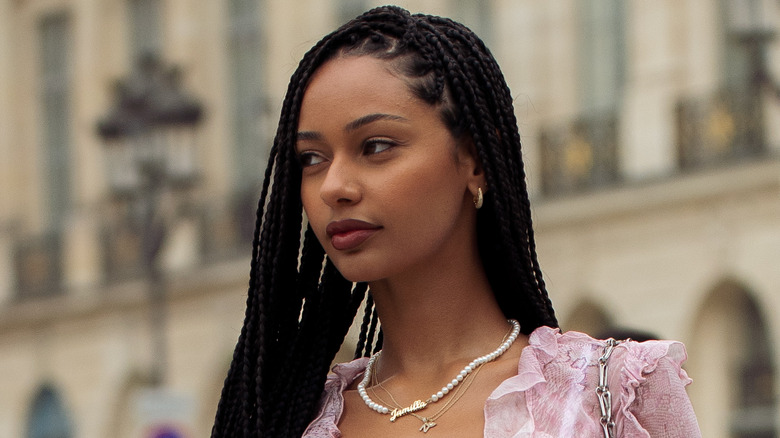 Raimonda Kulikauskiene/Getty Images
If you're looking to inject some spice into your jewelry collection, try a nameplate necklace. True classics, nameplate necklaces gained widespread popularity in urban communities during the '70s, and are closely linked with hip-hop culture, per Africana Studies & Research Center. Rappers and hip-hop trendsetters pushed these iconic nameplate necklaces, a bold assertion of identity, to the forefront, elevating it to a form of cultural expression that is customizable for everyone.
Nameplate necklaces have been spotted on many celebs over the years, and even Carrie Bradshaw's beloved "Carrie" necklace made a return in "And Just Like That...," giving us all a bit of nostalgia. Most recently, the nameplate was worn by style icon Jennifer Lopez in her July 4th Instagram post. We couldn't help but notice the studded capital letters, and obsess over how we too can rock the necklace in a fresh way. So if you have a nameplate necklace, challenge yourself to wear it differently. And if you're looking for one, take your pick from classic cursive or print styles, pearl nameplate necklaces, and wonky fonts.
Go vertical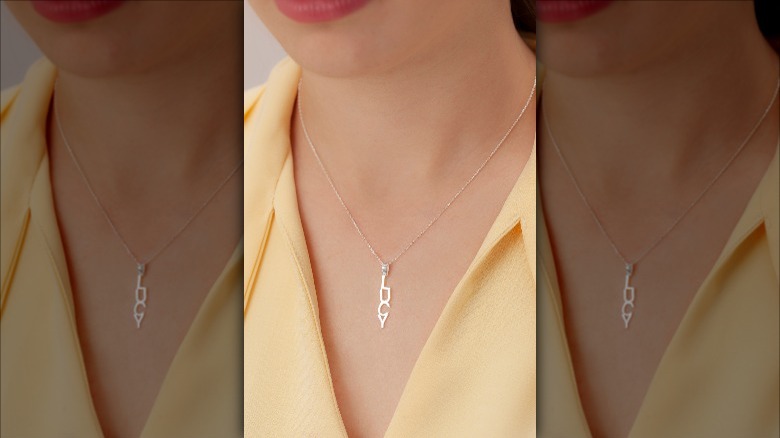 1jewelry/Shutterstock
Typically positioned horizontally, nameplate necklaces create a sense of novelty and add a bit of flair to your look when they are vertical. So get used to heads slanting slightly in your direction. It works best for shorter names in simple fonts, as the more complicated the text, the more difficult it will be to read.
Think out of the box
Who says nameplate letters can't be on blocks? If you're looking for a different take on the classic nameplate necklace, gold-trimmed mini cubes with letters on them may be it. Reminiscent of alphabet blocks, they feel like an upscale version of the childhood staple, and add an element of fun to your look.
What's in a name?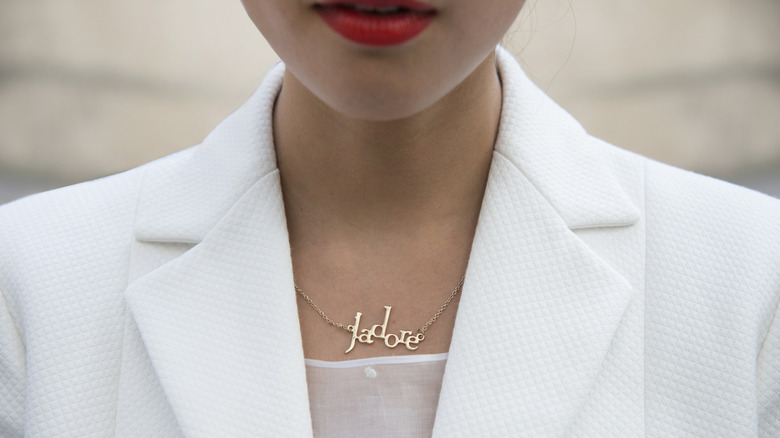 Kirstin Sinclair/Getty Images
When we wear nameplate necklaces, we typically choose our name, a nickname, or some variation. But just because it's a nameplate doesn't mean it has to be your name. You can choose a phrase in a foreign language, like "j'adore," or the name of a designer label (for a dose of decadence). And a nameplate in quirky font, no matter what it says, adds playfulness to more sophisticated looks.
Try a balloon font
Brighten up your day with a festive balloon font, a nod to chunky maximalism. It's both modern and lively, and when stacked with other necklaces, it looks like a party on your neck. You can choose to wear other necklaces with the same font, or you can mix it up with different pendants, creating a free-spirited opulence.
Spread it out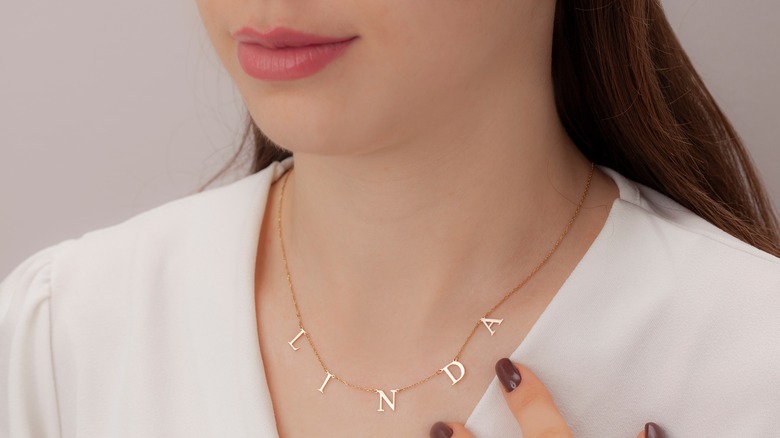 1jewelry/Shutterstock
Classic nameplates are typically made with attached letters. But you also have the option of spreading the letters out. This creates a bold, minimal statement, and in this style, the letters function as single pendants on one chain. Similar necklaces include shape pendants between the letters for a more-is-more look.
Your initials will do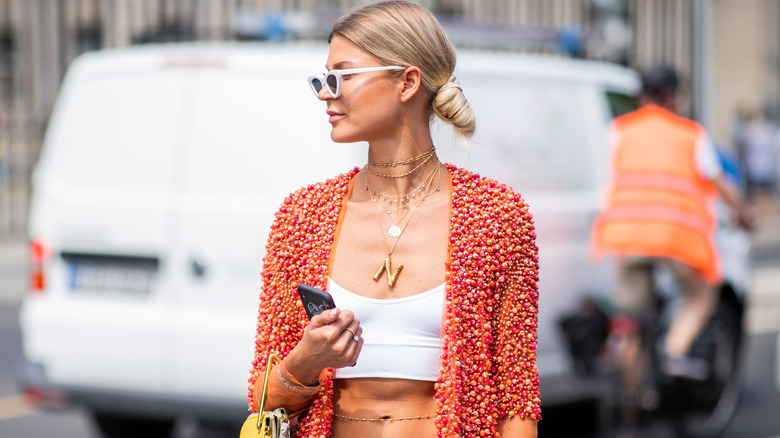 Christian Vierig/Getty Images
An alternative to having your full name on your nameplate (particularly if it's rather long) is to sport your initials. It's simple, modern, and still personal. Stacked with delicate chains in varying sizes and other pendants, an oversized initial pendant is a take on the big and bold jewelry trend and adds substance to your ensemble while giving serious boho energy.