All Of Margot Robbie's Barbie-Inspired Press Tour Hair Looks, Ranked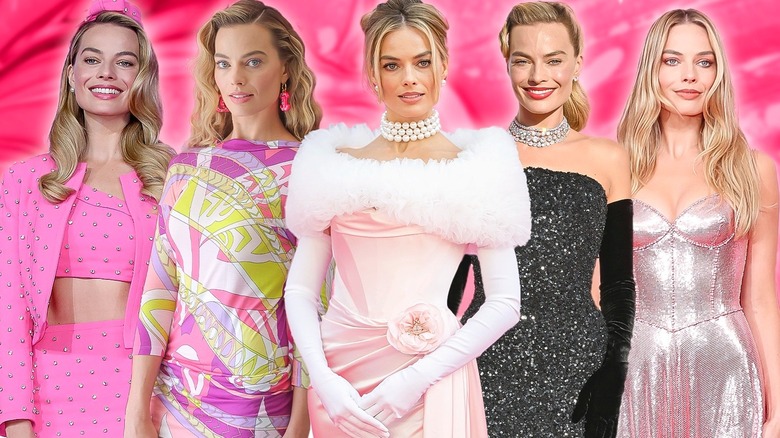 Static Media/Shutterstock/Getty
In the age of Barbiecore, where nostalgia meets contemporary fashion, Barbie is riding a resurgent wave of popularity. This is thanks in no small part to Greta Gerwig's much-anticipated "Barbie" movie that was released during the summer. Throughout the promotional tour for the film, Margot Robbie, our very own living Barbie, has effortlessly channeled the doll's enchanting style, captivating us all with her chic, Barbie-inspired looks. While Robbie has given us incredible Barbie fashion, she has also rocked a variety of standout hairstyles.
Ranking Robbie's Barbie-inspired hair was no easy task. With an entire team of stylists working diligently to achieve the perfect Barbie aesthetic, her every look was unsurprisingly fabulous. Some hairstyles exuded that classic elegance from Barbie's earliest days, while others ventured into more daring territory, borrowing inspiration from some of the most iconic '90s Barbie dolls. However, even among the best, it is possible to pick out the cream of the crop by carefully examining volume, flatness, hair parting, and just how much drama the style evoked.
11. Margot Robbie's basic CinemCon locks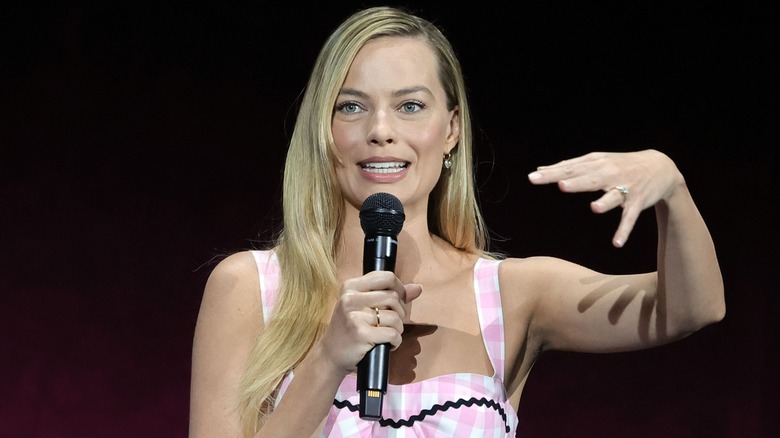 Ethan Miller/Getty Images
When Robbie took the stage to promote "Barbie" at CinemaCon 2023, we couldn't help but feel a tad disappointed by her hair. While her radiant smile exuded Barbie's fierceness, her hairstyle, unfortunately, didn't deliver. Though she sported the deep side part that we adore on her, the hair fell a bit flat, lacking the usual bounce we've come to expect from our Barbie-inspired queen. Despite this minor hair hiccup, Robbie's charisma and outfit still shone through, making it clear that even when her hair doesn't have a perfect day, she remains our favorite Barbie.
10. Margot Robbie's Gen Z hairstyle for the Barbie Celebration Party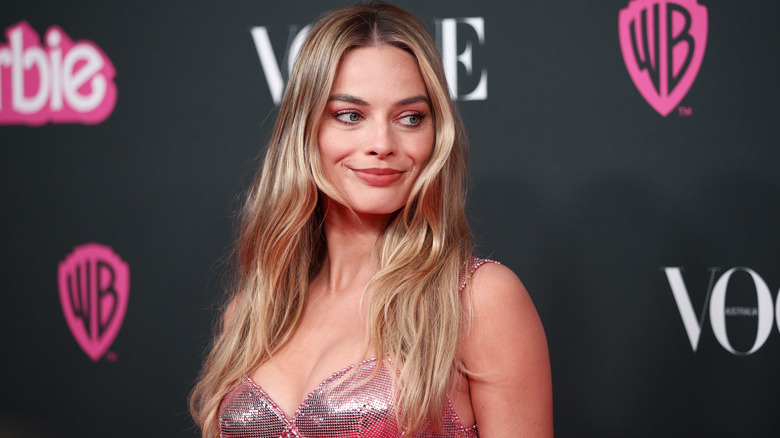 Don Arnold/Getty Images
As the stars gathered at the "Barbie" Celebration Party in Sydney, Australia on June 30, all eyes were on the movie's leading lady. Robbie looked effortlessly cool with her casual signature beach waves, which were accentuated by a modern middle part. Although this style suits the actor perfectly, as Barbie enthusiasts, we couldn't help but yearn for a bit more pizzazz in the hair department. While Margot's beachy look served us a laid-back vibe, it also left us longing for those fun Barbie hairstyles we were hoping for. Nonetheless, it is a slight upgrade from the flatness of her CinemaCon look.
9. Margot Robbie's elegant yet underwhelming Barbie press junket hair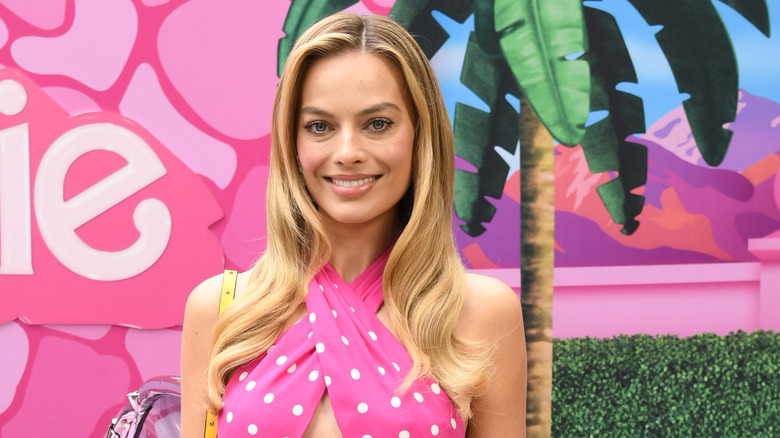 Jon Kopaloff/Getty Images
Robbie showed up at the "Barbie" press junket and photo call in Los Angeles, California on June 25 looking every bit the Hollywood starlet she is. Her hair was styled in a timeless side part with glamorous soft waves, giving her a classic red carpet look. While her hair choice was undeniably elegant, it wasn't anything spectacular, hence its position on the list.
8. Margot Robbie's one-sided hair at the Seoul Barbie premiere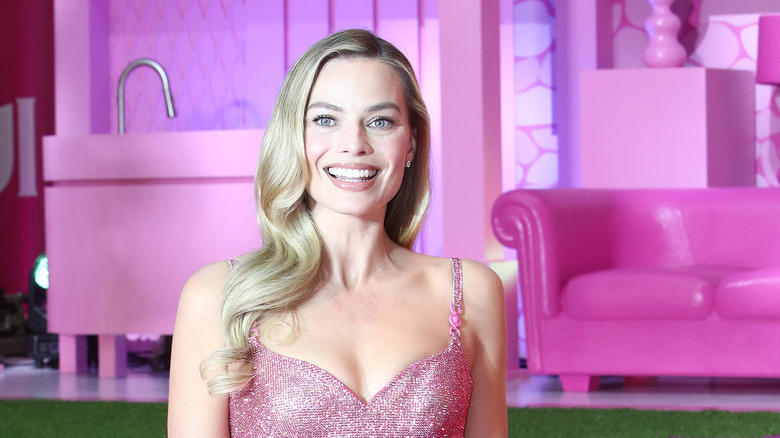 Chung Sung-jun/Getty Images
When Robbie graced the Seoul Premiere of "Barbie" on July 2, she treated us to not one but two stunning looks inspired by the 1985 "Day to Night" Barbie. For her second appearance, the actor sported a similar hairstyle to the LA press junket. However, this time around, the ends of her hair had a firmer curl. Apart from that, one side of her hair was swept behind her shoulder, creating a chic and asymmetrical look that made all the difference.
7. Margot Robbie's Old Hollywood hair for a Barbie photocall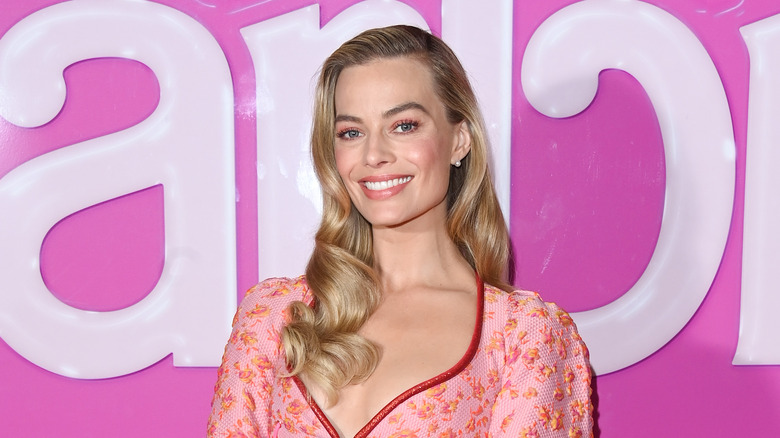 Stuart C. Wilson/Getty Images
Robbie stepped into the spotlight at the "Barbie" photocall in London, England, on July 13, transporting us to the golden era of Hollywood glamour. She embraced a dramatic deep side part, channeling an iconic diva vibe that would fit straight into the aesthetic of "The Great Gatsby." While we love this look on the star, the fact that we'd seen her wearing it multiple times before definitely took away from the wow effect.
6. Margot Robbie's whimsical waves for the Barbie Mexico premiere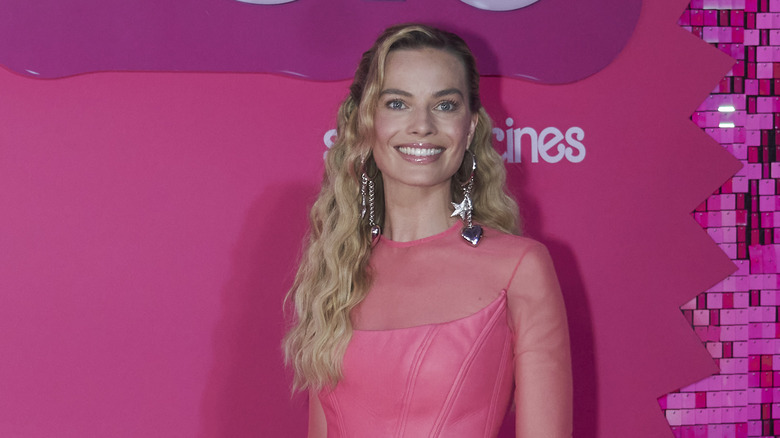 Medios Y Media/Getty Images
Channeling the iconic '90s "Earring Magic" Barbie, Robbie brought an ultra-fun look to the pink carpet at the "Barbie" movie premiere in Naucalpan de Juarez, Mexico, on July 6. Her choice of a wavy half updo perfectly suited her face, and if you ask us, it looked as if Robbie stepped right out of a '90s Barbie commercial.
5. Margot Robbie's chic curls and playful hat for the Seoul Barbie premiere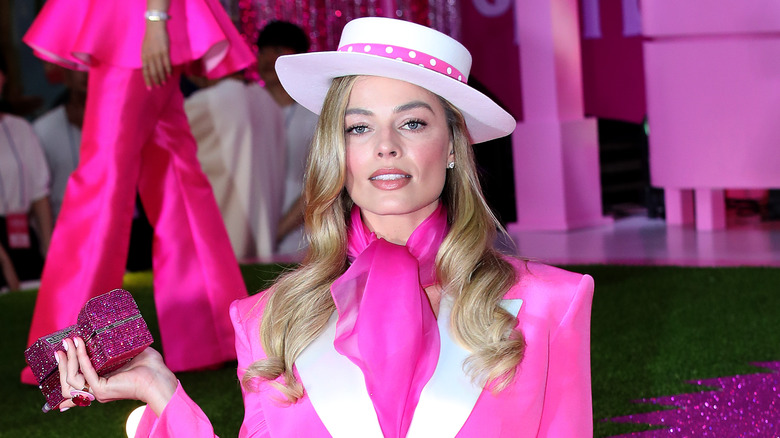 Han Myung-gu/Getty Images
During the "Barbie" premiere in Seoul, Robbie unveiled the first of the 1985 "Day to Night" Barbie-inspired looks on the pink carpet. While we already established that the luscious curls gave her a timeless elegance, the addition of a chic hat elevated the look even further. This is precisely what we expected from the star's press tour looks, and she undoubtedly delivered in South Korea.
4. Margot Robbie's enchanted updo for the Barbie premiere in London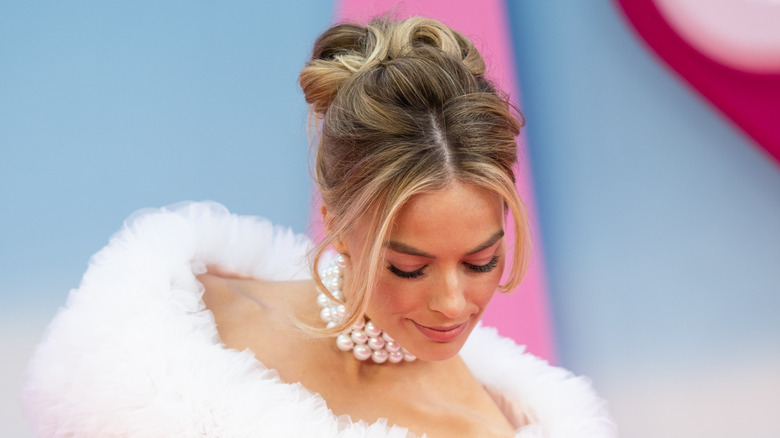 Samir Hussein/Getty Images
For the European premiere of "Barbie" in London on July 12, Robbie paid homage to the "Enchanted Evening" 1960 Barbie with her hairdo. Her elegant evening look perfectly captured the essence of the beloved doll. However, the reason it didn't receive a higher ranking is a matter of practicality. As any Barbie enthusiast knows, certain doll hairstyles are best left untouched to preserve their beauty. But at the same time, brushing a Barbie's hair is a crucial part of the experience. Seeing Robbie with a Barbie hairstyle that most of us would've hated to ruin (but would have nonetheless) definitely makes us feel a bit conflicted.
3. Margot Robbie's sparkly bow at the Barbie press conference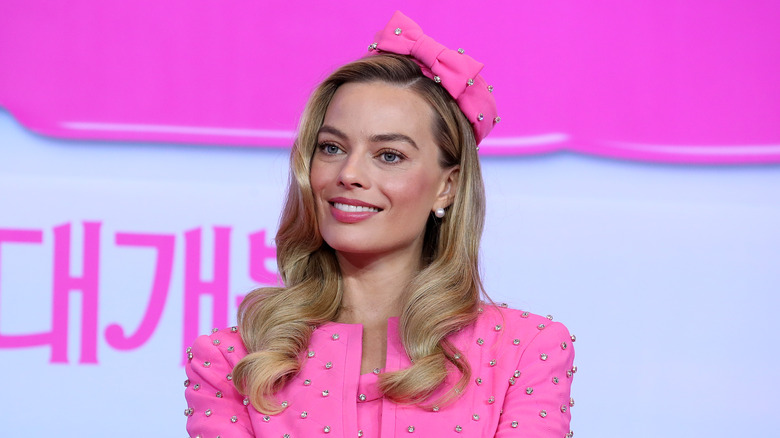 Han Myung-gu/Getty Images
On July 3, Robbie attended a "Barbie" press conference in Seoul, South Korea wearing a 1964 "Sparkling Pink" Barbie-inspired look. Her hair was styled in glamorous curls that framed her face flawlessly. Adding the perfect touch was a bedazzled pink hat with a bow — an accessory that elevated the look to doll-like heights. There was no doubt that Robbie had stepped right out of Barbie's Dreamhouse.
2. Margot Robbie gave us the perfect '90s Barbie hair in Mexico City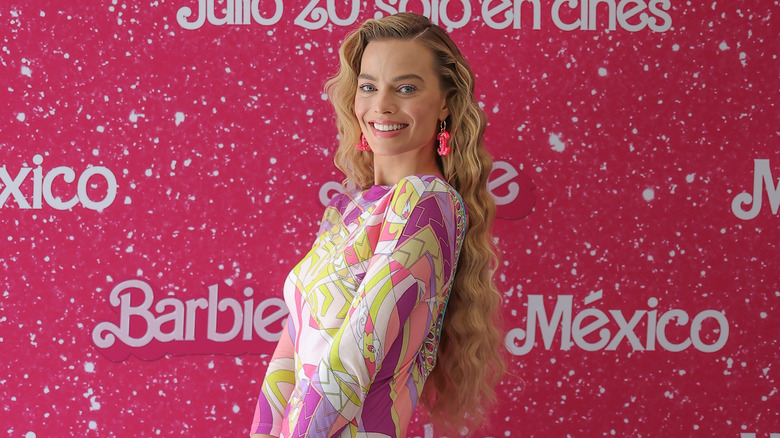 Hector Vivas/Getty Images
Robbie brought a nostalgic '90s touch to the "Barbie" film photocall in Mexico City on July 7. The lead actor drew inspiration from the beloved "Totally Hair" Barbie released in 1992. Emulating the doll's signature ultra-long crimped locks, Robbie's look paid homage to the playfulness associated with one of Barbie's most iconic hairstyles. For many Barbie enthusiasts, her hair has always been a crucial element. The longer and more textured it was, the more fun you could have playing with the doll, creating endless hairstyles every day.
1. Margot Robbie's hair stole the spotlight in LA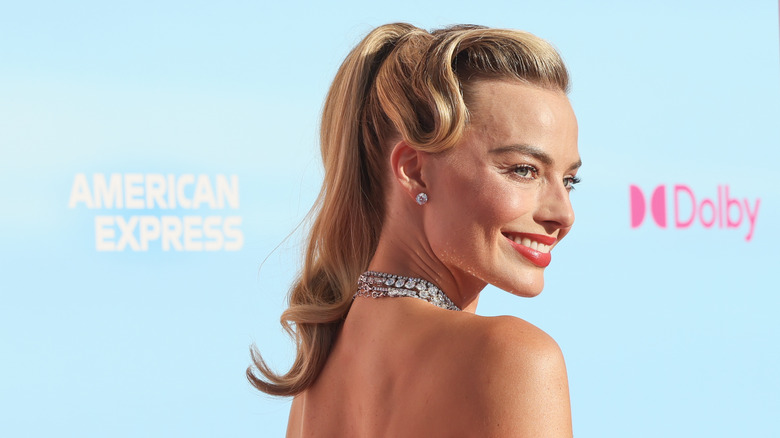 Rodin Eckenroth/Getty Images
Throughout the "Barbie" promotional tour, Robbie showcased an array of stunning hairstyles, making it difficult to pick the best one. However, only one look left us with our jaws dropping to the floor in pure Barbie amazement. We all expected Robbie to go big for the "Barbie" world premiere in Los Angeles, California on July 9, and she certainly didn't disappoint. Channeling the spirit of the 1960s "Solo in the Spotlight" Barbie, her entire look was pure perfection. While we loved the dress, her bouncy high ponytail with the curled bangs stole the show, giving us everything and more.