The Most Iconic Sex And The City Looks, Ranked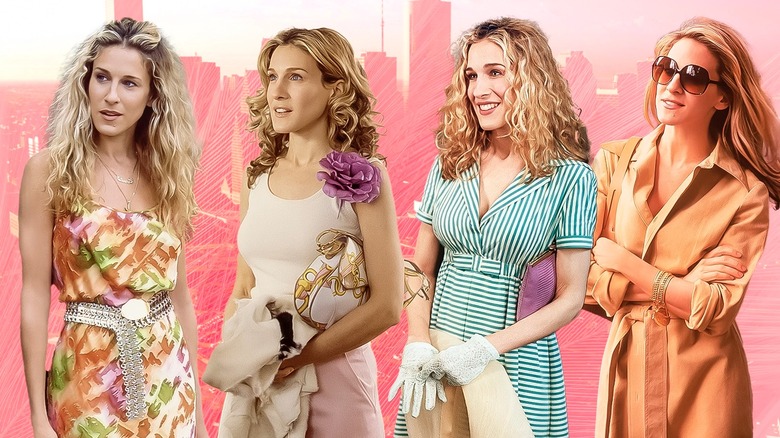 Static Media/Shutterstock
Buckle up, besties: We're diving headfirst and immersing ourselves into the stylishly cosmopolitan world of "Sex and the City." While the series hooked audiences with its humorous and candid takes on love, sex, and relationships in an urban environment, it simultaneously unleashed an unparalleled fashion frenzy that swept the globe like wildfire. From the moment "Sex and the City" hit screens, it became more than just a TV series; a lifestyle was born. This television series would serve as inspiration for independently-minded women everywhere to embrace their true selves and express their personalities through fashion. From the fabulous Manolo Blahniks to the numerous stunning Christian Dior dresses, the heroines of the show used high-end fashion as bold declarations of individuality.
So grab a cosmo and let's take a trip to the bustling borough of Manhattan during the late '90s and early 2000s. Here, four women would leave an indelible mark on popular culture. From Carrie Bradshaw's awe-inspiring ability to pull off both avant-garde and minimal ensembles, to Samantha Jones' penchant for seduction through style, Charlotte York's timeless elegance, and Miranda Hobbes' chic pragmatism, there's a look for everyone.
With '90s and early aughts fashion back in style, let's raise a toast to the city that never sleeps and the looks that never cease to amaze. In this article, we'll embark on a nostalgic journey through the most iconic "Sex and the City" looks, ranked in order of their enduring impact.
Charlotte's blue plaid strapless dress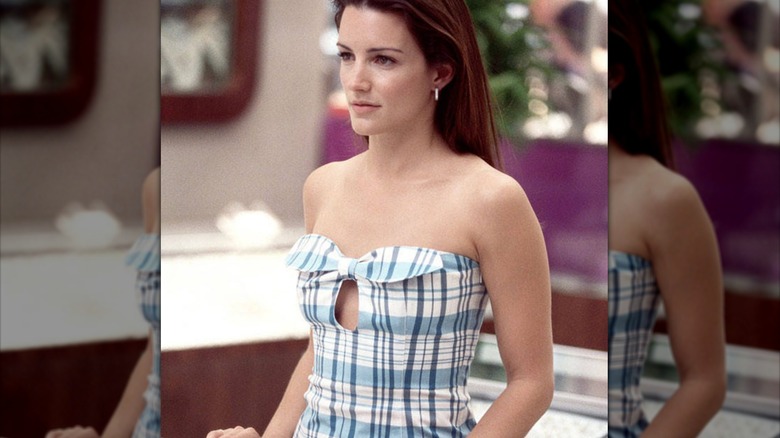 HBO
This sweet yet sexy look remains a timeless classic; it's preppy with a heavy dash of romantic, feminine flair. The devil is in the details. The sweetheart neckline and bodice cut-out bring alluring sensuality, making this plaid garment anything but frumpy. Such a form-fitting, flattering dress is perfect the way it is and can easily be dressed up or down by swapping out footwear and accessories.
Carrie's eccentric ensemble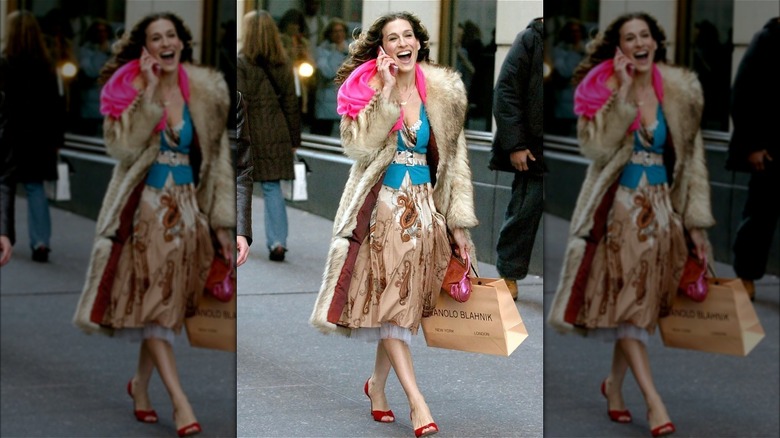 HBO
Carrie Bradshaw is famous for pioneering several beauty and fashion trends. Her ability to fearlessly combine different patterns and textures allows her to create bold outfits that stand out from the crowd. This look is undeniably peak Carrie; she's able to modernize a traditional silhouette through bold pops of neon pink and turquoise. Nowadays, real fur is always a hard pass but one cannot help but admire how great the outfit's contrasting fabric textures work together.
Samantha's sexy summer gingham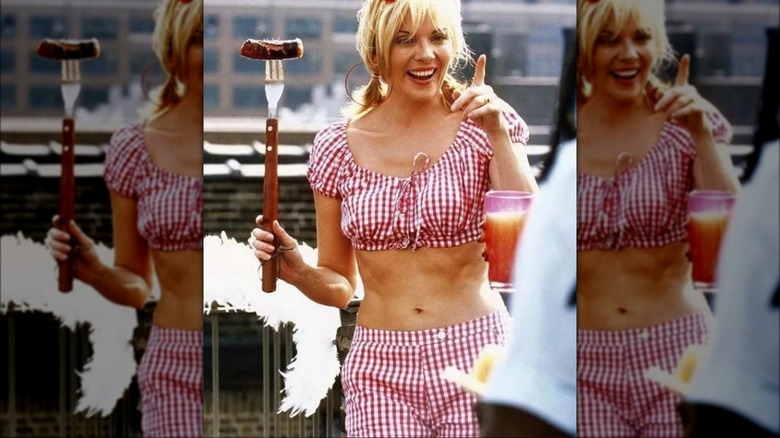 HBO
Samantha's unapologetic, confident, and sensual personality is reinforced by her jaw-dropping sexy outfits. Here is a woman who owns her unquenchable sexuality. This red gingham ensemble that's both charmingly nostalgic and irresistibly alluring is practically a masterclass on flirting. It's girlish whimsy and womanly confidence served on a platter. We're reminded that looking hot isn't always so serious; it can be expressed in ways that are playful and cute, too. 
Carrie's silky slip dress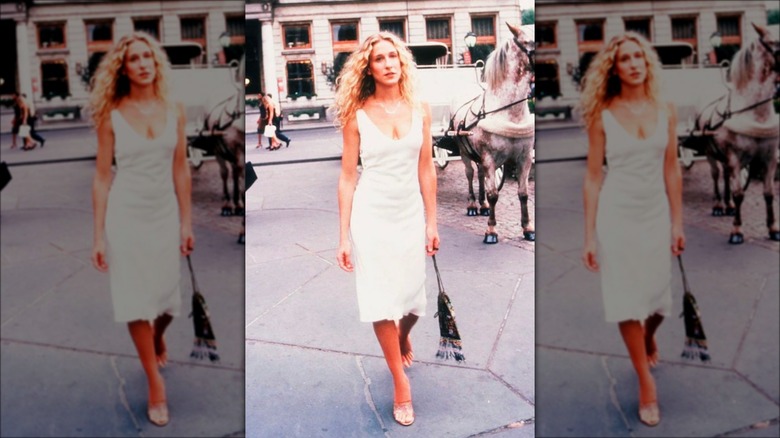 HBO
This versatile dress must be as rare as finding real love in New York. It's one of those golden pieces that can take you from casual chic to pure elegance in a heartbeat, depending on how it's worn. It's minimalist perfection, embodying feminine romance and easy-going freedom while simultaneously being demure and daring. Tailored in all the right places, this white slip dress just oozes understated sensuality. Although undeniably a sexy dress, the simple A-line hem gives the dress a vibe that's timelessly romantic rather than overtly seductive.
Miranda's eccentric office look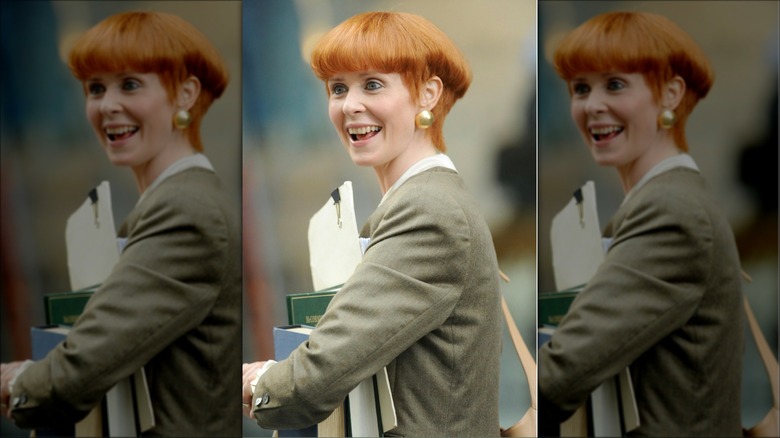 HBO
During the series, Miranda appears to be the only gal in the squad who has a daily office to report to. Before the tech bros of the internet age, there were yuppies: young, upwardly mobile professionals. Despite her professional success, Miranda seems to be the least fashion-obsessed in the group, although she consistently infuses notes of her irreverent and independent personality in her outfits. This fun '80s throwback look combines professionalism and eccentricity: Chunky, Chanel-esque, gold earrings deliver a touch of powerful feminine energy which playfully contrasts with the masculine, preppy tweed of her two-piece set.
Samantha's Barbie-pink power suit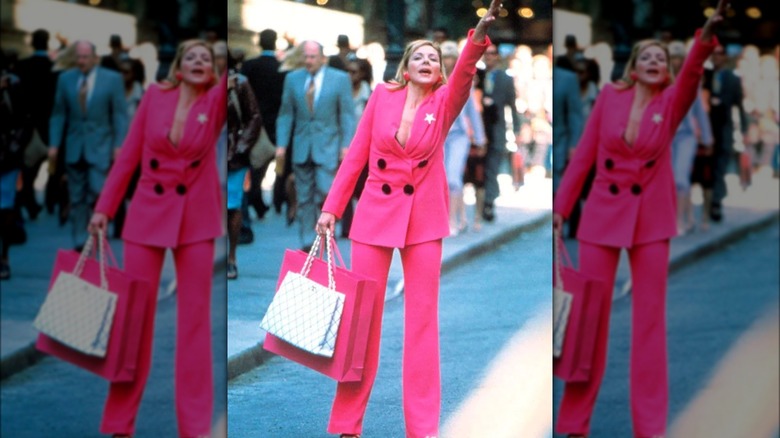 HBO
This suit gives powerful, commanding, bold, and unafraid. Years ahead of its time, Samantha's hot pink, office Barbiecore look deserves a round of applause. The blazer hugs her figure in all the right places, including a notched lapel that exudes sophistication and a touch of playfulness. The trousers are equally chic, perfectly tailored to showcase her powerful presence. Throughout the series, Samantha's power suits are a defining aspect of her fashion sense and illustrate her willingness to stand out in the competitive New York City business and social scene. 
Carrie's Dior newspaper dress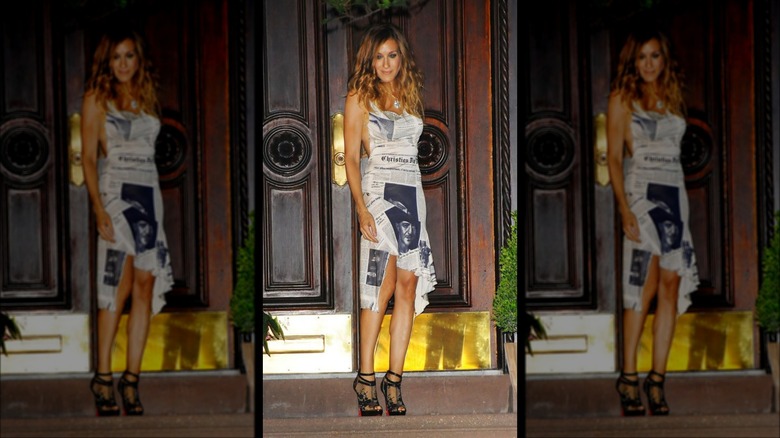 HBO
Designed by John Galliano for Christian Dior and first appearing on the runway in 2000, this sexy, form-fitting dress is the perfect encapsulation of Carrie Bradshaw, a fashion-obsessed columnist. The dress is an iconic symbol of her glamorous and fashion-savvy lifestyle and it mirrors her passion for salacious storytelling. The cut of this dress is very reminiscent of the "naked dress" Carrie wears on her and Big's first date. The simple, sexy, and sleek look is a throwback to Carrie's preference for more minimalist styles in the earlier seasons.
Miranda's boyish-chic overalls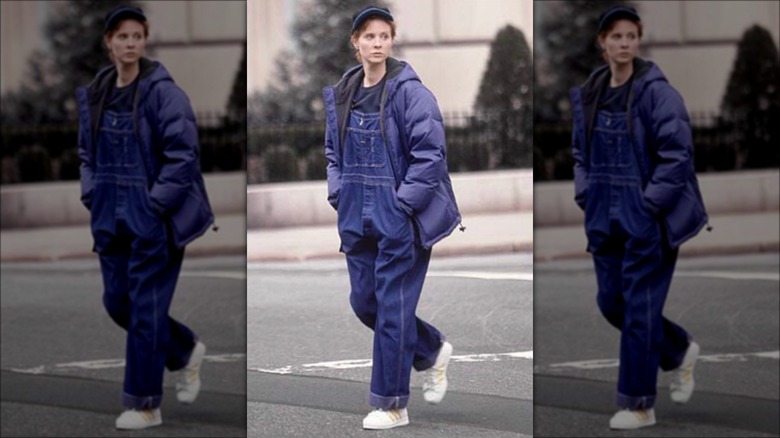 HBO
Breaking away from her usual tailored ensembles, Miranda sports a baggy masculine look that is confident and casual. The cohesive blue tones are a chic, modern interpretation of utilitarian workwear, a concept that has been popping up again and again during fashion weeks for the past few years as the world of high-fashion becomes more democratized. Miranda's blue overalls outfit reflects her practical and no-nonsense approach to fashion. The look aligns with her character's persona as a successful lawyer and a busy New Yorker, emphasizing functionality and comfort while still exuding a sense of effortless style
Carrie's Iconic Tutu
This tutu look perfectly captures Carrie's vivacious spirit and love for using fashion as a means of personal expression. The skirt's layers of tulle and voluminous silhouette create a dramatic and ethereal look. Paired with a simple pink tank top, the white tutu is an unexpected juxtaposition of high-fashion elegance and downtown charm. The outfit has become synonymous with Carrie's character and is considered one of the most memorable fashion moments in television history.