12 Fashion & Beauty Trends Carrie Bradshaw Pioneered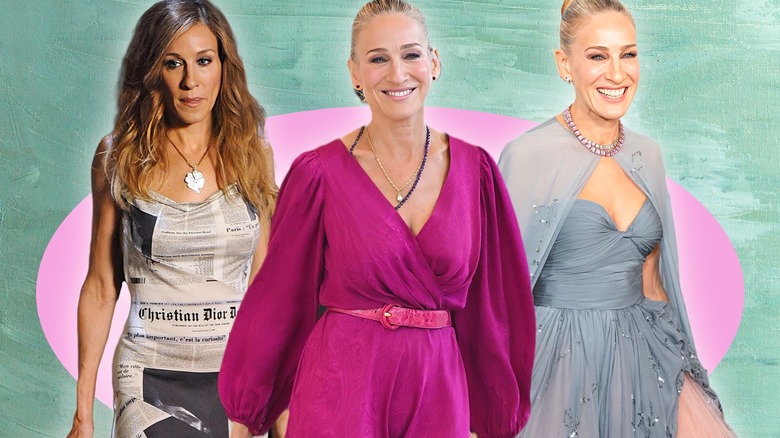 Static Media / Shutterstock / Getty
Costume designer Patricia Field teamed up with actor Sarah Jessica Parker to give life and a fashion personality to the captivating character of Carrie Bradshaw in HBO's "Sex and the City" television series. Two movies and a couple of spinoff series followed. One of the things fans adored most about the show was Bradshaw's quirky, innovative sense of style. Carrie Bradshaw and her friends inspired fashion trends, beauty trends, and even a few food and beverage trends. Thanks to these characters, cupcakes, cosmopolitan cocktails, and Tasti D-Lite frozen yogurt surged in popularity. 
Without a doubt, Carrie Bradshaw is one of the top pop culture fashion icons in recent history. "Sex and the City" viewers couldn't get enough of the character's stylish wardrobe. Fans were just as enthusiastic about discussing her designer shoes, handbags, clothes, jewelry, and other accessories as they were about discussing the show's plotlines. If you're hoping to emulate the style trends that were brought to the forefront by one of television's most influential trendsetters, check out these popular Carrie Bradshaw outfits, hairstyles, and makeup ideas.
The balletcore-style tulle skirt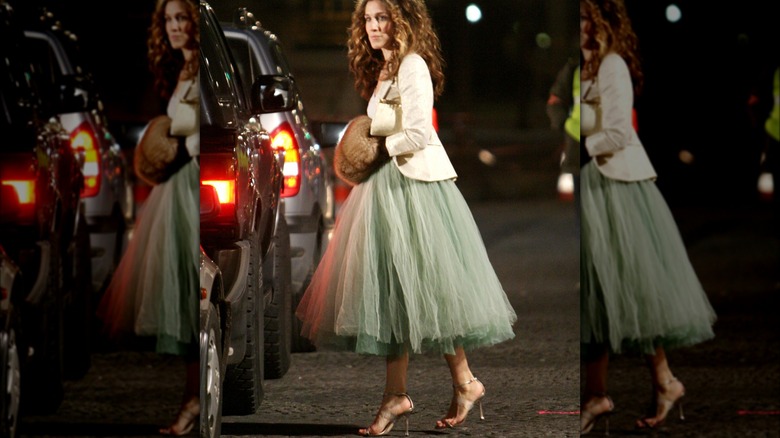 James Devaney/Getty Images
Carrie Bradshaw wasn't the only film character to pioneer the balletcore fashion trend; paving the way, Jennifer Beals popularized leg warmers and off-the-shoulder sweatshirts as dance attire when she wore them in the 1983 movie "Flashdance." But it's Bradshaw who gets the lion's share of the credit for the tulle skirt fad, which was a major predecessor to the current balletcore craze. 
Fashion stylist Olivia Ivey Bannock tells The Zoe Report, "Balletcore explores über femininity, body, movement, nostalgia culture, and comfort." Bannock largely credits "Black Swan" and "Sex and the City" with inspiring turn-of-the-century consumers to channel their inner ballerinas. Bannock adds, "If we are following Gen Z's obsession with '90s nostalgia, rolling into Y2K culture, it only makes sense that balletcore is finding its way back onto the fashion scene."
If you watched the original "Sex and the City" series, you probably remember the show's opener. In it, a New York City bus splatters muddy water all over Carrie Bradshaw's feminine pink and white tulle-skirted dress. In the minds of many fans, that pretty dress epitomizes Bradshaw's style.
The day of the bus incident wasn't the only time Bradshaw chose to wear tulle skirts. Pictured above, for the "Sex and the City" episode filmed on January 17, 2004, Bradshaw wore a flowing green tulle skirt with a white blazer and barely-there silver high-heeled sandals. Not pictured, in the "And Just Like That ..." episode filmed on September 17, 2021, Bradshaw wore a ruffled white tulle skirt paired with a colorful, long-sleeved striped shirt.
The Fendi Baguette bag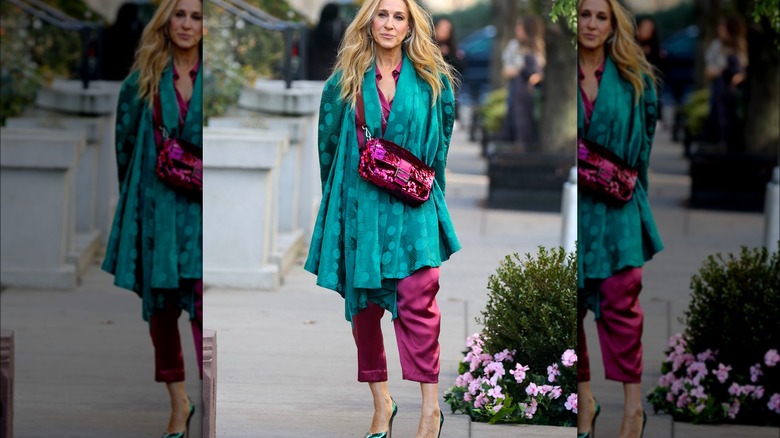 Jose Perez/bauer-griffin
The Fendi Baguette bag made its debut in 1997, prior to "Sex and the City's" June 6, 1998 premiere date. Carrie Bradshaw was one of the fashion influencers who greatly popularized this style. As it turns out, Fendi made a shrewd business move that propelled this iconic bag into fashion history. As one of the authors of the book "Fendi Baguette," Sarah Jessica Parker explains how Carrie Bradshaw's love affair with the Baguette began and gives us a fascinating glimpse at her part in ensuring this enduring handbag style achieved such widespread notoriety.
Parker writes, "In the very beginning, Patricia Field and her team had to be industrious and creative with a low budget by getting clothes from thrift stores in order to tell interesting fashion stories." She adds, "Fendi was really the first important design house to loan us items, with the baguette handbag being the first." Parker discloses that other designers were inclined to lend them products after observing that Fendi had done so. These product loans made it possible for Carrie Bradshaw to flaunt an enviable designer wardrobe in the show's following episodes. 
According to the book, there have been more than 700 variations on the Fendi Baguette bag. Pictured above, you can see Carrie Bradshaw's sparkling magenta Fendi Baguette as it appeared in the January 9, 2023 filming of an episode of "And Just Like That ..."
Carrie Bradshaw's chic belted dress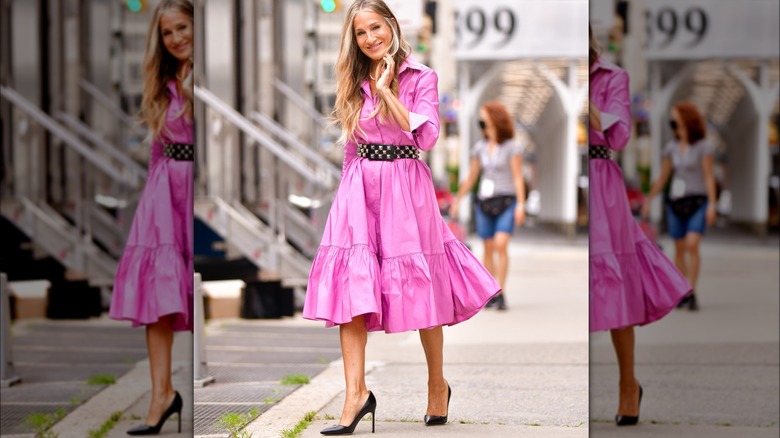 James Devaney/Getty Images
In all fairness, Carrie Bradshaw wasn't the pioneer of the studded leather belt as a "notice me" fashion accessory. Rock stars like Paul Stanley from KISS beat her to that in the 1970s. However, Bradshaw is one of the most prominent early adopters of the latest iteration on a belt-related fashion trend. In its most basic form, the trend consists simply of pairing a sophisticated dress with a sensational belt.
Look at the photo above to check out a striking example of how to make the trend work for you. In this photo, taken on July 19, 2021, Sarah Jessica Parker stars as Carrie Bradshaw in the "Sex and the City" sequel, "And Just Like That ..." Bradshaw is wearing a ruffled Barbiecore pink dress with contrasting accessories including a wide studded black belt and high-heeled black pumps. Notice how the belt is perfectly fitted to Bradshaw's slender waist.
Professional wardrobe consultant Sara Dahlquist tells Oregon Live how to ensure your wide belt will fit you correctly. Dahlquist says your belt "should fit snug but you don't want it to creep and crawl up when you move around." She advises wearers to sit down and bend over to make sure the belt stays in place. To avoid appearing short-waisted, check that the belt is no more than three fingers' width under the bra line. According to Dahlquist, the narrowest portion of your waist is the proper place to cinch your belt if you're hoping to accentuate your waistline.
The cropped vest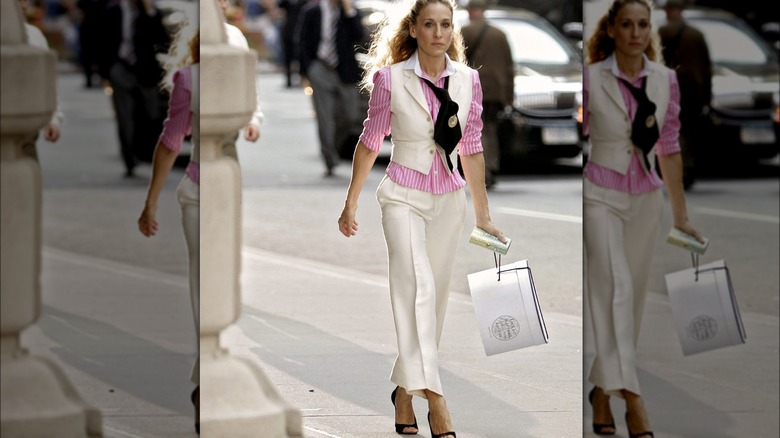 Brian Ach/Getty Images
Vests are trendy for summer 2023, but let's not forget that this is a throwback style. A previous version of the trend actually dates as far back as September 21, 2007 when Sarah Jessica Parker wore the above-pictured ensemble as she portrayed Carrie Bradshaw in "Sex and the City: The Movie." Bradshaw could also be credited with pioneering the latest white trousers trend.
Although this photo provides amazing inspiration for wearing your own vests, there are many ways to style a vest to suit your own aesthetic. Tali Kogan, fashion stylist and the founder of the Tel Aviv Couture website, offers advice on how to accessorize a statement vest. Kogan explains several different directions you can take your look. A vest can be casual, or it can be suitable career wear. Your vest can also be a glamorous part of your holiday attire. One of Kogan's best suggestions is to experiment with layering your vest in different ways. "You don't have to stop at just one layer," she explains. "This is where we often get stuck when finding new ways to wear statement pieces." Kogan adds, "When styling a vest with multiple layers, it's best to keep accessories minimal but complimentary of the look."
Bradshaw's playful tie and minimalist heels give you the perfect example to emulate when you choose accessories to wear with your own cropped vests. 
Carrie Bradshaw's iconic newspaper dress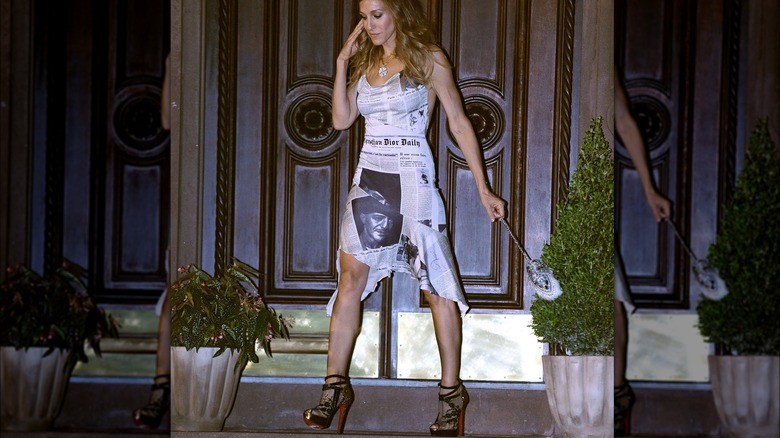 James Devaney/Getty Images
Carrie Bradshaw injected a deep level of meaning into the words "newsworthy dress" when she sported this head-turning style John Galliano designed for one of Christian Dior's Y2K collections.  Bradshaw made at least two known appearances in this dress. She wore it in the Season 3 "Sex and the City" Episode 17 entitled "What Goes Around Comes Around" and then again later in the second "Sex and the City" movie. She wore the newspaper dress with high-heeled footwear by Christian Louboutin, a bag by Bea Valdes, and a necklace by Chauhan Minassian.  
In November 2022, an auction buyer paid €15,300 (almost $20,000 USD) to buy the original Carrie Bradshaw newspaper dress. The print on that dress inspired countless knockoffs. Zara and many other fast fashion brands have released similar garments aimed at fans who can't prioritize spending thousands of dollars to buy a John Galliano original.
Blue Manolo Blahnik Hangisi pumps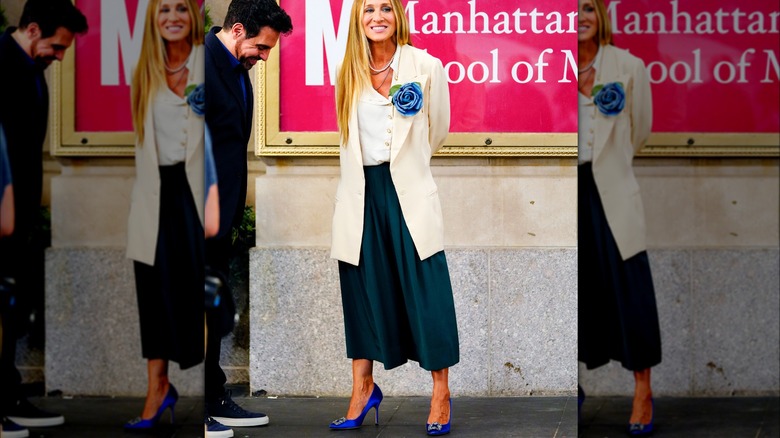 Gotham/Getty Images
Carrie Bradshaw is well known for wearing highly coveted shoes by top tier designers such as Manolo Blahnik and Jimmy Choo. Of all the shoes she has worn in "Sex and the City," one style stands out as being the quintessential Carrie Bradshaw shoes. That style is the blue Hangisi pumps with crystal-adorned buckles by Manolo Blahnik. 
Blahnik tells Footwear News that he envisioned this shoe design after seeing an art exhibit in Palermo, Italy, featuring portraits by artist Giovanni Boldini. Blahnik remarked that Boldini "painted European society ladies in the late 19th and early 20th centuries, and I noticed some of them had buckles on their shoes." He compared these artworks to Eugène Delacroix's renditions of baboosh slippers in the painting known as "Women of Algiers;" those slippers also had buckles incorporated into the designs.
One of the most memorable scenes in "Sex and the City: The Movie" happened when Mr. Big presented Carrie Bradshaw with a lone Manolo Blahnik Hangisi pump. He gave her the shoe instead of a wedding ring when he proposed to her. Later, the Hangisi pumps made another appearance when Carrie Bradshaw appeared wearing them in the first episode of "And Just Like That ..." The Hangisi proved to be so popular that it is still in production today. It has been manufactured in more than 100 different fabrications and colors. Princess Kate Middleton owns an emerald green pair of Hangisi pumps, which she wore when she posed for a royal portrait with Prince William.
The Carrie Bradshaw name necklace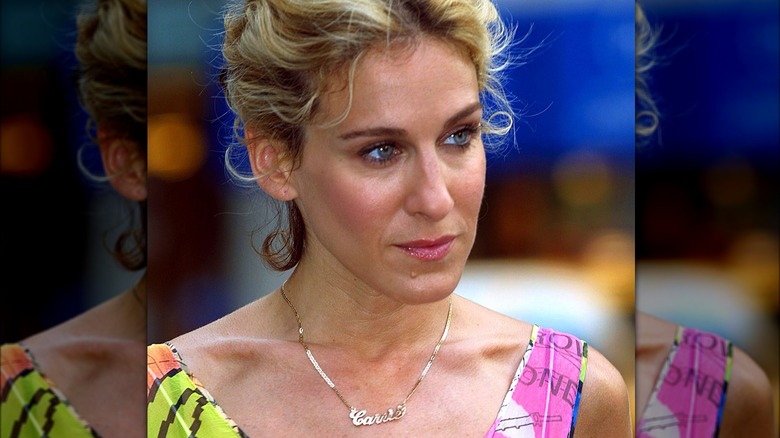 Tom Kingston/Getty Images
One thing Carrie Bradshaw's character is best known for is her willingness to try new hairstyles, clothing, and accessories. Although she did occasionally wear a particular style more than once on the show, it wasn't typical for her to get into a fashion or beauty rut. One noteworthy exception is the nameplate "Carrie" necklace Bradshaw accessorized with frequently, as she wore that necklace on a recurring basis across multiple episodes of "Sex and the City." 
When fans found out that there would be a sequel series, many wondered whether the Carrie Bradshaw name necklace would reappear or whether there would be a new version of it. In December of 2021, "And Just Like That ..." costume designer Molly Rogers answered that question, telling Fashion Week Daily, "It would have been impossible to recreate the Carrie necklace. It's a classic and there's no substitute for it. It's like trying to catch lightening in a bottle." However, in the same interview, Rogers hinted there was a possibility that the necklace could reappear on the show at some point.
Indeed, the beloved necklace did later re-emerge in Season 1 of "And Just Like That ..." As a result of being brought back into the limelight, nameplate necklaces are once again trending in popularity in the real world, too.
Rosettes and corsages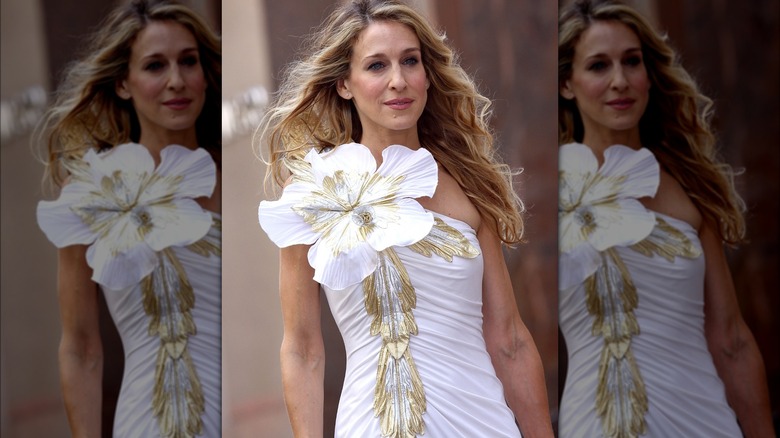 James Devaney/Getty Images
Carrie Bradshaw has embraced faux flowers in many forms, ranging from corsages and rosettes to large overblown blooms like the one pictured above. Her influence has helped to fuel the current rosette trend, which has been picking up steam since some trendsetters were spotted wearing pretty rosettes at Copenhagen Fashion Week in February of 2023. 
This trend's earliest roots predate "Sex and the City." in the 1980s, prom dresses with satin roses were a micro-trend. The rosette fad didn't reach its full potential until the turn of last century when Carrie Bradshaw introduced and promoted it to "Sex and the City" viewers. 
If this trend enchants you, there are many ways you can personalize it to suit your own style. You can add rosettes to your lapel or dress, similar to the looks that Carrie Bradshaw pioneered. You can attach rosettes to the insteps of your shoes or add them to your headbands, barrettes, or other hair accessories. You can even try coaxing your hair into a tidy bun that resembles a rosette.
Carrie Bradshaw's smokey, dramatic eyes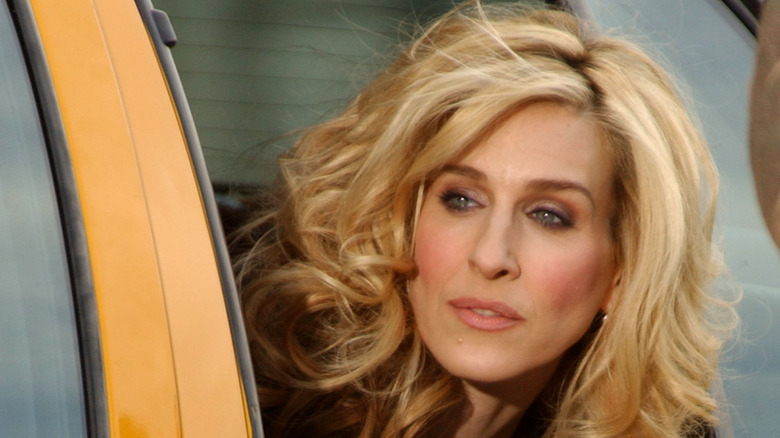 Bill Davila/Getty Images
Judy Chin, Sarah Jessica Parker's personal makeup artist, tells BellaTV how she approaches Carrie Bradshaw's characteristic eye makeup. The Bella TV interviewer asks Chin, "What are some of Carrie Bradshaw's classic, go-to looks?" In response, Chin explains, "For her eyes, what always works for her is lining her eyes on the inside, rimming her eyes with black, lots of mascara." 
Then Chin goes on to name a couple of the beauty products she typically uses to create Carrie Bradshaw's dramatic, smokey-eyed makeup. Chin adds, "Some of the things that I can't live without for her eyes have been the Mac Powerpoint Pencil. (Mac) Mascara X has been a staple of ours. It's a beautiful, rich black mascara. It's fluffy and pretty."
This black eye makeup has been a recurring look for Carrie Bradshaw on multiple episodes of "Sex and the City" and "And Just Like That ...". It's a failsafe look she has often sported no matter what color her hair, clothing, shoes, or other accessories happened to be at the time.
Clear lip gloss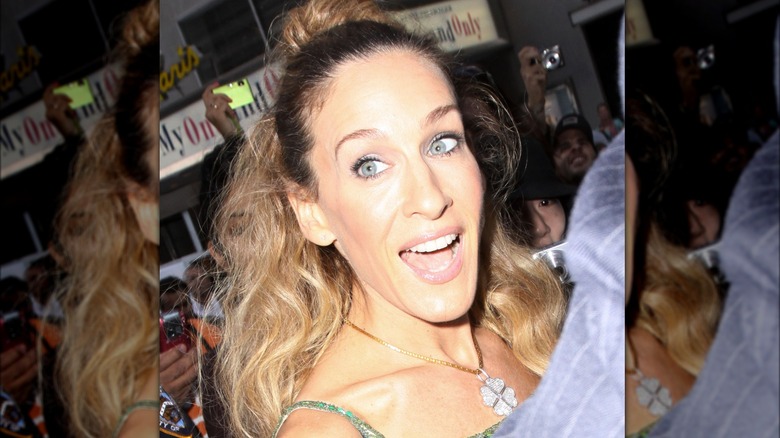 John Parra/Getty Images
Soft, kissable-looking lips are another one of Carrie Bradshaw's beauty trademarks. Sometimes this look is achieved with shiny clear lip gloss, and other times, additional beauty products come into play. Judy Chin, Sarah Jessica Parker's personal makeup artist, tells BellaTV, "For the most part, at least for Carrie, you know, we've always kept her lips very soft. A lot of times, we'll use a lip liner on Sarah and a tiny bit of gloss or a lip balm."
Chin goes on to divulge one of her must-have lip products for bringing Carrie Bradshaw's look to life: "One liner that we always use is a liner from Face Stockholm. There's actually a color called Jessica that we've always used and another color called Barbro, which is slightly deeper."
Sarah Jessica Parker was photographed reapplying lip gloss on the set of "And Just Like That ..." The brand she had in hand in the photographs was Dior Addict Stellar Lip Gloss, which comes in multiple colors. So if you want your lips to be glossy and slightly tinted like Carrie's in the photo above, that's another product you'll want to consider.
Tousled reddish-blond curls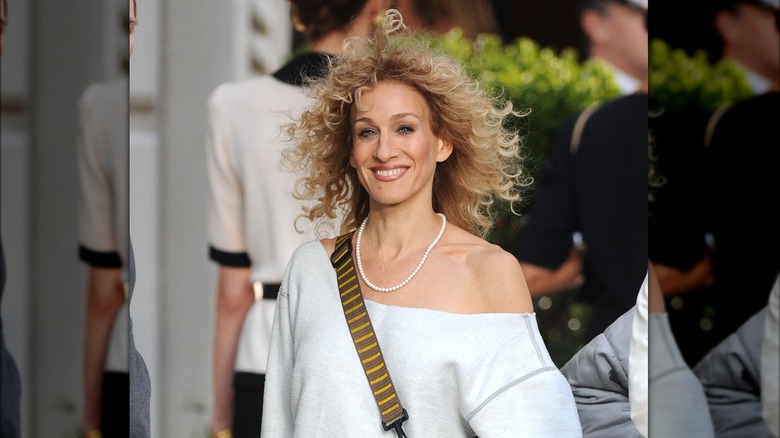 James Devaney/Getty Images
Carrie Bradshaw's hair changes so rapidly that it's hard to keep up. She's sported curly hair, straight hair, and everything in between. One of our favorite historic Carrie Bradshaw hairstyles is pictured above; in this pic, she's rocking tousled reddish-blond curls that epitomized the look of the moment in 2009 when "Sex and the City 2" was originally filmed.
Syd Hayes, BaByliss Ambassador and International Session Stylist, tells Woman & Home how to style a similar headful of bouncy curls. If you're hoping to try out this 'do on your own tresses, start by washing your hair, drying it, and applying a styling primer that will create volume and add texture. Then blow dry your hair. 
Hayes explains, "It's so important to use a hairdryer effectively and efficiently when creating Carrie's curls and volume. Ensure that you rough dry your hair on medium heat and medium power." Hayes adds, "Too hot and you'll end up with frazzled, dry ends." After that, the next step is to grab small sections of hair and curl each of them with a curling iron. Dampen your freshly curled hair with texturizing salt spray. Next, flip your hair upside down and scrunch your curls to maximize volume. Then give your hair a gentle application of hairspray to coax those curls into staying curly for as long as possible.
Windblown waves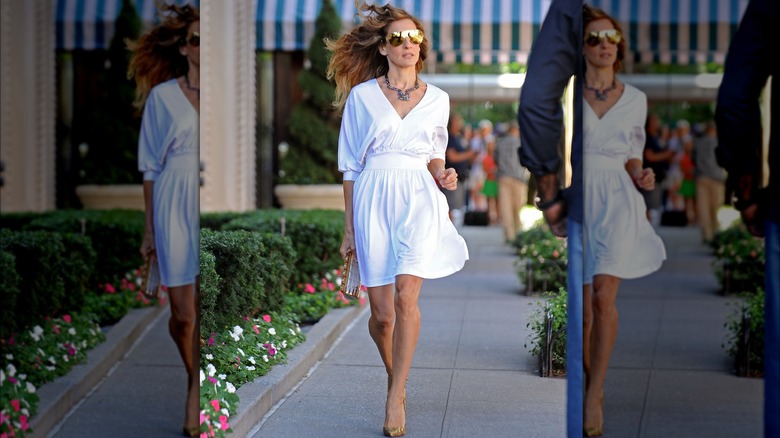 James Devaney/Getty Images
Carrie Bradshaw has worn many variations on a beachy, wavy hairstyle. Sometimes her waves have blond highlights, and sometimes they're colored more toward the reddish end of the spectrum.
Syd Hayes explains how to style carefree waves like the ones pictured above. "The key to creating Carrie's undone waves is to stop regularly whilst styling and take a second to see how the hair is behaving," Hayes tells Woman & Home. "You need to know when enough is enough, it's too easy to get lost in the process and over style."
Careful preparation is another important aspect of this hairstyle. You'll achieve best results if you're able to find and apply a styling product that increases your hair's ability to retain the heat-styled texture. Use a large round brush to guide and shape your waves as you blow dry your hair. A curling tong can also be a helpful tool to use for this process. Finally, wait until your hair has cooled completely before applying a frizz-fighting hairspray, and voilà — your version of Carrie Bradshaw's carefree waves is complete.