Velvet Slip Dresses Are The '90s Trend Coming Back For Fall 2023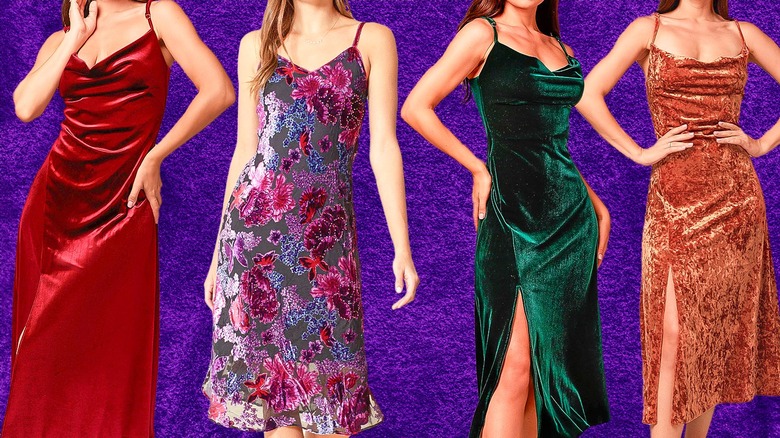 Static Media/Shutterstock
The return of '90s fashion on a grand scale means that many nostalgic trends have made their way back into our closets — except in new ways. The slip dress is one such piece that's been born again in many iterations. Velvet slip dresses were a '90s staple because they were both grunge and feminine, making them perfect for fans of both styles and endlessly versatile. Worn by the likes of Angelina Jolie, Rihanna, and Winona Ryder, this is a trend everyone has rocked on the red carpet at one point. 
Modern velvet slip dresses feature elements that help them to blend into the current era while paying homage to their roots. Brands like Louis Vuitton and Valentino have taken this design to the next level by adding eye-catching ruffles and bold colorblocking tones. Whether you prefer asymmetrical designs or longer lengths, somewhere out there is the perfect slip dress for your fall wardrobe.
Layered velvet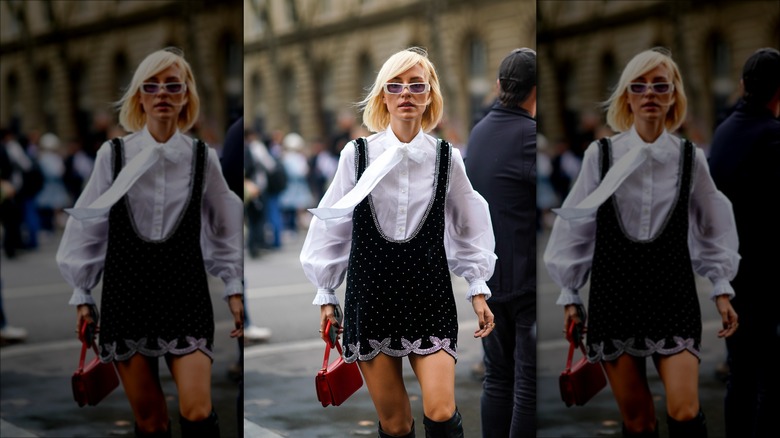 Edward Berthelot/Getty Images
If you're ready to reach peak '90s fashion, layer your velvet slip dresses over another top. Many velvet dress styles are specifically made for layering over other pieces, like those with rounded, plunging necklines. Give them a casual vibe by pairing them with a plain tee or white button-down underneath. This layering trick ensures that your velvet slip dress is versatile enough to go with all your fall outfits.
Printed velvet dress
Just because you're wearing a staple of grunge fashion, it doesn't mean you can't add some feminine flair to it. Embroidered and printed velvet slip dresses are the perfect way of giving this '90s piece a modern twist. With plenty of ways of incorporating embroidery or accents, velvet slip dresses are easier to fit into your closet. Not only do printed velvet slip dresses work for all of your formal events, but they'll dress up your casual days, too.
Velvet and lace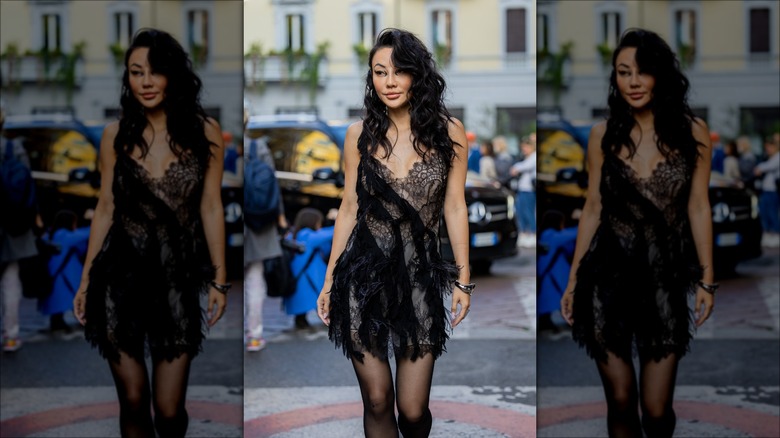 Christian Vierig/Getty Images
One of the best things you can mix velvet with is lace. This soft and feminine accent is the perfect complementing feature to contrast the heavier material. With the juxtaposition of heavy and lightweight fabrics, you can get a more dynamic outfit piece that's easier to wear. Lace and velvet slip dresses are easy to find, with most of these dresses incorporating lace detailing on the neckline or hem. Having both materials in one slip dress adds more fun and interest.
Classic black velvet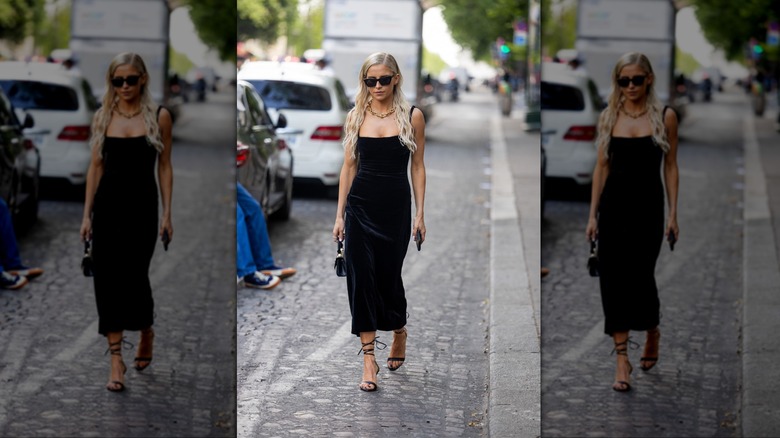 Christian Vierig/Getty Images
Velvet dresses come in all shapes and colors, but you can never go wrong with a black velvet dress. Black velvet slip dresses are a must-have, even past the fall season. While typically thought of as an ideal going-out dress, the black velvet slip dress can be easily styled for a daytime fall look, too. Add a denim jacket and white sneakers for a casual but chic '90s look everyone will adore, or dress it up with strappy sandals.
Maxi velvet dress
Slip dresses aren't just a mini style you can rock. Maxi-length velvet slip dresses are a practical way of wearing this grunge trend in the fall season. You can wear this longer length during the colder weather by adding a leather jacket or blazer. Maximize the edgy vibe by pairing your velvet slip dress with chunky biker boots. Or for a cleaner look, style your velvet dress with strappy heels for the ultimate cool-girl 90s look.