The Stunning Style Transformation Of Rihanna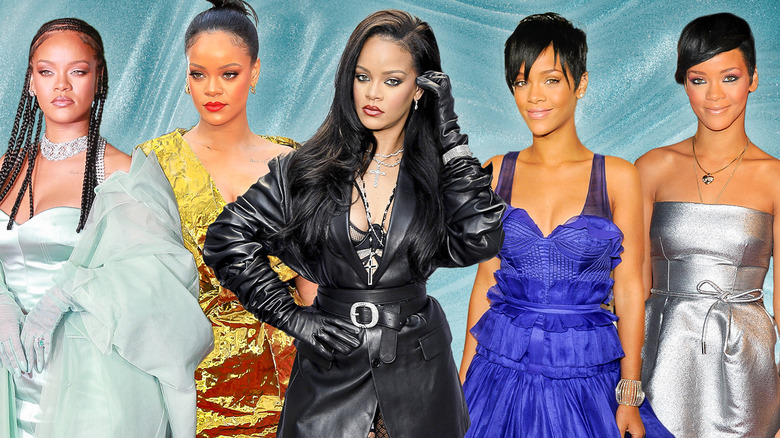 Static Media/Shutterstock/Getty
In the world of entertainment, certain names shine so brightly that they leave a mark not just within their industry, but far beyond it as well. Rihanna, the Barbadian beauty who rose to fame in the mid-aughts as a musical phenomenon, is a prime example of this. RiRi's influence extends far beyond her chart-topping tracks and captivating performances. From the beginning of her career, she has also been a trendsetter whose fashion journey is just as compelling as her musical evolution.
As is often the case with musicians, with each new album, she not only reinvented her music but also introduced the world to a new facet of her persona through her unapologetically authentic style. However, as fans know, the singer has not released a new album since 2016's "Anti," but her style has continued to evolve. As her career unfolded in other industries, Rihanna redefined conventional beauty and style norms along the way. Her journey, much like her music, was not about fitting into a prescribed mold; instead, it was all about pushing traditions and embracing change.
Rihanna's youthful fashion of the Sun (2005)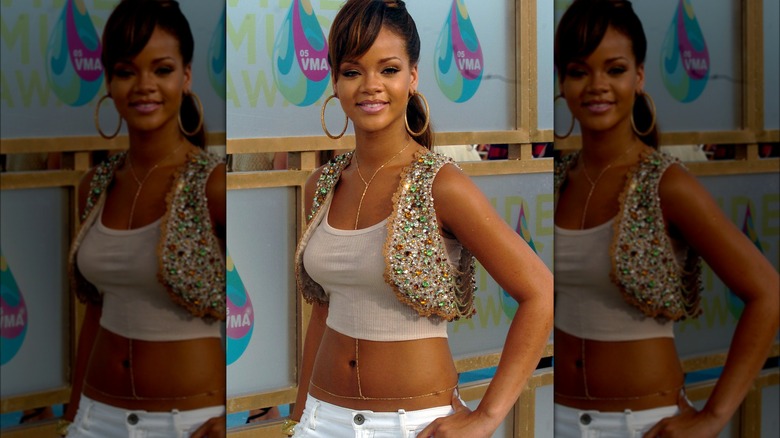 Dimitrios Kambouris/Getty Images
We're starting this fashion journey with the sun-soaked days of 2005 when a fresh-faced Rihanna burst onto the music scene with her debut album, "Music of the Sun." At the time, RiRi was just a teenager, and her style exuded major beachy vibes. She frequently rocked cropped tops that flaunted her midriff, body chains that added a touch of glam to her sun-kissed skin, and low-waisted pants that were obviously a Y2K staple.
Born and raised on the picturesque island of Barbados, it's no surprise that Rihanna's style effortlessly exuded a summery, Caribbean essence. Her outfits weren't just clothes; the vibrant fusion of island colors and carefree vibes celebrated her roots. During her "Music of the Sun" era, Rihanna's fashion journey embarked on its most casual and innocent chapter. But little did the world know that this was just the first of her many signature styles. Like a couture chameleon, RiRi was about to take the fashion world by storm, shedding her youthful beachy threads in a quest to discover a fashion style that resonated with her ever-evolving self.
The singer explores more grown-up lyrics and a more grown-up style (2006)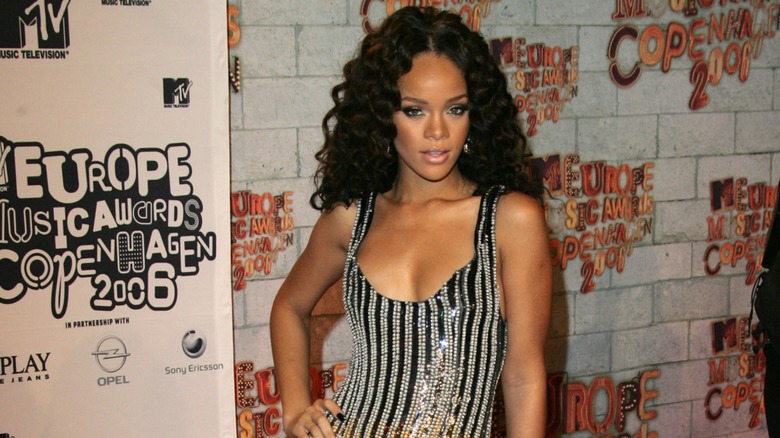 Toni Anne Barson Archive/Getty Images
As the sun set on Rihanna's debut era, a new dawn emerged in 2006 with the release of her second studio album, "A Girl Like Me." Not only were the musical tones maturing, but Rihanna's style was also ready for a transformation that would set the stage for her journey into grown-up lyrics and more sultry and elevated looks.
With tracks like "S.O.S" and "Unfaithful," Rihanna's lyrical themes began to delve into more serious territory, mirroring her evolution as an artist. Her style followed suit, embarking on a reinvention of its own. Bidding farewell to cropped tops, RiRi's fashion style shifted towards plunging necklines and sultry slits. While "A Girl Like Me" became a huge hit with listeners, Rihanna's style seamlessly echoed the album's themes of self-discovery and growth. This was just the beginning of Rihanna using fashion as a canvas for expressing her identity.
RiRi changes the hair game with her asymmetrical bob (2007)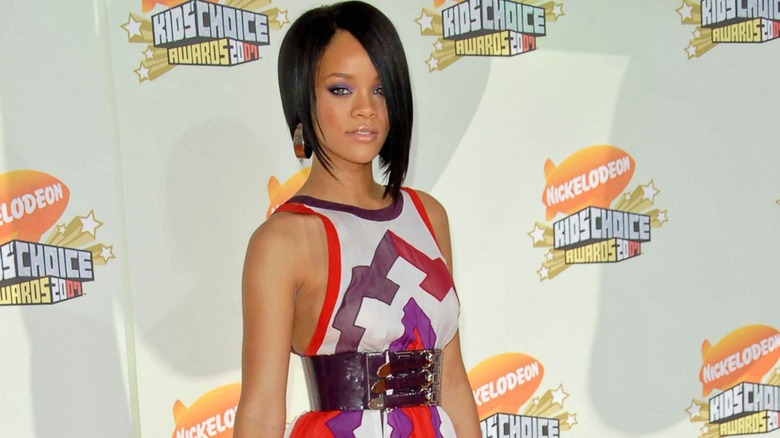 s_bukley/Shutterstock
In 2007, when Rihanna released "Umbrella," she sparked a desire in us all for a new, edgy haircut. However, with her asymmetrical bob, she didn't just start a hair trend. She began her own transformation towards a bolder look. As her hair became edgier, so did her makeup and fashion choices. The colorful and sunny beach vibes that once defined her were replaced by edgier pieces and darker tones. Smoky eyes, moody lip shades, and daring clothing became her new go-to.
"When people see the video [for "Umbrella"], the first thing they say is that I got sexier, and I wasn't even thinking about that. Everything I wore is a reflection of how I felt, a reflection of where I am right now," RiRi told Entertainment Weekly at the time. As her new music opened up new horizons, Rihanna's asymmetrical bob became a symbol of her fearless reinvention. Her transformation was a testament to the power of embracing change and daring to redefine oneself, something the singer was always open to.
A Good Girl Gone Bad with exquisite fashion taste (2008)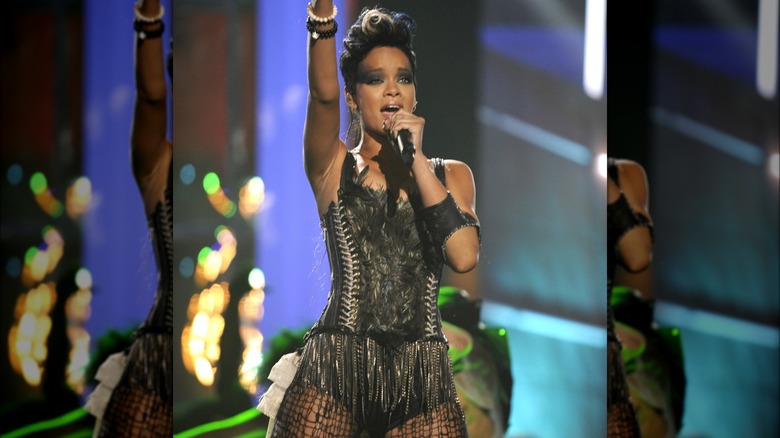 Kevin Mazur/Getty Images
With the release of her third album, "A Good Girl Gone Bad," Rihanna sent a clear message: she couldn't be confined to a single box, whether we're talking about her music or her impeccable fashion. As "Disturbia" and "Take a Bow" hit the charts, Rihanna was busy rewriting her own fashion rulebook. The star made a bold statement by embracing an even shorter haircut that exuded a sense of empowerment, which she enhanced even more through her fashion choices.
Rihanna blended rockstar glam with high-fashion elegance, often pairing daring ensembles with edgy accessories that gave her look that signature Rihanna stamp. "I'm really into accessories: gold, gold, gold! It doesn't even have to be real—just anything that's glittery gold! I like funky pieces, too, like bamboo earrings and super–thick chains," the singer revealed to Teen Vogue in 2007. This era marked Rihanna's metamorphosis into a style icon who consistently pushed boundaries. And while everyone thought this was peak edginess at the time, Rihanna had plenty more to show from her fashion arsenal.
RiRi's fashion takes a Rated R twist (2009)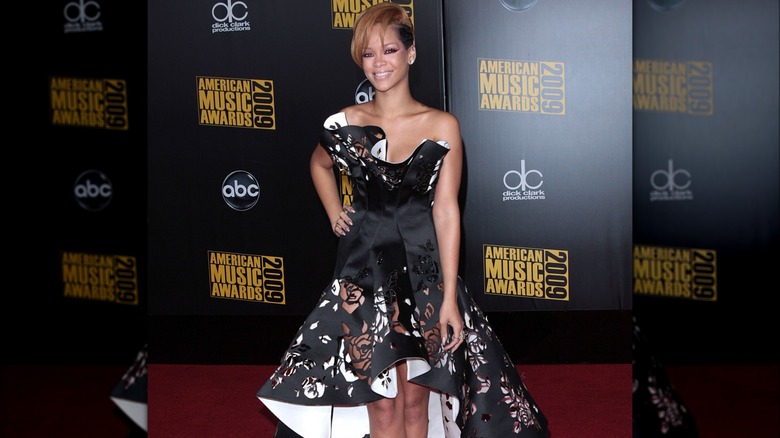 Everett Collection/Shutterstock
With the release of her fourth studio album, "Rated R," in 2009, RiRi's fashion choices hit the avant-garde stage of her journey. She left conventional prettiness in the dust and embraced a whole new level of artistic expression. Her fashion choices mirrored her album, encapsulating her audacious spirit and showing the world that beauty isn't confined to traditional norms. At that year's Met Gala, her second outing at the event, RiRi rocked a stunning Dolce & Gabbana suit.
One thing that didn't change? Her iconic short mohawk hairstyle, which had become a symbol of her fearless attitude. However, the singer did experiment with color, dying her mohawk a warm coppery blond. "I have to say, I have so much respect for original artists and artists who aren't afraid to do what they want to do," RiRi told MTV during this period. Meanwhile, she herself was paving the way for the next generation of artists. With both music and fashion as her palette, she dared them to be bold and unapologetically true to themselves, inspiring a movement that celebrates creativity in its most authentic form.
The singer goes red and Loud (2010)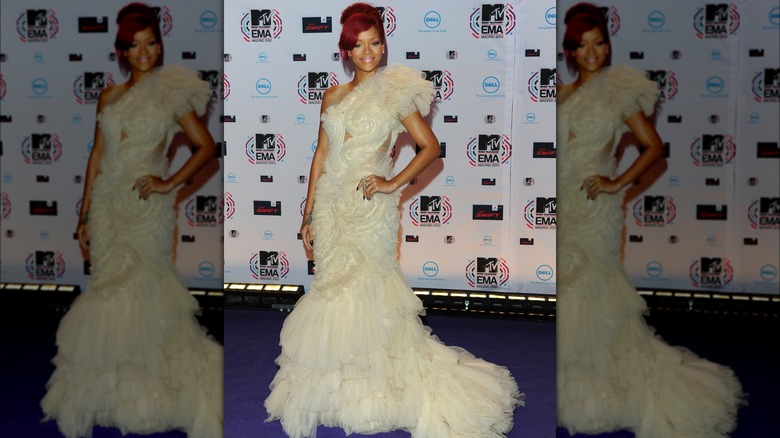 Daniele Venturelli/Getty Images
Rihanna took her style to electrifying new heights with the release of her fifth studio album, "Loud." With a splash of vibrant red in her hair, she not only made a bold statement but also ignited a fiery fashion evolution. "I want to have more fun with my music, my image and be more experimental," the singer revealed to We Love Pop (via Digital Spy). "So, with 'Loud,' I got a bit more rebellious and did whatever I wanted to do. I reinvented my image and took creative control."
Rihanna's decision to dye her locks a brilliant shade of red made the crimson hue an instant fan favorite, setting a trend that countless daring fans would follow. Edgy as always, RiRi effortlessly blended her love for the unconventional with a dash of classic Old Hollywood glamour. Of course, the bright red color of her hair gave just the perfect amount of edge to any retro-inspired look. Apart from rocking some vintage-looking pieces, the singer slowly began embracing more colorful styles.
Rihanna returns to her fashion roots (2011-2012)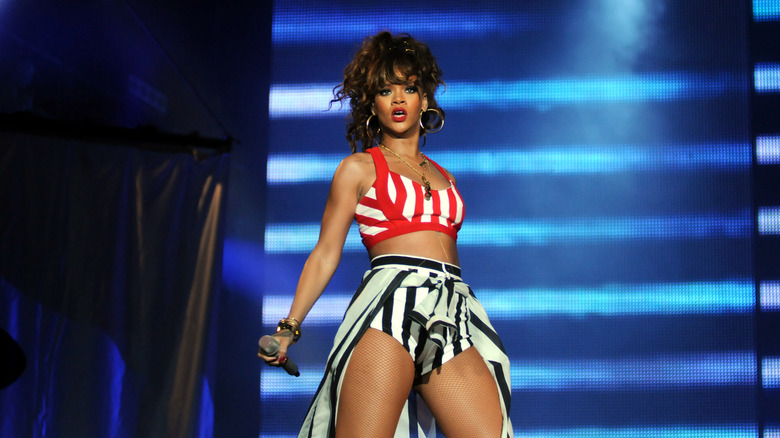 A.RICARDO/Shutterstock
After the release of her album "Talk That Talk," Rihanna's style took a turn reminiscent of her early career days, at least when it came to the colors. Dying her hair red was the first step in saying goodbye to her ultra dark and moody "Disturbia" period. The singer began incorporating nostalgic shades into her bold style, embracing a palette of vibrant hues reminiscent of her early days when her wardrobe was an ode to a carefree youth and rebellious spirit. 
Cropped tops and shorts also made a triumphant return to Rihanna's closet, summoning memories of her beachy breakthrough. However, this time around, there was a difference — her outfits were a lot more polished and sultry. One of the looks that stands out from Rihanna's 2011 era is the iconic ruffled and see-through Jean Paul Gaultier dress, which left many either worshipping her style or doubting it. This avant-garde masterpiece was undoubtedly ahead of its time and remains a testament to the artist's trailblazing style over a decade later.
RiRi has the time of her life setting trends (2013-2015)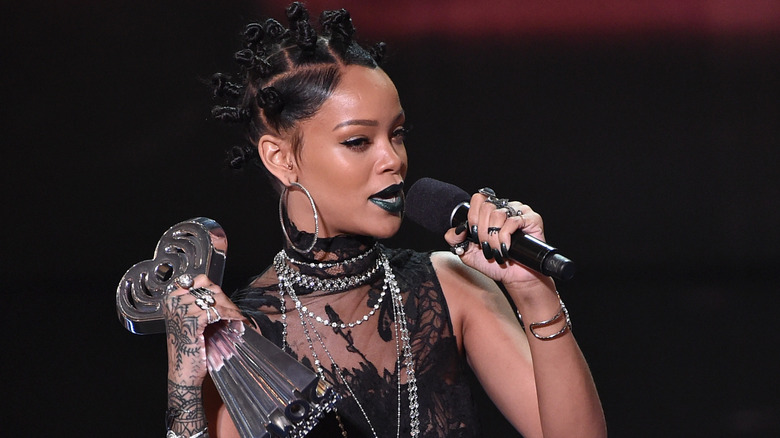 Kevin Winter/Getty Images
From 2013 to 2015, also known as her "Unapologetic" era, Rihanna gave us a whirlwind of transformations, trends, and pure, unapologetic self-expression. Most fans agree that the phrase "changing looks" took on a whole new meaning with Rihanna during this time. From long blond locks with a bold side undercut to an edgy bob with straight across bangs, RiRi gave us a variety of hair hairstyles that quite literally dared us to keep up.
Rihanna's fashion choices also played to the rhythm of her mood. She was a style shapeshifter, effortlessly switching between minimalism and maximalism, casual and extravagant. For instance, her 2014 Met Gala look by Stella McCartney was a masterpiece of simplicity that took our breath away. A year later, at the same event, RiRi would unleash maximalism in a Guo Pei outfit that showed that less wasn't always more. Rihanna continued to remind us that fashion isn't about sticking to one style – it's about embracing them all, celebrating each facet of who we are, and being unapologetic.
The singer's love for oversized pieces (2016)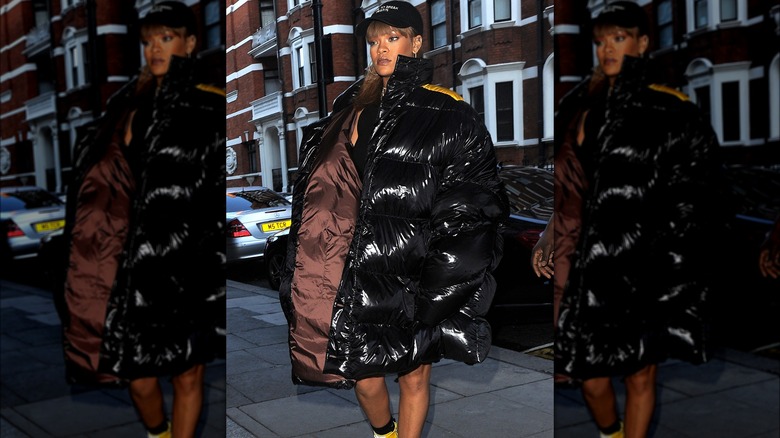 Ricky Vigil M/Getty Images
During her "Anti" era in 2016, RiRi's love for oversized pieces took over the spotlight. The larger-than-life aesthetic quickly became her trademark, once again redefining the boundaries of fashion and raising the bar for fashion experimentation even higher, which many of us thought was impossible. It was a trendsetting chapter that would later inspire young stars like Billie Eilish, magnifying the ripple effect of Rihanna's unique choices.
In a movement reminiscent of the '90s when female rappers such as Missy Elliott and Queen Latifah championed the trend, Rihanna emerged as one of the industry's pioneers in reintroducing the oversized style to mainstream fashion. While body-hugging silhouettes still had their place in the singer's closet, Rihanna's love affair with oversized pieces was impossible to ignore in 2016. The mantra seemed to be: the more oversized, the better — because who needs to be confined by conventional fits anyway?
RiRi takes over the fashion and beauty industry (2017-2019)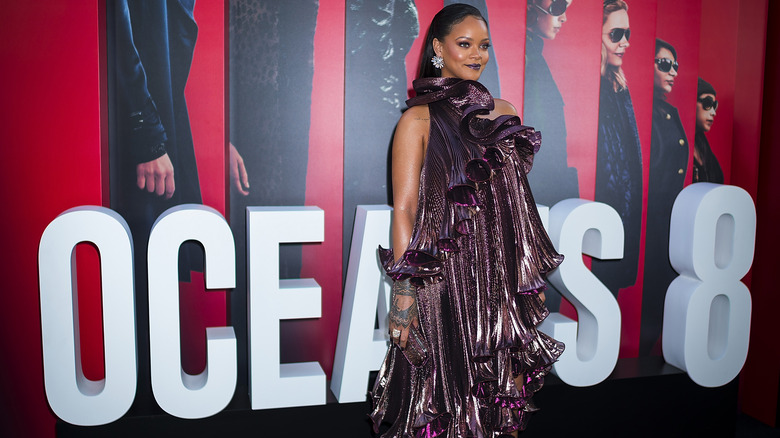 Michael Stewart/Getty Images
The next few years were pivotal in establishing RiRi as an even more influential star in the fashion and beauty industries. During this time, she not only commanded the stage but also took over the very industries that define glamour and self-expression. The introduction of Fenty Beauty in 2017 and Savage X Fenty in 2018 marked a shift in the spotlight on Rihanna. No longer confined to her role as a singer and occasional actor, she established herself as an immensely successful entrepreneur.
While Rihanna's love for edgy and unique pieces persisted, her style underwent a subtle metamorphosis. Her fashion matured like a fine wine, while still retaining the trademark audacity that made her a fashion icon. Her wardrobe choices exuded a sense of grown-up sophistication that aligned seamlessly with her role as a Grammy-winning artist and entrepreneurial powerhouse. At this point, her style choices were beyond question, as she had solidified her reputation as a consistent fashion icon. And if there's ever any doubt, just remember that this was the era in which RiRi dressed as the pope at the Met Gala, and she absolutely slayed.
The star showcases her love for bright colors and quirky pieces (2020)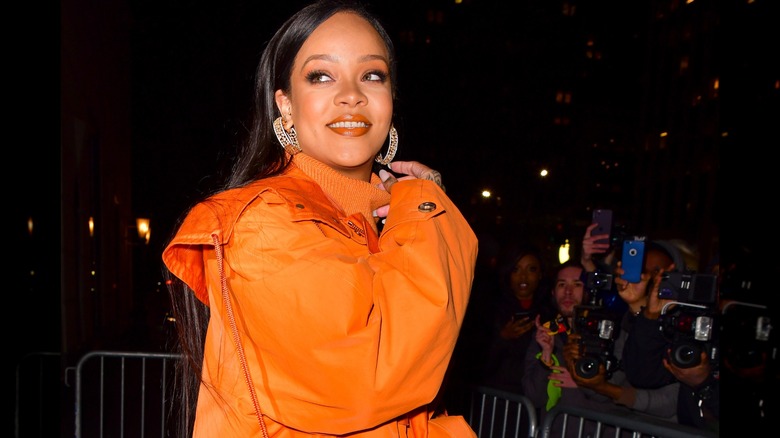 James Devaney/Getty Images
In the first year of the pandemic, Rihanna found a unique way to stand out. With fewer celebrity sightings, every appearance she made was an opportunity to remind the world of her vibrant presence. Her love for bright colors and quirky pieces was even more prominent, perhaps because we saw the star in public very rarely. Looking back, it almost seems as if RiRi was injecting a burst of positivity into a challenging time. With every outing, she painted the town in her signature radiant hues, reminding us all that even in the darkest moments, a splash of color can brighten our day.
Regarding her fashion confidence, the singer admitted that, like everyone else, she has days when she likes different parts of herself. "It depends on what day it is. It depends on what my body is giving," Rihanna revealed to People (via Yahoo News). "If I'm giving a– today, I'll work with that. If I'm bloated but my tits are sitting up here and bigger, I'll work with my tits. If I'm bloated and my gut is huge, then I'll go snatch that up."
RiRi gives us couple fashion (2021)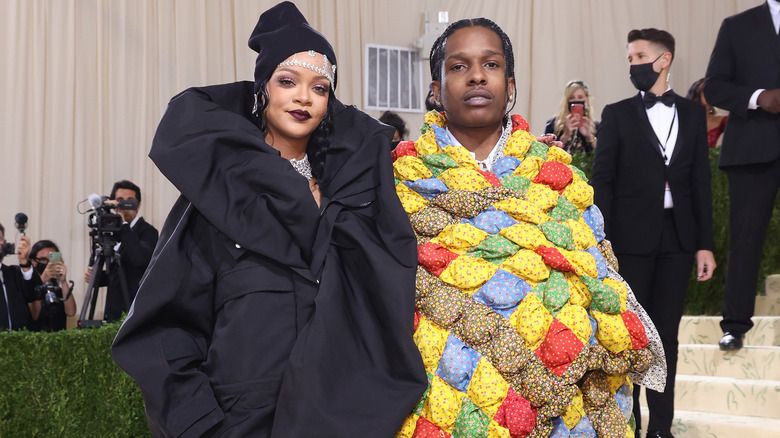 Taylor Hill/Getty Images
In 2021, Rihanna revealed a new facet of her style journey. While the singer's romantic encounters have occasionally made headlines, it was her relationship with rapper A$AP Rocky that truly sparked a beautiful exploration of partner fashion. The two musicians publicly announced their relationship in late 2020, and in 2021 they began giving us coordinated looks.
Rihanna and A$AP Rocky transformed couple fashion into an art form, seamlessly intertwining their distinct styles while preserving their individual essence. One of the most iconic instances that defined their partner style was their appearance at the 2021 Met Gala. Their synchronized yet distinct ensembles showcased just what coordinated couple fashion can be. Their outfits weren't just clothes; they were a declaration of their bond, captured in fabric and design. What's remarkable is their ability to maintain authenticity even in coordinated outfits, where their individuality remains unchanged. For Rihanna, who has always used fashion as a means of self-expression throughout her career, these ensembles haven't diminished her personal touch or the aesthetic she creates through her style choices.
Rihanna gives us maternity fashion va-va-voom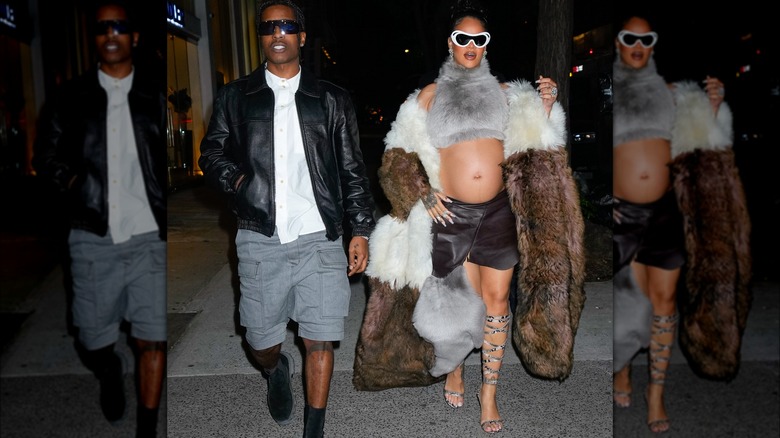 Gotham/Getty Images
When it comes to stunning maternity fashion, many celebrities have left us awestruck, but no one has done it quite like Rihanna. Throughout her illustrious career, she has demonstrated an unapologetically fearless approach to style, but pregnancy seems to have infused her with an even higher dose of audacity, leaving us completely captivated. As a trendsetter who has consistently challenged norms, Rihanna's maternity fashion journey was not just about clothing but also about being an extension of her identity.
"When I found out I was pregnant, I thought to myself, There's no way I'm going to go shopping in no maternity aisle. I'm sorry—it's too much fun to get dressed up," the Barbadian told Vogue. "I'm not going to let that part disappear because my body is changing." In May 2022, Rihanna welcomed her and A$AP Rocky's son, and in August 2023, the singer gave birth to their daughter. During both of her pregnancies, the star rocked perhaps the boldest and edgiest looks of her career, including one of the most iconic celebrity naked dress moments, showcasing to everyone just how in love with her pregnancies she was.
From her beginnings as a crop-top-wearing teen from Barbados to her rise as a billionaire entrepreneur and now, a radiant mother, Rihanna's journey is nothing short of remarkable. Her path has been extraordinary in every facet, and her transformative impact on fashion is pretty much unparalleled.