21 Of The Most Iconic Celebrity Naked Dress Moments, Ranked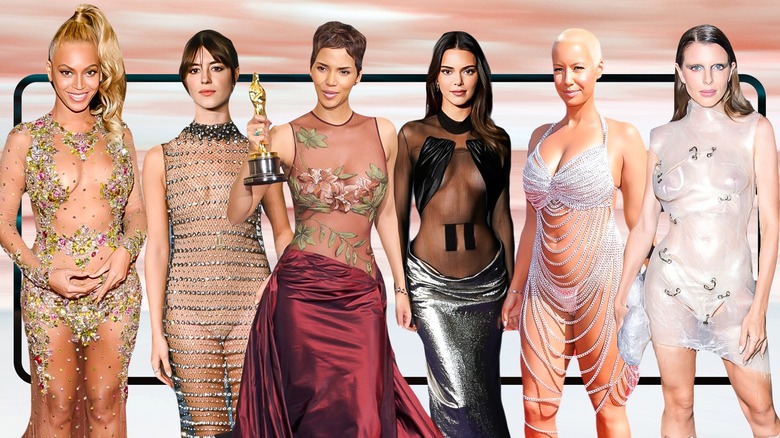 Static Media/Shutterstock/Getty
It's no secret by now that the popular "naked dress" is trending — after all, the "Free the Nipple" movement is one of our most anticipated fashion trends of fall 2023, and the #NakedDress hashtag has over 9 million views on TikTok. The naked dress is a sexy, daring fashion choice that can leave you baring as much (or as little) skin as you want, and it's become popular as a way to speak out against the over-sexualization of women's bodies. "Celebrating the female form through clothes is a way for the wearer to reclaim their power and freedom," fashion designer LaQuan Smith tells Elle. "It is very topical in this moment when women are fighting for their rights."
The naked dress trend is far from new, though — they've been worn by celebs on the red carpet and performance stages for decades, and it's high time we took a look at the popular naked dress in all of its iterations. Today we're ranking 21 iconic celebrity naked dress moments based on overall wearability, tastefulness, and whether we can see the dress standing the test of time. We love naked dresses that are elegant, sexy, and still leave a bit to the imagination. Naked dresses that look too offbeat or clearly show mismatched undergarments, on the other hand, aren't totally our cup of tea. As the naked dress swiftly steps forward in the fashion scene, it's only natural to look to the red carpet for inspo, but trust us — not every celebrity-worn naked dress is inspo-worthy. 
21. Julia Fox at the 2022 Harper's Bazaar Icons Party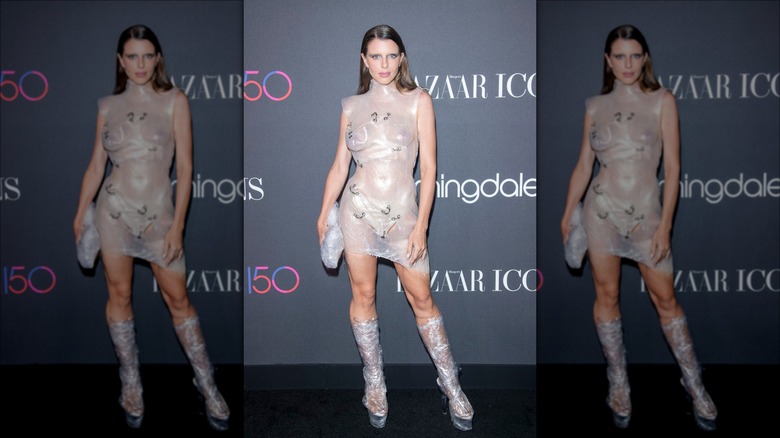 Ron Adar/Shutterstock
Placing at the bottom of our list is this naked dress worn by Julia Fox at the Harper's Bazaar Icons party in 2022. While we adore Fox's daring spirit and ability to serve any look she wears, it's giving Saran Wrap vibes (which the shoes and handbags certainly don't help), and are those fish hooks scattered throughout the dress? She completed the look with an apparent rip in the crotch area, adding to our slight confusion about the overall vision.
20. Amber Rose at the 2014 MTV VMAs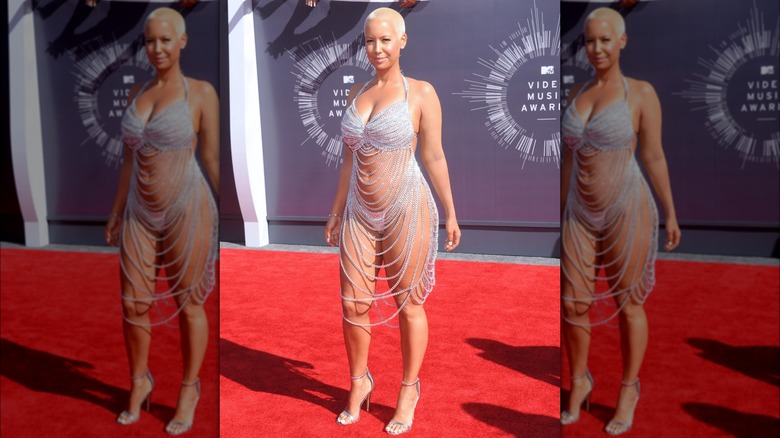 DFree/Shutterstock
Amber Rose wore this chain mail-esque naked dress at the 2014 MTV Video Music Awards, and we're glad to keep this one safely back in the 2010s archives. We can't really imagine anyone sporting anything even remotely similar to this look on even the most offbeat of occasions, and the clearly visible metallic thong is almost giving swimsuit vibes. We have to admit, though, she rocks this ensemble with confidence. 
19. Kendall Jenner at the 2022 LACMA Art + Film Gala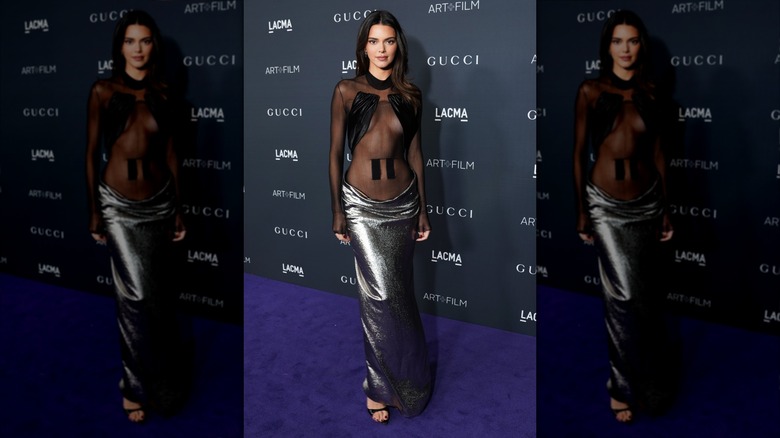 Presley Ann/Getty Images
In case you missed it, metallic pants are very much in, which is about the only thing that makes Kendall Jenner's naked dress from the 2022 LACMA Art + Film Gala still wearable. We don't love how the dress looks like two separate pieces — where's the cohesion between the top and the bottom? Plus, the opaque lines in the stomach area look awkward and out of place, and the opaque fabric on her chest almost looks like she's being hugged from behind. 
18. Emily Ratajkowski at the 2019 Met Gala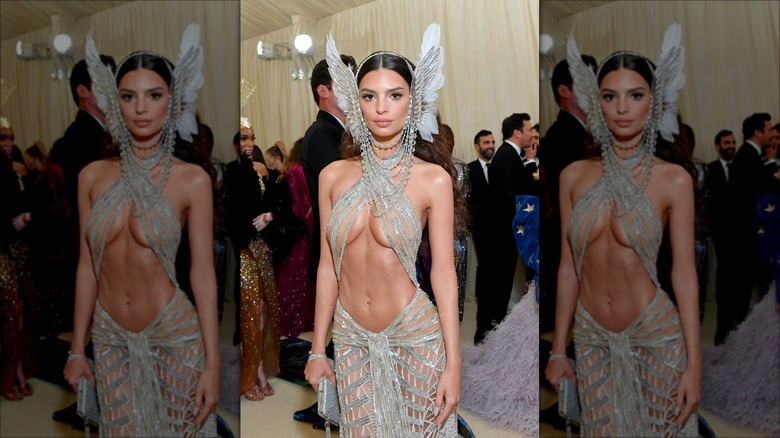 Mike Coppola/mg19
A slightly classier take on Amber Rose's naked chain dress is this version worn by Emily Ratajkowski at the 2019 Met Gala. While we actually don't mind the bodice, the way it swoops into feathered ear-wing pieces is confusing, and the skirt is reminiscent of a wrap-style beach cover-up. It's definitely not awful, especially considering the Met Gala is all about creative, out-of-the-box ensembles (especially with the 2019 Met's theme being "camp"). But compared to other naked dress looks, this one is not totally wearable.
17. Halle Berry at the 74th Academy Awards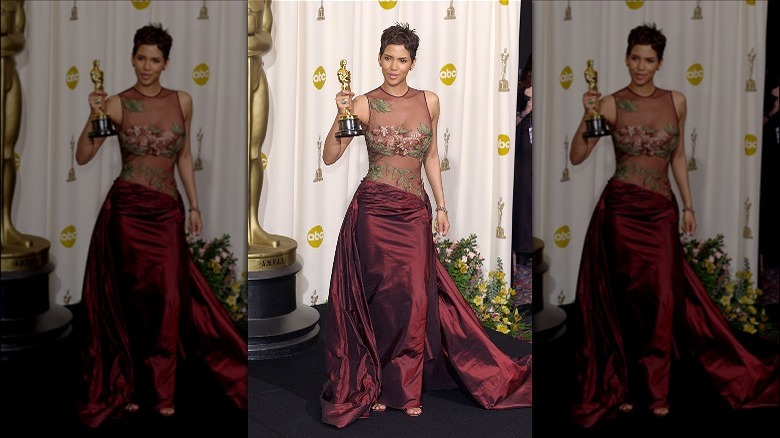 Featureflash Photo Agency/Shutterstock
Unfortunately, the biggest thing detracting from the naked dress Halle Berry wore at the 74th Academy Awards is the skirt. We wish the whole dress had been sheer and adorned with faux foliage like the top is; rather, the wrinkly burgundy skirt takes center stage and distracts from the stunning bodice. If the whole dress matched the bodice, we're sure we would have ranked it significantly higher. 
16. Rita Ora at the 2018 MTV VMAs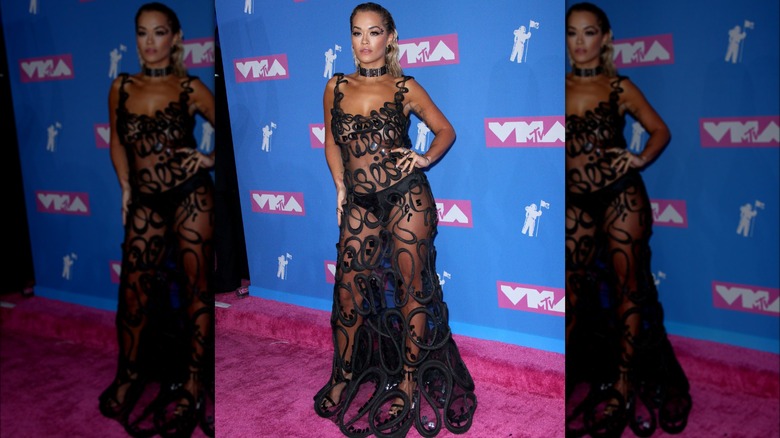 Tinseltown/Shutterstock
We're not completely certain what's going on with Rita Ora's dress from the 2018 MTV Video Music Awards. The entire look is a bit confusing. There seems to be no rhyme or reason to the pattern of the black detailing (are those random letters embroidered amongst squiggly lines?), and her thick underwear is a bit distracting. While it doesn't look bad, per se, it's not a look we would be tempted to take to the streets. 
15. Kendall Jenner at the 2016 Cannes Film Festival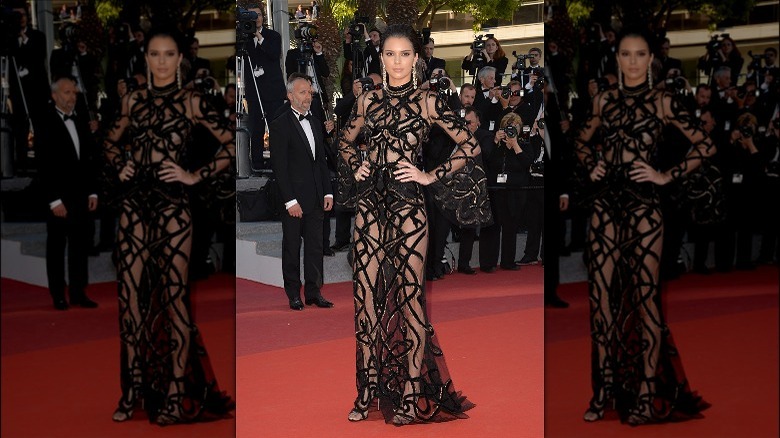 Featureflash Photo Agency/Shutterstock
Kendall Jenner's dress from the 2016 Cannes Film Festival, on the other hand, is slightly less unhinged than Rita Ora's above. We appreciate that the black detailing pattern is clearly symmetrical, and the pattern covers enough of this naked dress that the undergarments aren't immediately apparent. Is this look our favorite? No. But it is giving slight gladiator vibes, and honestly, we wouldn't mind seeing the look again.
14. Beyoncé at the 2015 Met Gala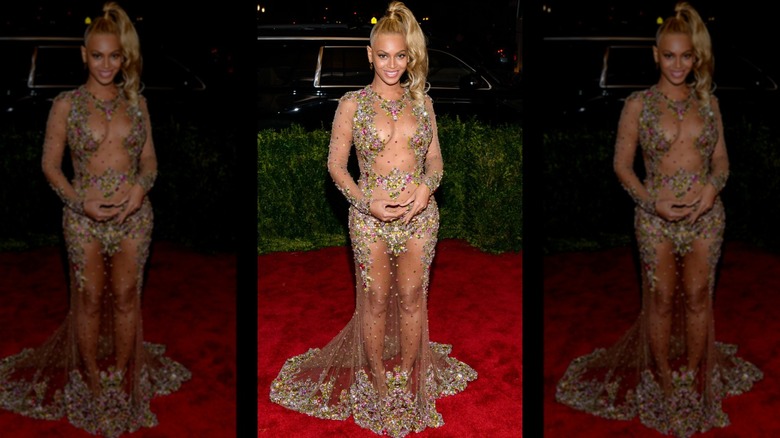 Sky Cinema/Shutterstock
Even if slightly dated, it goes without saying that Queen Bey's naked dress from the 2015 Met Gala looks particularly stunning on her. The stones are tastefully placed to endorse some modesty in this dress, and we love the floor-length skirt adorned with decor at the bottom. We wish it were sleeveless and maybe slightly less multicolored, securing her a spot at no. 14 on the ranking. But hey — Queen Bey slays in anything she wears. 
13. Rihanna at the 2023 Academy Awards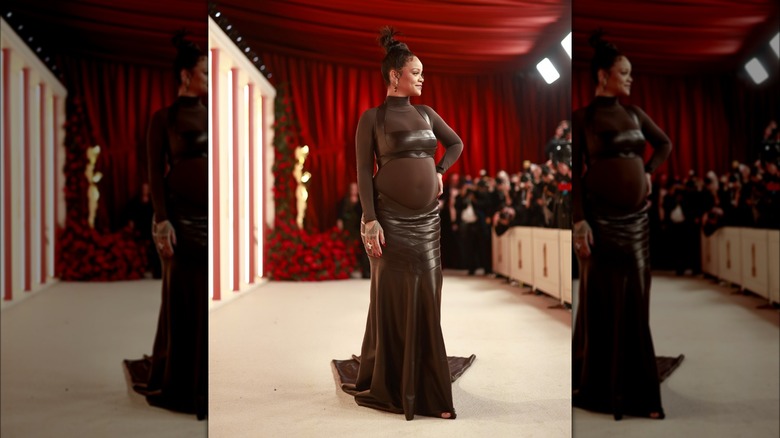 Emma Mcintyre/Getty Images
This leather naked dress from the 2023 Academy Awards was a particularly tasteful choice for Rihanna. We love that she used this occasion to proudly bare her baby belly, and with leather trending in the summer of 2023, it was a decidedly fashion-forward moment for the star. We don't love the draping of the skirt, and it could have been slightly more form-fitting, but Rihanna looks stunning nonetheless.
12. Olivia Wilde at the 2022 Academy Museum Gala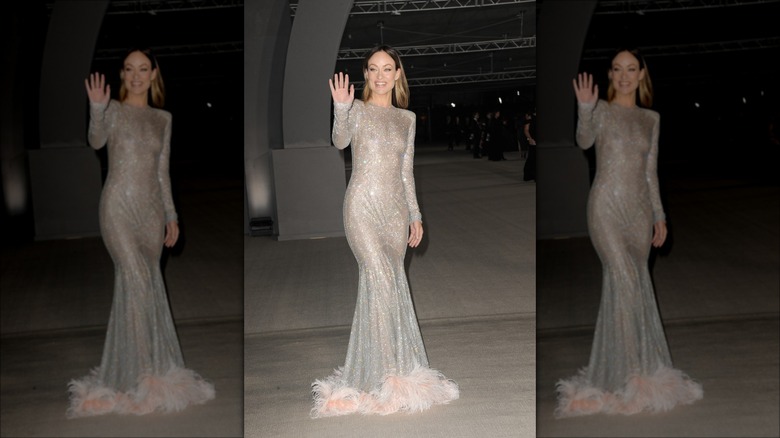 Tinseltown/Shutterstock
Honestly, we think Olivia Wilde's sheer silver mesh gown from the 2022 Academy Museum Gala would have been much more appealing without the feather detailing on the bottom. We love that it's sheer without giving too much away, and it's stunningly form-fitting, even if slightly nightgown-esque. If Wilde ever brought this look back, we'd take it sans feathers. 
11. Rihanna at the 2014 CFDA Awards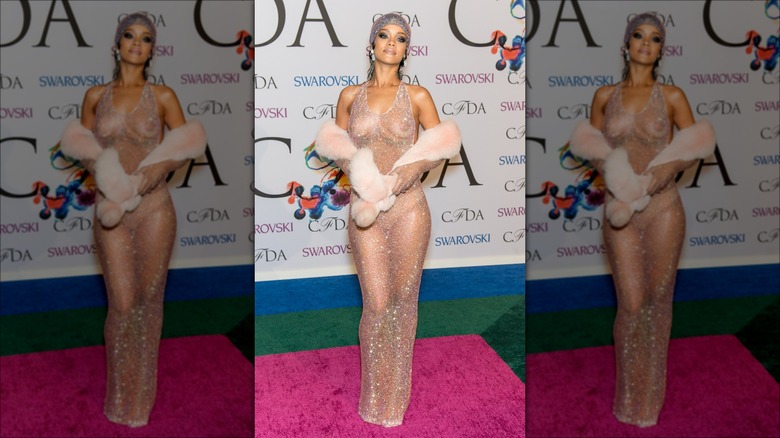 Gilbert Carrasquillo/Getty Images
Up next, we have Rihanna's iconic gown from the 2014 CFDA Awards. It goes without saying that she slays in the sheer, glittery mesh, and the plush boa is a decidedly tasteful addition that could also be used for coverage if one feels inclined. Is this gown wearable on the streets? It could be, depending on the bravery of the fashionista (but unlikely without some additional coverage underneath). However, it's a bold look that certainly makes a statement. 
10. Jasmine Tookes at the 2018 Vanity Fair Oscars Party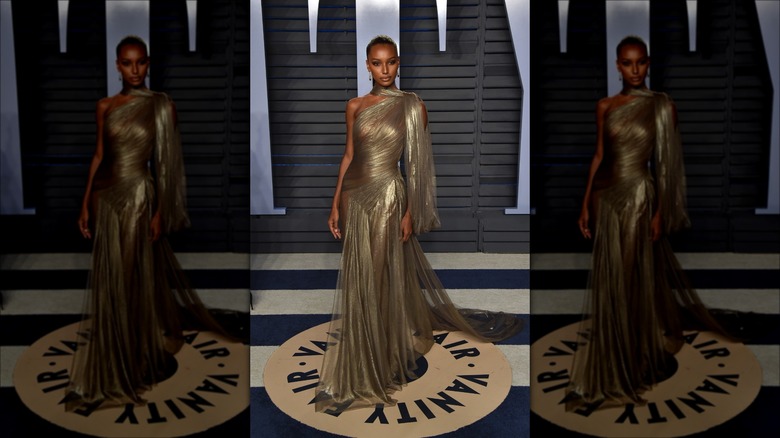 John Shearer/Getty Images
For a look that offers just a hint of skin, we have this gown worn by Jasmine Tookes at the 2018 Vanity Fair Oscars Party. It's a delicious green-gold shade with elegant draping, making the model look sophisticated and chic. Although it's tasteful as anything, we'd have loved it to look less like Tookes had cling wrap secured around the waist. 
9. Megan Fox at the 2021 MTV VMAs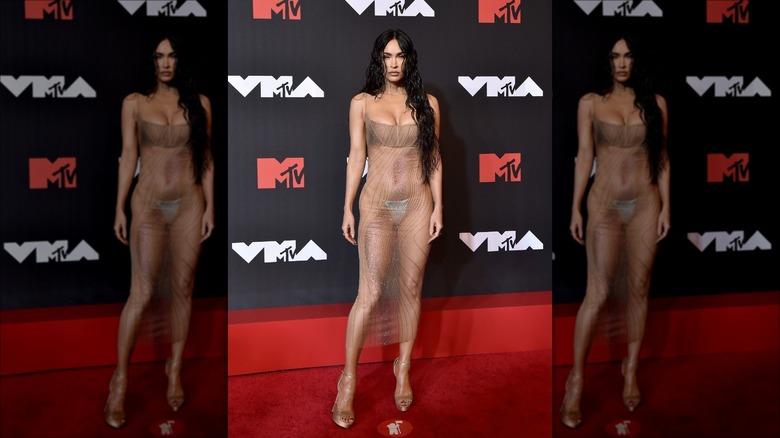 Axelle/bauer-griffin
Only Megan Fox could pull off a barely-there, "Am I even wearing clothes?" naked dress, and this one from the 2021 MTV Video Music Awards looks particularly stunning on her. Combined with the wet hair look, she could easily be mistaken for a river nymph making a rare voyage out of the water. Is this wearable overall? Not really, but it's classy and tasteful, which we love. We'd be happy to see Fox in this ensemble as many times as she wants to wear it. 
8. Paris Hilton at the 2022 Grammy Awards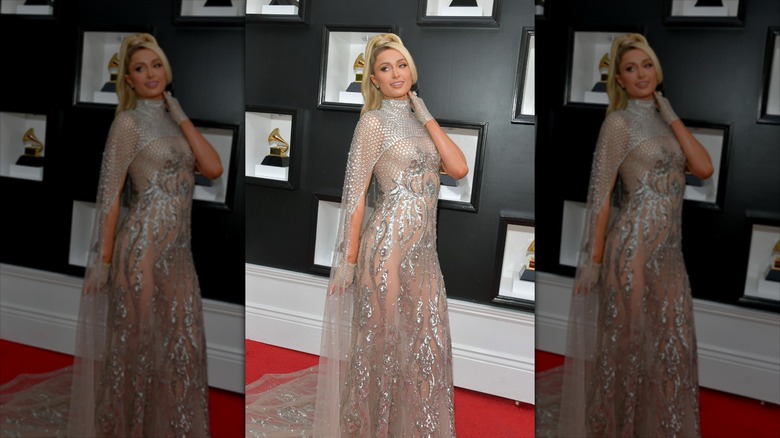 Lester Cohen/Getty Images
Wearable? Maybe only for Paris Hilton, but she stuns in this gown from the 2022 Grammy Awards nonetheless. The cape and matching bodice offer some tasteful, elegant coverage, while the silver detailing is just as glam as the socialite is. While we don't see this look translating to common everyday wear, she nailed the look for the star-studded event.
7. Lily James at the 2023 Critics' Choice Awards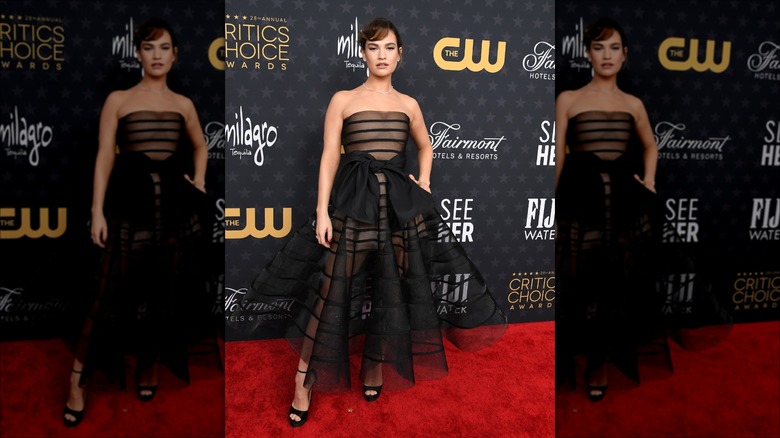 Steve Granitz/Getty Images
Up next, we're slightly obsessed with this sheer black gown worn by Lily James at the 2023 Critics' Choice Awards. It offers a sexy yet classy combination, and we'd love to wear it to our next gala. The only qualm we have is that the bodice cover seems to be flattening her chest, which is pretty clearly visible through the fabric. Unless she was going for such a look, we think the top section could use some improvement. Overall, though, stunning. 
6. Daisy Edgar-Jones at the 2023 Vanity Fair Oscars Party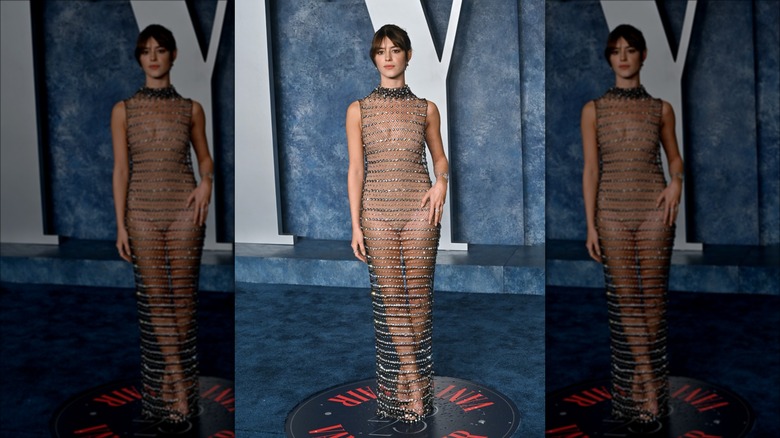 Featureflash Photo Agency/Shutterstock
For all the girlies bringing back the '90s tube dress trend, you'll love to see this stunning tube-esque studded gown Daisy Edgar-Jones sported at the 2023 Vanity Fair Oscars Party. We love that the horizontal beading makes it look like she's standing in a fashion-forward cylinder, and the nude bodysuit underneath is a tasteful step up from some of the separate cover-up pieces we've seen under other naked dresses. 
5. Anya Taylor-Joy at the 2023 Critics' Choice Awards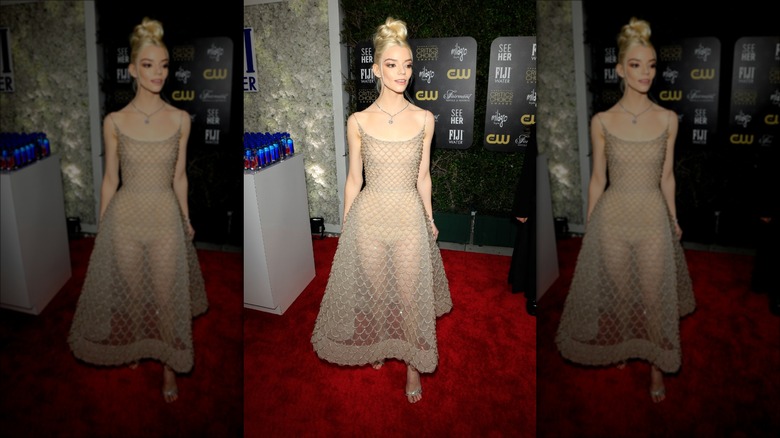 Kathy Hutchins/Shutterstock
It's no secret that Anya Taylor-Joy stunned in this naked dress at the 2023 Critics' Choice Awards. We can hardly tell she's covered underneath, making it a cohesive look overall, and the scale-esque pattern of the dress is stunningly unique. It's tasteful, elegant, and one we could never get bored of.
4. Indya Moore at Ali Forney Center's 2023 A Place at the Table Gala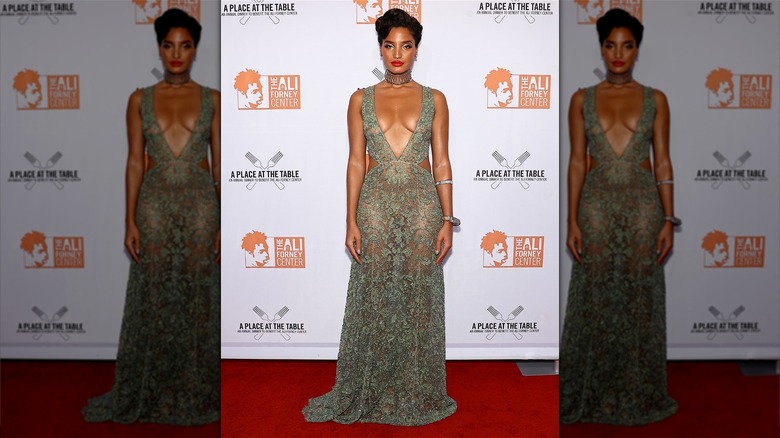 Arturo Holmes/Getty Images
If you want a stunning naked gown that covers just enough and has plenty of elegance to boot, look no further than Indya Moore's ensemble from Ali Forney Center's 2023 A Place at the Table Gala. Not only does the sage green color look absolutely incredible on the actor, but we also love the tasteful coverage offered by the detailing that still hints at nudity. 
3. Jennifer Lawrence at the Red Sparrow premiere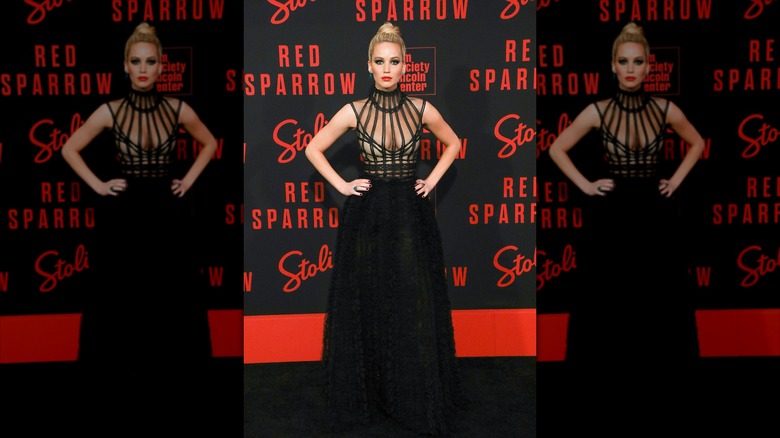 Taylor Hill/Getty Images
We're in love with Jennifer Lawrence's naked gown from the "Red Sparrow" premiere in February 2018. The opaque black skirt offers a conservative bottom, while the sheer top hints at a touch of sexiness. The overall look is a bit frightening (especially with her severe facial expression) but also gorgeous, and we'd love to wear this gown — complete with her red lipstick — to a spooky Halloween festivity. 
2. Alessandra Ambrosio at the 2018 Vanity Fair Oscars Party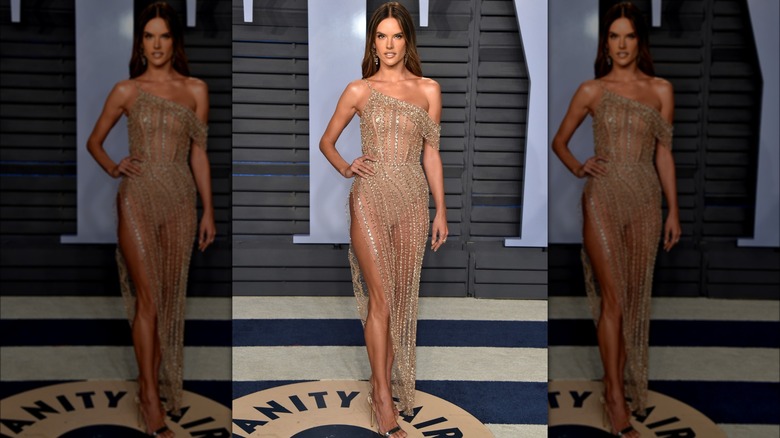 John Shearer/Getty Images
Alessandra Ambrosio's nude-hued, naked gown from the 2018 Vanity Fair Oscars Party is probably the most tasteful of the bunch. We can't tell what Ambrosio is wearing underneath (which is a huge plus). The vertical beading combined with the asymmetrical off-shoulder detail is absolutely stunning, and the side slit offers even more sexiness to an already sexy gown. We'd love to see her wear this over and over again — we'd give a standing ovation each time. 
1. Bella Hadid at the 2017 amfAR Gala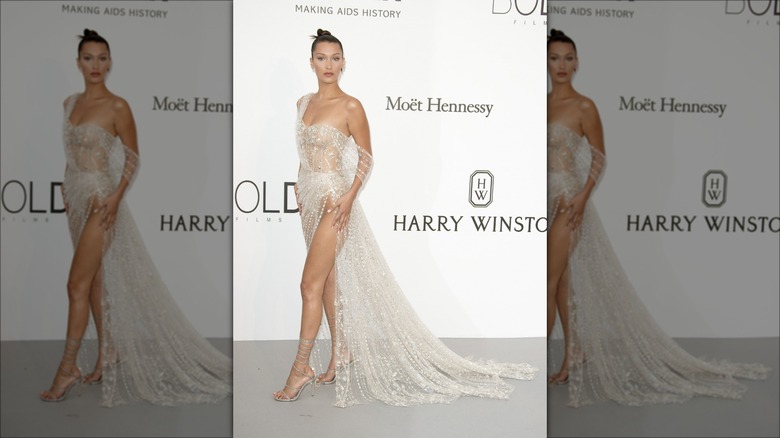 BAKOUNINE/Shutterstock
Rounding out the top of our list is Bella Hadid's perfect gown from the 2017 amfAR Gala. From the delicate skirt, bodice detailing, and draped off-shoulder sleeve to the high side slit and ample train, we can't find a single thing wrong with this gown. It's tasteful, elegant, and effortlessly timeless — everything we could ever ask for in a naked dress.