Ulta Vs. Sephora: Comparing The Differences Between The Beauty Stores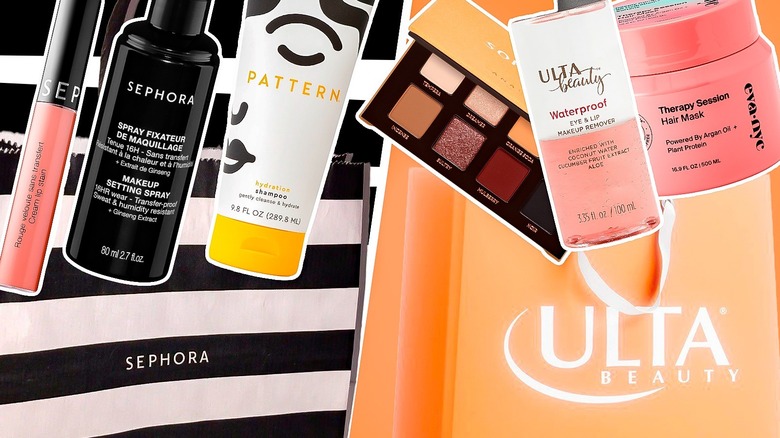 Static Media
Every beauty aficionado probably has a favorite brand or two that they reach for when it's time to restock their vanity. And if your beloved products are numerous, we're willing to bet that you tend to prefer one-stop shops rather than placing multiple orders from your preferred companies. It's no secret that two major beauty retailers, Ulta and Sephora, have taken over the industry since their respective launches, and even if you've already picked a favorite, you've probably wondered on more than one occasion: What's the difference between the two?
Although the retailers can seem pretty similar at first glance, their major differences stem from the respective missions upon which they were founded. According to Ulta's website, it's always been about curating an experience of "All Things Beauty, All in One Place," which certainly shows in the diversity of brands and products it stocks. Sephora, on the other hand, prides itself on its "carefully curated brands," with a mission to "create a welcoming beauty shopping experience for all," per Sephora's website.
In general, there's a good chance that either brand can accommodate your beauty needs. But if you have particular products you love, are working on a budget, are a beauty newbie, or are all about the perks and benefits, you may find that you prefer one retailer over the other.
Ulta can accommodate a tighter budget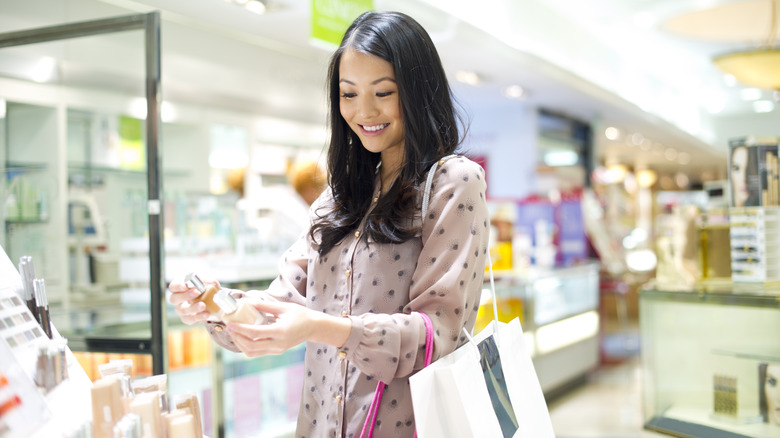 Sturti/Getty Images
Who wants to spend a lot of money in this economy? With many of us trying to keep a tighter budget, it's only fair that we talk about price points first. If you're implementing a stricter beauty allowance, you might find Ulta to be more wallet-friendly than its counterpart.
For those wondering why Ulta tends to be more accommodating to the budget-conscious, the reason is fairly simple: Ulta stocks more affordable brands than Sephora does. If you're a fan of companies like Nyx, Wet n Wild, CoverGirl, or Maybelline, you're better off shopping at Ulta, as Sephora doesn't stock any of these drugstore options. Plus, when you're in an Ulta store, it's relatively easy to find products that fit within your budget, as budget-friendly and drugstore brands tend to be in one section of the store, with luxury brands in another. When it comes to brands these stores have in common (like Anastasia Beverly Hills, for example), the prices between the two tend to be roughly the same.
Their typical locations are quite different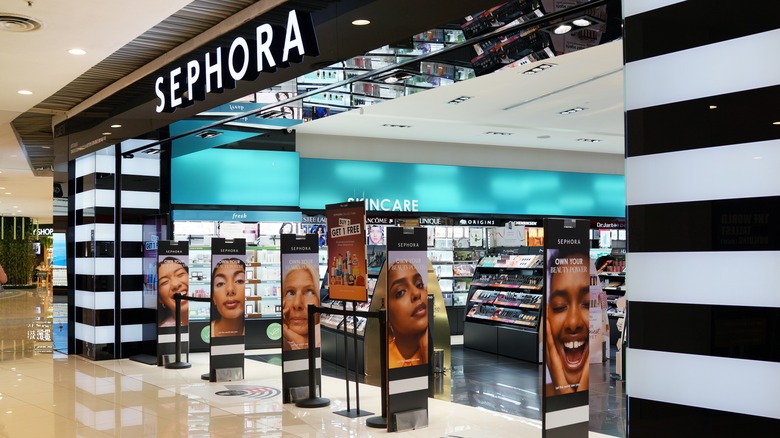 TY Lim/Shutterstock
Close your eyes and picture yourself standing in front of your local Ulta and Sephora. There's probably a pretty striking mental difference between the two that's easy to overlook until you think about it: while Ulta tends to have its own storefronts in shopping centers or strip malls, the typical location for a Sephora is inside a shopping mall. Deciding to place its locations in a strip mall was a smart choice for Ulta, in our opinion, as having a clear storefront (often with a parking lot in the front) can increase visibility and foot traffic.
It was such a smart choice that it seems Sephora is now following suit — after the loss in mall traffic suffered during the pandemic, the company announced that 85% of the 60 new stores it was opening in 2021 wouldn't be located in a mall. So, though it's likely that your local mall still boasts your favorite Sephora location, there's an increasing chance you'll notice storefronts popping up outside of this setting.
They've each partnered with a different big-name brand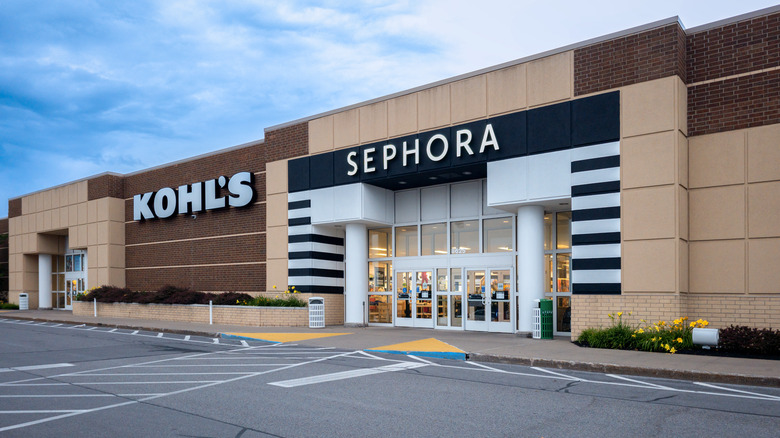 M. Suhail/Getty Images
If you don't often visit malls or strip malls and don't enjoy shopping online, there's still a chance you could find some of your favorite Sephora and Ulta products at other retailers, thanks to the brands' respective partnerships. Kohl's customers shouldn't be surprised to see Sephora pop-ups in a local location, while many Target locations have expanded to accommodate an in-store Ulta section.
Since Ulta Beauty launched in-store locations at Target stores in 2021, the brand has grown to have hundreds of Target locations nationwide. If you're as obsessed with Target as we are, you know this pairing is a match made in heaven. Though you won't find a full selection of every brand Ulta has to offer, its Target locations do feature over 50 brands, making it likely you can find something you're looking for. 
Sephora's partnership with Kohl's appears to have been especially beneficial for the latter retailer, which is now attracting a younger clientele thanks to the partnership. Over 600 Kohl's locations now boast an in-store Sephora, with more on the way. As with Target's Ulta partnership, Kohl's locations won't offer the full selection of products available online at Sephora, but it's a great partnership that can cut a stop off of your to-do list. 
Ulta's return policy is slightly more forgiving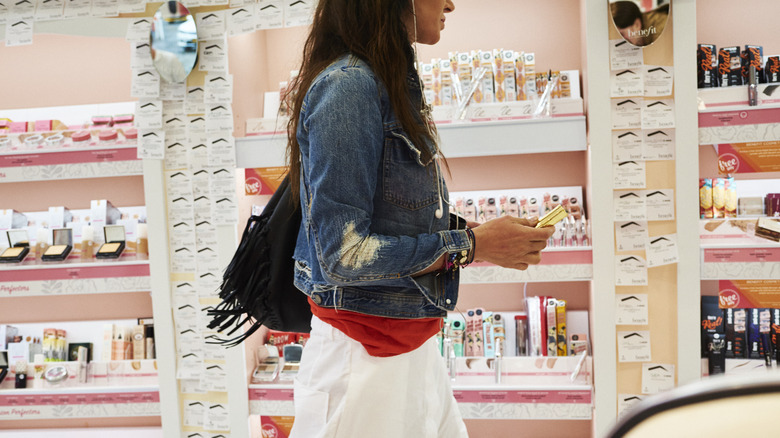 Bloomberg/Getty Images
Before splurging on a new makeup product, you'll probably want to know whether you can return it. Both Ulta and Sephora have different return policies, and each has something the other doesn't offer. So, if you tend to select a retailer based on their return policy, there are a few factors to consider when choosing between the two stores.
As long as you have the receipt, Ulta will allow you to return products for a full refund within 60 days of purchase. If your return doesn't fit these requirements, Ulta may still offer in-store credit, which is a huge bonus. On the other hand, if you want a full refund on products purchased from Sephora, you'll need to make the return within 30 days of purchase and include a receipt. Sephora still offers store credit on products returned within 60 days of purchase, though. If you're trying out a new item and can find it at either retailer, getting it from Ulta may be your best bet.
Both have great rewards programs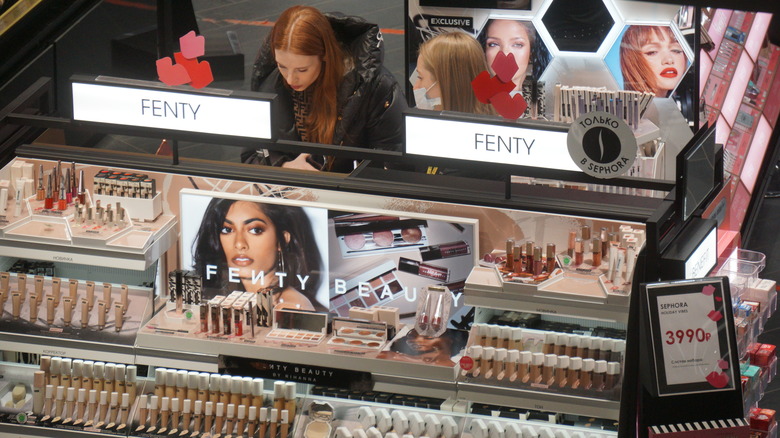 Konstantin Zavrazhin/Getty Images
Listen, when it comes down to it, both Ulta and Sephora have great rewards programs, and savvy shoppers will be able to use both to their advantage to maximize their savings. Both companies' rewards programs operate on a points-per-dollar system, where you receive rewards points for every dollar you spend at the retailer. Each program is free to join, and your membership tiers upgrade as you spend more.
Although there are some small differences between Ulta and Sephora's rewards programs, we see no reason not to become a member of both and reap as many benefits as you can. One of our favorite perks of being a Sephora Beauty Insider is the Rewards Bazaar, which allows you to redeem points for free products, including sample sizes of luxury items that may already be on your to-try list. Plus, we love that Sephora offers free shipping to all rewards members (and no, you don't need to meet a purchase minimum). Ulta's Ultamate Rewards works slightly differently in that it offers more points per dollar with every tier you move up (with the top tier offering 1.5 points per dollar spent), and your points can be redeemed in the form of a dollar amount discount.
Each store offers different in-store beauty services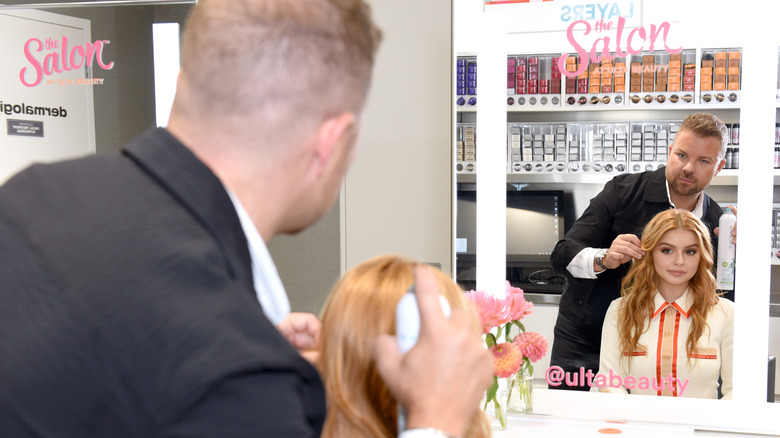 Presley Ann/Getty Images
Looking for a salon expert to help you switch up your look? Or maybe you want someone to teach you how to sculpt the perfect face for your night out? Though both Ulta and Sephora offer in-store salon services, each retailer's exact services differ significantly. Which retailer you choose will ultimately depend on what you're looking to get done.
Ulta offers a more comprehensive selection of in-store salon services. So, if you want to get a wax, haircut, and makeup application done all in one go, it may be a better bet over Sephora. Some Ulta locations have even begun to offer piercing services. Sephora's selection of services, on the other hand, excludes haircare and focuses on waxing, facials, and makeup applications. Both offer makeup application lessons, though Sephora's lesson lasts over double the time offered by Ulta (75 minutes compared to 30). If you're interested in perfecting your skin and getting a comprehensive makeup lesson, you may want to pick Sephora's salon.
You can get same-day shipping with Sephora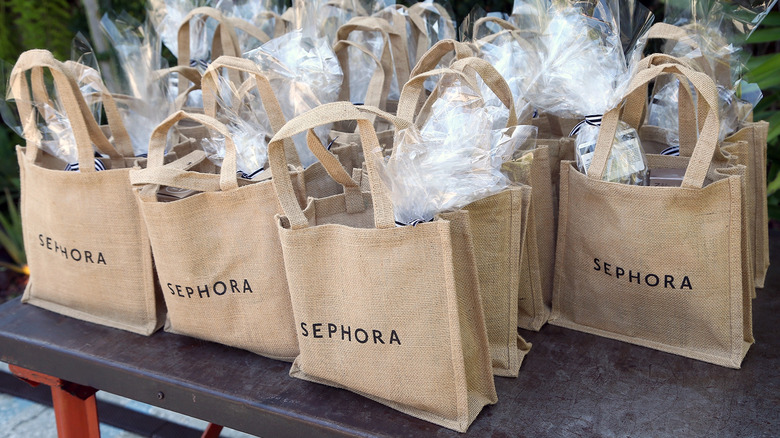 Tommaso Boddi/Getty Images
If there's any area in which Sephora has a serious advantage over its competitor Ulta, it's with its shipping policies. If you frequently make big purchases at either brand online, you may not have noticed the stark difference in shipping options — and, of course, in-store shoppers probably hardly notice them at all. But for those of us who make small purchases fairly often, the shipping policies of the two brands can have a big impact.
Ulta offers free shipping with a purchase of over $35, and shipping can take anywhere from 3-8 business days. It's certainly not a bad shipping policy on the surface, but it doesn't hold a candle to Sephora's. Sephora offers free shipping on all orders for members of its Beauty Insider program (which, remember, is free to join), and it even offers same-day delivery as long as you live in a qualifying region. To get same-day delivery, you'll need to opt into a same-day membership for the annual price of $49 (though you can test it out first with a 30-day free trial), which is definitely worth it if you frequent Sephora's online store.
Sephora's sophisticated vibes could alienate beauty newbies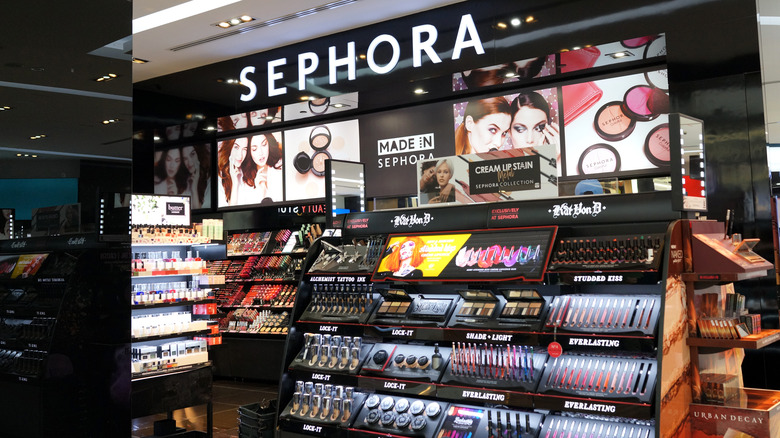 TY Lim/Shutterstock
If you're new to the beauty world, it can be tempting to splurge on the best brands money can buy. Sephora is probably an appealing choice because of its high-end brand selection and simple name recognition. However, beauty newbies who find themselves inside a Sephora may easily feel out of place due to the store's traditionally sophisticated vibes, complete with moody lighting, backlit shelves, and glossy surfaces that could put even the Chrysler Building to shame.
Ulta, on the other hand, is definitely a more approachable choice for those embarking on their first forays into the beauty world. Walking into an Ulta, it's fairly easy to figure out which sections to spend your time in, since budget-friendly brands remain separate from higher-end, luxury brands. Beauty beginners will probably appreciate Ulta's wide selection of drugstore products, as inexpensive selections are great when you're just dipping your toes into the world of makeup. On another note, Ulta may simply be the more accessible choice since most of its locations have their own storefront — you don't have to navigate the maze of a mall to find the store. Though beauty sophisticates may feel perfectly at home in their local Sephora, Ulta is probably the better choice for anyone just stepping into the beauty world.
Sephora brand products may boast a bit more longevity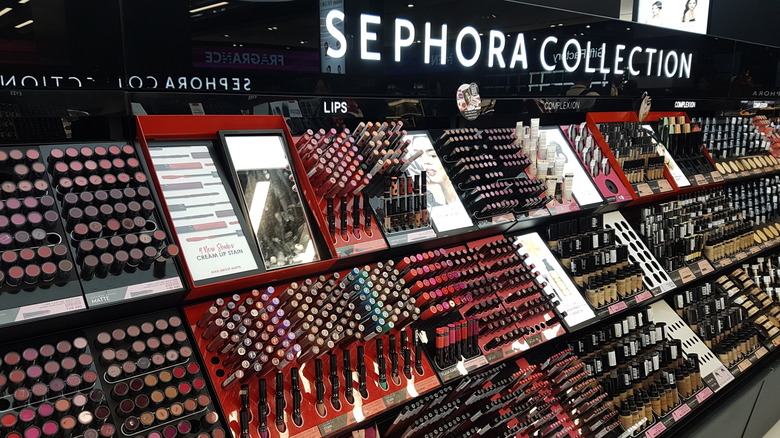 Omeletzz/Shutterstock
When considering the differences between Ulta and Sephora, it's easy to focus on the different brands each store offers — but what about the differences between each store's own brand? Both Ulta and Sephora offer their own cosmetics collections, and both are full of quality products that you're likely to love. However, if you're looking for longevity, definitely don't sleep on the Sephora Collection.

Makeup aficionado Oui Emmy did a thorough comparison on the wear of certain Sephora and Ulta brand products, and in nearly every category (excluding eyebrow pencils, neither of which impressed the content creator) the Sephora Collection pick took the cake in terms of staying power. What's most surprising about this is that there's actually not a huge variance in price point between the retailers' self-branded products, with a wide selection of offerings from each brand coming in at under $20. If you're on the hunt for a certain item that's affordable and won't require reapplication during the day, a pick from the Sephora Collection may be your best bet, though the Ulta Beauty Collection won't be a bad choice either.
They both offer great fragrance selections, but they differ from each other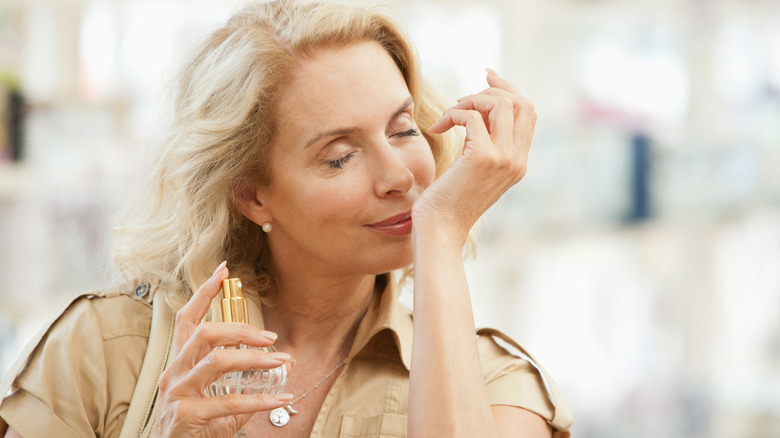 Martin Barraud/Getty Images
Are you a big fan of perfume? Do you never leave the house without a spritz of your favorite fragrance? Although you have one or two go-to selections, you may always be on the hunt for new and unique scents to try. The good news is that both Ulta and Sephora have a wide range of fragrance offerings, and we'd be shocked if you couldn't find one you love no matter which retailer you choose. If you're partial to a particular type of scent, however, you may come to prefer one brand over the other.
Datahut conducted an incredibly thorough analysis of the fragrance selections at both Ulta and Sephora and found a few key differences between the two. First, it's important to note that Sephora has a wider collection of fragrance offerings in general (858 compared to Ulta's 555), which simply means there's more to choose from — and more to sort through if you're particularly picky. Both retailers are great options if you're looking for a floral scent, as each has an abundance of this type. If you're looking for a unique, offbeat scent, Ulta has a wider selection of uncategorized scent options. On the other hand, if you're after anything musky, warm, or fresh, it's likely that your local Sephora will have more potential winners.
If you have a favorite brand, choose your retailer accordingly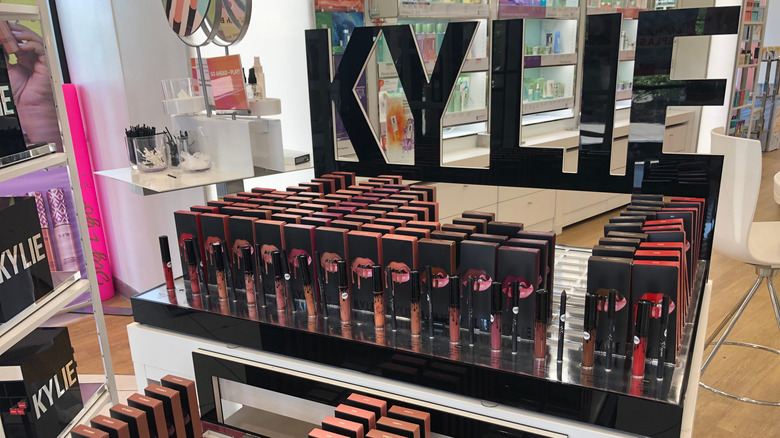 melissamn/Shutterstock
If you're new to shopping at Ulta and Sephora and prefer to buy directly from your favorite brands, it's a good idea to conduct a little audit of each retailer before heading to the store. Although there are some overlaps in the brand selections between the retailers, each of them also offers brands that the other doesn't. The beauty lines on your shopping list could be a determining factor in which store you choose to visit.
If you tend toward high-end, luxury brands and price point isn't a huge issue for you, you'll probably feel right at home in any Sephora store. If, on the other hand, you prefer drugstore and mid-range brands, you'll love perusing the shelves at Ulta. Fans of celebrity makeup lines will probably gravitate toward whichever retailer carries their favorite celeb brand. For example, Sephora carries Selena Gomez's Rare Beauty brand, while Ulta boasts Kylie Jenner's Kylie Cosmetics brand. 
Product variety differs between the two stores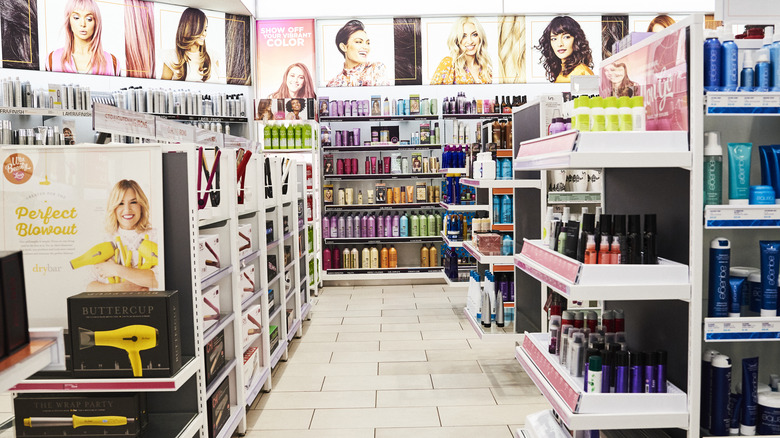 Bloomberg/Getty Images
You should know by now that there is a big difference in the brands carried at both Ulta and Sephora. If you don't already have a preferred retailer, you may be leaning toward one or the other. But here's one last factor to take into consideration, especially if you're a fan of browsing a variety of products in the aisles: product selection. Yes, both stores have a great pool of products, but when it comes to the difference in product selection between Ulta and Sephora, Ulta may take home the gold in our opinion. 
Sephora has more fragrance options than Ulta, but personally, we don't see the need to sort through over 800 fragrances to find our favorite (though if that's how you like to roll, we're here for it). Those who are frequently trying to tame unruly hair will probably appreciate the huge selection of shampoos, conditioners, and treatment and styling products offered by Ulta, which has over 4,000 items in these categories to choose from compared to Sephora's selection of about 1,700. Ulta also has a significantly wider selection of eye makeup products to choose from. Ulta offers 385 eyeshadow palettes compared to Sephora's 157; Ulta has 385 mascara options compared to Sephora's 212; and Ulta boasts a whopping selection of 424 fake eyelash options, compared to Sephora's 66.