The Worst MTV VMAs Looks Of All Time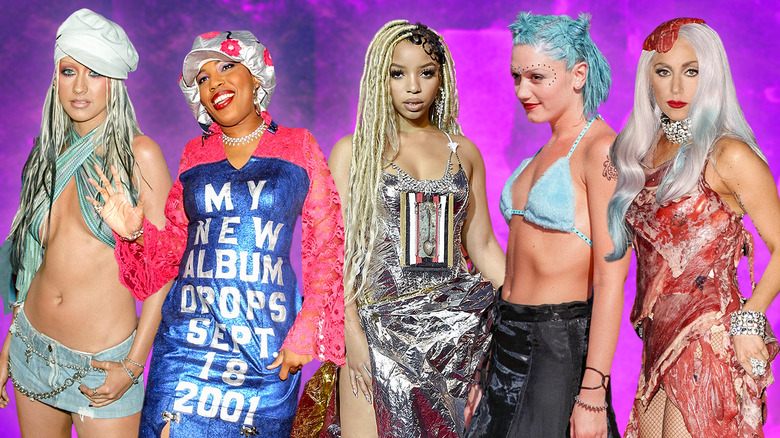 Static Media Shutterstock
The MTV Video Music Awards are known as an event where music's biggest stars come together to celebrate their achievements in the industry and, of course, showcase their unique sense of style. Over the years, we've witnessed some truly unforgettable fashion moments on the VMA red carpet. From glamorous gowns to edgy ensembles, the event has been known for looks which became a major part of pop culture. However, not all red carpet moments at the VMAs are equal. For every show-stopping outfit that graces the event, there's bound to be a fashion faux pas lurking in the shadows.
Together, let's take a stroll down memory lane to revisit some of the most cringe-worthy, shocking, and downright disastrous fashion choices ever made by music's biggest stars at the VMAs. And while we won't hold back, let's just remember that fashion is subjective, and sometimes even the most glamorous stars make regrettable outfit choices. Now, from maximalist mishaps to DIY disasters, these celebrity looks are a reminder that even the biggest names in the music industry can sometimes have a bad fashion day (and sometimes that day just so happens to be at the VMAs).
Nicki Minaj as a masked maximalist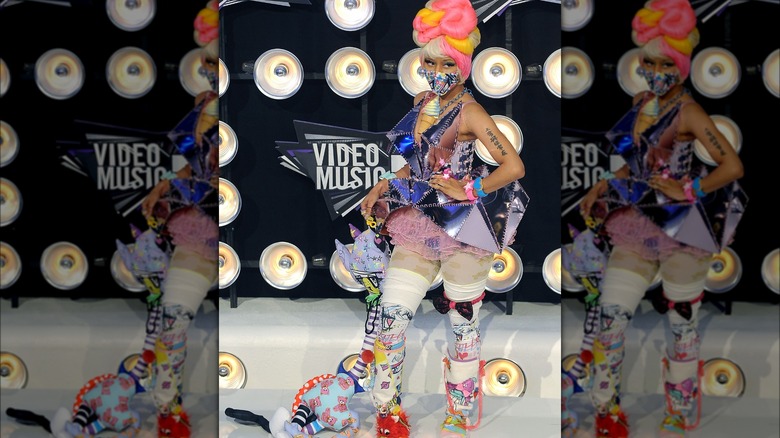 C Flanigan/Getty Images
Oh, Nicki, what were you thinking? Back in 2011, at the VMAs the musician showed up in an Amato Couture dress that was a wild, chaotic mix of colors, textures, and shapes. But perhaps the most shocking piece was the face mask. Yes, you read that right, a face mask, and this was eons before face coverings became a pandemic necessity. Minaj's outfit looked like she'd raided a costume shop, grabbed whatever she could find, and declared it fashion. The result? A maximalist nightmare that certainly left us bewildered.
Christina Aguilera's DIY disaster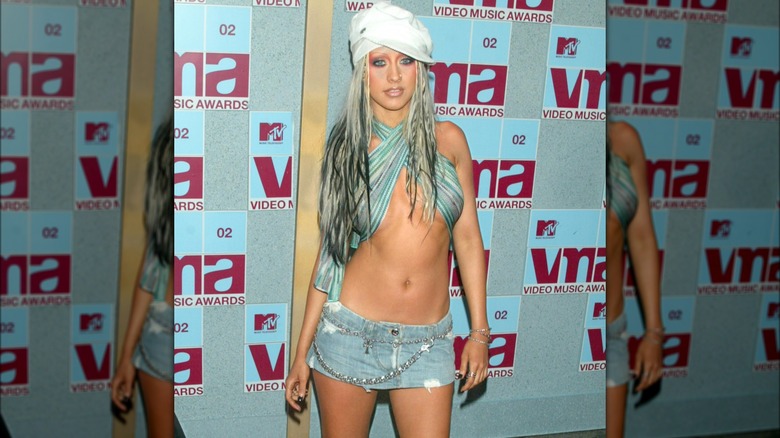 Jim Spellman/Getty Images
The early 2000s was certainly a time of questionable fashion choices, and Christina Aguilera's 2002 VMAs look is no exception. In the midst of her "Dirrty" phase, she was clearly on a mission to shock, and shock she did. Aguilera sported an ultra-mini denim skirt (a Y2K staple we'd rather forget), which she paired with what can only be described as a DIY creation. Her top? Well, it seemed like she'd grabbed a scarf, wrapped it around her neck, and called it fashion. While it's undoubtedly on our worst-dressed list, we can't help but also love the fact that she went this route.
Gwen Stefani's weather-confused fiasco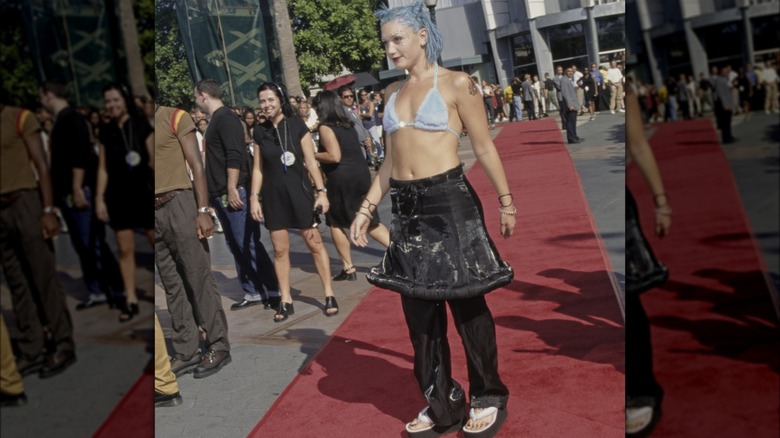 Vinnie Zuffante/Getty Images
Gwen Stefani is undoubtedly a style icon, but even icons have their off days, and the 1998 VMAs was one of those. Going for a punk rock vibe, she opted for a quirky ensemble that ended up looking confusing. That baby blue bikini top paired with shiny black pants and a matching skirt layered over them just wasn't doing much. To add to the fashion frenzy, she strolled in wearing flip-flops. The only redeeming quality of this look was her fearless blue hair, a signature move that only Stefani could pull off with ease.
Miley Cyrus' metallic madness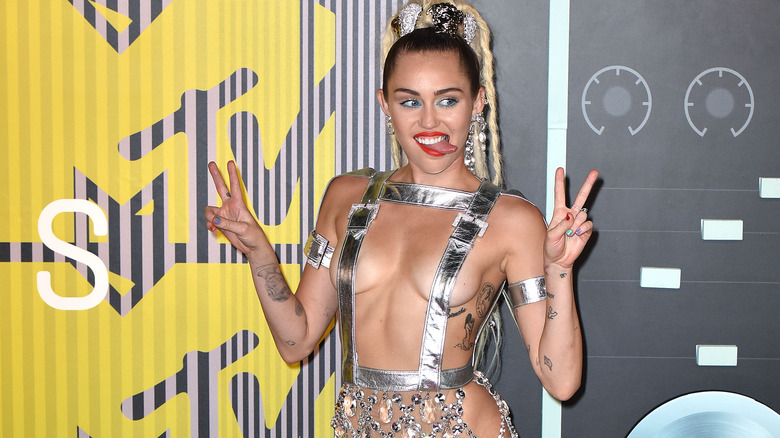 C Flanigan/Getty Images
Miley Cyrus is no stranger to pushing the boundaries of fashion, and her 2015 MTV VMAs look is a great example. Hosting that year's event, the former Disney Channel star graced the red carpet in a jaw-dropping futuristic silver ensemble that left little to the imagination. The metallic madness of her outfit seemed more like a costume from a sci-fi movie than a red carpet look, but hey, if there's somebody who dares to rock this to an awards ceremony, it's Miley Cyrus.
Macy Gray's shameless self-promo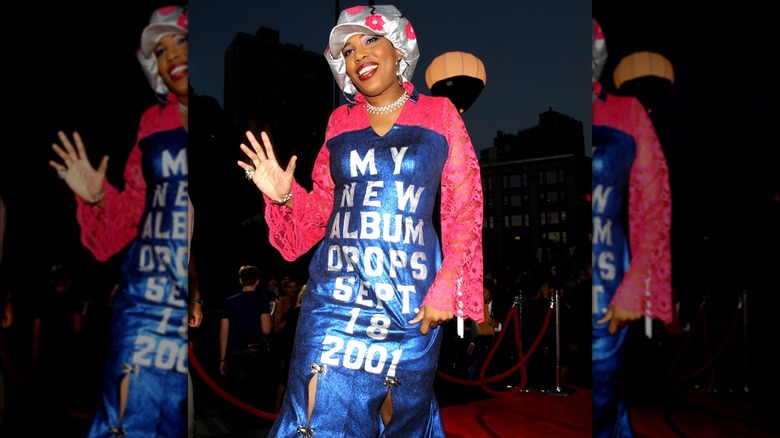 Kmazur/Getty Images
Macy Gray's 2001 appearance was a head-turner for all the wrong reasons. She sported a metallic blue dress with hot pink lace sleeves, a combination that alone raised some eyebrows — and we're not even going to talk about the hat. But what truly took this look to the next level of fashion disaster was her self-promotion. Macy Gray took the opportunity to announce her album right on the front of her dress. It's safe to say this look didn't win any awards on the red carpet that night.
Fergie's ultra tiny fit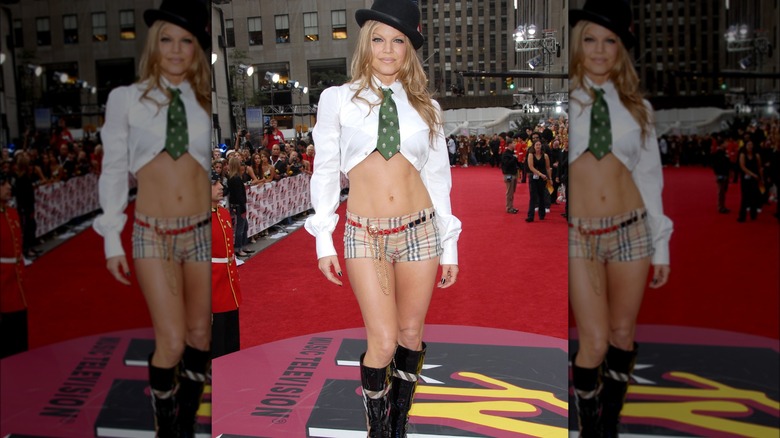 Kmazur/Getty Images
Fergie's look for the 2006 VMAs red carpet was definitely not everyone's cup of tea since it appeared as if her entire outfit, including her mini tie, had shrunk in the wash. While Fergie is known for her bold and sometimes avant-garde fashion choices, this particular look missed the mark. The ultra-tiny fit will forever be remembered as a questionable choice. While beauty might be in the eye of the beholder, even the most die-hard fashionistas have a hard time loving this look.
Lizzo's giant duvet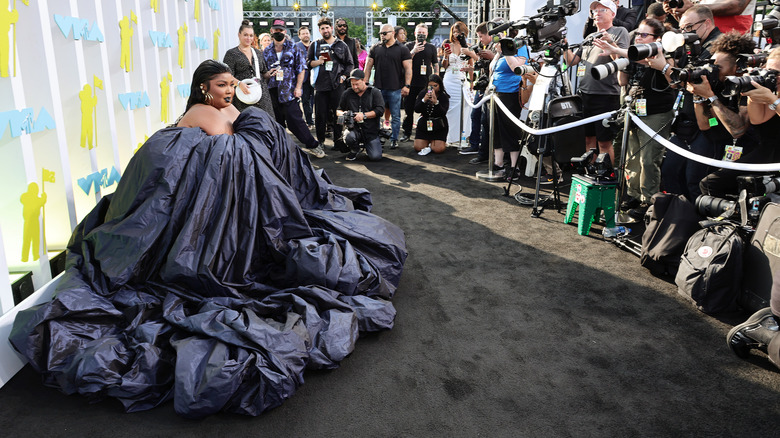 Jamie Mccarthy/Getty Images
Lizzo's fashion choices have often celebrated body positivity and self-expression, but her appearance at the 2022 VMAs left us wanting more. The singer wore a Jean Paul Gaultier couture gown that, unfortunately, resembled a giant, fluffy duvet more than a red carpet outfit. While her hair, makeup, and accessories were on point, the gown left us feeling more bedtime-ready than hyped for an award show. Lizzo is known for pushing boundaries, and this look was undoubtedly daring, but it might have taken comfort a tad too literally.
Pamela Anderson's feathery hat choice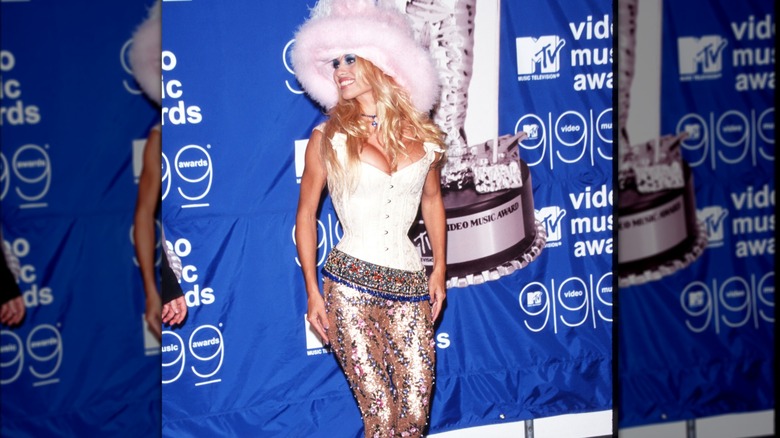 Evan Agostini/Getty Images
Pamela Anderson made quite an entrance at the 1999 VMAs with a look that is engraved in our memories. Her choice of a giant, feathery pink hat was definitely a bold one, and it has stood the test of time, as fans often recreate it as a Halloween costume. Anderson's daring choice for the unconventional has solidified this look as an iconic moment in MTV VMAs history. While it may not have been a fashion slam dunk, it's certainly left a lasting impression on pop culture.
Pink's spiky Y2K hair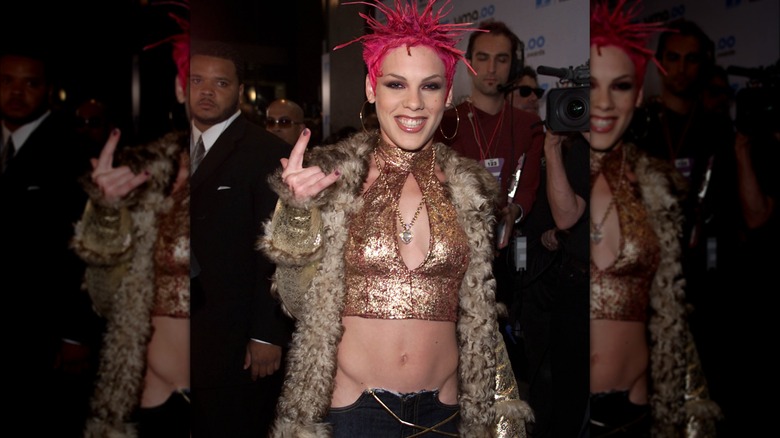 Frank Micelotta Archive/Getty Images
In the year 2000, Pink made quite the fashion statement at the VMAs red carpet. Embracing the chaotic Y2K aesthetic, the musician wore a daring look featuring faux fur, metallics, and ultra-low-rise jeans. However, the most cringe-worthy aspect of her look was her spiky hair. While Pink was certainly known for her signature pink hair, the spiky hairdo was a bit too much.
Jennifer Lopez's 'all over the place' look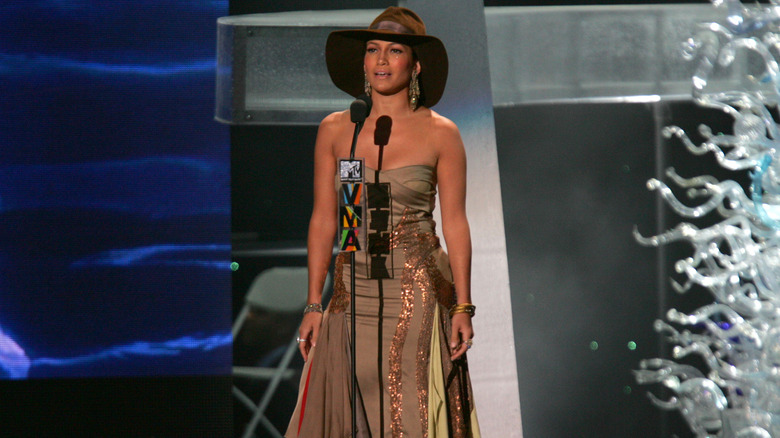 Kmazur/Getty Images
There's no doubt that Jennifer Lopez is a fashion icon, but even the best can have a bad day. J.Lo's outfit for the 2004 VMAs was an overload of fashion elements, featuring a wide-brimmed hat, oversized dangly earrings, and an embellished dress. It seemed like she was trying to incorporate every trend into a single ensemble, and the result was a bit too chaotic, even for the bold mid-2000s fashion scene.
Amber Rose's red latex extravaganza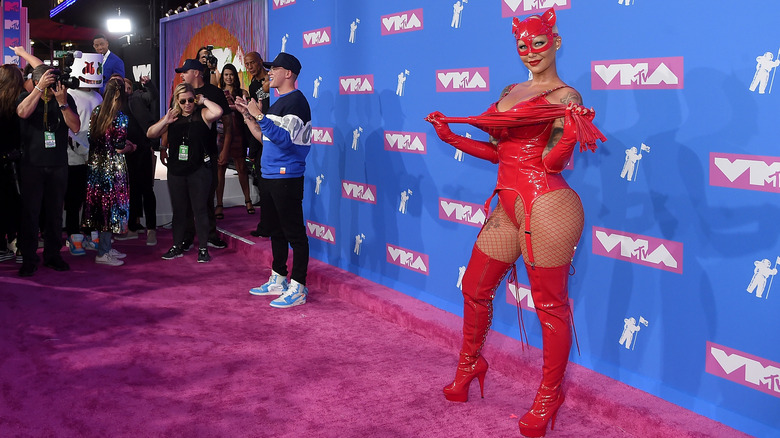 Jamie Mccarthy/Getty Images
Amber Rose is known for making bold fashion statements, and the 2018 VMAs was a case in point. While her red latex Catwoman-meets-dominatrix outfit wasn't bad per se, it certainly seemed more suitable for a costume party than the red carpet of a music award show.
Britney Spears' dominatrix overdo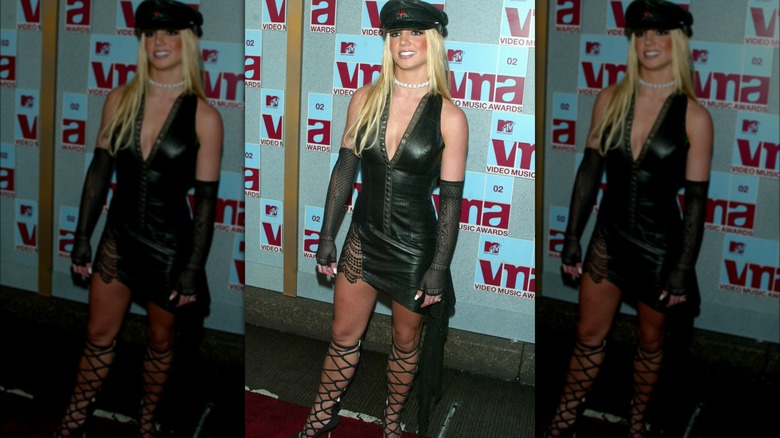 Jim Spellman/Getty Images
Britney Spears was the reigning pop sensation of the early 2000s, and back then, her looks were generally always on point. However, her 2002 VMAs outfit was an exception to that rule, as it felt forced and overdone. While we applaud her attempt to explore an edgy dominatrix vibe (like Amber Rose above), between the lace-up heels, fingerless over-the-elbow gloves, and biker hat, there were simply too many bold accessories.
Kim Petras' 'about to rob a bank' style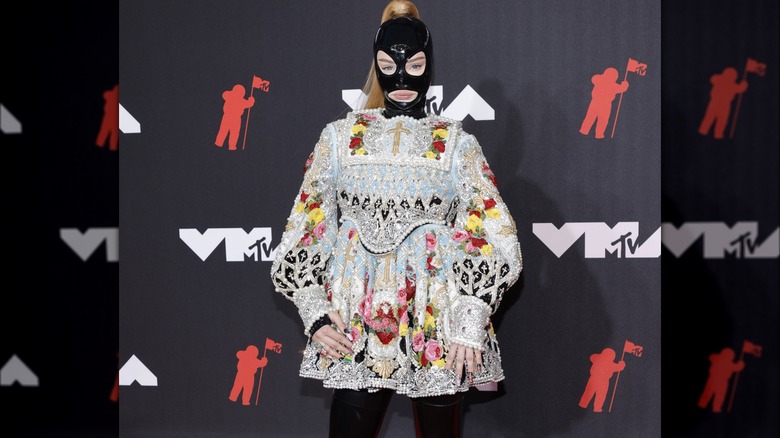 Jason Kempin/Getty Images
Kim Petras certainly knows how to grab attention with her fashion choices, and her 2021 VMAs look was no exception. The star wore a black latex bodysuit that covered her face and a mini dress adorned with embroidered crosses on top, a design by Richard Quinn. While there's no denying that the look was eye-catching, one can't help but wonder about the comfort factor of that latex face mask.
Jessie J's bedazzled boot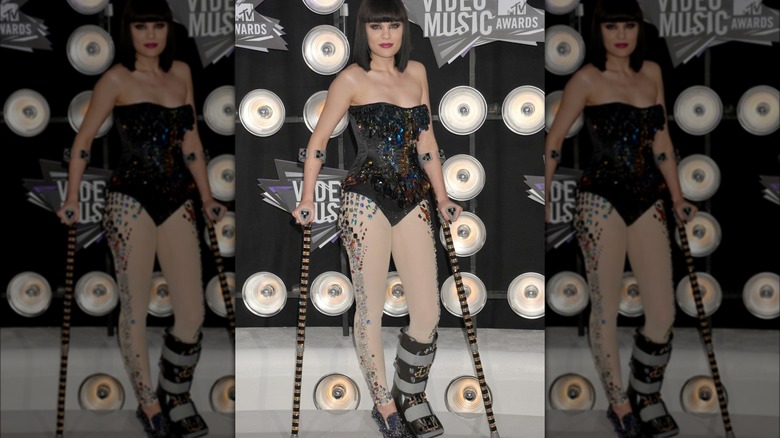 Gregg Deguire/Getty Images
Jessie J's determination to attend the 2011 VMAs despite having a broken foot is certainly admirable. However, her fashion choice for the occasion left something to be desired. She opted for a blinged-out cast and crutches to match her bodysuit, and while we love that she didn't let the injury keep her away, the overall look was a disappointment.
Chloe Bailey giving aluminum foil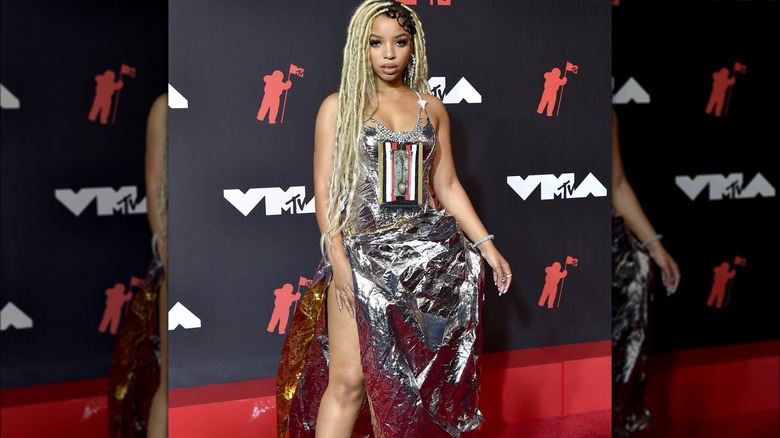 Axelle/bauer-griffin
Chloe Bailey made quite the fashion statement at the 2021 VMAs, but it wasn't necessarily a positive one, as the bottom portion of her Marni dress drew attention for all the wrong reasons. Frankly, it resembled yards of aluminum foil, and this unusual choice of material made it difficult to fully appreciate the rest of her look.
Lil' Kim's orange outrage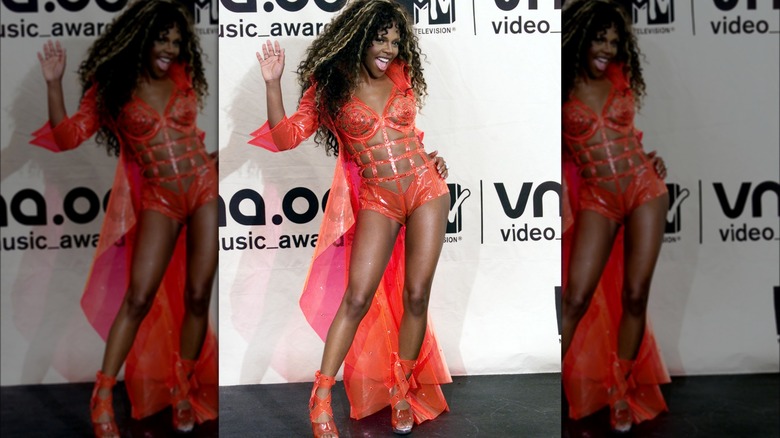 Nick Elgar/Getty Images
Lil' Kim has a reputation for her daring and bold fashion choices, and the 2000 VMAs were no exception. She rocked a plasticky skin-baring orange look that definitely made a statement. However, it was the matching coat she chose to wear over this already audacious outfit that left much to be desired.
Rita Ora's one-piece oops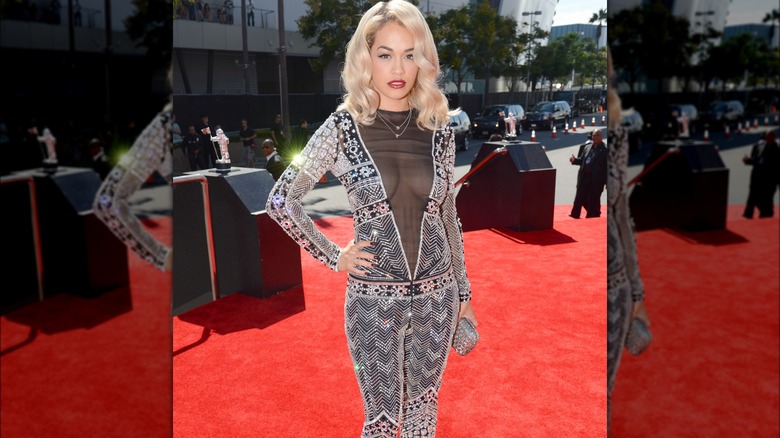 Jeff Kravitz/Getty Images
In 2012, Rita Ora made a major fashion misstep at the MTV VMAs. She chose to wear a bedazzled jumpsuit that was cute but, unfortunately, ill-fitted. And in the world of glitz and glam, a poorly fitted outfit is even worse than an ugly one.
Jessica Simpson as a French maid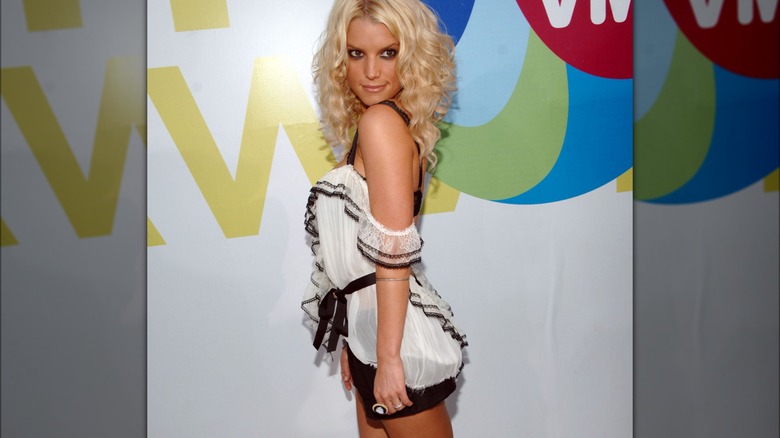 Kmazur/Getty Images
In 2005, Jessica Simpson showed up to the VMAs in an outfit that seemed to draw inspiration from the classic French maid costume. Today, we use this look as a reminder that sometimes, certain styles are best reserved for specific settings — i.e., costume parties.
Katy Perry's campy catastrophe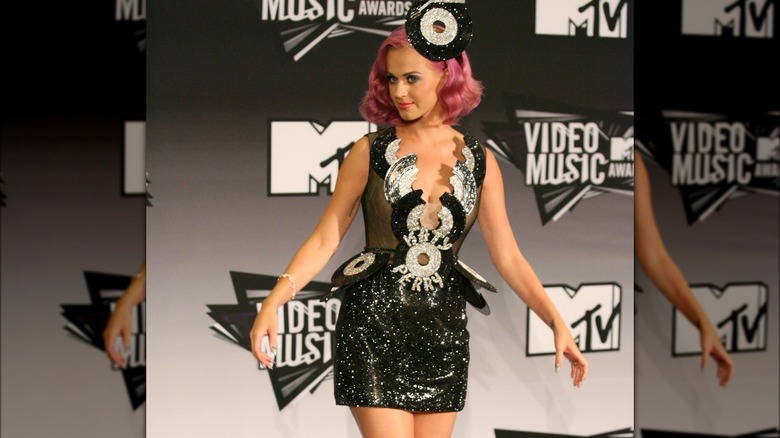 s_bukley/Shutterstock
Katy Perry attempted to make a bold statement with her 2011 VMA outfit, drawing inspiration from vinyl records, and even including her own name as decoration on the front. However, her effort to be avant-garde and campy ultimately backfired. The outfit appeared forced and overly theatrical, failing to showcase that balance between bold and tasteful.
Lady Gaga's meaty statement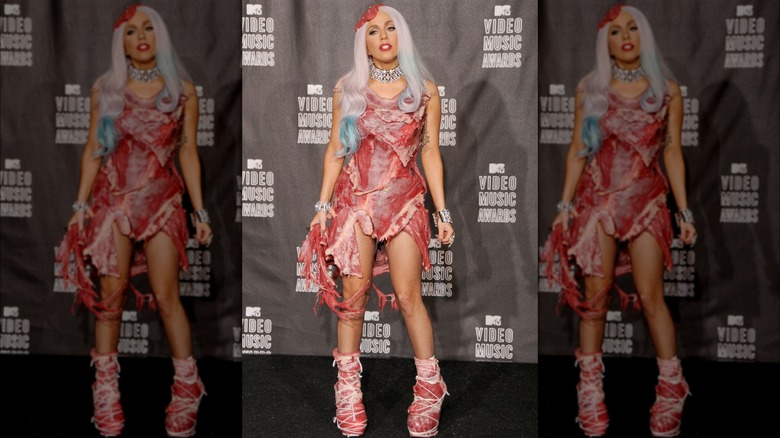 Gregg Deguire/Getty Images
In 2010, Lady Gaga made headlines at the VMAs with an outfit that, while iconic and memorable, had to be mentioned on this list. Gaga's intention was to use the meat dress as a protest against the military's Don't Ask, Don't Tell policy. The dress, designed by Franc Fernandez and styled by Nicola Formichetti, remains one of the most shocking and unusual choices ever seen on a red carpet.