Lipstick Colors To Have On Your Radar As We Head Into Fall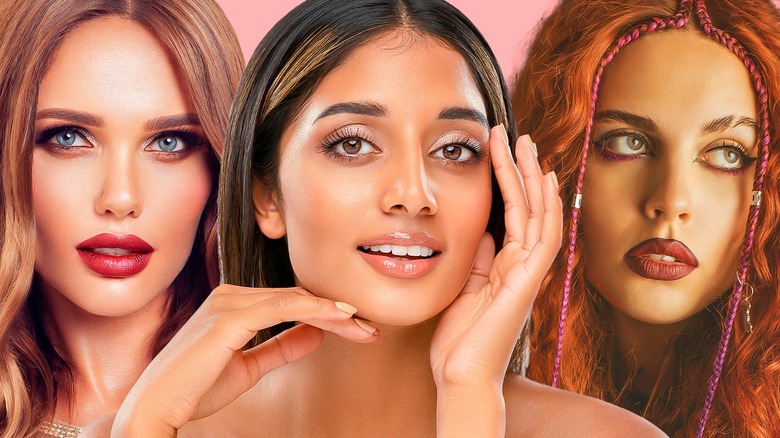 Static Media/Shutterstock
It's always fun to exude free-spirited vibes in the summer, wearing nothing on our lips or just a light coat of gloss as we frolic by the pool and soak in the sun. But once fall comes around, the weather starts getting chillier, and it feels good to wear more makeup. Who can resist a bold lip on a lovely autumn day?
There are many trendy lipstick hues to explore in fall 2023, from practical choices to super shiny options. "The shades of the season have evolved from flat and basic and are now much more versatile ... High shine and intense pigments like wine are also highly in demand," J Guerra, a celebrity makeup artist, told The Zoe Report.
Everyone should treat themself to at least one new lipstick before the fall season begins, as there are so many options to enjoy. Whether you prefer dramatic, subtle, elegant, or edgy looks, we know a few fall lipstick colors for you to try.
Lively red
Red lipstick is always a good idea — especially during the fall and winter. Instead of feeling down about the weather getting colder and having to put aside your favorite summer bikinis, look forward to having the chance to flaunt your favorite red lipstick without worrying about it coming off in the ocean or sweating off.
Fall-appropriate orange
We can't think of a lipstick color that better suits fall than orange. Although orange lipstick isn't for everyone, it is heavily underrated and deserves more recognition for providing such bold and unique looks. So, why not channel the pumpkin-picking vibes of the Halloween season with an exciting and perfectly-fall-fitting orange lipstick?
Rich brown
Brown lipstick is the latest '90s comeback trend, providing chic and sophisticated flair to any ensemble. After orange, trendy brown is the best lipstick option for fall, as the rich hue matches the season's coziness and color palette. We can't think of a cuter autumn Instagram post than sipping delicious hot chocolate that matches your brown lipstick.
Edgy black
If you want to embrace the Halloween aspect of fall, and you're the type of person who gets excited about the spooky season every year, you need some black lipstick. Black lipstick appears ultra-edgy and is perfect not only for everyday looks but also for makeup enthusiasts who want to dabble in goth makeup and explore bold looks. Every Halloween lover should try wearing black lipstick at least once!
Subtle nudes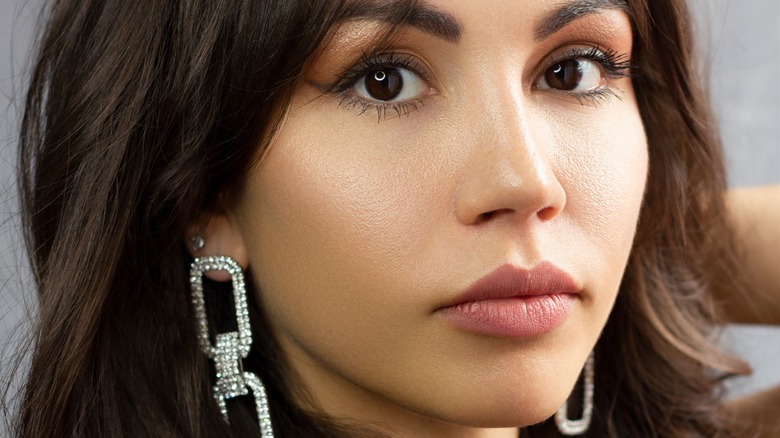 Shtennikova Evgenia/Shutterstock
From red to orange to brown to black, we know that the previously suggested fall lipstick colors aren't so subtle. But if you prefer more low-key looks, there are still options for you! Nude lips are timelessly beautiful and classy, making them the perfect looks for not only the fall season but any day of the year.
Pretty peach
Anyone looking for a lipstick color a bit more noticeable than nude but not as predictable and classically girly as pink should explore peach options. Peach lipstick is versatile and can appear youthful and flirty or sophisticated and chic depending on your outfit and how you do the rest of your makeup.
Playful purple
Trending "plum hair" is the perfect shade for fall — and the same applies to plum lipstick. That sultry dark purple color isn't as intense as black lipstick but still offers a mysterious and alluring look for fall and winter. If the darker purple isn't your vibe, don't be afraid to go for a lighter option for a daintier, more youthful look.