Coconut Milk Nails Are The Latest Spin On The Milk Bath Manicure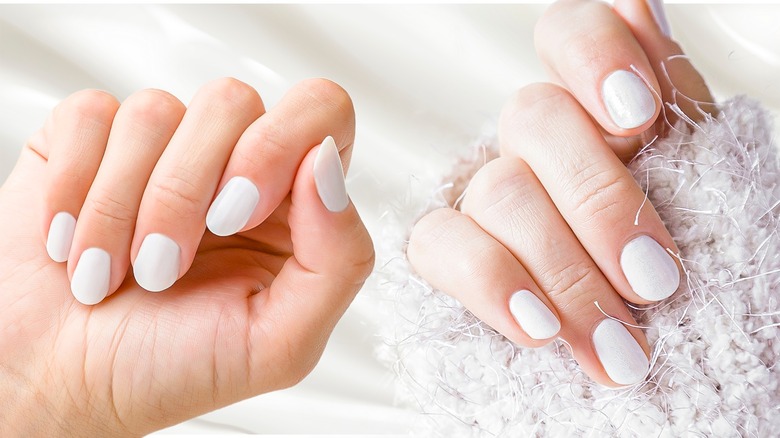 Static Media/Shutterstock
Trust us, we totally understand if you fell in love with milky manicures the first time you spotted the trendy look. Of course, you may also adore each version of this particular style. Whether you're into a milk bath design, a strawberry milk manicure, or blueberry milk nails, they're all deliciously gorgeous. The same can certainly be said about coconut milk nails.
Similar to the other milk-inspired trends, the coconut version sticks with a relatively white base before giving it a little twist. Instead of the somewhat see-through nature of typical milk nails, the coconut variety is a little thicker without being a saturated shade of white. Think of a tone that's hazy, cloudy, and even frosty. On top of that, this look ditches any kind of matte finish but also doesn't need a super-shiny topcoat. Instead, you'll want to land on something in between that has a bit of gloss but doesn't exactly boast glam-worthy glitter.
Although coconut milk nails may sound quite straightforward, there are actually a range of ways you can embrace this trend. From super-simple and fabulously sleek to somewhat flashy and undeniably chic, there's surely a version of this tasty-looking trend that's just right for you.
Super subtle coconut milk nails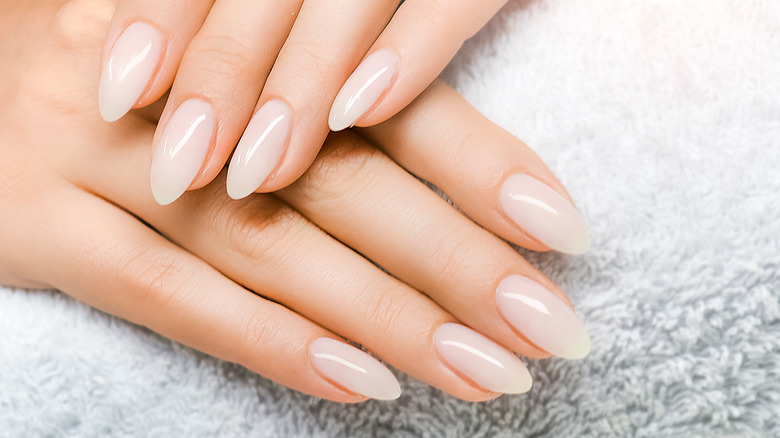 Krasula/Shutterstock
One of the aspects that you might adore when it comes to coconut milk nails is that they can go well with casual outfits and professional ensembles, as well as fancy formal wear. They can also enhance monochrome outfits or those that embrace various colors and patterns, thanks to their relatively neutral nature. You can take full advantage of this by opting for super subtle coconut milk nails that adhere to the opaque trend but do so with a light touch. This will give you the hazy look you desire, along with a soft aesthetic.
Thick coconut milk nails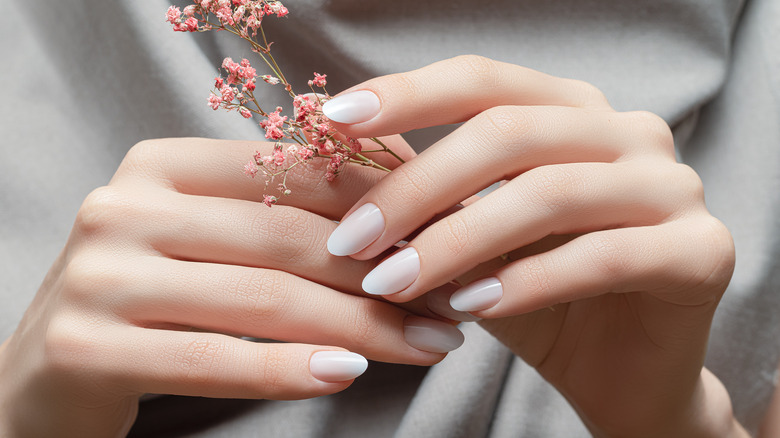 Dev_Maryna/Shutterstock
If you pour a glass of cow's milk and a glass of coconut milk, you might find that the latter has a thinner appearance, almost like it's been watered down ever so slightly. Coconut milk can be somewhat lighter compared to similar beverages, giving it a bit of a cloudy look. This can be the perfect shade for your next manicure. Of course, it won't be as thick as a vibrantly pristine white. However, it's a touch or two lighter than milky nails and a tad darker than a subtle version of coconut nails.
Line art coconut milk nails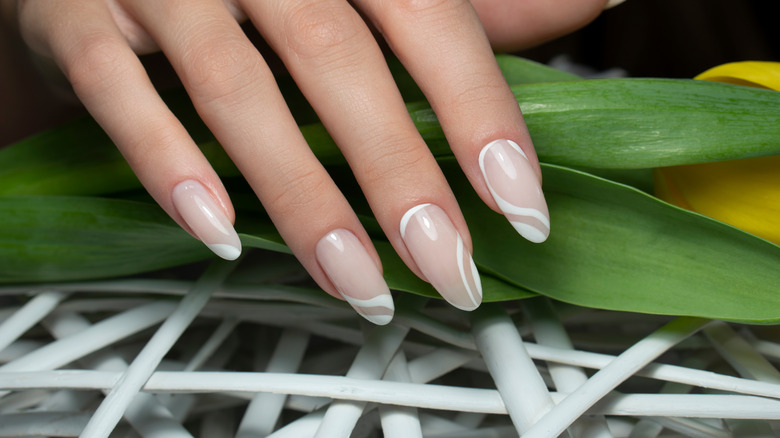 Elena Grama/Shutterstock
Using line art is a quick and easy way to take your manicure to the next level and definitely gives coconut milk nails an eye-catching touch. To capture this look, use a sheer white shade or a hue that's nude against your skin tone to lay down a solid base on your nails. Next, grab a darker polish to create lines in a shade that shows off the coconut milk color. Alternatively, if you prefer, you can paint a coconut milk base and add lines in a lighter color.
Marbled coconut milk nails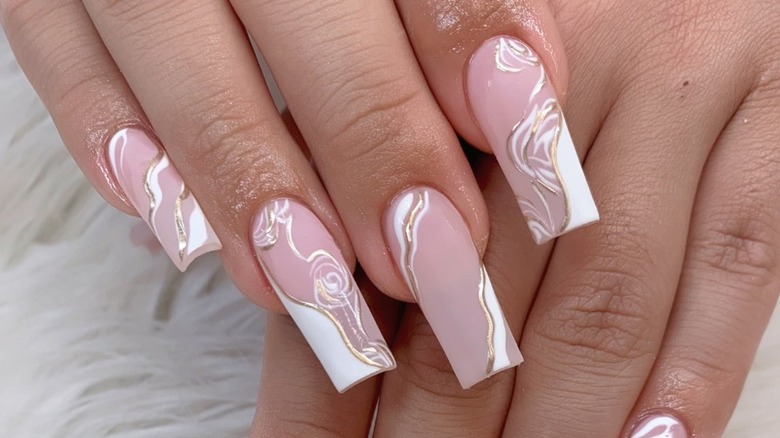 Huan N. Phan/Shutterstock
The striking white tones used to create coconut milk nails are the perfect fit for an equally trendy marbled design. Fortunately, you can combine the two effects. Use a lighter shade of white for the base and something thicker for the marbling. If you want to make your manicure extra snazzy, you can even add hints of gold that can act like the veins in the natural stone, which is the inspiration for your look. You might also want text, portrait, or floral touches that are almost hidden in the marbled design.
Silver-tipped stiletto coconut milk nails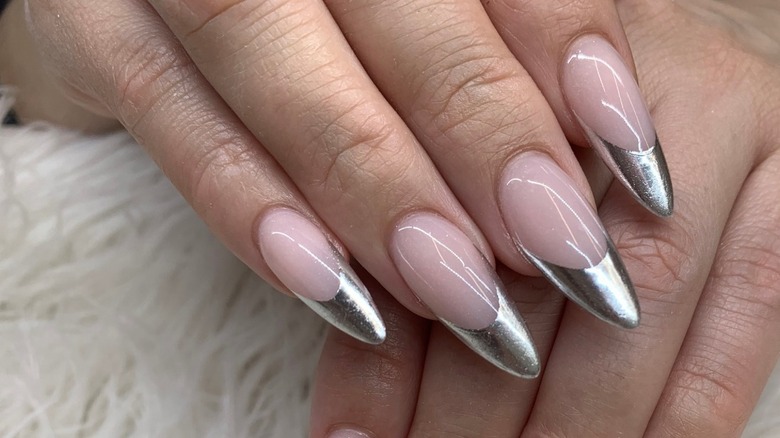 Huan N. Phan/Shutterstock
Give your coconut milk nails the kind of flair that suits your fantastically flashy style or a fun getup that's perfect for the club with a silvery addition. Although there are various ways that you could do so, may we suggest a coconut milk base that covers the majority of the nail with a French manicure twist that ignores the classic white tips and opts for silver ends instead? While that's surely fierce enough, you can take things a step further by choosing a sharp stiletto shape.
French tip coconut milk nails
There's no doubt that a French manicure is a classic option that has become popular among mainstream trends once again. Of course, there are various ways to wear a modern version of this style, including incorporating a shade of coconut milk polish. Simply apply a single coat of light color to the entire base of your nail, making sure to cover it completely. Once that has dried, you can add a second coat, but this time only to the tip of each nail. Voila, et fantastique!
Icy accented coconut milk nails
When you think of coconuts, you might imagine a tropical location that boasts warm beaches and sunny days. However, you can put a seasonal twist on your coconut milk nails with an icy accent. Cover your nails with polish as you normally would, but keep it rather light at the tips. This is where you can place tiny nail accessories that match the stunning color, such as snowflakes. Add a clear top coat over your entire design to seal everything in, and you'll be ready to show off your enviable manicure.