Take A Note From Meghan Markle And Wear Turtlenecks Year-Round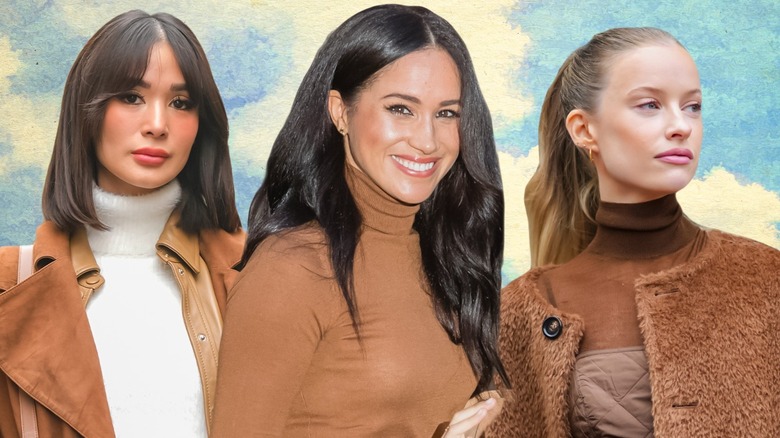 Static Media / Shutterstock
Meghan Markle has undoubtedly become a fashion inspiration from her 'no-makeup' makeup on her wedding day to her distinct minimalist fashion. One of the trends we can attribute to Markle is her love of turtlenecks. We've seen the former "Suits" actress rock the turtleneck in its many forms in both summer and winter. While it may seem odd to wear a turtleneck in the middle of warm weather, it's entirely possible with a few changes.
After all, turtlenecks are a chic and polished clothing item that can elevate any look, regardless of the season. Instead of a plain top, a turtleneck can add a sophisticated touch with its high-neck detail. That said, whether on its own or layered with other pieces, the turtleneck is guaranteed to be a versatile item that can work in any wardrobe. If you're building a capsule wardrobe that works year-round, the turtleneck should be on your list.
Sleeveless turtleneck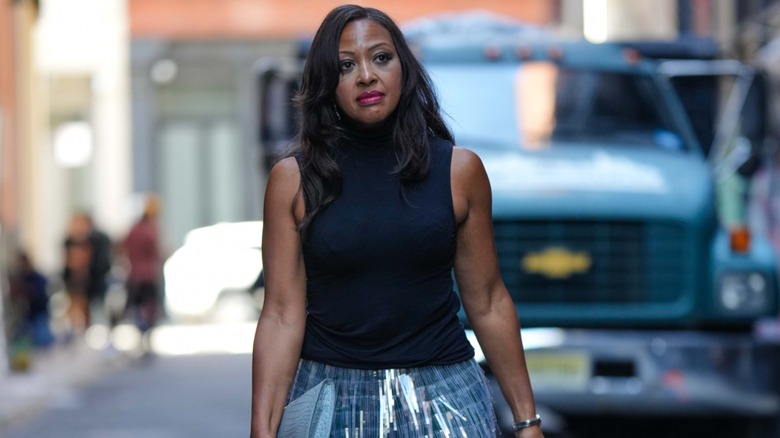 Edward Berthelot/Getty Images
The summer heat is no reason to stop wearing your turtleneck. To rock this polished piece, all you need is a sleeveless turtleneck that gives you the elegance of the item without capturing all the heat. In a video for the couple's foundation, Archewell, Meghan Markle rocked a camel turtleneck top, the perfect transitional piece coming in and out of the warmer season.
High-neck dress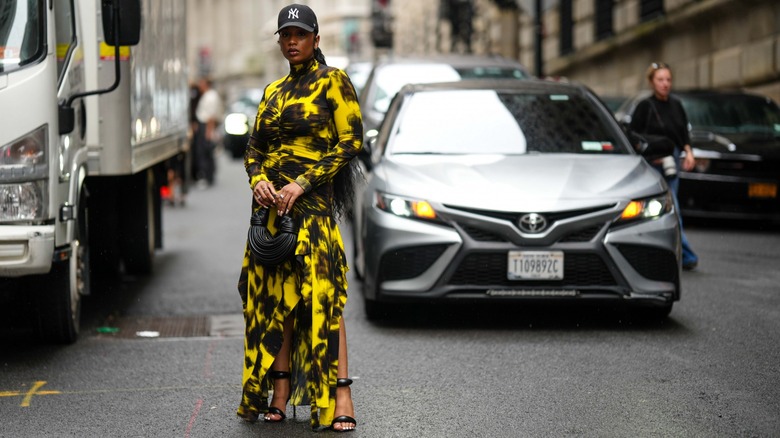 Edward Berthelot/Getty Images
Turtlenecks aren't just for sweaters or tops; it's also one way of adding an elegant touch to your dress. Whether you're dressing up for the fall or spring, a turtleneck dress can still give you elegance but with the style points of a dress. The turtleneck dress, for example, is a popular option for style icons like Bella Hadid and Gigi Hadid, who have utilized the piece to match their favorite thigh-high boots.
Comfy sweaters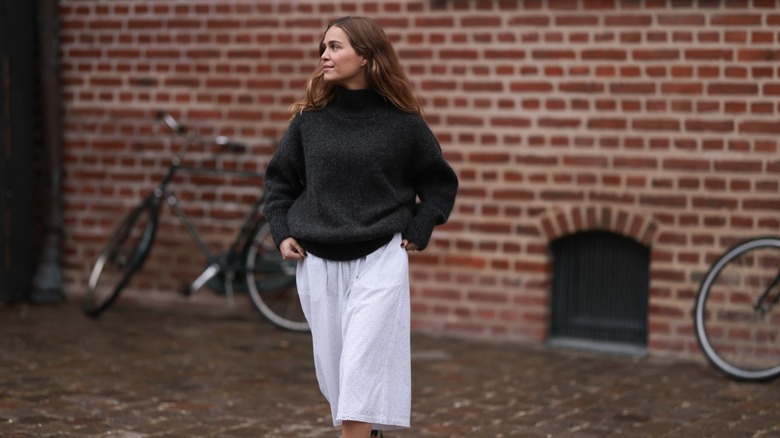 Jeremy Moeller/Getty Images
The most obvious choice for implementing your turtleneck is via a comfy sweater. A turtleneck sweater is an ideal option for those cold fall and winter days, giving you extra warmth while still showcasing a quiet luxury vibe. For a chicer street-style option, pair your chunky turtleneck sweater with a softer skirt for a dynamic contrast.
Layered turtleneck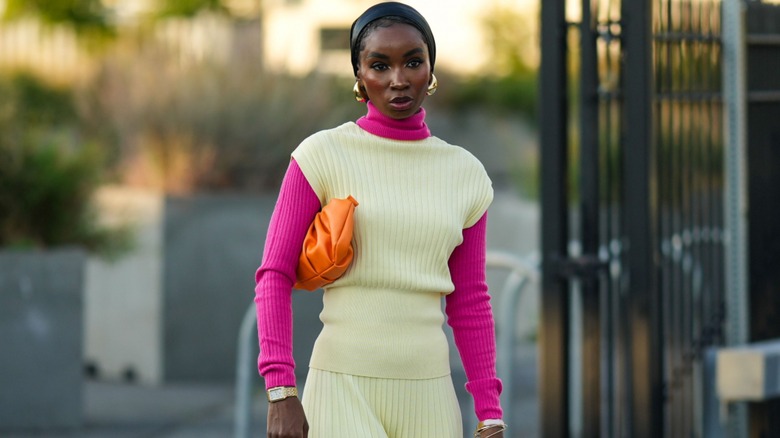 Edward Berthelot/Getty Images
On its own, the turtleneck is a chic and sleek piece. However, it's also versatile and can work with another garment to create a layered look. Place your turtleneck under a slip dress or cami top for the ultimate cool-girl '90s style. This layering is also ideal for rocking a v-neck with a modest touch. That said, try implementing a long necklace to help elevate your look and elongate your neck.
Sheer trend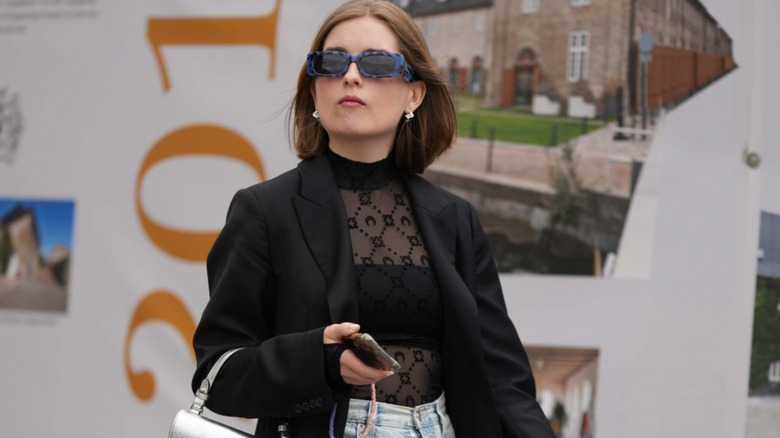 Edward Berthelot/Getty Images
The sheer trend has taken the fashion industry by storm, and it's only fair to apply it to our turtlenecks. While they won't offer the same warmth, they will let you show off your favorite undergarments to create a high-fashion look. Celebrities like Taylor Russell have adopted the sheer turtleneck look and use it as a layering piece to create a street-style look.
Fitted turtlenecks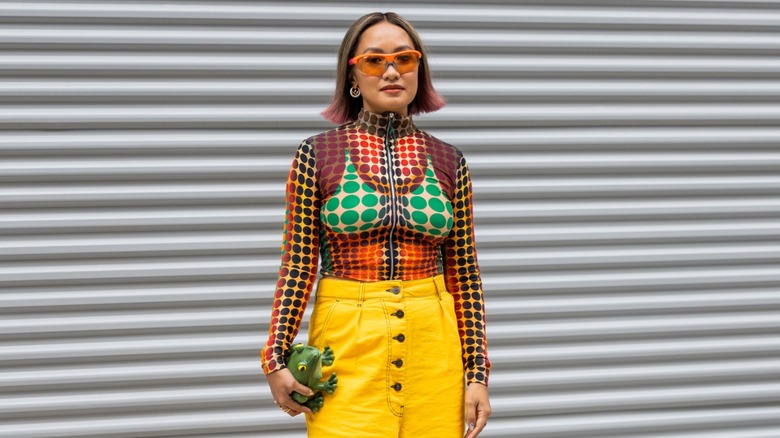 Christian Vierig/Getty Images
Turtlenecks are already polished pieces that can create figure-hugging silhouettes for modern ensembles. While we all love a good oversized clothing piece, a tight-fitting turtleneck can help elongate your figure and create a more chic look. For a more laidback and stylish 'fit, pair a sleek turtleneck with a baggier bottom. To make the ultimate 2000s look, use cargo pants to create a casual vibe.