Shoe Trends You'll See Everywhere Spring 2024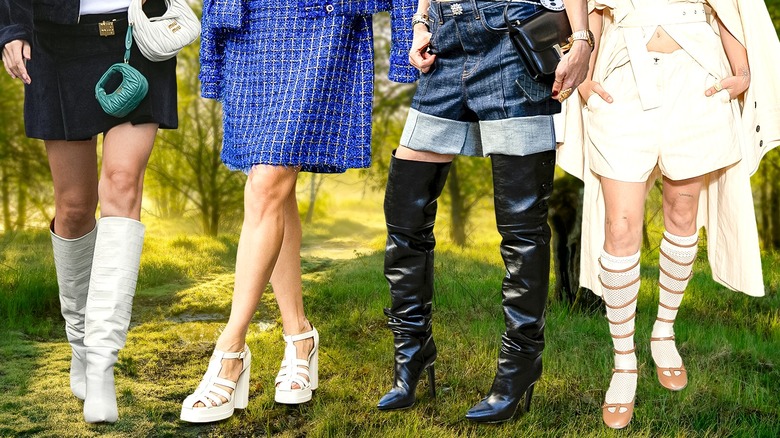 Static Media/Shutterstock/Getty
If you're anything like us, you make it a habit to stay on top of the latest fashion trends. You're always in the know about what styles will be "in" in the coming seasons — and we're already talking about all the fashions set to hit the stage in spring 2024. Some recent trends are sure to carry over; for example, we're not about to see the end of metallic sheens, maximalist embellishments, and sheer fabrics in the fashion industry, and ruffles and florals always have a place in spring styles. You may be wondering, though, how these trending styles translate to footwear.
Wondering what shoe styles to capitalize on this coming spring? Chances are you already have some trending pieces in your collection. For example, boots aren't going anywhere, and those ballet flats and Mary Janes you bought when they came back in style are sure to stick around for the spring season. Some of our favorite fashion trends even carry over to footwear, too, and you're likely to see shoes adorned with embellishment and capitalizing on bright colors. The shoe trends of spring 2024 are comfortable, noticeable, and functional — sure to make a statement no matter where you go throughout your day. 
Maximalist embellishment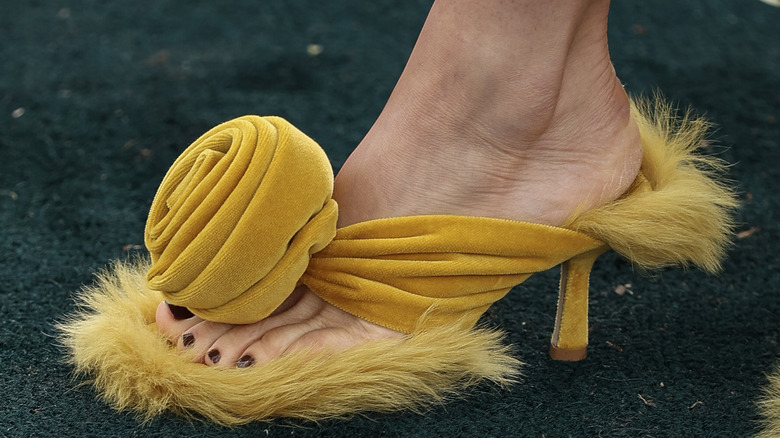 Mike Marsland/Getty Images
One trend we're excited to see out and about is the maximalist shoe trend. As you hit the streets this spring, be prepared to see shoes of all colors and textures imaginable — you may even run into some adorned with feathers or other embellishments that seem a bit "extra." If you're daring enough to capitalize on this spring 2024 shoe trend, we applaud you.
Metallic pumps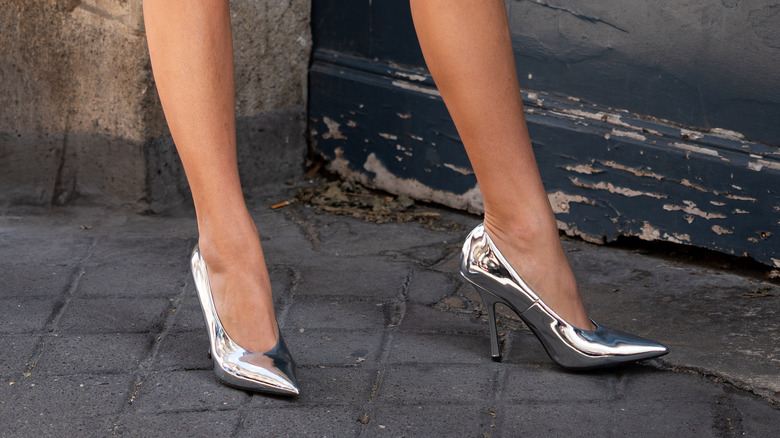 Claudio Lavenia/Getty Images
It's no secret by now that metallic is trending in everything from clothes to nails and, yes, even footwear. If you want to go out in metallic shoes this upcoming season, don't feel like they need to be a pair of pumps — even metallic ballet flats are sure to make a statement when you're out on the town.
Classy loafers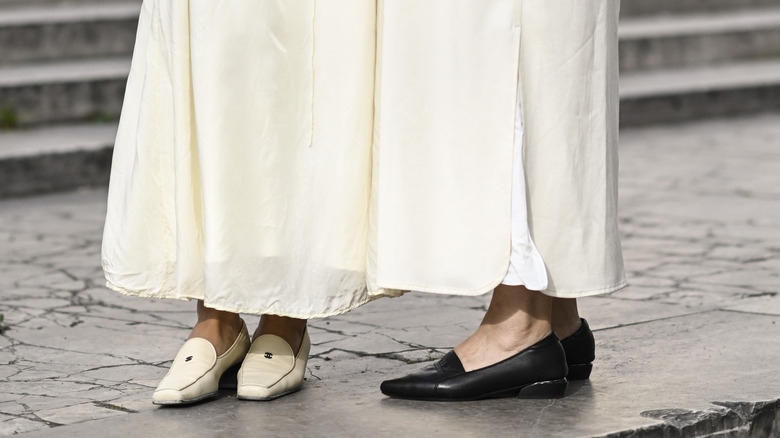 Daniel Zuchnik/Getty Images
Do you lean toward the more sophisticated trends? You always walk out the door looking put-together; anything less is heresy in your eyes. If this sounds like you, do yourself a favor and replenish your collection of the trending classic, preppy loafers. This flat footwear is comfortable and can even be used to dress up a simple jeans and tee outfit.
Flatform sandals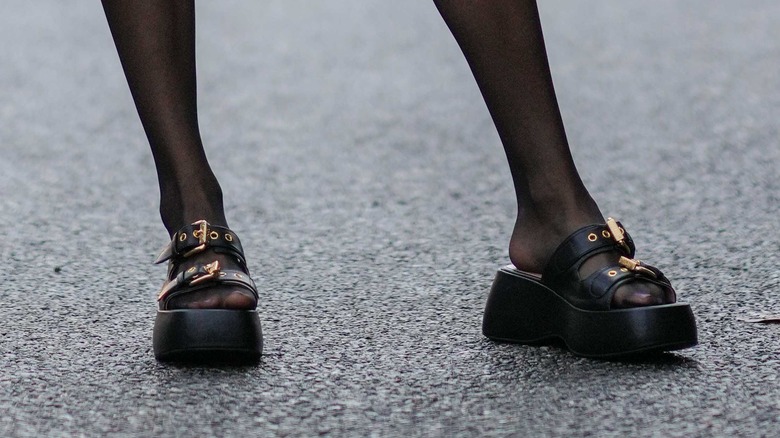 Edward Berthelot/Getty Images
Step aside, platform sandals — flatform shoes are replacing you in spring 2024, and we're excited to see all the ways this trending style will be worn this season. Unlike platform shoes, which boast a thick sole (with no other qualifiers), the thick sole on flatform shoes is level and pretty flat to the ground. They offer an easy way to add some height without dealing with the potential discomfort of heels.
Embrace neon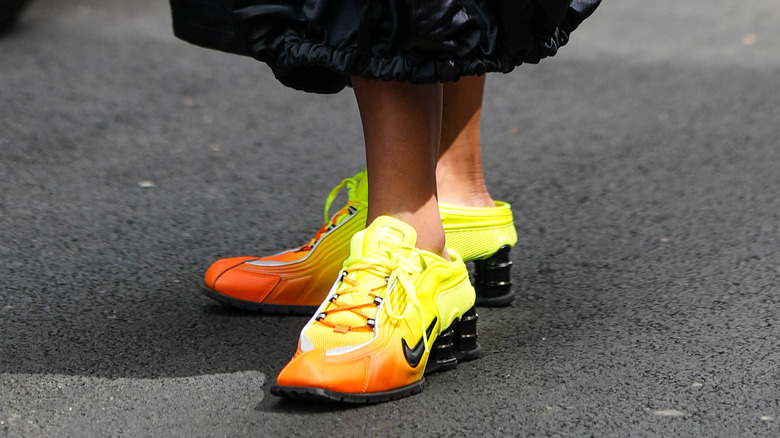 Edward Berthelot/Getty Images
When it comes to the trending shoe styles of spring 2024, one thing is for certain: Neon colors (and other bright hues) are taking center stage, especially when it comes to sneakers. The best part is your neon shoes don't have to match the rest of your outfit. In fact, when you go out in neon footwear, we recommend keeping the rest of your outfit neutral so your shoes can steal the spotlight.  
Long, pointed toes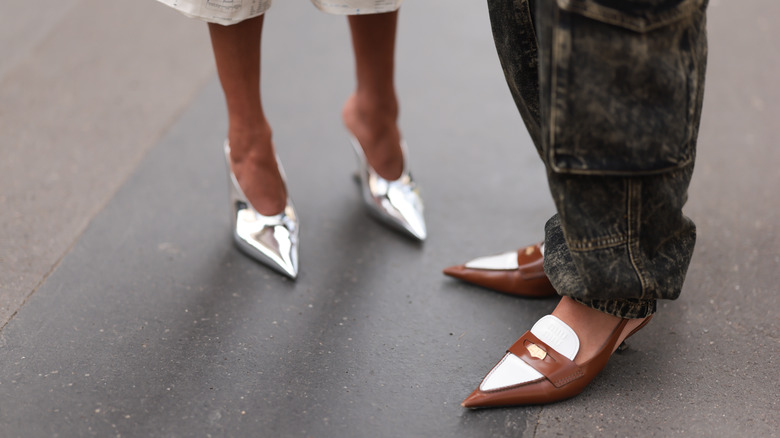 Jeremy Moeller/Getty Images
A pointed toe makes a statement in itself, but honestly, the standard pointed toe just isn't cutting it anymore. Don't stress over giving up your beloved pointed toes, though. This classic silhouette is getting a bit of a makeover in spring 2024 — an elongated one. When shopping for your next pointed-toe shoe, shop around for pairs with an elongated toe to stay perfectly on trend next season. 
Ballet flats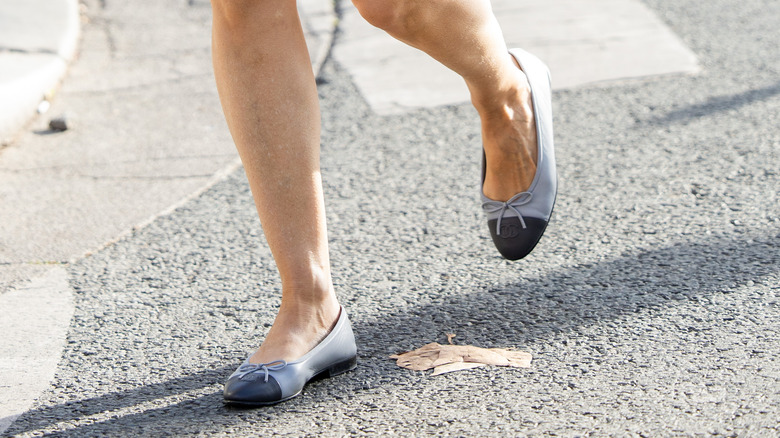 Christian Vierig/Getty Images
Ballet flats have been back in for a minute, and we're happy to report they aren't going anywhere anytime soon. One thing we love about the ballet flat is its versatility. If you want a maximalist style, opt for ballet flats with straps that tie around your calf. Those of us who like to fly under the radar would appreciate a simple duo-toned ballet flat, possibly with a simple ribbon at the toe. Either way, you're sure to be comfortable and stylish. 
Cowboy boots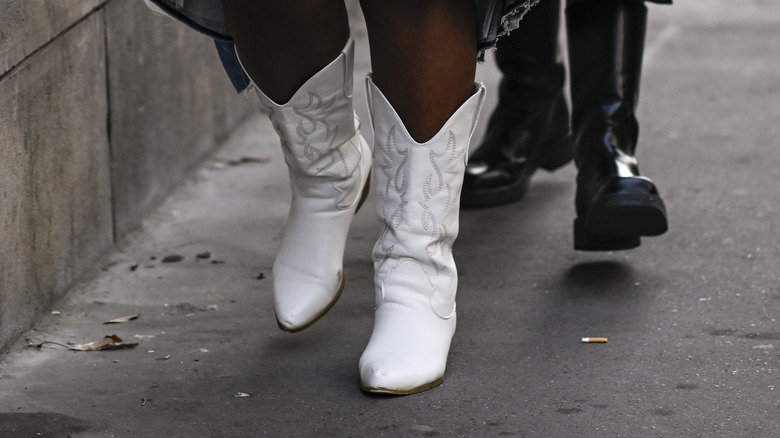 Daniel Zuchnik/Getty Images
If you haven't already dug your Western cowboy boots out from the recesses of your closet, it's time to do so! Cowboy boots are going to be hot this spring, and we're excited to see this style take shape. Wear them with a knee-length skirt to make a statement or a maxi skirt if you don't want to garner too much attention. 
Chunky sneakers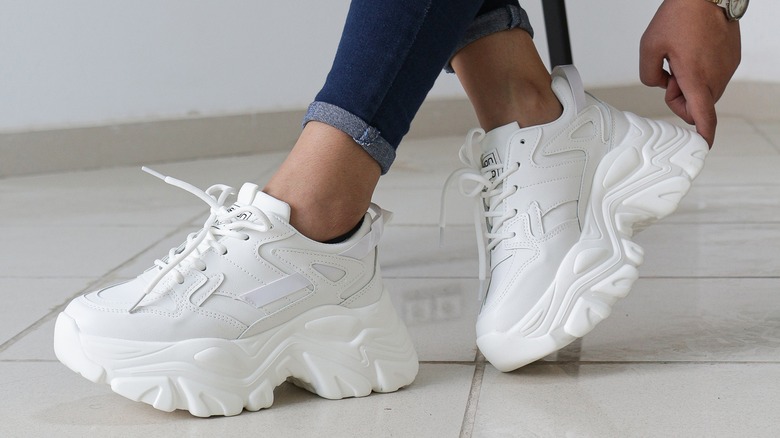 GolddStudio/Shutterstock
Before you go shopping for your next pair of sneakers, we have one word for you to keep at the front of your mind: chunky. Sleek, understated sneakers are out in favor of big, chunky, overstated, fashionable dad sneakers. This trend is just as practical as it is stylish, sure to keep you comfy whether you're spending your day at a desk, walking around town, or getting some hiking miles in.
Heeled Mary Janes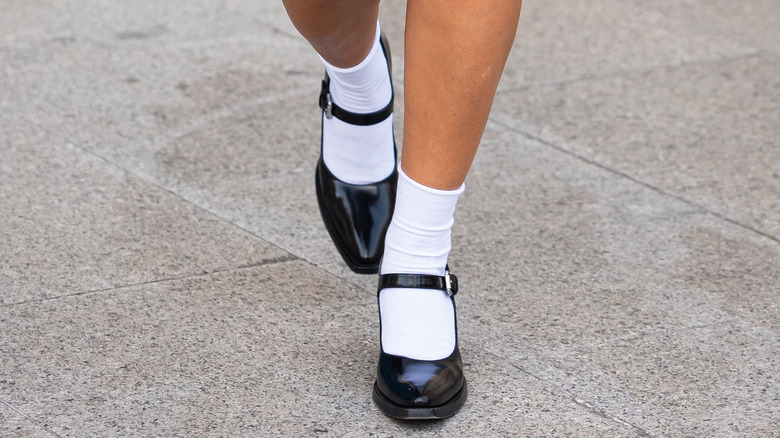 Claudio Lavenia/Getty Images
Ah, the classic Mary Jane. This trending style features a strap that goes across the top of the shoe, and while it's a sophisticated style choice, its schoolgirl vibes also help it tone down any outfit. We love that this comfortable style is commonly worn with socks, and if you want to go full schoolgirl, we recommend pairing it with a mini skirt and a structured blouse. Though the heeled version is particularly in, feel free to don some flat Mary Janes if you'd rather.
Chartreuse shoes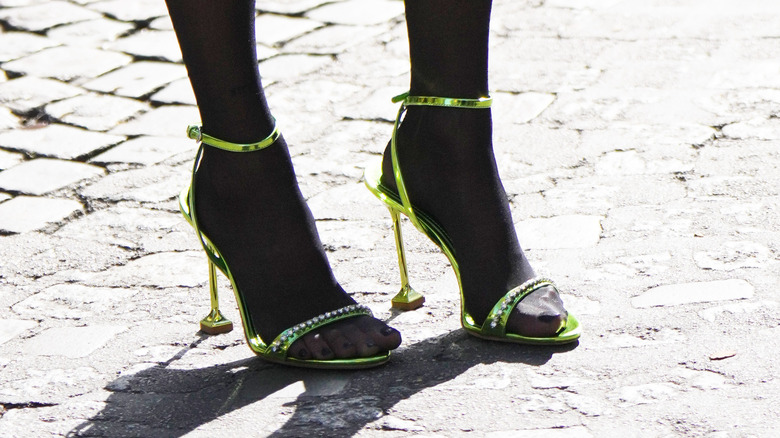 Edward Berthelot/Getty Images
Somewhat surprisingly, an underdog color is making a comeback this season in footwear and other fashion and accessories: chartreuse. This light green hue seems an unlikely contender for a trending seasonal color, but personally, we think it makes a great accent to any ensemble. Play up your chartreuse shoes when you wear chartreuse earrings or carry a chartreuse handbag.
Comfortable footwear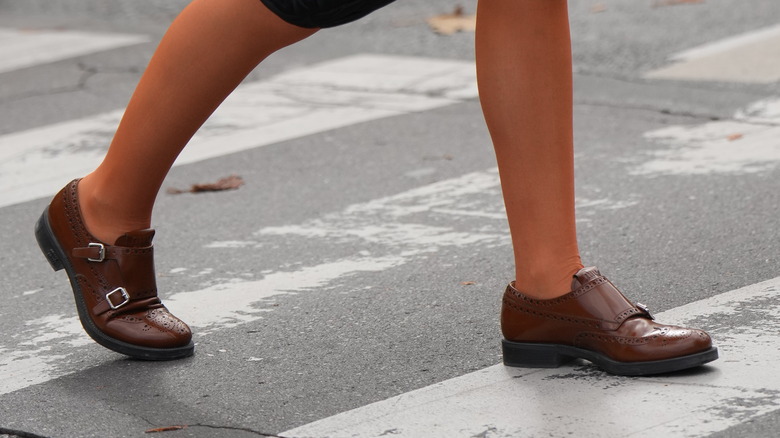 Edward Berthelot/Getty Images
If there's anything that's staying pretty consistent across all the footwear trends of spring 2024, it's that comfort is first and foremost; think soft booties, mules, and Crocs. It doesn't matter if it's not the most stylish shoe you own — we're overjoyed to see that it'll be easy to stay on trend this spring without worrying about spraining an ankle. Thank you, fashion gurus.