Replace Your Outdated Baby Tees With These Timeless Options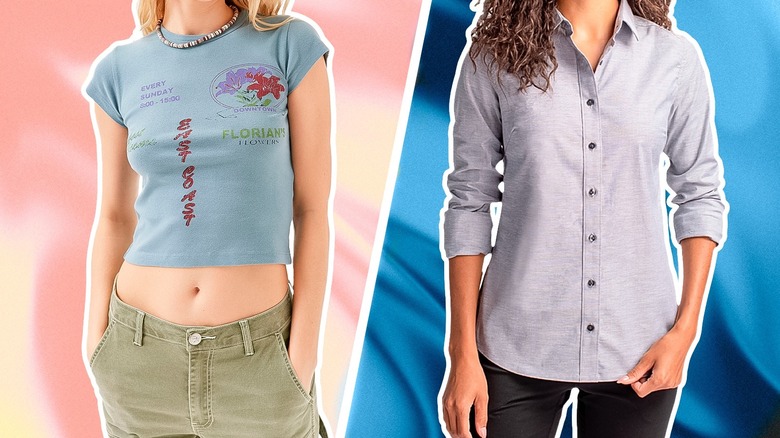 Static Media / Shutterstock
Baby tees are one of the easiest articles of clothing you can incorporate into your wardrobe and everyday style. They're excellent for toning down a dressy outfit and making it look more casual, but sometimes baby tees can feel repetitive and bland. When fashion week rolls around in many cities like New York, Paris, Milan, and London, we start questioning if some of our fashion choices are still popular — like baby tees. While the style is a great casual look for summer, they're not exactly timeless. 
Instead of stocking up on baby tees for all seasons and trusting they won't go out of style, opt for a more chic and timeless look, like button-ups. Growing in popularity since the beginning of the year, button-ups are a fashion staple you can't ignore — especially when they keep cropping up on your favorite fashionista's outfit of the day post or other style inspo videos on the 'Gram. They're unique (and useful) because they can be styled in various ways — from casual to dressy to comfy. Button-ups offer the best of both worlds: It's an article of clothing you can wear with trousers while still adding a feminine touch with luxe accessories. 
Pair a button-up with linen shorts
Button-ups are ideal for transitioning seasonal outfits. In the summer, you might wear a button-up as a swimsuit cover with denim shorts, but as we move into fall, you can swap the denim for loose linen shorts and a thin belt for a classy look. Tuck in the button-up and leave the top three buttons undone for a true Parisian vibe. It's the perfect look for warmer autumn days when the mornings are chilly but the afternoons are still sunkissed.
Layer it with a blazer
When the weather starts to cool down, layer your button-up with a blazer to keep you warm. If you're a corporate girly, style your button-up with a pantsuit for the ultimate business-woman look. Of course, you'll want to keep your shirt buttoned when you're in the office, but leaving a few buttons undone spice up the outfit when you're out and about. Dress up your ensemble with a gold belt and jewelry, black heels, and a black handbag.
Style a button-up with tights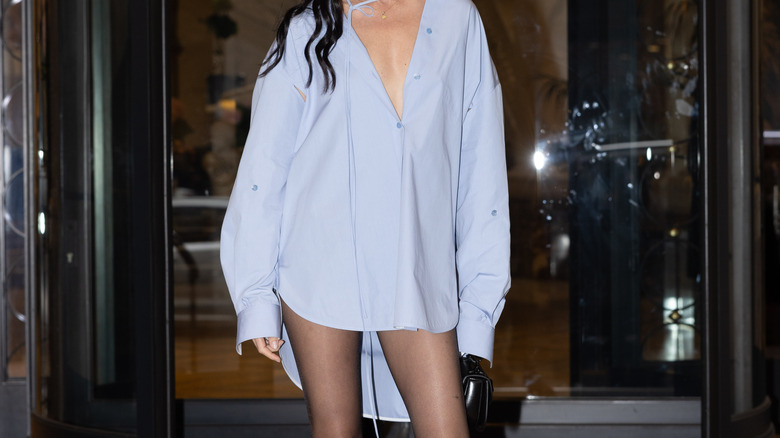 Arnold Jerocki/Getty Images
If you want to step outside your comfort zone and try something completely different with your outfit, layer an oversized high-low button-up with sheer black tights. It's a sexy outfit for a night out with friends. Dinner and drinks, anyone? Plus, this look already stands out on its own so you only need a few accessories — a simple, thin black belt is enough to show off your curves. Pair the rest of the 'fit with black heels and a handbag. 
Wear a button-up with a maxi skirt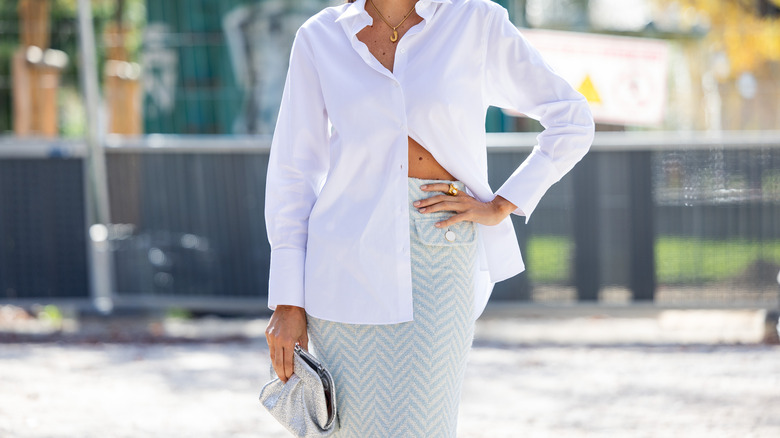 Christian Vierig/Getty Images
Maxi skirts and button-ups are a match made in heaven. The two create a chic and sophisticated outfit perfect for any occasion. Expose your midriff and show off the details on your maxi skirt by buttoning just a couple of the shirt's top buttons, or try TikTok's viral hack to seamlessly crop your oversized button-down to show off more skin and the upper half of your skirt. Style with bold gold jewelry and a neutral handbag. 
Opt for a monochromatic outfit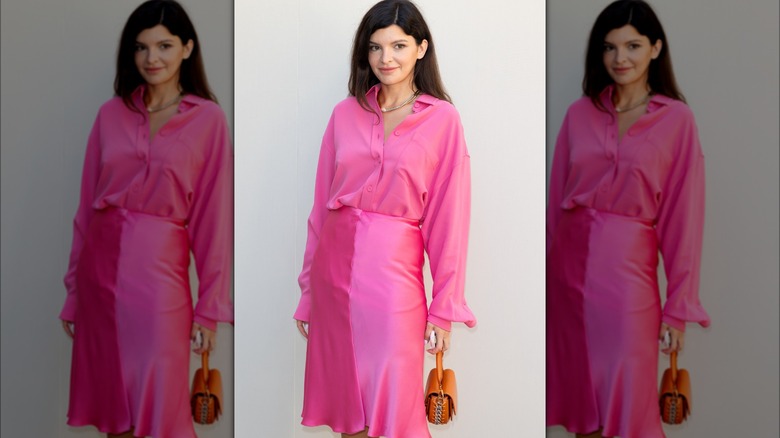 Marc Piasecki/Getty
The exciting thing about styling button-ups is the variety of materials and colors you can choose from. Instead of wearing a crisp, cotton button-up shirt, pair a silk version with a satin midi skirt. Or, create a fun monochromatic look by opting for a matching set or individual pieces in the same color — we're fans of an all-pink 'fit paired with an orange handbag for a cool-tone color palette that's sure to make a style statement.