Shacket Season Is Officially Upon Us - Here's How To Style Them In Fall 2023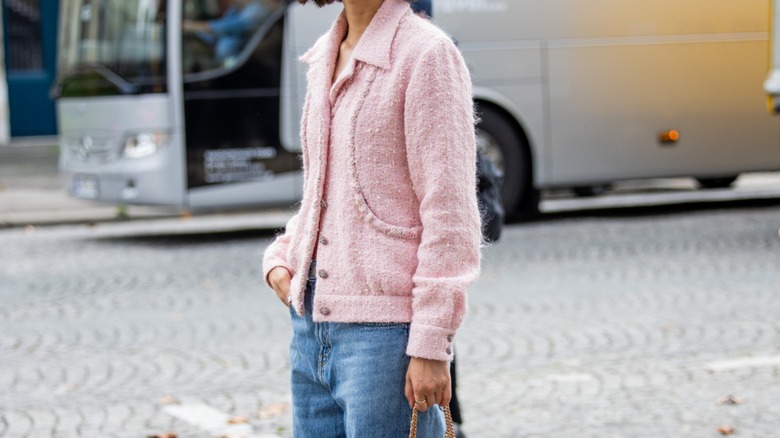 Christian Vierig/Getty Images
Although coats and jackets are the most classic must-have fall outerwear pieces, there is also another outerwear garment required for the season. The shacket, or a shirt jacket, is a more recent fall trend that has grown in popularity thanks to its versatility. Unlike coats, the shacket gives you a more casual vibe and can be thinner than your chunkier items. For those looking for a simple piece to throw on as the weather gets cooler, the shacket is the perfect solution. While many of the shackets we first saw during their rise were plaid patterned, the design options today are endless. 
Nowadays, you can find a shacket in almost every material, fabric, color, and print imaginable. Because the shacket combines a shirt's practicality with a jacket's warmth, figuring out how to rock it can be confusing. But mastering this in-between wardrobe staple is about playing around with different looks and finding what works with your style. And in most cases, it's best to let less be more. Tone down the rest of your outfit and allow the shacket to speak for itself. 
Keep it simple
No matter the trend, the easiest way to incorporate a new product into your wardrobe is by returning to the basics. Pair your shacket with your favorite pair of jeans and a basic tee for a look that'll make you seem put-together every time. This combination is perfect for all your fall errands while still looking intentional. Add a few twists to your shacket, like interestng patterns and colors, to make it stand out even more.
Layer your shacket
One of the benefits of a shacket is the ability to layer it in any way you want. Layer a chunky sweater underneath, or add a coat for a warmer fall look. If you wish to take your layering up another level, opt for a long shacket that can act as your finishing piece for a layered look. Add a chunky winter scarf, and you're ready for the chillest fall day.
Cropped pieces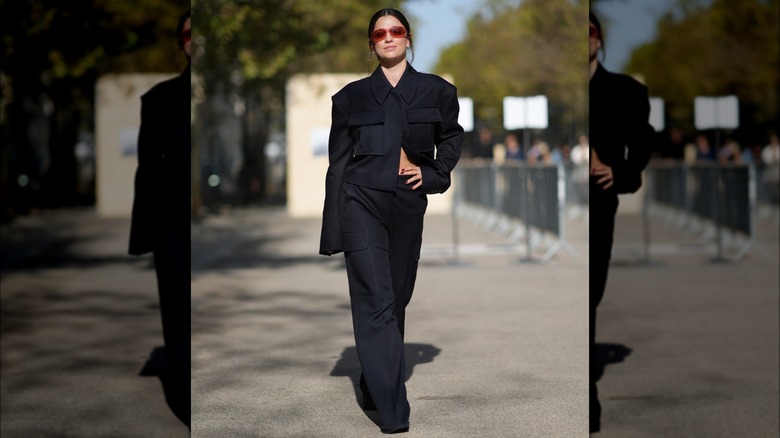 Edward Berthelot/Getty Images
As the shacket has grown since it first landed on the fall trends list, it's gotten plenty of modern updates. One of the easiest ways to make your shacket seem trendier is by opting for a cropped version. A cropped shacket and a pair of high-waisted pants can be the ultimate tailored look to give professional and polished vibes. You can also wear a cropped shacket with a fall knitted dress that looks sleeker and more elegant.
Matching shacket set
Like a suit, a matching shacket and bottom can be your go-to look for the fall season. For those with less time to spend styling their pieces, a matching set is a time-saver that'll have you looking perpetually chic. Instead of purchasing separates, go for a pair of bottoms that match your shacket, giving you an effortless look every time.
Neutral color palette
Although 2023 is almost over, the quiet luxury trend has yet to end. To give your shacket the lavish touch, opt for a neutral color palette that looks elegant and refined. Stick to a beige or black shacket with complementing neutral tones to keep the outfit dressed up. Opt for officewear-inspired pieces that elevate your shacket and make you look your best.
Style with the unexpected
Daniel Zuchnik/Getty Images
Like any other outerwear piece, the shacket is perfect for bringing together the most eccentric outfit. If you want to create a bold fashion moment, the shacket can be the ideal outerwear piece to channel fall vibes with any ensemble. Opt for bra tops, miniskirts, or revealing 'fits you wouldn't expect during the fall season. You can combine all these items with a warm shacket, which will still give you an autumnal look (and plenty of warmth!).