Taylor Swift's Most Inappropriate Outfits That We'll Never Forget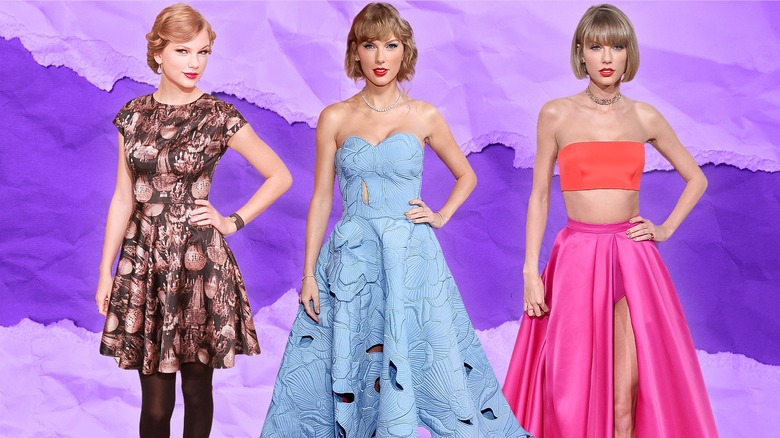 Static Media / Shutterstock / Getty
Taylor Swift has won the hearts of millions across the globe with her catchy music, relatable lyrics, and charming performances. In fact, right now, Swift seems to be on top of the world — and we don't see her leaving that position anytime soon. Over the years, Swift has also earned her place as a style icon as she fearlessly explored fashion, switching up her style ever so slightly with each of her musical eras.
However, even big names like Taylor Swift can experience fashion faux pas, and unfortunately for her, the internet remembers them forever. Now, before Swifties come for us for gathering some of the singer's most controversial looks, we'd like to throw in this disclaimer: The fact that Taylor Swift does have bad fashion days only makes us love and relate to her more. After all, fashion is all about risks, and sometimes those just happen to backfire, regardless of how rich or stylish you are.
Even big stars can have poor tailoring jobs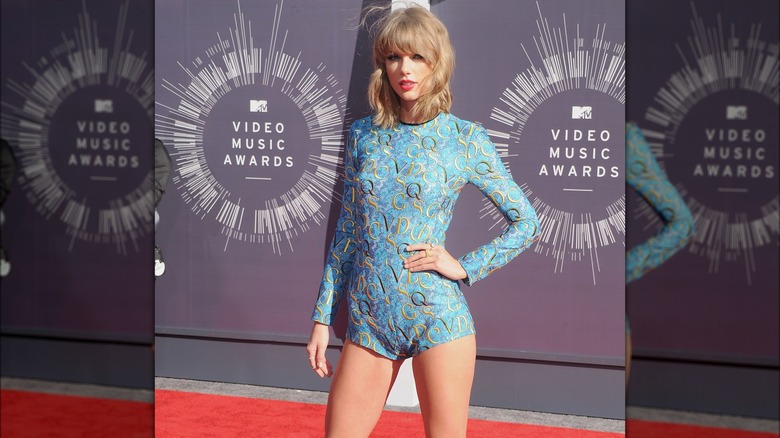 Jon Kopaloff/Getty Images
At the 2014 MTV Video Music Awards, Taylor Swift showed up in an ultra-short, long-sleeved romper designed by Mary Katrantzou. While the top part of the outfit looked impeccable, the lower section definitely raised our eyebrows. The fit appeared off, and as Swift walked, it unfortunately gave an almost diaper-like appearance. This just proves how important it is to see how an outfit changes with movement — something the singer surely wishes she had thought of before.
The singer is no stranger to odd color combos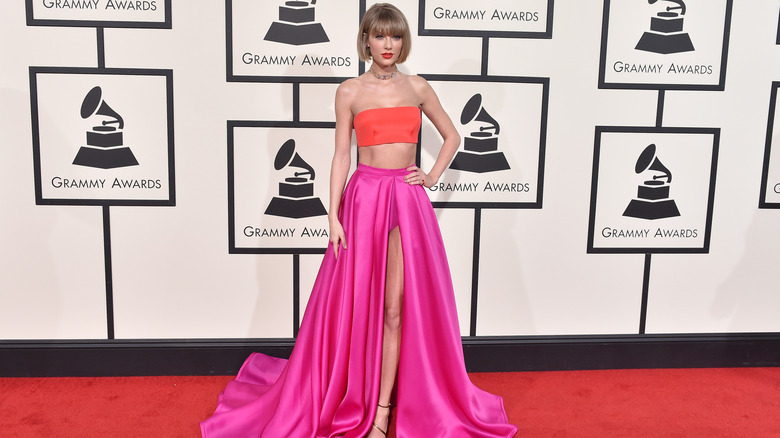 Axelle/bauer-griffin/Getty Images
The singer showed up to the 2016 Grammy Awards in a daring outfit — a neon orange tube top that she paired with a hot pink ball skirt, both by Versace. While the individual pieces were eye-catching, the combination of neon orange and hot pink is known as a challenging color combo to pull off successfully. In fact, many might even say that one should stay away from rocking these two together. With a better color combo, this look could have easily been one of Taylor Swift's best. (And that slit up the center certainly didn't help.)
Taylor Swift wasn't immune to odd Y2K trends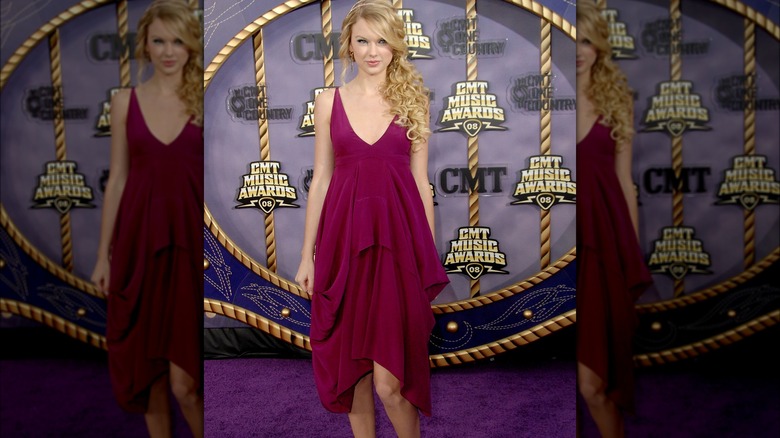 Jon Kopaloff/Getty Images
Anyone who lived through the 2000s knows that fashion seemingly didn't have any rules at the time. Unfortunately, Taylor Swift was also a victim of the decade's trends, and the maroon dress she wore to the 2008 CMT Music Awards certainly proves that. It almost sounds unreal that once upon a time, this type of dress silhouette (yes, the one with the odd bottom ruffles) was trendy.
Ruffles + lace + leather: Swift shows us that more isn't always better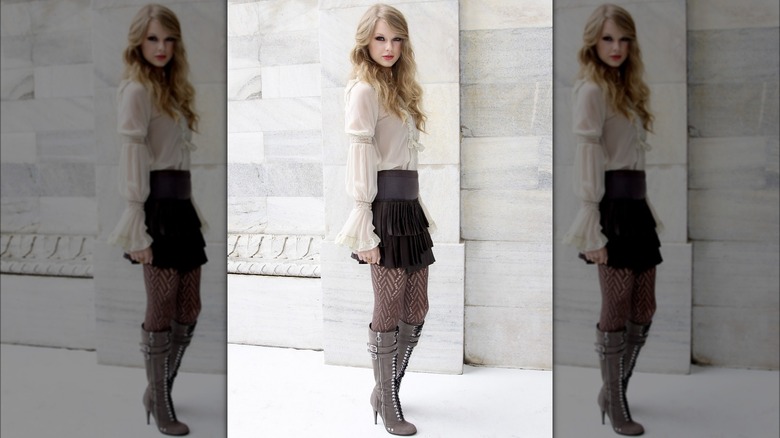 Vittorio Zunino Celotto/Getty Images
During Milan Fashion Week in 2010, Taylor Swift made a bold choice with one of her outfits by embracing a maximalist look for the Roberto Cavalli show. This look included an off-white ruffly chiffon top, a pleated black miniskirt, black lace tights, and edgy gray leather boots. While we applaud Swift for wanting to experiment, not everyone can pull off a maximalist look. In this case, the combination of various textures felt overwhelming, with too much happening in a single outfit — especially considering that three colors were at play.
There are cuter ways to keep warm than this white trenchcoat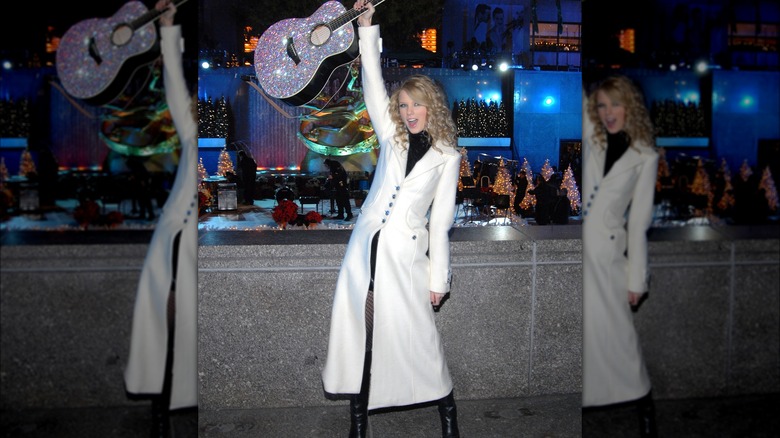 George Napolitano/Getty Images
For the Rockefeller Center Christmas Tree Lighting Ceremony in 2007, Taylor Swift chose to stay warm with a floor-length white coat. However, the length of the coat ended up giving off more of a lab coat vibe rather than a fashionable winter look. The choice to go with a knee-length coat would have made this look a winning winter ensemble.
This wrinkly dress desperately needs some steaming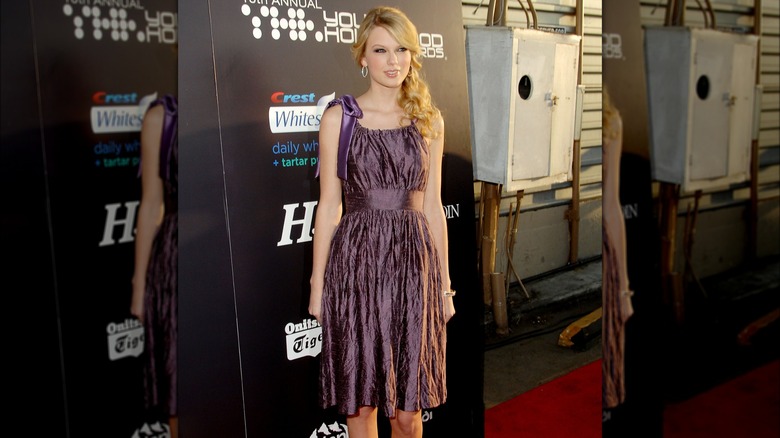 Jon Kopaloff/Getty Images
Taylor Swift wore a wrinkled dress to the 2008 Young Hollywood Awards — and while this may have been a deliberate fashion statement, it certainly didn't sit well with many. The entire look could have been significantly improved if the dress had been properly steamed, especially as the wrinkles gave it a disheveled appearance that just wasn't Swift's style at all.
Taylor Swift should steer clear of chandelier print in the future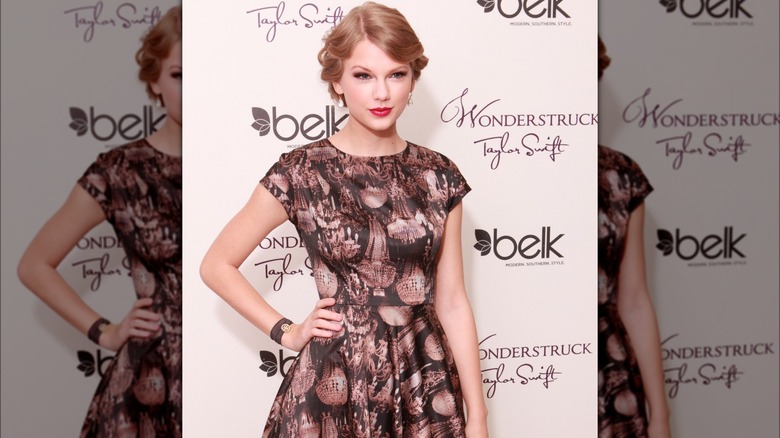 Royce Degrie/Getty Images
At her Wonderstruck fragrance launch in 2011, Taylor Swift showed up in a signature classic minidress style, which usually meant a fashion win for her. However, the pattern of this particular dress is what earned the look its place on this list. The dress was covered in a loud chandelier print, likely intended to be an edgy and unexpected choice — but, unfortunately, it backfired. While fashion is all about experimentation and bravery, sometimes, even a daring choice can miss the mark, as was the case here.
We love the singer, but cowboy boots and a minidress on the red carpet?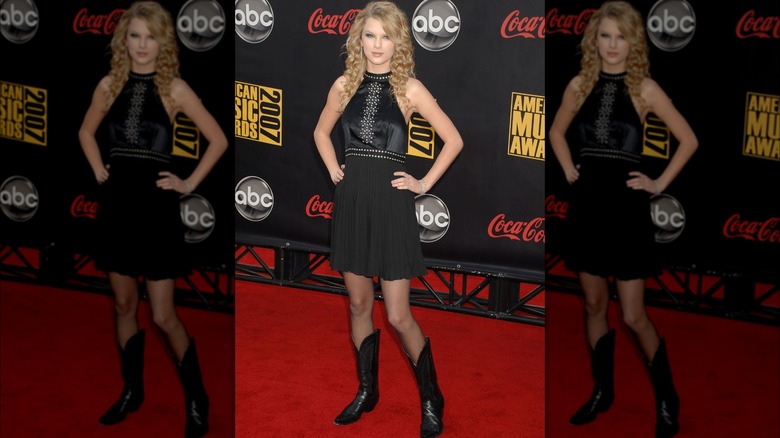 Jeff Kravitz/Getty Images
Taylor Swift made a questionable fashion choice for the 2007 American Music Awards. The singer wore a black minidress with embellished glitzy details and classic black cowboy boots. While we're all about cowgirl couture, pairing cowboy boots with a minidress for a red carpet look is a big no-no. If this had been a casual outing, we would have loved the combo, but for an event as significant as Swif's first AMAs, this look absolutely missed the mark.
Mixing warm and cool purple tones is a fashion crime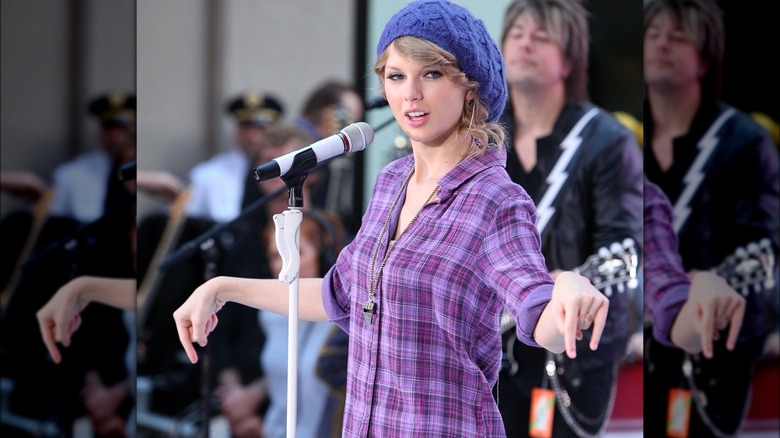 Mike Coppola/Getty Images
For her performance on NBC's "Today Show" in 2010, Taylor Swift ended up going for a casual outfit. She wore skinny jeans and a purple plaid button-up shirt, which seemed to capture the essence of the Tumblr girl aesthetic of the time. Swift accessorized with a pendant necklace and a loose beanie, but that's exactly where things went wrong. The beanie she chose was a cool-toned purple, while her button-up leaned more toward a warm-toned shade. This clash in color palettes resulted in an incohesive and last-minute look, making her outfit seem mismatched.
It's hard to understand what this dress was supposed to give us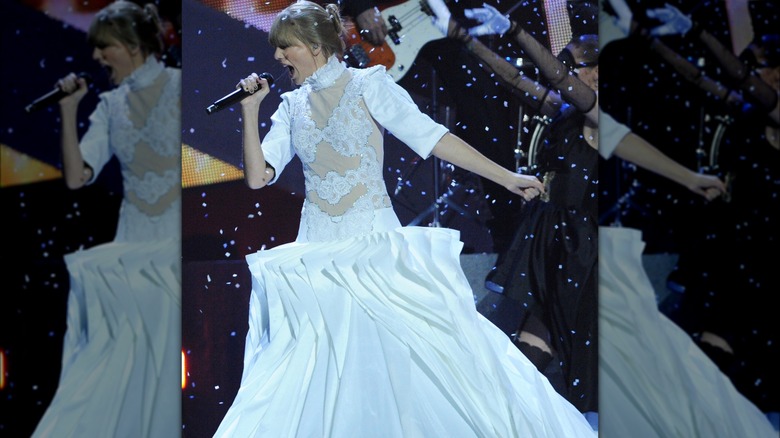 Dave J Hogan/Getty Images
At the 2013 Brit Awards, Taylor Swift wore a memorable look on stage during her performance. In fact, her choice of outfit was rather perplexing and remains one of the oddest stage choices the star has made to date. She wore a white gown that resembled a wedding dress but had an incredibly odd shape. Both the dress' top and bottom portions looked strange; they simply didn't do justice to her style. Fortunately, during the performance, Swift made a change into a fun black leather outfit that definitely redeemed her look.
We love a daring choice, but this Sailor Moon look seems too costumey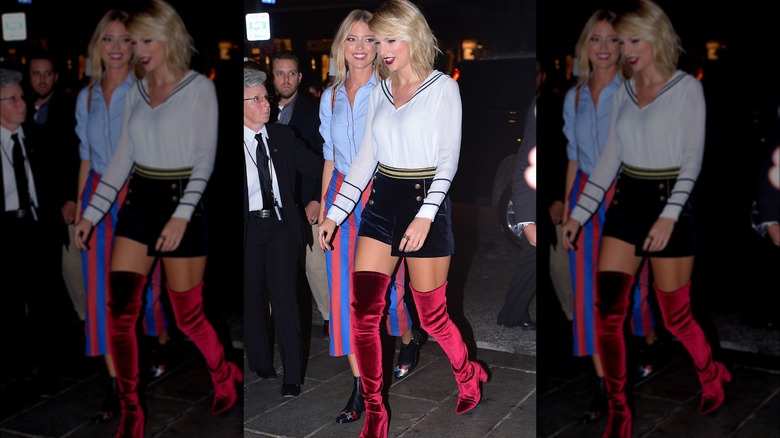 Robert Kamau/Getty Images
In September 2016, Taylor Swift was spotted in New York City, heading toward the Tommy Hilfiger New York Fashion Week event. For the occasion, she sported a white collared top, navy sailor-inspired shorts, and a pair of stunning red velvet over-the-knee boots. While this look wasn't exactly dreadful, it did give off more of a Sailor Moon-inspired costume vibe rather than showcasing Swift's authentic style.
Taylor Swift rocking a purple corset dress sounds better than it looks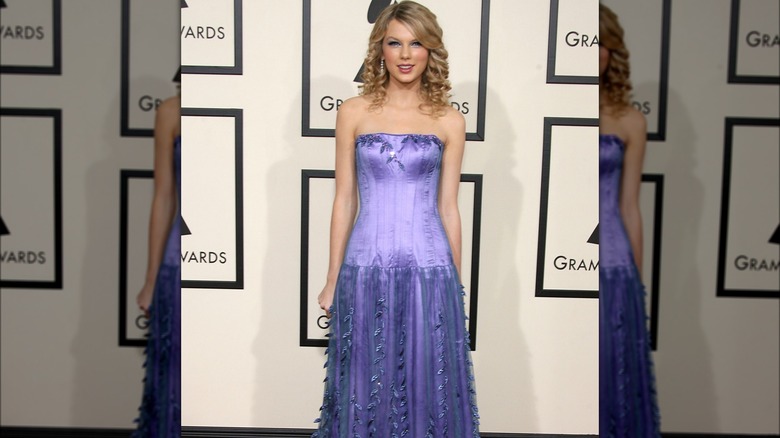 Frazer Harrison/Getty Images
Taylor Swift's style evolution has definitely been a fascinating journey, and her 2008 Grammy Awards outfit is a prime example of that. While a princess-like purple gown with a corset and flowing chiffon bottom should have been a perfect fit for the singer, the 2008 execution didn't quite live up to expectations. The corset part of the dress was excessively long, and the flowing bottom appeared more like a costume department choice than a high-end fashion statement. It's a reminder that even style icons like Swift have started with plenty of fashion mistakes.
The cutouts on this dress could have been positioned better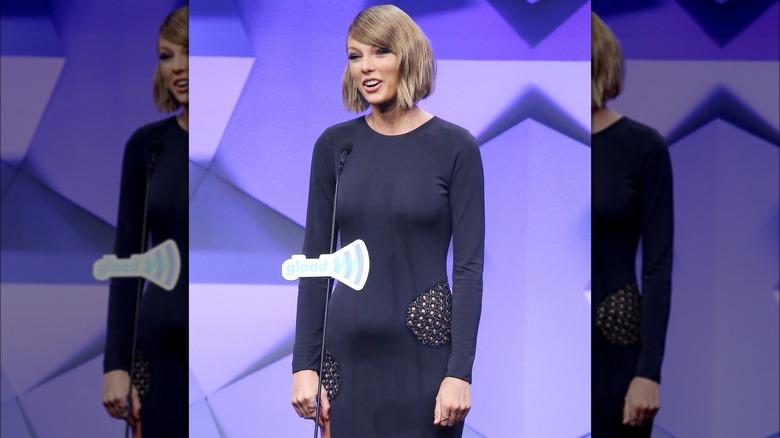 Michael Tran/Getty Images
At the 2016 GLAAD Media Awards, Taylor Swift took the stage to speak, but it was hard to ignore the somewhat peculiar placement of the mesh cutouts on her dress. Swift's custom-made Haney dress featured mesh detailing above the daring side slit and an additional mesh cutout around her left hip bone. The issue with this look is the placement of the cutout — had it been positioned slightly higher around the singer's waist, the dress would likely have been a major fashion hit instead of finding its place on this list.
That one time Taylor Swift wore her sweater backward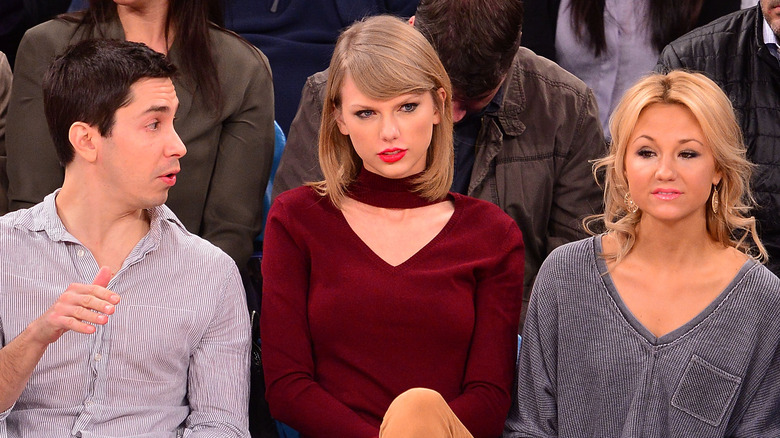 James Devaney/Getty Images
In November 2014, Taylor Swift made headlines when she attended a New York Knicks game in a maroon sweater that she wore the wrong way, either knowingly or unknowingly. The public didn't let this fashion faux pas go unnoticed, and Swift quickly faced criticism for her fashion choice. However, if there's one thing the singer knows how to do, it's turn a negative experience into a positive one (and make money off of it). In 2017, Swift released merchandise that featured a sweater similar to the one she wore to the game. This time, however, it was intentionally designed to be worn backward — the exact same way Swift wore it back in 2014.
Colorblocking doesn't always go according to plan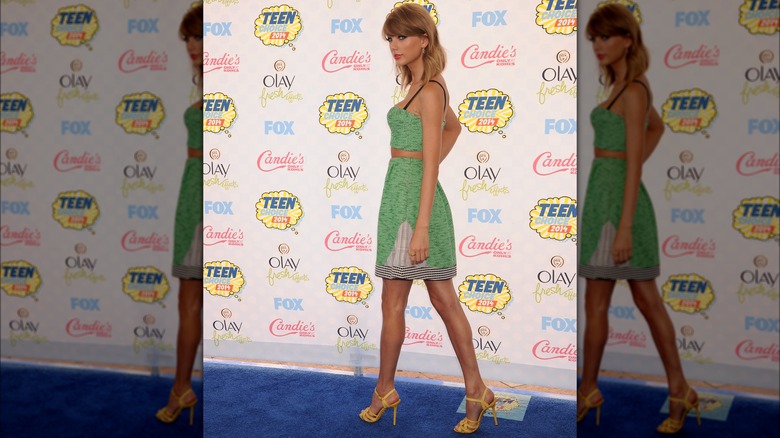 Frank Trapper/Getty Images
Even though this, by far, isn't her worst look, the outfit Taylor Swift went for at the 2014 Teen Choice Awards proves that colorblocking isn't as easy as many might think. The yellow heels seemed very out of place, and they definitely needed another yellow piece to tie them into the look. A simple addition of a yellow bracelet or earrings could have taken this look from drab to fab in a second.
Taylor Swift's Eras Tour movie premiere look just wasn't it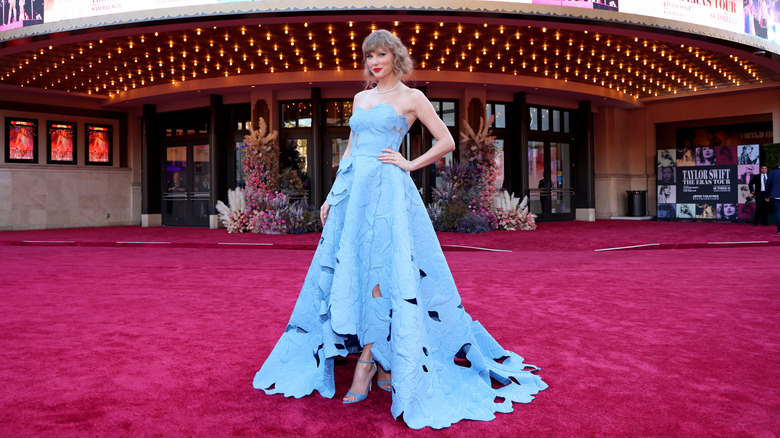 John Shearer/Getty Images
For the premiere of "The Eras Tour" concert movie on October 11, 2023, in Los Angeles, Taylor Swift decided to go with a dress that had fans comparing her to Elsa from Frozen (and not in a good way). The Oscar de la Renta ensemble could have been a magnificent fashion moment, but the cutouts between the flowers ended up being too distracting — especially considering that the monochromatic blue color made it challenging to discern the floral design. Considering that Swift is currently on top of the world, we can't help but expect more from her.