Colorful Tights Are Back In Style For Fall 2023 - Our Best Styling Tips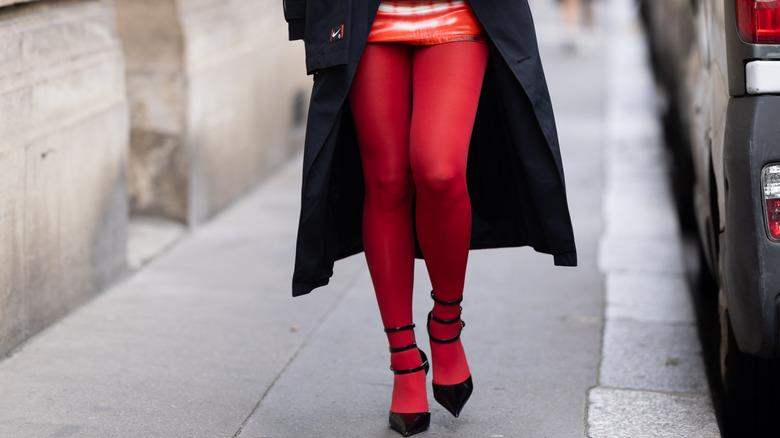 Valentina Frugiuele/Getty Images
Fall is the time when we put together some of our best outfits. The cooler weather calls for layers, giving us a chance to put more thought into what we will wear. Whether you look forward to layering coats over chunky knits or scarves over cardigans, you should step outside your comfort zone and try something new. Fashion Week gives us a glimpse into what new fall fashion trends or colors will be popular for the season, and one piece of clothing that caught everyone's attention was tights. Vibrant tones appeared most on runways, ensuring that colorful tights came back in style for autumn.
Even if tights aren't your go-to for the colder weather, they might make their way into your closet this season. Colorful tights can be challenging to style because they're a bold statement piece, but they can work with any outfit, from neutral-colored dresses or skirts to other bright-colored pieces like jackets. You can even pair your tights with open-toed shoes. Finding what works for you may take a bit, so in the meantime, check out our styling tips to help give you some ideas on incorporating tights into your fall wardrobe.
Match your tights with your accessories
Red is officially the "it" color of the fall season, and you can join two trends by wearing red tights. Keep it simple and let the red color stand on its own by donning a long coat in a neutral color to make the red pop. Have fun with your accessories by matching your tights to a hat, scarf, or purse. Tie the entire look together with a bag that includes all the colors of your ensemble.
Pair bright tights with complementary colors
Instead of wearing bright, colorful tights on their own, try pairing them with complementary colors. For instance, you can pair yellow tights with other warm shades, like orange, red, or purple. Add a bright skirt and printed top to incorporate different distinctive hues. If you prefer wearing neutral tones, you can swap the printed top for a solid tank in a brown or white color.
Try a monochromatic look
If you want to style tights but don't feel comfortable wearing vibrant colors, opt for a monochromatic look with various shades of the color you choose. For example, a lilac outfit is fun and chic with a periwinkle dress, sheer lilac tights, and purple boots. The lilac tights will blend with the rest of the outfit, making the boots the star of the look. Of course, purple might not be your jam, so choose the hue that suits you best for this trend.
Let your tights peek through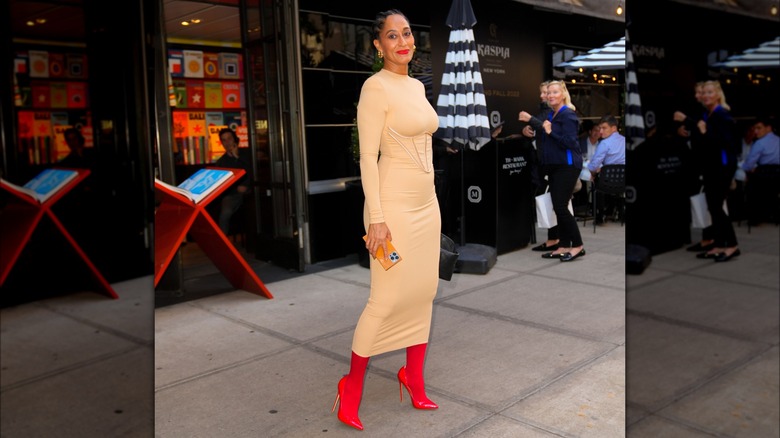 Gotham/Getty Images
Ease into the bright tights trend by relegating them to a more minor role in your 'fit. If you're not ready to wear tights with a short skirt, try letting them peek through at the bottom of a long dress. Finish your ensemble with matching pumps for a night out or ankle boots that will leave only a tiny part of the tights visible. The look also works with maxi skirts, and you can opt for a dress or skirt with a slit to try something a bit bolder.
Dress up a black outfit with colorful tights
Even the most neutral-filled closets can accommodate a pair of colorful tights, especially if you're one to wear only black. Bright tights like purple and a minidress or skirt can spruce up any look. You don't even have to stray from the moody fall color palette. Pair the 'fit with black sling-back heels and a colorful bag to match. Of course, you can swap the tights for a different hue and accessorize to match your ensemble.
Embrace the color and wear it everywhere
If you love wearing colorful clothing, you won't have trouble mixing in pink, green, blue, or yellow tights, but finding the right balance can be challenging. The best way to formulate an outfit is to choose a base color and pair it with complementary colors. For example, match an all-purple outfit with pink tights for a balanced look. You can have a clothing article with the two colors for a seamless blend. Or, opt for something completely different and wear blue or brown tights for a moodier look.