The Stunning Style Transformation Of Julia Fox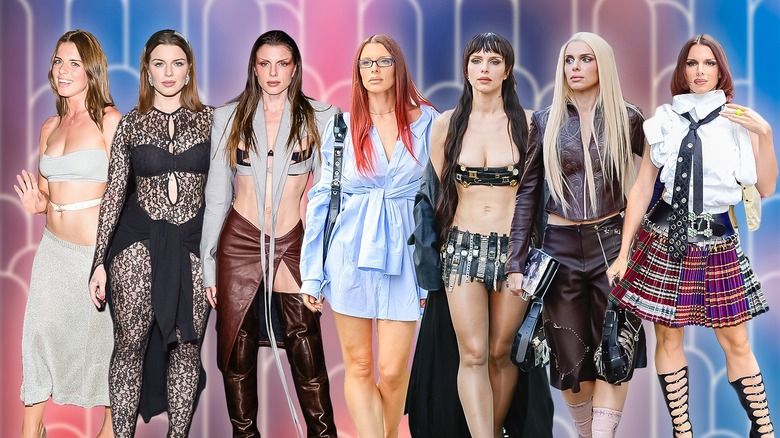 From classic elegance to wild DIYs, Julia Fox's style transformation has been truly revolutionary. Not only has she rocked plenty of effortlessly glam little black dresses, but she's also worn plenty of daring, outside-the-box designer pieces, and created some of her own attention-getting looks herself.
Some might not have heard of Julia Fox until she starred in the 2019 movie "Uncut Gems" directed by the Safdie brothers or even until she made appearances as Ye's (formerly Kanye West) girlfriend at Paris Fashion Week in 2022. However, she's been around longer than that — and making some truly cool fashion choices, too. In the last half of the 2010s, Fox modeled, designed clothing, displayed her artwork in an NYC exhibit, and published books of photography. In 2023, she published a revealing memoir titled "Down the Drain." 
Not only has she proven herself to be unafraid to take risks, but she's also the queen of reinventing herself and serving looks that are truly one-of-a-kind. From her subdued start in simple and chic dresses to her transition into a DIY diva, Fox has blossomed into one of the most original and fascinating women to watch in the worlds of fashion and pop culture.
2015: A budding fashionista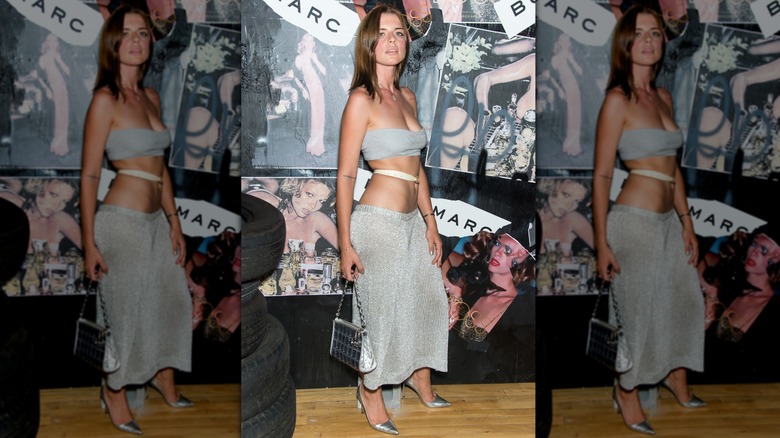 Gilbert Carrasquillo/Getty Images
In 2015, 25-year-old model Julia Fox might not have fully been on anyone's radar just yet, but that doesn't mean she wasn't serving serious looks. For instance, this simple but effective gray tube top and maxi skirt combo with silver accessories worn to a Marc Jacobs event. Even back then, she was clearly thinking a lot about her style. In an interview with Into the Gloss, Fox discusses her sense of style and her clothing line Franziska Fox, which she launched with business partner Briana Andalore. 
She speaks about exploring different looks and her penchant for continually trying new things, saying, "Now, I dress conservatively during the day and get crazy at night. And my night look changes all the time. Last week it was Sheryl Crow when she had the loose denim pants." She also gets into what her vision was for her brand and how it reflects her own style, remarking, "The Franziska Fox woman is indomitable, so it's us, but it's also a woman that's really strong and confident — confident but comfortable. She's not trying too hard, she's just doing it."
2016: A focus on art and simple street style
At 26, Julia Fox was an intriguing fixture in the art and fashion spheres of NYC. In 2016, not only was her clothing line Franziska Fox still operating, but she had also shifted gears from design to another mode of creativity. She had already published one photography book, "Symptomatic of a Relationship Gone Sour: Heartburn/Nausea." Her second photography book — "PTSD" — grapples with some heavy themes like addiction and abuse, and in it, Fox is both the photographer and the subject. 
Although there isn't a wealth of photographs showcasing Julia Fox's style from this time period, there's no doubt that she was still cultivating her look and throwing together exciting ensembles for parties. Mike Krim, who interviewed Fox in 2016 about her photography book for Autre, recalled his first meeting with her: "I noticed from the corner of my eye a gorgeous brunette with an hour glass figure draped in sparkly diamonds, controlling her little corner of the room." In the photographs that accompany the interview, Fox is clad in an all-white outfit, including white sneakers, a tee, and white jeans. It seems that while her focus was on her art, she kept her style simple. During this time, she also took some selfies with Harry Hill in a casual white tank and silver cross necklace. 
2017: Julia Fox begins to embrace glitz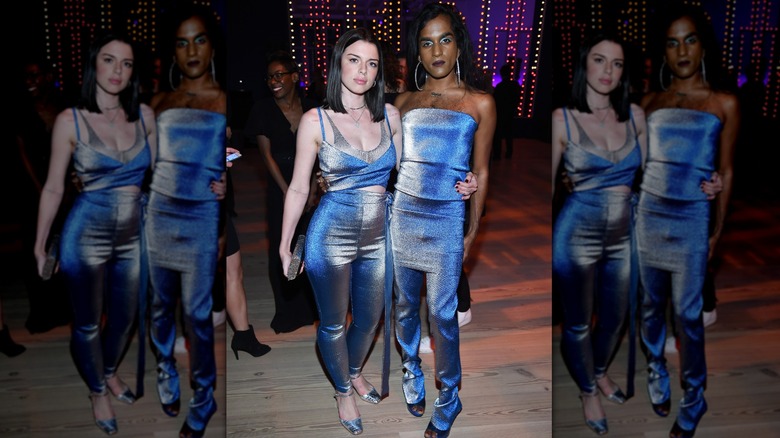 Dimitrios Kambouris/Getty Images
At 27, Julia Fox was growing creatively and trying her hand at a new endeavor: art. Just like with her photography, her art has themes that are gripping and hard to ignore, like sex and death, which she explores in her multimedia exhibition "R.I.P Julia Fox." In contrast to some of the dark and heavy themes of her work, her personal style is light and angelic. Pictured with her art in an article by Jill Di Donato for Huff Post, Fox wears a white satin dress that is striking in its simplicity, along with a black bra and some simple silver jewelry. In the interview, she discusses her feelings about fashion and art, saying, "I think fashion is a beautiful art. I feel like what you wear is the way you want the world to see you. It's the first form of expression we develop as people. However, I don't really feel an urge to express myself through clothing. I find myself feeling much more comfortable expressing myself through art."
While art may have been more important for the actor during this time, she still made room for fashion. Still a frequent face on the New York party scene, she had plenty of glam outfits to wear, like this glitzy blue and silver ensemble that she coordinated with fellow model and friend Richie Shazam at the Whitney Museum annual studio party.
2018: Fashion is about fun and friends
In 2018, 28-year-old Julia Fox had a big development in her personal life. She married pilot Peter Artemiev, with whom she would later have a son after they divorced in 2020. While some of her creative endeavors may have been on the backburner during this time, she was still putting together great outfits.
In her 2015 interview with Into the Gloss, Fox detailed the way that she went to great lengths to coordinate her outfits with her friends before going out, saying, "I style my friends all the time, too. I micromanage their outfits." It appears that was still the case in 2018. Even if she's not dictating outfits, it looks like she's having fun coordinating cute ensembles with her friends for a night out. 
In one of her earliest Instagram photos, she's pictured in a graphic mesh tee, oversized hoops, a glittery belt, and some chunky leather boots. While this look in particular may not be especially wild, it's a great example of how to bring the sheer top trend from the runway to real life. It also highlights the fact that fabrics like leather and mesh have had a place in her wardrobe for a long time.
2019: The big debut -- all about gems and jumpsuits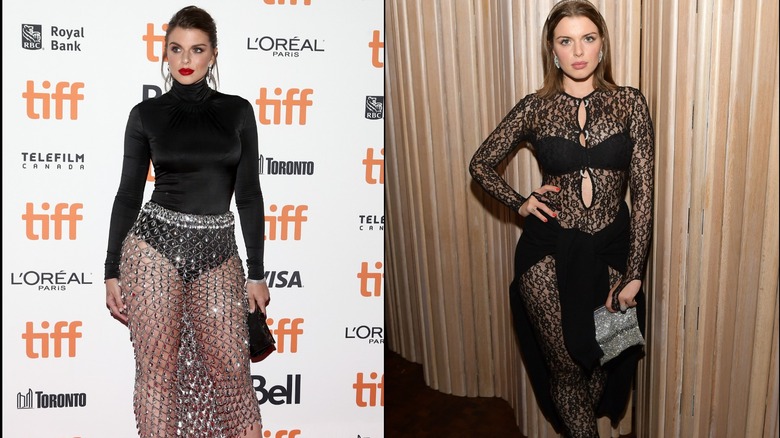 Matt Winkelmeyer & Tommaso Boddi/Getty
While Julia Fox's personal life may have had a big development in 2018, 2019 is the year when her career truly took off. That's when she shifted from being New York famous to being famous in a larger sense. With a breakout role alongside Adam Sandler in "Uncut Gems," the 29-year-old was stealing scenes and later turning heads on red carpets. This is a point where her sense of style was really put under the spotlight — and she did not disappoint. 
Her looks from 2019 combine a sense of refined glamour with her flair for the truly unique. At the Toronto International Film Festival, she wore an outfit that was spot-on with the theme of the movie: a sheeny black turtleneck bodysuit paired with a chain-link skirt dripping in gems. At a GQ Men of the Year bash, she can be seen in a lacy black jumpsuit with a black bandeau underneath, a black overskirt, a glittery bag, and bejeweled shoes.
2020: Julia Fox is comfortable in black and blue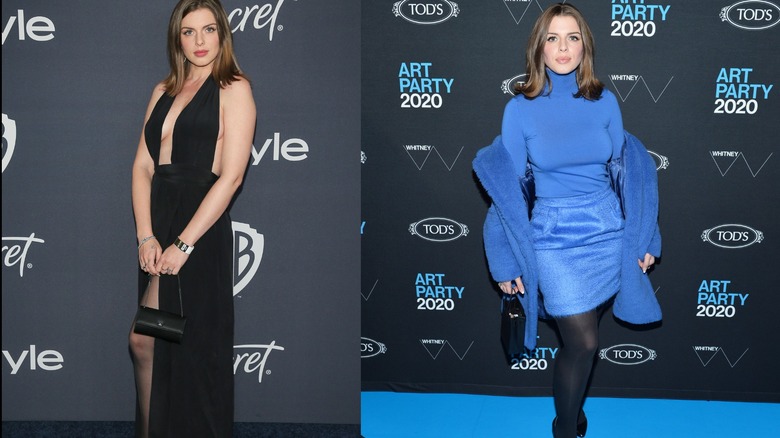 Noam Galai & Jemal Countess/Getty
In 2020, 30-year-old Julia Fox's style takes a turn into more subdued territory, with the color black becoming a growing presence in her wardrobe. Throughout the year, she's pictured in beautiful but simple black dresses. One of her standout ensembles was a black gown with a plunging neckline paired with sheer black tights for the Golden Globes after-party. The black gown she wore to the Vanity Fair Oscar party that featured floral details along the neckline is another great example of Fox harnessing the power of a little black dress. 
Of course, that doesn't mean there weren't pops of color in her wardrobe. At the Whitney Art party, her blue ensemble — replete with a fuzzy skirt, fuzzy coat, and turtleneck — is a simple but sumptuous meditation on color and texture. She added black tights and shoes. While many of her style choices during this time were flattering and solidly chic, they are in stark contrast with the drama and creativity that would come in later years.
2021: A year of elegant glam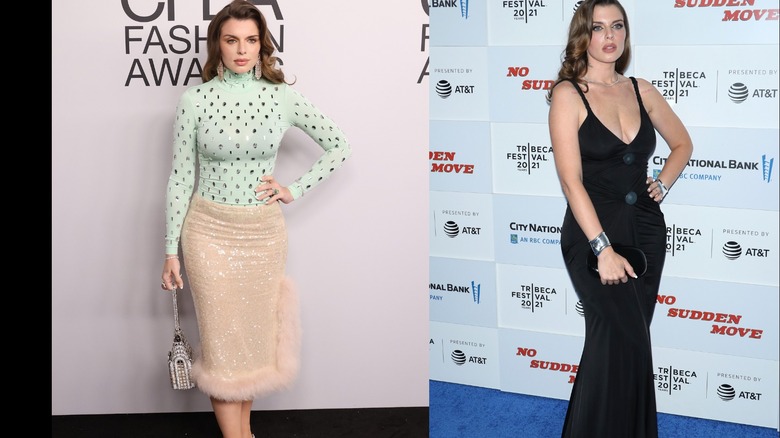 Taylor Hill & Jim Spellman/Getty & undefined
In 2021, Julia Fox's wardrobe is still full of her staple color — black. However, her style shows its first signs of shifting into new and inventive territory around this time. While her simple but effective Giorgio Armani gown worn to the Tribeca Film Festival shows she's still relying on the power of a little black dress, her fashion choices on red carpets become more daring and intriguing. 
At the CFDA fashion awards, the 31-year-old lights up the red carpet in a pistachio-colored bejeweled turtleneck with a champagne-colored sequin skirt trimmed with fur. She added a kitschy, glittery Empire State Building bag.  Although this look may not be particularly risky, it shows a deviation from her more simple looks and marks a turning point in her red carpet style. Not only is she making use of more colors, patterns, and textures, but it's also clear that she's beginning to express herself more freely through fashion on the red carpet.
2022: Couple's fashion with Ye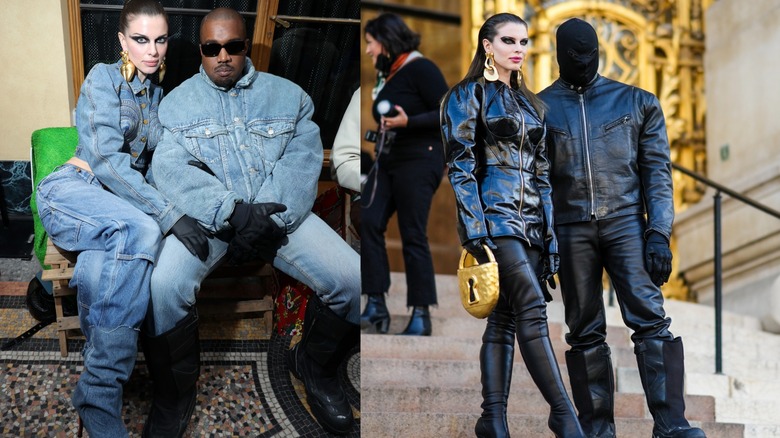 Victor Boyko & Edward Berthelot/Getty
If you still didn't know who Julia Fox was in 2022, this was the year you found out. In early 2022, the 31-year-old made her debut as Ye's girlfriend and fashion muse at Paris Fashion Week. He ushered in a new era for Fox stylistically — and not just in the way she thought about or approached fashion. Almost immediately after meeting Ye, she literally threw out all of her clothes, saying to Interview Magazine, "After meeting him, a couple days later, all my s*** was in boxes, gone." She went on to describe what it meant for her on a deeper level to get rid of the clothes, saying, "It was so cathartic. It wasn't like I was just packing up my old clothes, it was like I was packing up my old life."
Almost as swiftly as he had come into her life, he was out, with their relationship lasting less than a month. However, they still had time to make a couple of iconic appearances at Paris Fashion Week, once in coordinating black leather outfits and another time in coordinating denim. Fox's denim bustier, baggy jeans, and jean boots were edgy, trendy, and interesting, especially coupled with her bold eye makeup. This look in particular is a standout because it marks her debut not just as Ye's girlfriend but also as someone who's not afraid to play with fashion.
2022: To-die-for DIY and attention-grabbing getups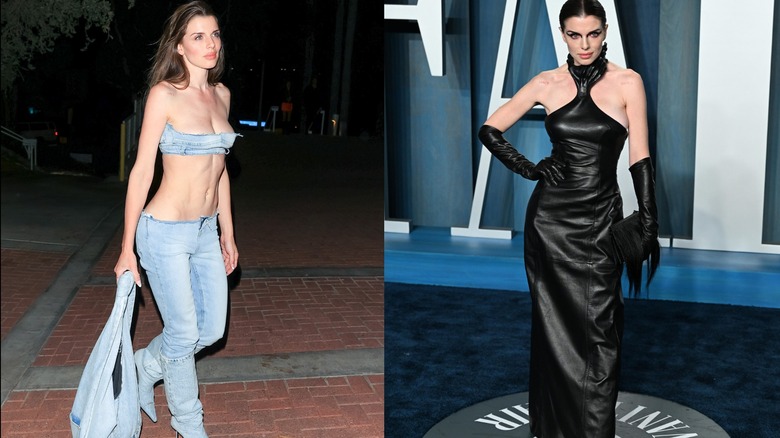 Rachpoot/bauer-griffin & Daniele Venturelli/Getty
Even though dating Ye may have further catapulted Julia Fox into the spotlight, she had no problem commanding attention on her own once there. In the past, she'd established herself as a fashion-savvy designer and artist. Now, free of Ye's influence and able to express herself, she's brought her artistic sensibilities into her fashion choices. In March 2022, 32-year-old Fox posted an Instagram video of a tutorial showing how to make cut-off low-rise pants that she sported in L.A., along with a DIY denim bandeau. In her tutorial, she explains how she turned one pair of jeans into a two-piece outfit while expressing her love of denim: "I also used what I cut off to make the bandeau. It makes for a really cute set and it's easy and honestly now that latex is kinda played out, Denim, you're all I have left."
It wasn't just her DIYs or denim looks that were creating chatter. During this time, she also wore a gown that grabbed attention — and her — literally. At Vanity Fair's Oscar party, she wore a black leather gown that featured a hand gripping her neck, coupled with black leather opera gloves and a clutch made of human hair. Pulled-back hair and black eye makeup complete the look. By now, it feels like Julia Fox is making fashion choices not just based on how an outfit looks, but also on her creative impulses and the power that clothes have to start conversations.
2022: Red carpet risks and evolving street style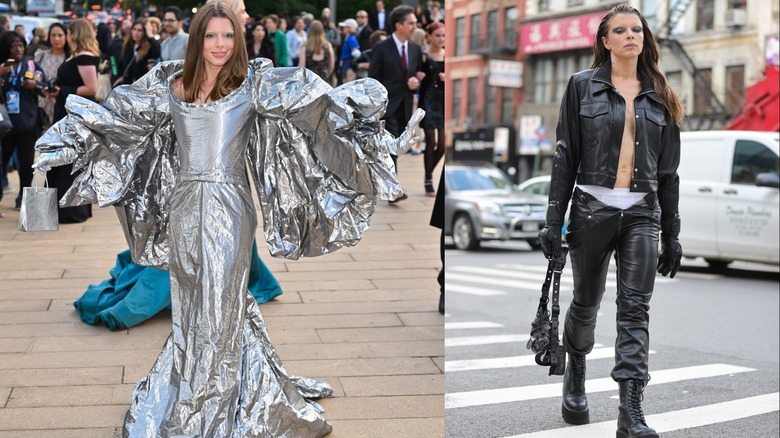 James Devaney & Rachpoot/bauer-griffin/Getty
As the year continues, Julia Fox becomes increasingly bold and creative when it comes to her outfits. Gone are the days when she walked red carpets in simple, figure-hugging dresses. At the New York City Ballet Fall Fashion Gala, she wore a voluminous silver gown with enormous puffed sleeves and silver opera gloves, as well as silver eye makeup. Her stylist, Peri Rosenzweig, spoke with Women's Wear Daily about Fox's eclectic style and what inspired it, calling it "a mash up of Monica Bellucci meets a futuristic dominatrix aesthetic."  Rosenzweig added, "I feel like those three speak to every element of her personality, but also her style. She's lived many lives and I feel like [the three descriptors] speak to every facet of her life, what she's been creating personally and with her style throughout all of those lives."
It wasn't just Fox's red carpet looks that were evolving, though. Her streetwear was becoming increasingly interesting, as well. Here, you can see her deep love of leather displayed in NYC during New York Fashion Week. With no shirt underneath her jacket and her leather pants unzipped to reveal men's-style white underwear, she displays unexpected ways of showing skin. She also likes playing around with menswear and making simple outfits edgy with subtle tweaks.
2023: Julia Fox embraces a newfound playfulness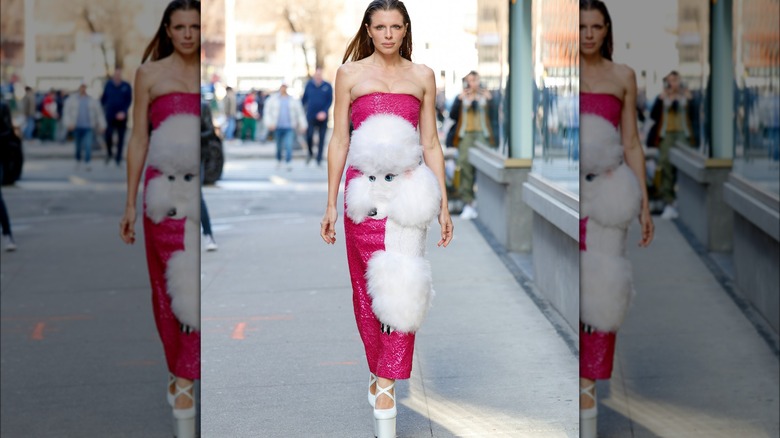 Rachpoot/bauer-griffin
During the early months of 2023, Julia Fox seems completely comfortable with wearing clothes that will turn heads and make people talk. In fact, it's the norm for her. By now, she's established some favorite fabrics and motifs. Sheers are common in her wardrobe, as are unusual cutouts and of course, plenty of leather. Her look from Paris Fashion Week (possibly NSFW) manages to showcase all of these things. While her full-length dress covers all of her body, except for the cutout around her belly button, its sheer fabric also makes it revealing. Combined with a leather bolero and a dangling belly ring, Fox has managed to create a look that's somehow both tough and soft, simultaneously conservative and wild.
In February of 2023, she can be seen wearing a lot of intriguing looks during New York Fashion Week. However, one that stands out the most is a glittering pink gown emblazoned with a giant fluffy poodle, paired with some impossibly high white platform shoes. This look in particular shows the actor taking a turn into more whimsical and colorful styles at events than she had previously. While her wardrobe is still full of plenty of her more austere standbys like black, blue, burgundy, and silver, some of her looks begin to take on a more light-hearted and playful tone.
2023: Unorthodox materials and skin-baring street style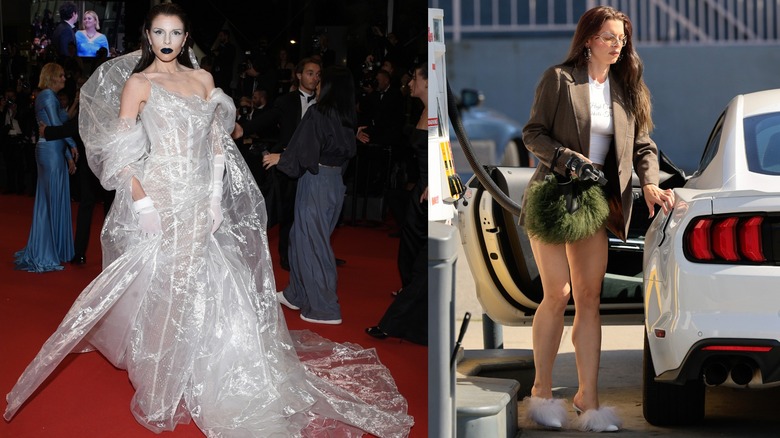 Lionel Hahn & Rachpoot/bauer-griffin/Getty
Increasingly, Julia Fox, at 33,  has been sporting looks that are made of unusual materials, like her outfit made of condoms or her two-piece ensemble made of belts and watches. Another instance of this occurred at the 2023 Cannes Film Festival, where Fox wore multiple see-through looks that appeared to be made of plastic. At the premiere of "The Idol," she wore this voluminous see-through gown along with some "Black Swan"-esque white face paint and signature slicked-back hair. The gown also featured some corset details and was paired with sheer white opera gloves. As she already has many times before, Fox proves once again that unusual fabrics can not only make a bold fashion statement but they can also be beautiful.
The actor doesn't just serve on the red carpet; she serves at the gas pump, too. Just as her red carpet looks continue to be daring, Fox's street style is equally as shocking and chic. While she isn't the first celebrity to sport the no-pants trend, she has a refreshing take on it. Along with some Diesel boxers, she wears a menswear blazer and carries a furry green bag, which she pairs with some fluffy shoes as well. By combining multiple trends, she's invented a new style altogether. On Instagram, Fox captions a similar eclectic underwear and blazer look that she wore to grocery shop with this: "My vibe is just preparing for the apocalypse rn."
2023: Putting her own twist on the latest trends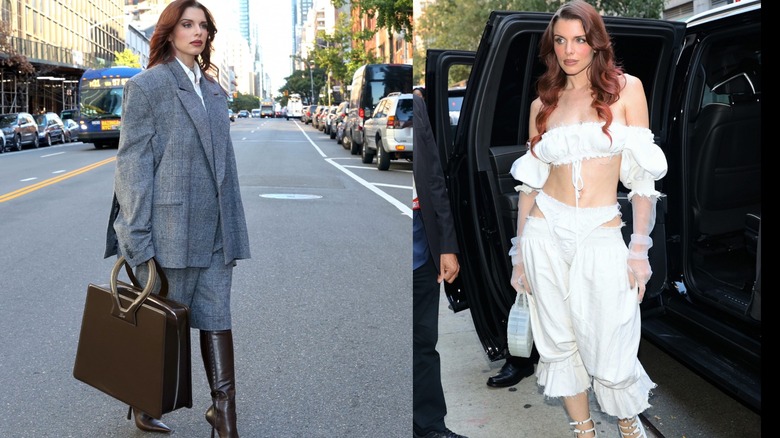 Jose Perez/bauer-griffin & Rachpoot/bauer-griffin/Getty
As of 2023, Julia Fox's focus has been on promoting her memoir "Down the Drain," and it's impossible not to bring her fashion choices into the conversation, too. Not only is she playing with popular aesthetics and trends, but she's also finding ways to make them truly her own. One of the predominant trends popping up in her looks this year -– menswear, Fox's way. On her way to a taping of "The Drew Barrymore Show," Fox was photographed in an oversized '80s-esque gray menswear outfit with huge shoulder pads. To accessorize, she wore tall brown boots and carried an oversized brown briefcase.
A couple of days later, Fox is photographed in a frilly and fascinating Regencycore ensemble that's a little more in line with her often skin-baring style than her over-the-top menswear look. With white panties layered on top of bloomers, it's clear that even while she is wearing a trending style, she's still finding ways to subvert expectations and bring something new to it. The bloomers were paired with a puff-sleeved crop top and some strappy, white platform shoes. By now it's clear that Fox is comfortable not just with taking risks but also being playful with her style. From her simple dress days in 2015 to her show-stopping and unconventional fashion choices of 2023, Julia Fox has had a truly remarkable style transformation, and she isn't showing any signs of slowing down any time soon.