Miley Cyrus' Most Inappropriate Outfits That We'll Never Forget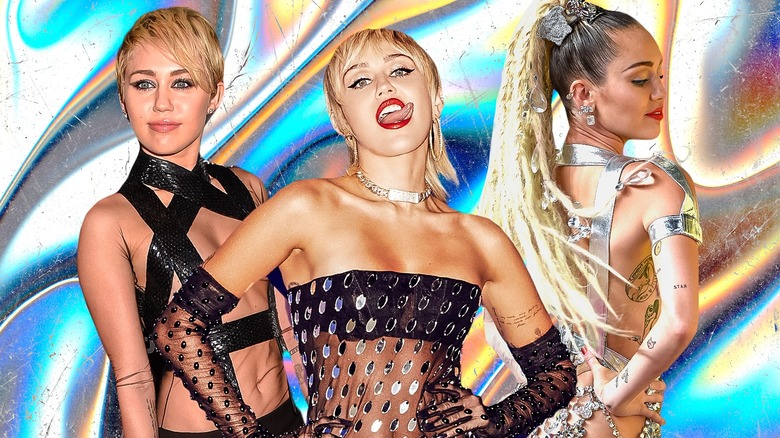 Static Media / Shutterstock / Getty
If you've at all followed the journey of superstar Miley Cyrus throughout her career, you know that she's seriously evolved as an artist since getting her start on Disney Channel's "Hannah Montana." The show portrayed her as a sweet pop star-slash-role model and propelled the child actor to stardom, helping cement her future career as an actor and recording artist. But as we know, Cyrus' persona has drastically changed since her days of child stardom — fashion included.
While as a kid, Cyrus was a fashion icon in her own sense — frequently sporting Y2K layers galore — adult Cyrus has unapologetically made her fashion her own, frequently opting for risqué 'fits that many people will never forget. Her sharp shift away from her persona as a pure, sweet child star was poignantly marked by the release of her 2010 album, "Can't Be Tamed." Since then, Cyrus' looks have gotten continually more daring and skin-baring. Though many may call these looks "inappropriate," we see them as being quintessentially Miley, and we love seeing how her style has evolved with her personality over the years.
She wore only a wig on a 2015 episode of SNL
Miley Cyrus always snatches any opportunity to be outrageous, and this 2015 performance on "Saturday Night Live" was no exception. During the performance, Cyrus opted to wear a wig — only a wig. The wig was her entire outfit, and though we shudder to think of the weight of the ensemble, we can't help but be stunned at the confidence Cyrus had to go effectively clothes-less on national television. 
Miley Cyrus opted for pasties at a 2015 Rock & Roll Hall of Fame performance
Kevin Kane/Getty Images
This 2015 Rock & Roll Hall of Fame performance showcased not only a stage of Miley Cyrus' stunning hair transformation but also her nearly bare chest, again, on national television. Her otherwise relatively conservative black 'fit was marked by two openings for her breasts to poke through, which she opted to cover up slightly with heart-shaped nipple pasties. 
And again on a 2015 appearance with Jimmy Kimmel
Again, the pasties make an appearance! Miley Cyrus opted for an open cape with only heart-shaped breast pasties underneath during this 2015 appearance on Jimmy Kimmel's talk show. Kimmel was self-admittedly "flustered" by the look, which was definitely a risqué choice for a talk show.
She basically only wore boots on the 2015 VMA red carpet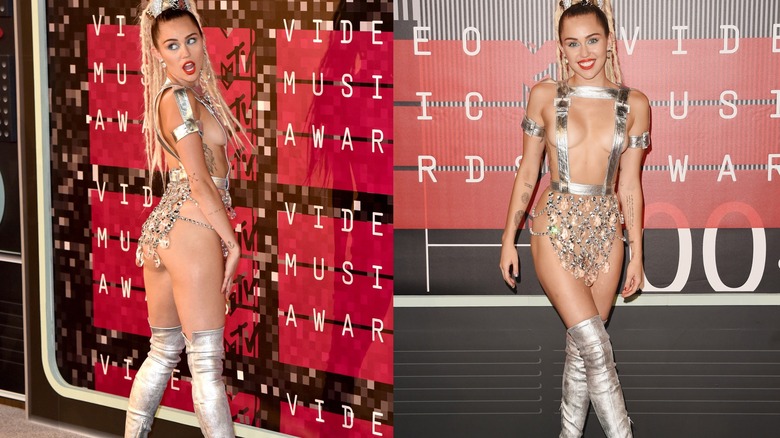 Jason Merritt/Getty & C Flanigan/Getty Images
Miley Cyrus hopped on the metallic boots trend earlier than the rest of us did when she wore this revealing Versace 'fit on the 2015 VMA red carpet. The suspenders-esque top and chainmail skirt are exciting in their own right, but they offer so little coverage that Cyrus' knee-high metallic boots took center stage. We love that celebs get to showcase their personalities on the red carpet, but we do think Cyrus could have elevated this ensemble with a bit more fabric. 
She swapped a shirt for a bow during a Hillary Clinton campaign
Miley Cyrus surprised college dorm dwellers during a 2016 campaign for Hillary Clinton, where she went door-to-door in an outfit that featured a patriotic bow as a top. Her outfit was outrageous and makes us wonder how she was able to bypass any campus dress codes and sport just a bow top while wandering dorm halls. Nevertheless, it's a choice certainly suited to Cyrus' quirky and sometimes inappropriate fashion style. 
This 2014 red carpet ensemble was daring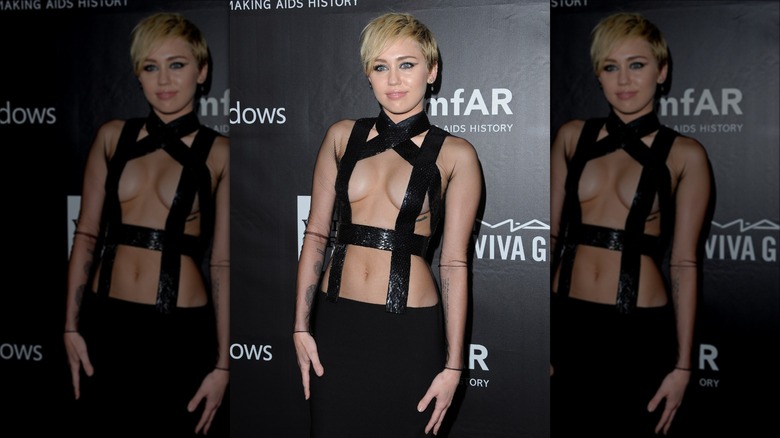 Axelle/bauer-griffin
Miley Cyrus made a red carpet appearance in this strappy, skin-baring Tom Ford look at the 2014 amfAR LA Inspiration Gala. This celebrity naked dress moment is one for the books — the carefully strapped bodice almost looks as though it's duct-taped to her torso while the rest of the outfit remains more conservative. It's not as inappropriate as some other looks on this list, but it's definitely racy. 
Wearing such extreme cutouts on stage is bold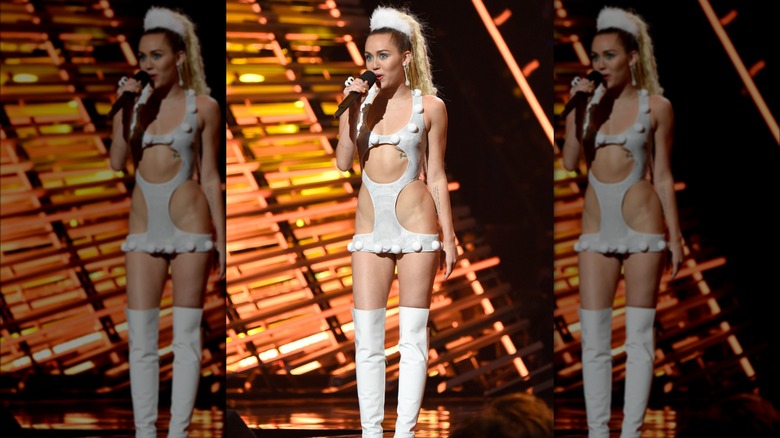 Kevin Mazur/mtv1415
We're calling her Miley Mod Cyrus from now on because this girly mod outfit from the 2015 VMAs manages to give her an essence of both innocence and sexiness all at once. However, the cutouts are very extreme, and one wrong movement on stage could have resulted in an accidental flash, making this quite an inappropriate 'fit to wear while presenting at an awards show. 
Her mirror dress from the 2020 VMAs was slinky and see-through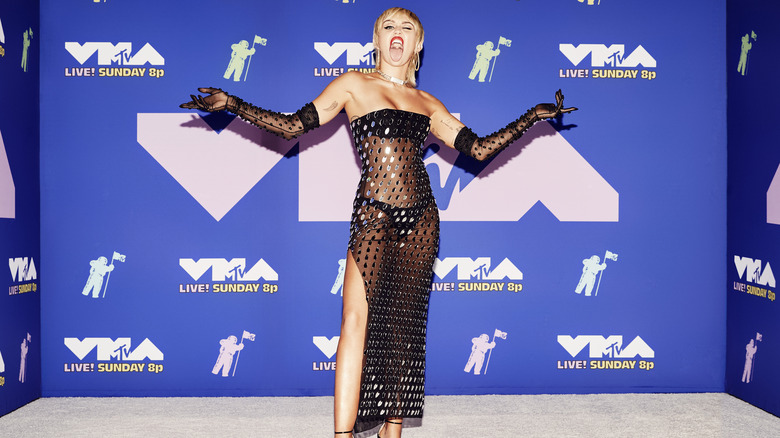 Vijat Mohindra/mtv Vmas 2020/Getty Images
Another daring naked dress moment was this Mugler mirror dress Miley Cyrus wore to the 2020 MTV VMAs. While the floor-length gown and opera gloves added a chic touch, the see-through design — which put her black undergarments on display — was a bit eyebrow-raising. 
A tiny silver set led to unintentional flashing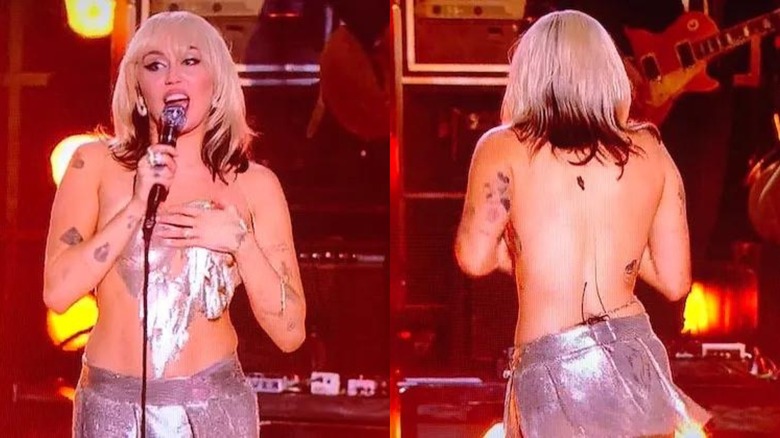 NBC
Shockingly enough, Miley Cyrus' little outfits haven't caused too many embarrassing moments, but the outfit worn at her 2021 New Year's Eve party definitely did. Her (intentionally) ripped silver slinky top broke off during her performance, but the professional superstar did what professionals do and ran backstage to grab an alternative top. We can't help but wonder if she could have avoided the wardrobe malfunction with a more carefully constructed outfit. 
She took express yourself to a new level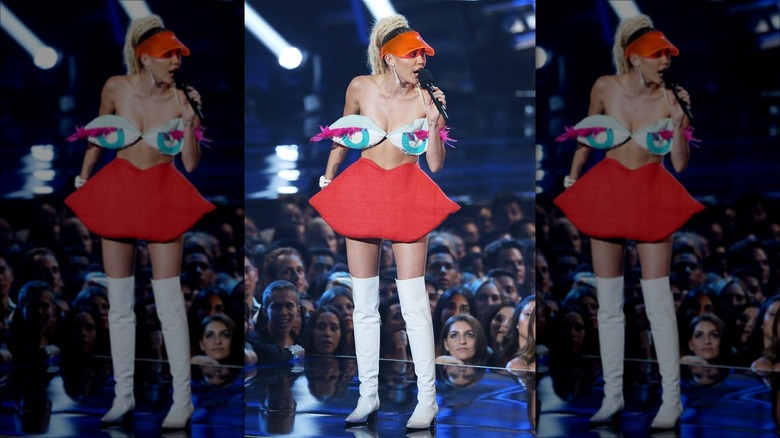 Michael Tran/Getty Images
Another 2015 VMA look that manages to be both risqué and just plain outrageous is the eyes-and-lips outfit that Miley Cyrus rocked onstage. The revealing two-piece outfit — with half-lidded eyes as a bra and huge, expressionless lips as the bottoms — gave major I-don't-care vibes, which is quintessentially Cyrus.