The Slouchy Boot Is The Y2K-Inspired Trend We're Wearing For Fall 2023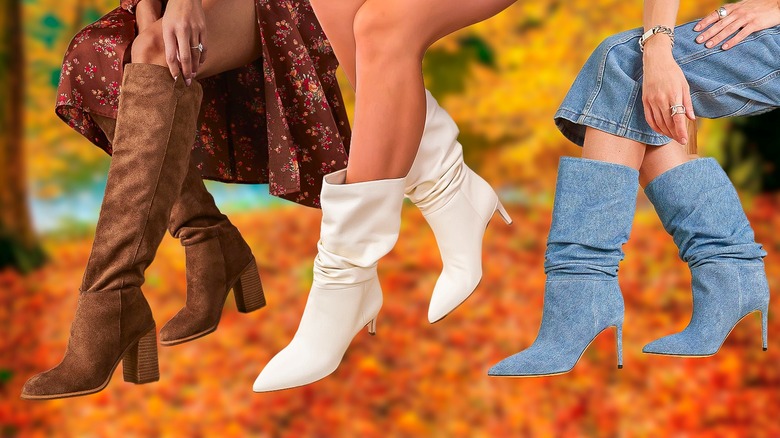 Static Media / Shutterstock
Slouching is not ideal if you want to prevent poor posture. However, it can be a fabulous thing when referring to fashion. Indeed, if you like to keep up with the latest boot trends, you must check out slouchy boots. The style first hit the mainstream in the '80s, thanks to the now-late Vivienne Westwood, before experiencing a resurgence in the '90s and 2000s. Of course, with the current love of everything retro — especially the Y2K era — surging through the fashion world, slouchy boots have come back into style in a fabulously fierce way.
Slouchy boots have since been embraced by popular brands like Hermès, Louis Vuitton, Bottega Veneta, Chloé, and Lanvin, with each introducing versions ranging from timeless to modern and somewhat edgy. As designer Manolo Blahnik explained to Harper's Bazaar, "A slouchy boot can completely change how you look and feel about an outfit. It sits between casual and formal, yet always remains classic and sophisticated."
While the slouchy boots call for loose material, they are anything but sloppy. They can be neatly folded and carefully structured to create effects that are both eye-catching and desirable. In fact, there are many ways you can make them look stylish.
Classic mid-calf slouchy boot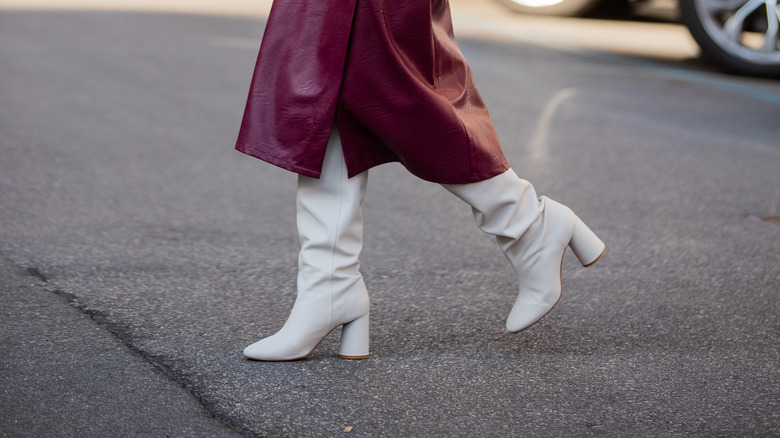 Christian Vierig/Getty Images
You can dive — or rather step — into this trend with a classic example of a slouchy boot. Think along the lines of a relatively straightforward design with moderate folds, reaches up to the mid-calf, relies on a standard sturdy heel, and doesn't opt for any accents or embellishments. A neutral color can be a great option, such as white, black, brown, or gray. At the same time, this is an ideal style for going bright and bold, like red, blue, green, purple, or whatever happens to be your favorite shade.
Metallic mock-croc slouchy boot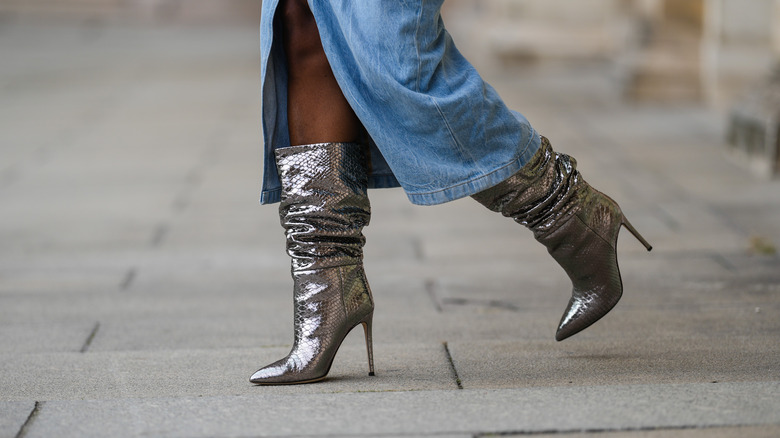 Edward Berthelot/Getty Images
Crocodile skin items may have been popular in the past, but a faux version of the material or mock croc is more on-trend these days, especially for shoes. While it's used for everything from belts to handbags, you might also want a pair of slouchy faux crocodile boots. This option would look incredible in various colors and suit multiple finishes. For instance, metallic silver mock croc material is delightful, and using it for boots with a slouched midsection sets off the pattern and takes this style to the next level.
Chunky chain-wrapped slouchy boot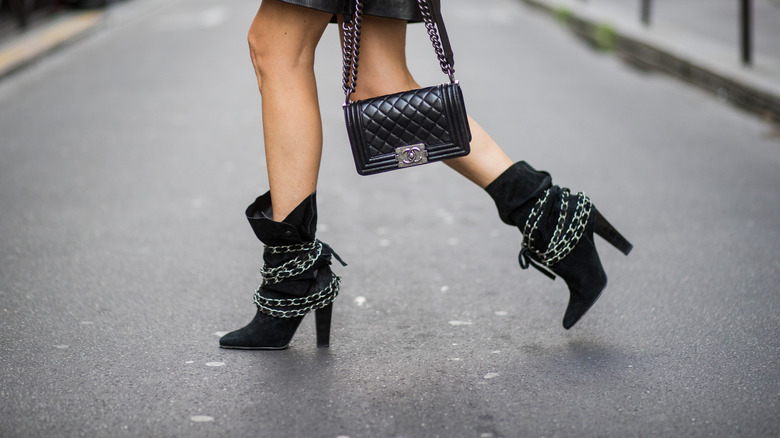 Christian Vierig/Getty Images
Slouchy boots may appear so loose that they need extra help to keep them together. While that's not necessarily true, you might want to grab a pair that incorporates oh-so-trendy chunky chains into the design merely for the aesthetics. As a bonus, you'll be combining two styles that the fashion industry has embraced. Just be prepared for your shoes to become the focal point of your outfit.
Ankle-focused slouchy boot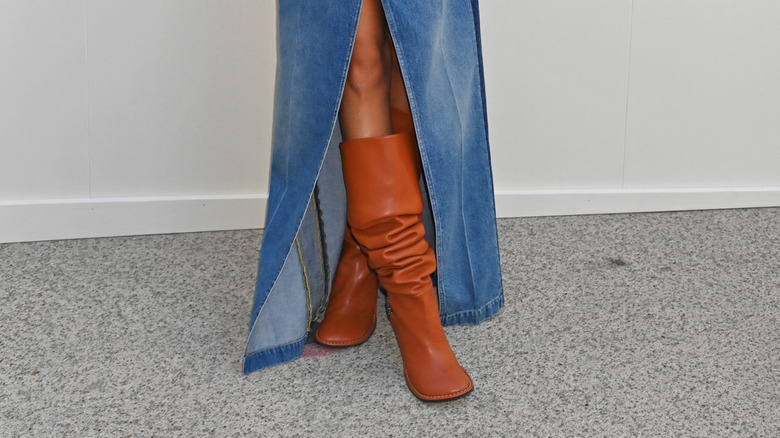 Dave Benett/Getty Images
You don't have to opt for ankle boots because you want to slip on footwear that draws the eye down a little lower on the leg. You could also try a design that reaches mid-thigh or higher and emphasizes the ankle area. For this interpretation of a slouchy style, look for a pair where most of the boots are nice and smooth while the material folds dramatically in one spot that spans a few inches just above your foot.
Denim slouchy boot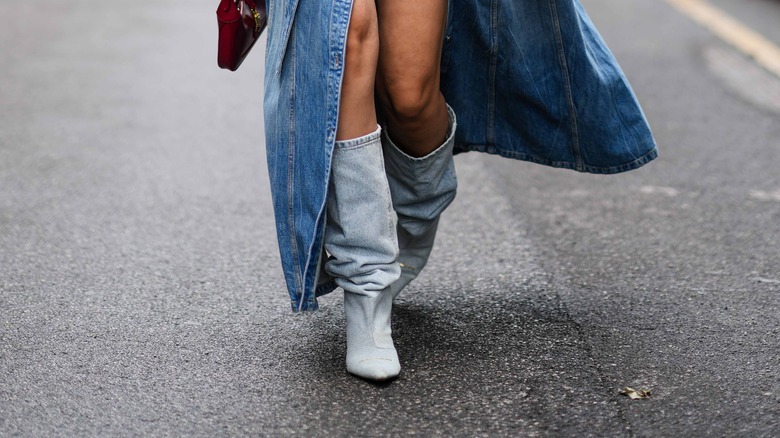 Edward Berthelot/Getty Images
When you think of the denim items in your closet, you may imagine a classic pair of jeans. However, the material can also be used for other pieces, such as boots. Or, in this case, slouchy boots. Denim can be on the stiff side, making it perfect for the structured part of the footwear. Also available in softer varieties, the material can be set into attractive folds in one area or the entire length of the boot.
Folded top slouchy boot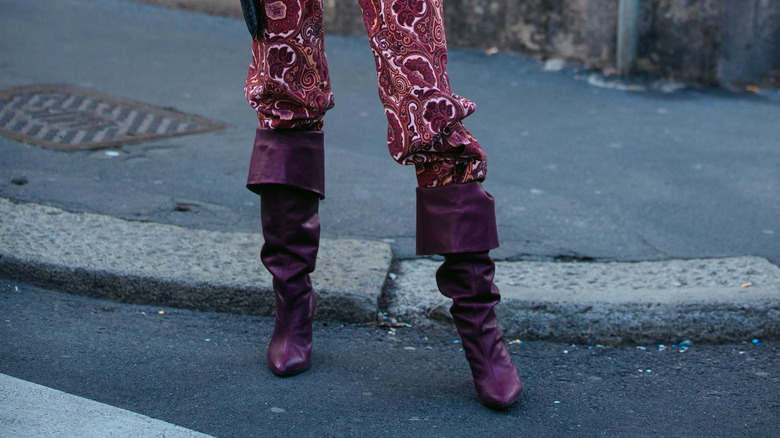 Melodie Jeng/Getty Images
There's no doubt that a slouchy boot is stylish enough on its own. However, that doesn't mean it can't be paired with other fashionable design aspects. That might mean extending the length of the boot not only up to just under the knee but also adding some extra material on the top, which can then be folded over. An ideal way to cap off the look, it's a dapper yet chic version of a slouchy boot that will work with a range of stylish outfits that are casual, formal, or something in between.
Mid-thigh slouchy boot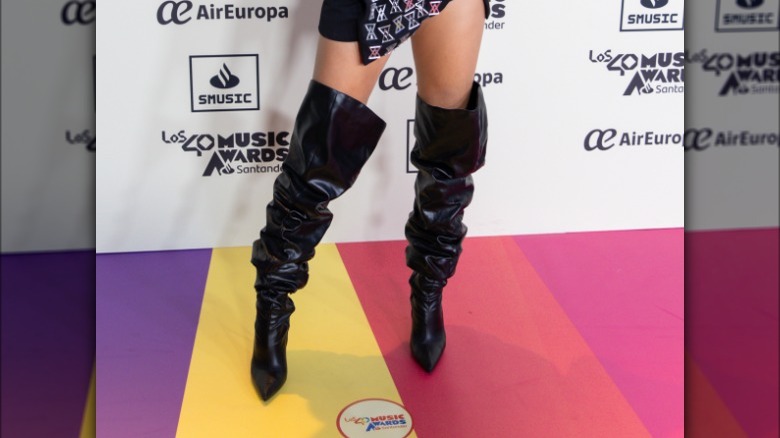 Aldara Zarraoa/Getty Images
With a look this fabulous, you may want more, more, more. In that case, you should track down a pair of mid-thigh slouchy boots. That's right, you can take the next step by skipping the mid-calf option and going for one that reaches even higher. Although this might seem like a giant leap when it comes to the kind of boots that you're used to, the extra length allows for plenty of folds that make the most of the striking slouched material.
Wide and loose slouchy boot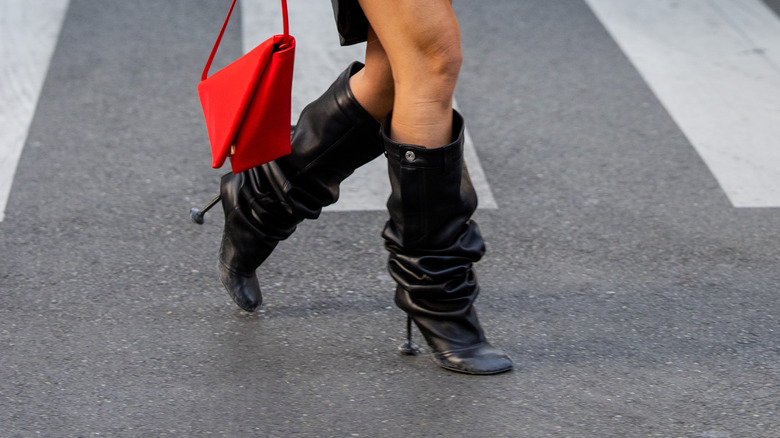 Christian Vierig/Getty Images
Although most slouchy boots you might come across tend to be relatively wide and loose, they are also just fitted enough to keep them in place. Granted, some versions of this style have an extra loose fit to accentuate the vibe. To do so, they may use a material that is a little more stiff and more structured. A version that works with a lower boot, the wide slouch looks just as amazing whether it's mid-ankle, mid-calf, or mid-thigh.
Bedazzled slouchy cowboy boots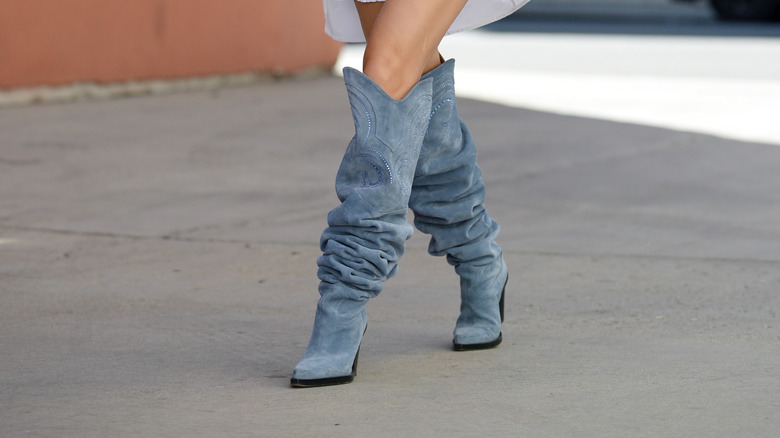 Mega/Getty Images
Slouchy boots may not need extra accents to make them a stunning style option. However, that doesn't mean that they can't have them. For a unique upgrade, consider a pair of footwear with a smooth denim-colored suede exterior with slight folds near the upper area that become much more dramatic around the ankle. On top of that, look for curved edges around the top that mimic cowboy boots. A pattern inlaid with tiny bedazzled gems would also make a significant impact on the overall design.
Extreme slouchy boot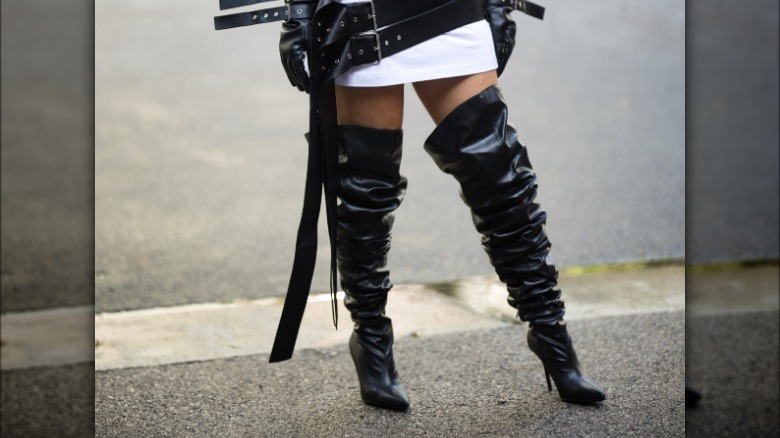 Valentina Frugiuele/Getty Images
If you can't get enough of this style, then you may want a version that pushes the design over the top in the best way. Whether it's a relatively short boot or one that stretches up the thigh, an extreme style of slouchy boot fits in as many folds as possible. Beyond that, the folds are anything but subtle. Instead, they tend to be deep and layered, which creates a stunning visual effect. Take it up a notch by opting for slouchy boots with stilettos and a sharp toe.
Riding slouchy boot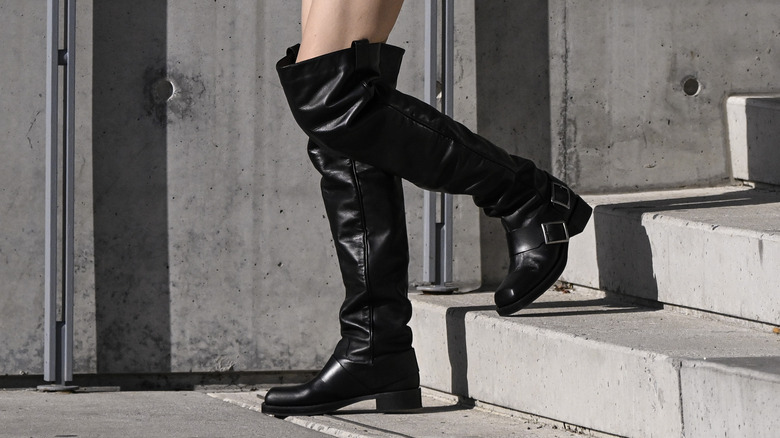 Daniel Zuchnik/Getty Images
Timeless riding boots — a favorite of fashionable folks like Catherine, Princess of Wales — are typically fitted. But that doesn't mean they can't be altered to embrace the slouchy trend. With the traditional structured foot, low heel, and buckles in place, the slouched element of the upper section makes the design wonderfully unusual. While this approach might not accommodate the full folds typically seen with slouchy boots, it still boasts a lot of style.
Casual slouchy boot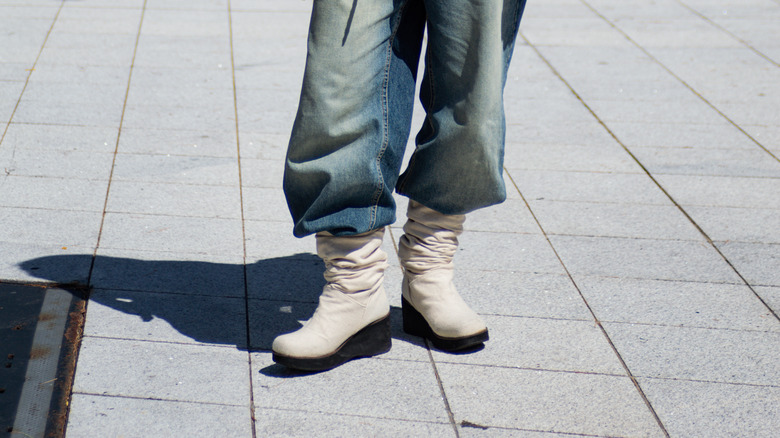 Tiffany Boubkeur/Getty Images
Give your outfit a laid-back vibe with the help of casual slouchy boots. Sticking with the same style that utilizes folded material to establish a layered look, casual designs can use soft fabric like suede or leather that's been worked in, as well as cotton or fleece. Not only will this option give a comfy-looking touch to your ensemble, but they will also be super cozy to wear. Pair them with jeans that are just as loose, or create some contrast by wearing them with tights or a slim skirt.
Glitter sequin slouchy boot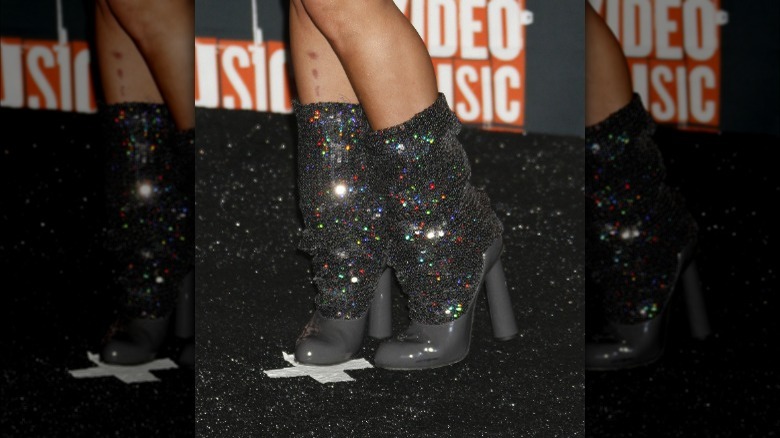 Jeffrey Mayer/Getty Images
Ensure your slouchy boots stand out with the help of sequins. One color, two colors, or multicolor — they're all stunning when incorporated into footwear. Their glittery nature will accentuate the lines in each fold, not to mention catch the eye of everyone in the room. With an incredibly chic design and just the right amount of flair, this is the kind of boot that's the perfect choice for a fun night out on the town, hitting the clubs with your besties, or a lit after-hours party.
Zippered slouchy boot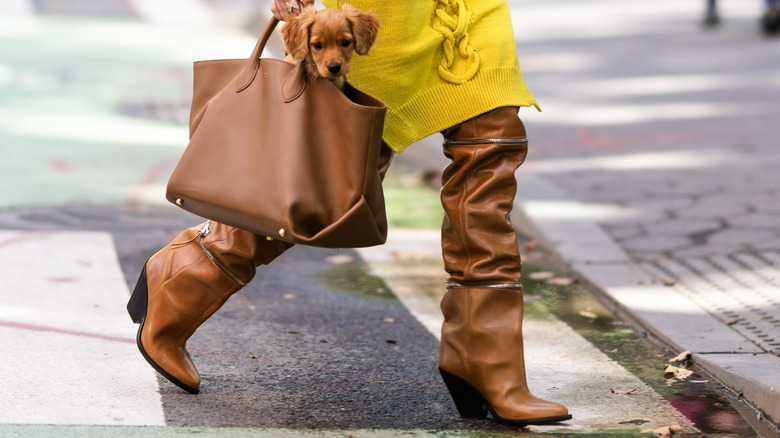 Gotham/Getty Images
Whether they're necessary or even functional, zippers are a great way to add a bit of an edge to any footwear. That certainly applies to slouchy boots. A vertical zipper that lines the front, back, or side of the shoes would be striking, especially if it has a gold, bronze, copper, or silver finish against a material of a different color and texture. Of course, a horizontal zipper that creates a sleek line through the folded fabric would be somewhat unexpected, which is precisely what would make them so intriguing and stylish.
Elastic top slouchy boot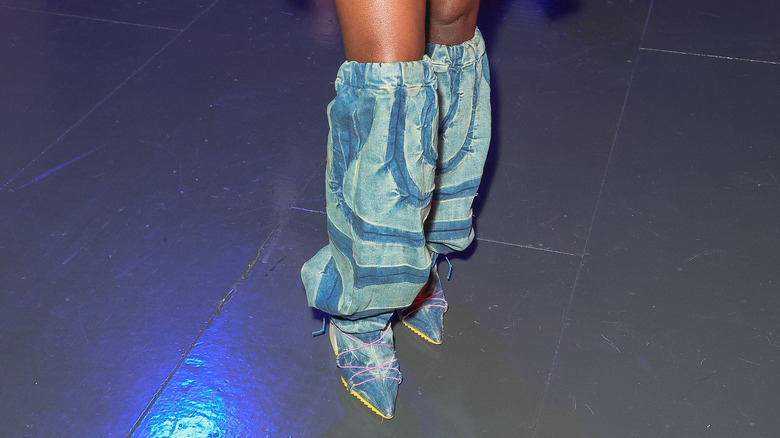 Dave Benett/Getty Images
Because slouchy boots can be somewhat loose, they can be challenging to hold up when made of softer materials. That might apply to thinner cotton, fine fleece, or lightweight denim. In this case, an elastic top can be a practical addition. While it will undoubtedly help to keep the top of the boot in place, it can also be a fashionable accent if done just right. That might mean using a wide band or an additional fabric with its own fashionable folds to keep the slouching material from budging.