14 Luxury Gift Sets You'll Want To Give And Receive This Holiday Season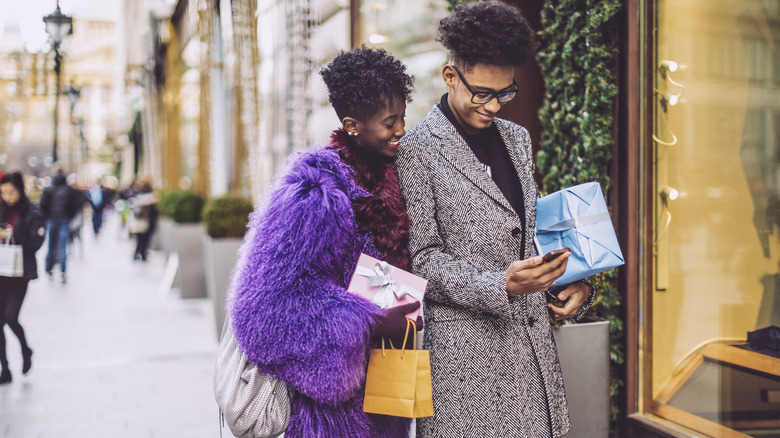 Eva-katalin/Getty Images
We may receive a commission on purchases made from links.
The holidays are here whether you can believe it or not, so it's time to start planning your gift list. Naturally, some people in your life deserve a little bit — or a lot — more than simple stocking stuffers, but you also don't have to over-gift this holiday season to make someone feel special. Whether they're a significant other, family member, or best friend, plenty of people in your life deserve some luxury without necessarily going overboard.
Thankfully, many brands offer gift sets containing their best products. While they might be pricier, they're some of the best gifts you can give both because you get many luxurious items in one package and because gift sets typically boast discounted rates for purchasing them together. That's the best holiday win-win scenario in our book. They're even great gifts for yourself — we won't tell! 
Now, regardless of gifting them to yourself or someone else, these gift sets are an easy way to get through your list without wasting hours scrolling every brand's website. We've done the research for you, so sit back, enjoy the holidays, and give the best gifts this season with these luxury gift sets.
How we selected products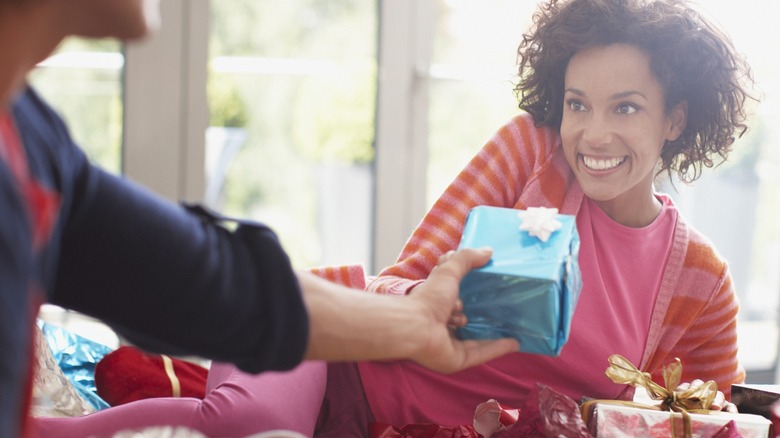 Paul Bradbury/Getty Images
Picking out the proper luxury gift set depends on your recipient's preferences. While some enjoy all things fragrances, others might prefer skincare goodies. Others still may find the most solace in candles or travel gear. As such, we've examined the products chosen for this article via product reviews, relevancy, and general brand quality. We've also added some classic brands that are well-known for their quality and all-around luxurious reputation, making their gift sets must-haves year after year. (We're looking at you, Estée Lauder!)
Luxury gift sets typically come at a higher price than your typical holiday gift set — they're luxury, after all — but they're still cheaper than if you bought all of the items individually, which ultimately means that they should be well worth your money. As such, we chose our luxury gift sets based on their value and price — in addition to their reviews and reputations — making our picks some of the best deals and steals you'll find this year.
Best overall luxury gift set: Estée Lauder holiday blockbuster set
While there are plenty of great luxury gift sets out there, Estée Lauder's Holiday Blockbuster Set is one of the few that combines a little bit of everything we love at Glam — namely the best skincare and makeup items from the iconic brand. Released every year, this set is a fan-favorite gift, as it's also a great deal for the overall value of the box — so much so that the set's price is $530 less than the items' combined worth. What's more, with one option for warm skin tones and another for cooler tones, this 12-piece set is perfect for anyone. 
"I don't usually buy Estée Lauder but the more products I try the more I understand why they have been in the beauty game for so long. ... The deal is amazing and now I want to buy more of these as gifts for Christmas," one reviewer wrote.
Purchase the Estée Lauder Holiday Blockbuster Set at Nordstrom for $85.
Best luxury haircare set: Kérastase Resistance Holiday Gift Set
A luxury haircare gift set is perfect for those obsessed with keeping their hair both happy and healthy. If you don't know your recipient's hair type, opt for the Resistance Holiday Gift Set, which aids damaged hair of any type and protects it from heat. By containing a strengthening shampoo, conditioner, and heat-protectant product, this set is perfect for anyone looking to get into protective haircare for the first or 10th time alike. With a 4.6-star rating and many reviews marveling about it — one pleased reviewer wrote, "Not only does this have a slight but amazing smell, it has noticeably revived my damaged hair" — this haircare gift set is a no-brainer.
Purchase the Resistance Holiday Gift Set at Kérastase for $94.
Best luxury fragrance gift set: Miss Dior Fragrance Set
In the fragrance world, there's no denying that Dior's Miss Dior perfume is iconic and timeless. So, give the gift of elegance in a bottle with the Miss Dior fragrance set, which includes a full-sized bottle, a travel spray, and a miniature Miss Dior bottle that you can keep in your purse, though you won't want to because all of the bottles are so cute that you'll want to show them off every chance you get. This set boasts floral scents so beautiful that you may as well have walked into a fancy garden.
"Before we talk about anything can we say VALUE!!" one happy reviewer wrote of the set. "... and as for the fragrance I mean its Miss Dior enough said. I spray her when I want to feel like the prettiest proper princess with not a care in the world."
Purchase the Miss Dior fragrance set at Dior for $178.
Best luxury skincare gift set: La Mer Replenishing Moisture Collection Set
As many skincare lovers know, the brand La Mer is synonymous with luxury. In fact, the luxury skincare brand is infamous for its high-quality products that come with equally hefty price tags. Splurge on La Mer's Replenishing Moisture Collection Set this holiday season and give the gift of the brand's most popular products, including the Crème de la Mer moisturizing cream, which has a 4-star rating out of over 1,400 reviews on Sephora. This moisturizing cream can range between $100 and $570 depending on container size, making this gift set — which also features The Treatment Lotion, The Hydrating Infused Emulsion, and The Eye Concentrate — a fantastic deal.
Purchase the Replenishing Moisture Collection Set at Sephora for $175.
Best luxury lipstick gift set: Rouge Dior Minaudière Clutch: Lipstick Collection Case
Besides creating classic fashion pieces and timeless fragrances, the Dior Beauty collection contains many pieces worth their price tags. On TikTok, the Rouge Dior lipsticks boast over 53 million views, with many videos highlighting the luxurious feel of the product. For the holidays, the brand has released a small collection featuring four iconic lipstick shades, including the classic Dior Rouge 999. This red lipstick is a cult favorite, with one Bloomingdale's reviewer writing, "Pure red color full of charm, elegance and luxury with extremely good color." Gift this elegant shade — along with 772 Classic, 100 Nude Look, and 720 Icone — in a chic gold clutch as a spectacular gift any makeup lover would adore.
Purchase the Rouge Dior Minaudière Clutch: Lipstick Collection Case at Bloomingdale's for $290.
Best luxury gift set for the home: Jo Malone Travel Candle Trio
Sometimes, the best gift you can give is relaxation, and what brand has better scents than Jo Malone? Celebs like Sofia Richie Grainge and more adore Jo Malone because of its rich and luxurious smells, and we at Glam are known to fancy its fragrances, too. Fill your favorite person's (or yours) home with decadent seasonal scents with the brand's Travel Candle Trio Set, which contains three candles in the scents Orange Bitters, Pine & Eucalyptus, and Roasted Chestnut. Since this gift set is a limited-edition pick, it will likely sell out pretty quickly, so don't hesitate to pick one up — the limited-edition status means the gift is a little extra special, too.
Purchase the Travel Candle Trio at Jo Malone for $115.
Best luxury gift set for men: BLEU DE CHANEL Eau de Parfum Set
The men in your life deserve a luxury gift this holiday season, too. While there are plenty of options for men's fragrances, Chanel's BLEU DE CHANEL Eau du Parfum is among our favorites, and it has an almost 5-star rating on Sephora's website. BLEU DE CHANEL Eau de Parfum is a classic scent, perfect for men who don't know what they want for the holidays — we all know the type. This set includes a full-size bottle and a convenient travel spray, making it an easy grab, and you might thank yourself for it, too. As one reviewer wrote, "Bought this for my husband and I absolutely love it on him. Smells fresh and yummy!"
Purchase the BLEU DE CHANEL Eau de Parfum Set at Sephora for $198.
Best luxury gift set for body care: Fleurs d'Oasis Body Gift Set
Gifting body lotions and creams is expected during the holiday season, but gifting a unique set of body care items is next level. Senteurs d'Orient's Fleurs d'Oasis Body Gift Set is precisely what you would expect from a luxury body care brand, and it's hands-down the best body care set. What's more, with four of the brand's staple products in this set — The Shower, The Oil, The Soap, and The Conditioner — this set is a great way to sample the brand if you've never checked it out before.
One Neiman Marcus reviewer wrote, "Looks like a beautiful gift!" And it's more than just beautiful: The Soap is only available via this gift set, so giving someone and exclusive item in addition to a unique set in general is bound to make them feel special.
Purchase the Fleurs d'Oasis Body Gift Set at Neiman Marcus for $130.
Best luxury facial tool gift set: NuFACE Mini+ Starter Kit
Skincare products are vital for maintaining your skin health, and having a few facial tools to bolster your routine can't hurt, either. NuFACE is a well-known brand in the facial tool world, making choosing its starter kit a no-brainer when looking for the perfect facial tool gift set. Even stars like Hailey Bieber are major fans of the device, as seen in an Instagram Reel posted to the brand's account. NuFACE's Mini+ Starter Kit holds a near-perfect rating at Nordstrom and contains its Petite Facial Toning Device, two activator creams, and an application brush. Ultimately, this kit is perfect for those looking to start incorporating facial tools into their skincare regimen but don't know where to start — as well as those simply looking to try something new.
Purchase the NuFACE Mini+ Starter Kit at Nordstrom for $212.50
Best luxury jewelry gift set: Ana Luisa Diamond Set
Accessorizing is the easiest way to spice up any look, so why not gift the experience of high-end, high-quality jewelry with this Ana Luisa Diamond Set that includes a diamond pendant and two stunning ear studs? Ana Luisa is relatively new on the jewelry scene, but it's poised to bring high quality, affordability, and sustainability to the industry. What's more, the brand has plenty of options to choose from, though we're partial to this classy set that contains 14k gold on sterling silver, which is perfect for the silver jewelry lovers in your life. These dainty pieces are understated but ultra-chic, and with a gift packaging option, this is an easy-to-pick-up gift that'll complete your jewelry lovers' collections in no time.
Purchase the Diamond Set at Ana Luisa for $229.
Best luxury stationary gift set: Mark & Graham Italian Leather Desk Gift Set
With trends like the "that" girl aesthetic popping up more and more, it's never been a better time to splurge on some good stationary pieces. After all, nice desk space can help you or your loved one feel important and professional — and, therefore, motivated to work on your passion projects or general work. As such, we believe that the Mark & Graham Italian Leather Desk Gift Set is worth the investment. Handmade in Italy, this gift set includes a portfolio, mouse pad, and desk blotter, and you can even engrave the recipient's name directly on the leather for a personalized touch.
Purchase the Italian Leather Desk Gift Set at Mark & Graham for $253.
Best luxury gift set for fashionistas: AllSaints Marcia Scarf, Gloves And Beanie Gift Set
Your favorite fashionistas deserve to look stylish even when it's freezing outside, which is why we've chosen the AllSaints Marcia Scarf, Gloves, and Beanie set. Made from a wool-cashmere blend, you can gift warmth, coziness, and the AllSaints quality that the brand is known for. Not only do you get this comfortable, ribbed texture but you can also get ease of mind knowing you got an amazing deal on your gift. The set was initially priced at a whopping $299, but it's been lowered to a more comfortable $161.10. With over $100 in savings, this is the perfect time to pick up three luxury products in one fell swoop. 
Purchase the Marcia Scarf, Gloves, and Beanie Set at AllSaints for $161.10.
Best luxury gift set for travelers: Barefoot Dreams CozyChic Eye Mask, Socks, & Scrunchie Travel Set
We all know that one person who loves to travel no matter the time or place. To that end, the Barefoot Dreams CozyChic Eye Mask, Socks & Scrunchie Travel Set is the perfect gift to fall back on for travel lovers who want to be extra cozy while catching their latest flight. Barefoot Dreams products are known for their luxurious (read: ultra-soft and comfortable) feel, and this 5-star set takes that cushiony material and turns it into a comfy eye mask, sock, and scrunchie set. A perfect travel case, the travel lover in your life will adore this comfortable set. Traveling aside, this set is great for cold winter mornings, too, so don't knock it 'til you try it!
Purchase the CozyChic Eye Mask, Socks, & Scrunchie Travel Set at Nordstrom for $98.
Best luxury makeup gift set: Trish McEvoy The Power of Makeup Planner
When it comes to luxury, there are very few brands that can remain under the radar yet hold a strong reputation among their users. Such is the case for Trish McEvoy. This brand might not be in every beauty store, but the quality of its products is unmatched. Furthermore, its limited-edition The Power of Makeup Planner set is sure to stun any makeup lover. 
In fact, one Saks Fifth Avenue reviewer wrote, "I always look forward to Trish's latest planners[,] and this one doesn't disappoint! The colors are all spot on and I love the denim bag!" Not only are you getting some of the brand's best-selling products in this 13-piece set but you also get a chic denim makeup bag that makes buying this gift set that much sweeter.
Purchase the Trish McEvoy The Power of Makeup Planner Set at Saks Fifth Avenue for $298.