10 Times Jennifer Lopez Went Makeup Free And Looked Flawless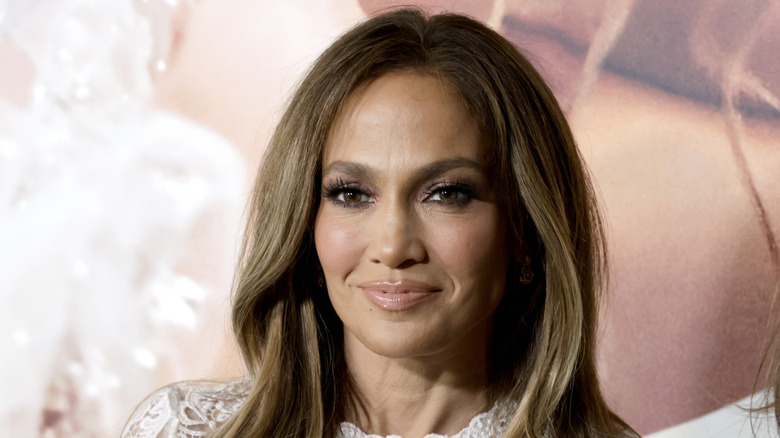 Frazer Harrison/Getty Images
Jennifer Lopez is known for her over-the-top glamorous makeup looks, but even the world-renowned singer and actress has her fresh-faced moments. Since her first movie appearance in the 1980s, Lopez has been no stranger to movie makeup, stage makeup, music video makeup, and everything in between.
The photos of her without a full face of makeup (or even in a no-makeup makeup look) are few and far between, as the Bronx-born star always makes sure to put her best face forward when she's headed out of her home. There have been times, though — especially with the 2021 launch of her beauty company, JLo Beauty — when Lopez has been more forthcoming in showing her fans the more natural side of her face.
She still goes full glam with extra eyelashes and the perfect lipstick for red-carpet appearances, but she sometimes opts for a more natural look during her downtime. We're sure glad, though — at 50-something years old, Lopez gives us all hope that with the proper care, we can all look just as youthful in our 50s as we did in our 30s. 
She wakes up like this
In an Instagram post from July 17, 2022, Jennifer Lopez's perfect contour was nowhere in sight when she shared a cozy picture of her sans makeup in bed. Grinning at the camera with her hair free-flowing and her hand resting behind her head, the star looks just as gorgeous waking up as she does when she's ready for a big show. 
Christmas waffles and pajamas
In 2021, Jennifer Lopez shared a video of her family getting together to make Christmas waffles. The video gives us a glimpse of a natural Lopez, still in her pajamas, as she proudly holds up a delicious-looking plate of waffles. Her hair is loose and in soft waves, and her face is makeup-free, but she doesn't seem to care much as she holds up the waffles — right before the camera pans to a shot of her entire family devouring the plate. 
Early morning nomination
In 2019, when Jennifer Lopez was nominated for a Golden Globe for her role as Ramona in "Hustlers," she immediately went online to express her gratitude for the honor — before she even took the time to get dressed or do her makeup. Posted by her then-boyfriend, Alex Rodriguez, the video portrays a giddy and elated Lopez making her own video to say thank you for her nomination. Her face is still makeup-free but as beautiful as ever.
Laid-back in the Hamptons
On a trip to the Hamptons in July 2023, Jennifer Lopez went makeup-free for the day, opting for just her JLo Beauty products to keep her face radiant and seemingly ageless. Her face was glowing as she applied her beauty products and smoothed them into her skin. She also put her hair up in a chic, slicked-back bun and smiled at the camera before signing off her video.
Working up a sweat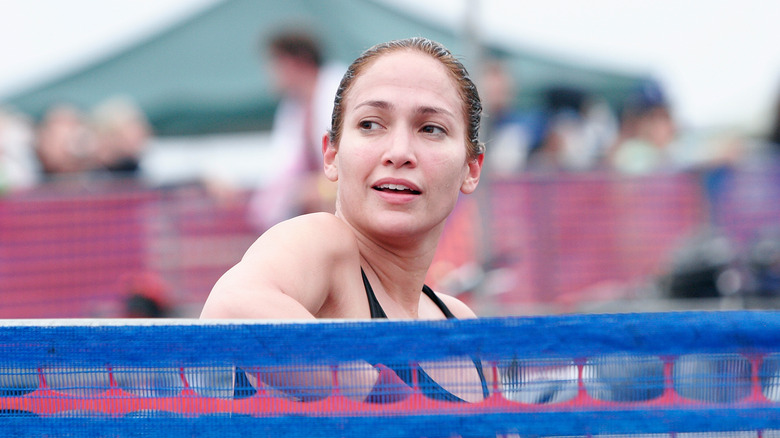 Tiffany Rose/Getty Images
In 2008, Jennifer Lopez participated in the Nautica Malibu Triathalon in Malibu, California. She wasn't that far from the glitz and glamour of Hollywood, but the occasion wasn't exactly calling for a full face of makeup. Even after a grueling day of cycling, swimming, and running, Lopez was beautiful when she emerged from the waters and grinned for the cameras. On a day like that, we're thinking that makeup was probably the last thing on her mind.
On a film set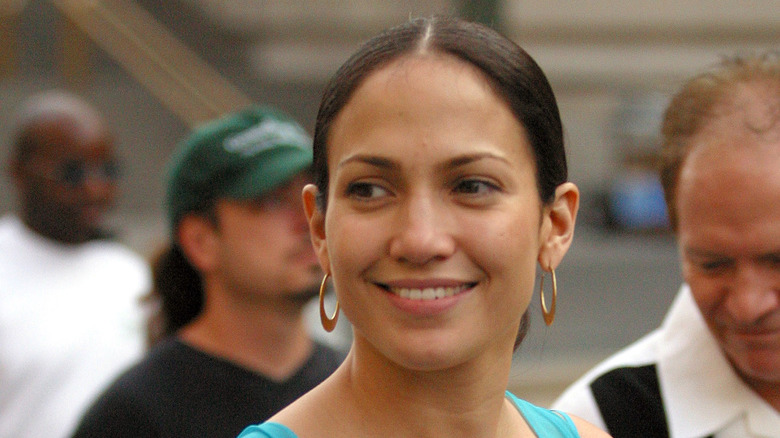 James Devaney/Getty Images
While filming "Maid in Manhattan," Jennifer Lopez was spotted on a few occasions without a full face of makeup. Maybe it was on purpose for the film, or maybe she just hadn't gotten to hair and makeup yet. In any case, Lopez looked just as happy in her natural skin as she does when she's all done up.
Swimming in the sun
A post from 2018 showcases a grinning Jennifer Lopez in honor of her birthday on Alex Rodriguez's Instagram account. Although the couple sadly split after four years together, you can tell the joy that Lopez had in the relationship from the smile on her face in this candid photo. Who needs makeup when you have a smile like that? 
Times with daddy
In 2021, a fresh-faced Jennifer Lopez wished all fathers around the world a happy Father's Day, but especially her father, David Lopez. Her photo showed a diamond bracelet, a simple necklace, and her signature hoop earrings — while she left her face au natural. She captioned it, "Daddy, there are not enough words to describe what you mean to me," and her picture showed us just how much she adores her father. We're not crying, you're crying! 
Heading to the gym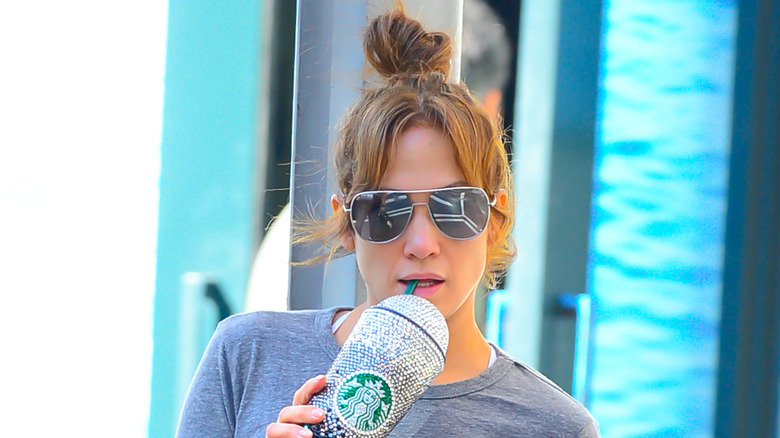 Raymond Hall/Getty Images
Jennifer Lopez works hard to keep her body in shape and able to dance her way through all of her music videos. The star is constantly spotted on her way to and from the gym sans makeup in yoga pants and leggings — although, in this case, we can't blame her for going makeup-free since no one wants makeup streaming down their face after a heavy sweat session. 
Youthful and fresh-faced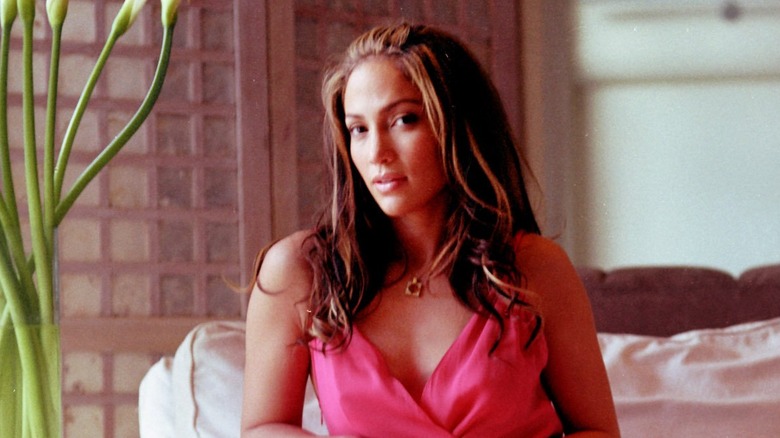 Miami Herald/inactive/Getty Images
In 2001, 32-year-old Jennifer Lopez posed for a portrait in South Beach, Florida. The actress is youthful and fresh-faced, choosing to accessorize her beautiful pink dress with a pendant necklace. Although the overall aesthetic of this photo is stunning, we can't help but be taken aback by Lopez's flawless makeup-free face.