Barbie Blond Hair Is Still Trending - Here's What To Ask For At The Salon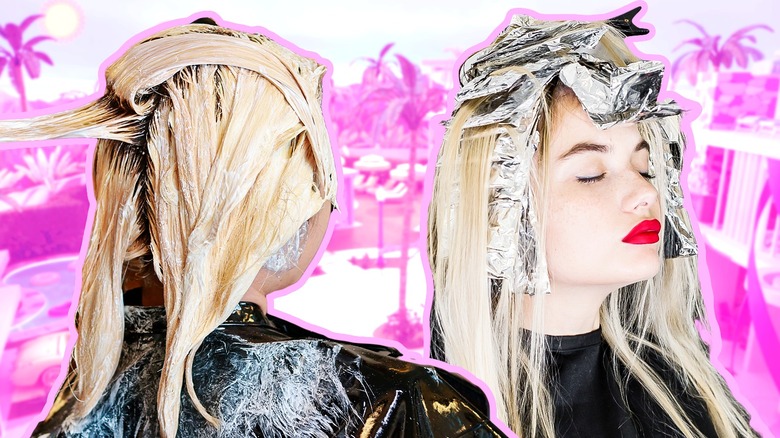 Static Media / Shutterstock
We may receive a commission on purchases made from links.
"Barbie," starring Margot Robbie and Ryan Gosling, made a huge splash when the movie was released in July of 2023. Suddenly, everyone was embracing Barbiecore in every imaginable form, from clothes to hair and makeup. Now that the pink glitter has settled, popular fashion and beauty trends have continued along their typical schedules. A few Barbie-inspired looks, however, are still hanging on tightly. One of those fabulous trendy stragglers is Barbie's iconic blond hair, still a popular request at salons.
If you've been thinking about going Barbie blond, there are a few factors to consider before taking the plunge, especially if your hair is quite dark. Since bleaching your hair can be an intense and intimidating process — even when the bleaching is done by a trained professional — it's important to know exactly what to expect before you commit. Consider this your guide to achieving and maintaining blond hair just like Barbie.
How to achieve Barbie blond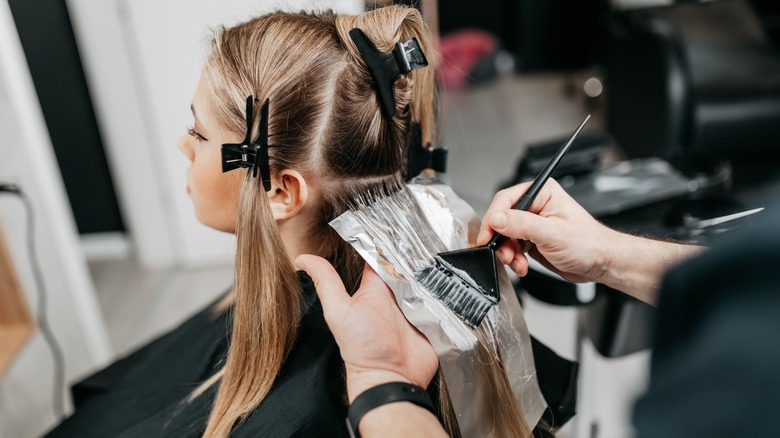 hedgehog94/Shutterstock
Barbie blond hair is just platinum blond. However, it isn't the same shade of platinum that has been popular basically since Hollywood stars began to influence beauty trends. The icy, ultra-cool-toned platinum blond originally popularized by Hollywood starlets Marilyn Monroe and Jean Harlow is not quite the same blond you'd see in the toy aisle when you take a peek inside a Mattel box at the bombshell inside. Instead, Barbie blond is a shade of platinum that leans a bit warmer, retaining more pale yellow tones.
Before you plan to replicate the doll's classic shade of blond, be sure to consult your hairstylist. If your hair is very dark, they will guide you through the process — which could require multiple bleachings with time for your hair to rest in between — and how to prepare your hair for it. With professional guidance, you may decide to aim for a darker shade of blond that gives a nod to Barbie without risking as much damage to your hair or requiring as much patience from you. 
How to maintain Barbie blond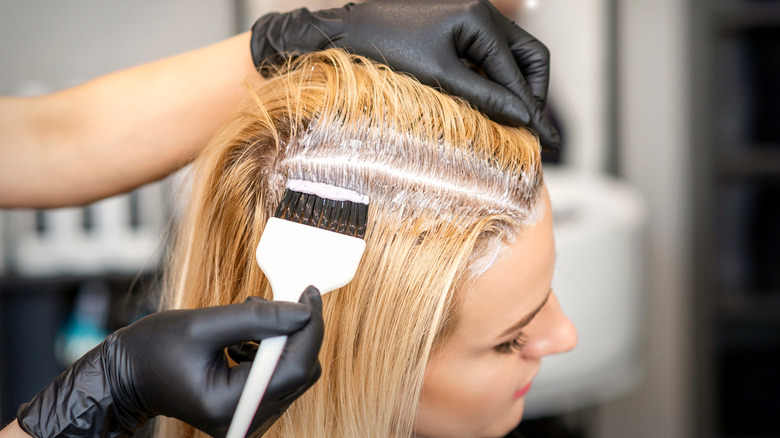 Michelle Aleksa/Shutterstock
Once you achieve Barbie blond (or your version of it), the process isn't quite finished. You now have bleached hair to maintain. First, you'll need to get into the habit of regularly hydrating your hair with deep conditioning masks or oils as well as clarifying products to remove hard water deposits and styling product buildup, which can quickly become visible on light blond hair. You should also plan on scheduling a salon visit every four to six weeks to have your roots bleached and toned.
Between salon appointments, it's best to use purple-tinted shampoos, conditioners, and masks to combat any brassiness that could emerge over time. Being Barbie blond is a major commitment of time, energy, and money. If living out your blond fantasy is worth it to you, by all means, take the plunge. If you're unsure, consider other options that can provide a blond vibe with a less damaging, more blended look.