Second-Skin Boots Are The Sleek Fall Staple That's Already Trending This Year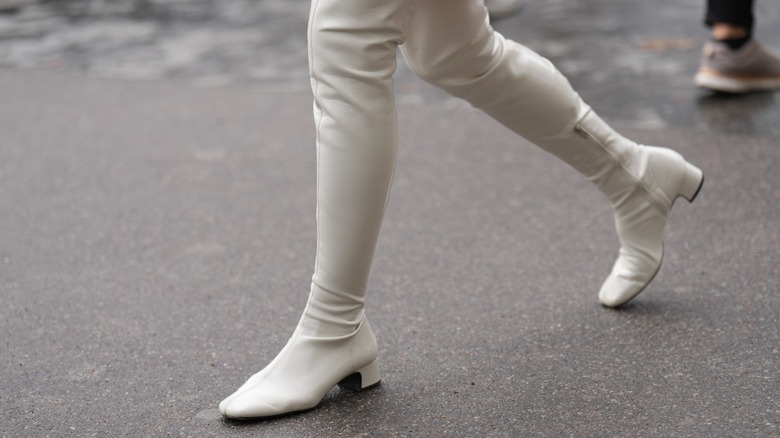 Edward Berthelot/Getty Images
We've all already heard how oversized and baggy items have dominated several fashion trends in the last couple of seasons. Items like loose, baggy jeans and oversized blazers have significantly increased in size in the past few years. And while this trend isn't heading anywhere anytime soon, there is one part of our closet that is getting more form-fitting: our shoes. Second-skin boots are the season's shoe, thanks to their appearance on several runways like Sacai, showcasing skin-tight boots with a much more form-fitting design.
Besides looking sleek and modern, these second-skin boots offer plenty of benefits that an oversized slouchy boot can't provide. For example, second-skin boots can help contrast against heavier and bulkier items, such as maxi coats or skirts. In other words, if you want to rock maxi or baggy bottoms, these tighter boots can prevent your silhouette from looking too bulky. Like most boot trends, these shoes are perfect for anyone and work for any shoe height. Whether you're a fan of the sultry, second-skin over-the-knee boot or the more subtle sock boot, these boots are the key to a chic and sleek fall wardrobe.
The forever classic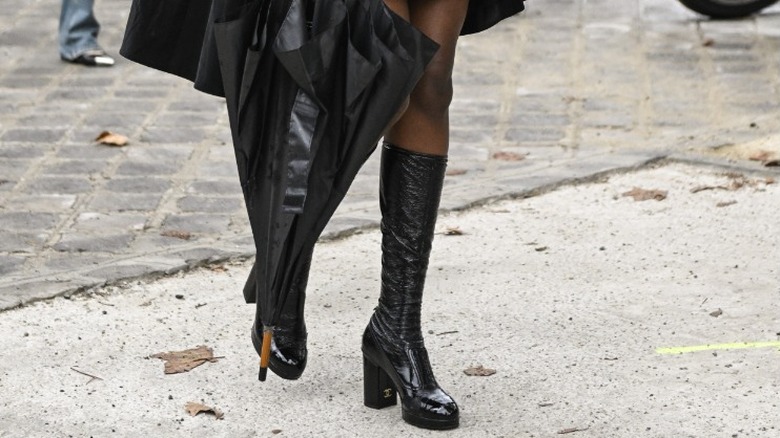 Daniel Zuchnik/Getty Images
No matter what boot trend is going on, you can always count on a black shade for an instant classic. The black boot is a timeless option that'll always look chic and modern in your fall wardrobe. Opting for a black second-skin boot is crucial to give your autumn wardrobe a hint of elegance and sophistication. You can also sport a black patent material for extra shine or a classic textured leather for more of that dimension.
Give your boots a boost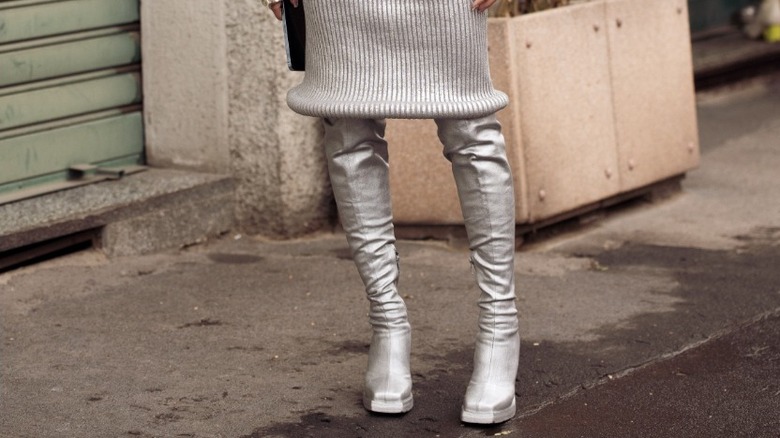 Raimonda Kulikauskiene/Getty Images
Platform shoes may not be everybody's first shoe choice, but there's no reason you can't give your boots some extra height. After all, if you're going for this polished second-skin style, a platform boot can be a perfect modern twist to update your shoes. While this form-fitting boot style isn't a new trend, adding a more timely twist, like a platform sole, can help your pick feel fresh and apt for the current fashion cycle.
Soft to touch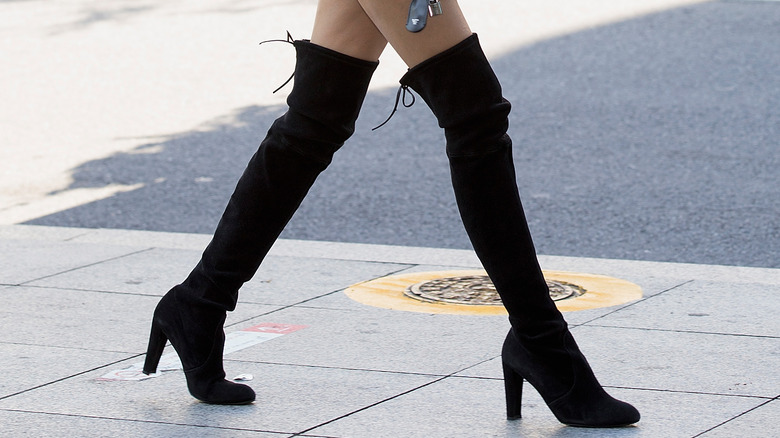 Han Myung-gu/Getty Images
Although it's less shiny than patent leather, a suede fabric is an ideal option for these second-skin boots. Besides adding texture to your outfit, the suede material adds warmth, regardless of your chosen color. Plus, suede is a classic material, so you can expect these boots to last you for plenty of seasons to come. For the fall of 2023, Johanna Ortiz's line used these tighter suede boots to give her looks an extra dimension and a more Western touch that fit the vibe of her entire collection.
Ankle-length skin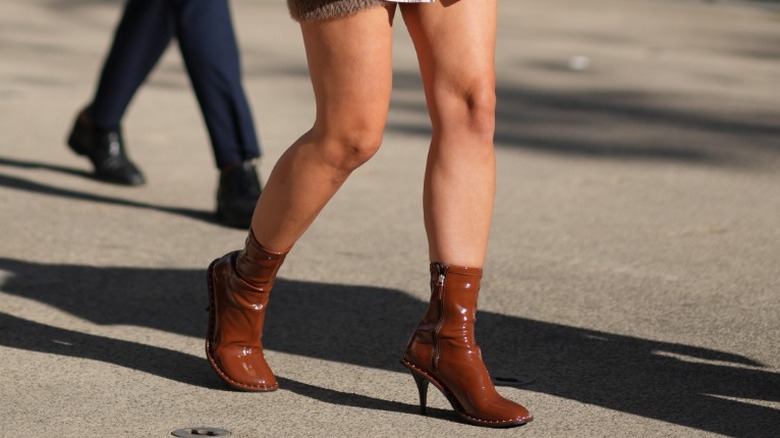 Edward Berthelot/Getty Images
While we are very used to seeing this second-skin look on taller boots, there's no reason why you can't apply this silhouette to your ankle boots. Other ankle-length boots like Chelsea boots are often seen. However, these tighter-fitting boots are a fun alternative that adds less bulk to your outfit. Perfect for those instances when you want to rock a maxi-length with an ankle-length, these boots are vital for playing with proportions in your fall closet.
Wear your socks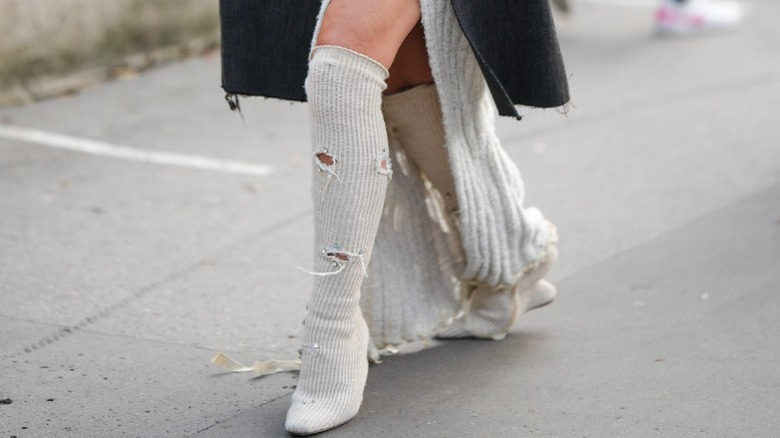 Edward Berthelot/Getty Images
Not long ago, the latest fashion boot craze involved the sock boots shoe trend. These shoes were all about adding a sock-like texture to your boots, making it appear as if you were rocking your socks over a pair of heels. Luckily, the sock boot is still a trend worthy of attention and is the perfect way to sport the second-skin fit. With an added ribbed material, these boots can add texture and statement to your fall footwear.
Tight-fitting print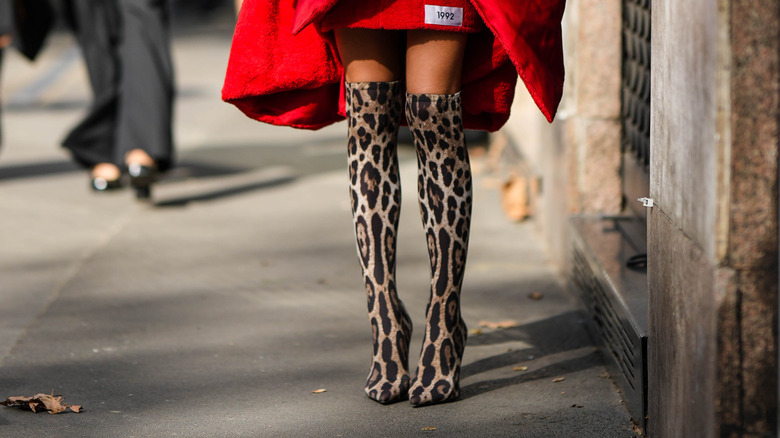 Edward Berthelot/Getty Images
No matter the season or the general trend, there's no reason why you can't add animal print to your wardrobe. Not only does an animal print add another dimension to your look, but it can also help emphasize your second-skin boots to seem more mature and dynamic. Plus, adding animal print is more timely and makes your 'fit even more exciting if you're looking for a much newer approach to this design.