The Stunning Style Transformation Of Victoria Beckham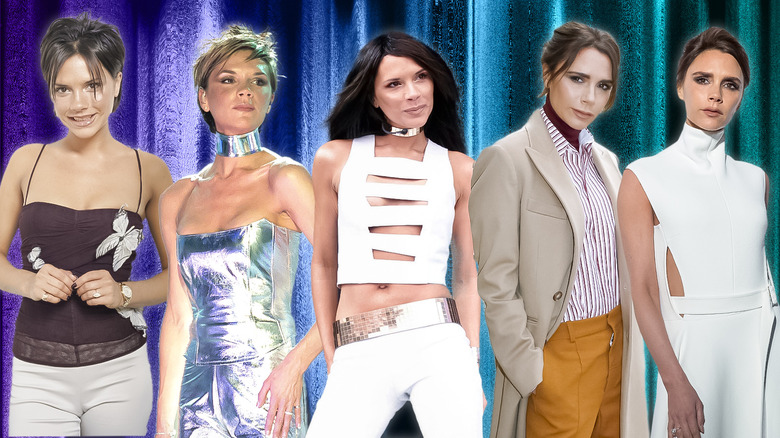 Static Media / Shutterstock / Getty
"I wouldn't call it a reinvention," Victoria Beckham told Harper's Bazaar in 2020. "I'd say it's been an evolution." These words from the fashion icon herself encapsulate the essence of a journey that has taken the world by storm. Victoria Beckham, also known as Posh Spice, has seamlessly transitioned from her pop star roots to become a celebrated designer and a symbol of timeless style. "Honestly, the Posh Spice aesthetic has and always will be truly timeless," celebrity hairstylist Laura Polko tells Byrdie. "Her style was always so retro-futuristic, incorporating metallics, leathers, miniskirts, and tube tops, which are already a staple in everyone's closets."
This journey through the eras of Beckham's style offers a glimpse into the exciting life of an artist, a businesswoman, mother, and wife. It showcases her ability to navigate the complex landscape of fame and fashion, all while always staying true to herself. With each new era, Victoria effortlessly showed us how she could defy expectations, embrace change, and inspire people across the globe.
1995-1997: Posh Spice is born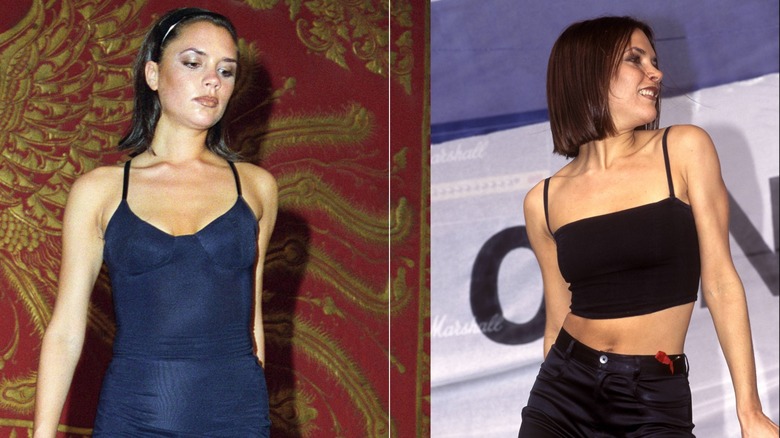 John Stanton/Getty & undefined & Brigitte Engl/Getty Images
In the mid-'90s, the world was introduced to a brand new pop sensation — the Spice Girls. Each of the five incredibly talented women embraced a unique style, and Victoria Beckham — or as the world came to know her, "Posh Spice" — emerged as an epitome of sophistication and elegance. During her Spice Girls era, Victoria was known for her chic, monochromatic looks, particularly her love for dressing head-to-toe in black. Her style was all about simplicity and looking sleek and polished. The singer rocked a sharp bob that quickly became her signature hairstyle. "Victoria's bob conveys precision and attention to detail, and I think of her poised, perfect positioning as part of the Spice Girls," hairstylist Tom Smith tells Byrdie. "The bob has a strictness, refinement, and model-esque quality to it. She was often known to pose rather than dance and I think it matches her personality as one of the more sophisticated, elegant, and put-together Spice Girls."
As she reflected on her time with the Spice Girls, Victoria shared her pride in what they had achieved. "I'm so proud of everything we achieved," she said to Harper's Bazaar. "It was OK to be a little bit different — why conform, you know? Now, I would like to think that I'm doing that through beauty and fashion." Posh Spice's transformation from a rising pop star to a fashion and beauty mogul would soon take flight, and the world was about to witness her evolution into the iconic Victoria Beckham we know today.
1998-1999: Victoria and David Beckham explore the partner look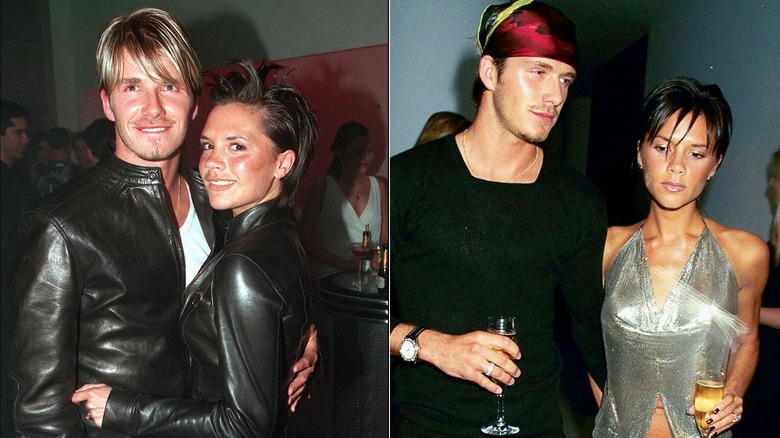 Dave Hogan/Getty & Dave Benett/Getty Images
Love and style united in a powerful way during the late '90s when Victoria Adams and David Beckham — the "it" couple of the era — embarked on their journey into the world of coordinated fashion. After announcing their engagement, the dynamic duo quickly garnered fame as one of the most fashionable celebrity couples on the planet, captivating the world with their perfectly matched outfits and undeniable chemistry.
Their status as a power couple grew, and they embraced the spotlight with lots of flair. In fact, the two quickly became known for their iconic airport looks, which showcased that life is truly a fashion runway for them. Even editor-in-chief of Vogue, Anna Wintour, wasn't immune to their impact. "When you have two equally charismatic people, it doubles the volume. It puts the heat factor way up," Wintour said in the Netflix documentary "Beckham" (via Condé Nast Traveler).
During an appearance on "Watch What Happens Live," Victoria admitted that while she and David had plenty of fun with fashion, looking back, she isn't always a fan of their looks. "We were wearing Gucci. It was a Versace dinner, which was inappropriate in itself," Victoria said, referring to the couple's iconic all-leather looks. "But we really considered those outfits. We really thought about it. There was a naiveté to it that was just so sweet" (via Grazia). Whether they were attending events, making red carpet appearances, or simply going on a casual outing, the two showcased their ability to create a cohesive, fashionable image.
2000-2003: Victoria Beckham leans into the Y2K aesthetic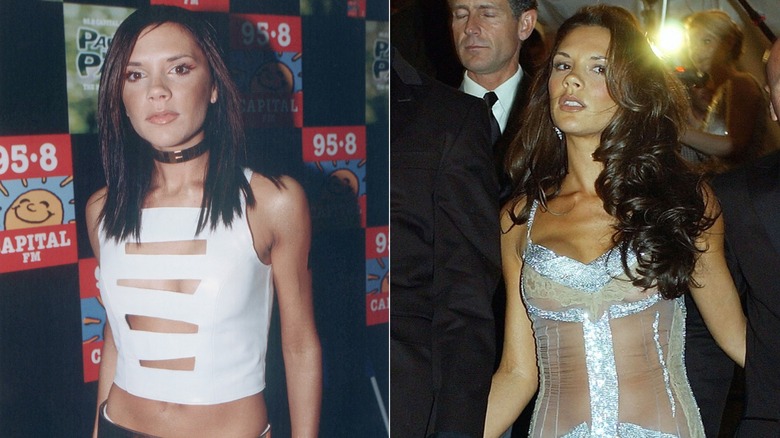 Mark Mainz/Getty & Jon Furniss/Getty Images
In the early 2000s, Victoria Beckham embarked on a solo music career with the release of her single, "Out of Your Mind." With this new chapter in her life, she not only transformed her music but also her style, fully embracing the iconic Y2K fashion trends that defined the era.
The Y2K aesthetic was a perfect fit for Victoria's solo journey. The fashion of this period was all about embracing the future, and it was characterized by bold and fun choices. The star was often spotted wearing metallics, futuristic shades, and edgy leather ensembles, making bold statements both on and off the stage. Her hair went from a short pixie to a luscious look with the help of extensions, which perfectly finished off the star's transformation to a new era. In 2003, Victoria was invited to her first-ever Met Gala, and she didn't disappoint. Her style reflected the spirit of a new millennium, and Posh Spice quickly became a symbol of the bold, forward-thinking fashion movement — and her career in fashion hadn't even begun yet.
2004-2005: She begins her journey into the fashion industry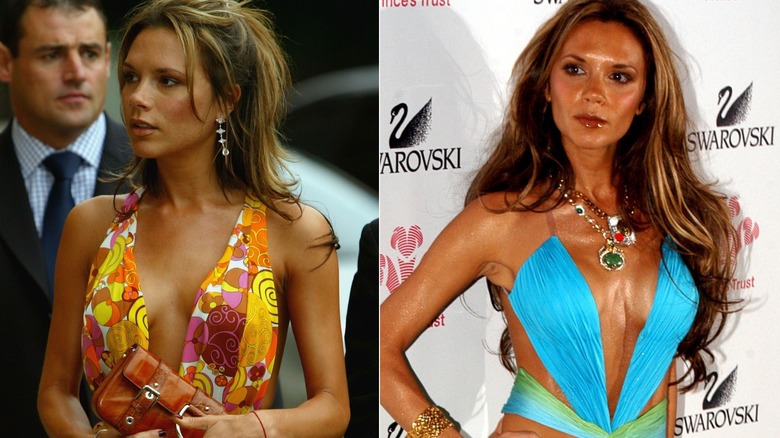 Christian Alminana & Bruno Vincent/Getty & undefined
The mid-2000s marked an important turning point in Victoria Beckham's style journey, as her love for fashion became much more evident. Victoria slowly began her journey into the fashion industry, and her presence was impossible to ignore. As the fashion world began to take notice of Beckham's innate sense of style, she was frequently invited to prestigious fashion industry events.
In 2004, Victoria Beckham designed a limited-edition line called VB Rocks for the jeans brand Rock & Republic. Looking back on it, the company's president Andrea Bernholtz revealed: "The capsule collection with Victoria really came about very naturally. It was an easy thing to do — because she was a friend and liked the product" (via Stuff). During this era, Beckham embraced boldness in her outfits, often opting for sultry ensembles. Her appearances were hard to miss, and her fashion choices showcased her readiness to embrace change and pave the way for her future in the fashion industry. The mid-2000s became the catalyst for Victoria Beckham's transformation into a major fashion force.
2006-2008: The bob era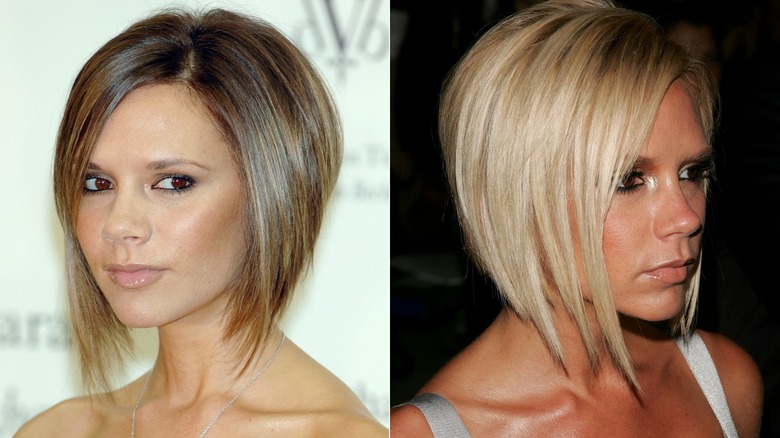 Peter Kramer/Getty & Jun Sato/Getty Images
In the second half of the 2000s, Victoria Beckham made a memorable style choice that would forever cement her status as a trendsetting fashion icon. Her transformation during this era was all about the hair, and she introduced the world to one of her most iconic looks — the "pob," short for "posh bob." This sleek, angled bob became her signature look, and soon after she revealed it, fans across the globe went to their hairstylists with images of the star. The "pob" was characterized by its clean lines and a sharp, graduated angle. Beckham's choice of hairstyle was a bold move that once again showcased her daring approach to style and her readiness to embrace change.
In 2008, Victoria Beckham officially became a fashion designer as she launched her eponymous label and showcased her first collection consisting of 10 dresses. "I remember well when Victoria started her collection," BFC chairman Caroline Rush told Harper's Bazaar. "As with every celebrity turned designer, there was some skepticism from the industry, which was very quickly dispelled when she started presenting her collections. There was a lot of interest from press and buyers and definitely a lot [of] buzz around the brand. It very soon became one of the hottest tickets of NYFW." 
2009-2011: Posh Spice gives us sophistication and glamour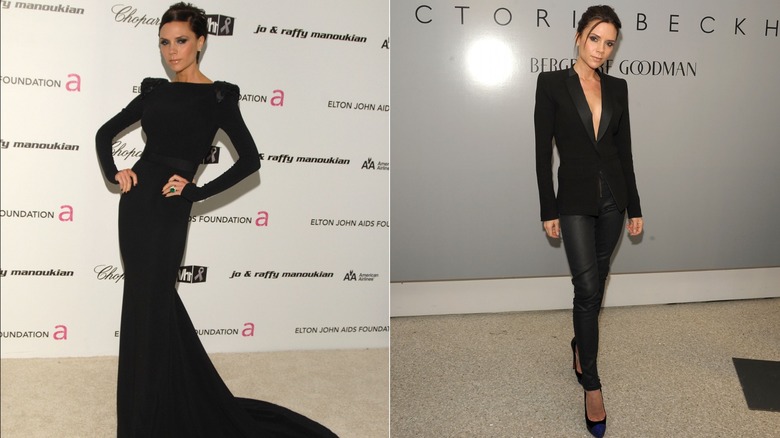 Mark Sullivan & Andrew H. Walker/Getty
As 2009 rolled around, Victoria Beckham ventured into the world of high fashion. This meant that she officially transitioned from pop star to fashion designer as her eponymous fashion label gained prominence. "She fought her way through the industry and is now a very well-respected designer and businesswoman," Caroline Rush told Harper's Bazaar. "Victoria has always been loved by the public, and the fact that she was known before being a designer definitely helped her [with] gaining attention and customers."
By 2010, Beckham's fashion label became a staple at New York Fashion Week, firmly establishing her as a serious and influential designer. Her fashion choices during this period reflected her career switch, as they were characterized by sophistication and elegance. She ditched the light hair for her classic dark color, and she swapped out the colors in her wardrobe for nudes and blacks again. By now, it was clear that Posh Spice had evolved into Victoria Beckham, the fashion mogul who was going to leave a mark on the world of high fashion.
2012-2013: Victoria Beckham channels Posh Spice once again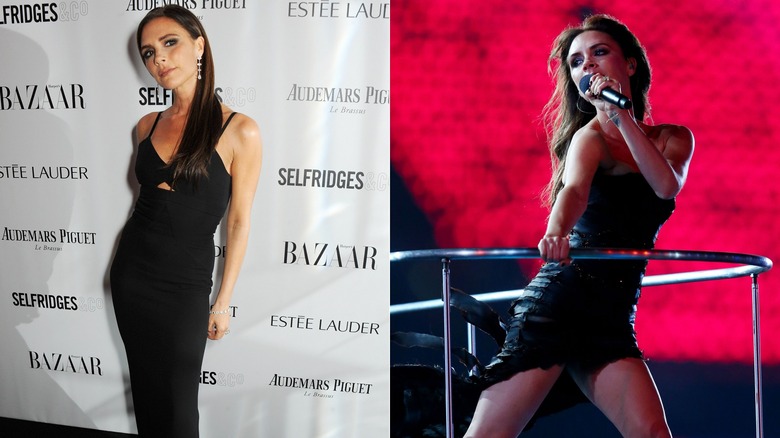 Julian Finney & David M. Benett/Getty
After embracing her career as a fashion designer, Victoria briefly turned back the clock to channel her inner Posh Spice. The world was treated to a sensational moment when all five Spice Girls reunited for a historic performance at the 2012 Summer Olympics closing ceremony. For this much-anticipated event, Victoria Beckham revisited her Posh Spice roots, paying homage to her Spice Girls days with a return to her beloved head-to-toe black looks.
However, this time around, it was evident that Beckham's style had matured and evolved, reflecting her journey from pop star to fashion mogul. And even though fans were thrilled to see her go back to music, the star's true passion continued to be fashion. "Victoria began by co-designing with some huge names in the fashion industry before establishing the VB line," Lydia King, womenswear buying and merchandising director at Selfridges, told Harper's Bazaar. "She has a great eye for shape and fit and seamlessly transfers this into the design of the garments." By the time 2013 rolled around, Victoria Beckham was known as someone who was aware of which fashions suited her, and her style for public appearances was always praised.
2014-2015: The fashion designer has her signature look, and she sticks to it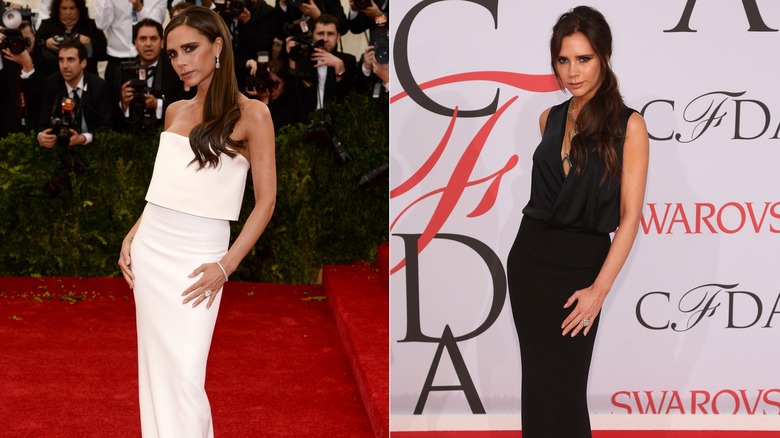 Taylor Hill & Dimitrios Kambouris/Getty
By 2014, Victoria Beckham had crafted her signature look defined by simple silhouettes, neutral colors, and clean cuts. In this era, she established herself as a beacon of minimalist chic.
Her clothing showcased clean lines, and her makeup and hair were always perfectly chosen to accentuate the style. "First time around, I felt famous, but now I feel successful," Beckham told The Guardian in 2014, referring to her career switch from music to fashion. The star also reflected on how her collections changed alongside her personal style. "When I first started, I used to wear lots of tight dresses," Beckham told The Independent. "Lots of heels. And I do still dress like that, but I suppose as time has gone on, I've loosened up a little bit. Times change. Certain things I wore then felt right then. But it wouldn't feel right now," she adds. Victoria Beckham's fashion during the mid-2010s was not about reinvention but all about refinement instead.
2016-2017: Victora Beckham plays around with masculine fashion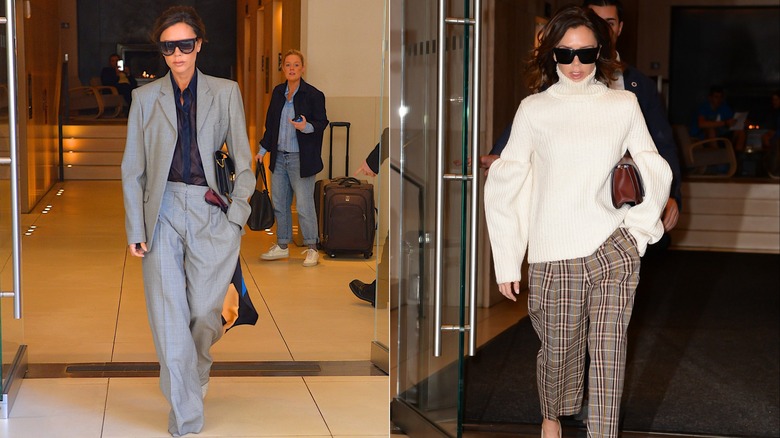 Robert Kamau & Raymond Hall/Getty
In the late 2010s, Victoria Beckham ventured into uncharted territory by embracing a more androgynous aesthetic. This period marked a departure from her minimalist signature look as she playfully experimented with masculine fashion.
Beckham's exploration of traditionally masculine fashion was a daring move, one that clearly showcased her willingness to continue evolving and pushing boundaries. The woman who had once epitomized sleek and skintight structured silhouettes began to embrace a more relaxed and gender-fluid style. In a candid interview with The Guardian, Beckham revealed, "When I was in the Spice Girls, there were stylists who dressed the group, but in my personal life, I have never worked with a stylist. I used to wear lots of structured dresses with corsetry, and I do still have some of those dresses, but my personal style has become more relaxed." This shift in her style was apparent in her fashion choices during this era.
She experimented with tailored suits, oversized coats, and flat shoes, all while maintaining that classic air of "posh" sophistication. This era served as a reminder that fashion is dynamic and always changing — and Victoria Beckham was not one to remain static.
2018-2019: The star shows us how to rock colors and look impeccable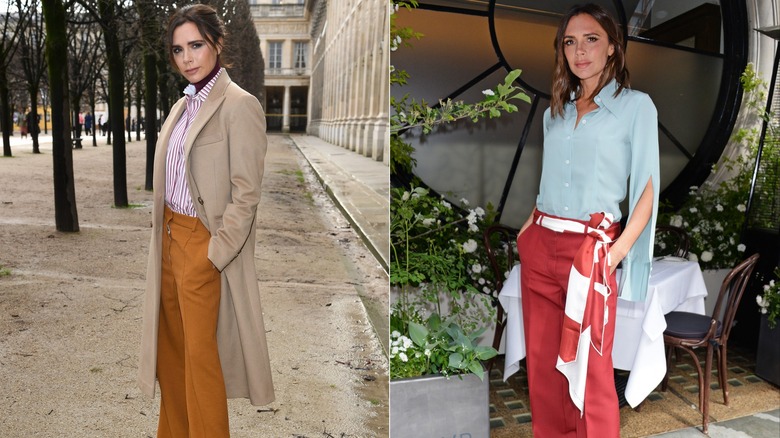 Pascal Le Segretain & Dave Benett/Getty
For someone who had long been dubbed the queen of black and nude ensembles, Victoria Beckham embarked on a vibrant journey during the end of the 2010s. During this time, she showcased a fondness for bright and bold shades, rocking color with the same impeccable style that defined her signature look. "I used to wear a lot of black, so I would never understand why certain people used to say, 'You need to wear color.' I just thought black was great, but now I really enjoy wearing color. When I see pictures of myself in color, it feels fresh and more useful," Beckham admitted to W Magazine. 
The end of the 2010s also marked an important period in her career. In 2019, the star launched Victoria Beckham Beauty, and with that, she expanded her business into the beauty industry. "I've been obsessed with makeup and skincare and wellness for longer than I can remember," she told Harper's Bazaar. "But I couldn't find what I wanted –- clean beauty. What is that, even? It's a real grey area ... The other thing that was key was making sure it was very inclusive — whether it's makeup or skincare, this is for every skin type and tone, and for both women and men." With her expansion into the beauty industry and her shift to a more colorful and relaxed wardrobe, Victoria Beckham announced a new era for the 2020s. In it, she was also influencing makeup trends, and sharing tips and tricks.
2020-2022: She has plenty of fun with fashion throughout the pandemic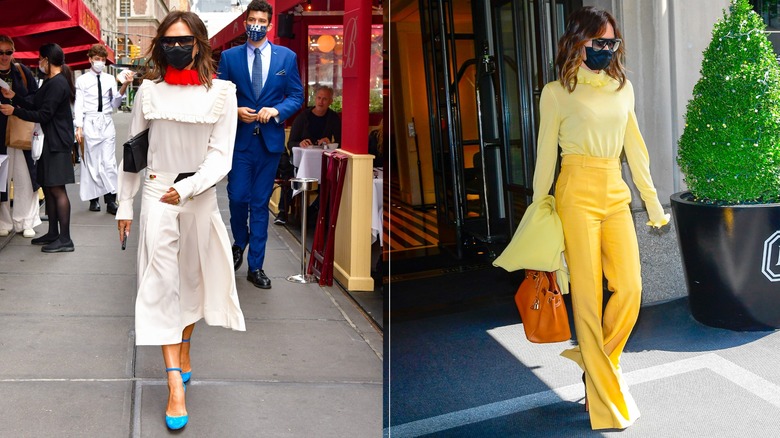 James Devaney/Getty & undefined
Even during the challenging times of 2020, Victoria Beckham continued to grace us with stunning fashion looks, proving that she wasn't afraid to experiment and venture beyond the box that we've all put her in. However, as the world adapted to a "new normal," she revealed a more laid-back edition of her iconic style.
"I'd love to say my lockdown look has been all about a vintage kaftan, but that's not the case. I still get up early and exercise every day; then I dress for work and for comfort. A pair of old jeans, a T-shirt, or a jumper," she candidly told The Guardian. "I'm not quite at the elasticated waistband stage yet -– I still want to feel good about myself. We've been going out on country walks every day, so the only shoes I wear are an old pair of trainers. It's so nice just to do things with the family and not think too much about getting dressed. So, definitely no heels."
The pandemic allowed Beckham to discover a new appreciation for the simple pleasures of life, and this newfound simplicity was a stark contrast to her pre-pandemic glamorous ensembles and high heels. In 2020 and 2021, the star was often spotted rocking pops of color, showing us that one can find joy in fashion even during tough times.
2023-present: Victoria Beckham continues showcasing her fashion impact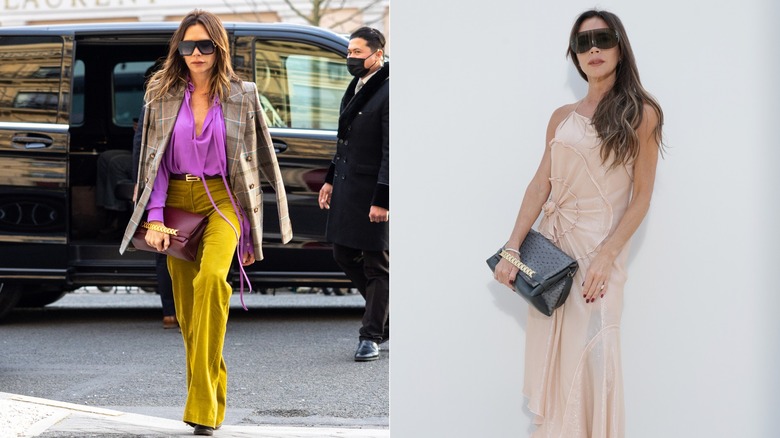 Arnold Jerocki & Pascal Le Segretain/Getty
In the most recent chapter of her fashion journey, Victoria Beckham remains a symbol of style and cool. Her lasting influence on the world of fashion is evident as she continues to leave her mark on the industry. "I've been doing fashion longer than I did music," Beckham told CNN in 2023.
In an interview with The Guardian, the star admitted that as she got busier with her business, her style changed drastically. "As the business took off and I got busier, my style changed because I just can't run around the studio doing everything in high heels. I'm juggling a lot: being a mum, being a wife, being in the studio every day," she revealed. "My confidence has definitely grown as I've got older. I know what works on me, what looks good, what makes me feel confident and comfortable. I don't feel I have anything to prove now in the way I dress."
Victoria Beckham's fashion journey has been an evolution from the iconic Posh Spice of the '90s to the influential designer and style icon she is today. With each era, she has embraced change, adapted to her life's demands, and confidently expressed herself through fashion.