Taylor Swift's Worst Outfit Mishaps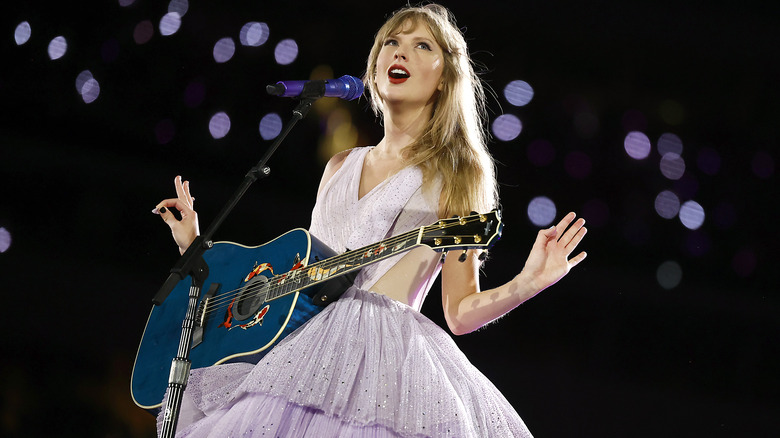 Emma Mcintyre/tas23/Getty Images
Any Swiftie — or, let's be honest, anyone who knows anything about Taylor Swift  — knows that fashion plays an integral role in the "Anti-Hero" singer's performances. The pop star is a master at crafting a show, with extra attention paid to every little detail of her performances, as best exemplified during the Eras Tour. This tour's shows, which run for over three hours, include a whopping 16 outfit changes that signify her stunning style transformation over the years. This amounts to one change nearly every 13 minutes. Though we're fans of the intricate wardrobes Swift always creates for her shows, we can't deny that more outfits can lead to more wardrobe malfunctions — it's just a fact.
Though Swift's history of wardrobe malfunctions is pretty sparse, they do happen occasionally, and she tends to handle them without skipping a beat like the seasoned pro that she is. The Eras Tour has seen a couple of wardrobe malfunctions, but Swift has suffered a few other wardrobe malfunctions over the years, and not all of them have happened onstage. Fortunately, none of them were too bad, but they show that even the best performers aren't immune to the occasional snafu.
Her garter broke at one Eras Tour stop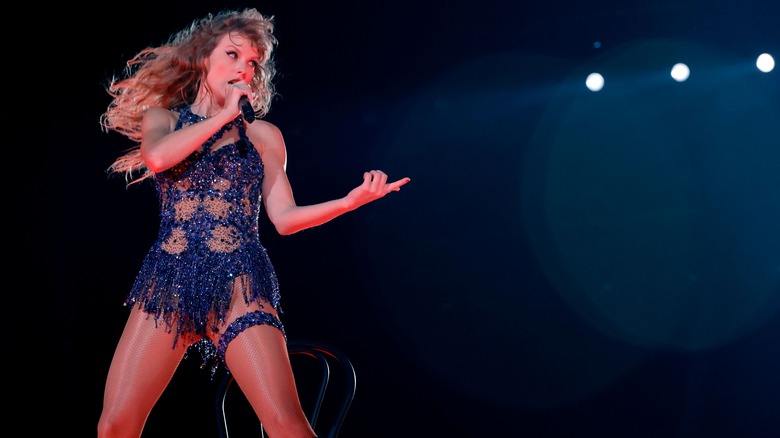 Kevin Winter/tas23/Getty Images
Strangely enough, though Taylor Swift's makeup didn't budge during the Eras Tour (despite being subjected to rain), some of her wardrobe elements did. During an April 2023 performance in Tampa, Florida, her purple garter broke during the "Midnights" segment of the concert. Fortunately, her backup singers came to the rescue when she pointed the issue out to them, and they removed the garter for her. 
Taylor Swift had a Marilyn Monroe-like snafu back in 2011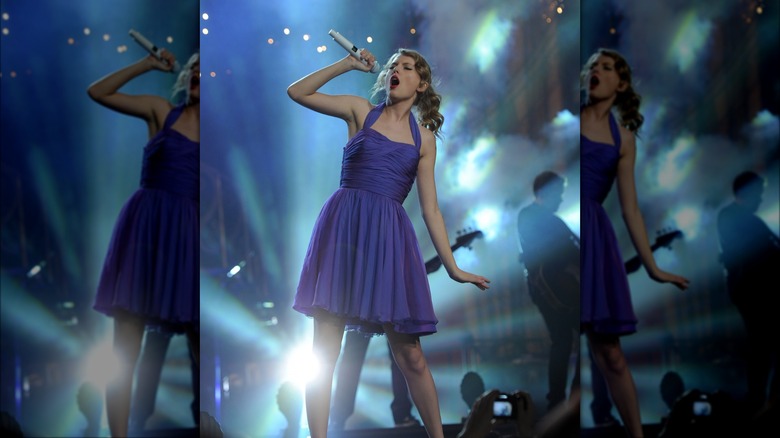 Larry Busacca/Getty Images
Who could forget the Marilyn Monroe-like issue Taylor Swift famously suffered in a 2011 "Speak Now" concert performance? We take it she learned her lesson from this one since it hasn't happened again since — one time was undoubtedly enough for the multi-genre star. Swift accidentally walked over an air vent during the performance, causing her flowy, purple dress to blow up in the air around her. Fortunately, she got her dress back down quickly, with her undergarments only making a short appearance, and carried on like nothing had happened. 
A long dress hem caused a bloody fall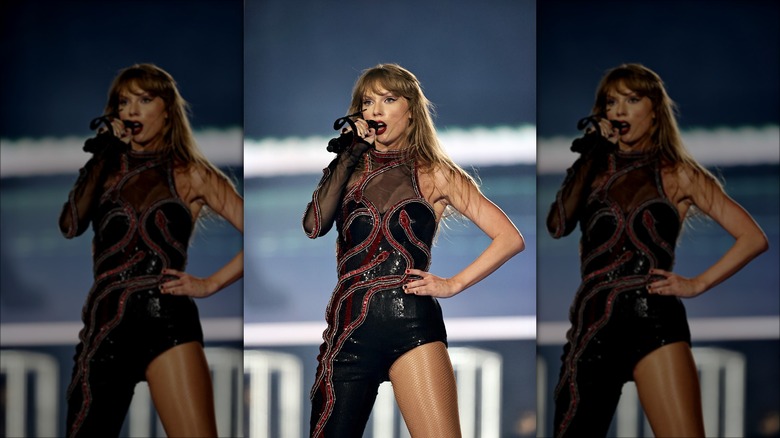 Bob Levey/tas23
Another Eras Tour wardrobe malfunction happened backstage in Houston, Texas, in April 2023 and actually caused Taylor Swift to come back onstage with a bloody left hand. Swift later said via X, formerly known as Twitter, that the injury happened when she "tripped on [her] dress hem and fell in the dark backstage while running to a quick change." We're glad she's okay, but we wonder if the injury may have led to the strange way she's seen holding her hip in photos from that night.
Her single-legged catsuit nearly flashed the audience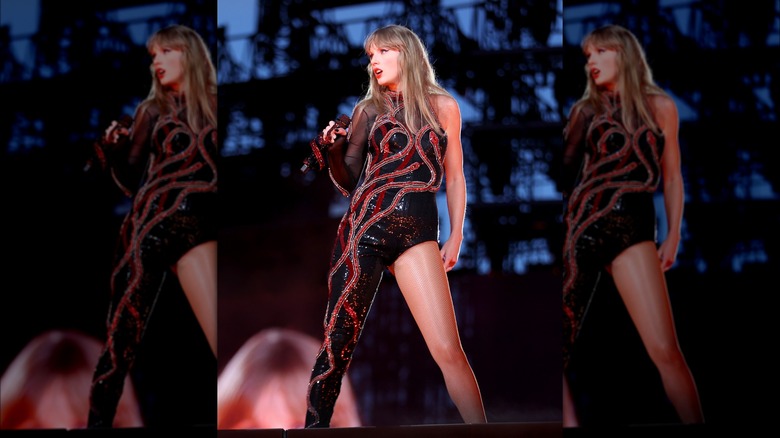 Mat Hayward/tas23
Understandably, we're not privy to know about all the undergarments Taylor Swift wears during her performances, though it's safe to assume she's well-covered under some of her more inappropriate outfits. Her one-legged catsuit, for example, seems to nearly flash audiences when Swift kneels and leans back onstage. Though no actual flashing was spotted, this 'fit left one fan saying via X, formerly known as Twitter, "Well she trusts that suit a lot."
As did her 2018 BBMAs dress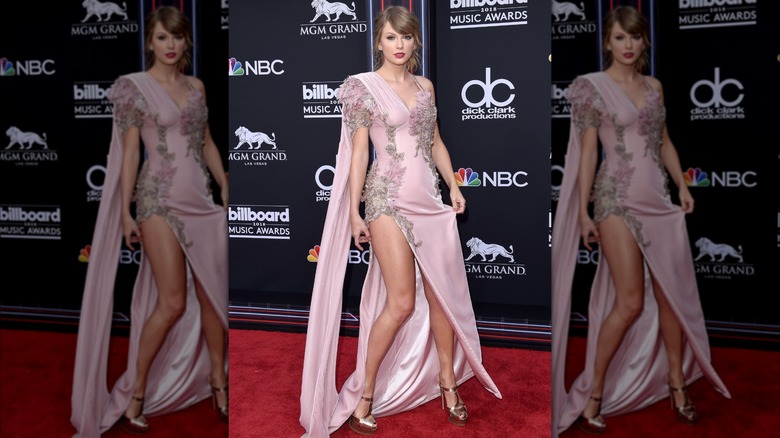 Axelle/bauer-griffin
If you've ever wondered how to wear a high-slit dress appropriately, it may be best not to take a page from Taylor Swift's book. Her beautiful, pink Versace gown from the 2018 BBMAs isn't conducive to much more than standing still, as evidenced when Swift walked up some steps onto the red carpet and nearly flashed the photographers and attendees around her. Oops!
Her Grammys dress ripped at the seams in 2021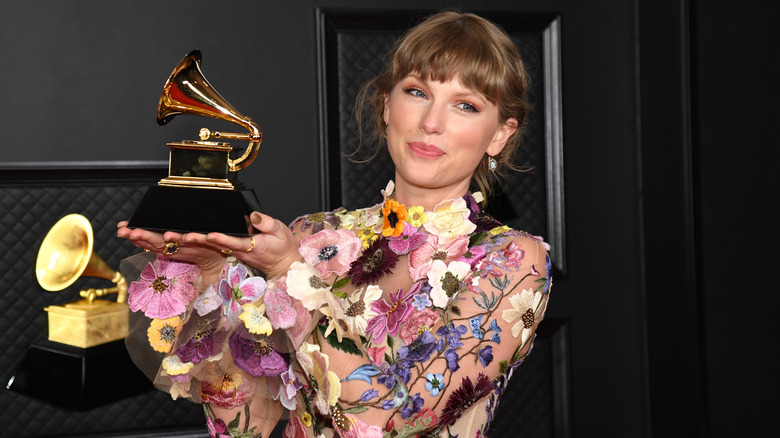 Kevin Mazur/Getty Images
Taylor Swift hid another awards show wardrobe malfunction seamlessly (pun intended) when her Oscar de la Renta dress ripped at the seam during the 2021 Grammys. Fortunately, the rip was in an easy-to-hide spot (under Swift's right arm), making it truly no big deal for her as she won the show's album of the year award for her July 2020 record, "Folklore."
And she unknowingly unzipped a bodysuit in 2018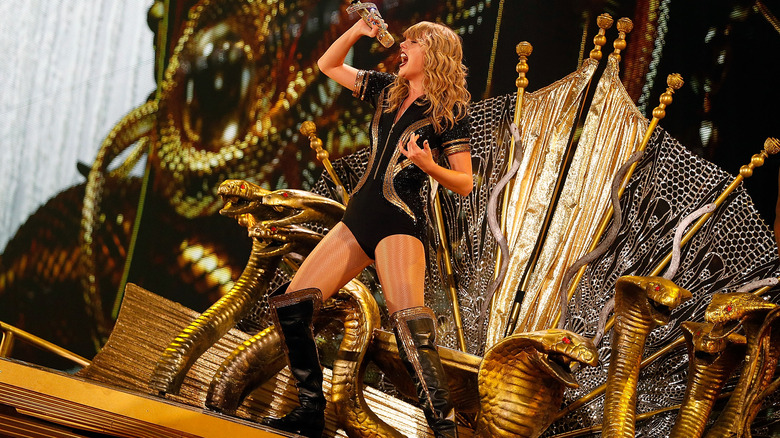 Don Arnold/tas18/Getty Images
Quick changes are bound to lead to the occasional mishap, and we're just glad Taylor Swift was wearing undergarments during one 2018 performance in Australia. While she was taking off a robe onstage to perform the "Reputation" track "King of My Heart," she realized the bodysuit she was wearing underneath was zipped down. Luckily, only a black undergarment was exposed, and she quickly zipped it up before resuming her performance. 
A fan caused a malfunction at the 2012 iHeartRadio Music Festival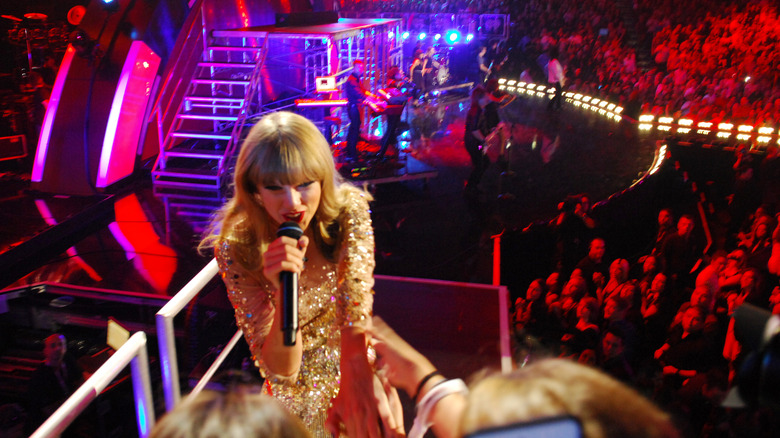 Bryan Steffy/Getty Images
It's no secret that Taylor Swift has a special connection with her fans. One Swiftie, however, may have taken their love for Swift too far when they caused a wardrobe malfunction during her 2012 iHeartRadio Music Festival performance. The fan pulled Swift's sleeve too roughly, which resulted in the strap of her dress falling off. It wasn't the biggest issue, but it definitely wasn't ideal for the singer, either.
A minor malfunction went nearly unnoticed at one Eras Tour show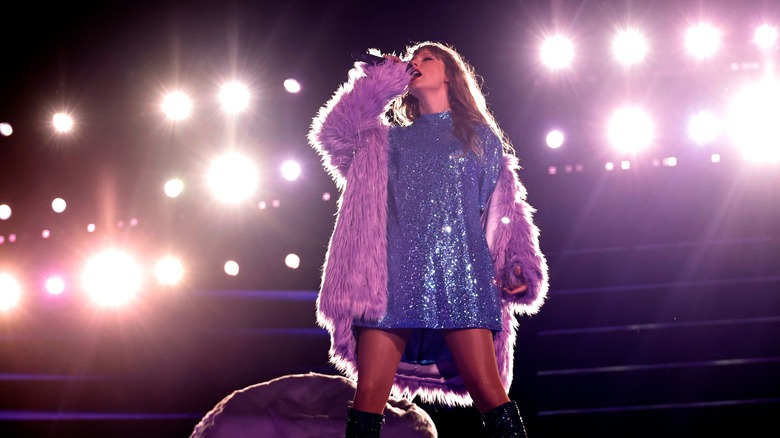 Kevin Winter/tas23/Getty Images
We love playing with texture in fashion, but wearing textured fabrics can sometimes lead to disaster. Take Taylor Swift's purple, sequined Eras Tour dress, for example, which snagged on her coat during her Cincinnati, Ohio, show in June 2023. Fortunately, she was able to disentangle herself without causing too much hubbub, but distractions like this are never fun when performing.