The Reason Italian Bobs Are So Popular In 2023, According To A Hairstylist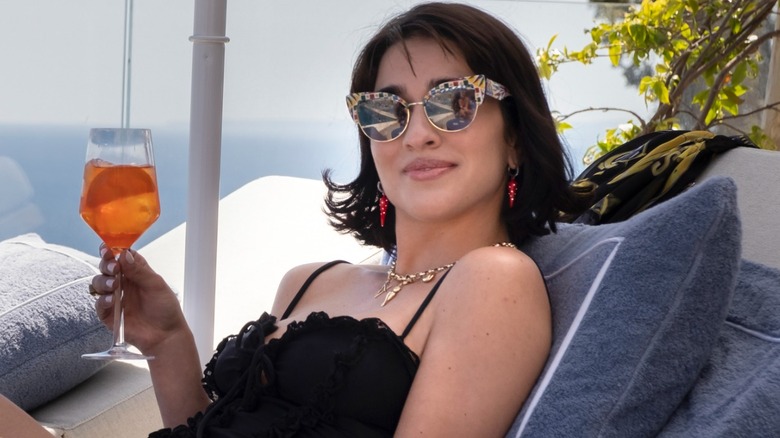 HBO
Assuming you're not living under a rock, the hit HBO dramedy "The White Lotus" has probably slid into your streaming queue by now, and it's about to become your haircut inspo too. In the series' second season, the cast stays at a Sicilian resort, giving viewers major wanderlust for an Italian getaway. But you don't have to take a trip to the boot-shaped country to channel those Italian vibes — you can take a trip to your hair salon instead.
Lucia (played by Simona Tabasco) and Harper (played by Aubrey Plaza) both sport a similar bob hairstyle — fittingly dubbed the "Italian bob" — in "The White Lotus," and now the cut is leading the short hair revolution. The style falls just below the chin and has chunky (but not overly blunt) ends, with minimal layering or angling. The look doesn't typically have short bangs, though some opt for side-swept fringe à la Lucia.
Besides giving Euro flair without the expensive plane ticket, we asked Joel Warren, globally-acclaimed hair and beauty expert and creator of The Salon Project, why the Italian bob is everywhere in 2023.
Why the Italian bob is trending this year
Bobs and lobs come and go, like the bottleneck bob or the textured bob. But the Italian bob heating up this year might have staying power. "It's a great look. It creates a style for women that want to have a look that is low maintenance because you can wear it with almost any texture of hair," Joel Warren explained to Glam. Consider it one of the most versatile short haircut trends of the moment. Compared to recent experimental styles like the jellyfish haircut (a half-bob, half-long look), the Italian bob is easy for almost anyone with any aesthetic to pull off.
Warren also added that the style is ideal for those transitioning in between lengths: "I think that we have been seeing a lot of women who have grown their hair out opting for this look because you still feel like you have the same look but adding more style that is easy and ready to wear. What's great about this haircut is that it is for almost every woman."
How to rock the look
The Italian bob is easy-breezy with a retro touch of glamour, meaning it doesn't require much time or effort to style in the morning yet still looks sophisticated. Plus, it works for a range of hair types, according to Joel Warren. "You can wear your hair in its natural state or you can blow it out and or then use a waving tool to give it another look. There are many options for a great look depending on your mood and time you have to work on your hairstyle," he explained. For days when you want to wear your hair up, the style also offers just enough length to use a claw clip or barrette to keep strands off your face.
Keep the cut going strong all year by visiting your salon regularly. "To maintain the Italian bob, you should see your hairstylist every six to eight weeks, depending on its length and the length you like to keep the style," Warren suggested. And when you're craving more Southern European style, try another Italy-inspired trend like the Italian manicure trend or the comeback of Italian charm bracelets.