10 Stylish Ways To Wear A Jacket Over A Dress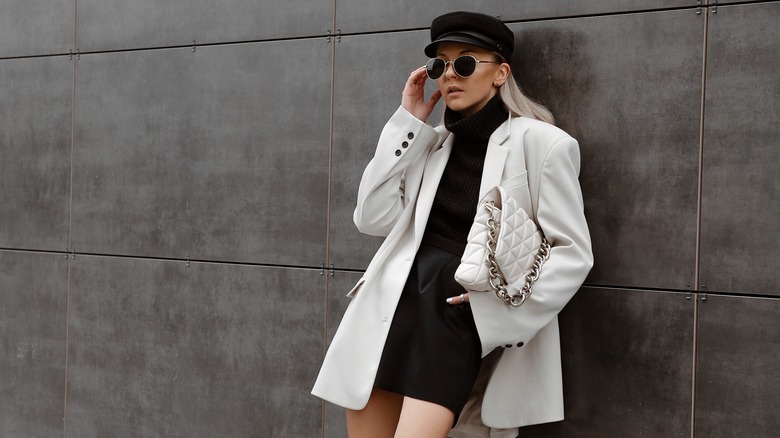 Eugenia Lytvyn/Shutterstock
Regardless of the weather, you probably have a type of attire that you find yourself wearing day in and day out. If you're anything like us, that probably means dresses galore. Dresses are great and all, but they can be a gamble to wear, especially in transitional seasons when the weather is fickle. We, however, don't think you should have to compromise fashion for warmth — so why not throw a jacket over your favorite dress for a day walking around town?
Advertisement
Have a favorite dress but no jacket to match? Don't stress! Chances are you have a jacket that would go great with that dress, and you just don't know it yet (and often, wearing a sweater over a dress may work just as well). Wearing a jacket over a dress can make for a great statement ensemble, especially if you use it to add some color, pattern, or texture to your outfit. The possibilities are truly endless, so buckle in as we walk you through 10 ultra-stylish ways to wear a jacket over a dress.
Pick something sporty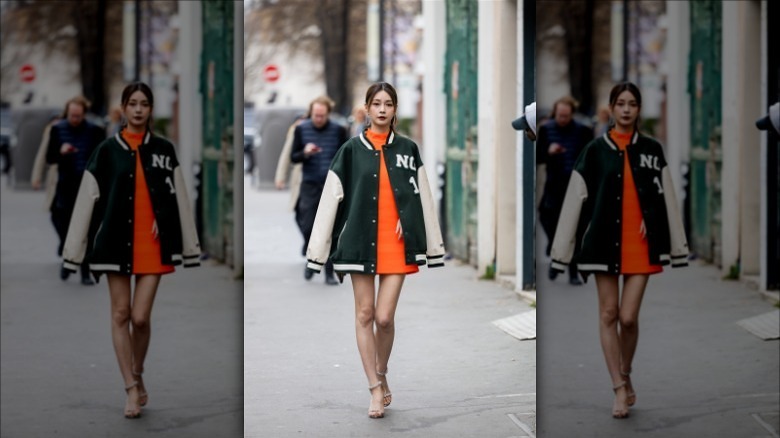 Christian Vierig/Getty Images
Listen, nobody said a dress always has to be a fancy fashion moment. Sometimes you just want to throw on something fun and low-key to browse around Target for a few hours. Need to dress down one of your favorite dresses? A great way to do that is to embrace the sporty style trend and pair it with a sporty jacket. Bonus points if you pick a letterman-style jacket for a throwback '80s moment
Advertisement
If you want to match one to a few different dresses in your wardrobe, go with a neutral color like white or beige to get maximum wear out of your jacket. Pay attention to the details to keep it from getting boring. Look for a jacket with ribbed cuffs and a ribbed hem to get the full sporty effect of this trendy jacket.
Have a denim moment
We wouldn't be surprised if you already have a staple jean jacket or two in your closet. Jean jackets are one of the most versatile pieces you can own, and as such, it makes total sense that they go well with dresses. You can wear a denim jacket with pretty much any casual dress, but if you really want to amp up the denim look, pair the jacket with a dress that compliments it perfectly.
Advertisement
We're not expecting you to wear a jean dress by any means (although if that suits you, go for it). Instead, pair your denim jacket with a dress in a similar hue of blue. The contrasting fabrics will keep some visual interest in your outfit, and the semi-monochrome color palette will make you look put together in a fabulously understated way.
Over a fitted dress
Fitted dresses are a moment in and of themselves — why not maximize it by topping it off with a jacket? Wearing a jacket over a fitted dress is an excellent opportunity to create some shape with your outfit. Don't want to hide your curves? Try wearing cropped jackets over your fitted dresses if you just need a bit of warmth so that you can keep your fabulous figure on full display. 
Advertisement
Want to wow your friends with your fitted dress? Then you could opt for a fuller, longer jacket and go for a stunning reveal when you take it off. Or, if you want to highlight the jacket in equal measure, make it a statement piece, like with the leopard print jacket above. 
Create a neutral palette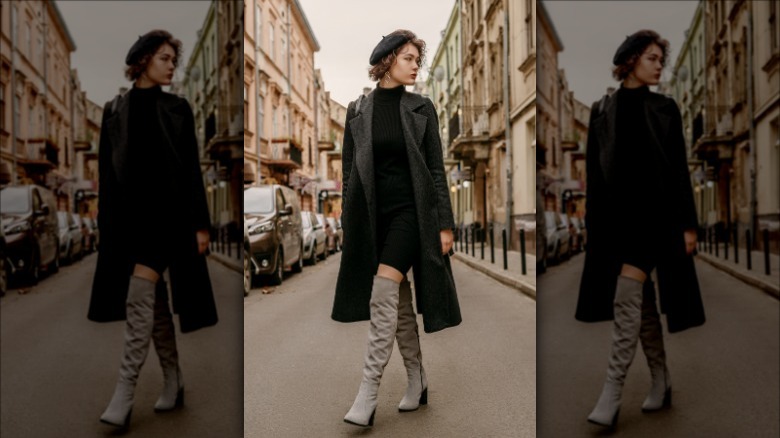 Victoria Chudinova/Shutterstock
When done well, a neutral palette makes for a great, super versatile look. An easy way to create a neutral look that isn't boring in the slightest is by incorporating different shades of the same neutral color into your outfit. This is where a jacket and dress combo can really make you stand out.
Advertisement
A beige dress and cream jacket would go wonderfully together (and vice versa). You could also layer cream tones with bright whites if you're going to be out and about on a sunny day. Dark neutrals, like a black dress with a dark grey jacket, make for a great moody evening look. However you do it, you can't go wrong in creating a rich neutral color palette for your jacket and dress ensemble.
Do a double layer
Can't decide which jacket to wear with your favorite dress? Good news, friend — you don't have to choose! Why not layer them like a pro for a little peekaboo effect? Aesthetic aside, layering jackets is a good practice in the transitional months. Pair a breezy dress with a light jacket for an indoor event, and throw a heavier jacket over it to get you from place to place when it's still chilly outside. 
Advertisement
When layering jackets, pay attention to lengths. You'll want your outermost layer to be longer than the jacket right underneath to keep your outfit from getting too busy. If you can layer the collars and cuff the sleeves of the jackets so they peek out, that's great. If not, showing a bit of the front works just as well.
Wear a shrug
Need some warmth but don't want to go full-on jacket? Opt for a shrug! A shrug is basically just the sleeves portion of a jacket. It covers your arms and shoulders without connecting in the front and typically doesn't have a large back portion. 
Advertisement
If you're a generally chilly person, grab a neutral shrug that you can carry with you in case of chilly emergencies. Or you can grab a statement shrug if you know the dress you want to wear it with. Either way, a shrug is a great way to keep you warm and still have your dress on display at the same time. Minimal coverage, maximum fashion — we're all about it.
Create light and dark contrast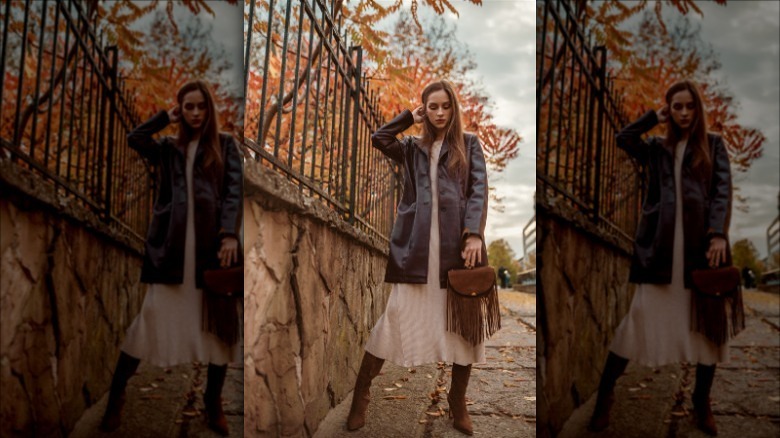 Victoria Chudinova/Shutterstock
Of course, your jacket doesn't need to match the dress underneath. In fact, a jacket and dress combo could be a great opportunity for some stunning contrast. Layer a dark jacket over a light dress to transition into the cooler months and vice versa when it's getting warmer outside. 
Advertisement
You don't have to create only light and dark contrast with neutrals, either. A light blue dress could look stunning with a dark navy jacket, or you could throw a royal purple coat over a lavender dress. Incorporate light and dark hues into your outfit for a stunning visual effect that doesn't look like you tried too hard (you just woke up like this, obviously).
Make a textured monochrome look
Do you open your closet every day to be confronted with several different pieces of the same color? We applaud that; you know what works and love sticking to it! Layering a jacket over a dress doesn't have to mean trying new color combos. In fact, it's a great way to create a stunning monochromatic look with some texture. 
Advertisement
We're obsessed with the fashionable Barbicore look above. Pink boots under a hot pink fitted dress under a feathered magenta coat? Yes, please. This outfit works so well because of the contrasting textures. The feathered jacket is obviously the statement piece of the ensemble, but it doesn't take away from the pink dress or the leather boots. Instead, the color story lets them meld beautifully together to create a fabulous pink moment we can't get enough of.
Play with color
If monochromatic looks aren't your thing, go wild. We're lucky enough to live in an age where there really aren't many fashion rules. Wear what you're comfortable in, and you'll undoubtedly shine. If you're comfortable in loud, bright pieces that can be seen from a mile away, more power to you!
Advertisement
If this sounds like you, layer jackets over dresses to add contrasting color to your outfit. The lime green and yellow pairing above is stunning, but you don't have to go with loud colors if you don't want. For example, you could layer different jewel tones together for a more toned-down (but still just as stunning) color block moment.
Make a maximalist moment
Maximalists, if you aren't already layering jackets over dresses, we'd be shocked! You were probably at the forefront of this trend, and you aren't ditching it any time soon, and for that, we're grateful to you. 
Advertisement
Maximalism embraces texture, pattern, color, and accessories to create instantly eye-catching outfits, with onlookers thinking you're either crazy or famous (or maybe both). Anything goes here, but more is typically better.
When jacket shopping for maximalist styles, pay attention to color and pattern and always consider what you'll wear your new, vibrant piece with. Finding common color stories or patterns is an easy way to make a maximalist outfit without it being too much of a headache. You'll turn heads either way, so go for it!