Your Ultimate Guide To Styling Flared Jeans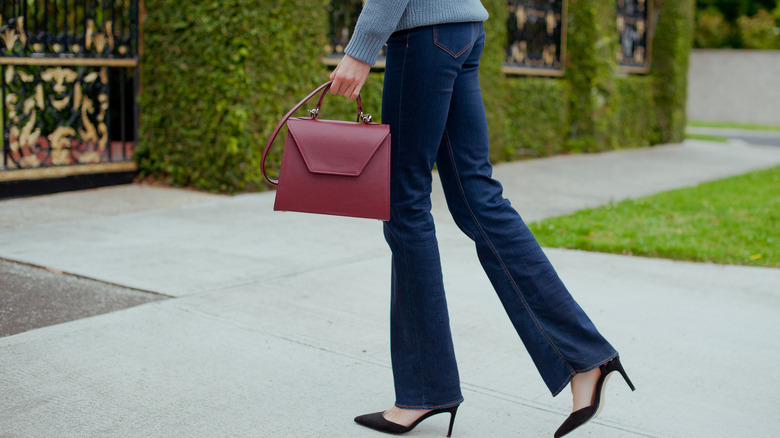 Sabelnikova Olga/Shutterstock
Need ideas for what to wear with flared jeans? Welcome to your ultimate guide to styling them. Pro tip: Flared jeans are compatible with many other garment styles, so don't be shy about mixing and matching them with all your current favorite shirts, jackets, and accessories. You're likely to find that you don't need to buy anything new to wear with them. Because this is a retro clothing style, they'll pair perfectly with vintage pieces you might already own from the 1970s, 1990s, or early- to mid-2000s. They also look amazing with up-to-date fast fashion shirts, designer tops, and T-shirts.
You can use your flared jeans as a mainstay in your capsule wardrobe. It's possible to either dress them up when you want to look stunning or keep them low-key when nothing important is going on. One of the trickiest aspects of accessorizing these looks is choosing just the right shoes to wear with flare jeans. In case you're wondering what footwear to pair with your denim, we've got you covered with boots, heels, sneakers, sandals, and other options.
Style high-waisted flare jeans with a classic aviator jacket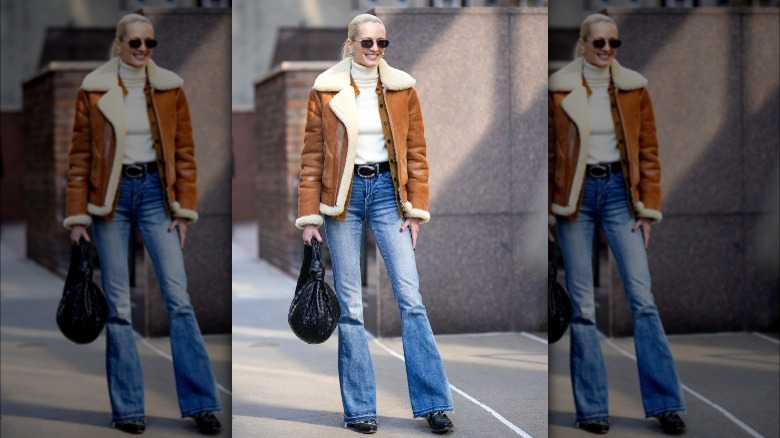 Edward Berthelot/Getty Images
Anyone can successfully wear a statement jacket like this one. The formula for this look is simple. Grab a white turtleneck, black accessories, an aviator or shearling jacket, and high-rise flare jeans. This jeans silhouette is flattering to many body types. Sam Remer, a professional fashion stylist with more than 15 years of experience, particularly recommends high-waisted flare jeans to those with curvy figures. She says, "The flare is a great balancer with curvy hips and a bigger bottom and can look really feminine and showcase a curvy plus size tastefully."
Pair embroidered jeans with lavender separates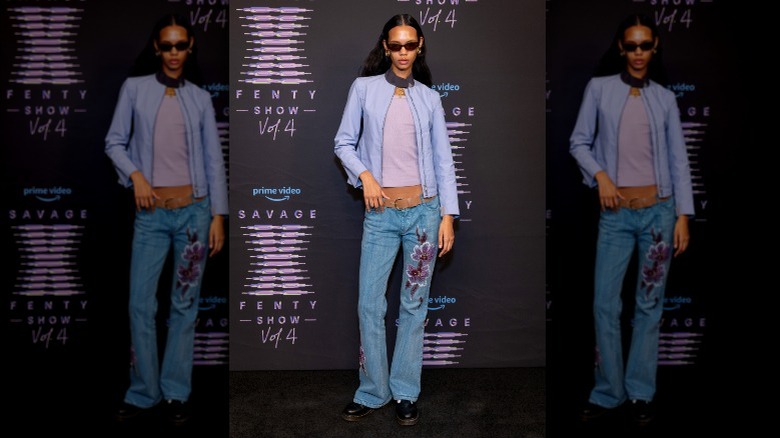 Emma Mcintyre/Getty Images
If you're hoping to take your look in a trendy direction, try coordinating embroidered flare jeans with lavender-hued separates such as a long-sleeved T-shirt and jacket. A well-chosen belt, earrings and sunglasses add variety to the look. Digital Lavender is an important trendy color right now, according to Urangoo Samba, Head of Colour at WGSN's trend forecasting service.  Randi Goldman, president of sales at Driftwood Denim, tells Cotton Incorporated that Driftwood's customers are shunning basics, instead choosing to stock their closets with wide legs, flared jeans, vibrantly embroidered garments, and novelty clothing.
Go all in on denim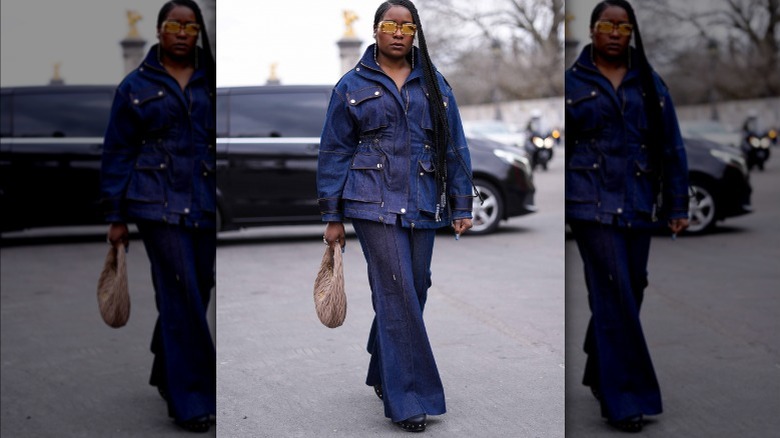 Edward Berthelot/Getty Images
"Double denim" is a buzzword phrase that's popping up with increasing frequency. Marcia Crivorot, a personal stylist and Fashion Institute of Technology-certified image consultant, suggests that people give some thought to how they can layer multiple denim pieces with textured accessories to style an intriguing look. Here you can see a double denim example featuring a richly textured handbag paired with a denim cargo jacket and flare jeans. 
Embrace your colorful side with colored flare jeans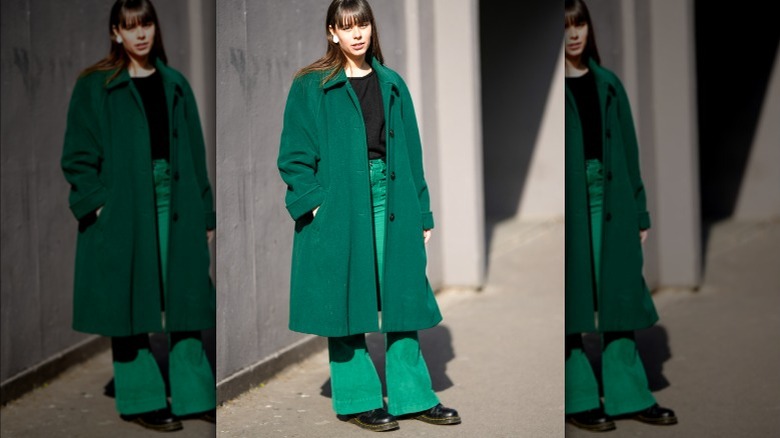 Edward Berthelot/Getty Images
Lisa Fink, the senior national sales manager at Mavi, tells Cotton Incorporated that many shoppers are currently interested in purchasing colored denim styles. Green jeans are timely, according to Fink, along with other colors including pinks, blues, and neutrals. Workable matches for colored jeans include black, white, beige, and darker tonal shades of your chosen denim color. Here is an example featuring green flare jeans teamed up with a darker green coat, a black top, and black Doc Martens.
Pair white flare jeans with nautical stripes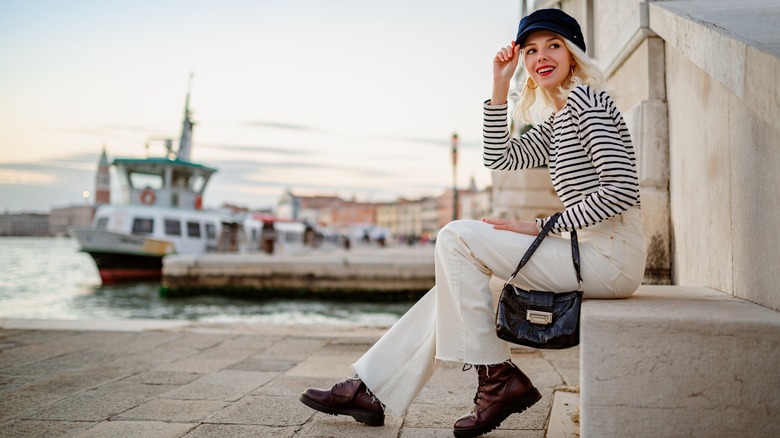 Victoria Chudinova/Shutterstock
Lately, many trendsetters have dressed as if they are headed to yacht club meetings. However, considering the nautical look's long history, we consider it more of a classic than a trend. One up-to-date possibility for styling a nautical-inspired ensemble features off-white flare jeans paired with a striped shirt, a pair of chunky boots, a jaunty hat, and a classic purse. 
Keep the look classy with a chic blazer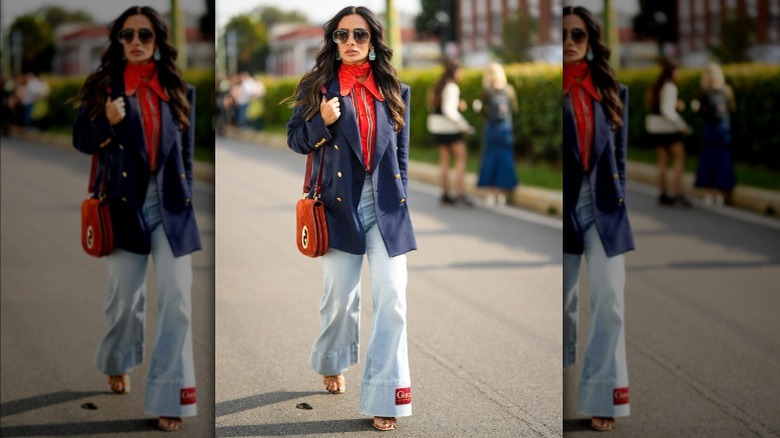 Edward Berthelot/Getty Images
Flared jeans can take on a sophisticated mood if you dress them up with chic elements like a button-up shirt, a silk Gucci scarf, and a tailored navy blue blazer. Red and blue are a classic color combination that is on-trend for 2023,and high-heeled sandals are an excellent choice for shoes to wear with high-waisted flare jeans like these.
Split the flare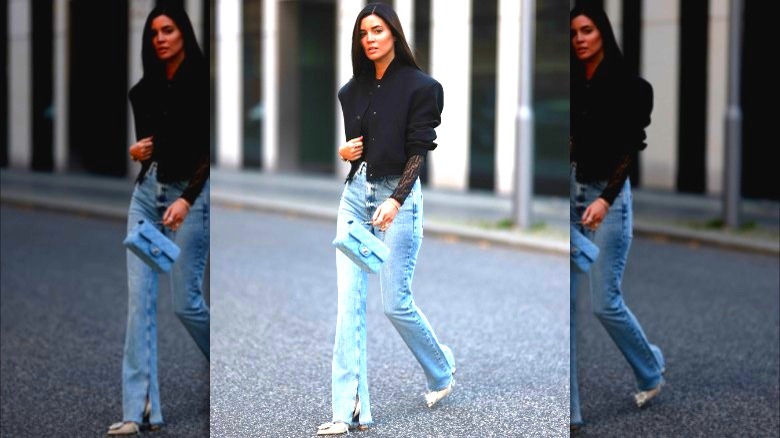 Jeremy Moeller/Getty Images
Trends usually cycle, but there are almost always some differentiators between the most current version of a trend and how it appeared the last time. In this case, one of the possible differentiators between 2023's flare jeans and the bell bottoms of the 1970s and 1990s is a split or slit in the flare. Some slits look polished and have button accents, while others appear torn, frayed, and worn. One possibility for styling trendy split-hem jeans is to pair them with a cropped jacket, Chanel bag, and embellished heels.
Heat 'em up with fiery red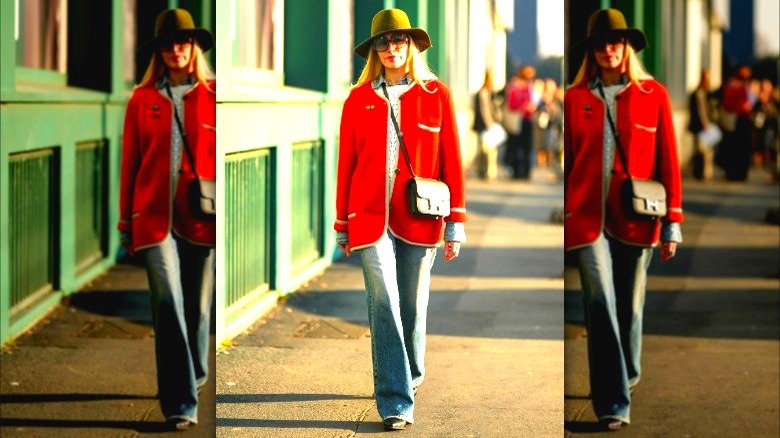 Edward Berthelot/Getty Images
Red is powerful, and we can prove it. "If you're ready to shut down a room, you're ready to get the attention — all eyes on you — you should be wearing red," Jordan Boothe, Numéro Netherlands magazine's editor-at-large, tells Adidas. Boothe suggests balancing out attention-getting red pieces with jeans and low-key tops and advises the less confident to wear inconspicuous bits of red. A pair of red shoes or a red phone case can provide a dramatic touch without going over the top. If you choose a high-impact red garment like a jacket, you can tone it down by accessorizing it with neutral colors.
Add bursts of color to your black flare jeans outfit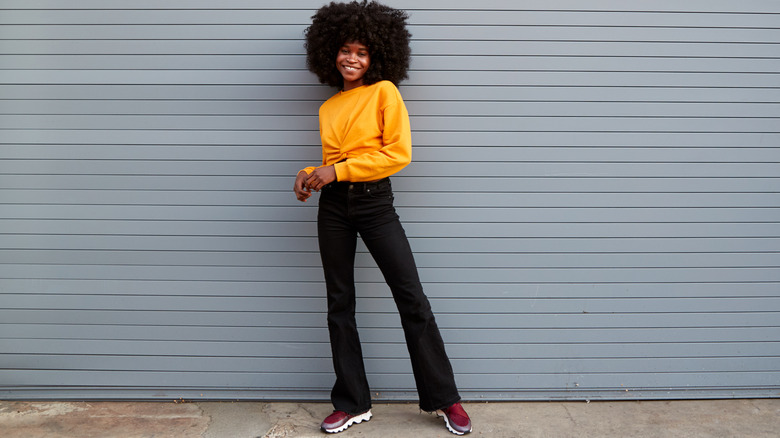 Monkey Business Images/Shutterstock
You can liven up even the simplest outfit by choosing an unexpected color scheme. "Color is your friend, and as long as you have that positive energy going into it, it's going to do good things for you," Jordan Boothe tells Adidas. Yellow flatters everyone, and he encourages experimentation in finding other colors to pair with it. Here you can see an example featuring a vibrant golden-colored top paired with black flare jeans and burgundy sneakers. 
Team up dark wash flare jeans and a leather jacket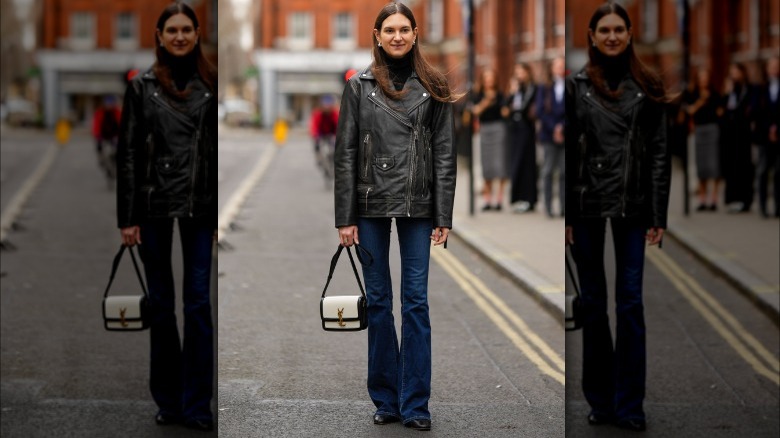 Edward Berthelot/Getty Images
Dark wash flare jeans are typically made from denim that is wet finished using an enzyme treatment. This finish makes them extraordinarily soft to wear and gives them a characteristic deep indigo color. Black clothing complements jeans finished in this manner. On chilly days, a black turtleneck and black leather biker jacket are ideal coordinates to wear with your dark wash jeans. If it's warm out, you could opt for a short-sleeved black T-shirt instead. 
Add colorful ruffles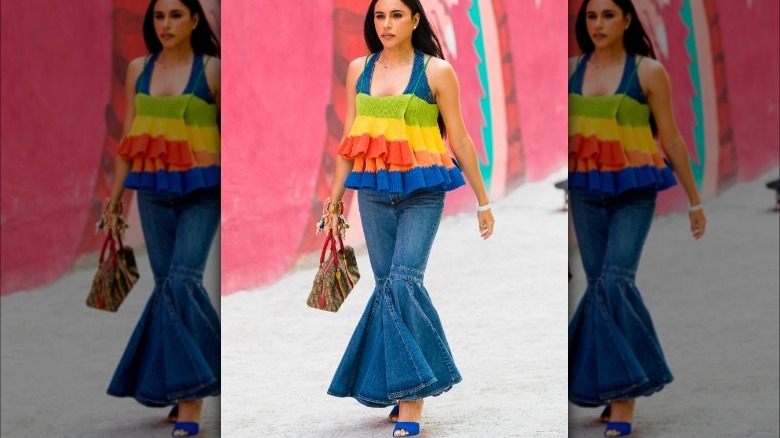 Mauricio Santana/Getty Images
At some point, a flare can morph into a ruffle. Retailers are offering up multiple variations on this theme. Some ruffle flare jeans are feminine and romantic. Some look more bohemian and could be styled with the pretty floral printed peasant blouses that are popular right now. Others head in a more playful direction. To achieve a similar look, start with jeans that have an exaggerated flare. Add a ruffled, striped tank top plus a colorful bag, a pair of open-toed heels, and the jewelry of your choice.