Tips To Get The Most Out Of Your Mascara If You Have Short Lashes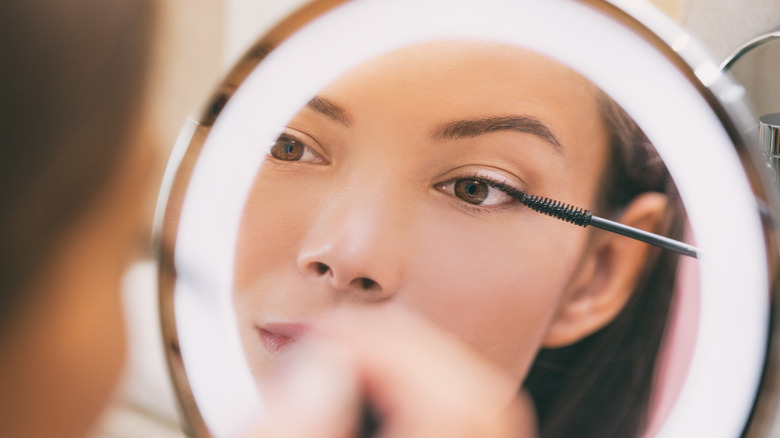 Maridav/Shutterstock
Long, luscious lashes; those who have them don't appreciate them enough, and those who don't would do anything to add just a tiny bit of length. Of course, what your lashes look like is based mainly on genetics, but there are certain ways you can tweak your makeup habits to get the most out of your lashes, no matter their length.
Advertisement
But before we get into tips and tricks to take your lashes to the next level, let's examine why dark and luscious lashes have become so popular. Marianne LaFrance, professor of psychology and gender and sexuality studies at Yale, says that eyes and lips are the features traditionally considered beautiful on women, while a stronger jaw and bigger eyebrows are the features believed to make men more striking. "What eyelashes do is like what lipstick does, and eyelashes may actually even do it more: They draw a contrast between the eye itself and the eyelid, like lipstick draws attention to the contrast between the lips and the surrounding area," LaFrance tells The Cut. So, drawing attention away from what are considered more masculine features by putting the focus on long, lush lashes, is how you make yourself look more feminine.
Advertisement
Today, thankfully, we strive toward much more inclusivity in the beauty world, which is why you can follow these tips regardless of how you identify.
Always use a lash curler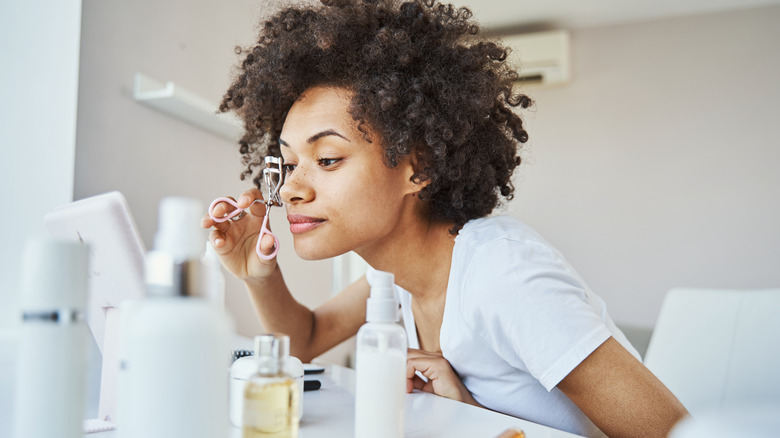 Svitlana Hulko/Getty Images
Here's the thing, if your lashes are short, you definitely want them to curl as much as possible to give the illusion of longer ones. To achieve this, using an eyelash curler is crucial. Of course, if you've never used one of them, they do look a bit scary — but don't worry, once you get the hang of them, you'll be able to curl your lashes in a second.
Advertisement
Apart from a classic eyelash curler, you can also invest in a heated one which is much less intimidating as no clamping is involved. "So this is one of my favorite discoveries," celebrity makeup artist Bob Scott gushes to Bydrie. "It's a heated lash curler. It's a wand with a rod inside that heats up very gently. I just take this, and I push it very close to the base and just push it through the rest of the lash."
Regardless of which tool you prefer, curling your clean lashes is essential for accentuating any length you do have naturally and making mascara pop even more.
Curl your lashes from root to tip
Regardless of which eyelash curling method you opt for, using it properly is essential for the best results. For a heated one, place the rod at the base of your lashes and gently swipe up. If you're using a classic clamp curler, curling from the root to the tips will ensure that you don't end up with any weird bends that will be visible from the side.
Advertisement
"Once you've got a clean lash curler, the best way to start is to tilt your head slightly in the mirror, open up the lash curler, and then just gently lift the curler over your upper lash line," makeup artist Tobi Henney tells Byrdie. "And then just slowly pinch it while looking in the mirror." After you release, gently move the curler up and pinch the lashes again. Do this until you reach the end of your lashes for a natural-looking curl.
Don't skip tightlining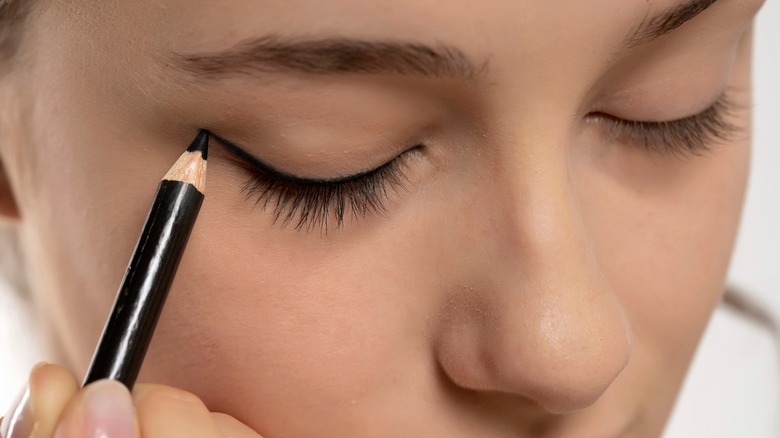 Vladimir Gjorgiev/Shutterstock
If you don't know what it means to tightline your eyes, let us introduce you to the most natural-looking way of enhancing your eyes with a pencil liner. Many might associate this way of lining your eyes with '90s grunge makeup, but if you don't smudge the liner, it will essentially only darken the space between your lashes, giving off the illusion of thicker lashes.
Advertisement
To tighline, take a dark waterproof pencil liner — black is always a good choice, but brown and gray look a tad bit more natural — and use it to line your upper lashline, getting it as close to your lash roots as you can. This can result in a smudgy and messy look, so if you don't like that, clean up the smudged spots with makeup remover, leaving the darkness only at the actual lash line. This trick is also an easy way to darken and enhance your eyes without actually using mascara, especially if you're going for a no-makeup makeup look.
Use a waterproof lengthening mascara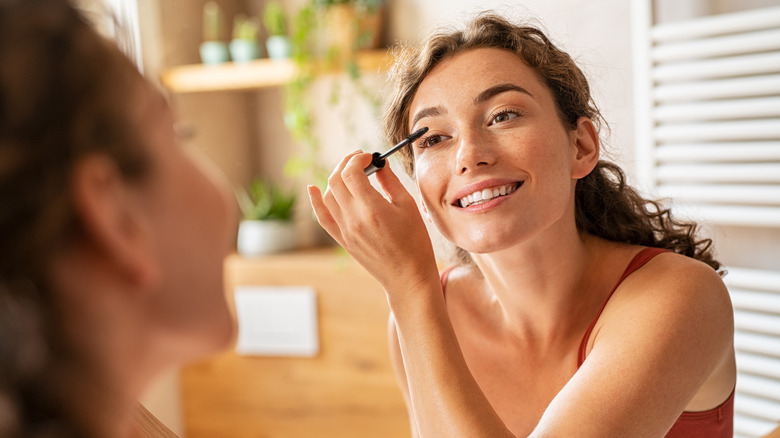 Ground Picture/Shutterstock
Mascara is such a personal choice, which is why most of us have gone through tubes of different ones to find one that we like, and many of us are still searching for that magical tube that will make our lashes look like falsies. And even though brands love advertising their mascaras as incredibly innovative and effective, the truth is that a good mascara can only do so much, so you can't really expect any wonders.
Advertisement
Having that said, there are things you can look for when picking a mascara if you have short lashes. The obvious choice is a lengthening mascara over a volumizing one, especially since you can work on the volume by adding more layers. However, some mascaras promise to both volumize and lengthen, and those are also a great choice. If you want to take things a step further, opt for a fiber mascara that contains tiny microfibers that get attached to your lashes and visually lengthen them.
We also recommend choosing a waterproof mascara formula, as those tend to hold a curl better. This is particularly important if you have super straight eyelashes or lashes that lose their curl pretty quickly.
Apply at least two layers of mascara (and use an eyelash brush between)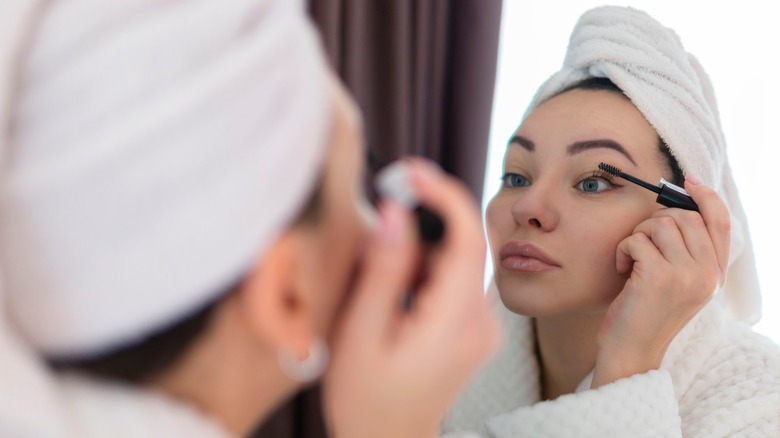 Ruslan Malysh/Shutterstock
Some people love adding multiple layers of mascara to their lashes, while others tend to stick to just one. However, if you have short lashes, adding one or two extra layers might just take them to that dramatic level you're hoping for. Of course, whether you can layer your mascara and stay clump-free also depends on its consistency. "With a thinner consistency, you can apply as many as three or more coats without any clumps," celebrity makeup artist Yolonda Frederick tells The Zoe Report.
Advertisement
While we would love to give you a step-by-step tutorial on how to layer your mascara, the truth is that different mascaras perform differently when layered. Some layer the best when you don't let them fully dry between the layers, while others need to be completely dry before you go in again. To figure out which method works best for your favorite mascara, the only thing you can do is play around with it and try things out. The one tip we can give you is to always have a clean lash or spoolie brush nearby to ensure you can easily combat any clumping if it starts happening.
Apply mascara with the help of a card
The credit card mascara hack is a good one to try regardless of what length your lashes are. Of course, you don't have to use your actual credit card for it — a business card or even a thicker piece of paper will do just as well.
Advertisement
To ensure you can coat your eyelashes fully without getting mascara all over, place the card behind your lashes to create a shield between them and your eyelid. Now, you can coat your lashes thoroughly without having to worry about your lids, as the card will catch any excess mascara. This allows you to really get in there and ensure every tiny lash has plenty of product on it. And if you already have stunningly long lashes, this hack can still come in handy when you have eyeshadow on, and you don't want any bits of mascara to mess up the look.
Don't pump your mascara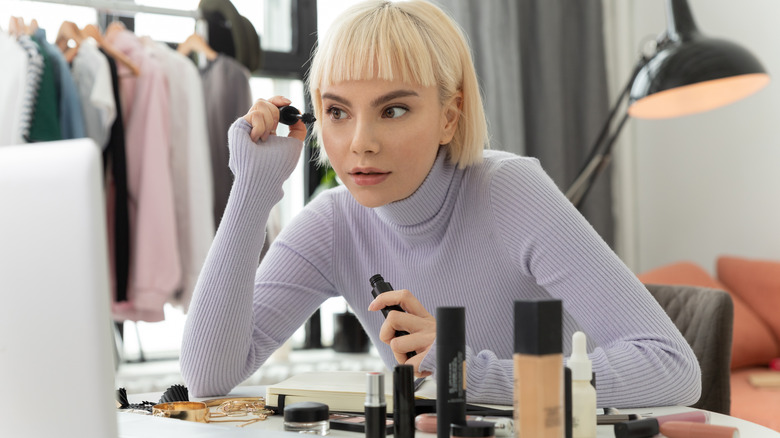 popcorner/Shutterstock
One habit that you should definitely work on getting rid of when it comes to mascara is pumping your wand to get more product on it. While you might think that this is the best way to do it, you're actually doing more harm than good. "This pushes air into the tube, which will make the mascara dry out faster, causing clumping and flaking," Marlena Stell, the founder and CEO of Makeup Geek, tells Good Housekeeping. "Instead, gently twist the wand back and forth or in circular motions to pick up the desired amount of product."
Advertisement
Apart from not pumping your mascara, make sure you aren't using your mascara past its shelf life. According to the U.S. Food & Drug Administration, products used on the eyes can quickly develop bacteria, which is why you should change out your mascara every three months. If you notice that your mascara dried out before three months, don't add water to it, as that can introduce bacteria. Instead, replace it.
Use a mascara primer
There are numerous benefits to using an eyelash primer, apart from the fact that your mascara will last longer. A good primer creates a smooth base for the mascara to adhere to, which means that it makes the application process much easier. Additionally, a primer thickens each individual lash and separates them, which can help prevent the mascara from getting clumpy. Some eyelash primers also have nourishing ingredients like peptides and vitamin E, which can help strengthen your lashes and keep them healthy.
Advertisement
If you've never used an eyelash primer before, don't be surprised when you see its white color, which will also appear white on your lashes. Once you apply mascara, this color won't be visible anymore. And since the primer is a coat in itself, you won't need to add more than one or two coats of mascara after it.
You don't need to apply primer every single time you rock mascara, but we certainly recommend it for those occasions when you really want your lashes to look their best.
Apply translucent powder or eyeshadow between coats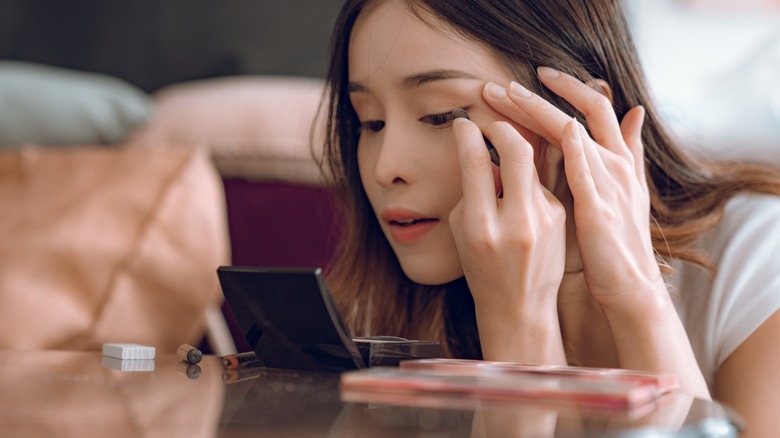 kelvn/Shutterstock
There are many hacks for thickening your lashes with powder products, and some go as far as applying baby powder to them. However, we don't recommend this since baby powder isn't meant for the eyes. Instead, pick a face powder or, even better, an eyeshadow. Before applying the first layer of mascara, dab some powder onto your lashes with a fluffy brush. After that, go in with the mascara, and you'll notice that your lashes will be slightly thicker and longer. You can repeat this trick once more; just be aware that the powder can cause clumping, so make sure you have a lash combing brush on hand.
Advertisement
Even though this hack is great for when you need the extra length and volume, we wouldn't recommend using it daily. Through the process of you applying powder to your lashes and then going over them with mascara, your wand will inevitably pick up some of the powder and it will end up in the tube, drying your mascara out quicker.
Tint your eyelashes and get a lash lift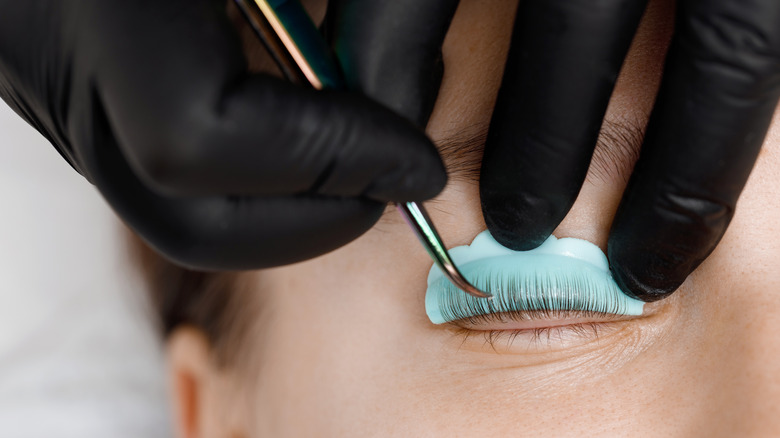 KDdesignphoto/Shutterstock
A more lasting way to enhance your lashes is to get them lifted and tinted. According to Alisandra Tobia, licensed esthetician, a lash lift is "a process where different solutions are applied directly to the lashes themselves to help redirect the hair to curl upwards" (via The Zoe Report). A lash lift appointment usually takes up to one hour, and the results can last anywhere from four to six weeks, depending on your lash cycle.
Advertisement
If you have relatively fair lashes, a great way to enhance them is to get them tinted, which looks particularly well when combined with a lash lift. "A lash tint is a 15-minute procedure where semi-permanent dye is painted onto the eyelashes to make them appear thicker, darker, and fuller," Dr. Karen Nipper, a board-certified ophthalmologist, tells InStyle. While you can rock mascara on top of the lifted and tinted lashes, they will still look great even without it.
Enhance your lower lashes instead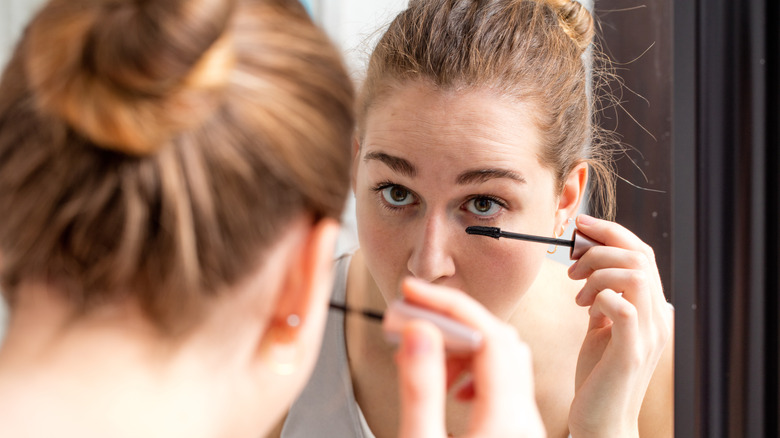 Studio Grand Web/Shutterstock
If you feel like your lashes are hopeless and no mascara ever gives them the appearance you like, consider enhancing your lower lashes instead. Chances are those will be much more visible since they tend to grow down naturally, and putting waterproof mascara on them will certainly open up your eyes. In fact, play around with the dollcore makeup aesthetic that enhances lower lashes to give you an almost anime appearance.
Advertisement
And while luscious upper lashes are popular for a reason, they do also tend to hide your eyelid, which means that any intricate eyeshadow look you may have created on there wont be as visible. If you have shorter lashes, your eyelid space will be in the spotlight, so use that as an opportunity to enhance your eyes more. Whether you opt for glitter, a graphic liner design, or just a classy brown smokey eye — your eye makeup will be hard to miss.
Add a thin wing at the end of your eyes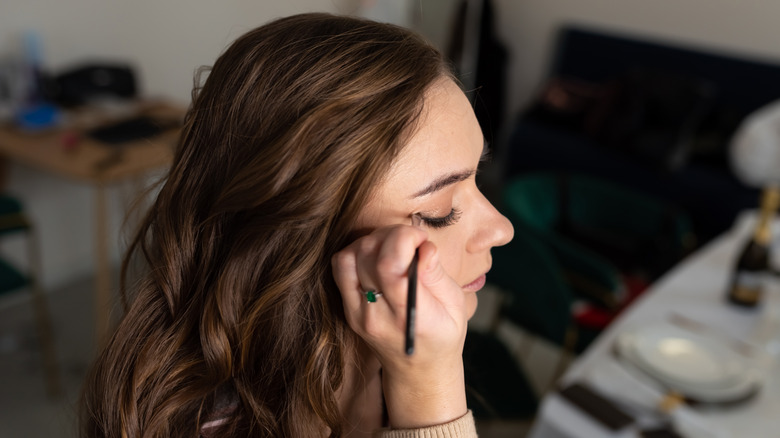 Artsiom Petrushenka/Getty Images
Even if you're someone who doesn't like to rock eyeliner often, consider just how much a small wing can enhance your eyes. The thinner you make it, the more it will create the illusion of an actual eyelash, giving you that cat-eye effect.
Advertisement
For the wing, you can use liquid eyeliner, but that can often be too harsh and time-consuming for an everyday makeup look. A great alternative is to create a slightly smudged thin wing with an eye pencil or even use a black or brown eyeshadow and an angled brush. If you have smaller eyes, make sure you add the liner or eyeshadow to only the outer half of your eye, and keep the line on your upper eyelid as thin as possible. Doing this and adding mascara to your lashes will instantly lift your eyes and make them pop without having to go for that classic dramatic winged eye.
Add individual falsies in spots you want extra length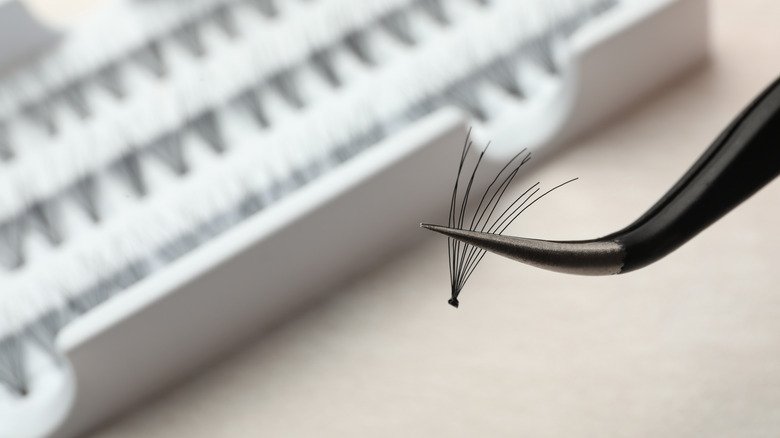 New Africa/Shutterstock
Sometimes the easiest and fastest way to get longer and more dramatic eyelashes is to simply go for falsies. However, the classic strip ones can often look too harsh and obvious, which is why we recommend using individual lashes. And even though that seems time-consuming, once you get the hang of it, you'll be able to do both eyes in under 10 minutes.
Advertisement
Before you start applying the lashes, make sure you cover your own lashes with black mascara to help them blend in better. "When applying the lash on yourself, tilt your head back while looking into the mirror to get a better angle for placement," celebrity makeup artist Ash K. Holm tells Byrdie. "As you work your way towards the inner corner, start applying shorter length individuals."
Of course, ensure that the glue gets tacky before you apply the individual lash to your eye. Once your lashes dry, they will last on your eyes all day, but in case you're worried about them getting loose, bring the glue and a pair of tweezers with you.
Give lash growth serums a try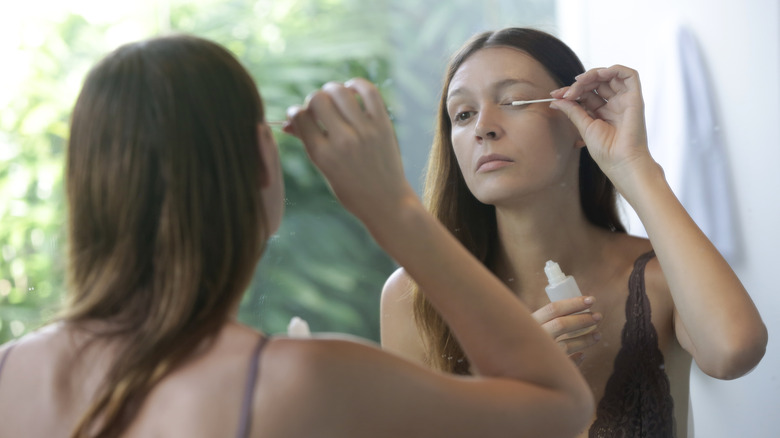 triocean/Shutterstock
A lash serum is definitely not something that can change your lashes instantly, but if you apply it regularly, you will notice a difference in a few months. "Eyelash growth serums work to hydrate and condition your lash hair as well as stimulate the lash hair follicle to grow by keeping the follicle in the anagen (i.e., growth) phase," board-certified dermatologist Dr. Fatima Fahs tells Forbes.
Advertisement
For the best results, you have to be diligent and apply the serum to your lashline every day. After about two months, most lash serums will show results. However, keep in mind that just like any other beauty product, a lash serum can also irritate the delicate skin around your eyes and cause an allergic reaction. If you notice any stinging, redness, or itchiness, stop using the serum.
Apart from irritation, those with lighter eyes have another risk to consider. Prostaglandin analogs, which are the ingredients that help your lashes grow "can cause darkening (hyperpigmentation) of the eyelid skin as well as darken the eye (iris) color, especially in those with hazel or green eyes," Dr. Fahs says.
Advertisement