Our Favorite Ways To Elevate A Simple Black T-Shirt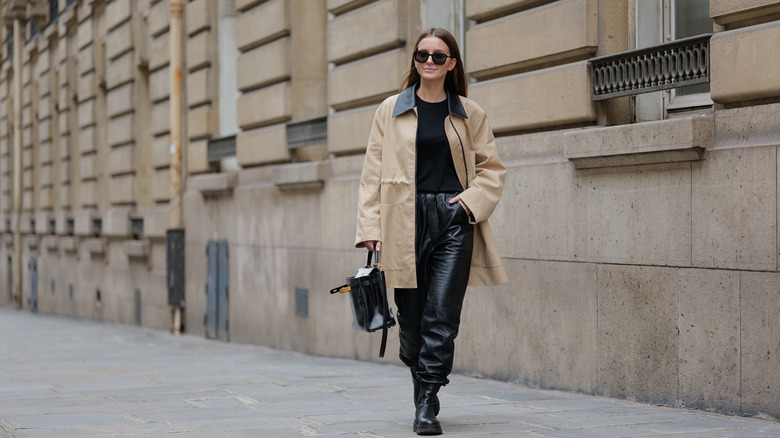 Edward Berthelot/Getty Images
Everyone knows the power of a plain white T-shirt. It's a basic item that should be in every closet. Another versatile basic clothing piece that belongs in your wardrobe is the black T-shirt. Just like its counterpart, a black T-shirt is a flexible item that can easily match various outfits and styles. No matter what your style preference is, a black T-shirt can elevate any look. 
Whenever you play with minimal and neutral clothing pieces, you can get a sophisticated and elegant look. Black T-shirts are the perfect piece for those days when you don't want to put too much effort into your outfit but still want to look dressed up. Instead of reaching for the same outfit choice, mix up your plain black t-shirt with other items to create new versions of your favorite outfit combination.
With a plain black T-shirt, you never need to worry about whether you are on-trend or not. Being a classic basic item, it's a style that will always be a worthy investment. Although it's simple, these basics should be your biggest splurges, since they will likely last you for many years. The only factor that will change with a black T-shirt is how you style it over the years. Here's how we love to style this piece to create a go-to outfit.
Classic black shirt and jeans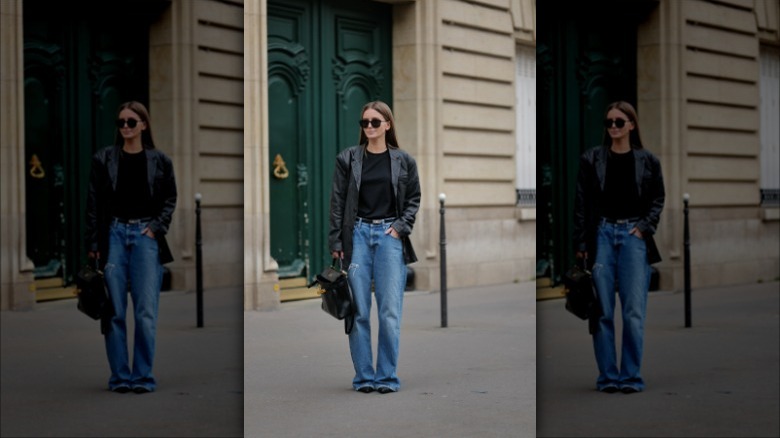 Edward Berthelot/Getty Images
The combination of a plain black T-shirt and denim jeans is a classic pairing that can't be beaten. This outfit is simple but does the trick — as it can give you comfort and style with only two pieces. Elevate your denim jeans by pairing them with a simple plain black T-shirt. To take this pair to the next level, wear denim jeans in a style that's currently trending, like cargo or baggy jeans. Mixing a basic with a trending piece will give you a harmonious combination that's both stylish and fresh.
Denim midi skirts
While another denim piece, the midi skirt is anything but similar to jeans. These trendy bottoms are one of the latest fashion pieces that currently taking over everything, from the runways to social media. Although they've long been a chic piece, denim midi skirts are having their moment and it's time to style them. If you're stuck on styling a trendy piece like these skirts, pair them with your black T-shirt for a balance between new and old. Tuck your t-shirt into your skirt for a sleek and chic take on this popular new clothing item.
Underneath a suit
You can't deny that suits and matching sets are some of the easiest ways to dress up any outfit. Suits typically consist of a blazer and pants combination that can take care of most of your ensemble in a snap. Slip a black t-shirt underneath for a casual take on this workwear classic. No matter if you're heading to the office or not, you can't go wrong with adding something minimal to a two-piece work suit.
With a cropped jacket
One of the most challenging aspects (if there are any) that come with styling a black T-shirt is giving it some more personality and flair. Since it's a minimal and simple piece, it can easily get boring or plain. Spice up your black T-shirt with a cropped jacket in vibrant color, print, or texture to give you something more chic and fun. Pull on a leather or denim jacket for something more classic or give into the neon colors for a pop of glam. Either way, a cropped jacket is the easiest way to give you an extra touch of style without taking away from your look.
Bermuda shorts
On the topic of trending pieces, bermuda shorts are in their comeback moment. These Y2K-inspired clothing pieces are the ideal shorts if you want to keep your legs cool but want more length. Tuck your black T-shirt into your shorts for a crisp and seamless outfit that is ready for warmer weather. You can never go wrong with styling neutrals with each other so be sure to stick with your whites, beiges, and black shorts for a cohesive ensemble.
Midi skirts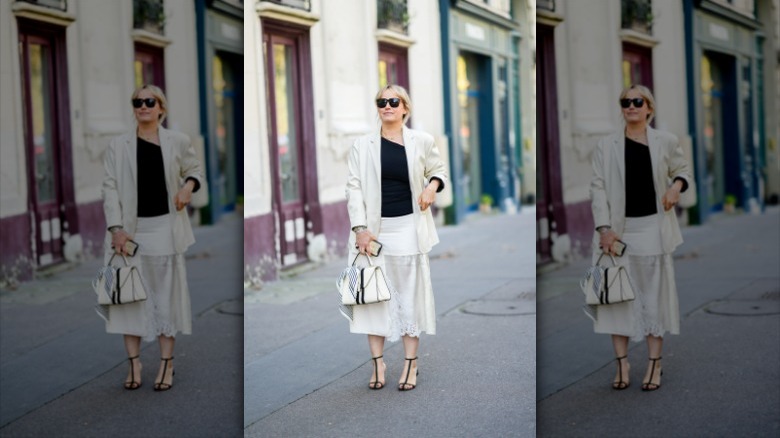 Edward Berthelot/Getty Images
Whether it's a printed or satin skirt, the midi length is an ideal addition to any outfit. Not only will the midi length help give you a more put-together ensemble, but it will give you the perfect item to tuck your black t-shirt into. Tucking your shirt into a piece with more volume and length can help give your waist more definition and silhouette. This simple combination will help to give you a feminine but minimal look that will never go out of style.
Mini skirts
While midi skirts are the current favorites on the trends list, you can't go wrong with a mini skirt. The mini skirt is the perfect addition to any wardrobe year-round and can give your closet an extra preppy flair. Pair your mini skirt with a black t-shirt for the ultimate preppy style that can easily work for any season. Simply pair this look with tights for the colder weather or leave them on their own during the hotter months. This pairing is a basic uniform, regardless of the season.
All-black outfit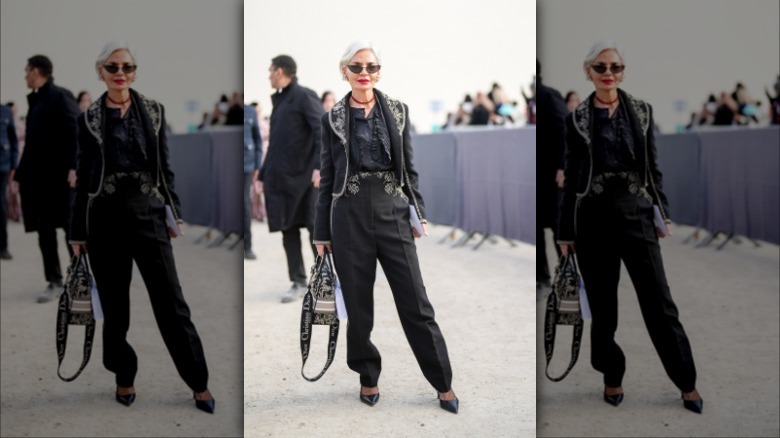 Edward Berthelot/Getty Images
There's something to be said about the timelessness and elegance of a monochrome ensemble. It's a known fact that opting for a monochrome look is the easiest way to give your look a touch of luxury and sophistication. Opt for an all-black look to give yourself the easiest style recipe for the day-to-day. Mix and match your black pieces to fit this outfit for your event or weather and you are ready to take on the day with your plain black t-shirt.