12 Tips To Nail The No-Makeup Makeup Look Like A Pro
We may receive a commission on purchases made from links.
Full glam is stunning and oh-so-fun to apply, but it's good to have other looks in your arsenal, too. Most of us aren't spending two hours on our makeup to run errands (though if you want to wear full glam to Target, we fully support you). For those rushed mornings, relaxed remote workdays, and afternoons spent hiking or lying by the pool, a no-makeup makeup look is more suitable and attainable.
But don't be fooled — no-makeup makeup is more complicated than it first seems. It still requires thought and attention. You've got to be deliberate in your product choices and know how to apply makeup in a way that suits your face and looks as though you have nothing on at all. 
Luckily, we're here to help you navigate the world of no-makeup makeup. Whether you're new to the practice or want some tricks to refresh your go-to look, here are 12 tips to help you nail the no-makeup makeup look like a pro.
Establish a healthy skincare routine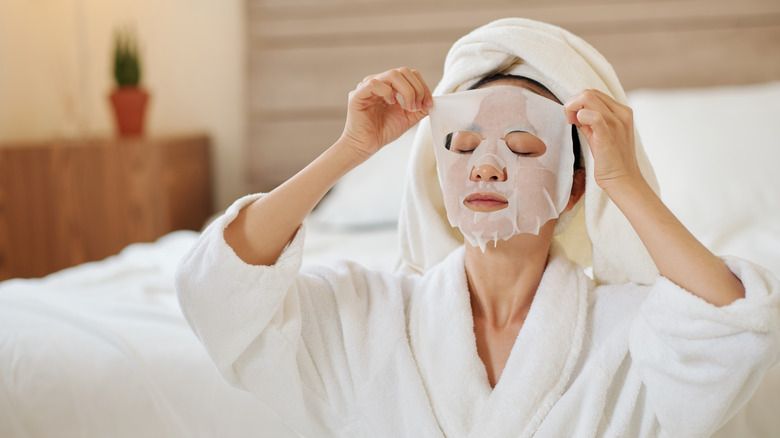 Dragonimages/Getty Images
Healthy, glowing skin is at the core of every good no-makeup makeup look, so it's important to establish a good skincare routine if you want to rock this look. Divulging every secret and tip to establishing a good routine will take us forever — there are books and books dedicated to the commitment. But keep in mind a few things when you're actively discovering the magic of good skincare.
First, be patient. It takes time to learn about your skin, find products that work, and see results. Many products take weeks and sometimes months before they work, so don't give up after a week because you're not blemish-free yet. If you're just beginning your skincare journey, start with the basics. Choose a cleanser, moisturizer, and sunscreen that are gentle and non-comedogenic to get you in a good daily and nightly routine. 
Take time to learn about your skin, identify issues you'd like to address, and research which products and ingredients will be most beneficial to use. Skincare is highly individual, so don't take advice from every influencer and TikToker you see. There are a lot of skincare products that aren't worth the hype, so listen to the advice of dermatologists and aestheticians with experience and extensive knowledge about the skin. And remember, a good skincare routine is a healthy habit whether you wear makeup or not.
Use a light base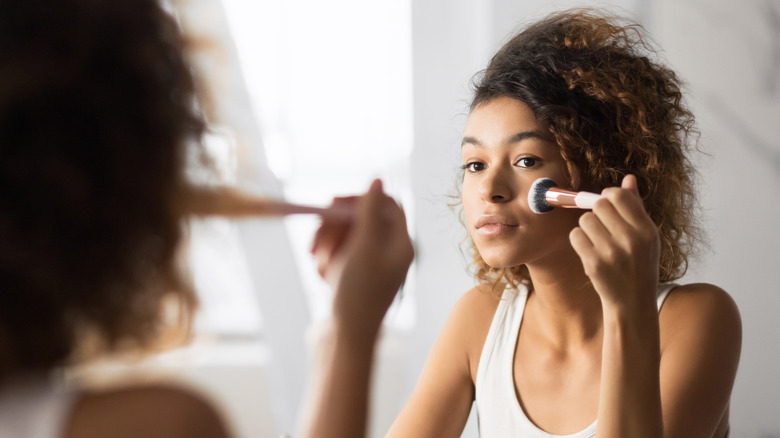 Prostock-studio/Getty Images
A no-makeup makeup look is all about looking as close to your natural face as possible, and it starts with your base. You want something light with a natural finish, and luckily there are tons of options. Depending on your skin type and how oily or matte of a product you want, good choices for a light base include a BB cream, CC cream, tinted moisturizer, and tinted sunscreen. Each of these products will provide lightweight coverage that allows your skin to shine through. Apply the products with your hands or a damp beauty blender for a super natural finish.
For no-makeup makeup, it's generally best to avoid foundation as a base. While there's certainly a time and a place, foundation is heavier than what you're aiming for and covers freckles and other natural facial details you want to showcase. If you do want to use a foundation, opt for one with light coverage, and don't cake it on. If you're worried about blemishes, spot-conceal with color-correcting concealer. This will allow you to use less of your regular concealer and maintain the natural finish. If you're new to the no-makeup makeup look, a light base will take some getting used to, but it'll help you gain confidence showing your natural complexion.
Skip the contour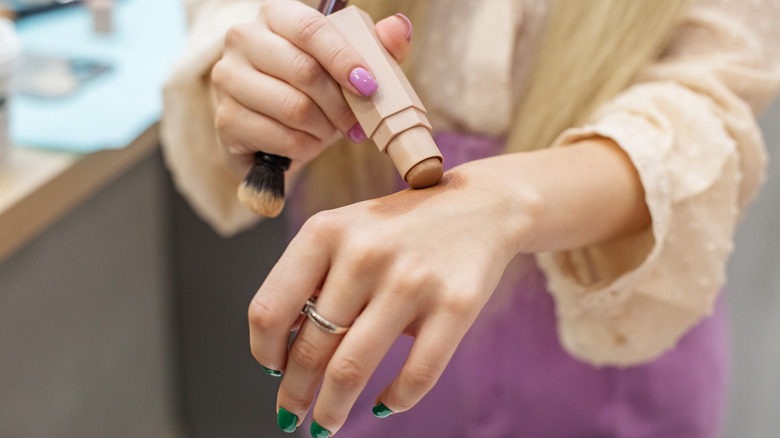 Olha Romaniuk/Getty Images
We love a sculpted face as much as the next gal, but a flawless contour doesn't really jive with the no-makeup makeup look. It's tough to do without loading on the product, and the more product that's on your face, the less of your actual face is shown. If you still want to accentuate certain areas of your face, try nontouring to highlight your features. Nontouring is a way to sculpt your face without contouring — you just highlight. You can highlight with actual highlighters or use concealer on the features where you'd normally apply it when sculpting. It's easy and effective, and it still lifts the face without looking full glam.
If you just can't help yourself, do a bare minimum contour. Only use cream products, and select one just a couple of shades darker than your natural complexion. The results won't be as dramatic, but that's kind of the point. You'll still get the sculpted look you're after while maintaining the no-makeup makeup look. And remember, blending is your friend. You want a seamless transition from the contour to your base, so stipple until your hand falls off. A beauty sponge will become your new best friend.
Give yourself a bronzy glow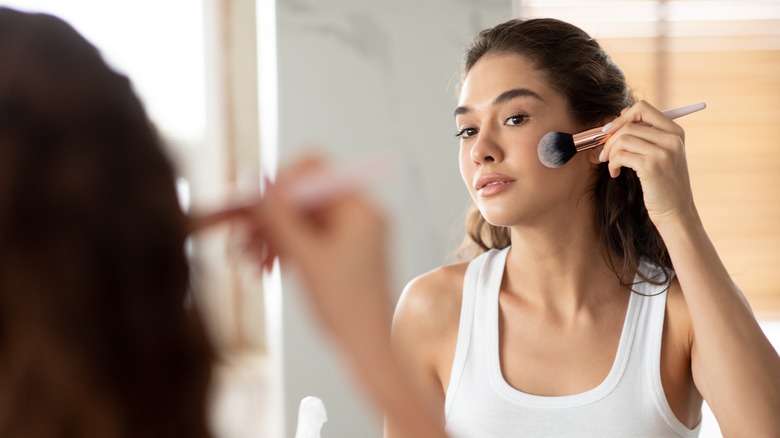 Prostock-studio/Shutterstock
No-makeup makeup looks change with the seasons. You may want to use bronzer sparingly in the fall and winter, but in the warmer months, you have full license to give yourself a bronzy, sunkissed look. Remember, bronzing is different than contouring. Contouring is a method of sculpting your face, and you use matte products. Bronzing is essentially highlighting your face with a warm-toned (sometimes shimmery) product. When you're bronzing, you're giving the illusion that you've been in the sun all day. 
When you're applying bronzer, apply it to the areas of your face where the sun would naturally hit — think the cheekbones, tip of the nose, brow bones, and chin. Avoid putting bronzer over your entire face, especially if you're using a product with shimmer. Just lightly touch those certain spots for a natural, glowy finish. Make sure you use a product that isn't too much darker than your natural complexion so you're in keeping with the no-makeup makeup look. The Hourglass Ambient Lighting Bronzer and the Charlotte Tilbury Filmstar Bronze & Glow Contour Duo are two great products with multiple shade options that'll work for a wide range of skin tones.
Embrace your natural brows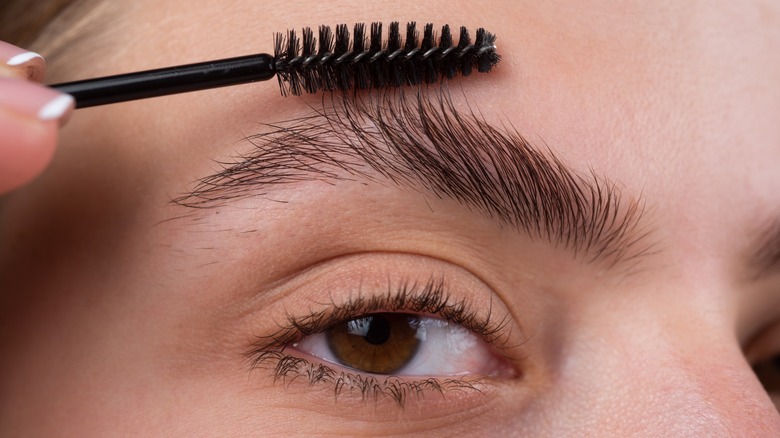 Volodymyr TVERDOKHLIB/Shutterstock
Remember, no-makeup makeup is supposed to look as similar to your natural face as possible, so go light on the brows. Embrace your natural shape and color, and make sure you're using products that allow for that. If you're happy with your natural brows, stick to gels that are intended to keep your brows in place. Clear gels are great, but a pigmented gel works, too, if some areas of your brows need to be filled in a bit. Start from the middle and work your way to the tips. Use what's left of the product to fill in the rest.
If you need to shape your brows a bit, follow some tips. Instead of giving yourself a new shape, use your natural brow as a stencil and shape using a brow pen. Use light strokes to feather your brow, and aim to even your brows instead of drawing something new. Make sure whatever product you use matches your natural brow shade, and avoid using pomades. Brush your brows upward for a feathery effect, and use that spoolie. It'll blend and correct mistakes and help achieve a natural brow look.
Ditch the falsies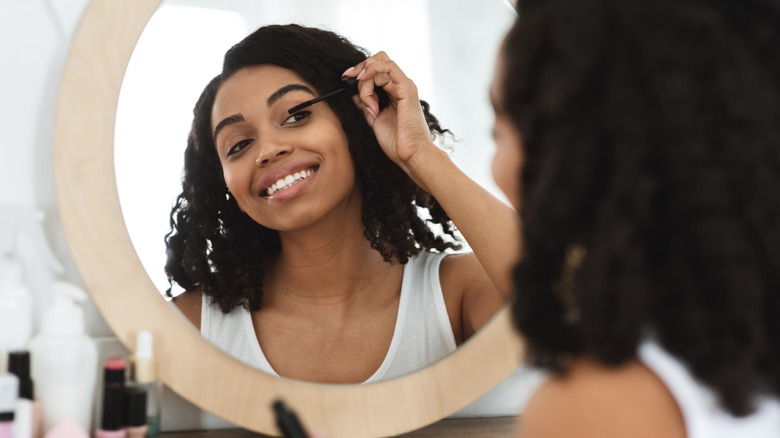 Prostock-studio/Shutterstock
False eyelashes don't exactly scream natural makeup. For a no-makeup makeup look, it's best to use mascara to define your lashes. And though it might feel like no-makeup makeup mascara can be wisped on in a couple of seconds, it actually requires some thought and precision to nail the look. Remember, you want to look like you're not wearing makeup, so choose a mascara that's light.
Opt for length over volume, and stick to just a few coats. Be sure you're covering the entire lash so there's no white space between your mascara and eyelids. Get right next to the root and move the wand back and forth a bit to help separate your lashes. If they're still too clumpy, take a clean spoolie or a lash comb to remove excess product.
If you must wear false lashes, use super light, wispy pairs, and skip the eyeliner. Individual lashes are a great option as they can be placed strategically and won't look too heavy. The same rules apply when figuring out the best mascara for bottom lashes — use mascara sparingly, if at all. Look for a wand with a straight end that has short bristles to lightly coat your bottom lashes.
Stick to balms and glosses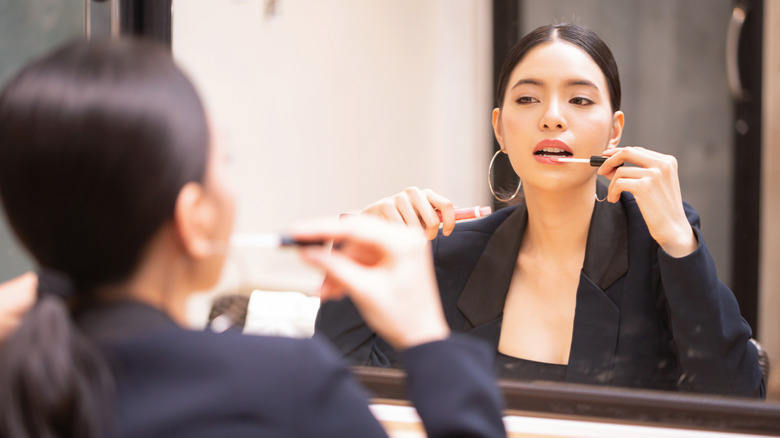 Twinsterphoto/Getty Images
There are lip products aplenty, but not all are appropriate for a no-makeup makeup look. Save your dark tones and matte lipsticks for a more glamorous look, and opt for balms and glosses. Balms are the obvious choice for a no-makeup makeup look. They're light and hydrating, and most of them have a clear finish. A tinted balm works so long as it's not overly pigmented, but clear balms allow your natural lip color to show. If you prefer a gloss, use the same principle as with balms — the underappreciated magic of clear gloss does wonders. 
If you're not a balm or gloss girlie, you've got other options. A lip stain that's close to your natural finish can work, as can a light lip oil. Apply the most pigment to the center of your lips, and use either a brush or your finger to blend to the edges to get it on the viral popsicle lips trend. You can even get away with applying lip liner to the center of your lips and blending outward. Just avoid lining your lips so the definition is natural rather than drawn. And don't discount the power of a good ol' chapstick.
Go easy on the blush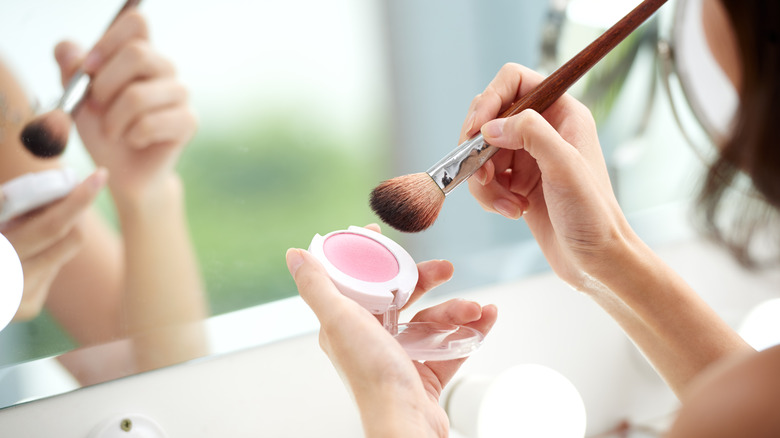 Dragonimages/Getty Images
For a great no-makeup makeup look, be gentle with blush. Too much product can overwhelm the face and look unnatural, so use it sparingly. Now, that doesn't mean you want to skip it entirely. Your face should have a rosy, flushed look, and you'll likely need a little product to achieve that. Just avoid covering your entire cheek in bright pink pigment. Along those same lines, be precise with your application.
There's a time and a place to apply blush all over your face, but for no-makeup makeup, stick to the areas where you naturally have color. Keep in mind the right shade of blush for you may not be what's trendy, so reach for the colors your face naturally produces when it's flushed. 
Use the right formulas, too. A pressed powder works, but a cream or liquid will give a more natural finish, especially when you're using a liquid base. Apply liquid or cream blush to your hand first, and use your fingers or a beauty sponge to apply it to your face. If your blush is particularly pigmented, apply it before your base à la the underpainting technique. This will give you a very natural finish and make your blush nearly indistinguishable from your given flush.
Embrace a dewy look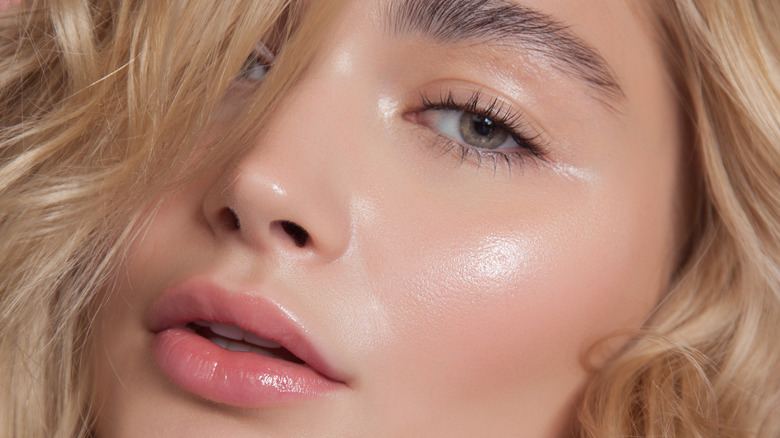 Nelia L/Shutterstock
We love, love, love a dewy look, and it's perfect for no-makeup makeup. Achieving a dewy look requires some prior knowledge — you need to determine what your skin type is and understand how certain products work. In regards to your skin type, you need to know which you have — oily, dry, combination, or normal — as that's going to drive which products you'll use.
If you have combination skin, you also need to know where exactly you get oily, as this will drive how you apply certain products. You also need to know how your skin changes throughout the day, as well as how certain products wear on your skin. Finally, you need to know whether you have a product with a luminous or matte finish.
Once you know the characteristics of your skin and your products, you can aptly choose how and what to apply. If you have oily skin, it's going to be hard to drag you away from your matte products, and we understand that. You can get the dewy look with a highlighter and luminous setting sprays. For normal and dry skin, use a luminous base, highlighter, and luminous setting sprays to help your skin glow. And if you have combination skin, you can side with either camp depending on how oily you get.
Try an under-eye brightener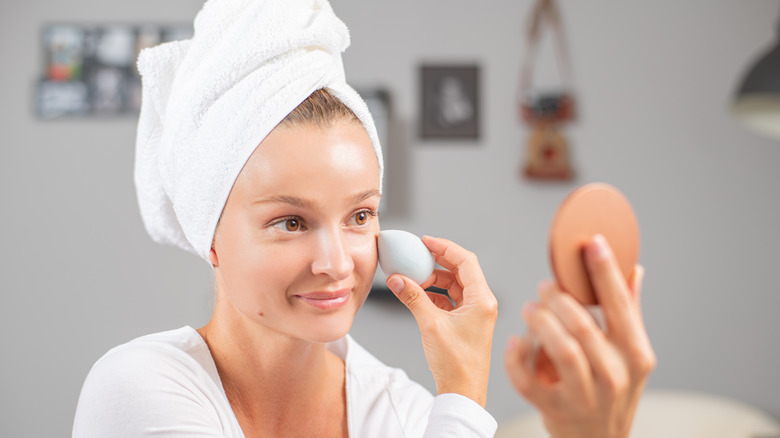 Dmytro Flisak/Shutterstock
Concealer is a necessary product in everyone's makeup bag, but it's not necessarily the best product for under your eyes when you're after a no-makeup makeup look. We've got more products at our disposal than ever before, and one such product is an under-eye brightener. If you're unfamiliar, under-eye brighteners are similar to concealer in look and application, but they're not quite as heavy, nor are they as pigmented. Lots of makeup artists will apply an under-eye brightener underneath concealer for a full glam look, but it's the perfect product under your eyes if you're after a more natural finish.
An under-eye brightener does come with its disadvantages, of course. Since it's lighter, it won't do as good a job as concealer at covering up dark circles. So if that's a major problem area, you might want to consider using it in tandem with color-correcting concealer or just sticking to regular concealer. It also can't be used completely in place of concealer since it's not meant to cover blemishes. Think of under-eye brightener like you would a tinted sunscreen or a tinted moisturizer in relation to foundation. It's not going to cover everything, but if you want something light and bright, an under-eye brightener, like the Rare Beauty Positive Light Under Eye Brighter, is a great option. 
Leave the powders alone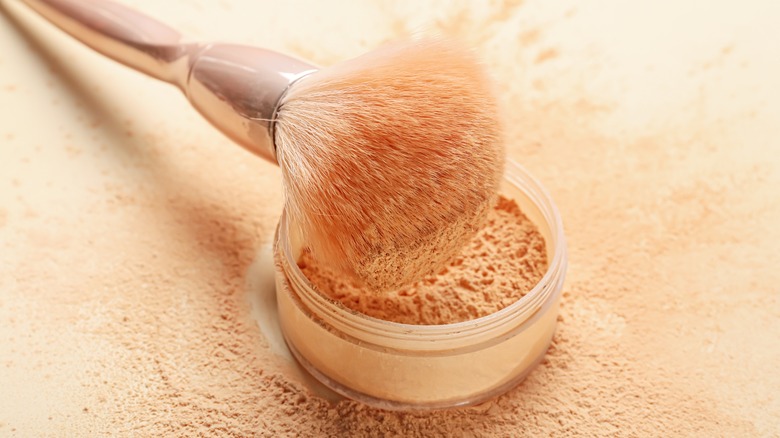 Pixel-Shot/Shutterstock
Powder products have been used in makeup application longer than any of us have been alive. We're certainly not anti-powder makeup; it's just not the best option for a no-makeup makeup look. And to be clear, we're talking specifically about bases and setting powders. Powder bronzers, blushes, and highlighters, particularly pressed powders, can still be used for a good no-makeup makeup look. But to achieve that look, you'll want to avoid powder foundations and any methods of setting your makeup that involve translucent powder, like baking.
If you're worried about setting your makeup, don't be. There are plenty of ways to make your makeup last all day without translucent powder. Number one, set with setting spray. This will lock your makeup onto your face and aid in a natural finish. For a super set, apply setting spray before and after your base so it has something other than your skin to grip. If you're wearing a light coverage foundation, don't skip primer, and again, set with setting spray. If your preferred brand makes a travel size, throw a bottle in your bag and use it to restore your glow throughout the day.
Use the right shades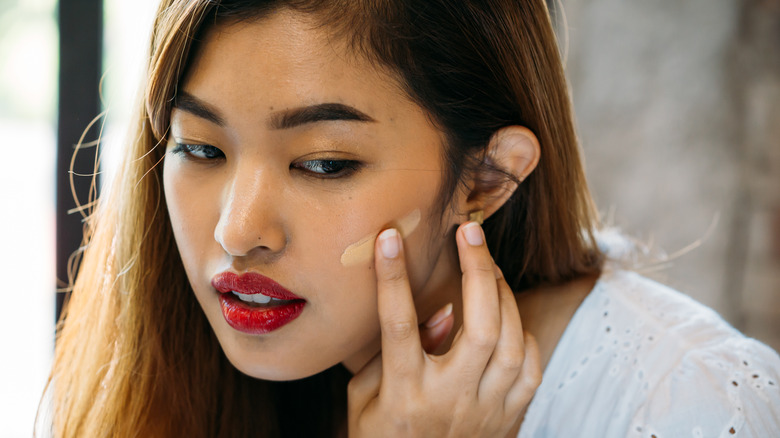 Twinsterphoto/Getty Images
A good no-makeup makeup look can crumble if you don't choose the right shades for your complexion. Start by correctly identifying your undertones: cool, neutral, warm, or olive. Once you know that, you can correctly shade-match your base.
If you're using a tinted moisturizer or a tinted sunscreen, you'll have far fewer shade options than with a foundation, but the products are also created to blend into your complexion for a shade match, so make sure you're picking something close to your skin tone and apply sparingly (you can always build if you need to). If you're between shades, opt for the lighter one. It's much easier to warm up your face than it is to lighten a shade to match the rest of your body.
For the rest of your products, choose colors with the same undertones as your skin. When you use shades with opposite undertones, they stand out more, lending a bolder look. Since the goal of no-makeup makeup is natural, you want shades that naturally suit your face for a subtle look. This shouldn't be too hard since you'll only be using a few products that have color. The right shades and products are half the battle of a no-makeup makeup look. Once you have those, the application should be a breeze.