27 Outfitting Tips For Nailing Your Summer Office Looks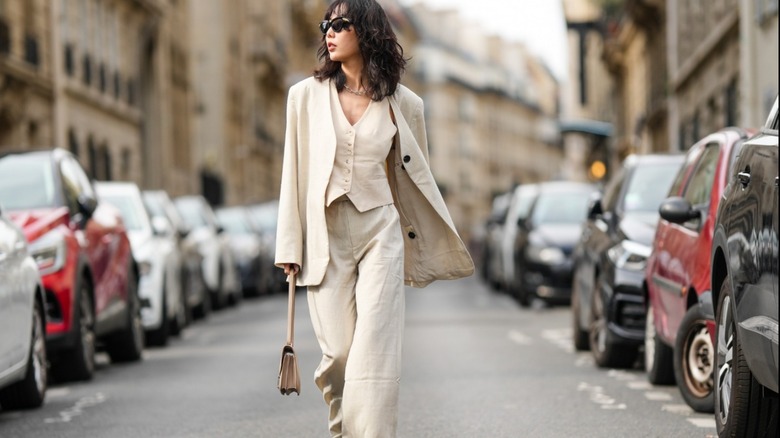 Edward Berthelot/Getty Images
If your company has a dress code, obviously, you should adhere to it. But beyond that, you might need ideas for what silhouettes and colors to wear to the office this summer. You might also be unsure about how to accessorize your office looks. The first thing you should know is: Changes in office attire are emerging in the aftermath of 2020. In June 2022, U.S. President Joe Biden and the other politicians convening at the G7 Summit were photographed without their neckties.  Although many people were critical of their fashion choices, others have concluded that we now have official permission to dress less formally and more comfortably at work. 
Communications professor and founder/CEO of Global Public Speaking Allison Shapira shares in Harvard Business Review, "... after two years of hastily throwing a business jacket over a T-shirt and sweatpants while letting people into our homes during the Covid-19 pandemic, our tolerance for conformity — and discomfort — has changed. The business dress code is evolving." Shapira encourages readers to take note of how others are dressing. In particular, she suggests paying attention to get a feel for situations when it's acceptable to wear business casual attire instead of dressing formally. 
When you need to dress formally, some of the top current workwear trends include linen suits, vibrant summer suit colors, and monochromatic outfits. We've got all the inspiration and styling tips you need to be comfortable, professional, and fashionable in the office this summer.
Wear clothing constructed from breathable fabric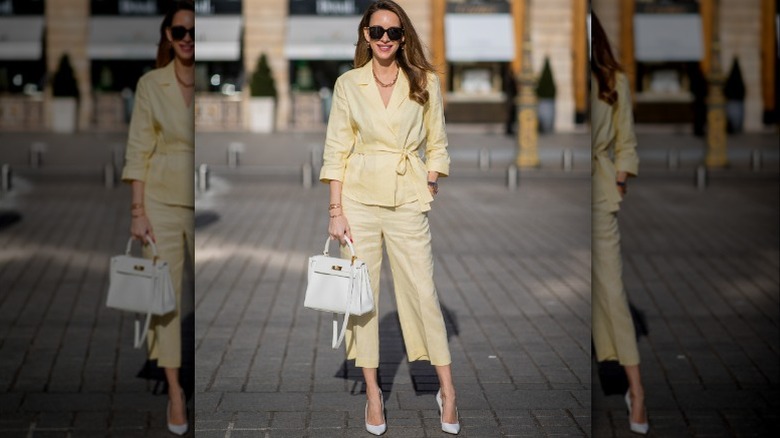 Christian Vierig/Getty Images
The best summer fabrics are breathable, meaning that they allow for easy circulation of air and moisture through their surface. When you wear breathable fabric, the process of evaporative cooling enables you to stay comfortable if you sweat. To maximize your chances of staying cool on the job, look for office-friendly summer clothing made from loosely-woven fabric in linen, cotton, rayon, or natural fiber blends. Pictured above, fashion blogger and influencer Alexandra Lapp wears a breezy linen suit that epitomizes breathable summertime office attire. Lapp's businesslike white bag and matching pumps accessorize the suit to be wearable at conservative offices.
Differentiate a black and white ensemble with remarkable jewelry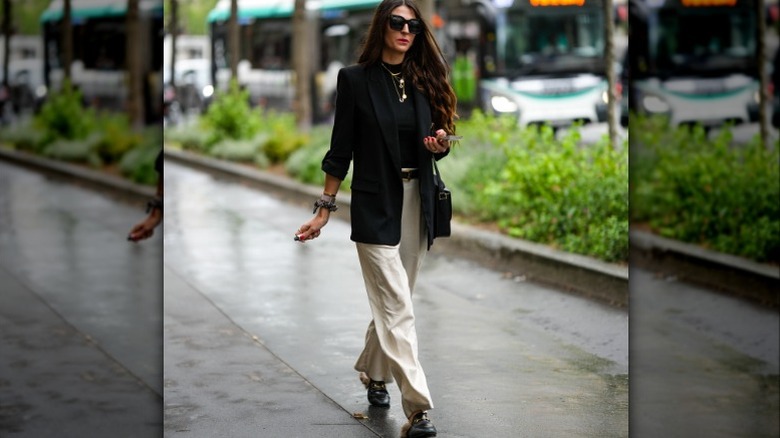 Edward Berthelot/Getty Images
In some office environments, you don't need to wear a suit; you can pull together an ensemble made up of complementary separates. Try a laid-back look featuring dressy linen pants, a black shirt, a black blazer, a black dress belt, and unique jewelry. Your existing favorite jewelry pieces might work for differentiating a simple black-and-white outfit to make it your own. If you don't already have jewelry that would work, and you need ideas, try experimenting with adding a watch, chunky bracelet, and gold pendant necklace to complete your look.
Understand your options for appropriate dress lengths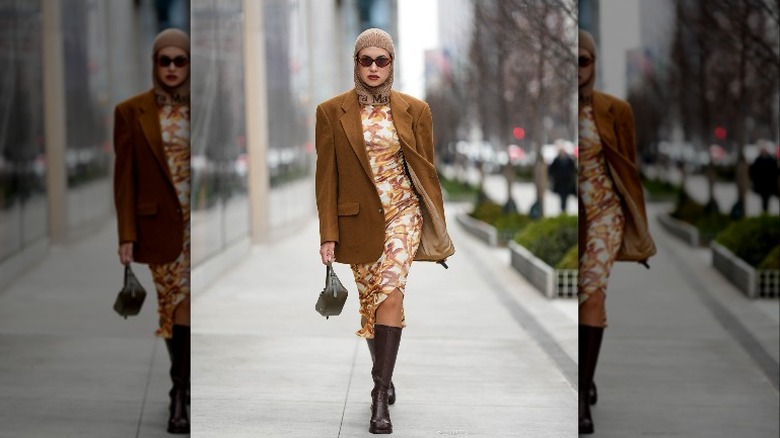 Edward Berthelot/Getty Images
Skirts, skirt suits, and dresses make fantastic career attire, but miniskirts are not an acceptable option. Kat Griffin at Corporette.com explains, "... just above the knee is the right length for most skirts for work ... Still, the more recent midi-trend is so strong that even some of the age-old best-selling sheath dresses ... look a bit short, while longer styles ... look a bit more modern." The main takeaway: If you're wearing a skirt or dress to work, choose a style where the hemline lands just above your knees or lower.
Dress up when you're meeting with clients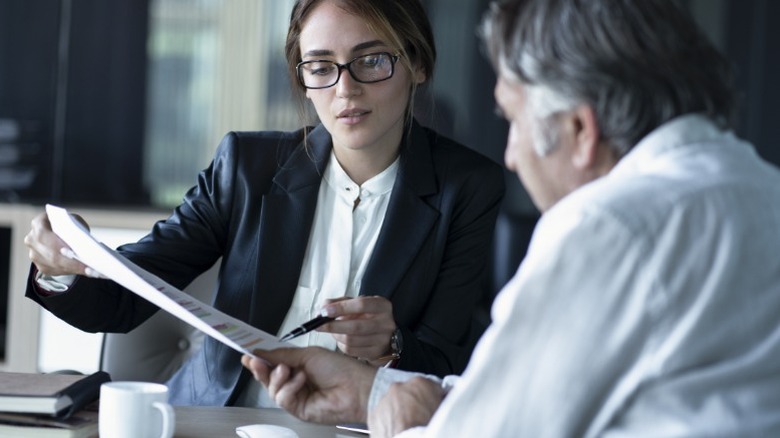 Seb_ra/Getty Images
Communications professor Allison Shapira polled her contacts to ask about how they're dressing as they return to work after having worked from home for so long. Shapira observes, "My clients noted that they were much more likely to dress down when they weren't meeting with clients." Based on this assessment, we'd recommend dressing formally when meeting with clients unless your supervisor directs otherwise. When you need to dress formally, it's safest to wear a matching tailored suit in black, gray, or navy blue; a dressy blouse with a collar; and closed-toe dress shoes.
Transition from spring to summer in a light-colored pantsuit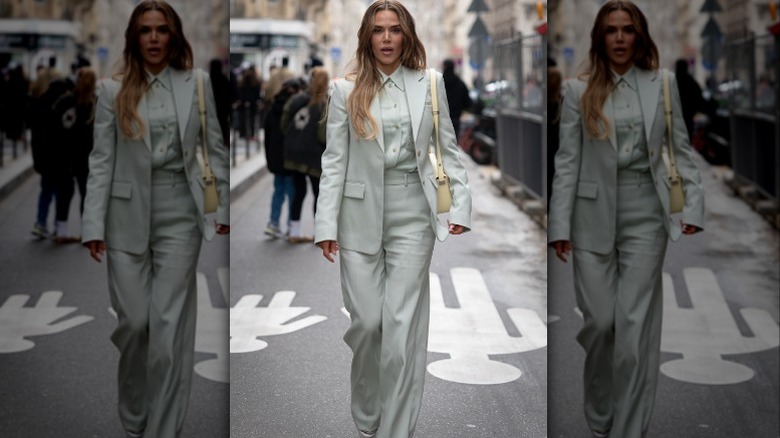 Claudio Lavenia/Getty Images
If you plan to shop for new suits this season, keep in mind that some suits can transition from spring to summer. Some neutral-colored suits can even be wearable well into fall. If you're on a tight budget, look for multi-season ensembles that can take you through more than just a few months with a little layering. This pale green suit and matching button-up shirt are appropriate during all the warm-weather months of the year. Depending on your climate and the fabric choices you make, similar pieces in light gray or beige could be wearable for even longer.
Dress up a monochromatic suit with a shiny top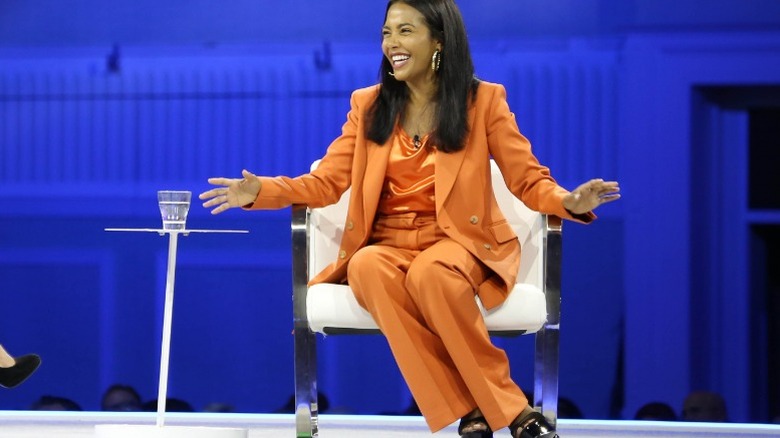 Brian Stukes/Getty Images
Kim Posnett, Global Head of Investment Banking Services at Goldman Sachs, provides an outstanding role model for career women to emulate when they get dressed for work. Here, you can see how Posnett dressed for a summertime conference in a monochromatic, pumpkin-colored pants suit that's conservative enough to be appropriate for a gathering of businesspeople, yet it's also innovative, up-to-date, and unstuffy. The black platform sandals are appropriate for the resort environment where the event took place but might not be suitable at corporate offices.
Rock a bold, belted suit jacket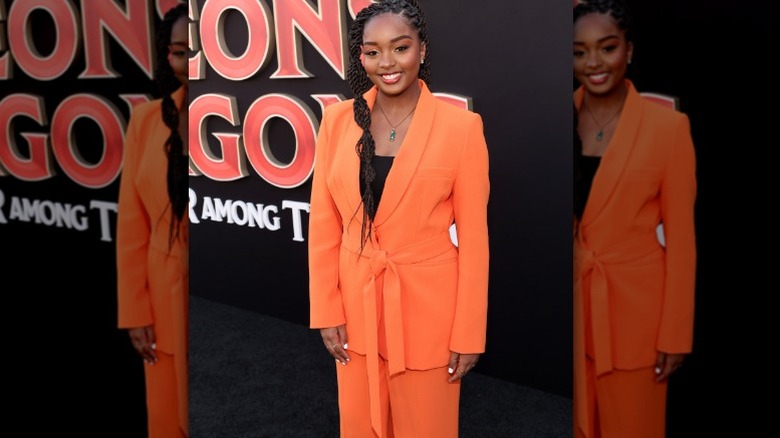 Jesse Grant/Getty Images
A dressy belted pantsuit is an option when you're going somewhere special after work, and you won't have time to change clothes between engagements. While this silhouette is appealing, the most remarkable thing about the ensemble is its dynamic color combination. 2023's summer suit colors are vibrant and eye-catching. Historically, people have gravitated toward bland color schemes for office wear. Black, gray, beige, and navy blue suits are still appropriate, but you no longer need to feel limited to wearing only these colors.  If you're feeling daring, it's fine to select brilliant colors for your career apparel.
Make an impression in an elegant tailored pantsuit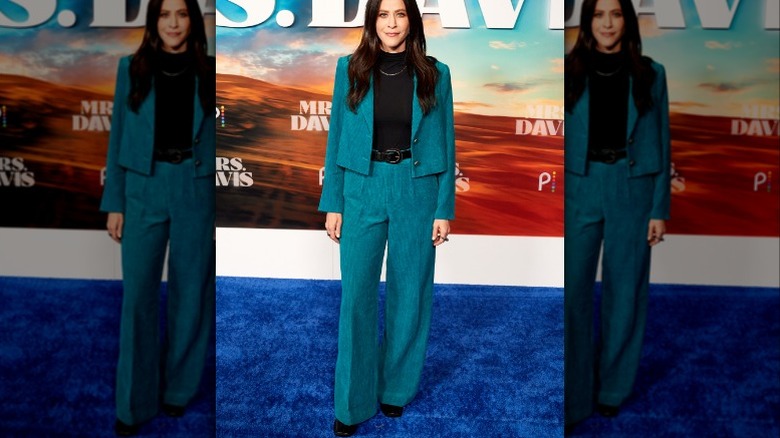 Unique Nicole/Getty Images
Actress and musician Jackie Tohn gives us another example of how to pair a solid-colored pantsuit with black accents. Tohn's chic suit has a short blazer and pleated trousers. She's styled it with a black top and just the right belt. This look is viable in an icy air-conditioned office environment, but otherwise, you can stay cooler by switching out the high-necked top for a scoop-necked or boat-necked style. Just make sure you don't show any cleavage.
Choose an on-trend double-breasted suit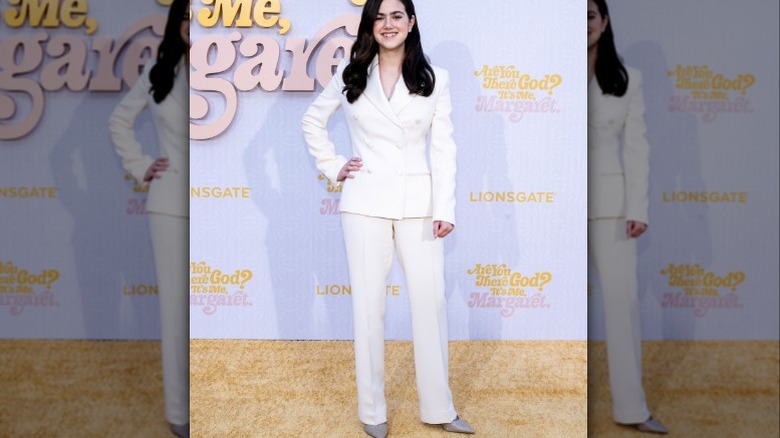 Amanda Edwards/Getty Images
On days when you need to look impressive, a suit with a double-breasted jacket is a smart fashion choice. Pictured above is a fresh, summer-friendly example in crisp white. You can style a suit like this with beige pointed-toe pumps for an ideal office outfit. 
Try a daring suit color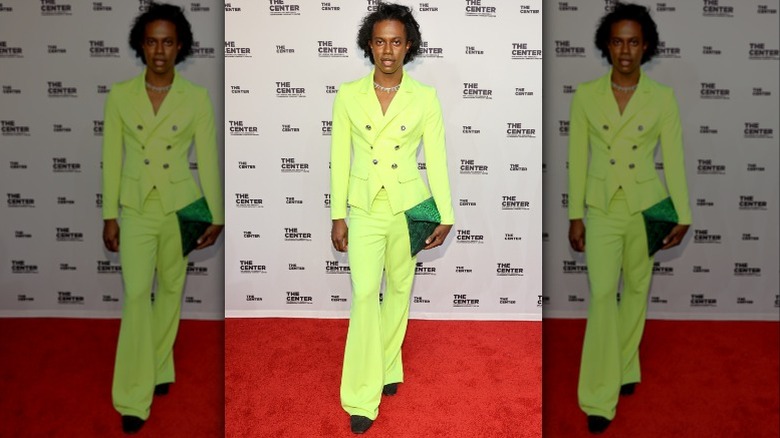 Cindy Ord/Getty Images
The summer pants suit pictured here checks at least four boxes for current fashion trends. It has a double-breasted jacket, it's monochromatic, it's made in an eye-popping color, and the legs on the pants gently flare out downward from the knees. You can style a double-breasted suit without a top as pictured. Another option is to layer a close-fitting blouse or bodysuit underneath in case you'd like to take your jacket off at times when you're hidden away in your own office or cubicle. 
Wear a sheath dress and matching or contrasting blazer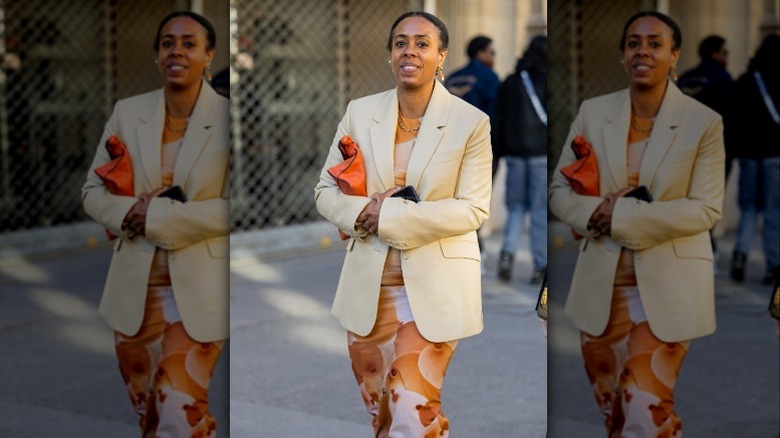 Christian Vierig/Getty Images
There are many ways to wear a jacket over a dress. Pictured here, a printed sheath dress is layered under a solid-colored blazer; this look is more relaxed and less formal than a tailored suit.  Another alternative is to wear a sheath dress and blazer that are an exact match for each other. A closely-matched dress and blazer can look as formal as a suit; this look is viable to wear to work even in the ultra-conservative finance industry. Citigroup's CEO, Jane Frazer, has been photographed wearing a summery dress and blazer combination in monochromatic pink. 
Coordinate a sheath dress and blazer in a tonal color combination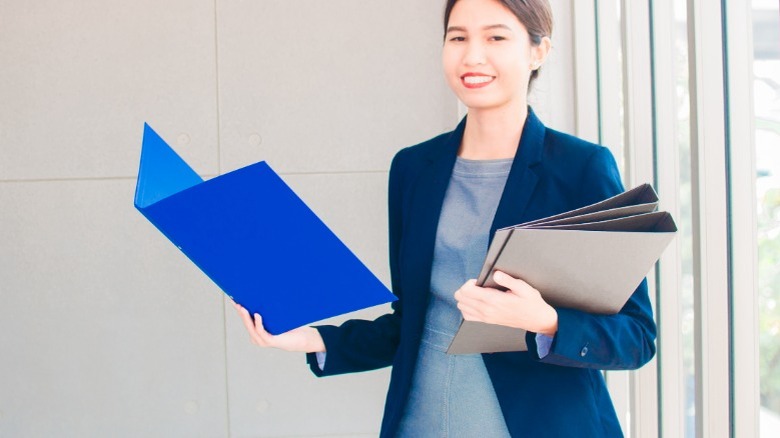 Chalita Khongin/Shutterstock
You can pair up a solid-colored sheath dress and a solid-colored blazer together, but you have to be mindful of your color combination. Tonal color combinations work well; it's foolproof to select a lighter shade of a color for the dress and a darker shade of the same color for the blazer. A navy blue, black, or camel-colored blazer is an alternative that would pair well with many dress colors. 
Layer a ruffled blouse under a conservative skirt suit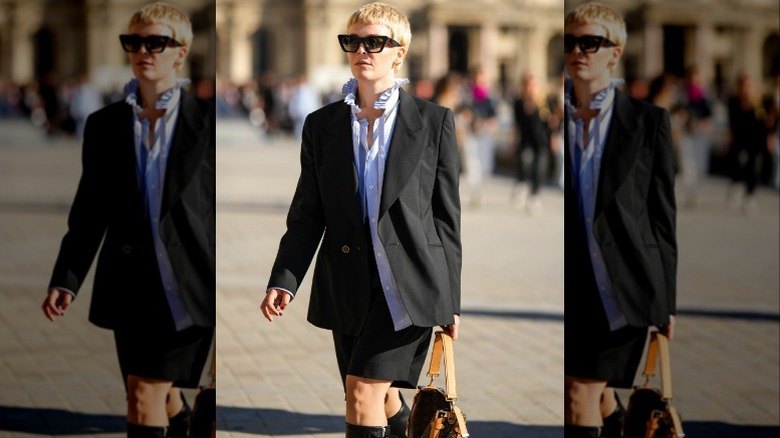 Edward Berthelot/Getty Images
Although a plain black skirt suit is exactly right to wear to the office, it could get boring to accessorize it with a simple, unadorned button-up shirt. Interesting details, like a ruffle at the neckline, can break up the monotony and give the look more personality. To make the black suit more summery, look for flowy details and lighter- or brighter-colored blouses to wear underneath. 
Turn heads in a unique color gradient suit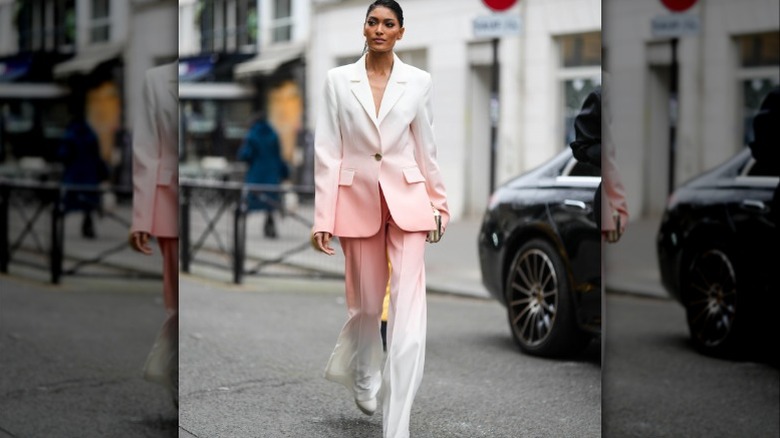 Edward Berthelot/Getty Images
If you're working at a job where it's an asset to be perceived as creative, you could select a business suit designed with artistic details. Look for a suit that has mostly clean, classic lines but also a couple of trendy components, like flared pants legs instead of straight legs. If you want to wear a suit with a subtle gradient effect on the fabric, you could buy a suit that has been printed or dip dyed to create a low-key band of color; or you could buy a solid white suit plus fabric dyes and dip dye the suit yourself. 
Put on a three-piece summer suit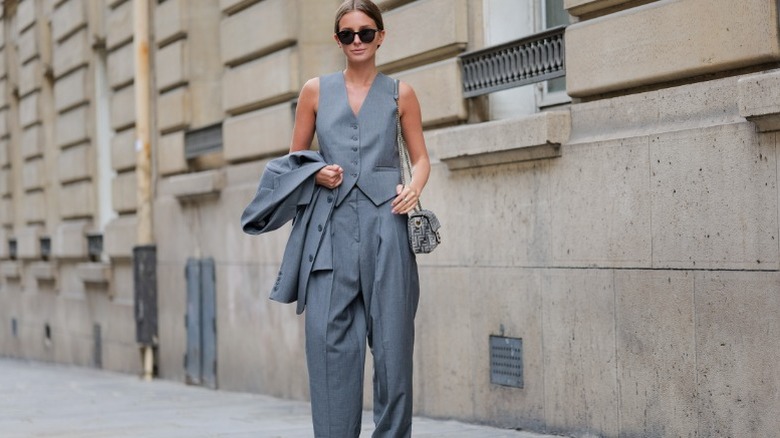 Edward Berthelot/Getty Images
With or without suits, vests are making a comeback. This vest has a matching jacket and pants; together, these stylish pieces make the perfect three-piece summer suit to wear to work. On hot days, you can stay cool by carrying the jacket instead of wearing it until you get to the office. Showing your shoulders is taboo in many workplaces, so you'd need to put on the jacket before you encounter any of your co-workers. 
Keep your look effortless with a timeless sheath dress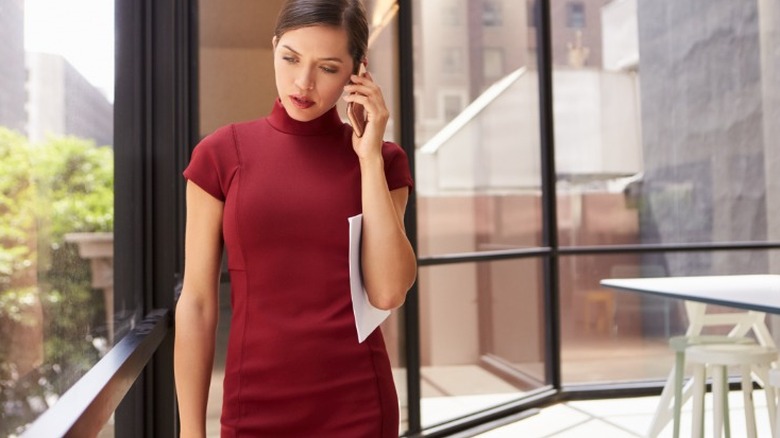 Monkey Business Images/Shutterstock
At offices where business casual attire is the norm, a sheath dress with sleeves is acceptable work wear on its own. When strictly professional attire is required, you'd want to layer a closely-matching tailored blazer over your sheath dress and ensure you're wearing hosiery and closed-toe shoes with it. 
Stand out in an eye-catching patterned pantsuit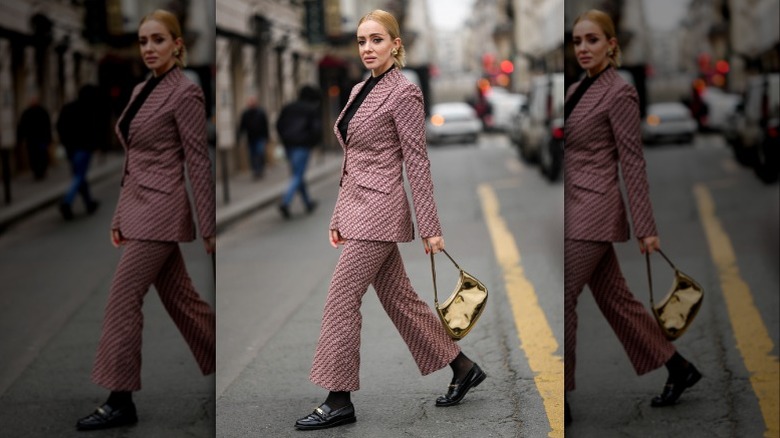 Edward Berthelot/Getty Images
A subtle pattern enhances the look of a suit and instills a bit of charisma in the outfit. You can style it with trouser socks and low-heeled loafers for a contemporary look that's easy on your feet. Add mixed metal jewelry and a shimmery gold handbag to keep the look current for this season.
Keep it cool with linen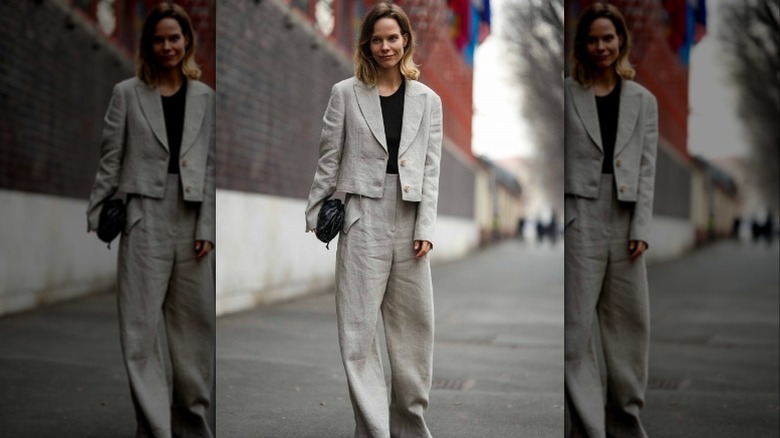 Edward Berthelot/Getty Images
For a relaxed, easygoing summer look, start with flowy linen pants in a neutral grayish beige color. Add a matching cropped jacket and style your summer linen suit with a black T-shirt. Grab a black designer handbag for toting your essentials to work with you. 
Look posh in a belted beige linen pantsuit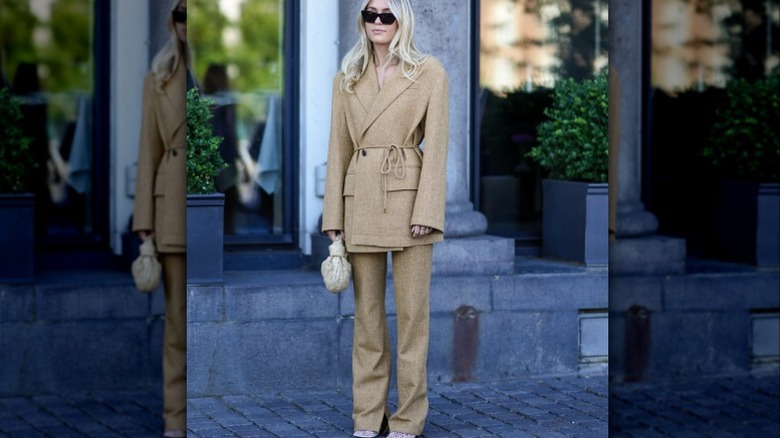 Edward Berthelot/Getty Images
Here's yet another idea for styling a summer linen suit: Look for a long wrap jacket with a slim fabric belt. Layer it over the bodysuit or blouse of your choice and pair it with long, straight-legged suit pants. Accessorize with sunglasses, a classic purse, and your favorite watch or jewelry. 
Add unique details to a monochromatic ensemble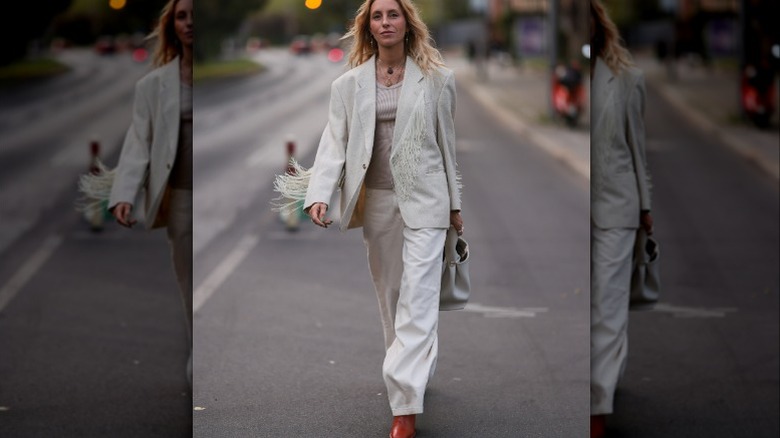 Jeremy Moeller/Getty Images
When you choose your work outfits for business casual situations, have fun with including trendy details like fringe and unexpected footwear colors. Online influencer Cloudy Zakrocki offers an example of how an otherwise businesslike blazer becomes more playful and interesting when asymmetrical fringe is added. Zakrocki's light-colored trousers and neutral top are sophisticated, yet the dominant mood of her outfit is easygoing. You can replicate this look by layering a beige top under a fringed blazer; add trousers and a handbag in the same color family, but select shoes in a contrasting color. 
Shine in a luminous satin pantsuit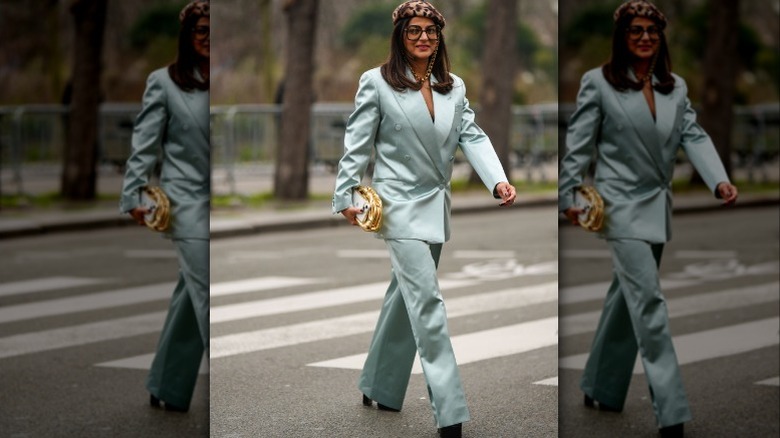 Edward Berthelot/Getty Images
Satin isn't just for fall; you can wear it in spring and summer, too. To make a satin suit summer friendly, choose a lightweight material along with a light color like pale blue, light gray, faded fern green, or lavender. Chunky black high-heeled shoes complement this suit beautifully, but you could go for flats or dressy loafers if you'd prefer a more comfortable footwear selection. 
Pair up beige and black separates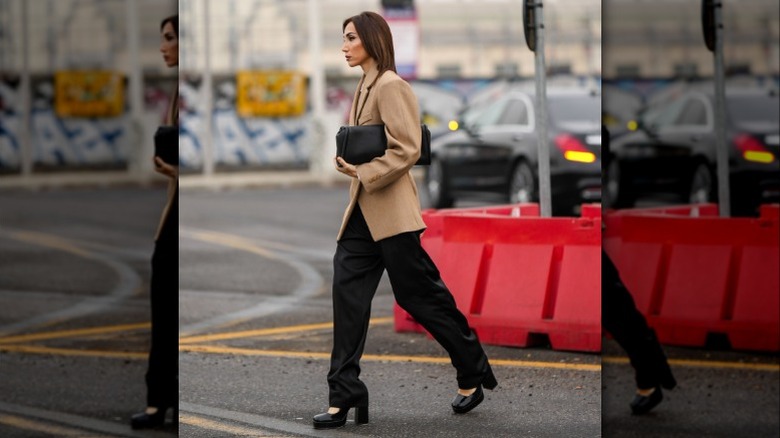 Edward Berthelot/Getty Images
If you've built a capsule wardrobe for yourself, you probably own some basic separates like a beige linen blazer and black trousers that can be mixed and matched together to create professional-looking career outfits. On days you need to dress up, you could choose a black skirt instead of trousers. Chunky closed-toe high-heeled pumps make a fashion-forward finishing touch for this look.
Maximize your career wardrobe's versatility with a black pencil skirt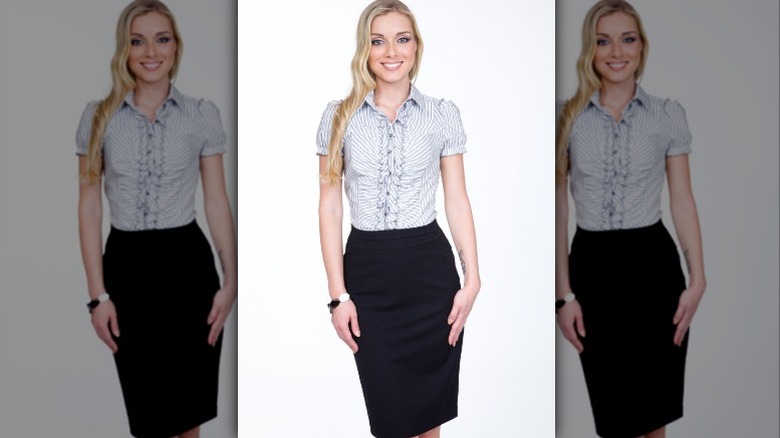 Lapina/Shutterstock
If you're hoping to maximize the versatility of your career wardrobe, a black pencil skirt is a sensible purchase because there are many work-friendly looks you can style with it. If your budget permits, buying a few additional pencil skirts in other basic colors like navy blue, gray, and camel can extend your wardrobe even further. Pair your pencil skirt with a short-sleeved, ruffled, collared button-up blouse for a distinguished look at work. Accessorize with a black and white bangle bracelet. 
Understand your employer's policies on sleeveless summer attire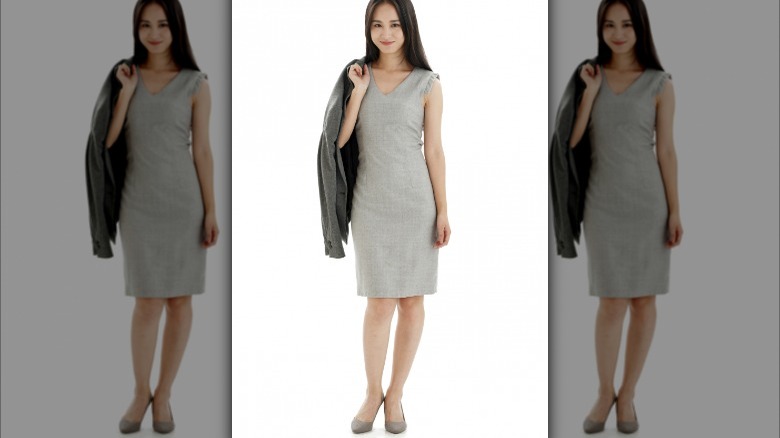 ViewStock/Shutterstock
In some offices, sleeveless sheath dresses are acceptable workwear; in others, they are forbidden. Some employers offer a summer dress code policy, and sleeveless dresses may be acceptable to wear in certain circumstances during the summer months; for example, they might be allowed when no one in the office has client appointments that day. If you decide to wear a sleeveless dress to work, choose one that has high-cut armholes and is otherwise businesslike. It's prudent to carry a matching jacket with you in case a last-minute client meeting comes up.
Chill out in a jacket with half sleeves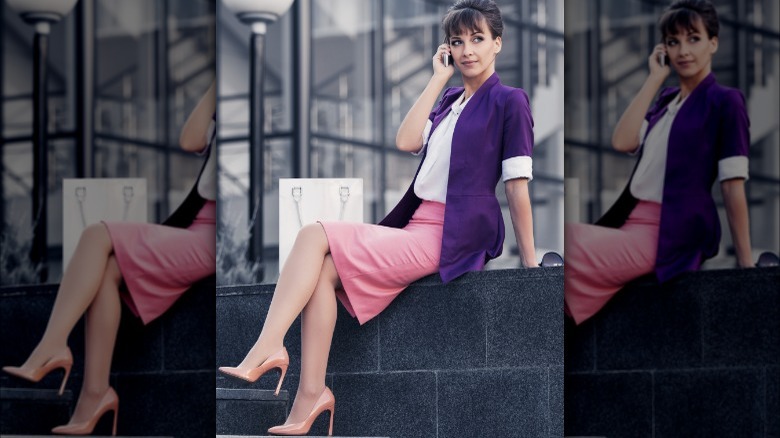 wrangler/Shutterstock
If your employer allows you to wear separates to work instead of suits, you can style multiple summery work outfits around a smart-looking half-sleeved jacket. Team up the jacket with a contrasting blouse and pencil skirt for a look that's pretty yet sensible. Choose high-heeled pumps or flats in the same color as the skirt for a polished effect. You can wear the same jacket again in a different combination the following week; pick a pair of slacks or a different skirt for variety. 
Wear hosiery, but not fishnets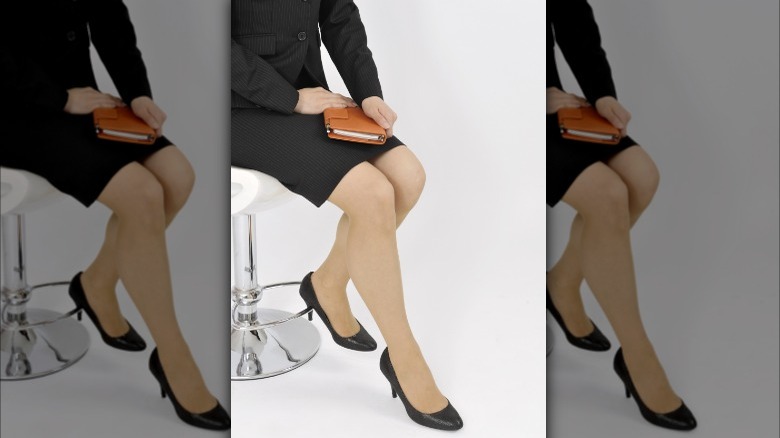 KPG-Payless/Shutterstock
If you're starting a new job, it can be tricky to understand the nuances of how to dress for your new workplace. Kat Griffin, editor-in-chief of Corporette.com, advises women to make the safest possible fashion choices during their first week of employment at a corporate job. Griffin says, "For our $.02, fishnet tights are generally inappropriate for the office environment." Instead, she recommends nude-colored pantyhose with close-toed high heels, even in summertime. During your first week at work, you can scrutinize your co-workers' wardrobe choices; if the senior-level women you work with are not wearing hosiery, you're safe to ditch the pantyhose. 
Personalize your look, but fit in with your team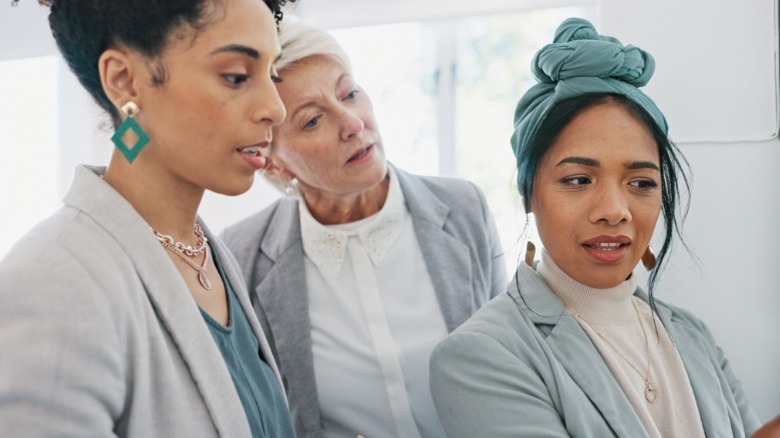 PeopleImages.com - Yuri A/Shutterstock
Even if you don't have to wear a uniform to work, keep in mind that you and your colleagues do make up a team. If your co-workers are all wearing suit jackets to work, it's ideal for you to wear a suit jacket, too, rather than being the odd person out. Observe how your colleagues accessorize; if there is leeway for differentiating your look with accessories, try fixing your hair with a headband, head wrap, hair clips, or barrettes. Beautiful jewelry such as a pendant or drop earrings can also help to make your look distinctive.