Oversized Wing Eyeliner Is The Celebrity-Approved Make-Up Trend That's Everywhere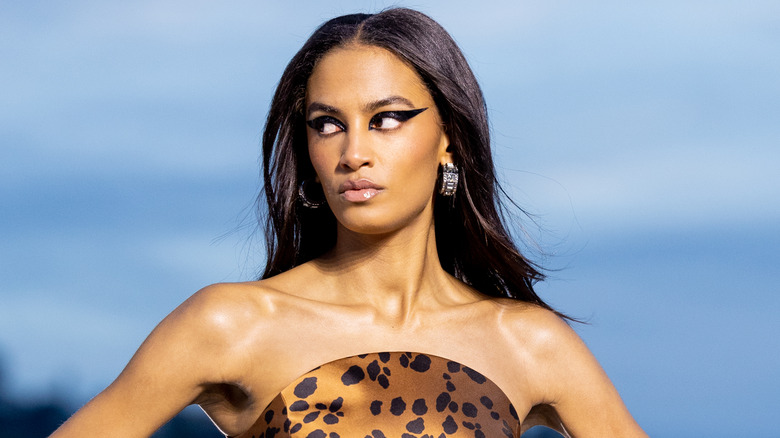 Emma Mcintyre/Getty Images
If you're seeking a dramatic look, oversized wing eyeliner may be the way to go. While the exaggerated eye can add a refreshing dose of villainous allure to any fancy affair, it certainly isn't new. Wing eyeliner has been around for centuries, often associated with notorious femme fatales (think Cleopatra and Catwoman). And amplified versions of the wing eyeliner can be seen on the latest runways. The Anteprima Fall Winter 2023/24 took the trend quite literally, featuring black wing eyeliner with the tip in the shape of a bird's wing (via YouTube). The legendary celebrity makeup artist Pat McGrath created a similar look for the Versace Fall-Winter '23 runway show. She told Vogue the oversized liner is meant to reflect a mix of "modern Hollywood glamour" and "rebellious punk rock."
To achieve a similar rebel glam shape, use black eyeliner to draw a line from the crease of your inner eye, to about half-way up your eyelid. Extend the line outwards towards your temple, creating a wing shape that stops at the outer corner of your eye. Next fill in the line, or you can fill in as you draw the line. Then for the ultimate finisher, add black jeweled or glitter shadow for a metallic look. Read on for more oversized wing eyeliner looks to inspire your next vamp moment.
Go full drama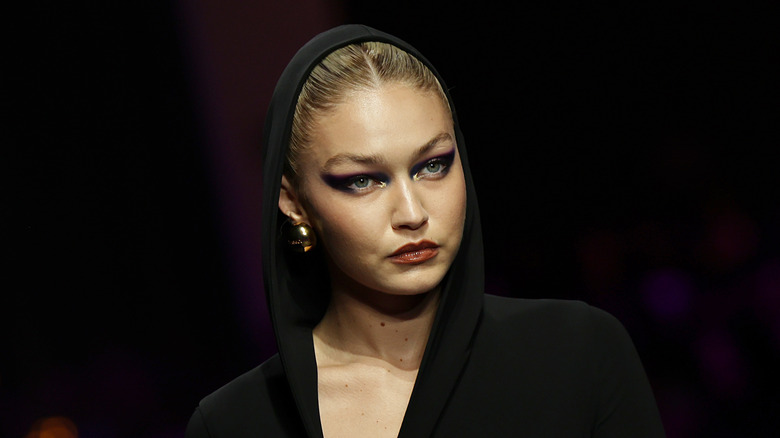 Vittorio Zunino Celotto/Getty Images
According to a 1997 study in the Journal of Ritual Studies, women's use of make-up was shown to be strongly motivated by a desire to experience a sense of "cultural power" and "social agency". If so, then the oversized wing eyeliner look, with its sharp and fierce angles, could arguably be the ultimate symbol of cultural power and autonomy. Worn with all black, the intensity is turned up to full drama mode. If you want to tone it down slightly, add brown lipstick. This softens the look and adds warmth to your inner Maleficent.
Try a different color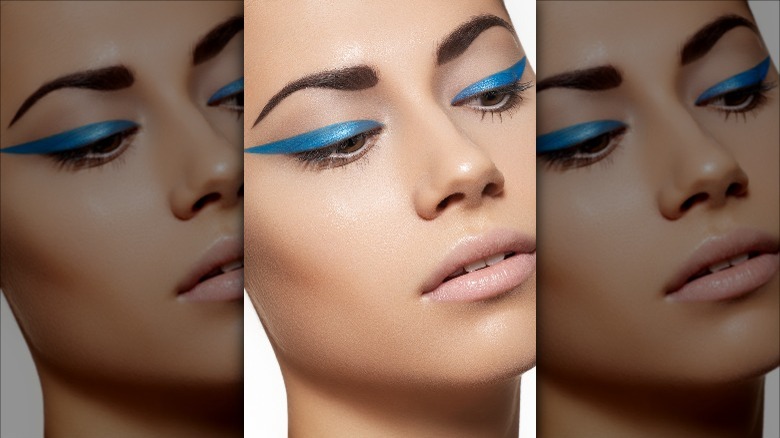 Seprimor/Shutterstock
If heavy black eyeliner is too intense for you or you want to try something different, consider using a color like blue. Depending on the context, blue is known to soothe and encourage daydreams. And when worn on the eye, it feels carefree and fanciful. Pairing it with a neutral lip keeps the focus on the eye for a modern look.
White is just as dramatic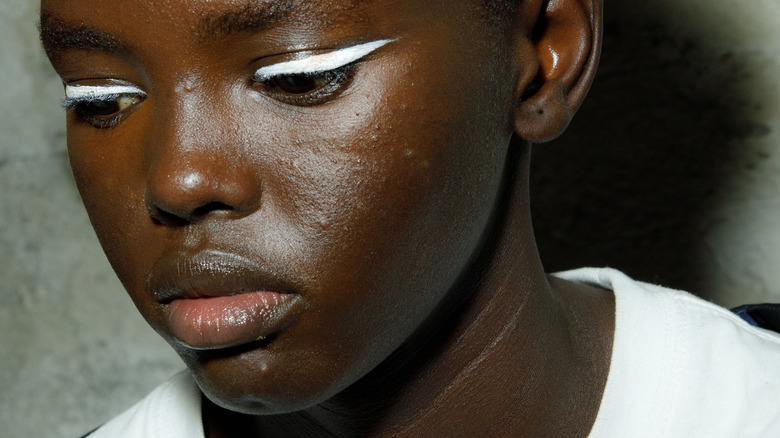 Rosdiana Ciaravolo/Getty Images
Models on the Anteprima show also sported exaggerated white wing eyeliner, creating an ultra modern, avante garde look. It's just as dramatic as the black liner, but in white. It's unexpected, intriguing, and fun all at once. It's the "anti-Hollywood glam" glam look. White also has a tendency to advance, making the eyeliner jump out at you for a more intense style.
Pair it with glasses
Another way to tone down the high impact black wing liner is to wear it with the right glasses. Glasses tend to add interest to outfits, and usually signal quirky or bookish style. Worn with the oversized wing eyeliner, you still get the high energy of the exaggerated eye, layered with a more studious vamp vibe.
Dress it down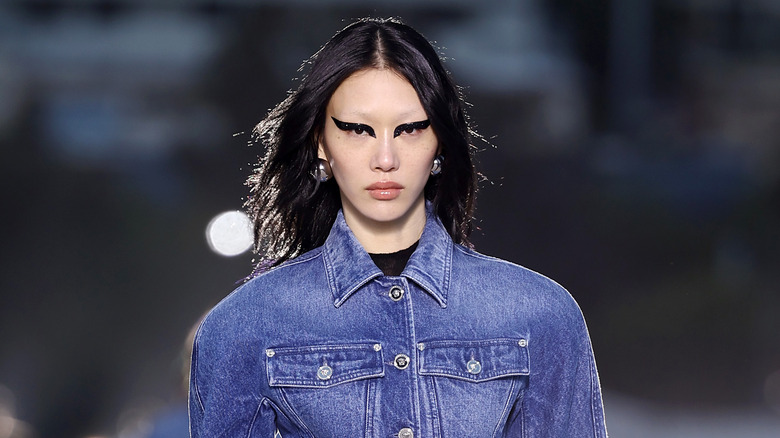 Arturo Holmes/Getty Images
If your life is less about black tie events, and more about kids' sports and trips to the mall, then maybe you might want to try wearing oversized wing eyeliner as an "everyday" look, at least sometimes. We're all for over-the-top (preferably bordering on inappropriate) beauty and fashion looks, because why wait for the "right" affair when you can wear it now? So if you have a kids' sports game to go to, try an over-sized wing eyeliner look with jeans or your favorite sweat suit. And if you want to temper the look, add a baseball cap.