15 Fresh Ways To Style Your Timeless Gold Sandals This Summer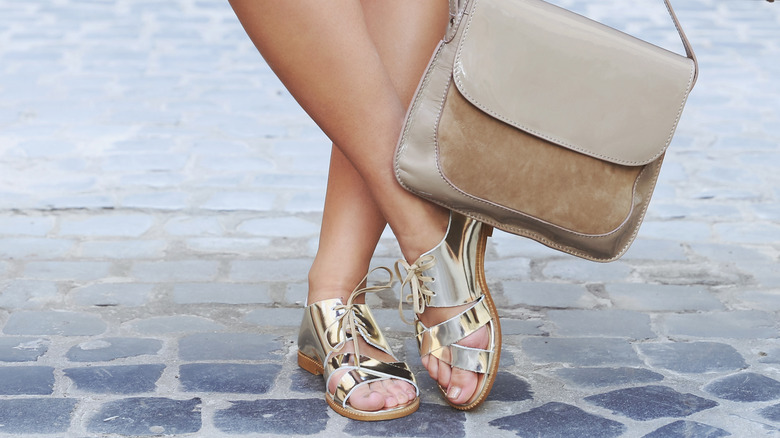 Cozy Home/Shutterstock
It's easy to get caught off guard by the sheer number of shoe trends that cycle in and out every year. If you feel like you can't keep up, we'll let you in on a little secret: Most shoe styles that were popular at some point will have a revival down the road. Trends are totally cyclical, and now it's time to dust off the summer staple that's been sleeping for a fashion season or two on your shoe rack. Gold sandals are rightfully reclaiming their spot front and center of any OOTD. 
Advertisement
Albeit they're flashier than your standard brown gladiator or camel-colored everyday slide, don't assume you can only wear these shoes with certain outfits. Gold can actually be viewed as a pretty reliable neutral and serve as a sleek, chic everyday shoe. Fit for royalty, this shade of sandal coordinates well with nearly any palette but brings a little somethin' extra (the jazz hands of the shoe world, if you will).
Determined to find fresh ways to style your timeless gold sandals? You're in luck. These 15 ideas will keep the inspiration flowing all season and give you plenty of ensembles worth their weight in gold when it comes to just how good they look when paired with these metallic summer kicks. 
Advertisement
Style them with loose trousers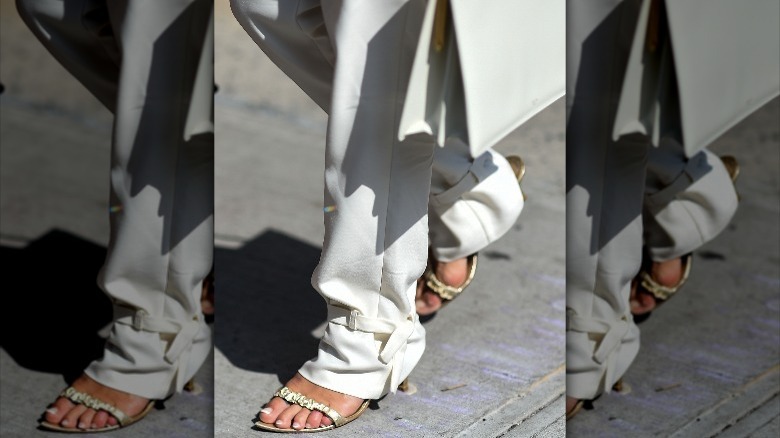 Daniel Zuchnik/Getty Images
There's no shoe more perfect for that pair of loose statement trousers you love than gold sandals. Because sandals are open-toe and free of any bulky pieces, they won't interfere with pants that are floor-skimming or pool at the ankle. Not only that, but the metallic finish can infuse a little glimmer into an otherwise matte or neutral outfit. Flowy-flared linen trousers or pleated pants are cute options during summer if shorts and skirts aren't your faves, and a pair of gold sandals will only elevate the look further.
Advertisement
Pair them with a trench on cooler days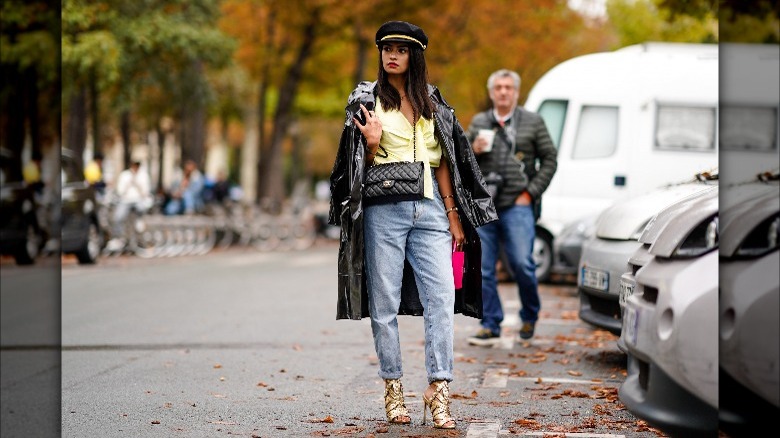 Edward Berthelot/Getty Images
The lead-up into summer (and the transitional days into fall) often call for a lightweight trench or something with a little water resistance. That doesn't mean you have to throw your summer ensembles out the window. Keep those gold sandals in the spotlight but top your outfit off with a functional jacket. The great thing about gold is that it'll go with nearly any color. A black, beige, white, or blue trench will all look fantastic with glimmering shoes beneath. Metallic accessories — whether it's jewelry, a bag, or a hat with sparkly details — are the perfect finishing touches.
Advertisement
Rock them with socks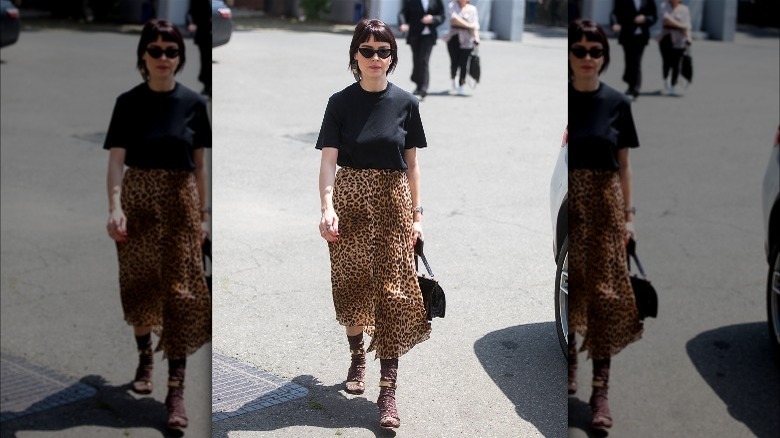 Melodie Jeng/Getty Images
Forget what you heard — socks and sandals are stylish nowadays, especially with the right pairing. Gold looks really nice against a wide variety of prints, so if a leopard or snakeskin pattern is calling your name, consider this type of shoe. While metallic is more eye-catching, it's not a busy or overwhelming color or print, so it won't clash with more daring pieces you've incorporated into your look. Putting socks underneath also provides the illusion that there is more to the shoe, giving it a sock-heel appearance. This is a great example of how you can make a pair of shoes feel fresh without physically altering them.
Advertisement
With matching short co-ords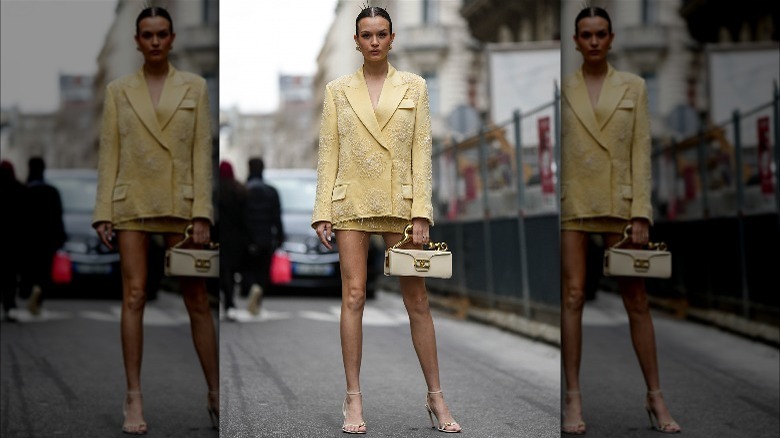 Edward Berthelot/Getty Images
What's summer fashion without a matching co-ord? Finding a matching set that feels like you may take a bit of work — but if you find one, you need the right shoes to go with it (especially if it's yellow or pastel-toned). The perfect candidates are — you guessed it — gold sandals. A strappier sandal is an even better pick, as it adds a small glint of gold without detracting from the matchy-matchy aesthetic of a set. Keep the theme going with other golden accessories that'll play nicely against your footwear.
Advertisement
With a matching suit and crop top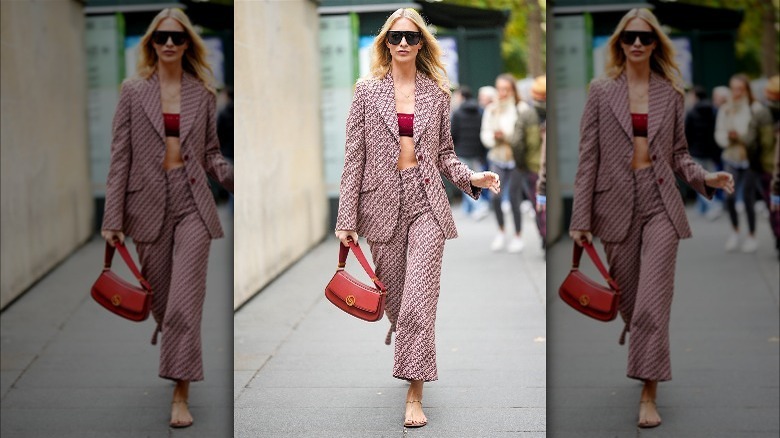 Edward Berthelot/Getty Images
There are two ways to instantly summer-ify a blazer ensemble. First, replace the blouse or shirt you'd usually wear beneath it with a crop top. Then, swap out your loafers or sneakers with a pair of gold sandals. Suddenly, an outfit you've been wearing all autumn and spring is fit for a warmer season. Gold sandals not only present a focal point to the outfit but also make it wearable for so many more occasions. Suits and blazers can feel stiff and formal; that's why pairing a blazer with jeans or swapping out a suit top for a T-shirt or sweater is so popular. Gold sandals work the same kind of magic, bringing down the stuffiness.
Advertisement
Pair them with a flowy blouse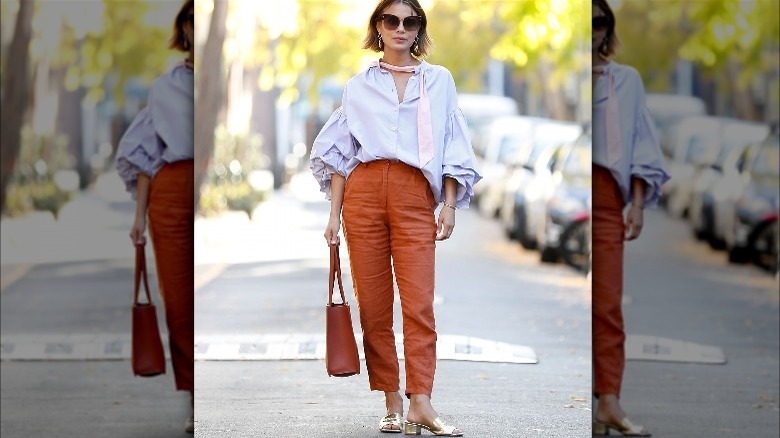 Hanna Lassen/Getty Images
Your summer wardrobe isn't complete without a pair of gold sandals, and the same can be said for a puff-sleeved, lightweight blouse. So why not pair two warm-weather staples together? When you're stacking basics, an outfit might feel a little bit bland. The solution? Implementing the rule of three when layering clothing. This involves adding that third or extra piece that ties everything together and makes the 'fit stand out. In this case, these metallic sandals are the golden ticket to compiling an ensemble that feels polished. They inject some luster and are the perfect accent.
Advertisement
Wear with a sundress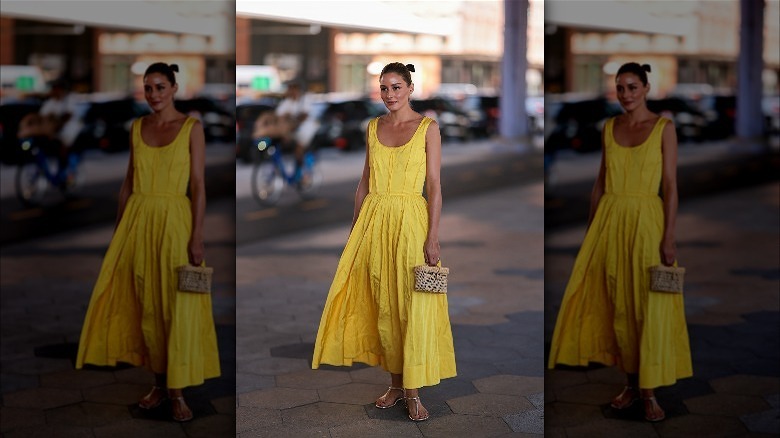 Jeremy Moeller/Getty Images
You could argue that a summer wardrobe isn't complete without a healthy serving of sundresses. In fact, the sundress is one of the types of dresses everyone should own. If you tend to swap in all your cold-weather clothes for nothing but dresses, you might seek ways to change up your usual staples. Because dresses are all one piece, it's not as easy to make them feel fresh, but shoes are a surefire way to do so. Gold sandals should be in your Rolodex of footwear choices that spice up your standard maxi or mini. Remember that this hue is a chameleon and can blend well. Although it looks fab with warmer tones, gold sandals, and a blue dress are just as gorgeous.
Advertisement
Style with your boldest summer clothes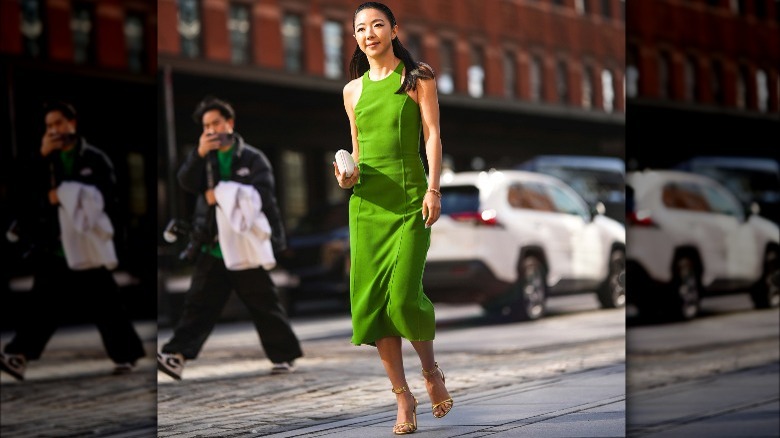 Edward Berthelot/Getty Images
Sometimes it's difficult finding shoes that work with an ultra-bright outfit. You can take the monochrome route and tone it down with neutrals — or you can strike the perfect balance by popping on a pair of gold sandals. Bright green, electric pink, highlighter yellow, and cobalt blue are just a small sample of the hues that'll warmly embrace the addition of a gold sandal. Choose something with thicker straps for extra detail, or go for thinner, finer bands for a sleek alternative.
Advertisement
Pair with pastels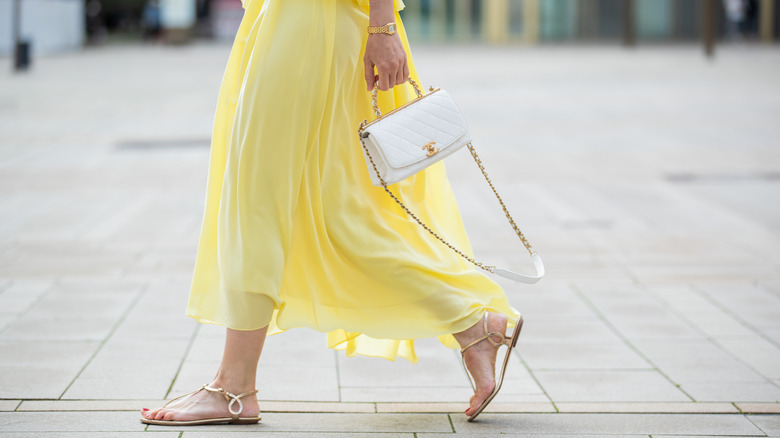 Christian Vierig/Getty Images
Gold sandals work with bright tones, but they can also be besties with pastels. When paired with a palette that incorporates a buttery yellow, it matches fantastically and is essentially a different tone of yellow that really completes a look. But a sunshine hue isn't the only color that gold can complement. Baby pink, sky blue, and minty green are sweet choices that feel lightweight and effortless — all you'd want from a summer outfit. It helps, too, that greens and powder blue are color trends that'll define your wardrobe this summer.
Advertisement
Pair them with an all-white dress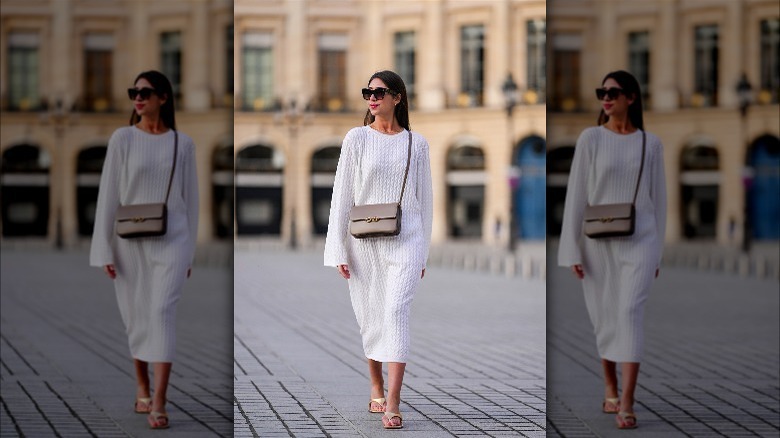 Edward Berthelot/Getty Images
Gold sandals will instantly elevate any white, breezy outfit you put together during the summer. It's hard to find a better accompaniment that'll take a beach-ready 'fit and step it up for dinner out. With a Grecian air, the color combination feels luxe and elegant all at the same time. Sprinkle on some gold accessories, and you've got an evening summer outfit to last you the whole season. Outside of white dresses, an equally frosty-hued jumpsuit or culottes will look divine with metallic slides or sandals.
Advertisement
Work them into a breezy skirt outfit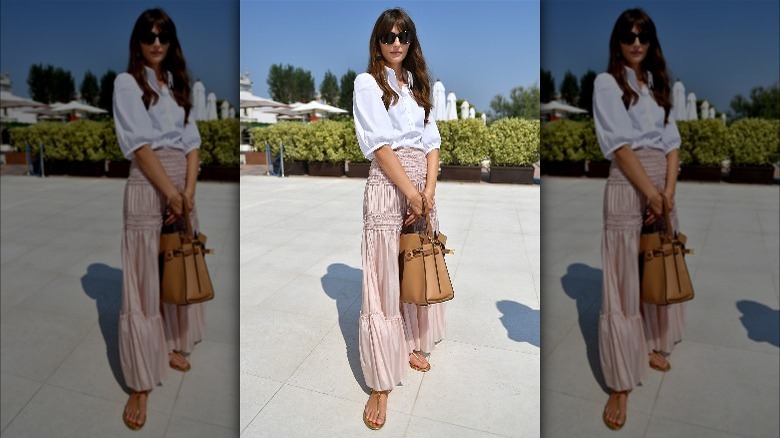 Jacopo Raule/Getty Images
When you've got a billowy top and gold sandals on lock, you might be looking for a few other ways to make the most of them while summer is here. Swap in denim shorts or linen pants for a flowy skirt, and you're set with a slightly casual but extremely stylish look at the ready. If boho styles like this often grab your attention, adding gold sandals will make them feel a touch more polished (as opposed to wearing this with your favorite flip-flops or earthy slides).
Advertisement
Wear them with printed pants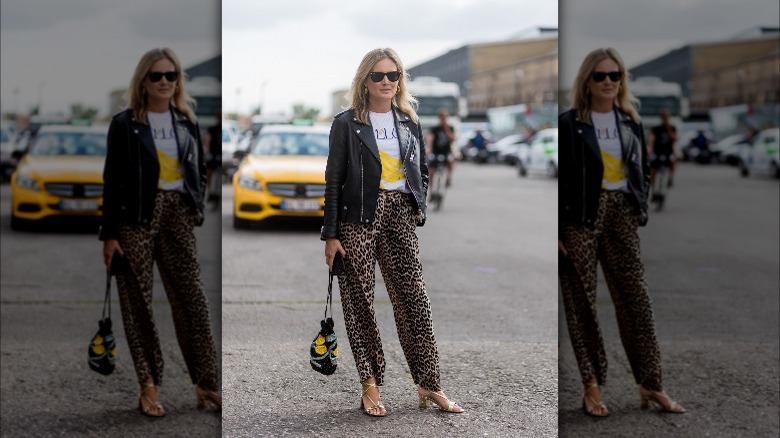 Christian Vierig/Getty Images
As summer winds down, you may need a jacket or longer pants occasionally rotating through your weekly outfits. But don't put away those glimmering golden sandals just yet. These preserve the good feelings that warm seasons often evoke and keep a slightly cozier outfit light and fitting for late summer. Swap them out for boots or a white sneaker and the look will feel autumnal in seconds, which goes to show just how skilled a good pair of gold sandals are.
Advertisement
Rock them with a short dress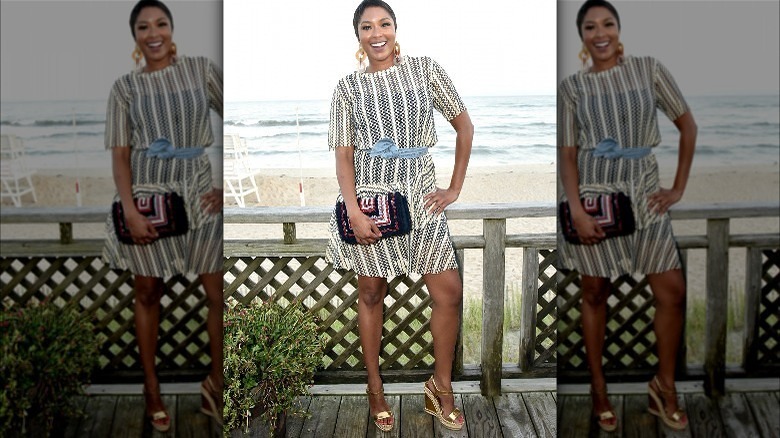 Eugene Gologursky/Getty Images
Dresses are a hallmark summer garment. Pick any shoe, and it'll likely work with a mini, midi, or maxi dress; this is especially true for metallic sandals. For an ultra-sophisticated outfit, it's a pretty simple formula. Pair your favorite frock with sleek, golden sandals, and you'll feel ready to take on any night out, dinner date, or evening with friends in style. The clean look of a sandal with a chunky heel (all in a golden sun ray finish, of course) pairs beautifully with a frilly, puffy, sleek, or textured dress.
Advertisement
Work them into a color-blocked ensemble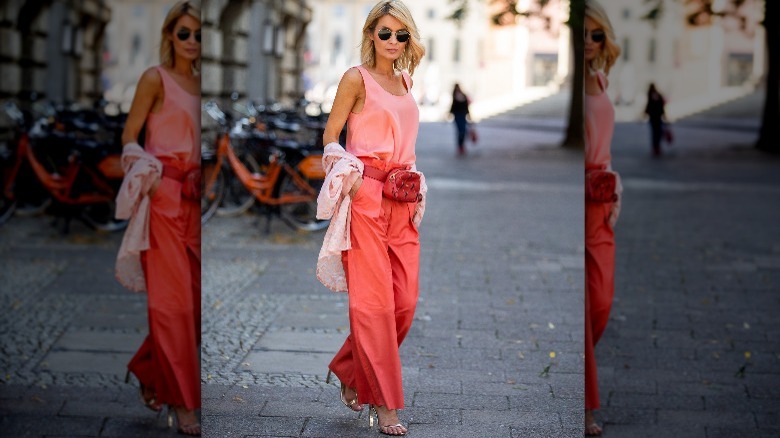 Christian Vierig/Getty Images
Don't forget the power of color-blocking. With the right tones, a basic tank and trousers ensemble becomes a vibrant OOTD with serious Instagrammable appeal. Embrace color-blocking by stacking different variations of a color family or choose complementary hues for a vivid pop. When your clothes are doing the heavy lifting, you might want your shoes to take a back seat or provide a different kind of style detail — and gold sandals can do just that. They won't overshadow the bright colors but offer a subtle flash here and there.
Advertisement
Wear with a slip dress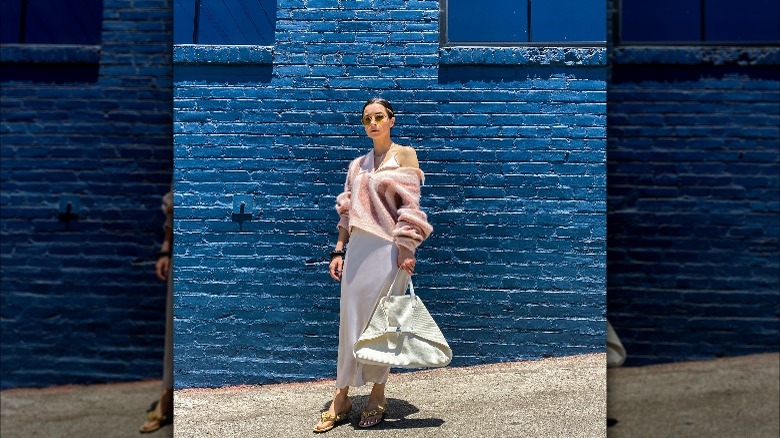 Edward Berthelot/Getty Images
If you're not acquainted with all the perfect slip-dress styles out there, it's time for an introduction. These extremely versatile pieces are wearable year-round, serving as an unbeatable layering piece in fall and winter and working gorgeously on their own when it gets hot. Most of these dresses are made of silk, satin, and other materials with major sheen. You know what that means — golden sandals will be the perfect gleaming accent shoe to finish off the look. Throw a cozy sweater on top if you spend time in an air-conditioned space or once the sun goes down. 
Advertisement