Styling Linen Pants For A Sophisticated Summer Look Has Never Been Easier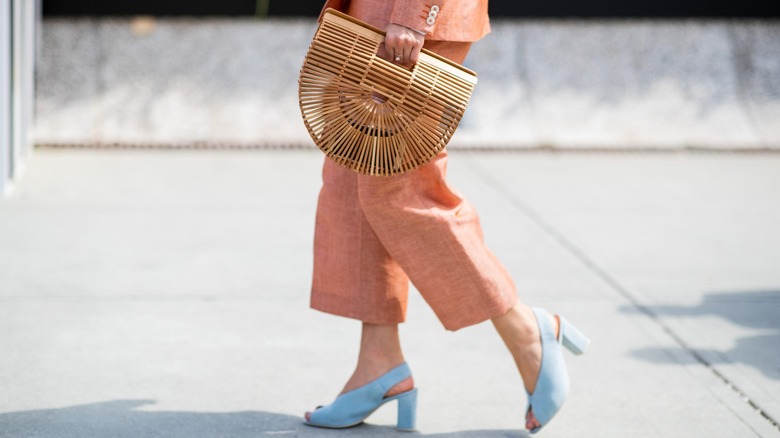 Christian Vierig/Getty Images
Linen is a luxury fiber known for its sophistication. Linen fabric provides wardrobe staples that can be worn in any month of the year, but people especially gravitate to this fiber during the summer because of its drape, fluidity, breathability, and ease of wearing during heatwaves and spells of humidity. When choosing a pair of linen pants, find a pair that's not too transparent or you may run the risk of showing off more than you bargained for. "... [Wear] a linen style that isn't too see-through," fashion stylist McKenzie Crouch tells Forbes, adding, "Make sure you wear the appropriate undergarments, such as white or nude panties."
Fashion stylist Audree Lopez shares a tip for determining whether those expensive linen items you've been eyeing are worth the price. Before making a purchase, she ponders whether the items in question are multifunctional and whether they will become core foundation pieces she'll wear frequently in her everyday life. A positive answer to both questions reveals that a linen piece, even an expensive one, is worth the investment. Don't worry if 100% linen is too pricey for your budget; cotton-linen and viscose-linen blends are just as chic as the unaltered linen fiber and are typically far more affordable to add to your closet.
If you need ideas for how to wear linen pants in summer, we're here to offer suggestions. Let's check out some examples of how to style your linen pants in a way that adds refinement to all your summer looks.  
Wear neutral linen pants with a black V-neck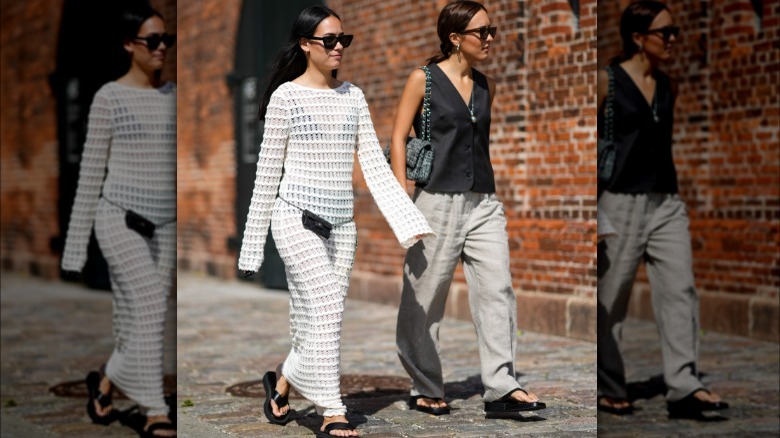 Edward Berthelot/Getty Images
Neutral-colored linen pants are a quintessential summer wardrobe staple you can rely on when you want to project a confident yet relaxed image. To ensure a cohesive look, select a classic black V-neck top or gilet; the black offers an interesting counterpoint to the lighter neutral and provides a satisfying level of color contrast. Timeless accessories will complement these separates best; a simple pendant, dressy black thong sandal, and a tweed shoulder bag finalize this look in a harmonious manner.
Add fun-loving fringe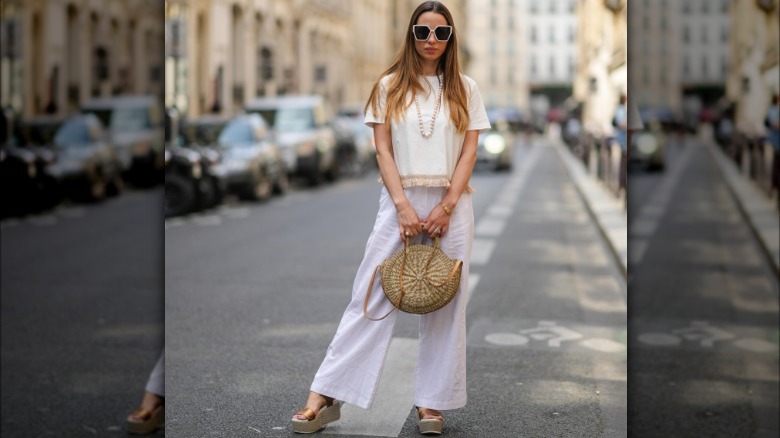 Edward Berthelot/Getty Images
Wearing white and cream together is au courant for summer 2023. In the example pictured above, Italian fashion model and television personality Maria Rosaria Rizzo styled white linen pants with a luxurious fringed t-shirt, platform wedge sandals, wicker handbag, and oversized sunglasses. To incorporate wide-legged white linen pants into your own summery white and cream outfit, simply team the pants up with a cream-colored t-shirt. The fringe embellishment is flirty, trendy, and fun to wear but optional. To finish off your look, check your closet for breezy sandals and an interesting textured purse.
Revisit 1980s silhouettes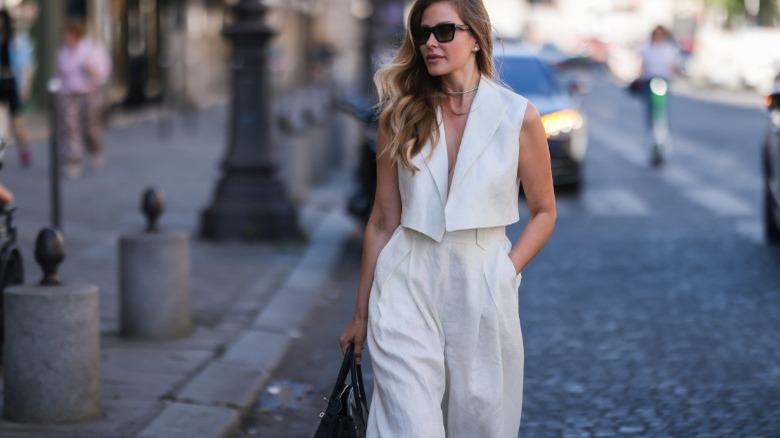 Jeremy Moeller/Getty Images
Vests are back in style after a long period of public disinterest in them. Lately, trendsetters have been wearing three-piece suits that include a vest, suit jacket, and pants, but you can skip the jacket when you're aiming for a carefree, casual look. If you want to rock a revived 1980s style trend, opt for high-waisted, baggy linen pants that closely match your vest. To continue the '80s theme, fasten a pair of diamond stud earrings in your ears, wear a matching diamond choker, and don a pair of large-framed shades.
Pair baggy linen pants with a trendy vest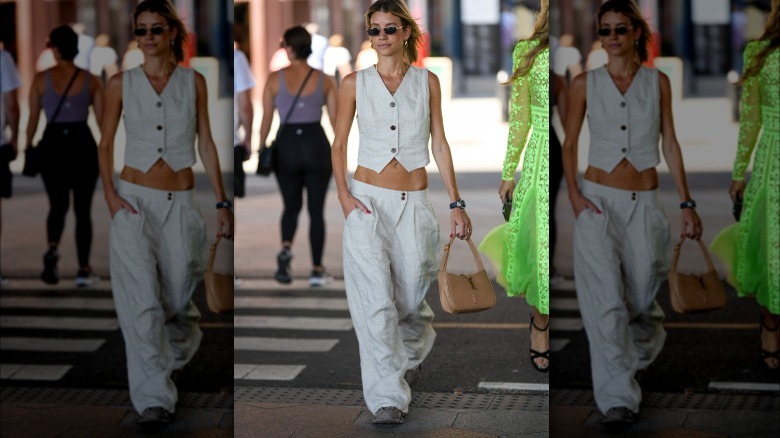 Edward Berthelot/Getty Images
This is another idea to try if you want to pair baggy linen pants with an up-to-date vest. The pictured look could work for you if you're feeling confident enough about your abs to bare them to the world. If that isn't your situation, feel free to modify this ensemble by layering a skintight bodysuit underneath it or by tossing a jacket over it. The accessories can stay understated; you don't need anything beyond simple jewelry, a pair of sneakers, and a classic leather handbag to take this look out and about.
Showcase an imaginative print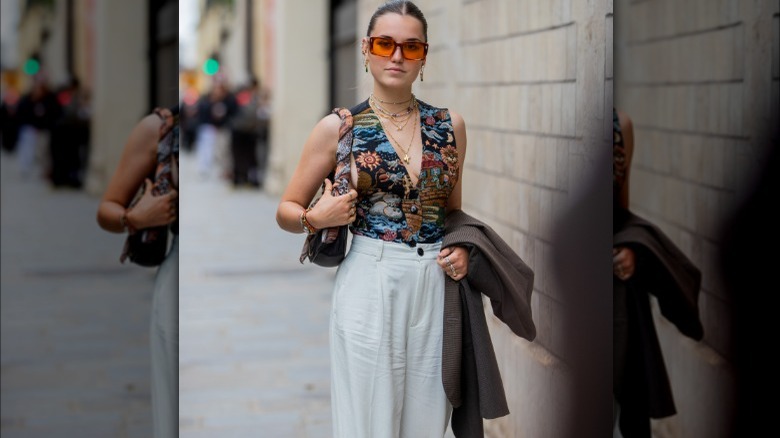 Christian Vierig/Getty Images
Here's yet another take on the concept of wearing relaxed linen pants with a vest. This example demonstrates how nondescript, solid-colored linen pants make the ideal backdrop for an eye-catching pattern on top. Now imagine how this might look with your favorite style of print, perhaps a floral, an abstract design, a chevron, or a stripe. If you want to make the look even bolder, accessorize with a patterned bag, and fill in the vest's plunging neckline with multiple layers of pendants and necklaces. Glasses with tinted lenses make the outfit even more interesting.
Look sizzling hot for date night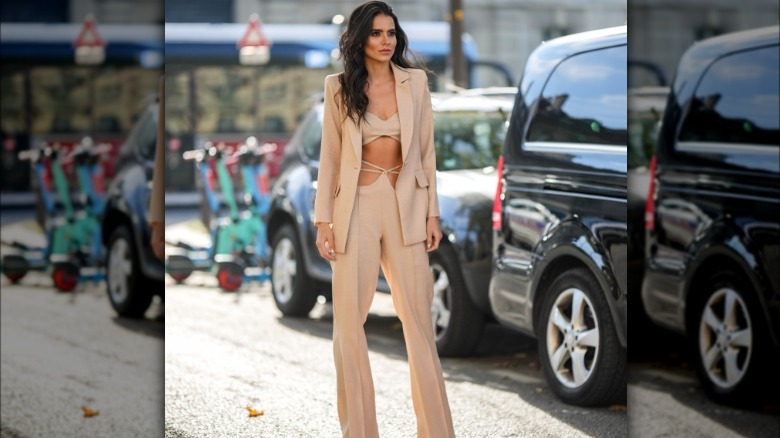 Edward Berthelot/Getty Images
If you want to be perceived as taller and slimmer, look for outfits where the focus is on long vertical lines. This linen crop top-and-pants set illustrates the idea perfectly. The slim, elongated jacket gives the illusion of a mile-long torso, and it also covers enough skin that this look doesn't get too brazen. The unusual waistline on the pants grabs attention. When you want to look your loftiest, leanest, and sexiest, this is a fantastic clothing combination to consider that works for occasions such as date nights or parties with friends.
Mix linen and athleisure for a laid-back look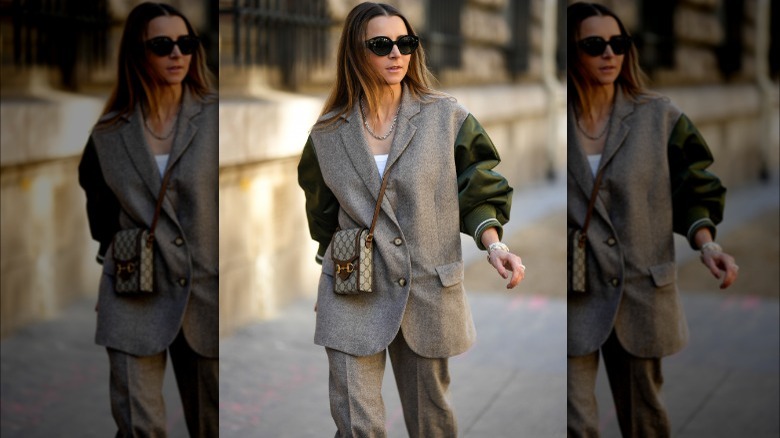 Edward Berthelot/Getty Images
Perhaps you live in a location where summer evening temperatures are chilly after sundown, and you want to wear a jacket with your linen pants. If you aren't sure which jacket style to choose, why not try a hybrid garment? If a suit jacket and varsity jacket got together and had kids, you'd end up with a lighthearted look like the one pictured here. If you're aiming for a fun-loving attitude that's also stylish, balance the mischievous-looking jacket with classic accessories including black sunglasses, a monogram-patterned crossbody bag, and chain necklace.
Style wide-leg linen pants with a summery button-up shirt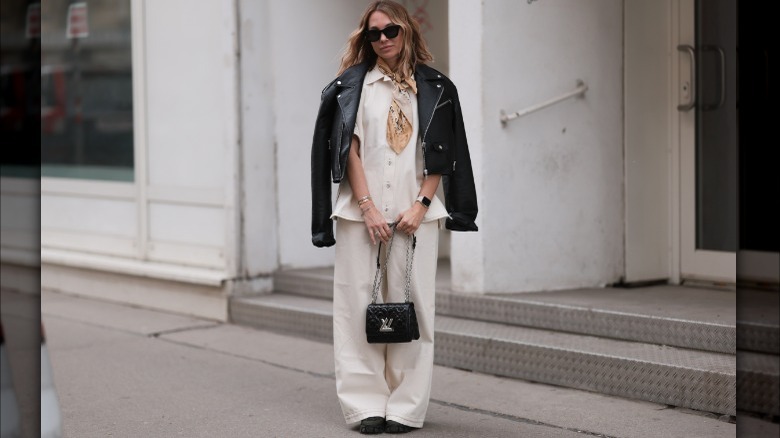 Jeremy Moeller/Getty Images
Pictured above, fashion influencer Karin Teigl sports a chic patterned silk scarf and black leather jacket to accessorize wide-legged linen pants. To assemble a similar summertime outfit, you can take or leave the jacket; while you'll need it for summer evenings in San Francisco or Los Angeles, you can safely ditch it if you're hanging out in Atlanta or Miami. To get this look, style a button-up shirt in the same color family as your pants. Accessorize with bracelets, black sneakers, and a textured black leather purse.
Dress up a casual t-shirt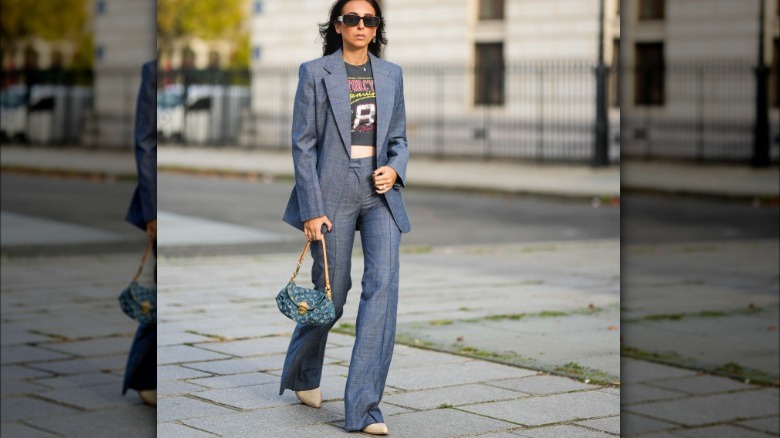 Edward Berthelot/Getty Images
A denim blue linen suit can do double duty in your wardrobe because you can style it with a collared blouse for work or dress it down after work. Pictured above, fashion stylist Gabriella Berdugo wears her linen suit with a casual cropped, printed t-shirt for an easygoing off-duty look. If this idea inspires you, drag your coolest band tees out of your closet and try them on with your summery suits to try to find any synergistic pairings. Supplement your ensemble with a monogram-printed bag, closed-toe footwear, and your preferred sunglasses.
Hit the boardwalk in style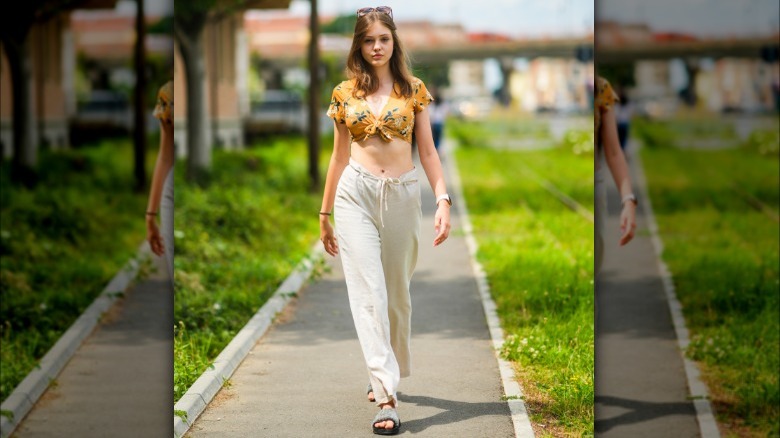 Edward Berthelot/Getty Images
If you're taking a beach vacation this summer, linen beach pants are an ideal item to pack. When wandering around beach-adjacent areas such as the boardwalk or beachside cafes, sunglasses, a pair of casual slip-on sandals, and a tropical print, tie-front crop top perfectly complement the beach pants. If you wear a watch, choose a waterproof style so it can withstand quick dips in the water. It's practical to also pack a sweater or jacket to throw on in the evenings because temperatures in coastal locations are notorious for dropping after dark.
Layer a black crop top under a summer linen set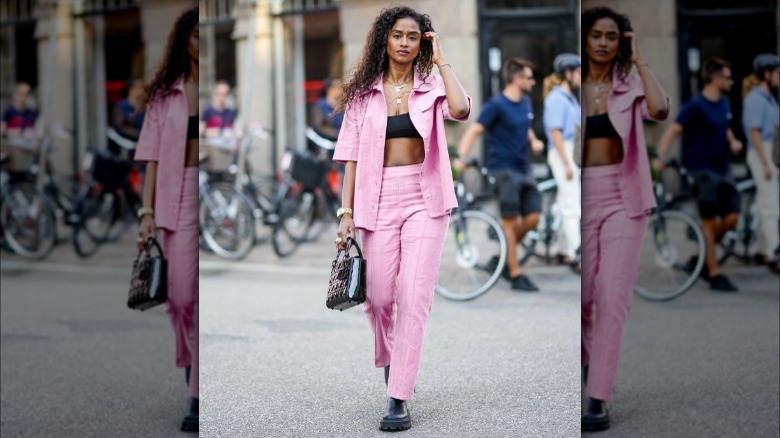 Edward Berthelot/Getty Images
If you want to get in on 2023's hottest color trends, bid your neutral-colored linen pants a fond farewell, and embrace head-turning shades of pink. Pictured above is an ensemble that nails this look. To emulate it, break up an expanse of head-to-toe pink by inserting a flash of black. This idea can be implemented in countless ways. To stay true to the inspiration photo, layer a simple black crop top under your pretty pink linen shirt. For a more reserved variation, make the layering piece a black t-shirt instead.
Try an unpredictable linen color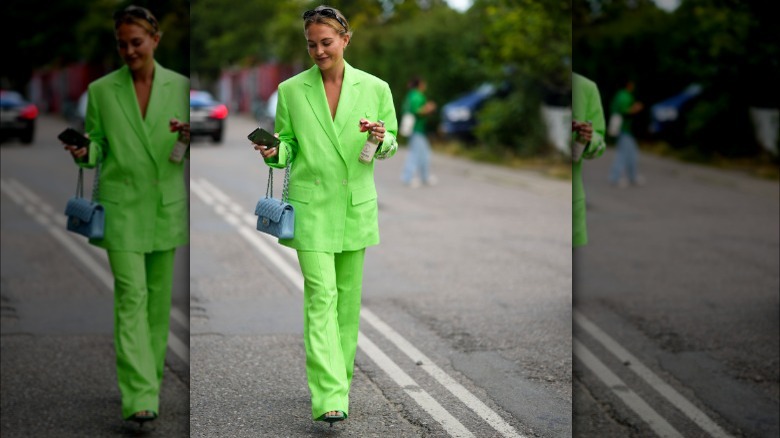 Edward Berthelot/Getty Images
Summer 2023 is all about neoncore, with lively neon colors showing up in unexpected places. While there's nothing wrong with wearing classic black or neutral-colored linen, you can brighten things up by choosing an alternative linen pants suit color nobody would expect. One possibility is a neon green linen suit as pictured above. If you're worried the look is getting too matchy-matchy, accessorize with a handbag in a different color. When this is your weekend wear, shimmery green sandals would enhance the ensemble perfectly. Pulling this look off at work, though, might require closed-toe shoes.
Suit up in all-white linen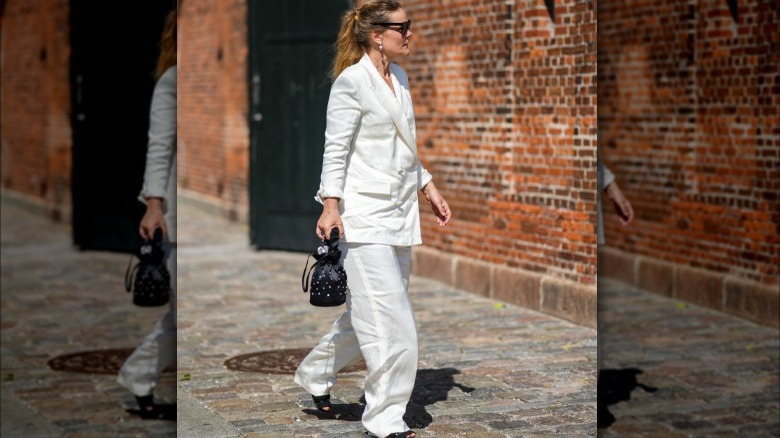 Edward Berthelot/Getty Images
Head-to-toe white linen is an enduring look that has inspired countless songs, poems, and romantic daydreams. On leisurely summer days when you're hoping to evoke a tranquil mood, choose a matching all-white linen suit. A loose-fitting linen jacket and matching relaxed pants are silhouettes that keep the ensemble unrestrained and easy to wear. You can interject a few black accessories, such as sunglasses, sandals, and a rhinestone encrusted purse, to add some contrast and visual interest to the suit.
Choose playful accessories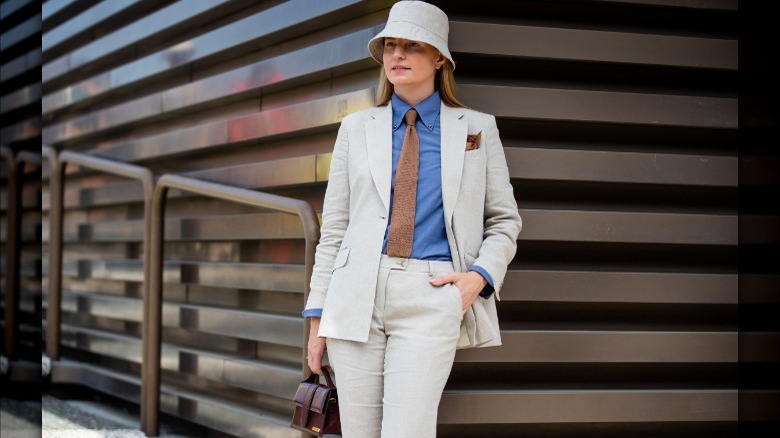 Christian Vierig/Getty Images
If you want to try out one of the trendiest summer office looks, take a look at how fashion influencer Monika Kaminska styled the solid-colored, well-fitting linen suit pictured above. To achieve a similar look, choose a button-down dress shirt that contrasts with your linen pants. Button the shirt all the way up, and secure a boyish necktie around your neck. Add a pocket square, bucket hat, chunky loafers, and a structured handbag, and you're ready to head to work or wherever else your schedule takes you.
Brighten up rainy summer evenings with vibrant linen pants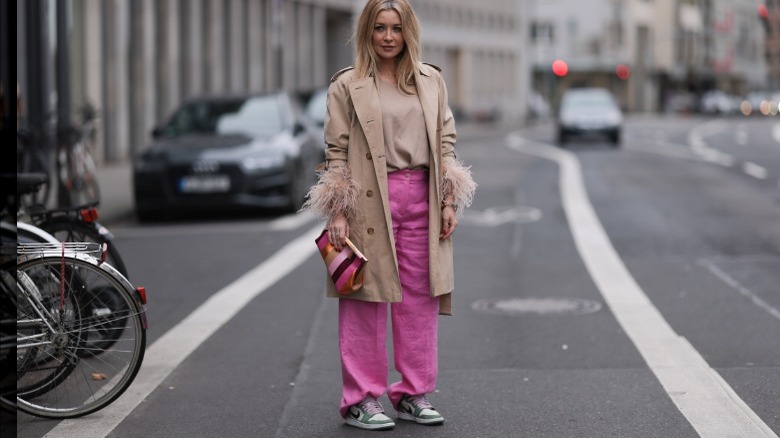 Jeremy Moeller/Getty Images
Summer weather isn't always reliably sunny. In many locations, you'll want to style some warmer layered outfits in preparation for foggy, rainy, or chilly conditions. Linen pants, a lightweight sweater, a trench coat, and comfortable sneakers can empower you to ride out summer weather events both in comfort and in style.