The 14 Worst Met Gala 2023 Looks
Theo Wargo/Getty Images
Tonight, fashion fans everywhere have their eyes set on the 2023 Met Gala's beige carpet. This year's event celebrates the controversial late German-born fashion designer Karl Lagerfeld, known for his work with Chloé, Chanel, and the eponymous House of Karl Lagerfeld. The Met Gala coincides with the official opening of the Costume Institute's spring exhibition, "Karl Lagerfeld: A Line of Beauty," which will run from May 5 through July 16 at the Metropolitan Museum of Art. And though Lagerfeld's famous feline friend Choupette could not attend tonight's celebration, she took to Instagram to share her well wishes with fans. "We pay tribute to my Daddy every day since his parting, and we are very moved to see one more day dedicated to him," Choupette stated on Instagram.
Of course, with Lagerfeld's influence as the evening's theme, there are bound to be some fashion misses on the red carpet. Lagerfeld's designs defined several decades of style, from his work with Chloé in the 1970s to his reinvention of Chanel Couture throughout the 1980s. However, the designer was also synonymous with his own signature look and was often seen sporting a chic black-and-white ensemble with statement sunglasses to match. While some stars channeled the aesthetic effortlessly, others missed the mark. Let's take a look at some of the worst-dressed celebs at the 2023 Met Gala.
Irina Shayk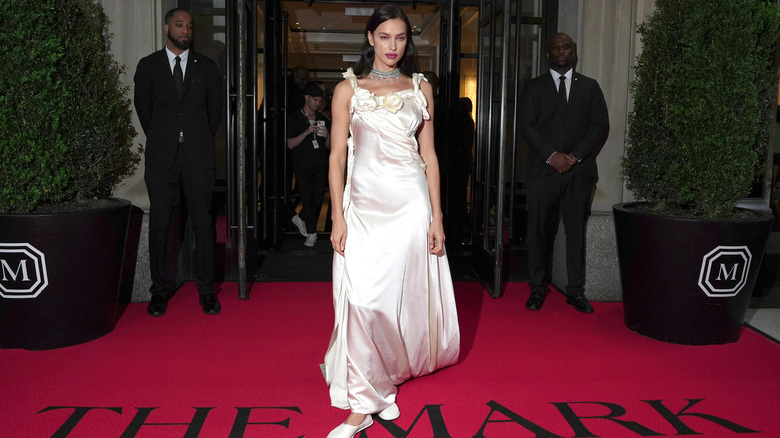 Ilya S. Savenok/Getty Images
Russian model Irina Shayk may have nailed this season's rosette trend — but we wouldn't say this was a bold enough choice to channel the theme. While this champagne-colored dress could certainly work for other events, it falls flat as a tribute to Karl Lagerfeld. To make things worse, Shayk paired this elegant gown with a statement necklace and casual flats, to our total confusion.
Phoebe Bridgers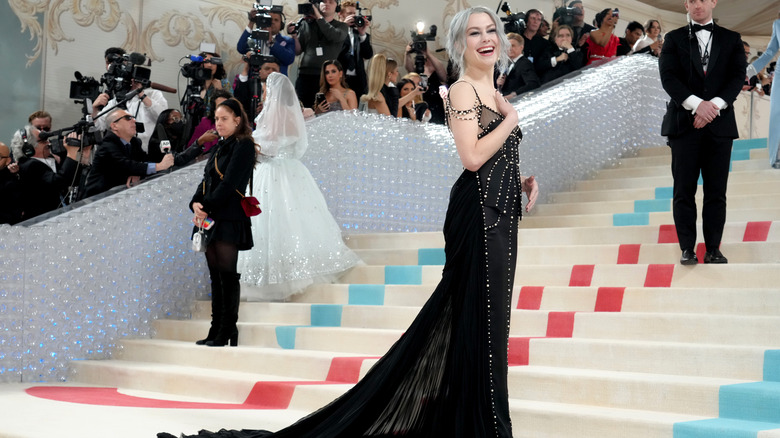 Jeff Kravitz/Getty Images
Though we admire Bridgers' attention to detail, with pearly, Chanel-inspired embellishments sewn into her Tory Burch gown, we have to say that her overall outfit underwhelmed us. Furthermore, we weren't thrilled with her disheveled updo, which did little to elevate her laid-back look. If she had styled things a bit differently, she might have escaped our 2023 Met Gala worst-dressed list.
Olivia Wilde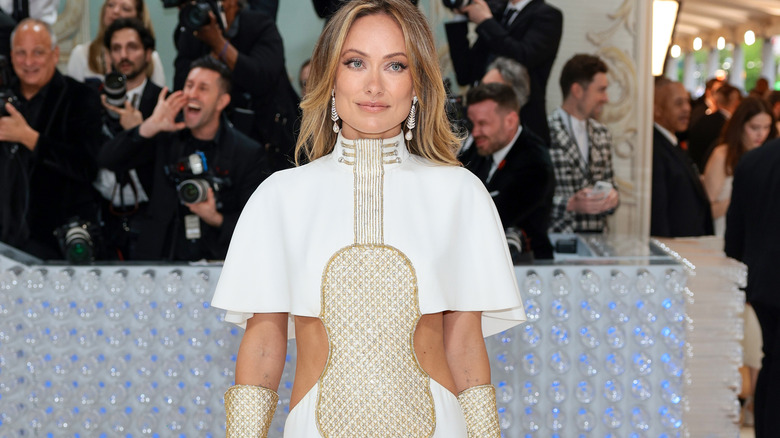 Dimitrios Kambouris/Getty Images
We're typically fans of Olivia Wilde's style, which is why we were taken aback by the bizarre gown that she wore on the 2023 Met Gala red carpet. True, there are elements of Karl Lagerfeld's 1970s-era design present in this flowing cape dress. Unfortunately, the final result reads more as Spirit Halloween than spirit of Karl Lagerfeld.
Billie Eilish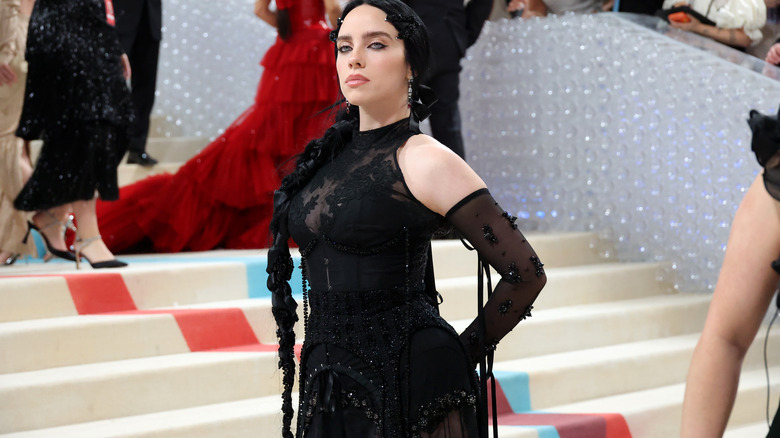 Mike Coppola/Getty Images
Billie was arguably one of the best-dressed celebs at last year's Met Gala, which might be why she went with a nearly identical choice of dress this time around. It's virtually the same design, featuring sheer sleeves and a fitted bodice, albeit worn in a different color. Lagerfeld's work was anything but regressive in design, and such blatant outfit repetition deserves to be called out.
Margaret Qualley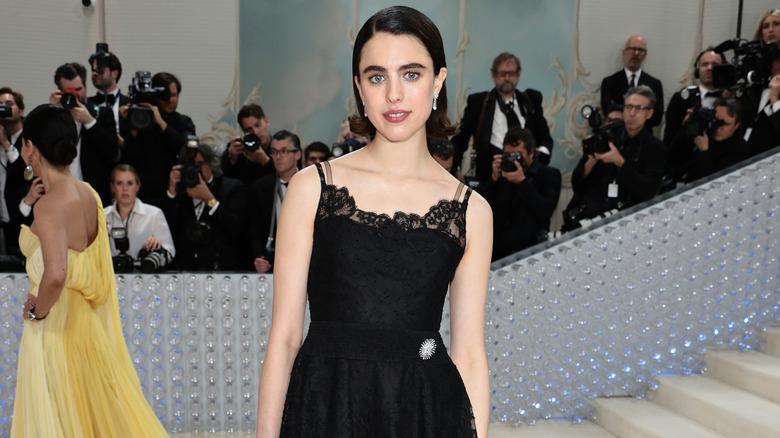 Jamie Mccarthy/Getty Images
Yet another star playing it safe on this year's Met Gala red carpet? Actor Margaret Qualley, who opted for a rather plain little black dress and tasteful accessories. While some features of her fit can certainly pass as chic, there's not much that sets the full look apart from your standard eighth-grade graduation garb.
Kate Moss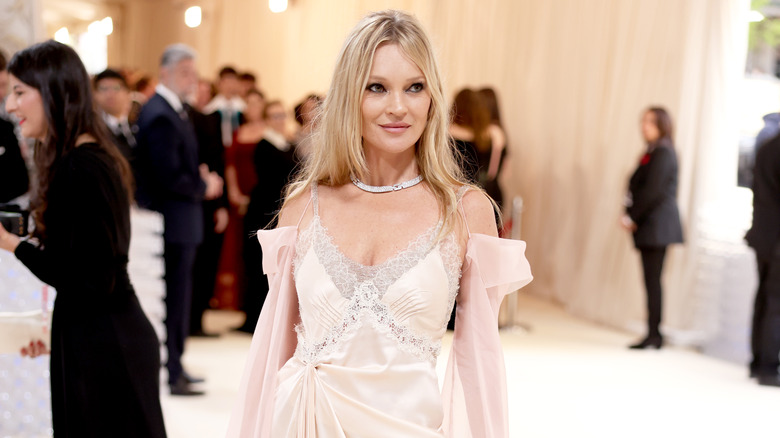 John Shearer/Getty Images
As much as it pains us to admit, Kate Moss didn't quite deliver with her 2023 Met Gala attire. On paper, everything is there, from her gown's gossamer sleeves to its dramatic draping. However, despite its exceptional attributes, it fails to do Moss — or the theme — justice. Above all, we would have liked to see Moss in something a little more daring to set her apart from the pack.
Emma Chamberlain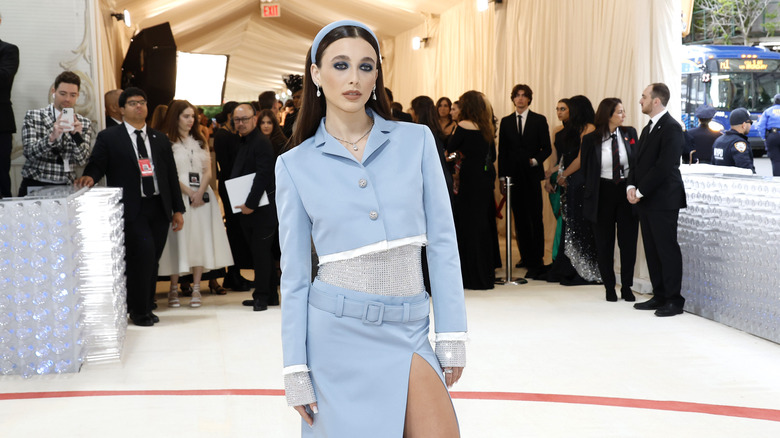 Mike Coppola/Getty Images
There were several costumey interpretations of Karl Lagerfeld's designs spotted at the 2023 Met Gala. These looks were closer to cosplay than Costume Institute, and unfortunately, Emma Chamberlain was a notable offender. Part Daphne from "Scooby Doo", part Chanel Spring 1995 collection — we're not exactly sure what Chamberlain was going for with this outfit, but it failed to make a positive impression on us.
Brooklyn Decker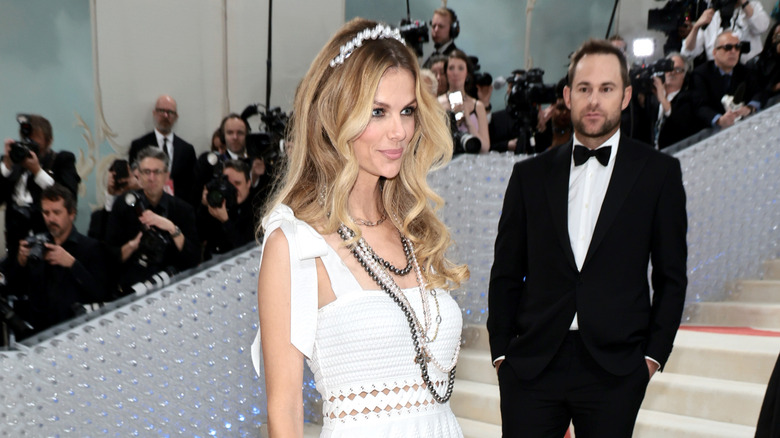 Jamie Mccarthy/Getty Images
We see what Brooklyn Decker was trying to accomplish through this vaguely Lagerfeld-inspired ensemble, but we can't say that she fully pulled it off. This casual crocheted gown looks more like a beach cover-up than couture, especially when paired with flowing locks and a jumbled assortment of jewelry. The final result leaves something to be desired for a red-carpet look.
Emma Wall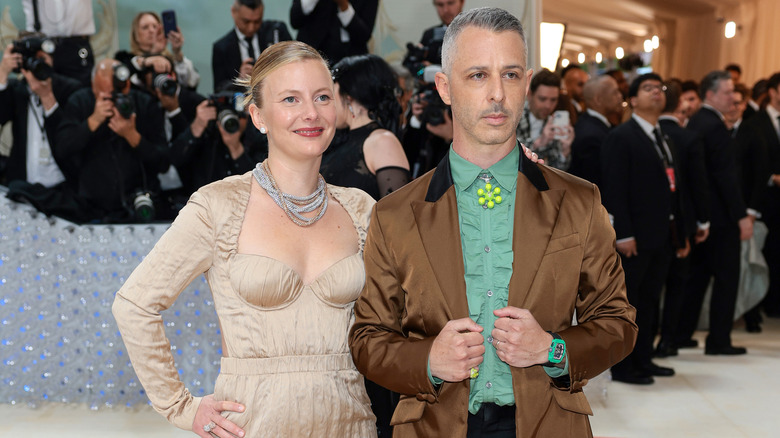 Dimitrios Kambouris/Getty Images
Our first impression of Emma Wall's floor-length gown? It appears to be in dire need of a good ironing. The actor paired the garment with a simple, slicked-back updo and minimal makeup — leaving us bored to tears with this uninspired Met Gala look. To add insult to injury, even Wall's neutral, modest manicure seemed to blend into the bland, oatmeal-colored design.
Alexa Chung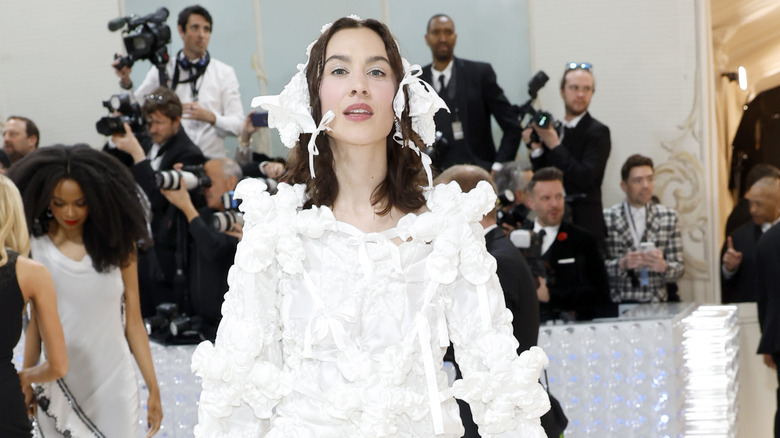 Mike Coppola/Getty Images
Alexa Chung has always been known as a serious trendsetter. Still, we found ourselves puzzled by her 2023 Met Gala attire, from the wispy, braided tendrils inexplicably dangling in front of her face to the Little Bo Peep-meets-Little Mermaid mashup that was her dress. That said, this is a Met Gala look we'll never forget.
Kendall Jenner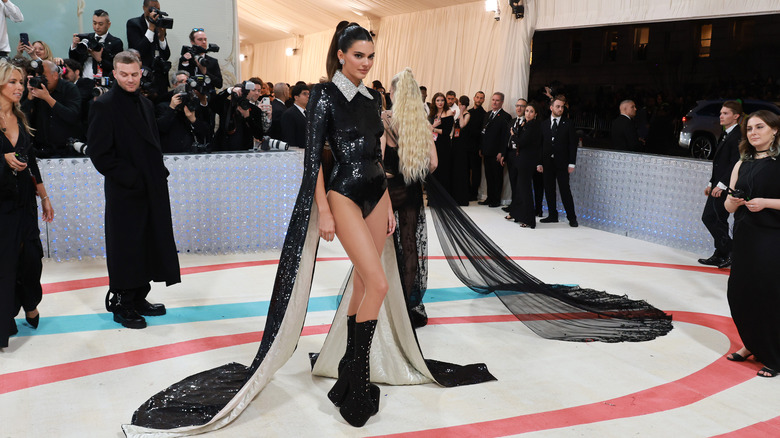 Theo Wargo/Getty Images
Kendall Jenner's Met Gala look may have been perfect for, say, a 2010 Jeffrey Campbell ad, but it's not exactly suited for the biggest night in fashion. Though Jenner's perfectly-coiffed hair and floral earrings were stunning in their own right, they failed to make up for the rest of this cheeky fit. It may have been inspired by gymnastics leotards, but it wasn't too well-balanced.  
Kylie Jenner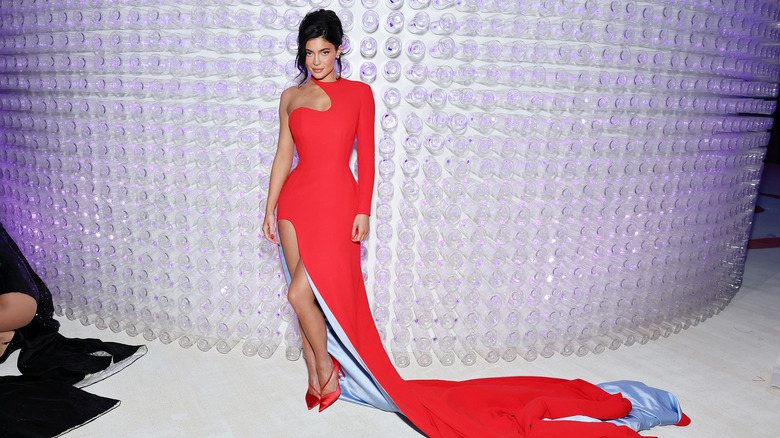 Cindy Ord/mg23/Getty Images
Fortunately, Kylie Jenner made sure that her sister wouldn't face the 2023 Met Gala's worst-dressed list alone. At first glance, it appeared that Jenner had shown up in silk pajamas. Upon opening her robe, however, we quickly realized that was not the case. While some guests chose to dress as Lagerfeld — or Choupette — for the evening, Jenner switched things up and emulated none other than Jessica Rabbit with a floor-length red evening dress.
Letitia Wright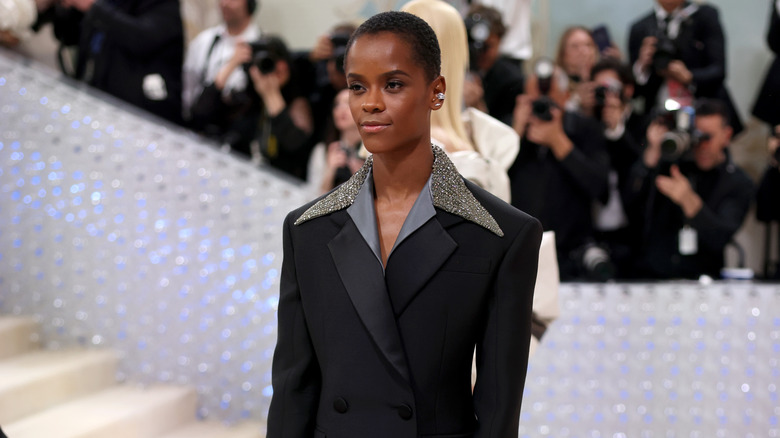 John Shearer/Getty Images
Guyanese-British actor Letitia Wright had the right idea with her sharp menswear-inspired ensemble, but we're afraid that her tailoring let her down at tonight's Met Gala. We loved the embellished dagger collar and assorted statement rings, but couldn't look past the loose-fitting cut of her double-breasted tuxedo jacket.
Jodie Comer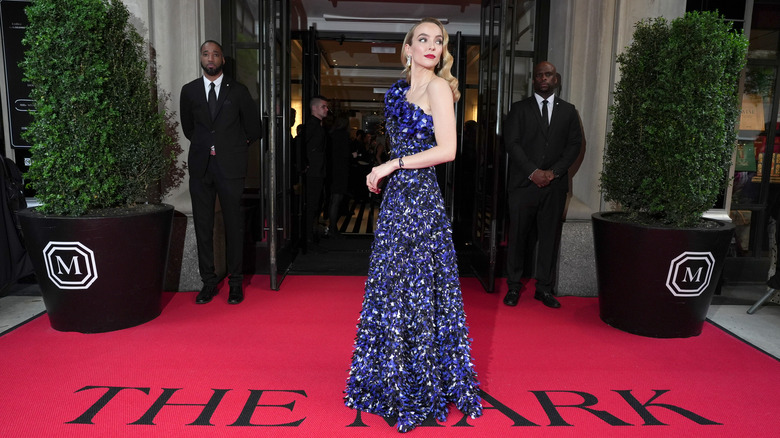 Ilya S. Savenok/Getty Images
There's a fine line between predictable dress and daring design, especially at a high-stakes event such as the Met Gala. Despite its vibrant blue hue and feathery texture, Jodie Comer's Burberry gown played it slightly too safe for our tastes. Though her hair and makeup were tastefully styled, they didn't do enough to enhance her overall look. Like many stars at the 2023 Met Gala, Comer made the mistake of holding back instead of taking a risk.