12 Short Cuts That Highlight Gray Hair & Bring Timeless Elegance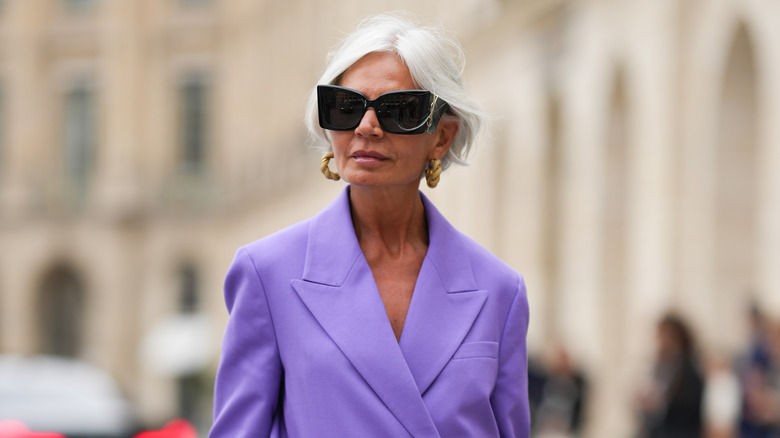 Edward Berthelot/Getty Images
Long gone are the days when women were expected to hide their gray hairs and constantly dye their roots. Gray hair is not only gorgeous and coveted today, but it has also become a symbol of the beauty of life, maturity, strength, and resilience. Whether you're in your 20s or 60s, embracing gray hair is more than just a beauty trend. And the best part? Gray hair is super low maintenance, meaning you won't have to spend hours at the hair salon trying to maintain your color while also damaging your hair.
Gray hair looks gorgeous with a number of different haircuts, but one category that pairs particularly well with gray hair is short hairstyles. Whether you're just looking for a way to showcase your silver hair this summer or you want to go short to let your grays grow out — we've got plenty of stunning short haircuts that suit any hair color, but natural gray hair in particular.
A voluminous messy bob
A voluminous messy bob in gray is a trendy and edgy choice, no matter your age. If your hair naturally has some texture to it, this haircut will give you lots of bounce and dimension while also being super easy to style. Even though it is a short haircut, the length it does have allows you to rock a variety of different hairstyles like braids, buns, and tiny ponytails.
A curly bob
If you have naturally curly hair and want to rock a short bob, go for it! Just keep in mind that curly hair tends to shrink as it dries, so opt for a slightly longer cut than what you're aiming for. With a few strategically placed layers and face-framing pieces, a curly gray bob is a low-maintenance hairstyle that looks fun and charming. Plus, the natural variations in gray tones will make your curls even more eye-catching.
The momager cut
The momager cut became popularized thanks to reality television star Kris Jenner, and today it is a hairstyle that exudes confidence and success. While it looks great with any hair color, the natural gray tones of your hair will give the longer pieces in the front plenty of dimension.
A bob with wispy bangs
Because of the variety of shades that natural gray hair has, opting for bangs is always a great idea. A fun short hairstyle for anyone who wants to rock their natural hair is a short bob with wispy bangs that will help showcase all that added dimension.
The asymmetrical bob
An asymmetrical bob in gray is a very modern and edgy style that features longer hair on either one side or on both sides in the front. The sharp angles this haircut gives can help elongate the face, which is why this cut is particularly great for anyone with a round or heart-shaped face.
Pixie with side-swept bangs
If you're considering a pixie cut but find it intimidating, we suggest going for a slightly longer and softer version with side-swept bangs. Since your hair will be longer in the front but shorter in the back, all the different shades of gray you have will be in the spotlight.
Ultra short pixie
If you want to rock your grays but hate the idea of allowing your dyed hair to grow out as you transition to all gray, you have two options: Either you get your hair dyed gray, or you cut it super short. If you're more into the latter option, get a short pixie with some texturized layers.
A voluminous pixie
Those who have already let their natural hair color shine know just how much healthier hair becomes once you stop dying and processing it regularly. And since it's healthier, it also tends to grow thicker, meaning that volume won't be much of an issue. A sleek and sophisticated pixie haircut with longer pieces on top is both low-maintenance and ultra-fashionable.
The grown-out pixie
While most people tend to either go super short or dye their hair gray when they're transitioning to their natural hair color, the truth is that you can totally rock some of that dyed hair on the ends. In fact, the right haircut will give you an almost dip-dye hair look. This is a great way to ease into your natural color while still having some fun with your hair.
Short hair with a deep side part
A deep side part can add a dramatic and sophisticated touch to any hairstyle, and yes, it can also be rocked with shorter hair. A pixie cut with longer layers allows you to switch your hair's part, making it more versatile than a super short pixie. A deep side part is universally flattering as it draws attention to the eyes and cheekbones.
Sleek short hair
Sleek short gray hair is a modern, low-maintenance hairstyle that works for all ages. For a look like this, you want to use a hair product that will help keep your hair polished and in place all day long. And, of course, the varying shades of gray add depth and volume to the overall look, enhancing the haircut even more.
The short mohawk
Those who want to maximize the volume on top of their hair while still rocking a short hairstyle should opt for the pixie mohawk. This variation on the momager cut features longer hair on top that you can style upwards with strong hair products for a spiky, edgy look. While a hairstyle like this certainly isn't everyone's cup of tea, those who rock it definitely exude extravagance and coolness.