Hairstyles To Rock If You Have A Heart-Shaped Face
If you're hoping to discover the perfect new hairstyle that will dazzle everyone who meets you, you may want to keep your face shape in mind when you compare various styles. While you should always rock whatever hairstyle you like, a cut that looks fantastic on someone else might not be the best choice for you if your face shapes are dissimilar. 
Perhaps you've already analyzed your face shape and come to the conclusion that you have a heart-shaped face. If you're thinking your face might be heart-shaped, but you aren't totally sure, there are some quick checks you can do to confirm. Celebrity makeup artist Vincent Oquendo tells Today, "If your jawline comes to a point then you have a heart-shaped face." Fellow celebrity makeup artist, Desirae Cherman, concurs, adding, "A heart-shaped face will typically have a larger, wider forehead. Then the face gets more angled towards the chin, finishing into a point."  
Not everyone agrees with this assessment; some people believe that a widow's peak is an essential part of a heart-shaped face and that anyone who lacks the widow's peak has more of an inverted triangle-shaped face than a heart-shaped one. However, this distinction isn't crucial when it comes to figuring out which hairstyles look best on a heart-shaped face — because the same hairstyles that look amazing on heart-shaped faces also look fantastic on inverted triangle-shaped faces. If either description fits your face, the following hairstyles are all excellent options to consider.
Pixie cut hairstyle with bangs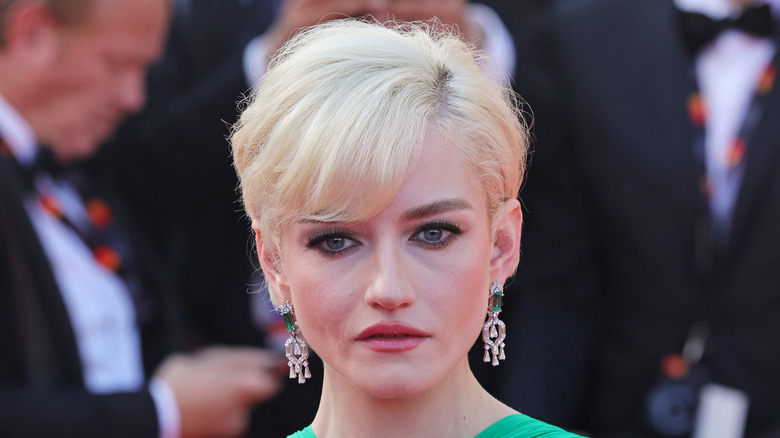 David M. Benett/Getty Images
A short, striking pixie haircut is flattering to a heart-shaped face because it de-emphasizes a wider forehead and empowers your eyes to be the focus. Bangs make a lovely addition because they soften the look and help to keep this cut from looking too severe. To achieve a style similar to Julia Garner's pretty pixie hairstyle, pictured above, first, straighten your hair with a flat iron. Then use a round brush to tease it into a poofy 'do with maximum volume.
Long, glamorous side-parted waves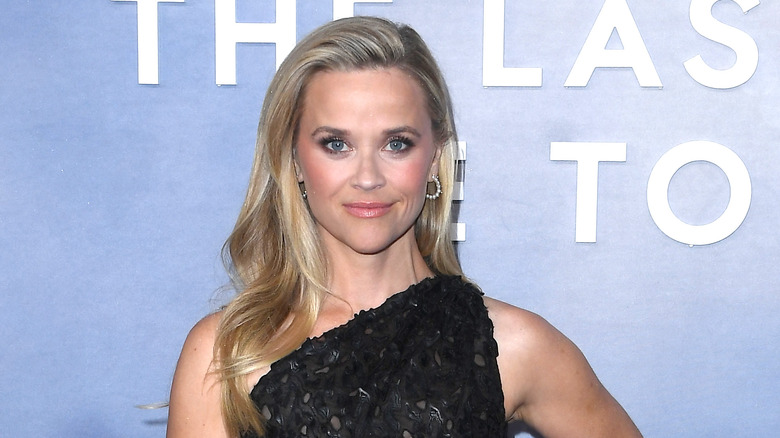 Steve Granitz/Getty Images
Here Reese Witherspoon shows off a gorgeous hairstyle featuring a side-swept mass of long, highlighted locks. This style flatters Witherspoon's heart-shaped face because the long layers create depth and texture, counterbalancing her delicate-looking jawline.
If you have long hair, you can mimic this glamorous all-occasion hairstyle by first asking your stylist to give you a trim with unobtrusive choppy layers that add texture to the ends. To maintain the look, wash your hair; while it is still damp, use your comb to create a side part. Then hold the upper portion of your hair to the side and blow dry it in the direction you want it to go. Comb gently through the entire length of hair to remove tangles. Set with hairspray.
Sculpted bob with curled-under ends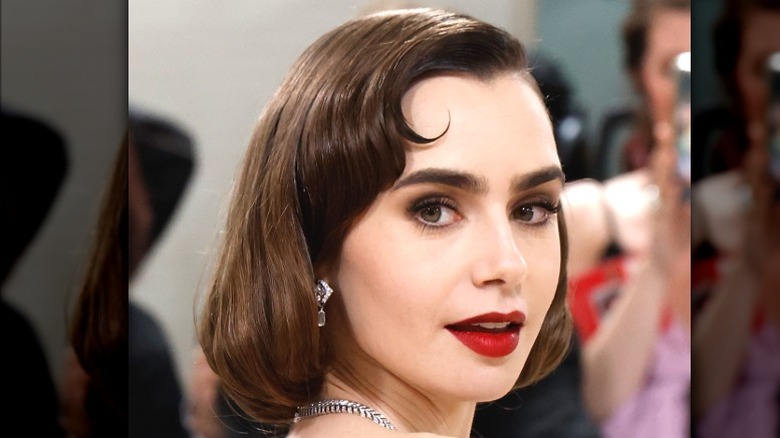 Taylor Hill/Getty Images
Lily Collins, star of the "Emily in Paris" series on Netflix, charmed observers with her chic side-parted pseudo bob hairstyle at the 2023 Met Gala. Collins, with her fabulous high cheekbones and widow's peak, possesses the quintessential heart-shaped face. If you have similar features, this style is an outstanding choice for enhancing them because the bold, curvilinear lines of the hairstyle complement them beautifully. 
If this style inspires you, grab a curling iron, comb, and some hairspray. Use the comb to create a side part. Curl the ends of your hair under to emulate the look of a bob haircut. Isolate one distinctive curl and artistically arrange it in a playful, asymmetrical arch positioned low on your forehead and above your eyebrow. Finish with hairspray.
Ultra-short buzz cut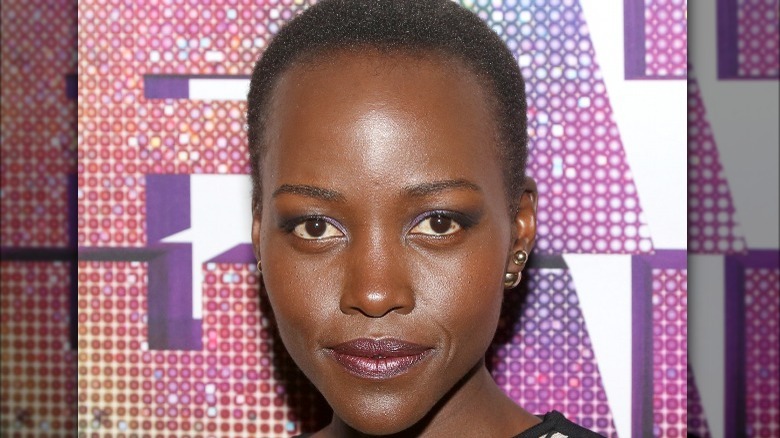 Bruce Glikas/Getty Images
Maybe you want people to focus their attention on your face and your eyes rather than your hairstyle. If you're game for trying a daring new 'do that accomplishes that objective, you could follow the lead of "Black Panther" star Lupita Nyong'o and cut your hair super short. If your face is a relatively narrow heart shape, like Nyong'o's, this cut will flatter it because that lovely heart will be prominently visible in all its glory. If you're looking for a style that will conceal your forehead or cheekbones, this style might not be the best choice;  there's no way you're hiding anything with this cut, and you might feel more confident by choosing a hairstyle with bangs instead.
One major upside: Once your stylist hooks you up with this cut, you do not need to do anything more than wash what's left of your hair and appear for regular trims as long as you want to maintain it. You will invest zero effort in styling this carefree look.
Slicked back ponytail or bun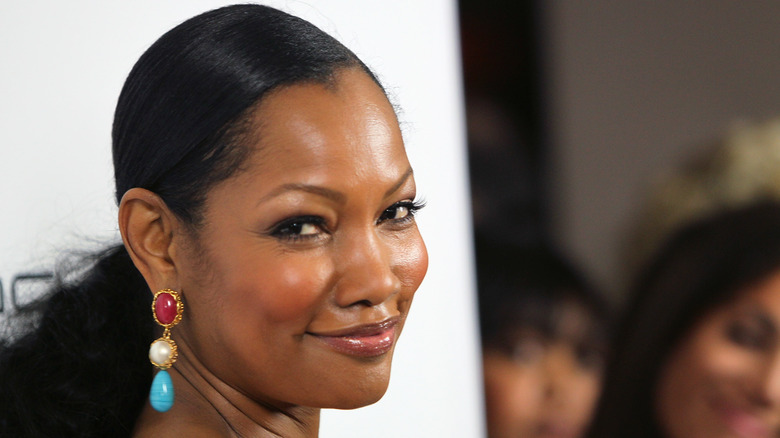 David Livingston/Getty Images
You can show off your gorgeous heart-shaped face to its best advantage with any hairstyle that is slicked back away from your face; ponytails, buns, and other gathered hairstyles all accomplish this goal. In any case, the hair products you use offer the keys to achieving the smooth styling that makes this look optimal. We recommend first shampooing your hair. While it is still damp, massage a handful of gel into the top and sides to create the slicked-back look before gathering your hair into a ponytail or bun. Spray a high-hold hairspray to ensure no tendrils will escape.
Loose messy updo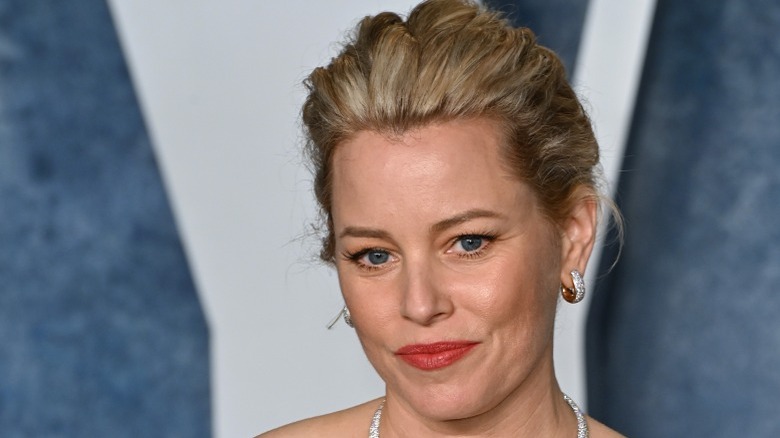 Featureflash Photo Agency/Shutterstock
Whether you're lounging at home or venturing out into the world for any occasion, the messy bun is a style you can count on. To style an updo that looks fantastic on a heart-shaped face, one option is to loosely gather your hair in the back, midway up your head, and swivel it into a bun. At that point, if the look isn't quite messy enough for your liking, gently release a few random small tendrils along your hairline and near your ears to soften up the look and make it appear more natural. 
This look works best for flattering a heart-shaped face with a pointed chin and a strong jawline. If your forehead is wider, and you're hoping to do more to minimize it, simply release more wisps of hair from the bun around your hairline along your forehead.
Center parted lob hairstyle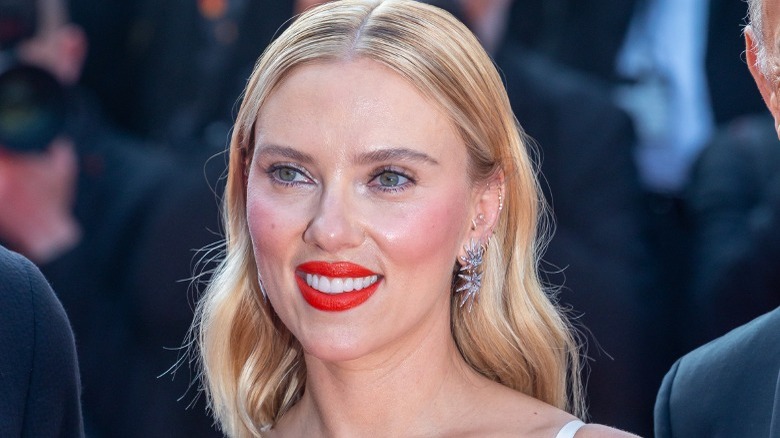 Marc Piasecki/Getty Images
If you're hoping to discover a chic, easy-to-wear, versatile haircut, check out Scarlett Johansson's cut at the 76th annual Cannes Film Festival. This blunt, all-one-length, center-parted lob hairstyle flatters a heart-shaped face because the smoothness of the cut complements a broad forehead, while that hair length buoys the look of a slender chin.
This look is one to consider if you want a fuss-free look that doesn't require much daily effort to style. Johansson's locks are about shoulder length, which is an easy length to work with at times you decide you want to braid your hair or sweep it into an updo. For everyday wear, simply wash, comb out the tangles, blow dry, part it down the middle with a comb, and you're ready for action. 
Looped bun with bangs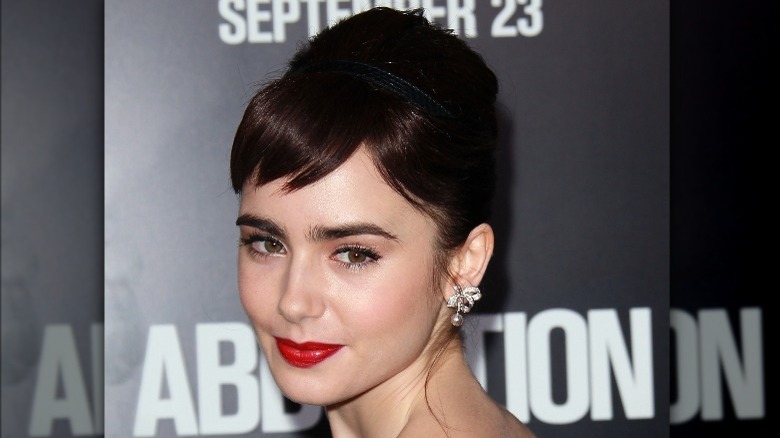 David Livingston/Getty Images
Pictured above, flirtatious bangs hide Lily Collins' forehead and make her heart-shaped face appear softer and more round. In the back, her fringy, layered haircut has been swept up into an easy looped bun. There are bun hairstyles that work for every hair length, so you can mimic this look even if your hair isn't long; as long as you have enough length to fold your hair over onto itself and secure it with a scrunchie or hair elastic, you can make this work.
Curly bob with bangs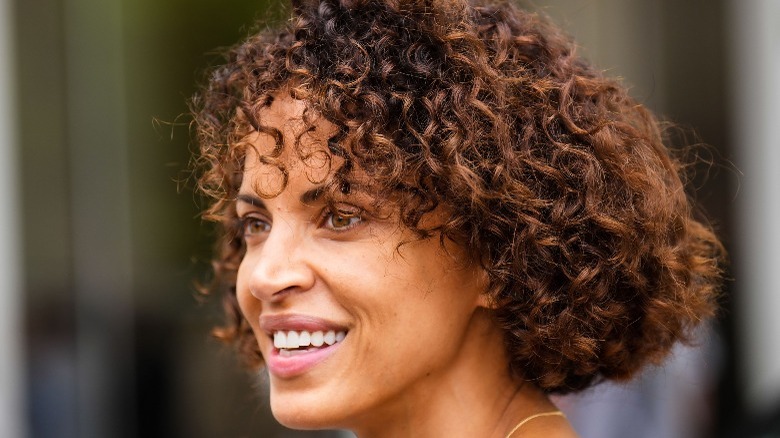 Edward Berthelot/Getty Images
The curly bob hairstyle pictured above flatters a heart-shaped face because the soft, blooming curls help to balance out and soften a narrow, pointed chin. It's possible to achieve a cut like this if you either have naturally curly hair or subject your hair to a curly perm treatment. Either way, after the initial cut is in place, you can style this look easily. Use a spray bottle to spritz enough water onto your hair to lightly dampen it, then scrunch the curls with your fingers to lift and shape them. To avoid having your curls turn frizzy, do not brush your hair; instead, use a pick or a wide-toothed comb to remove tangles.
Wavy bob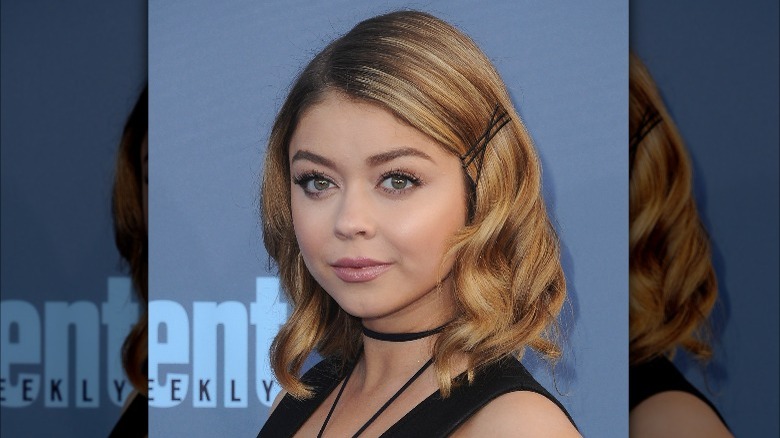 Jon Kopaloff/Getty Images
Here's some inspiration for styling one of the most versatile cuts you can successfully wear if you have a heart-shaped face. To make this look work for you, start with an all-one-length bob haircut and use a curling iron on the entire length of every strand of your hair. This will result in gentle waves that frame your face and give the appearance of extra volume. This is workable as an everyday hairstyle and also transitions well for wearing during your free time in the evenings and weekends. This look is so appealing on a heart-shaped face because the fluffy curls balance the pointed chin, providing a satisfying counterpoint for the inverted triangle shape of the face.
Long, lovely braids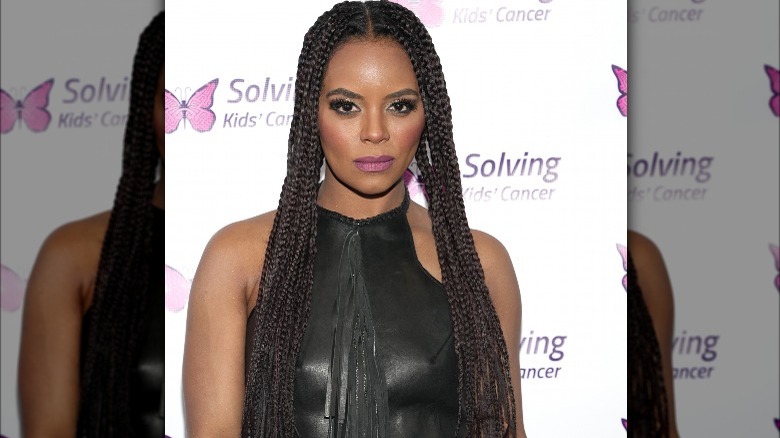 Ilya S. Savenok/Getty Images
There are zillions of variations of long braided hairstyles that will complement a heart-shaped face. The hairstyle pictured above is one of the more successful options because the interesting braided textures and the long hair length help to give the illusion of extra fullness around the heart-shaped face's narrow, pointed chin. To try this hairstyle, start by parting your hair in the center and sectioning your hair into equal portions; then, tightly braid each segment. If your hair isn't naturally this long, you can get a comparable look by adding super-long hair extensions. In any case, allocate a sizable block of time to achieve this hairstyle; you'll likely need to set aside six hours or more. The smaller your braids, the more time you'll need. 
Layered and tousled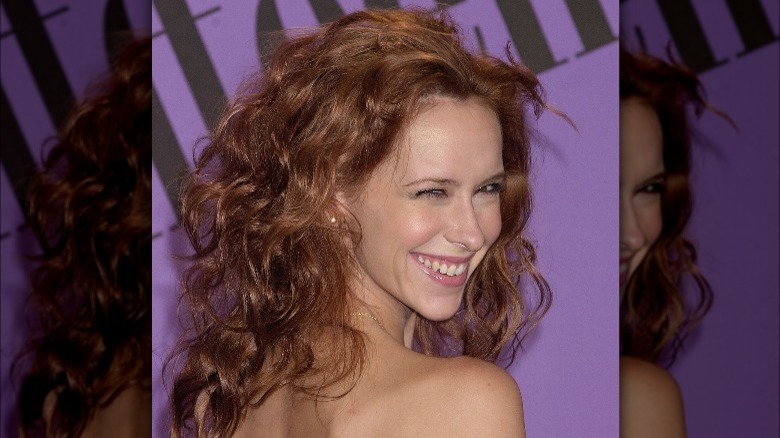 Gregg Deguire/Getty Images
There are many possible approaches to creating an effortlessly tousled hairstyle that enhances a heart-shaped face. One option is to wash your hair and partially dry it; then apply a texturizing gel and use a curling iron to create subtle waves. An alternative approach would be to apply salt spray instead of the texturizing gel, but we urge caution with that because salt spray might not be the holy grail product the experts claim it is. In any case, layered hairstyles like this one tend to flatter a heart-shaped face if they add texture or visual interest around the face in the areas from the cheekbones to the collar bones, especially surrounding the chin. 
Swept back updo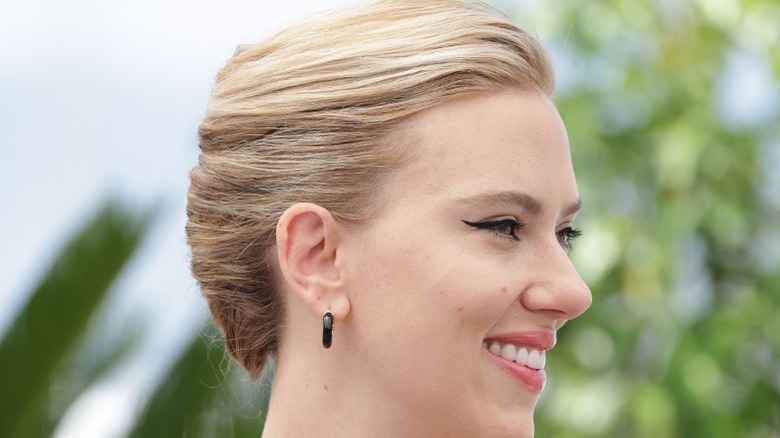 Pascal Le Segretain/Getty Images
Here's an example of a French twist updo that flatters a heart-shaped face by emphasizing lovely cheekbones and an attractive facial structure. This look is easy to style if your hair is cut in a simple shoulder-length lob. To personalize your own French twist, begin by gathering all your hair to the right-hand side of your head. Affix pins at the nape of your neck to help hold your hair in place, then twist your hair gently in the clockwise direction without knocking the pins out. Tuck in the ends and pin them down. Finish with a lavish application of strong hairspray.
A long, loose, center-parted cascade of curls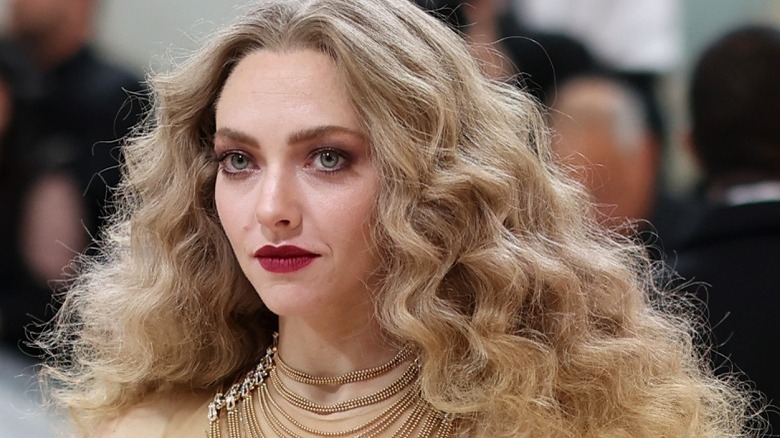 Mike Coppola/Getty Images
Disco curls are yet another beautiful and mesmerizing hairstyle to rock if you have a heart-shaped face. When selecting a longer hairstyle that will best enhance a heart-shaped face, it's beneficial to focus on looks like this one that balances the face shape by visually augmenting the jawline and adding depth and fullness below the chin. 
If your hair is long and thick like "Mean Girls" star Amanda Seyfried's, allocate at least an hour for styling. You can use a curling iron or large rollers to create the curls, then gently brush them with a boar bristle hairbrush to maximize volume. If your hair isn't as long or thick as Seyfried's, you can volumize your hair easily and quickly with a volumizing dry shampoo before you begin styling; then tease your hair with the brush to make your curls look bigger. 
Long center-parted waves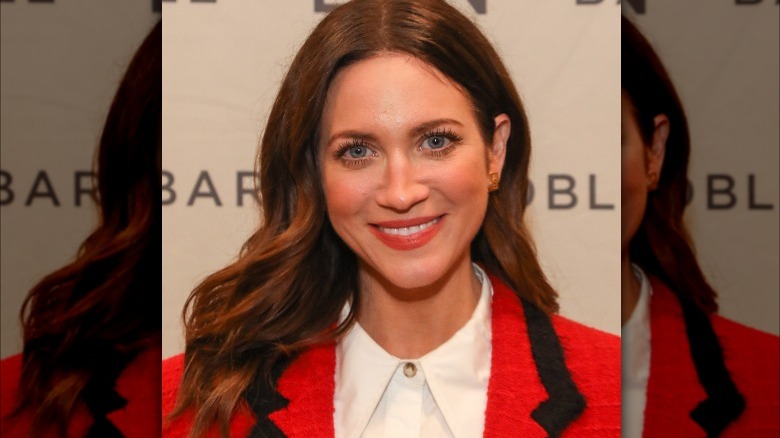 Paul Archuleta/Getty Images
Long, center-parted waves are recommended for heart-shaped faces because the undulating layers strengthen the appearance of a dainty, pointed jawline. You can keep a long, wavy, center-parted haircut from getting boring by asking your stylist to incorporate some subtly choppy, angled layers below the chin. Your choice of haircare products will affect whether the look appears smooth and tidy or tousled and textured. To keep your hair looking smooth and tamed, as entertainer Brittany Snow did in the photo above, try giving your hair a light application of a hydrating mousse to reduce the chances you'll end up with flyaway strands. 
Long, straight, center-parted hairstyle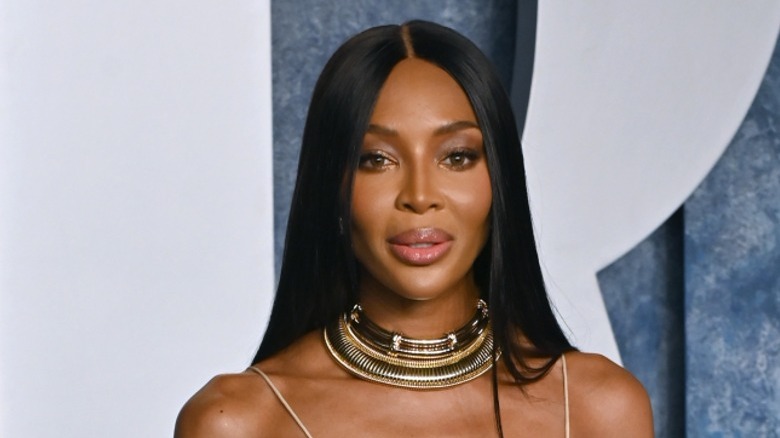 Featureflash Photo Agency/Shutterstock
A long, straight, center-parted hairstyle is flattering to both rounder heart-shaped faces and elongated, nearly oval heart-shaped faces like Naomi Campbell's. In either case, this hairstyle minimizes the forehead, enhances glorious cheekbones, and creates the appearance of fullness encompassing the jawline. 
There are many possible ways to arrive at this hairstyle, apart from reaching for your trusty hair straightener. You could press your hair with a hot comb for a chemical-free straightening method. You could try a straight perm. Campbell has a history of wearing wigs and hair extensions, which are also viable options to achieve this hairstyle.
Tidy low bun hairstyle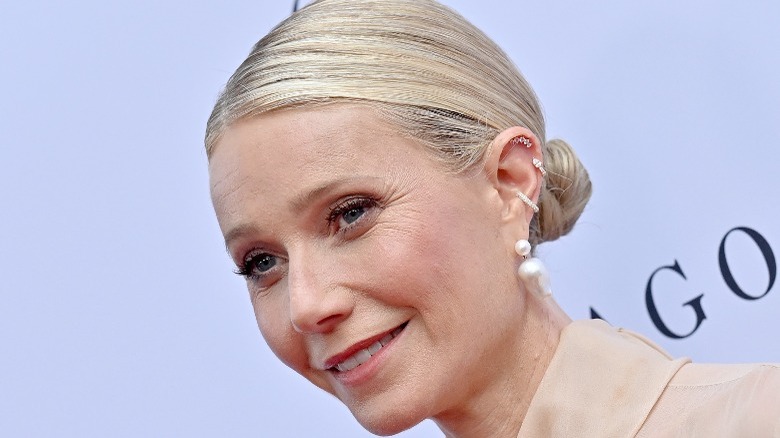 Axelle/bauer-griffin
The tidy low bun doesn't do much to fortify a slender chin or minimize a wide forehead if that's what's desired; however, this hairstyle can nevertheless be highly flattering to a heart-shaped face that also includes sparkling eyes and magnificent cheekbones because it places the emphasis front and center on these important facial features. This is the ultimate versatile hairstyle that can go anywhere, whether you're running to the corner store or getting dressed for a formal affair.
If you're in a hurry, you can create a sleek low bun in less than one minute, or you can invest more effort if the occasion you're dressing for warrants it. Creating your own low bun like this one entails side-parting your hair with a comb and subjugating stray wisps with a liberal application of gel. Gather the hair, twist it tightly to form the bun, and anchor it with pins.
Long, wispy layers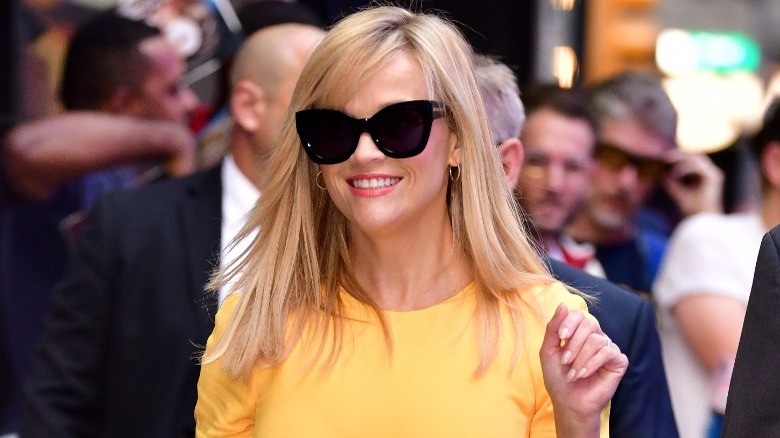 James Devaney/Getty Images
Long, layered haircuts tend to be exceptionally flattering to heart-shaped faces because of the extra visual boost the layers add around and below the chin. These hairstyles are appealing whether your hair is thin, fine, or voluminous. If you're growing your hair long and you want to emulate the breezy fringed hairstyle pictured here, ask your hairstylist to add texture to your cut by layering the ends.
Tousled, textured lob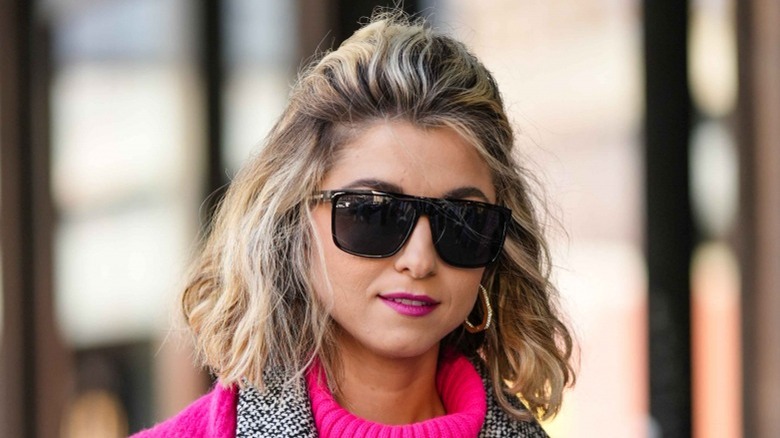 Edward Berthelot/Getty Images
Most bob hairstyles will enhance a heart-shaped face. The same can be said of lob hairstyles, too, considering that a lob is simply a slightly longer bob; extra length around the chin area is especially flattering to heart-shaped faces because the hair texture around the jawline elevates the look of a pointed chin. A bob or lob hairdo is the ideal style for wavy, textured hair that tends to look messy even after relentless combing. If you have naturally wavy hair, the pictured look is easy to replicate once you have the right cut; simply dampen your hair, add a bit of mousse, and scrunch your waves between your fingers to enhance the texture. 
Short, choppy corkscrew curls with bangs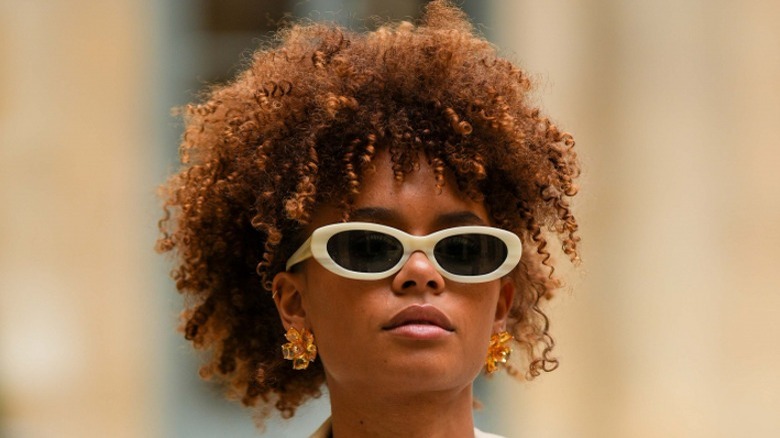 Edward Berthelot/Getty Images
Intriguing textures create the essence of this stunning hairstyle featuring short, choppy layers, bangs, and corkscrew curls. This cut works best to flatter rounder heart-shaped faces where the forehead and cheekbones are prominently wide because bangs like these can help downplay a pronounced forehead. Beyond that, the hair's thickness helps to add height that serves to elongate and enhance the look of the face. 
If you want your hairstyle to resemble this one, a possible approach is to selectively use a curl activator on the portions of hair where you want perfect corkscrew curls to appear. If you want to achieve perfect, frizz-free curls, go heavy on the curl activator application and apply a layer of frizz-fighting gel overtop. If you're okay with mildly frizzy sections that add additional texture and visual interest to the style, skip the gel and go with a light application of the curl activator. 
Short, sculpted curls that frame the face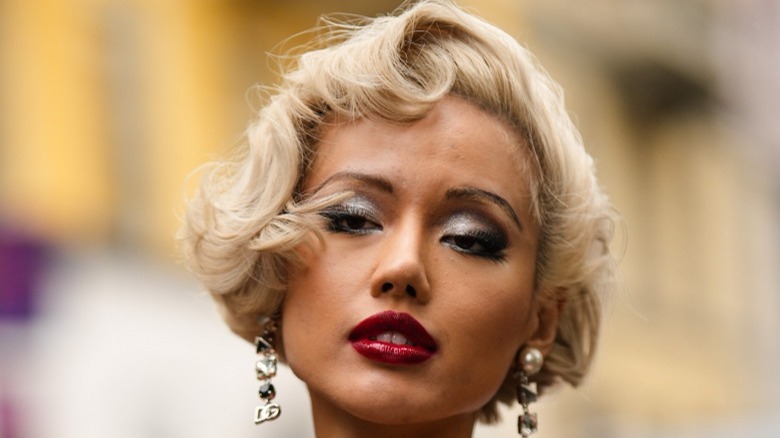 Edward Berthelot/Getty Images
This style is especially flattering to heart-shaped faces with wider foreheads or cheekbones because you can arrange some of the curls in such a way that you partially conceal these features if you wish. There are three main steps to styling a distinctive short hairstyle like this one. The first is to use a curling iron for curling every piece of hair. The second is to take the curled hair and artfully arrange each segment precisely how you want it; this is best accomplished by pretending you're a sculptor arranging your art materials in a way that creates a statement. The third is to take steps to keep it all in place, preferably with a mega-hold hairspray.
A side-parted cloud of curls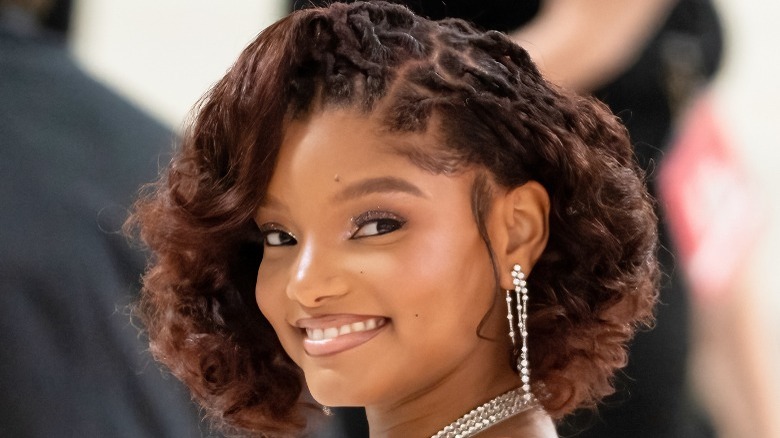 Gilbert Carrasquillo/Getty Images
Halle Bailey's glamorous 2023 Met Gala hairstyle brings together a fascinating combination of textures. Bailey's hair is creatively parted in multiple segments to the side. Small dreadlocks or twists appear to emanate from the parted segments, but they don't fully consume her entire head of hair; instead, they seem to transition into voluminous, swooping waves. Although Bailey's face shape could be considered more round than heart-shaped, this cut is viable and flattering for a rounder heart-shaped face because the dramatic waves and textures complement a wider forehead and pronounced cheekbones while amplifying and enhancing a not-so-prominent chin. 
If you'd like to achieve this exact hairstyle, you'd have to ask celebrity hairstylist Tinisha Meeks, who created this innovative look. Our best guess involves twisting the base of the hair into locs and including the waves after. You can personalize your own variations by experimenting with partial locs, crocheted hair extensions, and your trusty curling iron.