Your Ultimate Guide To Wedding Planning Based On Your Zodiac Sign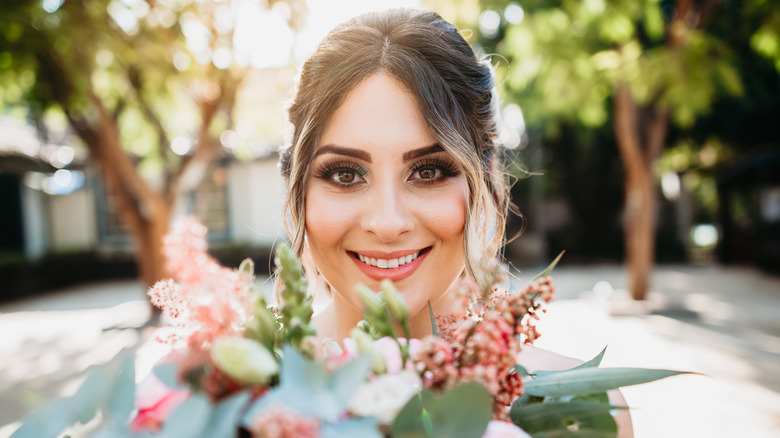 Andreswd/Getty Images
More than 2.2 million people are estimated to tie the knot in 2023, according to the founder of The Wedding Report, Shane McMurray (via Slate). And as post-pandemic wedding trends continue to fluctuate and surprise, not a single one of those weddings promises to be exactly alike. Whether you're a soon-to-be bride in the throes of dress shopping and cake tasting or simply daydreaming about your perfect wedding day, the stars can serve as a guide for not only the best days to have your wedding but the type of wedding planner you will be.
Astrology and your zodiac sign can also be great indicators of the type of celebratory bash you will throw. Are you all about classic elegance and structured timelines, or do you prefer whimsy and nontraditional everything? Do you want hundreds of guests or an intimate gathering of the people who mean the most to you? There are no right or wrong answers when it comes to your special day, but your choices may be directly influenced by your sign's personality traits and preferences. If the wedding corner of Pinterest and TikTok has left you feeling both overwhelmed and at a loss for what to do to achieve your perfect wedding, use this guide to help spark a few ideas.
Aries will plan a vibrant and out-of-the-box wedding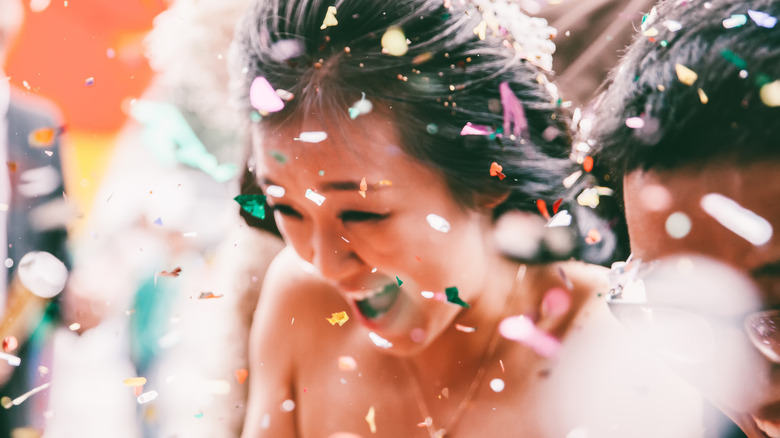 Chalffy/Getty Images
Nothing gets an Aries more amped up than working on something they are passionate about, and what inspires more passion than their own wedding day? While some Aries brides may lean into their impulsive natures and have a short engagement or simply elope, many want to plan a romantic day as bold and fun as they are. They are creative people who aren't interested in tradition or anything that has been done before.
Instead, their adventurous hearts want a big wedding that is exciting and festive, a true celebration of their relationship and everything that makes it unique. Some Aries brides may struggle with the minutiae of wedding planning but won't have trouble staying on top of the big-picture details — especially when those big-picture details are unconventional choices. Aries brides love vibrant and surprising color palettes and bold, out-of-the-box floral arrangements that guests will ooh and ahh over for hours.
The entertainment at an Aries wedding is also never boring and may include live music, acrobats, or on-site tattoo artists. When it comes to the dress, fashionable Aries brides love a trendy frock that makes them feel equal parts powerful and goddess-like. After all, they are super confident individuals who want to make jaws drop with their showstopper of a gown. From start to finish, Aries' wedding planning motto is definitely "Go big or don't bother."
Taurus is all about classic elegance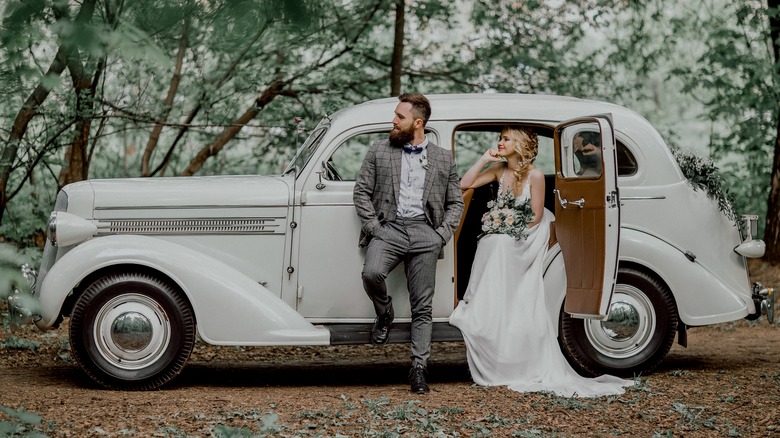 Valery Petrushkov/Shutterstock
Classic and elegant is the name of the game for a Taurus bride on their wedding day. They have an eye for style, fashion, and decor that is unmatched in the astrological world, which means they plan truly gorgeous weddings. These humble, hard-working bulls are normally quite down to earth and frugal, but their love of the finer things in life means they pull out all the stops for their wedding day.
They may not love the hefty price tag that comes along with the luxurious wedding meal or the designer wedding gown, but they won't be satisfied with anything less. No theme is off limits, although the sparkling grandeur of an Art Deco hotel or the natural elegance of an outdoor venue in a springtime bloom will please a Taurus.
As an earth sign, color palettes featuring lush greens, whites, and blacks with bronze or copper accents are sure to make a grounded Taurus' heart sing. Furthermore, this sign's natural organizational instincts will prove useful during this phase of their lives, especially if they choose to DIY the majority of their wedding. They are resourceful and practical individuals who know how to sniff out a good deal on things like wedding favors or bridesmaid dresses.
Gemini plans for a fun wedding day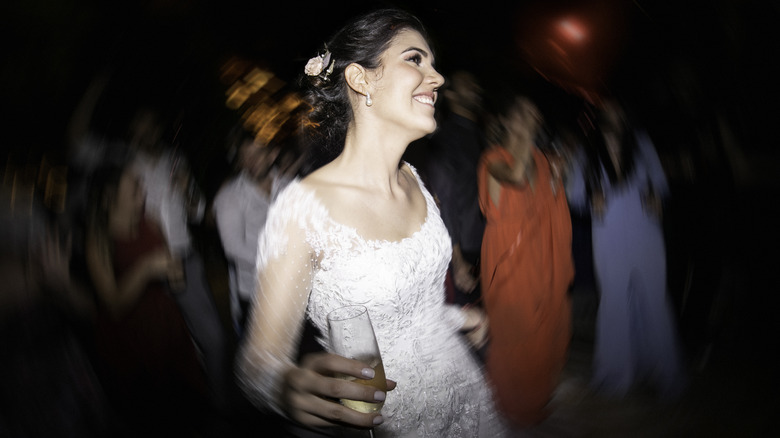 Fg Trade/Getty Images
Nothing matters more to fun-loving Gemini than enjoying every single moment of their wedding day. It's the planning process they don't care as much about. They are likely to hire a wedding planner or coordinator to handle the nitty gritty details, utilizing their impeccable communication skills to share their general vision for the big day.
They will aim for something in between an upscale ballroom wedding and an outdoor bohemian party, with dramatic flower arrangements, a fashion-forward bridal party, and amazing music that keeps their guests dancing all night long. When it comes to making decisions about the details of their big day, Gemini will definitely struggle a bit. Their two-sided nature and love of extremes have the ability to create some contention with their future partner or wedding planner.
After all, the wedding can't be both a quiet courthouse affair and a 300-person bash or held simultaneously in their backyard and on the beach of a remote Greek island. On the other hand, if something goes wrong during the planning process or on their actual wedding day, Gemini's adaptability and go-with-the-flow attitude means they will experience much less stress than the average bride. "They are not going to get upset if plans change on a whim," astrologer Noush Joon tells Well + Good. "Spontaneity is part of Gemini's life force. They allow life to unfold before their eyes without needing a solid plan to follow."
Cancer weddings are intimate and traditional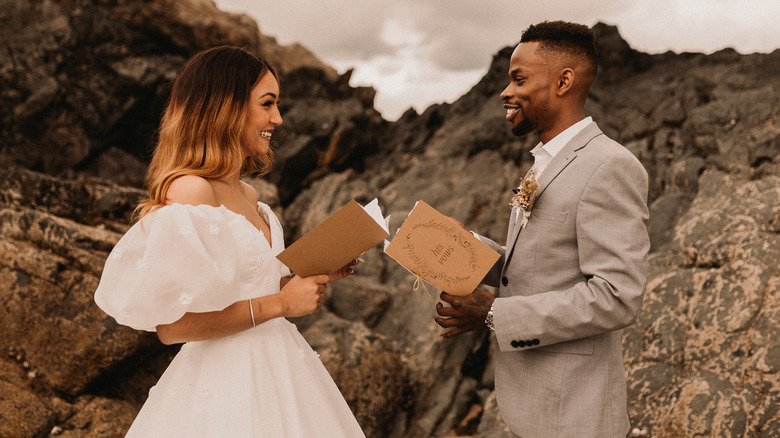 Tash Jones - Love Luella Photography/Getty Images
As one of the most romantic zodiac signs, Cancer plans beautifully intimate and traditional weddings to celebrate the beginning of their marriage. For these emotional crabs, getting married isn't an excuse to party the night away with bottomless cocktails and an exuberant DJ. Instead, Cancers value the sacred nature of the commitment they are entering, planning a quiet affair in order to surround themselves with the friends and family they love the most.
They're also likely to honor their family traditions on their wedding day, incorporating heirloom pieces into their wardrobe, including family members in the ceremony, and honoring departed loved ones in meaningful ways. Aesthetically, Cancer weddings are quaint and full of charming vintage pieces. The bride will likely thrift her dress from her favorite vintage shop for a truly unique look.
"Wearing vintage brings another layer of personal style," antique shop owner Jamie Lee tells Brides. "All brides want to stand out, but when you choose to wear vintage you'll truly be in something one of a kind and timeless. There is also something romantic when you're choosing to give a vintage wedding dress a new story." The double whammy of fashionable nostalgia and romance is key for Cancer, who loves all things sentimental, traditional, and heart-warming. A modern dress with nods to the bridal fashion of decades past, such as through a pair of lace gloves or a birdcage veil, will also suit Cancer brides.
Leo wants a lavish wedding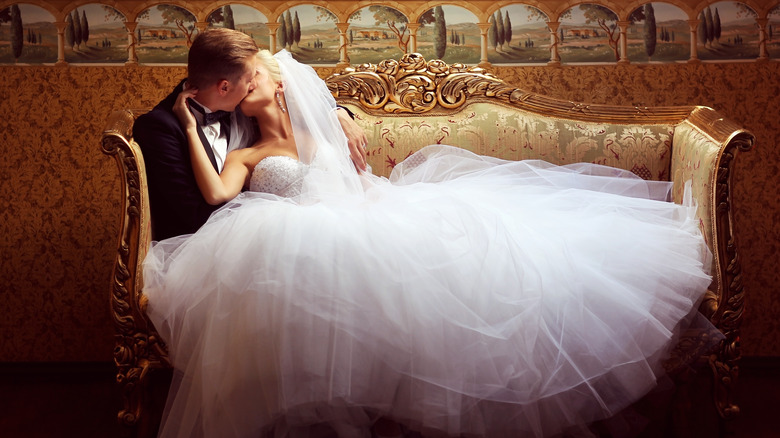 Alex Andrei/Shutterstock
A simple courthouse wedding or backyard barbecue simply won't do for the warm, dramatic, and creative Leo. They are one of the zodiac signs that love being the center of attention, after all, and want to feel like the most important person in the world on their big day. These glamorous lions want a wedding as extravagant and unforgettable as they are, pulling out all the stops to have a wedding comparable to every over-the-top royal wedding and televised celebrity elopement of the past decade.
Leo brides have a specific vibe in mind when planning their weddings and will take control of the planning to ensure it comes to life exactly how they imagined it. Texture is a major component of the lavish Leo wedding aesthetic, as is color and mood lighting. They love the mix-and-match bridal party trend, bright, fiery colors including reds, oranges, and golds, and trendy structural floral arrangements. When it comes to their bridal look, Leos will likely choose a dress that is a bold, blingy, and breathtaking piece complete with tasteful but equally dramatic accessories only an adventurous Leo could pull off.
Leos aren't all bold and brassy, however. They also have a playful and sentimental inner self that will come in handy when planning their wedding. They will incorporate thoughtful details into their reception, such as fun facts about them and their spouse, a signature cocktail named after their pet, or unique musical entertainment their guests will be talking about for weeks after.
Libra is a meticulous and tasteful wedding planner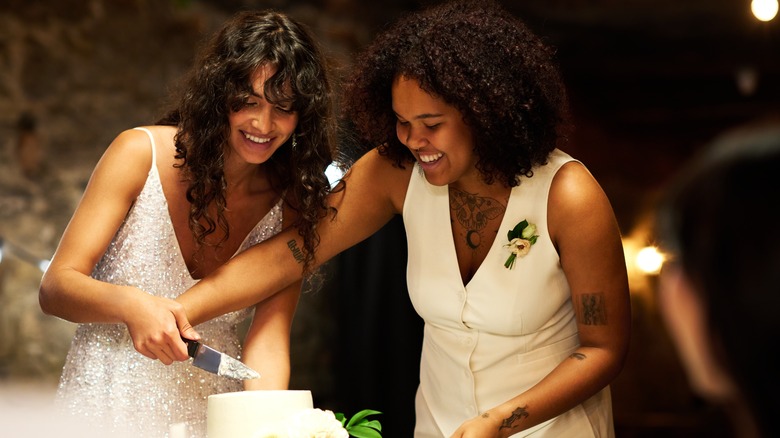 Pressmaster/Shutterstock
Ruled by the seventh house, or the house of relationships and long-term partnerships, Libra has the whole wedding and marriage thing locked down. This air sign loves being in love and has a touch of the hopeless romantic about them, but not so much that they forget the importance of a well-balanced itinerary and professional vendors on the day of. As a result, every moment of their day is the perfect blend of sweet, funny, heartfelt, and fun.
Like the scales they symbolize, Libras are all about balance. As such, their wedding aesthetic is a dazzling mix of convention and creativity, romance and practicality. They love blending soft color palettes in pinks and blues and minimalist decor with touches of drama, such as an epic hanging floral installation or bougie champagne wall. This sun sign also has exquisite taste and an artistic eye. They can masterfully turn a standard, no-frills venue into a stunning magazine-worthy space through their DIY talents. Even floral artistry comes naturally to Libras, which means they will love putting together their own bouquets and floral arrangements.
Libras are occasionally known to be people pleasers, meaning they may struggle to bring their wedding day vision to life amidst the voices of family and friends who want to contribute. They want everyone to be happy and to keep the peace but must find a balance between what they need and what others impose upon them throughout the planning process.
Virgo masterfully organizes a fun outdoor wedding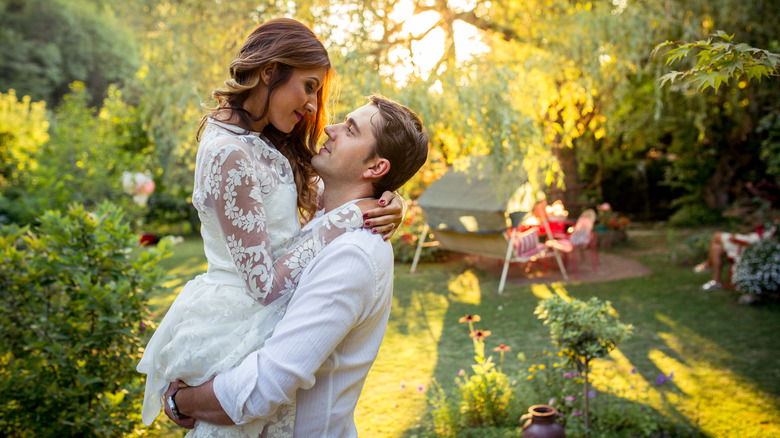 Freemixer/Getty Images
Type A perfectionist Virgo was born to plan big events with lots of moving parts, and their wedding day is sure to be their crowning achievement. These brides are detail-oriented to a fault. They enter the planning process armed with spreadsheets and budget breakdowns, as well as a binder bursting with reception diagrams, vendor paperwork, and itineraries.
They will spend hours swiping through Pinterest researching table settings, bridal hairstyles, and the perfect bridal party aesthetic to create a look that is both beautiful and entirely to their unique tastes. While sorting through these details and bringing their vision to life is important, Virgos should remember to delegate throughout the planning process to avoid stressing out. The ideal venue for a Virgo bride is a place where they can enjoy the beauty of the outdoors, be it a beach in Hawaii or a lush botanical garden.
They will keep their look simple to honor both their natural beauty and the gorgeous surroundings, choosing fabrics like chiffon or silk and dainty accessories that complement but don't distract. Comfort is also key for a Virgo bride. They want to be able to enjoy the carefully curated food and drink selection and dance the night away surrounded by their people, so they won't choose any clothing item that is too restricting.
Capricorn loves structure and sophistication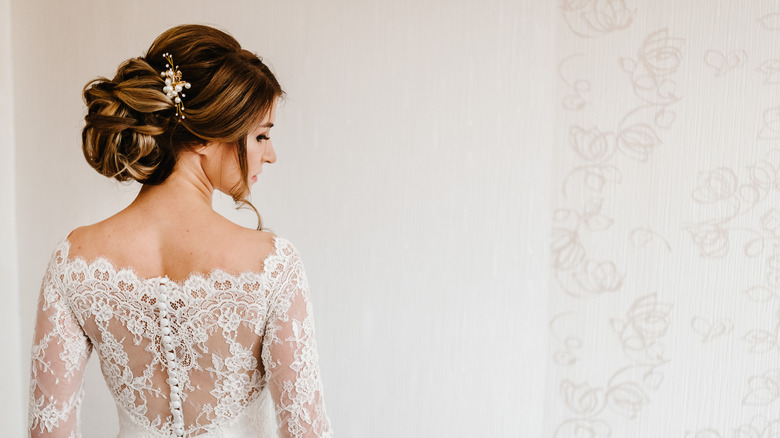 Serhii Sobolevskyi/Getty Images
Capricorns are business-like wedding planners who love a sophisticated and traditional white wedding. They love managing projects and have a plan for every contingency. These brides also find comfort in a highly structured wedding day. They believe the best way to have a fun and flawless wedding is to ensure that everyone involved shows up on time and follows the set itinerary to the letter. Tardiness, sloppiness, and unnecessary drama have no place on a Capricorn's special day.
A Capricorn's style is simple and sophisticated without being pretentious, which makes a well-maintained rustic venue or their ideal wedding spot. They love to look polished and put together, but not at the expense of feeling comfortable. Capricorn brides often gravitate towards vintage glamor but aren't dismissive of pairing their pearl-studded veil or bridal headband with a structured white wedding suit. Black and white are Capricorns go-to colors, and they may ask their guests to dress in formal black attire.
Although their organization skills and down-to-earth personalities come in handy when dealing with rowdy bridesmaids or difficult mothers-in-law, Capricorn must not forget to enjoy themselves on their wedding day. It is likely that only once the planning is done, the food has been served, and the cake has been cut that Capricorn will finally allow themselves time to sit back and enjoy the fruits of their labor.
Scorpio will plan a romantic and meaningful wedding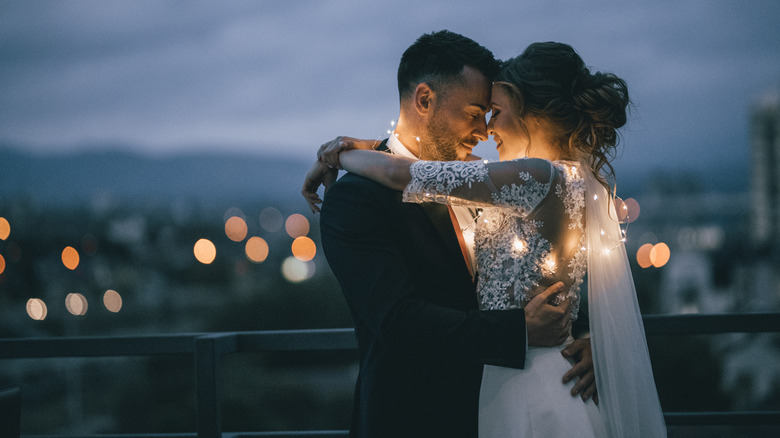 Freemixer/Getty Images
Falling in love with a Scorpio may not be for the faint of heart, but once engaged, these deeply sensitive and romantic individuals plan a perfect and emotional wedding. They aren't overly concerned with details like napkins or seating charts, choosing instead to focus their attention on meaningful touches that celebrate their relationship and their individuality.
Scorpio loves an intimate first look and believes in personalizing their vows. They want the whole world to know exactly how much they love their spouse and all of the promised ways they intend to show up in their new marriage. Of course, if anyone is going to embrace the black wedding dress trend with open arms, it's Scorpio. They are sharp and edgy dressers who love to shock others with their avant-garde sense of style, but they also take their appearance seriously.
Even if they prefer a traditional white or ivory-colored dress, Scorpio brides will embellish with a bold, dark red lip and winged eyeliner sharp enough to cut glass. These romantic touches perfectly accentuate the overall vibe of a Scorpio wedding, which is often held in the fall and feature moody color palettes in black, burgundy, and scarlet.
Sagittarius craves a destination wedding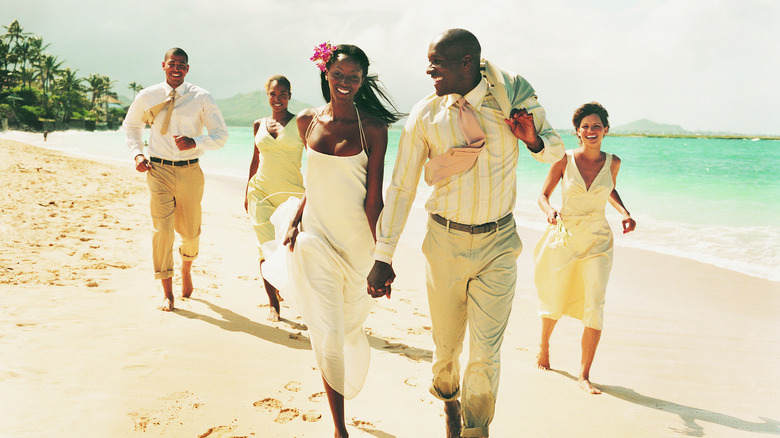 Digital Vision./Getty Images
Sagittarius has wanderlust tattooed on their heart, which means a destination wedding absent of most, if not all, tradition is their dream. They long to exchange their vows under the warmth of tropical sunshine, overlooking the breathtaking vistas of a mountaintop venue, or under the stars in a desert resort. These fiery archers often get married during the summer months, but depending on their preferred honeymoon spot, they may opt for a winter wedding.
"Sagittarius can opt for any time during the summer months and enjoy the warmth of the fiery sun gracing their nuptials; however, being the zodiac traveler, they may also choose to wed during the winter so they can get away to an exotic location where temperatures are warm," astrologist Ambi Statham shares with Brides. No zodiac sign embodies the boho bride aesthetic quite like Sagittarius. These free-spirited brides are all about expressing their adventurous and earthy vibes.
They prefer to wear loose wedding dress silhouettes with graphic lace detailing or dramatic sleeves and may accessorize with unique hair pieces, dried florals, and whimsical jewelry pieces. No colors are off limits under the boho theme, although warm, fire-like colors such as cream, orange, yellow, and red suit the Sagittarius personality. A Sagittarius isn't likely to worry too much about colors and florals, though. They'd much rather just hang out with their close friends and family to celebrate the occasion.
Aquarius will probably plan to elope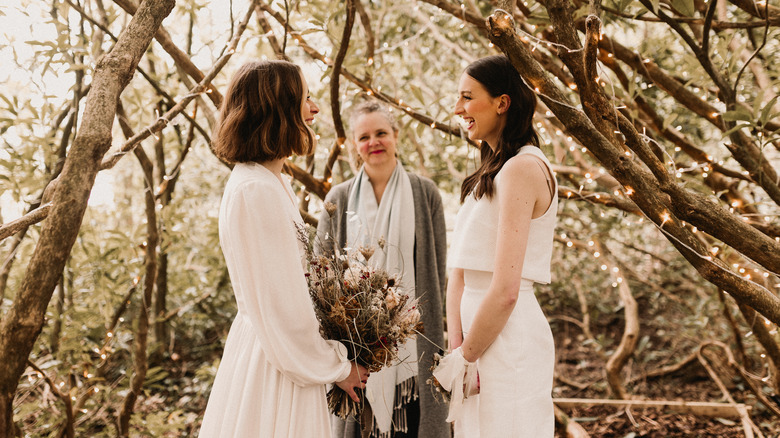 Tash Jones - Love Luella Photography/Getty Images
Most Aquarius brides are busy, big-picture people who don't have the time or patience to plan an elaborate wedding. They also have a hard time justifying the expense of a wedding when there are hundreds of more practical or sustainable ways they could spend their hard-earned money. As a result, most Aquarians will plan a simple, intimate reception after a courthouse wedding, if they bother to mention they got married at all.
For the Aquarius bride who does want a more traditional wedding, their natural discipline and organizational skills will make wedding planning a breeze. They are no strangers to juggling the demands of multiple people, conflicting schedules, and managing complicated budgets. However, even the most traditional Aquarian isn't going to have a typical or hackneyed ceremony. They will write the officiant's script from start to finish, including personal touches like favorite movie quotes or funny anecdotes.
They may opt for a handfasting ceremony or exchange personalized vows. They don't care much about colors or bridesmaid dresses, but in lieu of favors, an Aquarius bride will certainly make a donation to her or her spouse's favorite charity.
Pisces aims for a dreamy waterfront wedding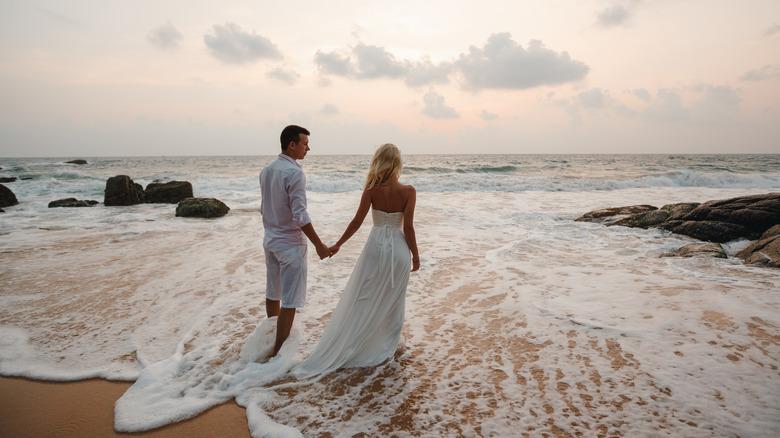 PhotoSunnyDays/Shutterstock
A waterfront wedding is an ideal spot for caring, creative, fantastical Pisces. "Pisces will enjoy a wedding at any time of the year, provided it is by a natural body of water, either the ocean, a lake, or a river," Ambi Statham tells Brides. "However, marrying during their season, toward the end of winter, would suit Pisces best."
Whether they marry at a quaint country inn overlooking a river or on the beach of a glamorous beachside hotel, Pisces will love exchanging their vows with their beloved against the watery backdrop. Additionally, Pisces are impressionable and should be wary of hiring the first vendors they speak to during wedding planning, especially if they haven't done their research beforehand.
They should also work closely with a wedding planner or their spouse to ensure they don't go over budget. Artistic and creative, Pisces brides have strong imaginations and big dreams for what their wedding will look and feel like. It is important that they keep their visions grounded in reality to avoid problems down the line.