18 Ways To Turn Bikini Tops Into The Most Versatile Wardrobe Essential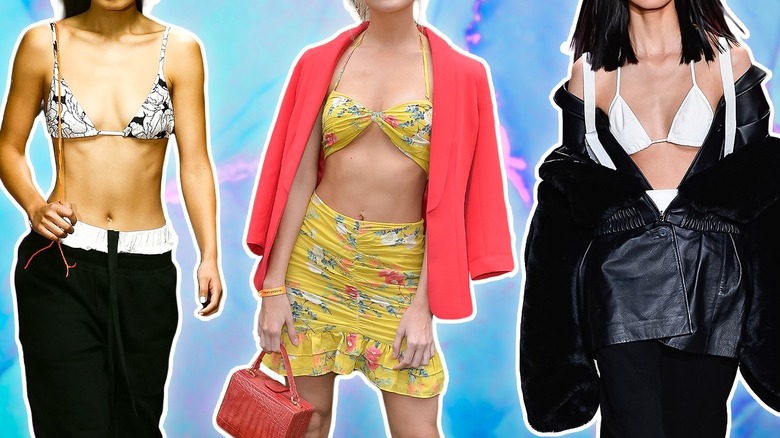 Static Media/Shutterstock/Getty
Crop tops are trendy right now, but they aren't your only option if you want to wear a midriff-baring style. There are times when it might make more sense to wear a bikini top than a crop top. This is especially true if you already own one or more bikinis; instead of buying new crop tops to wear this season, why not try out some new ways of styling the bikini tops you already own? You can repurpose the top half of your bikini to wear many other places beyond the beach and the swimming pool. 
Besides being a multifaceted fashion item, bikini tops fit in perfectly with the current mermaidcore trend — which the May 2023 release of Disney's "The Little Mermaid" live-action remake has had a huge influence on. If you're hoping to channel your inner mermaid when getting dressed this summer, your bikini top is quite likely to become your most versatile wardrobe essential.
Make your bikini top part of your shimmering party outfit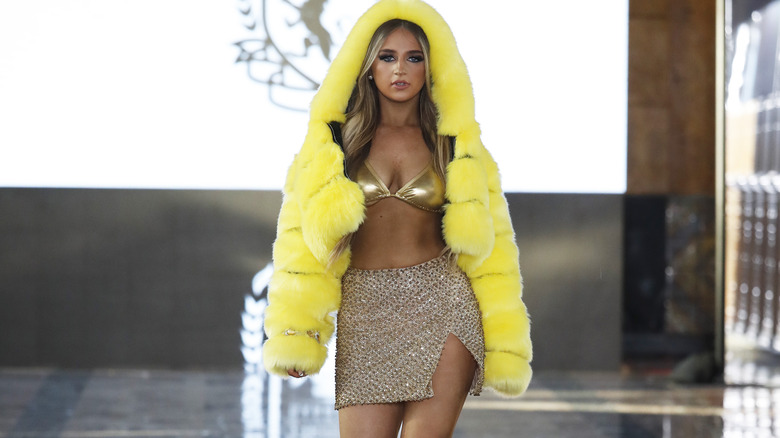 Al Zeta/Getty Images
Hopefully you have plans to attend many parties this season. Whether they're pool parties, dance parties, birthday parties, or other parties, you might want to incorporate a bikini — or at least the top half of it — into your party outfit. For a shimmering party look that evokes mermaidcore style, pair a metallic gold bikini top with a sparkly gold skirt. Make a splash by accessorizing with tall boots and a bright faux fur jacket. 
Trade in your T-shirt for a glittery bikini top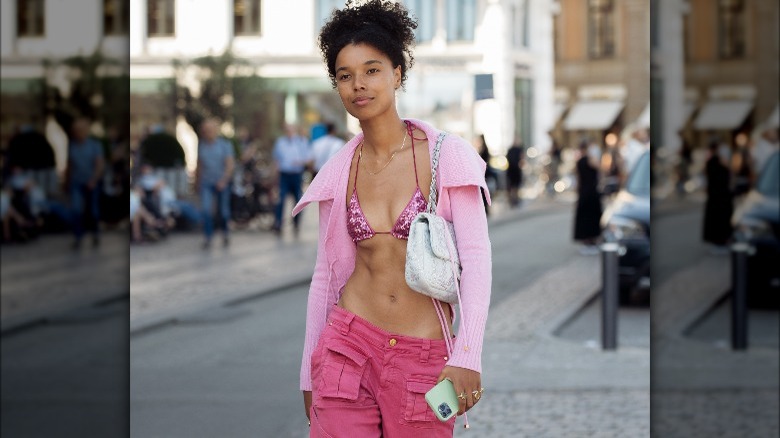 Raimonda Kulikauskiene/Getty Images
Many fashion situations call for a T-shirt. You can count on tees to look fantastic with cargo pants, jeans, and shorts. The downside is that those looks aren't necessarily the most exciting things you could be wearing. At times when you want to spice up your ensemble, consider ditching your T-shirt and replacing it with a bikini top. The example photo above gives you an idea for a stylish way to pull this off; go for a sparkling pink bikini top teamed up with rose pink cargo pants and a cotton candy pink cardigan.
Stand out with fringe at outdoor concerts this summer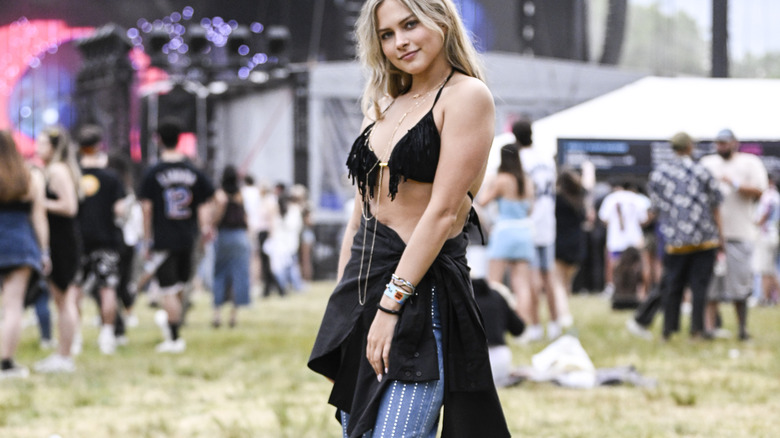 Daniel Zuchnik/Getty Images
If you need a unique idea for rocking pinstripes outside of the office, try styling bedazzled pinstriped jeans with a black fringed bikini top. This combination will keep you feeling cool and looking stylish as you head out to summer festivals, concerts, or parties.
Camouflage your bathing suit under jeans and a sheer shrug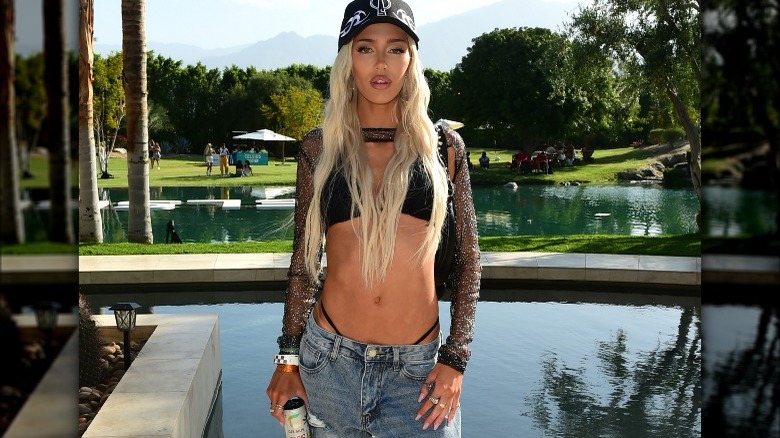 Vivien Killilea/Getty Images
You can incorporate your bikini top into an everyday outfit by pairing it with jeans and a sheer shrug. You might want to style a similar outfit if you're going to a restaurant at the beach but not actually planning to spend your day in the water. 
Pair your bikini top with bandana prints for a fun cowgirl aesthetic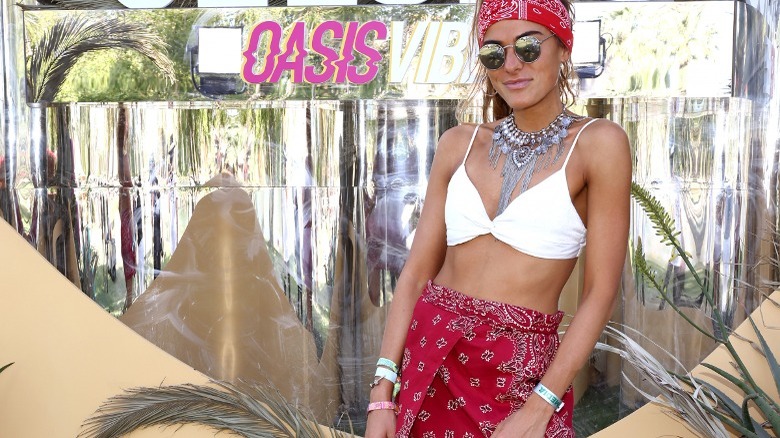 Tommaso Boddi/Getty Images
Your bikini top gives you an innovative way to get in on the cowgirl couture trend. When you're styling a cowgirl-inspired outfit, it might seem more intuitive to reach for a denim shirt or floral-printed top, but a bikini top would be a cooler option to consider when the weather is hot. Pair it with a red and white bandana-printed miniskirt, a matching bandana as a headband, and a fun statement necklace. 
Make your bikini top part of your maternity wardrobe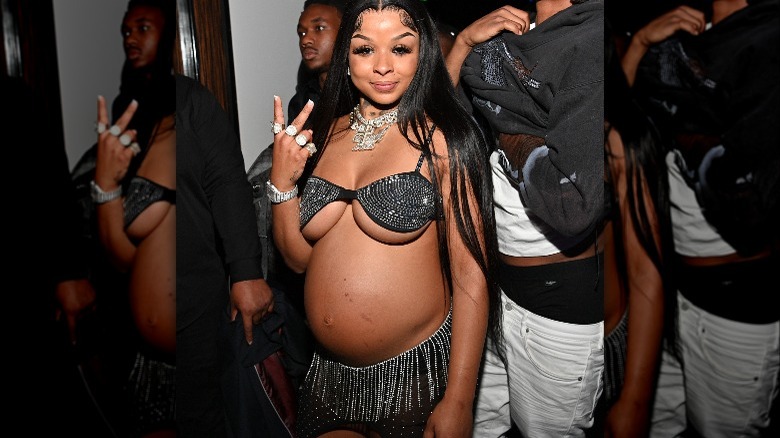 Prince Williams/Getty Images
It can be hard to justify buying new maternity clothes you'll be wearing for less than a year. If you're pregnant, your bikini top and sarong are a couple of items you're likely to be able to keep wearing even after your baby bump starts to grow. This can help you stretch your maternity wardrobe without buying as many new pieces as possible. The sarong pictured above is an excellent option, but other sarong styles could work as well. You could pair a square sarong with your bikini top and tie it in many different ways to achieve different looks.
Let it peek out from under a bright-colored dress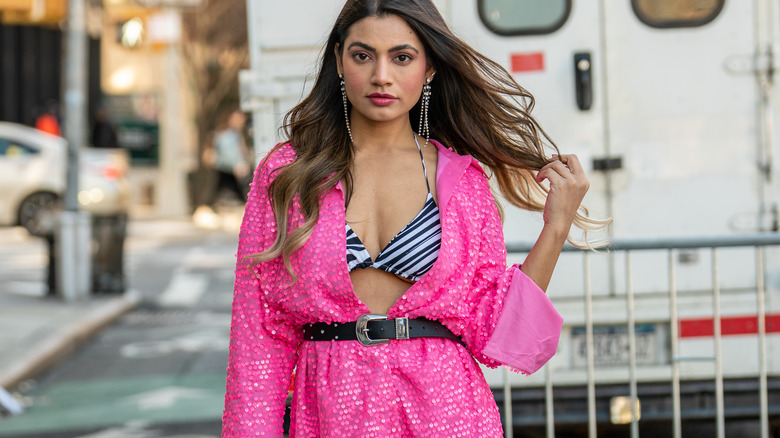 David Dee Delgado/Getty Images
A pink minidress can look lively and appealing on its own, but if you're worried you're overdoing it with the pink, your bikini top gives you an innovative way to introduce a couple of more subdued colors into the ensemble. Leave the dress unbuttoned at the waist so the bikini top is visible underneath; then add black accessories, including the perfect belt, crescent bag, high heels, and playful fishnet socks to match the black in the top.
Shake up a classic suit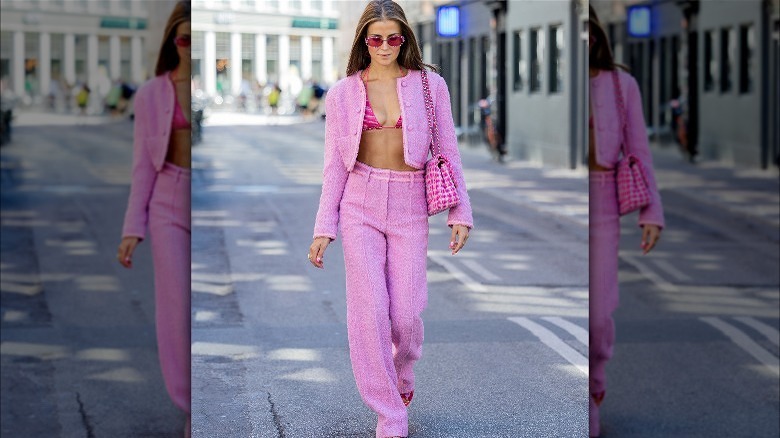 Christian Vierig/Getty Images
You can maximize your wardrobe by finding new ways of styling your suits to wear outside the office. One idea is to ditch the usual button-up shirt or bodysuit you'd typically wear under a suit and replace it with a bright-colored bikini top. Sunglasses, high-heeled sandals, and a pretty designer bag make lovely accents.
Accentuate your curves under a tailored jacket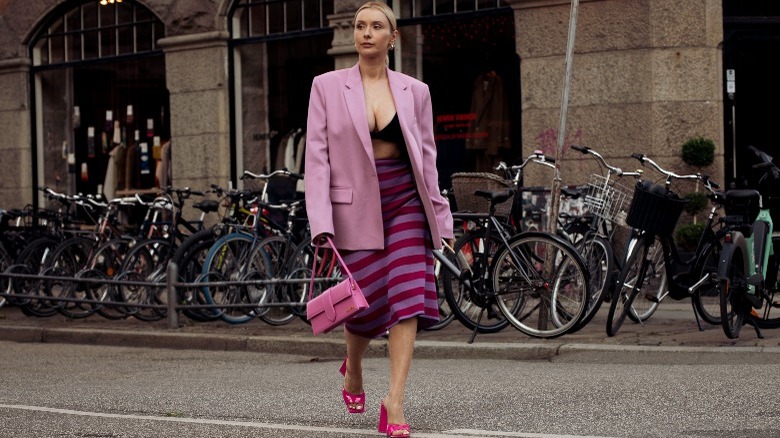 Raimonda Kulikauskiene/Getty Images
If you already have a favorite skirt and blazer combination, this look is easy to style. Just grab your skirt and blazer, and layer a black bikini top underneath. This idea can work with separates that don't match each other exactly, and it's also a viable way to inject a contrasting color into a matchy-matchy suit.
Keep your top understated, and let your skirt steal the spotlight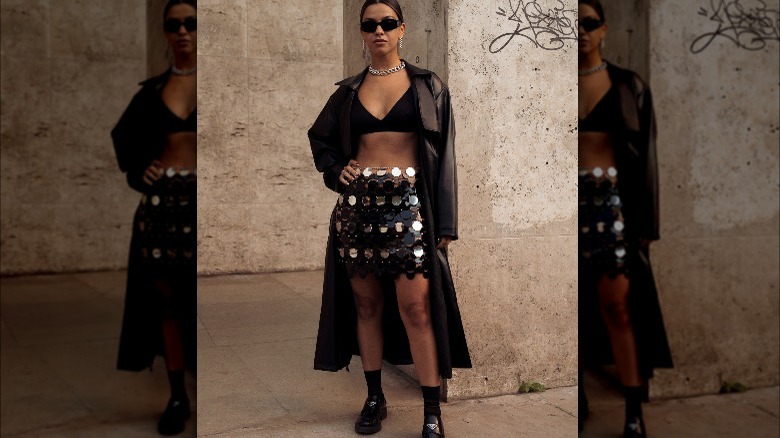 Raimonda Kulikauskiene/Getty Images
A black bikini top makes the ideal understated teammate for a quirky miniskirt with elaborate mirrored metal plates. To keep your ensemble looking chic and unified, match the rest of your accessories to either the black or the silver in the skirt. Black socks and loafers are comfortable footwear to pair with this ensemble, and a long, black leather coat adds a touch of sophistication.
Express your style by beading and criss-crossing your bikini top's strings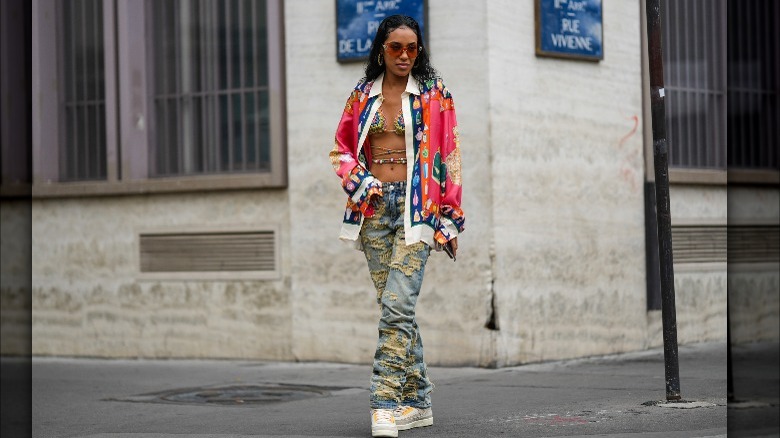 Edward Berthelot/Getty Images
You can personalize your look by adding interesting beads to your bikini top and tying the strings in a crisscross configuration that shows off the beadwork. If you're wearing the bikini top as streetwear, an oversized, printed button-up shirt makes a fantastic layering piece overtop. Ripped jeans and platform sneakers are great choices to stylishly complete this look.
Style a monochromatic outfit to match your bikini top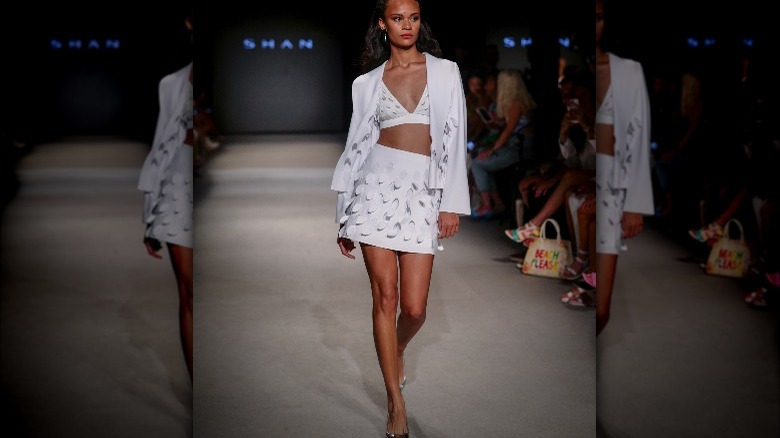 Reagan Rule/Getty Images
All-white outfits are trendy right now, and you can easily incorporate a bikini top into an all-white ensemble. However, this idea is equally workable in other colors, too — perhaps fiery red, Barbiecore pink, or digital lavender. The texture is one of the things that keeps this look from getting boring, so if you try this idea, keep in mind that it works best with pieces that incorporate cutouts or other interesting textures.
Prettify a bikini top with a flirtatious lace skirt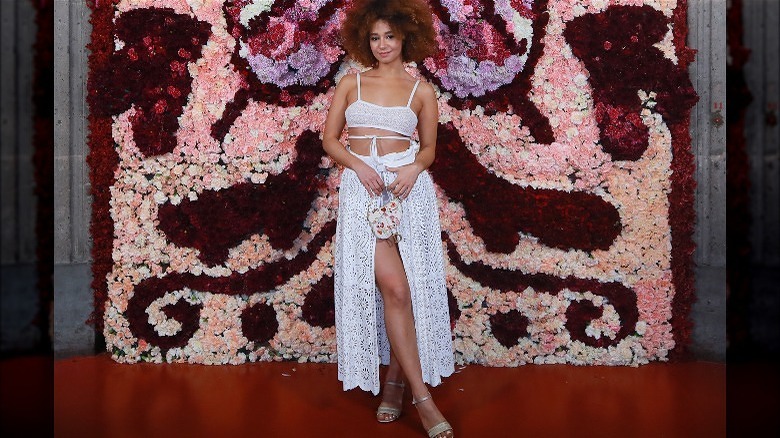 Manuel Velasquez/Getty Images
This picture gives you another on-trend example of how to style an all-white, textured outfit that incorporates a bikini top. In this case, it's a gorgeous lace fabric that introduces the texture. This look isn't specifically beachy; you could wear it anywhere that summery, midriff-baring apparel is appropriate. However, if you do want to wear this look to the beach, that skirt could double as a fabulous beach cover-up. Sandals make the ideal laid-back footwear for completing the ensemble.
Keep your look casual with jeans and flat sandals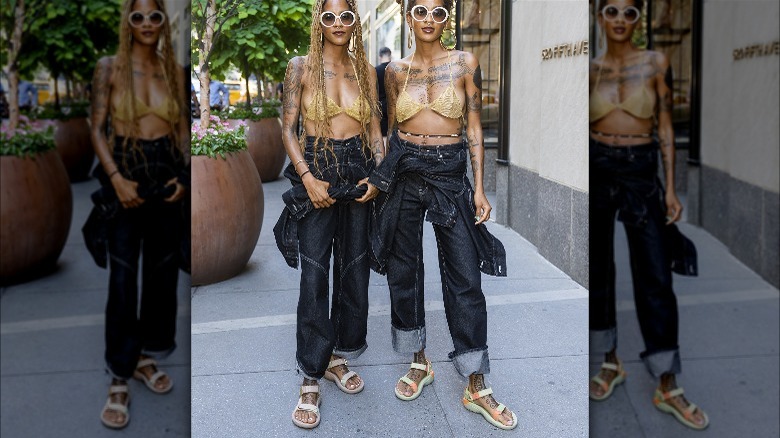 Gotham/Getty Images
We're always on the lookout for interesting new ways to style jeans, and this photo offers irresistible inspiration in that department. Why not try pairing your bikini top with rolled-up jeans that show off your flat sandals and adding chunky sunglasses to complete the look?
Criss-cross your strings for a unique latticed look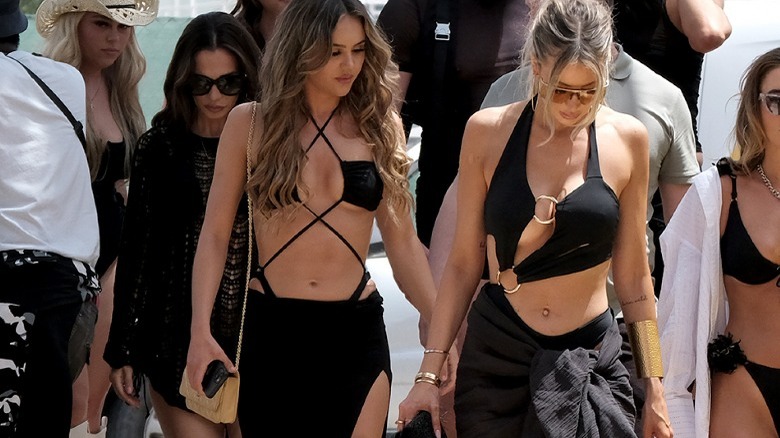 Mega/Getty Images
There are many interesting ways you can tie your bikini top to achieve unique looks. With a triangle bikini top, you can try crossing the strings in front and then tilting the triangles sideways. Give the strings one more crisscross across your midriff for a fresh, unusual latticed look.
Wear a bikini top instead of a bodysuit under your favorite blazer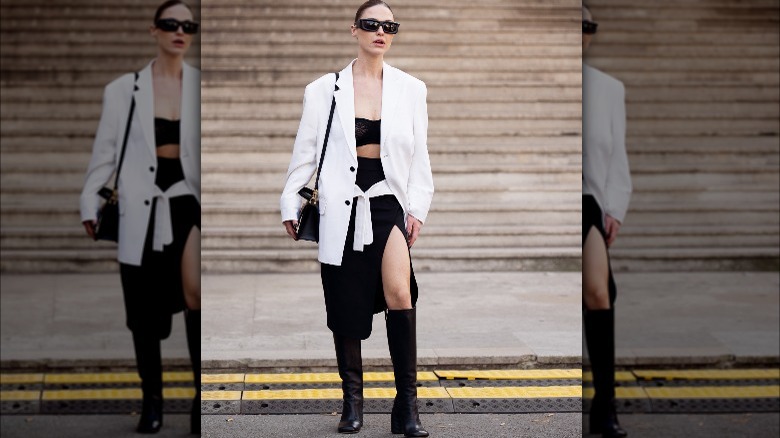 Raimonda Kulikauskiene/Getty Images
A tube-style black bikini top looks striking when layered underneath graphic black and white pieces. Try pairing this style of bikini top with a boxy white blazer, black slit skirt, wide white belt, and tall boots. Another option would be to ditch the boots and instead wear summer-friendly espadrilles or sandals.
Style a sophisticated black ensemble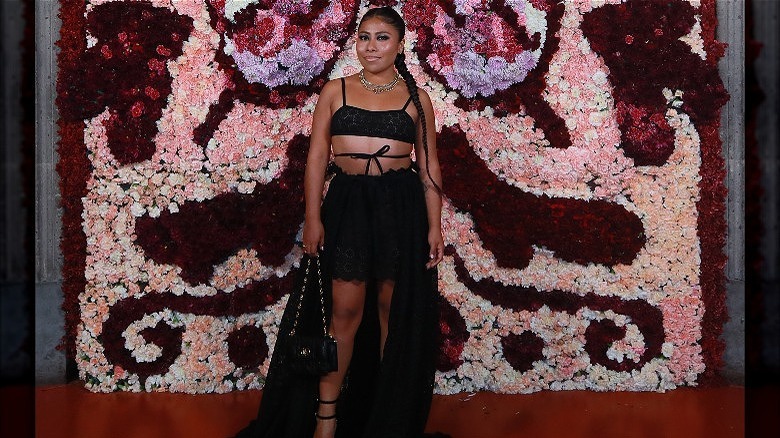 Manuel Velasquez/Getty Images
If you have a black bikini top, it's a no-brainer to create an all-black ensemble that shows it off to its best advantage. A gorgeous high-low skirt gives you one alluring possibility for styling it. For an extra eye-catching effect, give the straps of your bikini top an extra wrap around your midriff, and then choose strappy sandals to echo the look.
Layer your bikini top under comfy, silky loungewear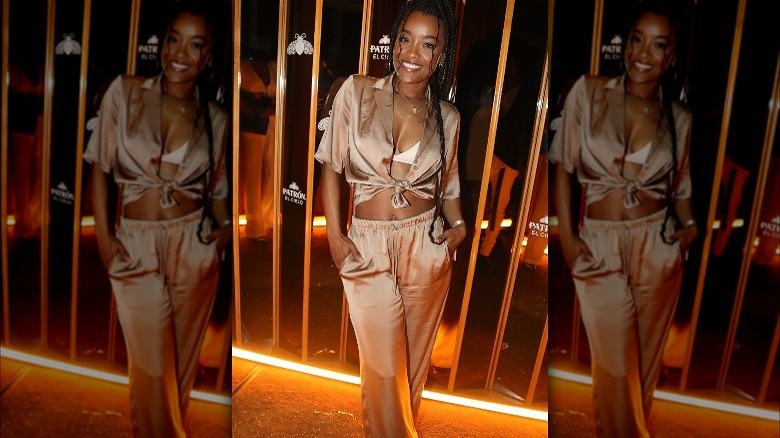 Johnny Nunez/Getty Images
If silky loungewear has a downside, it's that it can look a lot like satin pajamas. This photo suggests a solution to that problem. Instead of buttoning your loungewear top, leave it open, layer your bikini top under it, and knot it just below the top. This accentuates your waistline, and the ensemble now looks less like PJs and more like something you'd want to wear out.