Tips For Rocking Pinstripes Outside Of The Office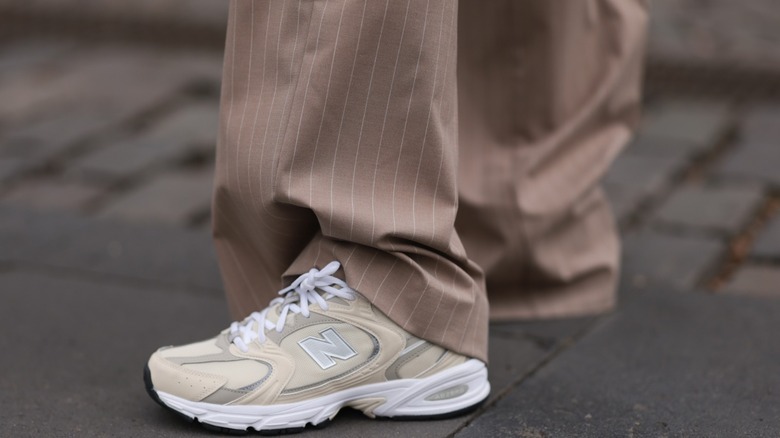 Jeremy Moeller/Getty Images
You already knew a pinstriped suit is a safe choice for a summer office look, even if you work in banking, legal services, or government where conservative apparel is required. It might not have occurred to you that there are many creative ways you can wear pinstripes outside of the office, too.
Pinstripes are wearable in every season. Lightweight pinstriped fabrics work for spring and summer, especially when they're made into summer-friendly garments including strapless dresses or shorts. Heavier weight wool and wool-blend pinstripe fabrics are ideal for the cooler fall and winter months; pinstriped coats and jackets make outstanding layering pieces to keep you extra warm. Right now, roomy, oversized blazers are stylish — if you need to shop for a new blazer, you'll be right on trend if you size up enough to leave room for layering a sweater underneath.
Lately, fashion designers have been incorporating pinstriped fabrics into every type of ensemble, including streetwear, eveningwear, and everything in between. If you're headed out for a fun evening of socializing, you'll find glamorous pinstriped outfits well-suited. You also have many options for unassuming, everyday outfits featuring pinstripes. Let's take a look at a variety of ways to wear your pinstriped pieces in your off-duty hours.
Mix and match your pinstriped suit pieces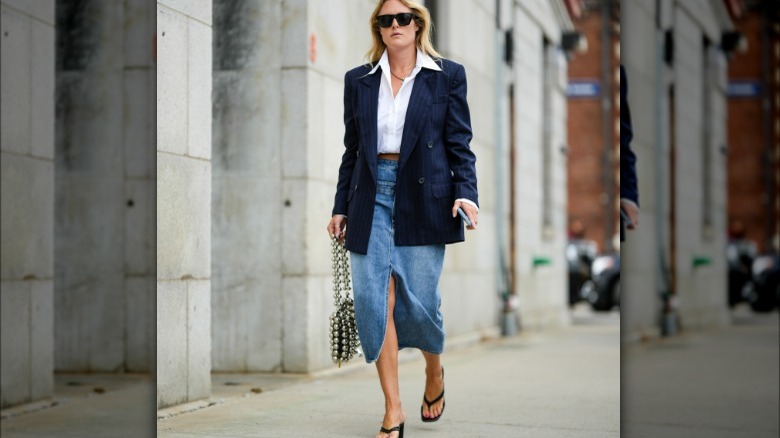 Edward Berthelot/Getty Images
One of our best fashion tips for 2023: Create a capsule wardrobe, and include a matching pinstriped suit with a jacket, vest, and skirt or pants when you select your capsule's foundation pieces. You can wear the matching suit pieces to work or separately outside the office. Pair the jacket with a white button-up shirt, a faded denim midi skirt, and black leather thong sandals for a no-fuss, weekend-friendly look. Shades and a pearl-studded handbag make the perfect companions to take on the go with you.
Lose the jacket and add a hat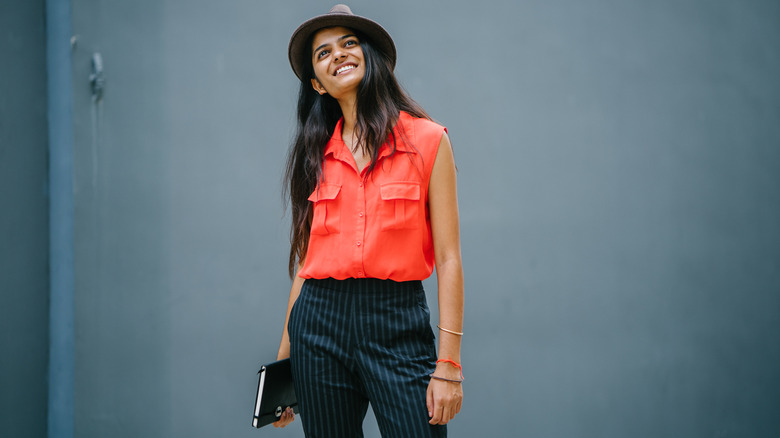 mentatdgt/Shutterstock
Here's an idea for how to transition your pinstriped suit to be wearable after work without having to change clothes. When you get dressed for work in the morning, put on your suit with a sleeveless, collared button-up shirt and matching bracelets. When you've concluded your workday, you can take off the jacket, unleash your hair from any hair accessories that might have been holding it captive, and hide the aftermath under a chic fedora.
Pair an oversized pinstripe blazer with 1980s-style stirrup pants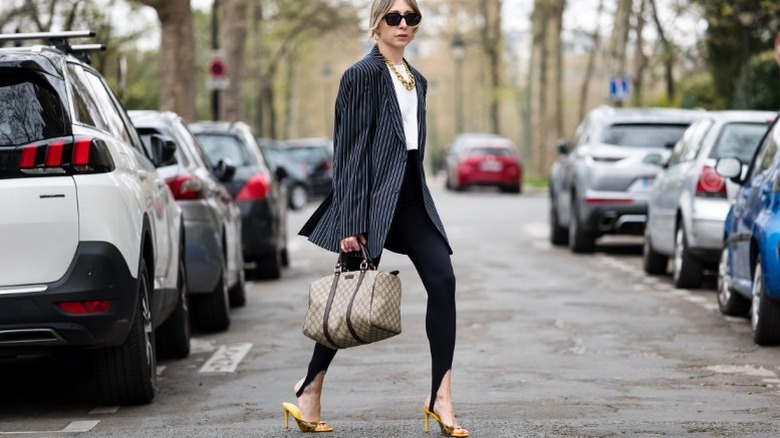 Edward Berthelot/Getty Images
Pictured above is another idea for an ensemble you can concoct using an element from a pinstriped suit: an oversized blazer. If this look appeals to you, put on a simple white tee-shirt and black stirrup pants as your base layer, and add your oversized pinstriped blazer. Enhance these separates with a distinctive centerpiece such as a chunky necklace. Incorporate a few more accents, including high-heeled mules, a designer duffel bag, and chunky sunglasses.
Reimagine the classic pinstriped suit as eveningwear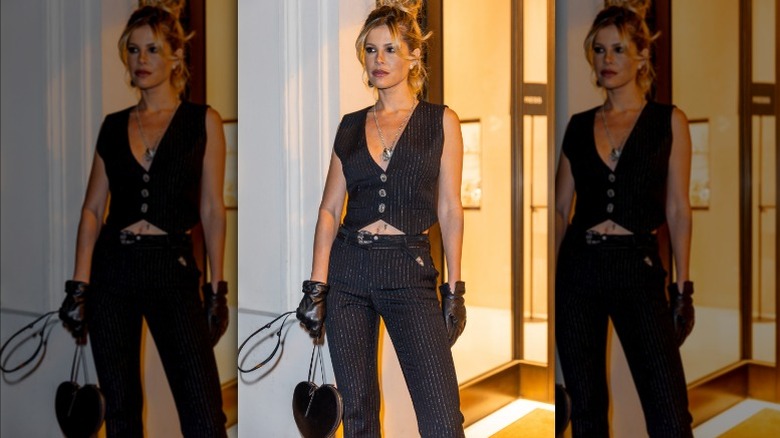 Christian Vierig/Getty Images
Here's inspiration for combining several of the latest fashion trends into one dynamic evening ensemble. Gilets and vests are ubiquitous right now; if you're planning to update your wardrobe for 2023, a pinstriped vest with jeweled buttons would be an elegant, fashionable, and versatile addition to your closet. To get the look pictured here, wear your new vest with matching flared pinstripe pants, and accessorize with glossy black gloves, a heart-shaped evening purse, a pretty pendant, and just the right belt.
Style your pinstripes with a corset cover top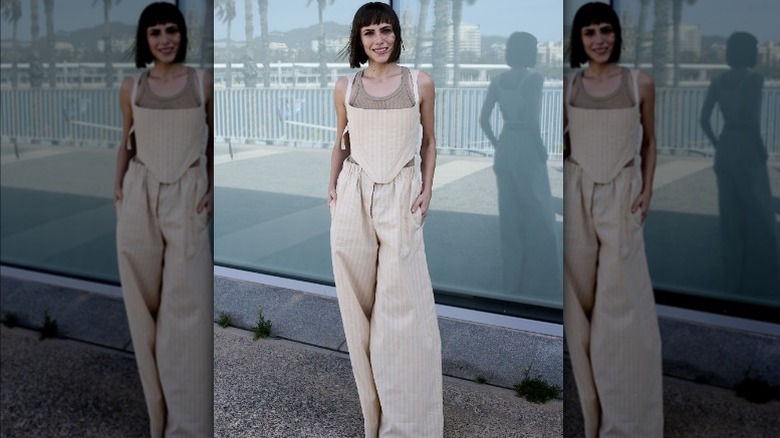 Carlos Alvarez/Getty Images
Since many people are wearing pinstriped vests right now, you might want to take your look in a different direction. Choosing a pinstriped corset top accomplishes this goal. To differentiate your look even more, you can skip the navy blue, black, or gray pinstripes, and instead go with an unexpected cream color. To style this outfit for comfort in warm spring or summer weather, emulate the pictured outfit by layering your corset top over a tan tank top, and pair these items with matching wide-legged pinstriped pants. 
Tone down a bright-colored top with subdued pinstripes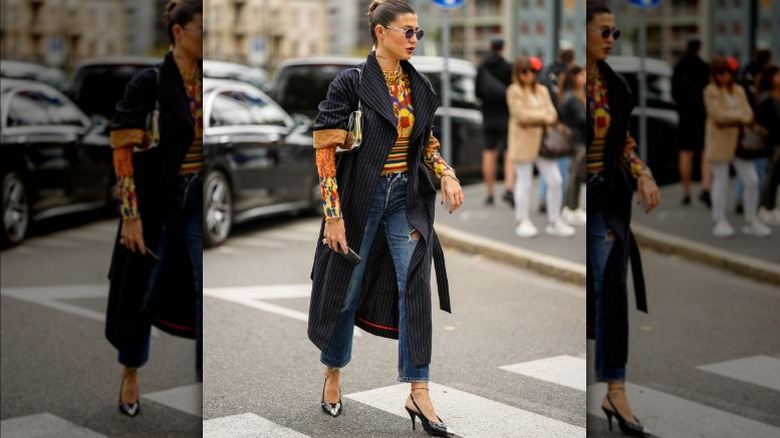 Edward Berthelot/Getty Images
Bold colors like red, orangey-gold, and sunny yellow are popular in 2023. If you feel shy about wearing reds and other bright hues in all their glory, layer a bright-colored top under a pinstriped coat. Little bits of color will peek out from under the coat, but the pinstripes keep the look from getting too intense. Wearing jeans on the bottom results in an even more restrained overall effect. When you choose footwear, echo the predominant color in your pinstriped coat to keep the ensemble unified.
Let your coat steal the show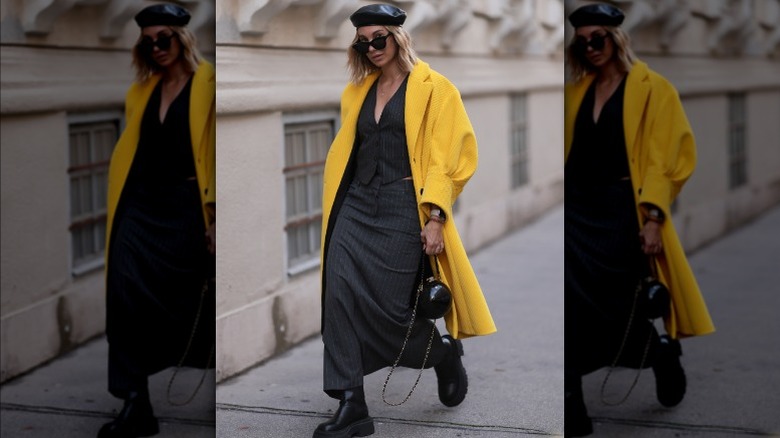 Jeremy Moeller/Getty Images
If you aren't bashful when it comes to rocking bright colors, you could make a sunny yellow-gold coat a focal point in your fall and winter wardrobe. A dark-colored pinstriped ensemble makes the perfect unobtrusive backdrop for any eye-catching, colorful outerwear pieces you want to highlight. To emulate the look pictured here, accessorize your pinstripes with a flirty beret, sunglasses, and a sassy pair of combat boots. When you want to wear an outfit like this for dressier occasions, skip the combat boots, and choose high-heeled boots or shoes instead.
Accessorize with pops of bold red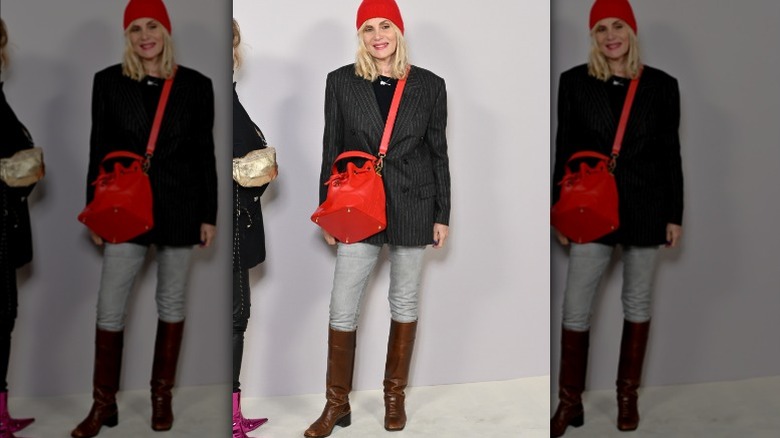 Stephane Cardinale - Corbis/Getty Images
If you're in need of a casual ensemble that makes a strong visual impact, consider pairing pinstripes with solid, vibrantly-colored accessories such as a beanie and bucket bag. To mirror the look pictured above, choose a top and pinstriped blazer in the same color family. Add skin-hugging leggings that contrast with the color of your blazer. Pull on a pair of tall boots over the leggings. Customize the look by choosing accessories in your favorite bright color. Fiery red works, but neon green, Barbiecore pink, or sunshine yellow would also be outstanding color choices for your accessories.
Dress down baggy pinstriped pants for a comfortable weekend look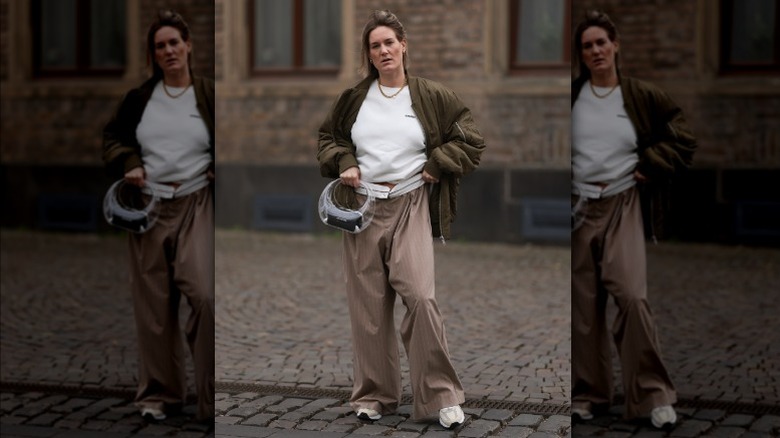 Jeremy Moeller/Getty Images
If you spend your workdays dressed up in high heels, tights, and other uncomfortable clothing, no doubt you want to get as comfortable as you can after work. Here, we offer inspiration for styling a casual, comfortable, and stylish weekend ensemble you'll love to lounge around in. To duplicate this look, pull on an oversized white sweater and a pair of baggy beige pinstriped pants. If the weather warrants another layer, top with a drab green bomber jacket, and accessorize with a necklace, your comfiest sneakers, and a transparent moon bag.
Pair two different subtle stripe patterns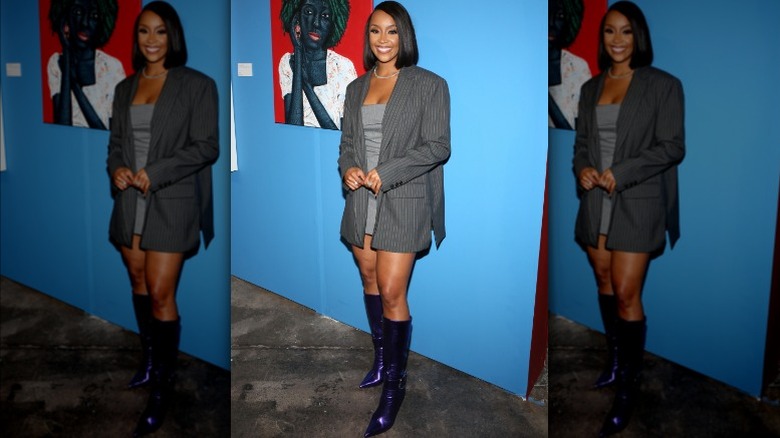 Udo Salters Photography/Getty Images
Unless you're planning to go to work, there's no need to restrict yourself to wearing perfectly matched pinstripes. It can be satisfying to pair different striped designs together. If you decide to experiment with this, start by choosing subtle striped patterns in colors that play nicely together. The dress and jacket pictured here give you an example of how to make this idea work; the darker gray striped blazer makes the perfect complement for the lighter gray stripes on the dress. Tall black boots anchor the look, and a pretty choker furnishes a focal point.
Layer your pinstriped blazer over a cutout crop top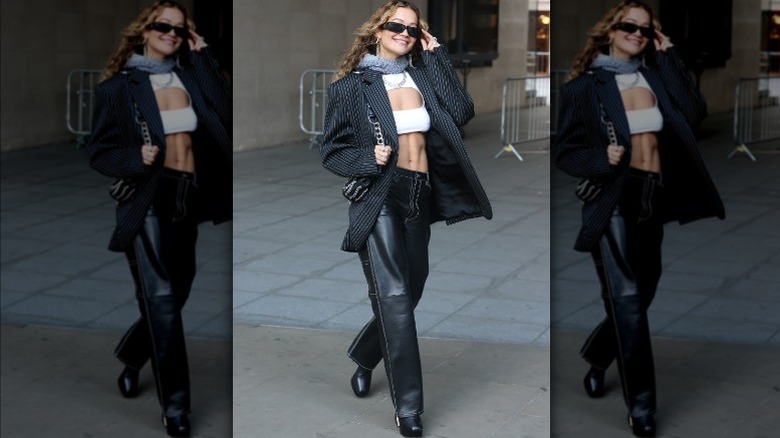 Neil Mockford/Getty Images
Cutouts were a top trend in 2022, and they're continuing to ascend in popularity as 2023 progresses. Pictured here is an example of how to pair a sophisticated cutout top with a pinstriped jacket — a top blazer style you need in your closet — to maximize both trends. If there's a chill in the air, you can accessorize with a knitted cowl for extra warmth, but that's optional. Add black leather pants or a vegan alternative, and finish with solid black footwear such as these black high-heeled boots.
Dress up jeans with a pinstriped coat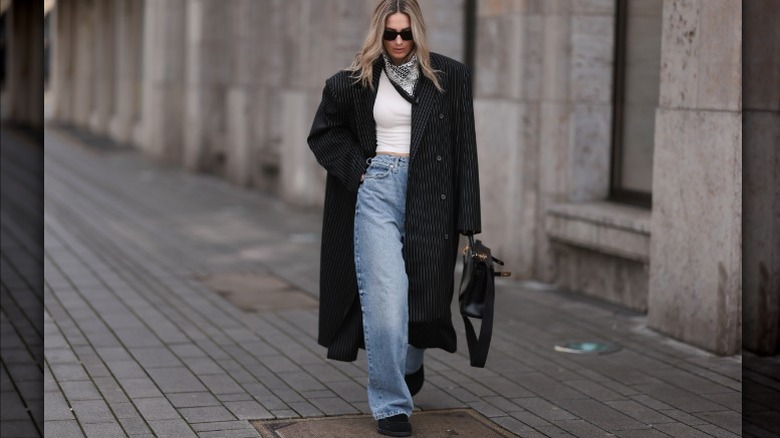 Jeremy Moeller/Getty Images
Pinstripes and jeans are a fantastic combination to reach for when you want people to notice you rather than your clothes. Pictured here is a failsafe look you can fall back on wearing any time you need a casual outfit. Start with wide-legged jeans and a form-fitting white shirt. Add a long, double-breasted pinstriped coat, and accessorize with sunglasses, a printed bandana or scarf, and loafers in the same color as your coat.
Pair an understated crop top with a denim skirt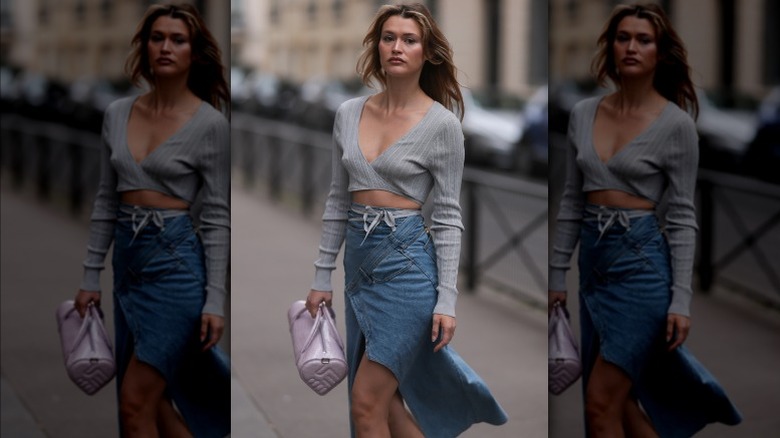 Jeremy Moeller/Getty Images
If you need a weekend outfit that's casual, sophisticated, and fashion forward, look for a versatile pinstriped crop top in a soft, comfortable fabric. This style pairs well with denim in all its forms; it's pretty with a denim skirt, but you could successfully rock it with jeans or denim shorts, too. For footwear, coordinate your style with a pair of trendy denim-colored boots or chunky platform sandals that match your skirt. Stash your essentials in a lavender heart-shaped purse to keep them with you as you go about your business.
Style pinstriped bottoms with a studded denim jacket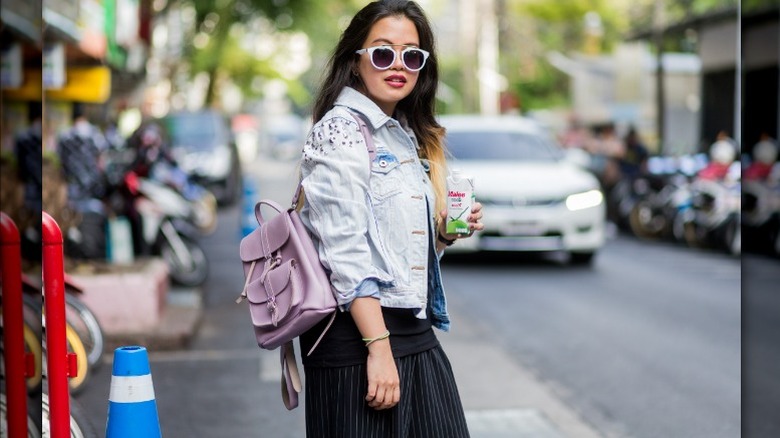 Christian Vierig/Getty Images
Pinstripes and denim are a workable weekend combination. They look stylish together and create a super comfortable look. To formulate an outfit similar to the one pictured above, start with any pinstriped bottoms you happen to own — a pinstriped skirt, pair of pants, culottes, or shorts would all work well. Pick a soft tee-shirt, and top it off with a studded denim jacket. If you don't have a studded denim jacket, substitute any long-sleeved denim shirt. Accessorize with bracelets, shades, and a backpack purse in lavender or any pretty color.
Toss a pinstriped blazer over a slipdress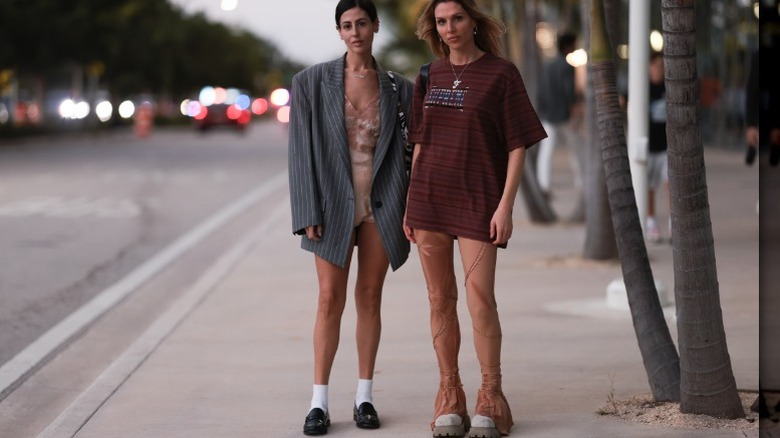 Jeremy Moeller/Getty Images
Fashion influencers are wearing blazers in unconventional ways. If you want to follow their lead, one possible approach is to start with a dainty slipdress as your foundation garment and layer an oversized blazer on top. To personalize your own version of the example pictured above, pair a delicate tie-dyed slipdress with a roomy pinstriped blazer, and choose socks and comfortable loafers for footwear. Another trend is wearing a big blazer as a dress. Get the look by simply buttoning up the blazer in the combination above.
Make a statement in a high-waisted pinafore dress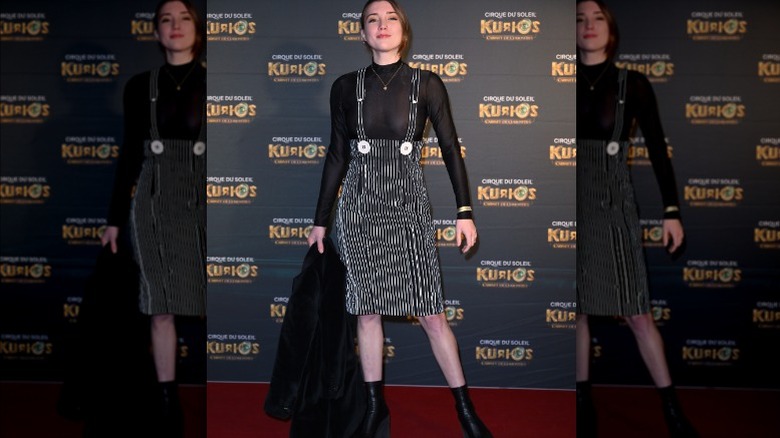 Karwai Tang/Getty Images
Black and white is an enduring color combination you can always turn to when you need to look your best. Bold black and white pinstripes give you a trendy way to reinvent this classic color pairing, making it look fresh and innovative. To copy the style pictured here, start with a long-sleeved, skintight black top and pull on a high-waisted striped pinafore overtop. Slip a classic pair of boots on your feet and grab a black overcoat if you're expecting to encounter chilly weather.
Downplay a sparkly dress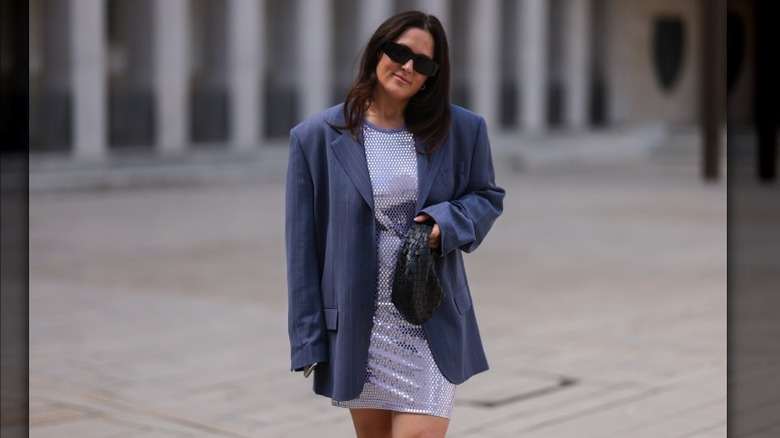 Jeremy Moeller/Getty Images
A few years ago, it would have seemed weird to top off a silver metallic cocktail dress with a businesslike pinstriped blazer. Today, you'll be in good company hitting the dance floor wearing this sort of idiosyncratic combination. To personalize the look pictured above, start with a pinstriped blazer that's a bit too big. Layer it over a dress that's just barely longer than the hemline of your blazer. For footwear, decide if you're going glam to match the dress or sticking with sensible shoes to echo the blazer. High-heeled sandals would work as would socks and chunky loafers.
Rock bold pinstripes on a strapless dress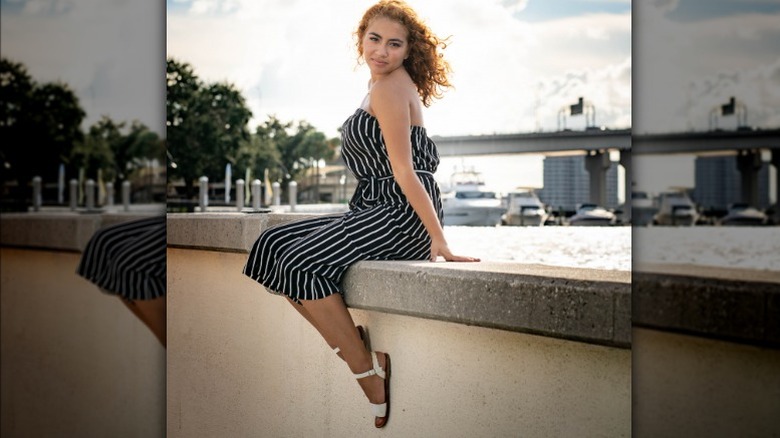 caroLENnyS/Shutterstock
A strapless belted pinstriped dress is easy to wear because it streamlines your decision-making process — you don't need to worry about pairing up other garments that have to harmonize with it. You do have the option to throw on a shawl, wrap, jacket, or sweater overtop if you suspect the temperatures might drop after sunset where you'll be spending your evening. In that case, you can't go wrong choosing a solid white or black garment to layer on top. Hosiery is optional. Finish off the look with simple flat sandals.
Offset a miniskirt with boyish accessories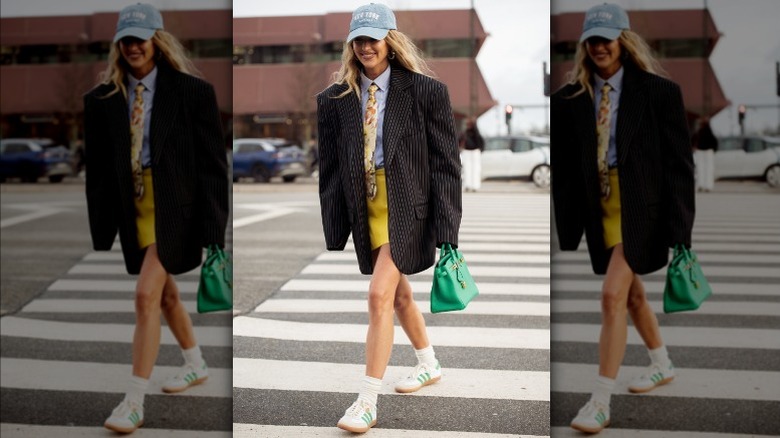 Raimonda Kulikauskiene/Getty Images
A necktie can be your chicest accessory when you decide what to wear with your pinstriped blazer. The tie pairs perfectly with a collared button-down shirt, and you get bonus points if you're able to pull your look together with a baseball cap in a color that exactly matches your shirt.
Clothing gives you a means for expressing your authentic self. The miniskirt pictured here is an optimal choice if you're feeling sexy and feminine. If that's not how you're feeling, this look would work just as well by substituting shorts, jeans, or pants for the miniskirt.