Why You Shouldn't Wear Light Pastels To A Wedding (& The Best Alternatives)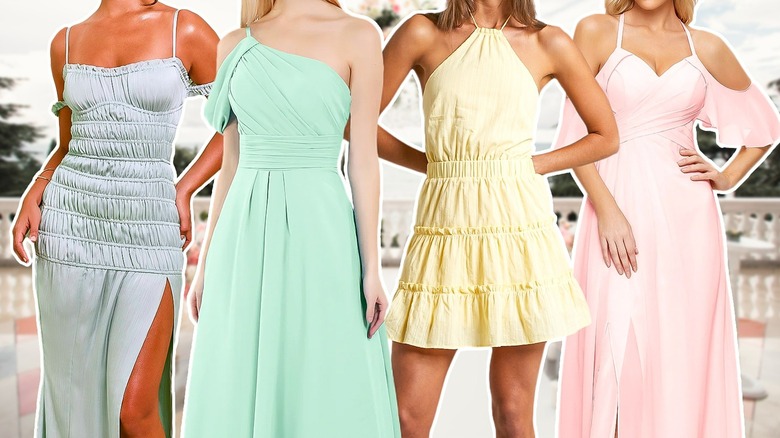 Static Media/Shutterstock
Shopping for wedding guest dresses can be one of the most precarious style decisions you make in a year. After all, a wedding is a highly anticipated event that involves a lot of photos and potentially sensitive feelings. When looking for a wedding guest dress that checks all the boxes, color should be high on your priority list. As a guest, you likely already know the cardinal dress code rule: don't wear white. At a traditional Western wedding, the bride (and sometimes the groom) wears white, and it's usually considered a major faux pas for a guest to show up in the same color.
White shouldn't be the only color on your deal breakers list. If you want to prevent any unintended offense, you'll want to stay away from light colors altogether. Light pastels, such as pale blues, yellows, or pinks, can run the risk of veering too close to the white or ivory color family. Luckily, there are plenty of other cheerful and airy dress styles that you can opt for instead.
Light pastels aren't worth the risk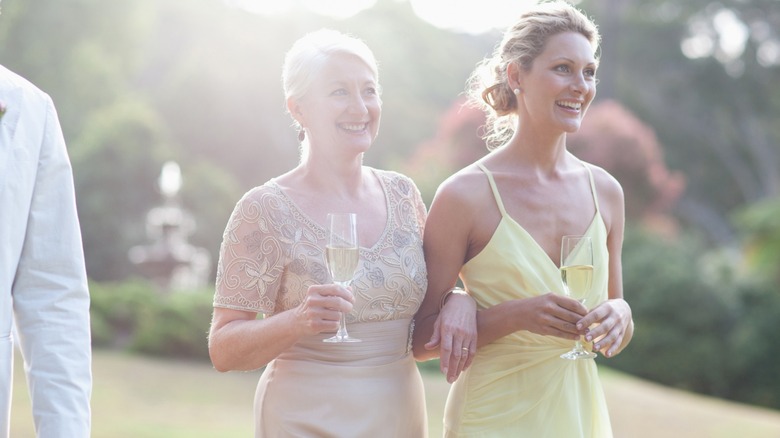 Paul Bradbury/Getty
Wearing any kind of light pastel to a wedding isn't worth the risk of causing social drama. Color can be subjective, so once you get into a really pale range of tints, there's a chance that it could be interpreted as white by some people. Much of the appearance of a pastel color comes down to the lighting in a space – what looks fine in the dressing room could be far too pale once it's in full sunlight. Additionally, photography can often wash out light colors, so what appears as a pale but reasonably saturated color in person could end up looking more like ivory in the photos.
Of course, in many cases, it will be apparent that the dress is meant to be pastel, and the similarity to white is entirely unintentional. But it's still a situation that can lead to uncomfortable feelings, so even if you know the bride isn't that sensitive about the white dress issue, it's far better to err on the side of caution. This rule also applies to couples that aren't planning on wearing white – since the color has such a strong association with brides, it can still feel like stealing their thunder. Unless the soon-to-be-weds have explicitly said it's okay, assume that all whites, ivories, and light pastels are off the table.
Swap out pastels for slightly darker shades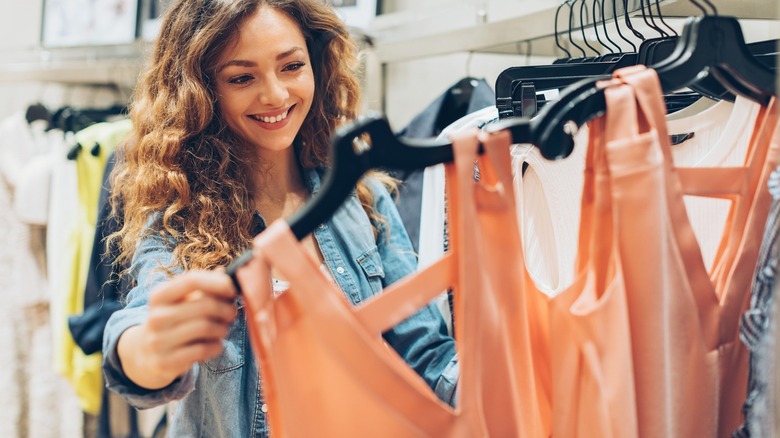 Pixelfit/Getty
One solution to avoid wearing a pastel color that may be inappropriate for a wedding is to opt for a slightly darker shade. For example, instead of very light pale pink, consider exploring soft, medium tones of dusty mauve, carnation pink, or even magenta. Sticking within the same color family should give you a similar look to your original pastel choice without risking a comparison to the bride.
For instance, this ASOS Design Cowl Corset Draped Midi Dress comes in a very crisp, pale mint that could easily appear white in the wrong lighting. However, this similar ASOS dress is a bright spring green that brings all the freshness that mint does, but it stays far away from being white. Other simple color swaps for popular pastels include exchanging champagne for gold, baby blue for cornflower blue, and lavender for orchid.
If you're unsure about a dress color, you can also use an online color wheel tool like Adobe Color Wheel and upload a picture of your dress. The tool will identify the exact shade of the garment and show where it sits on a color spectrum in relation to white. If it's too close for comfort, you'll know you need to get a darker dress.
Opt for light fabrics, not colors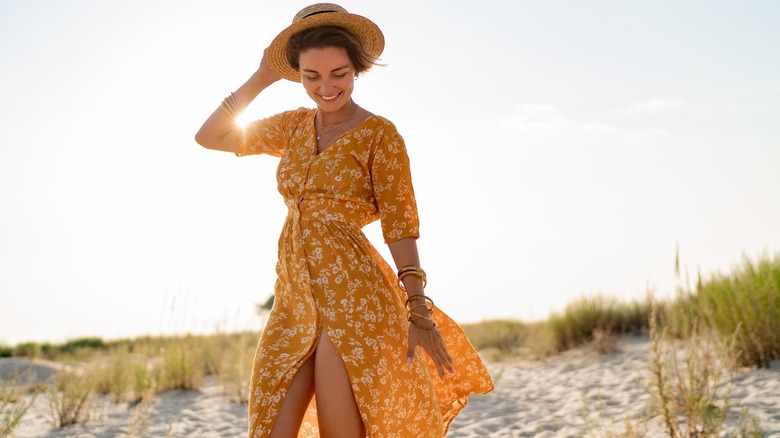 Maria Markevich/Shutterstock
If you prefer the gentle, dreamy feeling of pale pastels, consider creating that effect with fabric rather than color. Airy materials like linen, chiffon, or tulle will allow some light to pass through the dress, giving you a hazy, glowing look without crossing into the forbidden white/ivory zone. You can also experiment with sheer or semi-sheer elements on your dress, such as tulle on the sleeves or neckline.
At times, these thinner fabrics can feel a little cheap or too informal for a wedding. Therefore, it is essential to look for structured pieces made from quality textiles, such as the Madewell Linen Cutout Strapless Midi Dress, which has the breezy look of linen, but also a well-tailored silhouette. You can also explore dresses with draped fabric, like this wrap dress on Amazon, which features sheer ruffles that make the entire outfit feel softer and more delicate.
Preppy looks beyond pastels
Pastels can create a preppy, country club vibe that you might not want to give up, even when ditching super-pale hues. Fortunately, there are many prints and color schemes that provide that cute and classic charm without violating any wedding etiquette. Saturated pinks and blues often have a campy, preppy vibe that evokes a summer resort vacation (think Vineyard Vines or Lilly Pulitzer). For more neutral preppy colors, look for brown or navy blue, but stay away from beige, which would put you right back in the risky pastel territory.
Stripes and polka dots are also excellent for a classy and luxurious wedding guest 'fit, giving you an aesthetic cross between garden party and yacht fashion. This Verdusa Polka Dots Ruched Maxi Dress, for example, is a near match for Julia Roberts' posh dress in "Pretty Woman," and creates a very refined, feminine look without relying on pastels. Note that while this dress features white polka dots, the print is on a small scale and brown is the much more dominant color, keeping it well within the range of suitable wedding guest dresses.
Florals are fun (and safe)
Florals are a fun and girly option for wedding guests, much like pastels. They are also a staple look for wedding guests, so it's a safe bet if you want to avoid outfit drama. Choose a small-scale, ditsy floral pattern for a classic look, or be more avant-garde with an oversized floral print. There are plenty of options out there for floral wedding guest dresses, and almost all of them can work well, as long as the print doesn't feature an extremely prominent white shade.
A floral print is also a helpful loophole for incorporating your favorite pastels. The flowers break up the different colors in the print, so you can mix in a pale pastel without making your dress look white. You can see this in action with the Lulus Floral Print Satin Maxi Dress, which comes in some fairly light colors, but the brightness of the flowers keeps it from looking like an off-white bridal gown.
Offset pastels with bright accessories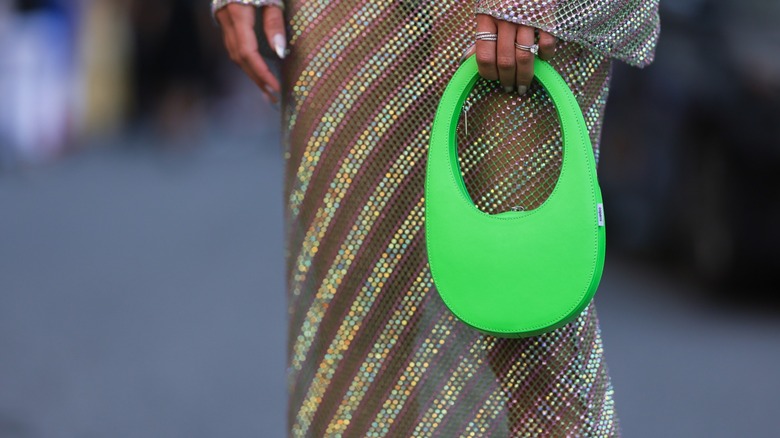 Jeremy Moeller/Getty
If your only option for a wedding guest dress is a light pastel and you cannot purchase a new outfit, there are still ways to ensure that you maintain good wedding etiquette. When you cannot change the dress, focus on the accessories. Use a bright purse and shoes to emphasize the color of the dress and distinguish it from white. If the weather allows, wearing a colorful shawl or cardigan can also be helpful. Stick to neon and jewel tones for your accessories. While it might seem like a good idea to have black or dark accessories to play down the paleness of the dress, this could create contrast and actually make the dress seem lighter.
Above all, try to keep your ensemble as non-bridal as possible. Stay away from headbands, large hair accessories, and any overly intricate hairstyles, as these could be interpreted as upstaging the bride when you're already in a pale dress. For jewelry, either keep it very simple and understated or, if you love statement jewelry, wear something chunky and kitschy that suggests a cool grandma aesthetic rather than any glamorous pieces that might encroach on the bride's moment. Putting together a wedding guest outfit doesn't need to be overly intense, but being considerate by avoiding potentially problematic pastels will go a long way to ensuring a smooth and happy celebration.