The Stunning Style Transformation Of Margot Robbie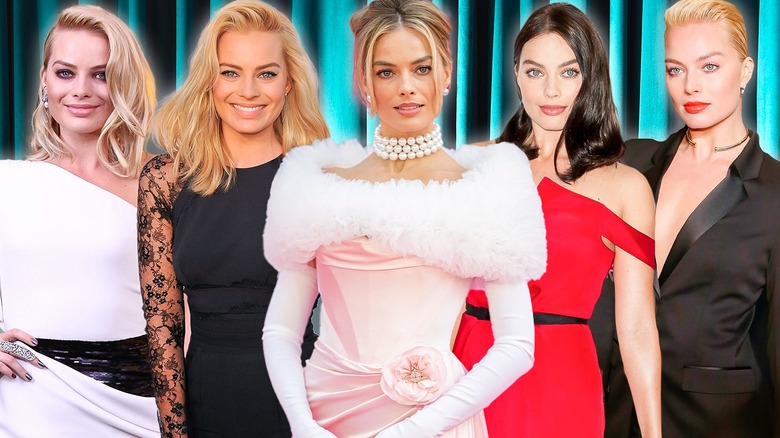 Static Media/Shutterstock/Getty
When you look at Margot Elise Robbie, perhaps you envision her as the living, breathing human embodiment of a Barbie doll. Barbie is the pre-eminent fashion icon; she's been dressed in every imaginable style of clothing. Robbie, after portraying Barbie in the recent "Barbie" movie, is also currently viewed as one of the world's top style icons.
It hasn't always been this way. Robbie spent her early childhood living with her family on a farm property in Queensland. In her early days, fashion wasn't a high priority in her life. Robbie tells the Daily Mail, "Most of the time I wore shorts, a T-shirt and Converse trainers." But as a working actor and film producer, Robbie has had to acquire a style identity. Somewhere along the line, according to Robbie's stylist Kate Young, Robbie fell in love with fashion. In 2019, Young told Us Weekly that Robbie "loves clothes and is very engaged with the process." 
Since the early days of her career, Robbie's style has evolved dramatically. Multiple prestigious award nominations have forced her to trade those shorts and T-shirts for red-carpet-worthy gowns, and she's had help from stylists on refining her style. You're invited to come along for the wild ride that encompasses Margot Robbie's journey from Queensland farm girl to haute-couture-wearing Chanel brand ambassador to Barbie, the ultimate style icon of our era.
2009: Margot Robbie wears a brash high-low gown to Australia's Logie Awards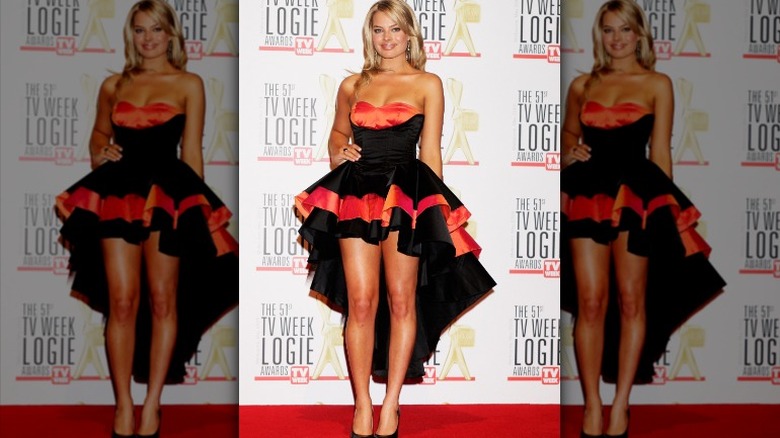 Lucas Dawson/Getty Images
Before she became a Hollywood insider, Margot Robbie launched her acting career in Australia. When she was 17 years old, she moved to Melbourne and obtained roles in independent Australian productions. In 2008, she earned a role portraying Donna Freedman on "Neighbours," an Australian soap opera. This was a critical milestone in the establishment of Robbie's acting career.
Pictured above is Margot Robbie's red carpet ensemble for Australia's 2009 Logie Awards ceremony. The Logies are the counterpart to the Emmy Awards in the United States. Robbie was in attendance because she was nominated for Most Popular New Female Talent. 
Robbie donned a contrasting black and coral-colored gown made by designer Rebecca Copping for the event. She wore minimalist accessories including a ring and black platform high-heeled pumps. Although Robbie's star was rising as a performer, it would be years before the fashion crowd would be willing to take her seriously. In 2017, the Melbourne-based Herald Sun newspaper assigned Robbie to their "biggest outfit fails" list as a result of this look.
2010: Robbie appears at the Logie Awards dressed in a white gown by Juli Grbac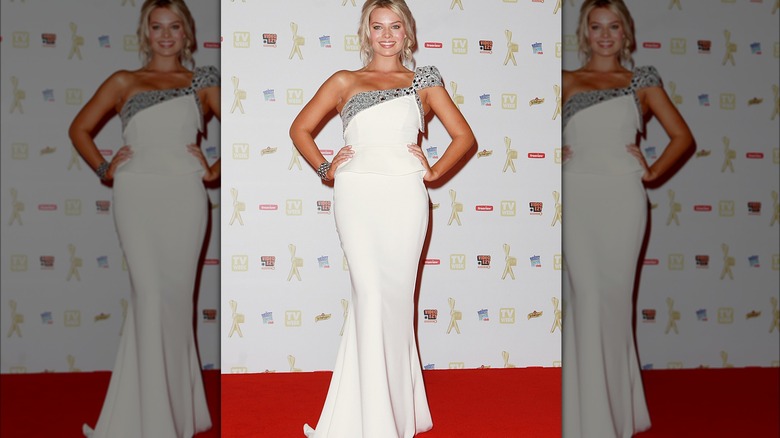 Faith Moran/Getty Images
Margot Robbie continued playing the role of Donna Freedman on the Australian soap opera, "Neighbours" until 2011. Pictured above, you can see how she appeared at Australia's 2010 Logie Awards. She wore a long, asymmetrical, two-piece white gown designed by Juli Grbac. 
In 2011, Robbie received another Logie Award nomination, this time for Most Popular Actress. She had achieved stardom in Australia, but Robbie hungered for more. In 2011, she moved to Los Angeles. In a later interview, she discussed her reasons for moving with Variety. "I moved to America seeking more opportunities," the actor said, adding " ... the United States of America is the land of opportunity, and I've always thought of it that way."
The move did provide a significant boost for Robbie's acting career. In 2011, she landed a role in ABC's television series "Pan Am." The series was short-lived; the team only shot 14 episodes before ABC canceled it. However, Robbie's role as Laura Cameron in the series proved to be a stepping stone on a path that led to bigger roles, greater stardom, and a few wrong turns in the fashion department before she fully refined her sense of style.
2013: Robbie rocks The Wolf of Wall Street world premiere in a striking Armani Privé gown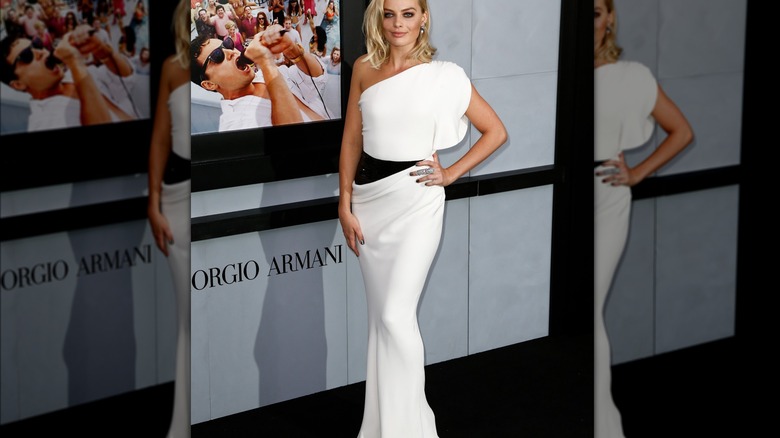 Debby Wong/Shutterstock
In 2013, Margot Robbie acted the part of Naomi Lapaglia in the Martin Scorsese film "The Wolf of Wall Street." Leonardo DiCaprio was her co-star, and the role raised her profile in Hollywood significantly. Scorsese later praised the actor and compared her to Hollywood legends Carole Lombard, Joan Crawford, and Ida Lupino. Writing for Time, Scorsese remarked, "She clinched her part in 'The Wolf of Wall Street' during our first meeting — by hauling off and giving Leonardo DiCaprio a thunderclap of a slap on the face, an improvisation that stunned us all." He added, " ... Margot is stunning in all she is and all she does, and she will astonish us forever."
Robbie selected an asymmetric black and white Armani Privé gown to wear to the film's premiere. For footwear, she chose shoes by Brian Atwood. She accessorized with pearl-accented spider earrings and a sparkling diamond ring by Jacob & Co.
2014: Robbie's a brunette for the Academy Awards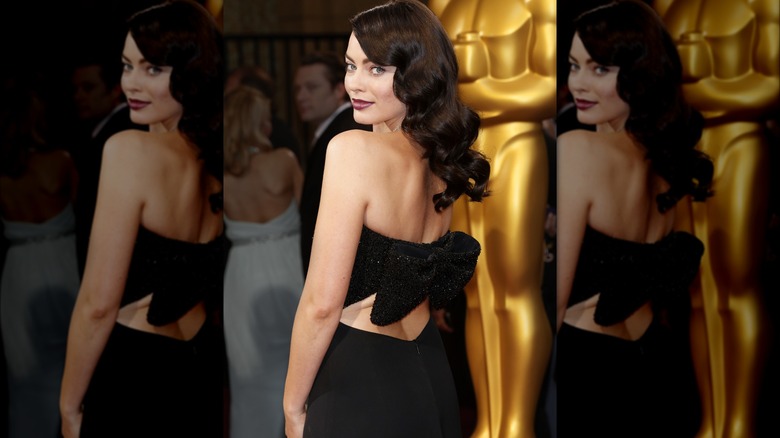 Kurt Krieger - Corbis/Getty Images
In 2014, "The Wolf of Wall Street" received five Academy Award nominations, including a nomination for Best Picture. As a result, Margot Robbie was able to attend the Academy Awards ceremony. She sought help from A-list stylist Cristina Ehrlich for this red carpet appearance and also for many others afterward. Ehrlich's input was instrumental in helping to initiate Robbie's transformation from fashion novice to high-level fashionista.
Prior to the awards ceremony, Robbie had been working on "Z for Zachariah." In an interview with Elle, Robbie explained the backstory behind her change in hair color. "Well I had to dye it brown for the role I just finished shooting in New Zealand and then on wrap I asked if we could just get the red out of it since I had to go to the Oscars." Robbie added, " ... it went really dark. But it's great though, I love it."
To complement the mysterious brunette hair color, Ehrlich helped Robbie select a stunning strapless dress with a lower back cutout and a large, dramatic three-dimensional bow. Hedi Slimane designed the dress for Saint Laurent.
2015: Robbie appears in a bejeweled Zip necklace at the Oscars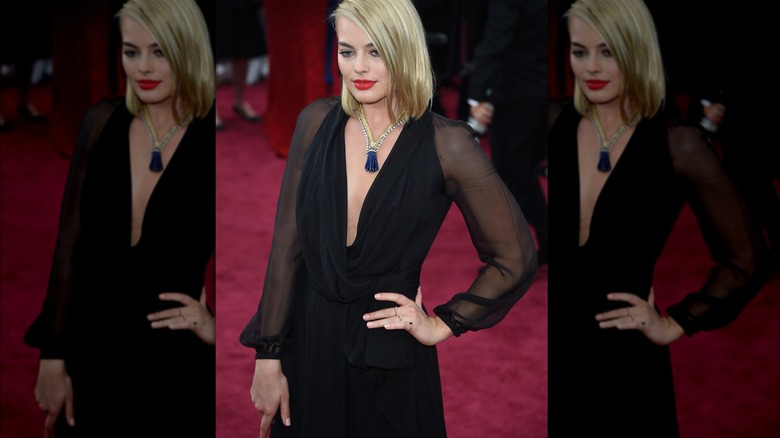 Ethan Miller/Getty Images
To prepare Margot Robbie for her role as a presenter at 2015's Academy Awards ceremony, Cristina Ehrlich dressed her in a dramatic, low-cut black Saint Laurent dress. The focal point of her ensemble was a magnificent jewel-encrusted, 18-karat gold Van Cleef & Arpels Zip necklace. 
According to The Adventurine, the idea for the necklace was first conceived by the Duchess of Windsor, Wallis Simpson. It was around 12 years in the making, and the team at Van Cleef & Arpels had more than 600 hours invested in creating Robbie's Zip necklace, which included setting the 300 sapphires and 150 diamonds that embellish the bauble.
This look represented a pivotal moment in Robbie's fashion transformation, and her style choices that evening were favorably received by the fashion crowd. Writing for Paul Mitchell, Editorial Director and celebrity stylist Lucie Doughty commented that Robbie's look was "simple yet totally chic." 
2016: Robbie attends the Oscars looking sort of like an Oscar statuette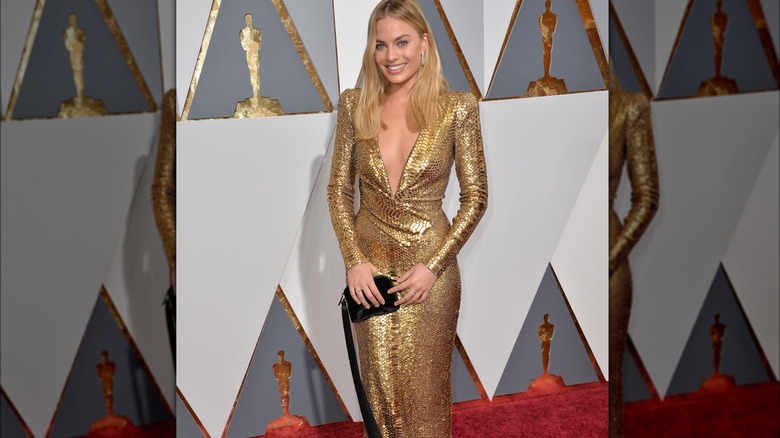 Featureflash Photo Agency/Shutterstock
Margot Robbie was a presenter again at the Academy Awards ceremony in 2016. This time, she worked with stylist Kate Young. For this event, Young styled Robbie in a textured gold Tom Ford gown reminiscent of the coveted Oscar statuettes to be awarded that evening.
Young described the dress' fascinating snakeskin texture to Sunday Telegraph, per Daily Mail, saying, " ... the whole dress was these pieces of gold leather sewn into it but the shape of it is really unfussy, minimal." Young added, "We wanted it to look like she'd been surfing and came in, blow dried her hair, and put on some lip gloss and this dress, and went to the party." 
After this introduction, Young and Robbie worked together on concocting many of Robbie's most remarkable fashion looks. Young surely deserves some of the credit for contributing to Robbie's spectacular fashion evolution. However, public opinion has largely been divided on whether or not Young has done Robbie any favors with her styling. Many of Robbie's fans made no secret of the fact that they hated the looks Young styled for her, with some of them insisting that Robbie should fire Young (via Daily Mail).
2017: Robbie sparkles in Versace at the premiere of I, Tonya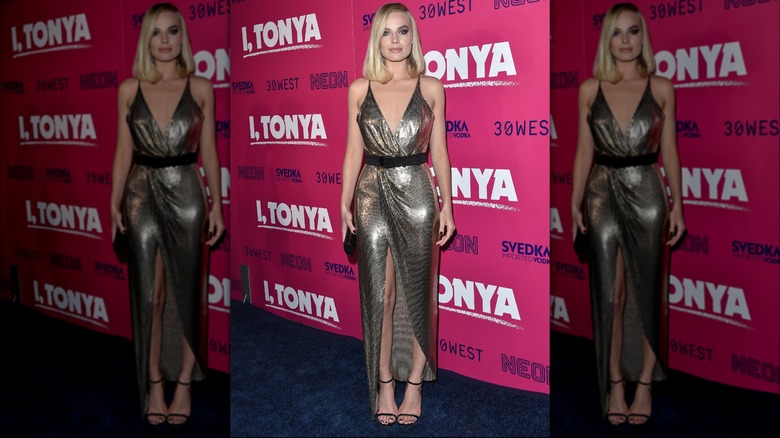 Axelle/bauer-griffin
In 2017, Time named Margot Robbie as one of the year's 100 Most Influential People. Robbie spent much of that year filming "I, Tonya." She performed the starring role in the movie, portraying stigmatized figure skater Tonya Harding, who was banned from participating in United States Figure Skating Association events. The ban took place after Harding pleaded guilty to participating in a conspiracy to attack and injure a rival figure skater, Nancy Kerrigan. 
Pictured above, you can see one of the year's highlights for Robbie; she attended the "I, Tonya" premiere on December 5, 2017. Stylist Kate Young outfitted Robbie for the occasion. Robbie wore a glittering Versace gown with a low-cut V neckline. She paired the dress with black accessories, including just the right belt. On her feet, she wore strappy, barely-there black Jimmy Choo sandals. She carried the evening's essentials in a matching black Jimmy Choo clutch handbag. This look was generally well received by fashion journalists, with multiple media outlets later including this look in roundups featuring Robbie's best red carpet ensembles.
2018: Robbie scores a fashion brand ambassadorship with Chanel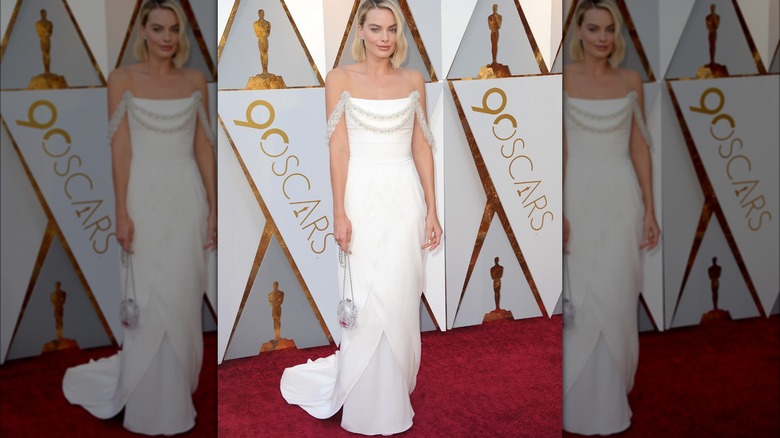 Tinseltown/Shutterstock
2018 was an exciting year for Margot Robbie. Her acting skill received recognition via nominations for multiple prestigious awards. Another highlight was performing voiceovers for Flopsy the Rabbit in her role as narrator for the "Peter Rabbit" movie.
It was also a pivotal year in Robbie's stunning style transformation. That was the year former Creative Director of Chanel, the late Karl Lagerfeld, selected her to be a Chanel fashion brand ambassador. On March 4, 2018, the day of the Oscars awards ceremony, Robbie introduced their new collaboration to the public by appearing on the red carpet dressed in Chanel. Robbie had been nominated for an Academy Award for her role in "I, Tonya." 
Kate Young styled Robbie's look for the event. Robbie wore a custom-designed, embroidered gown by Lagerfeld. Young told Women's Wear Daily, "This whole press tour we've been doing this Nineties supermodel theme, which is really fun in terms of fashion." Young elaborated, "There's a ton of imagery of Carla Bruni and Tatjana Patitz and Claudia Schiffer running around at Met Balls in evening gowns and when you look, they all wear this super minimal Nineties brownish tonal makeup that feels so modern right now."
Robbie's role with Chanel was to serve "as the face of the COCO NEIGE collection (Fall-Winter 2018-2019)," according to a later post on the brand's LinkedIn account. That same year, Lagerfeld photographed Robbie wearing pieces from Chanel's first ever collection of dedicated winter sports clothing. 
2018: Robbie dons a feathered gown for the SAG awards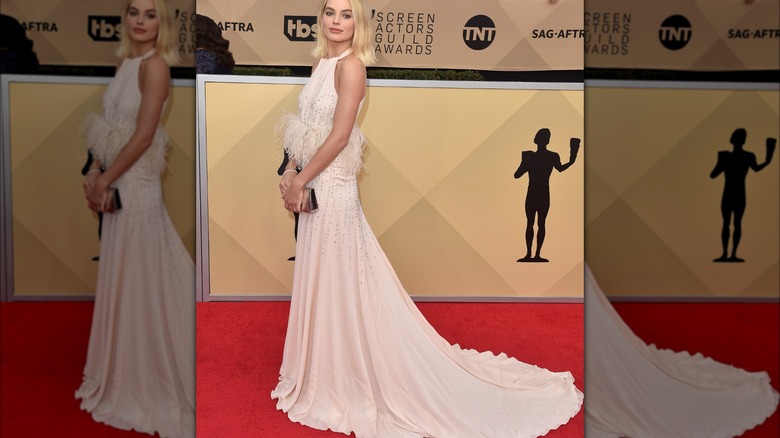 Axelle/bauer-griffin
Margot Robbie wore a pale pink, feather and pearl-adorned Miu Miu gown with a long train to the Screen Actors Guild awards ceremony. The dress' gently gathered halter neckline made a necklace unnecessary, so, to accessorize, she wore diamond earrings and a slim, elegant bracelet by Tiffany & Co. She carried a metallic silver clutch purse by Jimmy Choo. It was reported that Robbie wore high-heeled shoes by Aquazzura, but we're not sure anybody could actually see her feet under that voluminous skirt.
Celebrity stylist Bryce Scarlett styled a textured, slightly tousled look for her hair. "I felt like Margot's dress resembled a beautiful dressing gown and I wanted her to look like she rolled out of bed and threw it on with soft, natural hair," Scarlett told American Salon. 
This look was widely acclaimed by the press. Robbies' flirtatious feathered gown and chic accessories earned her mentions on multiple media outlets' "best dressed" lists, affirming that she had been broadly accepted as a style icon by the fashion-loving community.
2018: Robbie wears Chanel haute couture to the premiere of Mary, Queen of Scots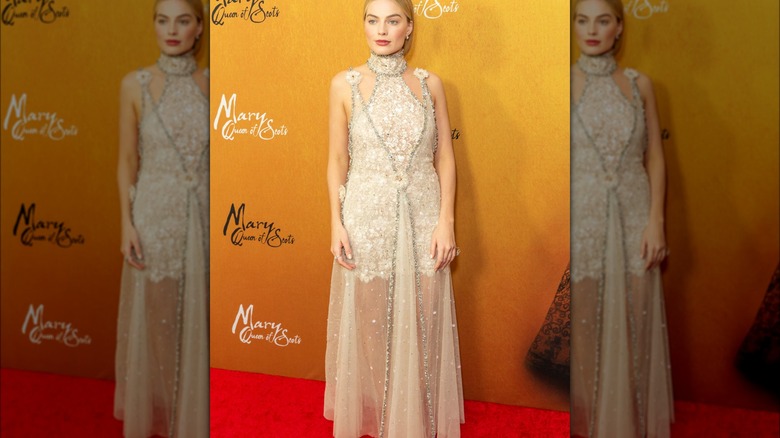 lev radin/Shutterstock
Another of Margot Robbie's 2018 highlights was the New York premiere of the movie "Mary, Queen of Scots" on December 4, 2018. Robbie had acted the part of Queen Elizabeth I in the movie. The production began filming in 2017, and the shoot lasted about eight weeks. In 2019, Robbie was nominated for multiple awards for this performance. The nominations she received included Outstanding Performance by a Female Actor in a Supporting Role in a Motion Picture at the Screen Actors Guild Awards and Best Actress in a Supporting Role at the BAFTAs.
Pictured above, the cream-colored, silver accented dress Robbie wore for this premiere perfectly illustrates the actor's striking style transformation. Gone was the inelegant, Converse-and-T-shirt-wearing farm girl; in her place stood a sophisticated, fashionable muse adorned in a dazzling haute couture dress from Chanel's spring 2018 collection. The dress' beadwork glittered, highlighting the sheer fabric and the richly embroidered embellishments. Rosettes and cutout details at the shoulders added visual interest to the silhouette, saving the high neckline from looking too stern or matronly. Robbie chose minimalist silver sandals to complement the shimmering gown.
2019: Robbie puts on a flowing, romantic Giambattista Valli gown for the Bombshell premiere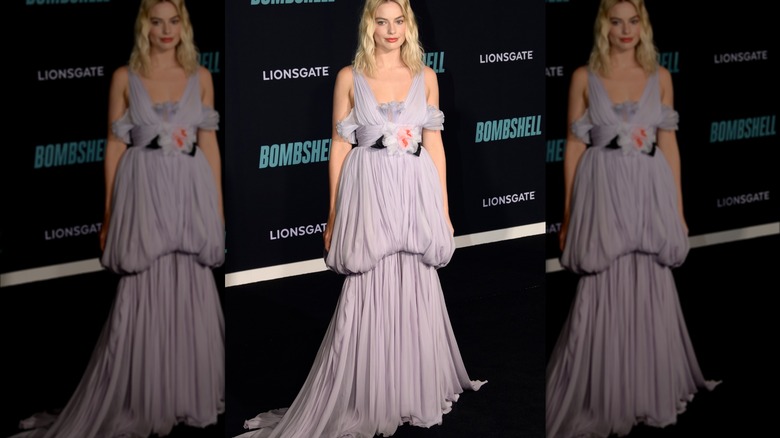 Silvia Elizabeth Pangaro/Shutterstock
Margot Robbie portrayed the role of Kayla Pospisil in the movie "Bombshell," filming in October of 2018. Robbie is pictured above at the film's premiere on December 10, 2019.
For this red carpet appearance, Robbie worked with stylist Kate Young on putting together a hyper-feminine look combining ruffles, floral details, and a long, sweeping train. This dress style was part of Giambattista Valli's couture collection in fall of 2017. Luxury brand Mejuri made the jewelry Robbie accessorized with, and the actor's shoes were high-heeled Aquazzuras. 
The press and many of Robbie's fans adored this dress, although it was quite different from the others Robbie had gravitated to for past red carpet appearances. This look confirmed that Robbie was not afraid to try out new styles and was unlikely to be trapped in a fashion rut. Robbie's red carpet look made headlines, with multiple journalists including her on their "best dressed" roundups.
2022: Robbie impresses onlookers in an asymmetric Bottega Veneta dress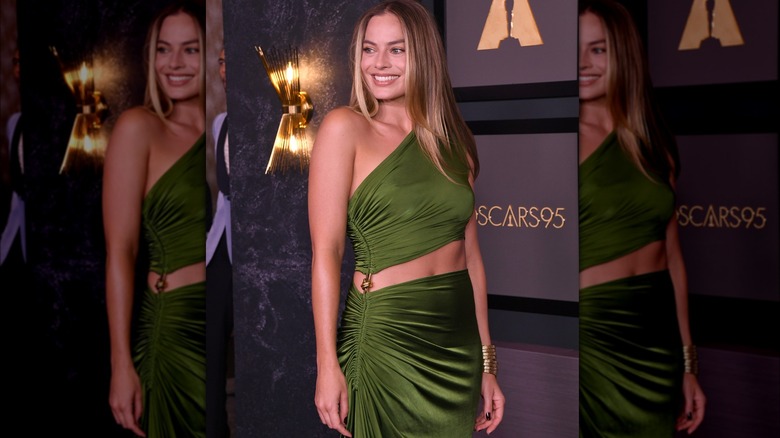 Jon Kopaloff/Getty Images
Kate Young styled Margot Robbie's look, pictured above, for the Academy of Motion Picture Arts and Sciences 13th Governors Awards. The pair decided that Robbie would wear a vibrantly colored green Bottega Veneta gown designed by Matthieu Blazy for the brand's 2023 resort collection. The dress' features included ruching, a cutout midriff, silk fabric, and asymmetric details. Gold-colored accents provided a counterpoint to the green color in multiple places on Robbie's ensemble. At her right side, a golden knot connected the upper and lower portions of her dress. She accessorized with a couple of wide, eye-catching gold bangle bracelets and earrings by Sidney Garber. The star wore her hair long and loose for the event. Black nail polish graced her fingertips.
According to Daily Mail, some onlookers described this as being Robbie's "best look ever."  As Paper notes, fans who had disliked the looks she wore for Chanel celebrated what they mistakenly perceived to be the end of her association with the fashion powerhouse.
2023: Robbie mimics supermodel Cindy Crawford's style at the Met Gala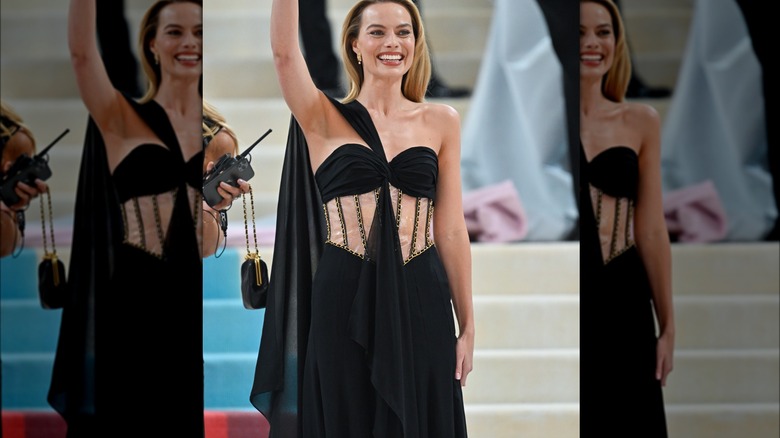 James Devaney/Getty Images
Margot Robbie was one of the stars invited to 2023's Karl Lagerfeld-themed Met Gala. On the red carpet, Robbie told La La Anthony, who was reporting for Vogue's live footage of the event, about the dress, pictured in the photo above, per YouTube. She revealed, "I'm wearing Chanel, this dress was worn by Cindy Crawford in 1993. They remade it for me and it's obviously a Karl design." She further elaborated on the special working relationship she enjoyed with the late Karl Lagerfeld. "I had the great privilege of getting to know Karl to an extent," Robbie explained, adding, "I was the last Chanel ambassador that he picked. It is an honor. I'm thrilled that they're honoring him tonight because he was exceptional." 
This was another look of Robbie's that the fashion A-list embraced. In particular, our sister site The List notes that Cindy Crawford was thrilled at Robbie's style choices for the event.
2023: Margot Robbie dresses as Day to Night Barbie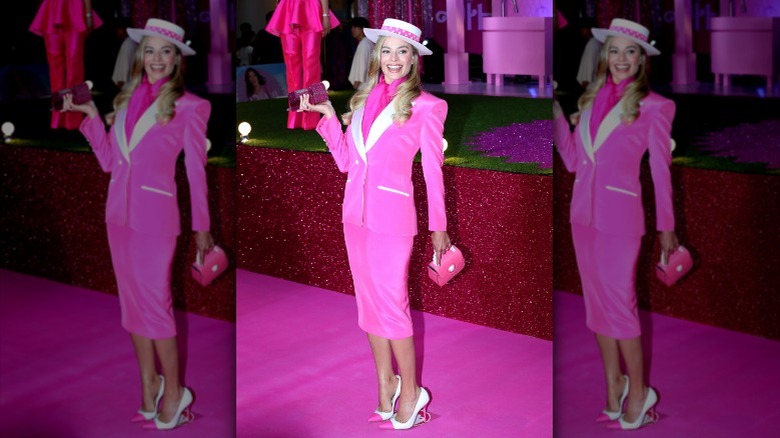 Han Myung-gu/Getty Images
Margot Robbie's fashion transformation reached its highest pinnacle as she impersonated the fashion doll, Barbie, to promote her 2023 "Barbie" movie. To facilitate her press tour Barbiecore fashion choices, Robbie teamed up with stylist Andrew Mukamal. The pair enlisted help from a variety of designers and brands to re-create some of Barbie's most popular vintage outfits. 
Pictured above, you can see Robbie dressed as 'Day to Night' Barbie for the Seoul premiere of the "Barbie" movie. To achieve this look, shoe designer Manolo Blahnik created a new version of his beloved Irene high-heeled pumps so he could style them to resemble those worn by the original fashion doll. Blahnik told Harpers Bazaar, "Barbie is truly iconic, so when asked to provide shoes for the wonderful Margot Robbie, whom I adore, I wanted to update some of my most successful designs that have been in my collections for decades, with a Barbie twist of course." He continued, "Pink is one of my absolute favourite colours; from cerise to powder pink, I love them all — and so it has been a joy to reimagine these styles in a host of pink hues."
We've enjoyed watching Margot Robbie's stunning style transformation from farm girl to Barbie. Her journey doesn't end here, so we'll be excited to see which directions her next roles will take her in.